I've had this idea to create a lush Thanksgiving for friends (a Friendsgiving, if you will) outdoors (if weather permits), and thanks to a few amazing creative friends, we brought the idea to life this holiday season! It was featured on Style Me Pretty Living too (pinch me!)
Of course this Thanksgiving table can easily be re-created indoors, rather than outside, and we may do just that if the temperatures keep on dropping here in North Carolina; but either way, it will look lush and bright. Read on to see a few behind-the-scenes snaps, plans for our own Thanksgiving, and tips for creating the look on your own.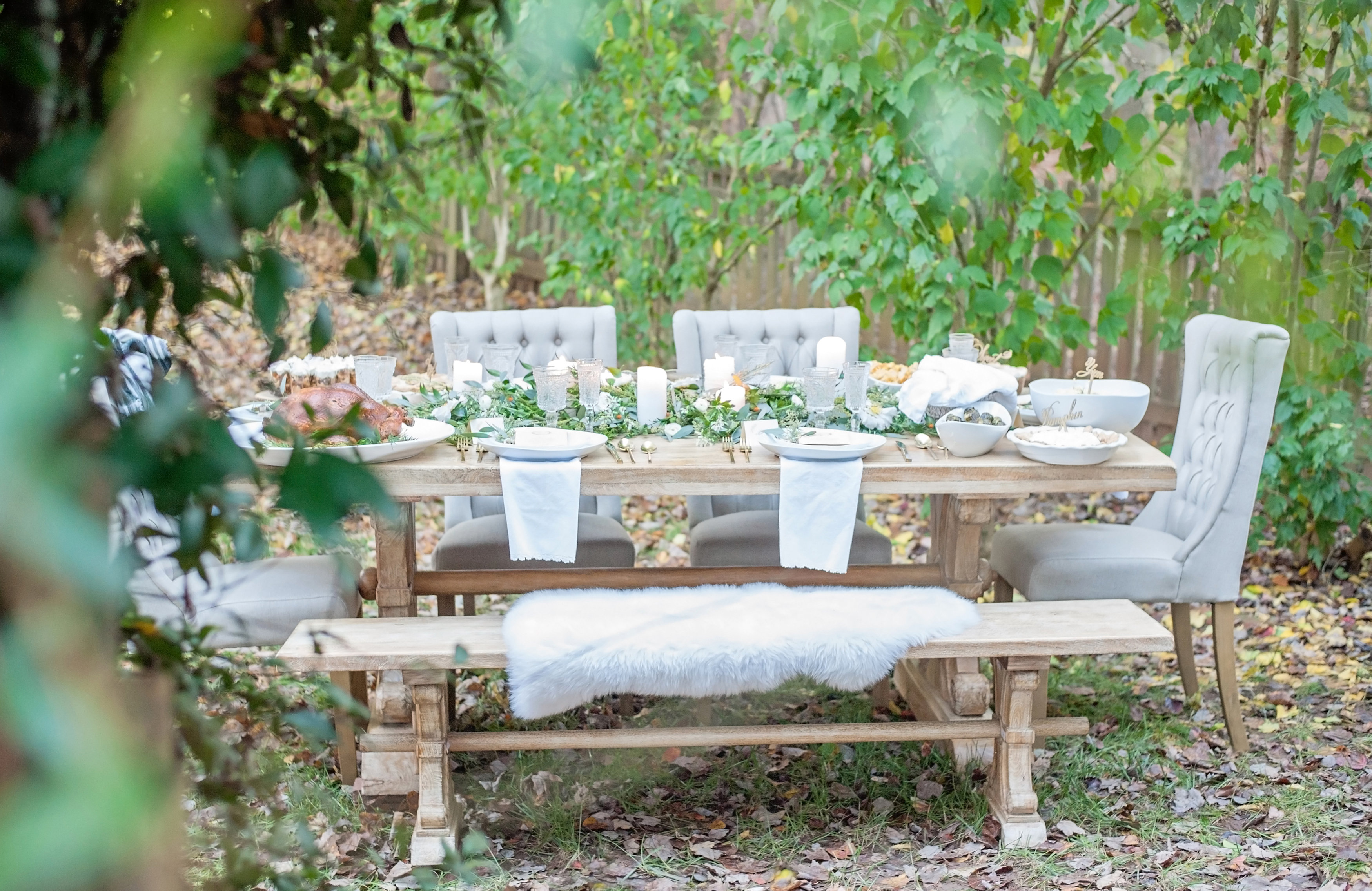 This year will be my first Thanksgiving holiday spent without family (my husband is a resident and he couldn't take the holiday off to travel home). Luckily, we're spending the holiday at our new home in North Carolina with our closest friends who are driving up, so I knew I wanted to create something special and memorable. Growing up, my mom always put together these incredible Thanksgiving dinners – an abundance of great food, the prettiest decorations, a time to share what we're thankful for, plus midnight turkey sandwiches and holiday movies late into the night – and I want to do the same in our new home with friends, new and old.
To get the look for our outdoor Thanksgiving, we decorated the table (after dragging our dining room table and chairs outside, because the weather has been just too perfect) with all of these gorgeous vines, leaves, and florals, a few plain white taper candles, white dishes and napkins, gold flatware, and clear glasses found at HomeGoods. Simple, rustic, and warm.
Brandi Leigh photographed and captured everything at that perfect evening light and reminded me just how much I love our new backyard (and fall, in general!)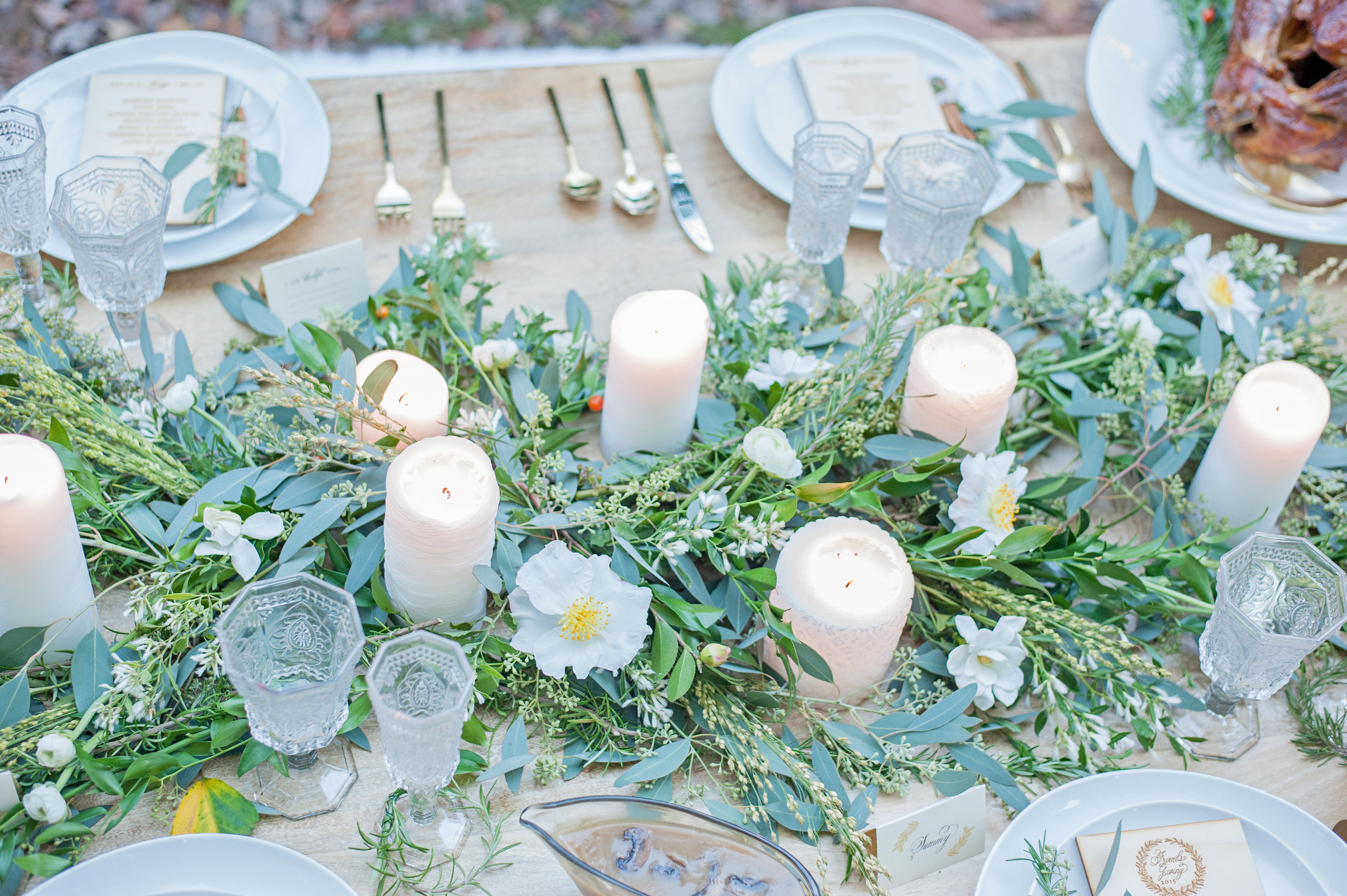 For the florals, we were trying to keep a low profile in terms of height. A great Thanksgiving is shared with loved ones, and you want to be able to see everyone over the flowers and table displays.
Alana of Serendipity Designs used the perfect mix of lush greens: seeded eucalyptus, Italian ruscus, white ranunculus, green broom corn, fresh rosemary, and a few garden-grown and seasonal gardenias and camellia blooms.
She explains: "To create a lush and natural table display simply trim the longer ends of the eucalyptus and ruscus and place two branches in opposite directions in the middle of the table.  Continue to fill in with branches and sprigs down the length of the table, on both sides.  Tuck in a few wispy sprigs near the ends and pop in a few short pieces of broomcorn for a little texture.  A little rosemary is added for a touch of vibrant green.  Pick a few fluffy ranunculus blooms, fragrant gardenias and bold camilla blooms to tuck in sporadically for a pop of white.  A few white pillar candles are tucked for a touch of candlelight."
I also snagged a few vines and sprigs of rosemary and using some natural string and cinnamon sticks, I created these little bundles at each person's table setting. They smelled divine and will actually dry and preserve beautifully; i.e., the perfect little keepsake for your guests. Paired with the laser-cut wood menus, the table settings looked truly special, without too much effort. Let's face it: Thanksgiving should be about relaxing, friends, family, and fun, not stressing over every little detail.
When it comes to Thanksgiving food, I love the classics: turkey, mushroom gravy, mashed potatoes, baked macaroni and cheese, candied yams, brussels sprouts, yeast rolls, and of course, pie and pecan pie shooters.
Happy Thanksgiving, ya'll!
Special thanks to Style Me Pretty Living for featuring our Thanksgiving shoot!
Photography: Brandi Leigh // Styling: Glitter, Inc. // Florals: Serendipity Designs Raleigh // Thankful Sign and Prints: Lindsay Letters // Wood Laser-Engraved Menus, Wood Pie Toppers, and Place Cards: Catharine Perry // Pies: Sugar Euphoria // DIY Pecan Pie Shooters: Glitter, Inc. // Glasses: HomeGoods // Dishes: West Elm // Gold Flatware: West Elm // White Candles: Target // Lace Napkins: Sur la Table // Sheepskin: Pottery Barn