This post has been sponsored by American Greetings. All thoughts and opinions are my own.
Looking for the perfect easy DIY gift for a friend, teacher, or beauty-lover in your life? I've got the cutest holiday gift idea for you: a DIY pedicure in a jar, plus a perfect American Greetings holiday card. Let your favorite person know you care, while also giving them what they need for a little extra pampering!
As the holidays approach, I start to put together my list of people I'd like to find great gifts for. Of course, there are 8 nights of Hanukah for our girls, and all of the gifts for hubby and our families, and this year I'm working my way through our gift guides to find the perfect gifts for most of the family, but every year I find myself dreaming up creative ways to show we care to the people who do so much for us. For instance, Scarlett's teachers and a lot of the administration and staff at her school are completely amazing, and of course, our babysitter, Michelle, is a rockstar. Annie, my blog photographer, is a total gem. There are also so many people behind the scenes of this little business of mine, like Amanda, my developer. And seriously, the Fedex, UPS, and USPS men and women are basically my daily BFF's. And of course, the friends we've made here in Durham who have made North Carolina feel like home. The list goes on and on.
This year, I want to give gifts that bring joy. Whether that's homemade cookies and cocoa or a little beauty splurge, I'm hunting down and putting together the gifts that will really make the people who are important to us smile.
Which is why I am so excited about our latest holiday gift idea: a DIY pedicure in a jar.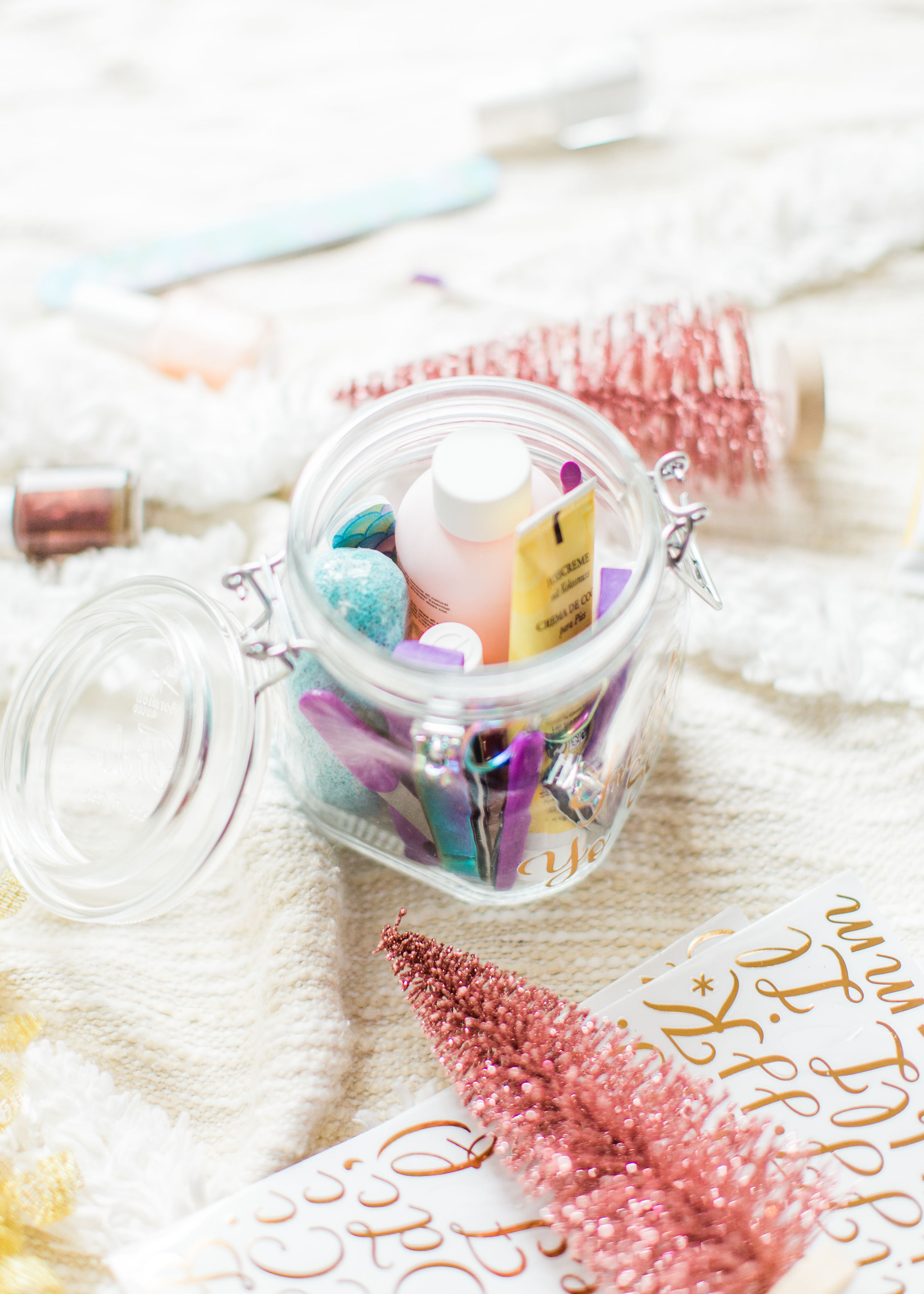 Holiday Gift: DIY Pedicure in a Jar
Remind your favorite teacher, employee, friend, etc. to enjoy a little TLC with the sweetest handmade gift they'll love and use again and again.
From one of my all time favorite shows, Parks and Recreation:
Tom Haverford: Once a year, Donna and I spend a day treating ourselves. What do we treat ourselves to?
Donna Meagle: Clothes.
Tom Haverford: Treat yo self.
Donna Meagle: Fragrances.
Tom Haverford: Treat yo self.
Donna Meagle: Massages.
Tom Haverford: Treat yo self.
Donna Meagle: Mimosas.
Tom Haverford: Treat yo self.
Donna Meagle: Fine leather goods.
Tom Haverford: Treat yo self!
Donna Meagle: It's the best day of the year.
Tom Haverford, Donna Meagle: The best day of the year!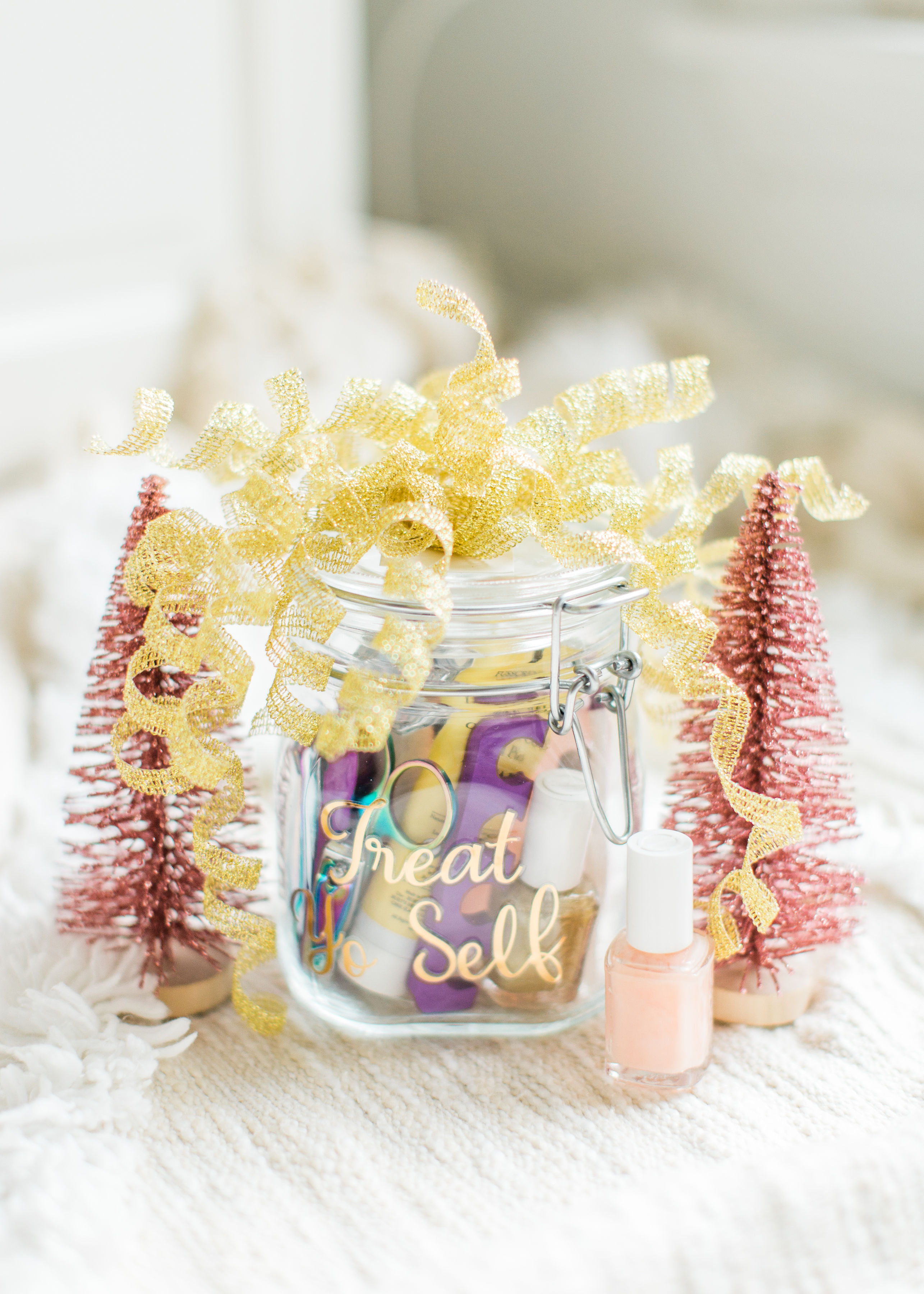 The takeaway here: TREAT YO SELF.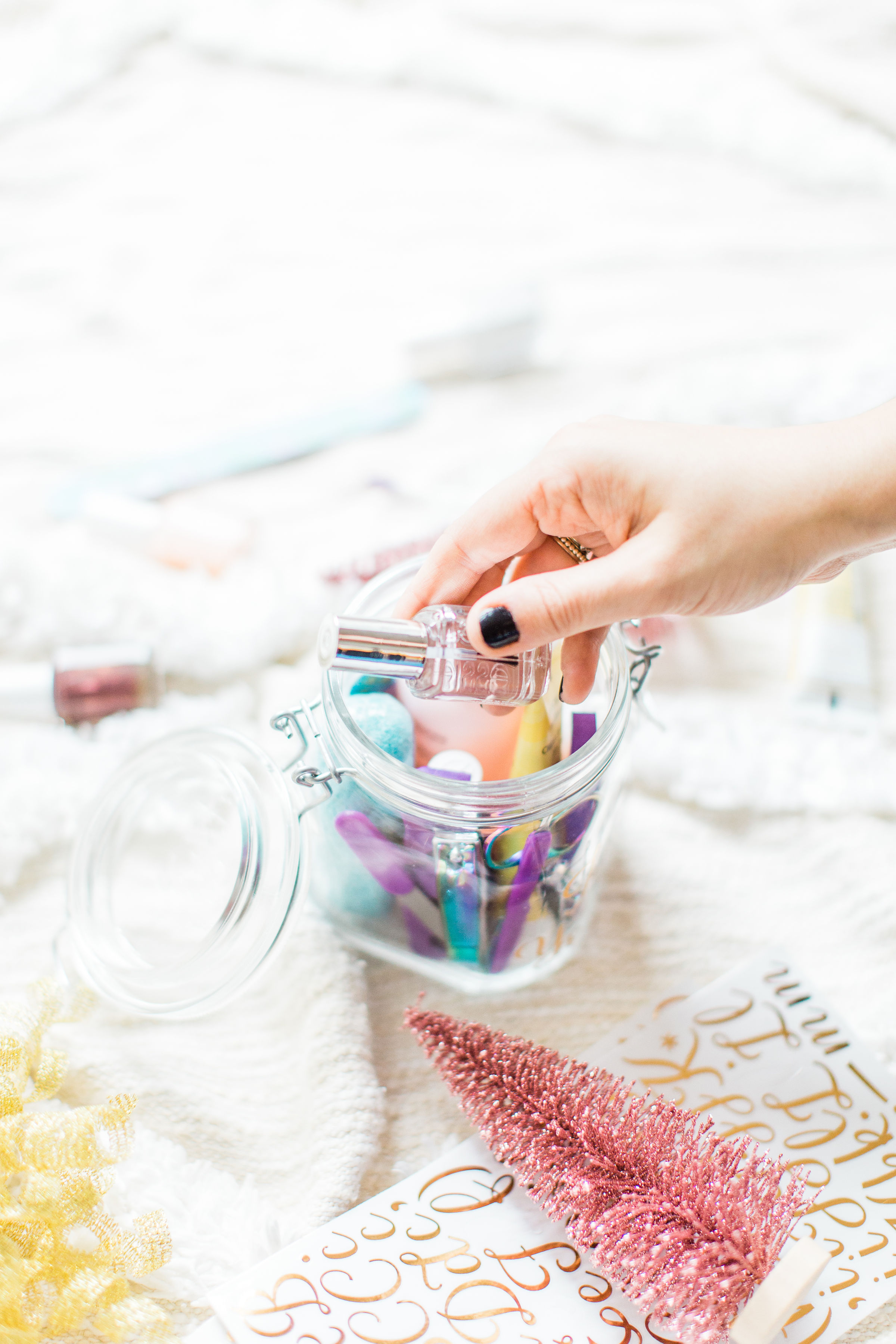 … and tell that special someone to do the same, with this adorable DIY pedicure in a jar.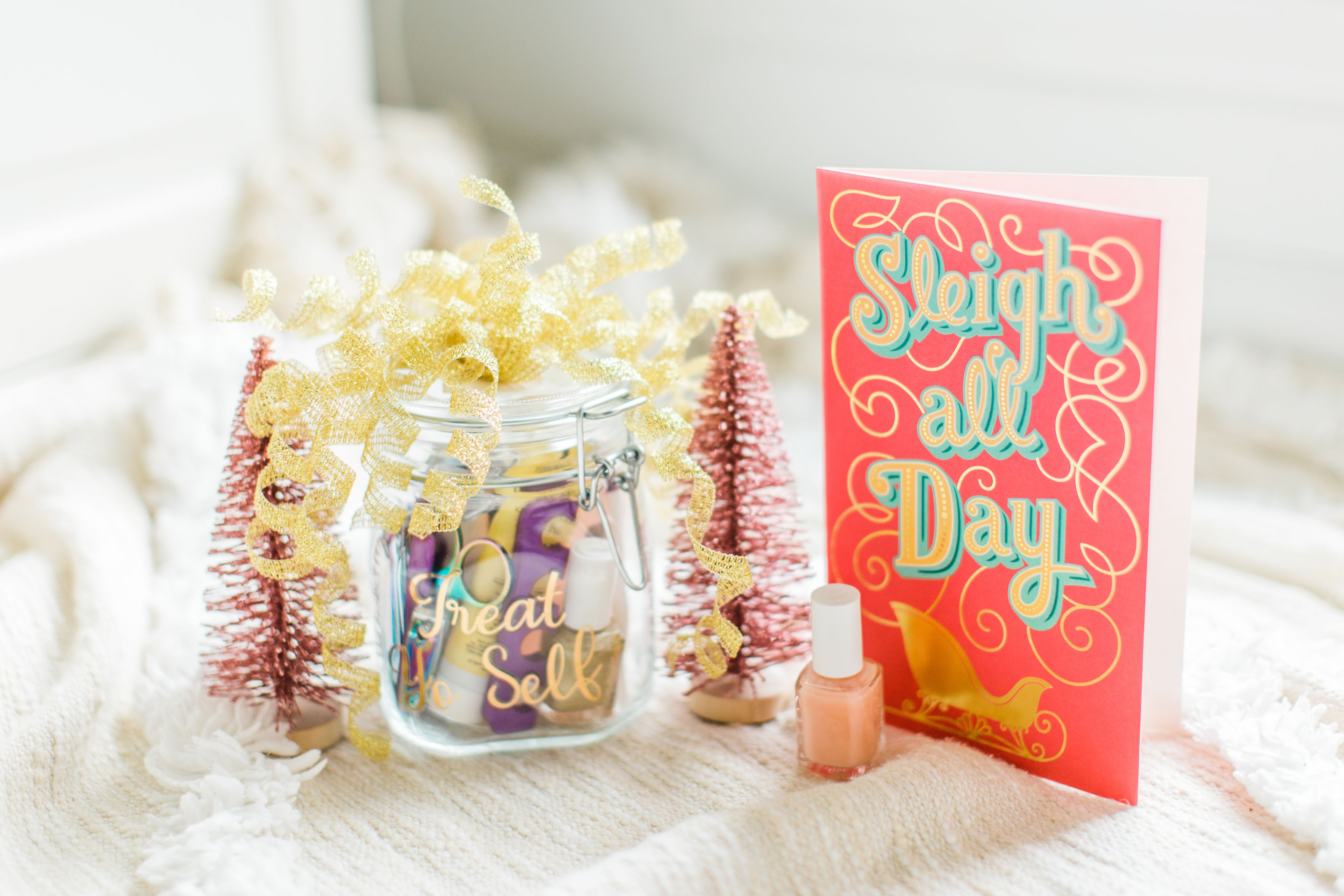 😍😍😍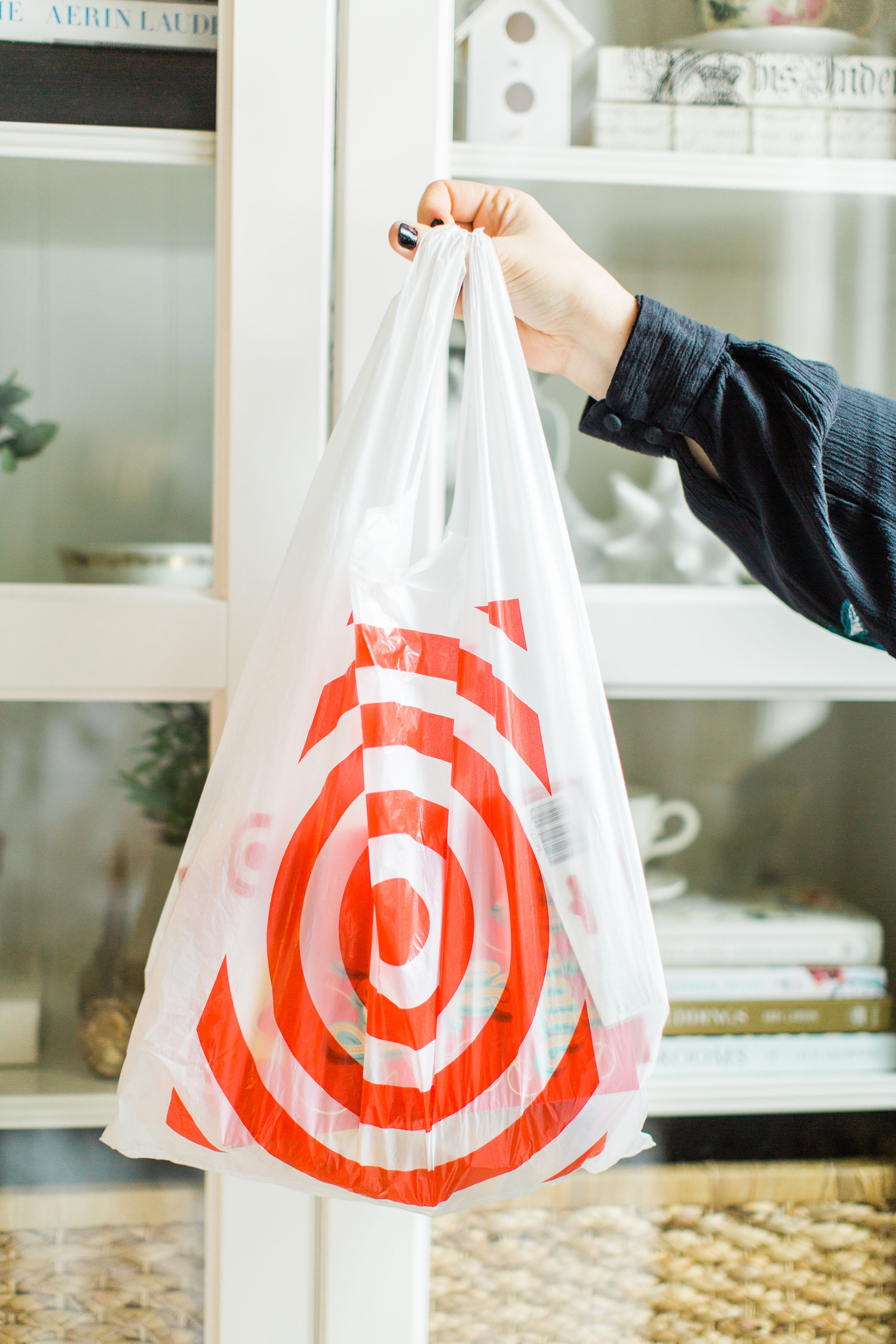 I headed to Target to stock up on everything I'd need to make a DIY pedicure in a jar. First stop: the American Greetings holiday card section. I had a blast reading through all of the adorable holiday cards (I'm a sucker for a great card!), and finally settled on the "Sleigh All Day" card. Adorable Christmas puns for the win!
By the way, if you need a little help with what to write in a Christmas card, this should do the trick, and there's currently a 10% off on Christmas & Holiday Greeting Cards through Cartwheel!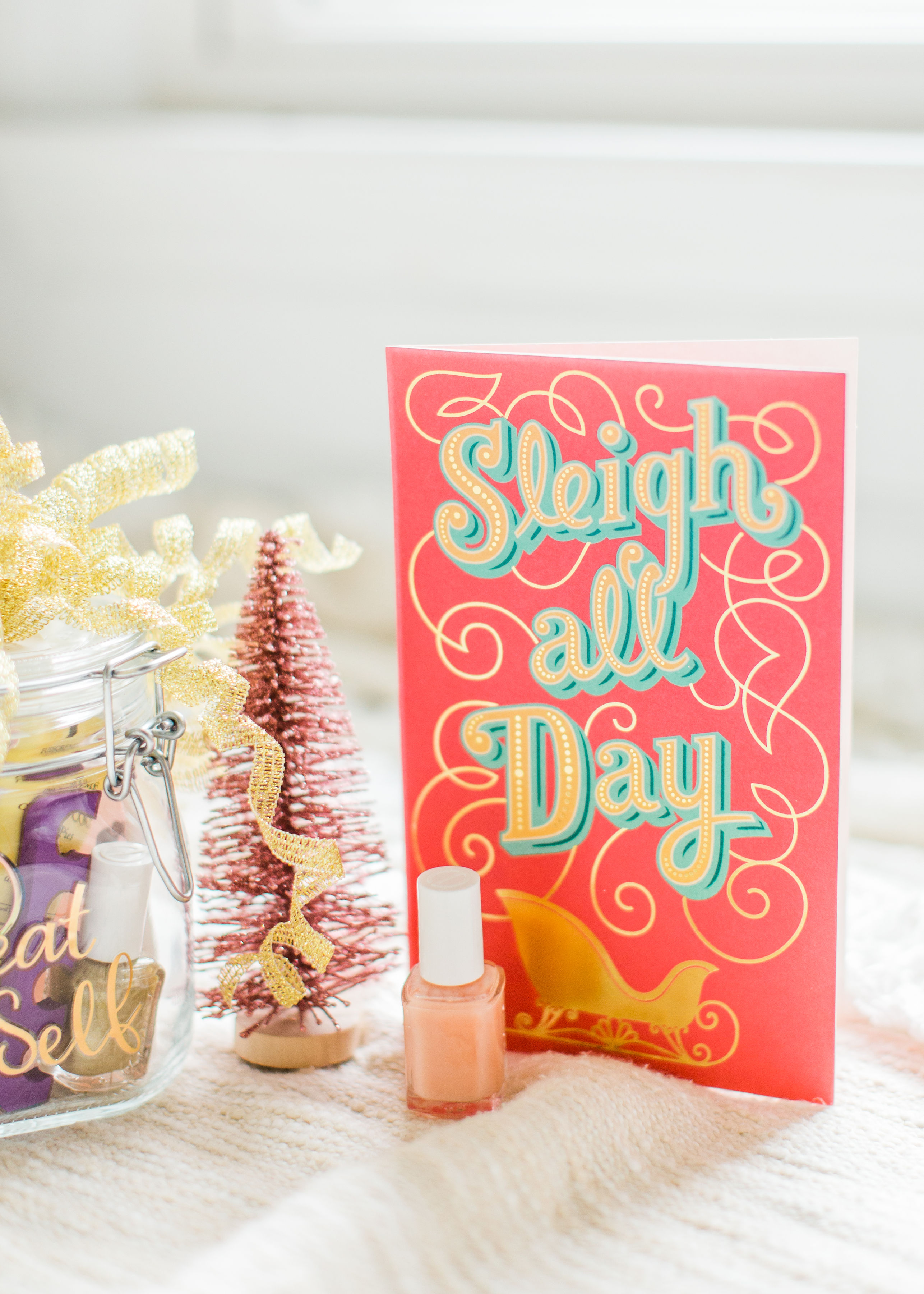 How to Make a DIY Pedicure in a Jar
WHAT YOU'LL NEED:
a jar with a lid (your best bet is something with a wide mouth/opening, like a wide mouth mason jar or canning jar)
pedicure pumice or stone
pedicure accessories – i.e., a nail file, small scissors, nail clippers, cuticle remover, toe spacers, etc.
small nail polish remover
1-2 nail polish colors
1 clear top coat (I like the gel set type top coats to really help manicures and pedicures last!)
clear letter stickers to put a cute saying or phrase on the jar (You could also use a metallic paint pen and write something!)
a bow to top your gift
your favorite holiday greeting card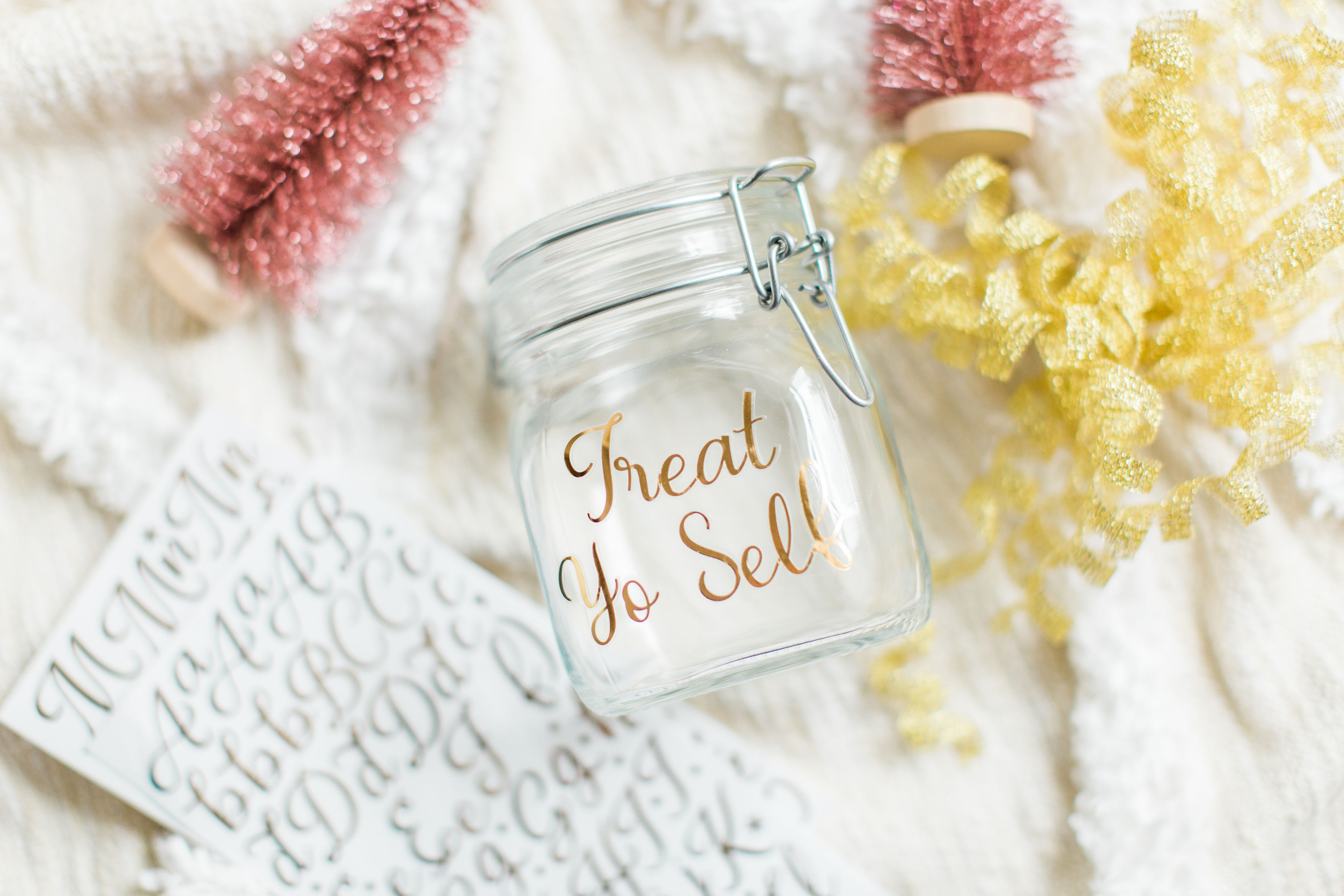 INSTRUCTIONS:
Choose a phrase to put on your pedicure jar, and start by applying your clear letter stickers to your jar to spell out the phrase. We went with "Treat yo self". Something like "Happy Holidays!" or even the person's name works great too.
Carefully fill your jar with all of the pedicure essentials. Start with the bigger items like the pumice stone, nail polish remover, etc., and then add in the nail polish bottles. Fill the spaces in with the pedicure accessories, and put the clear coat on top so that it's obvious when your recipient opens their gift jar that it's a pedicure in a jar.
Seal your jar, top with a bow and gift it to that special somebody with your favorite holiday greeting card!
I love that you can easily get everything you need for these DIY pedicure jars at Target! 🙌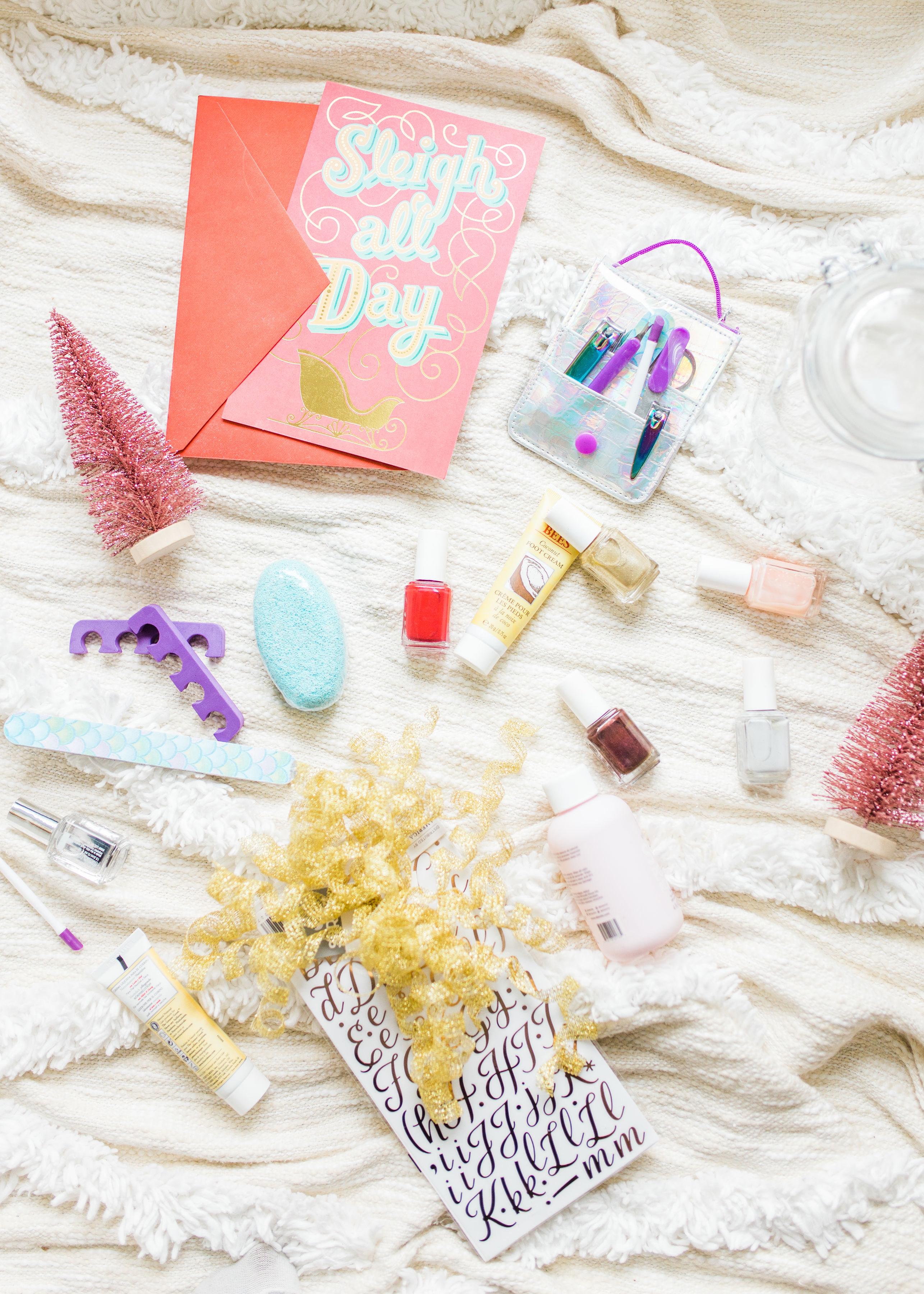 You can even set up a little "filling station," lining up everything you'll need for several jars, plus a row of jars, ready to be filled. I'm thinking of doing this for teacher gifts this year!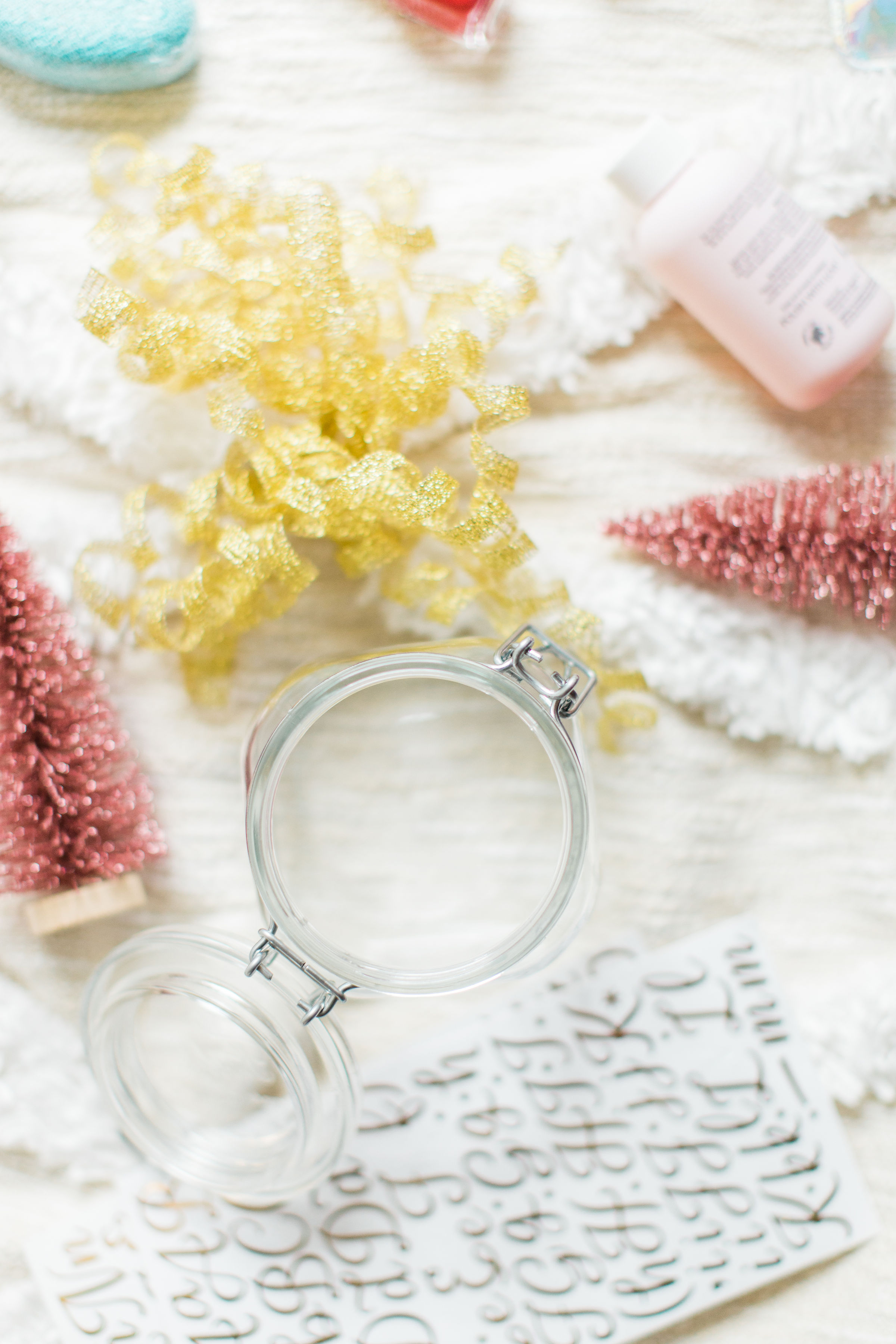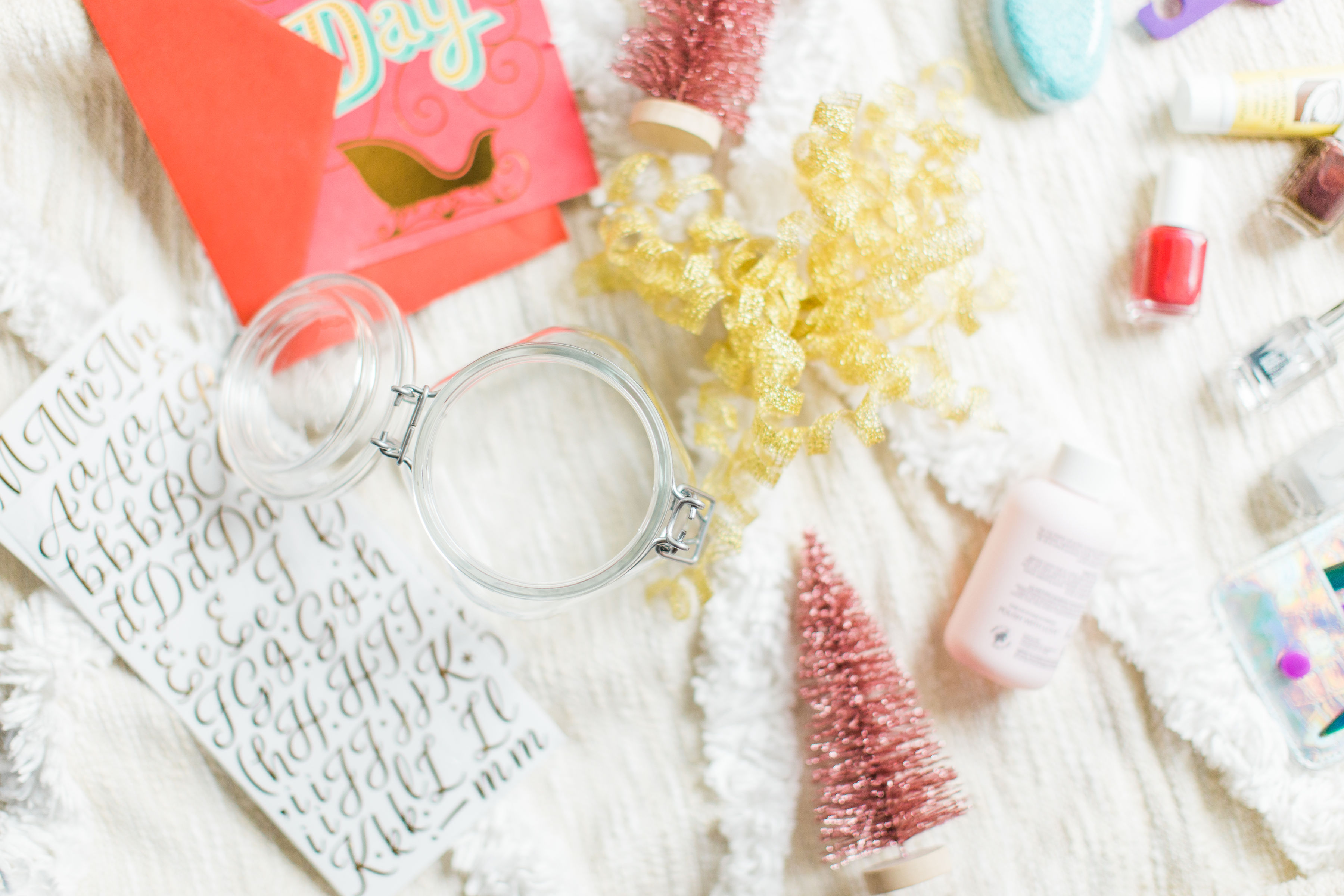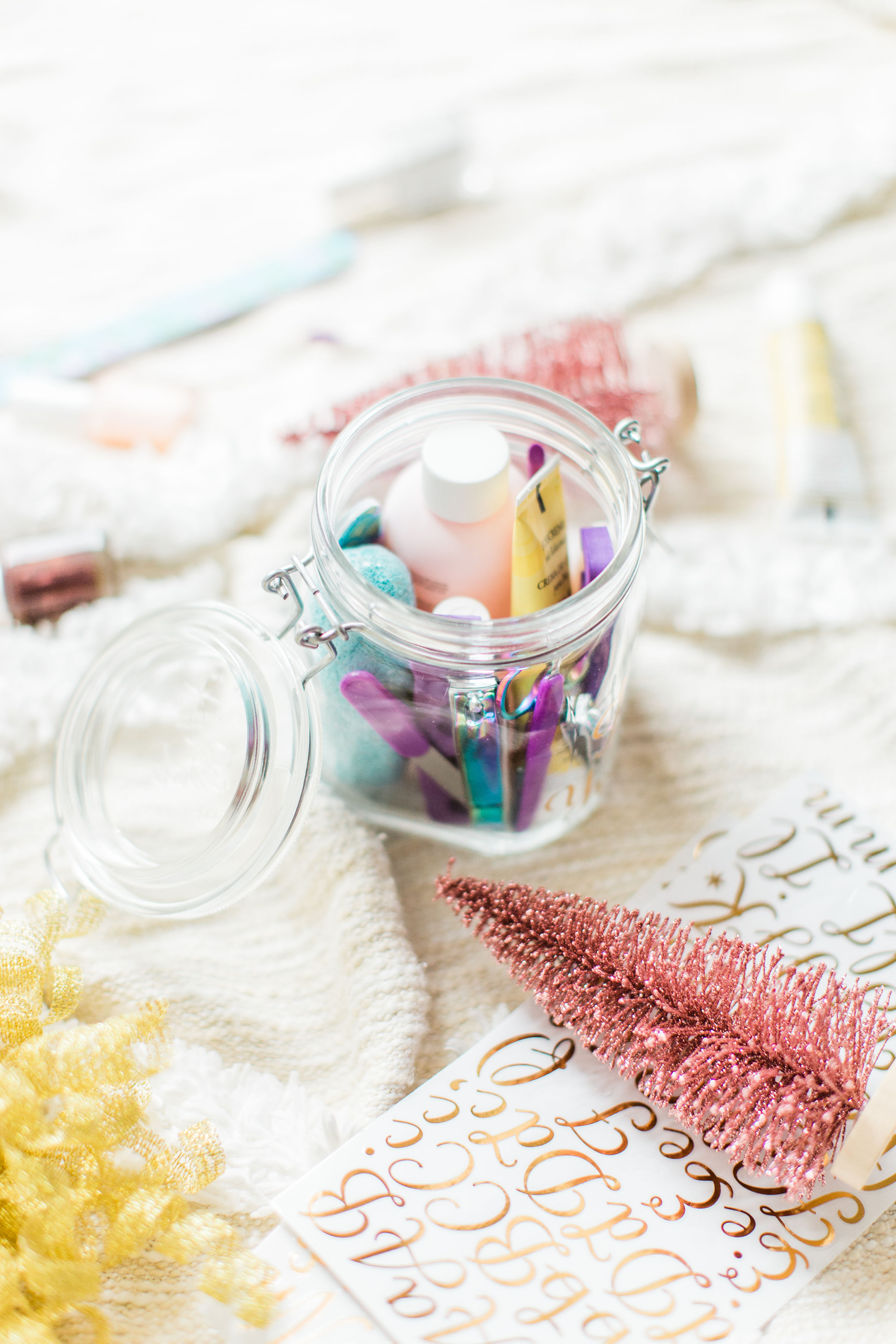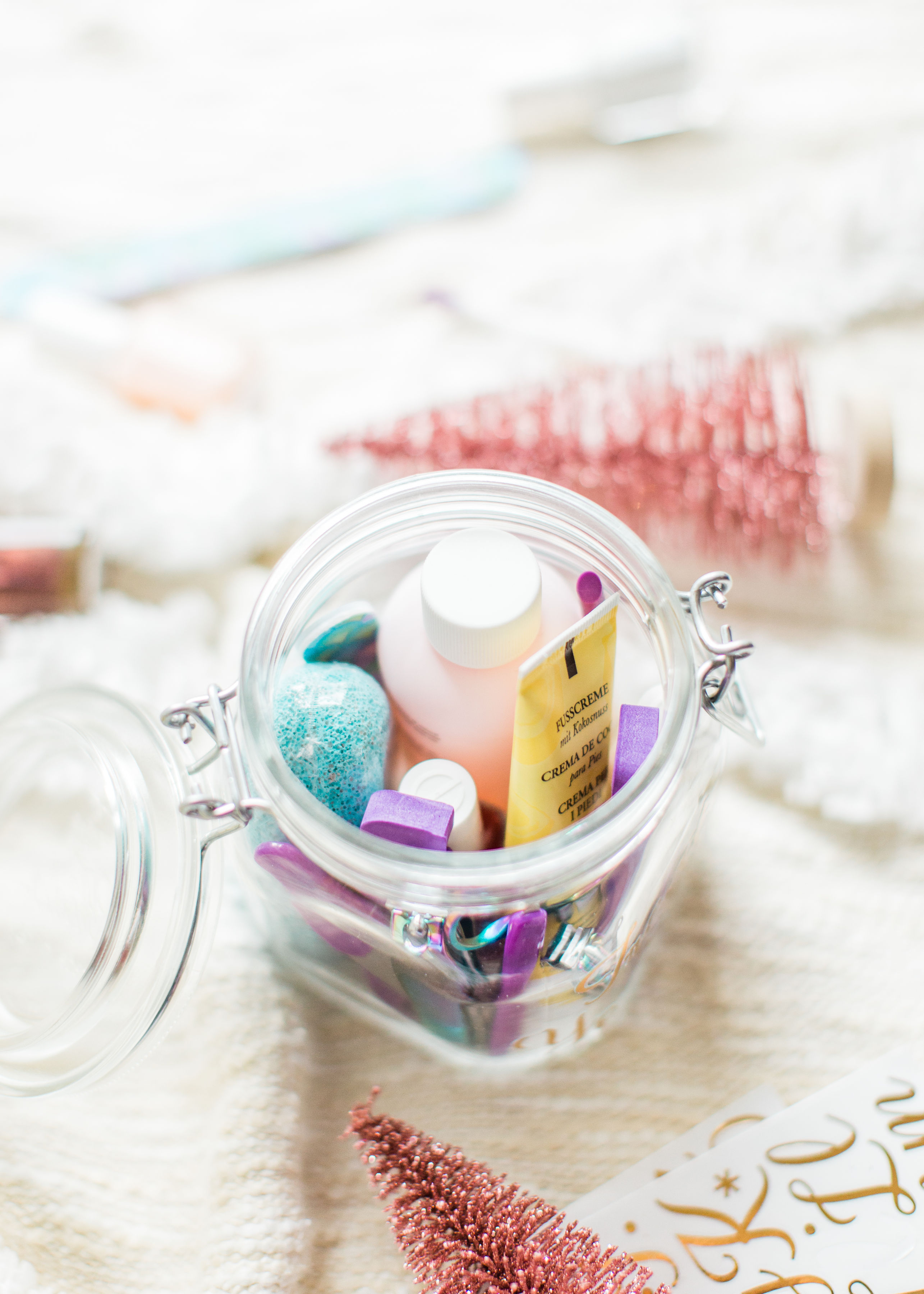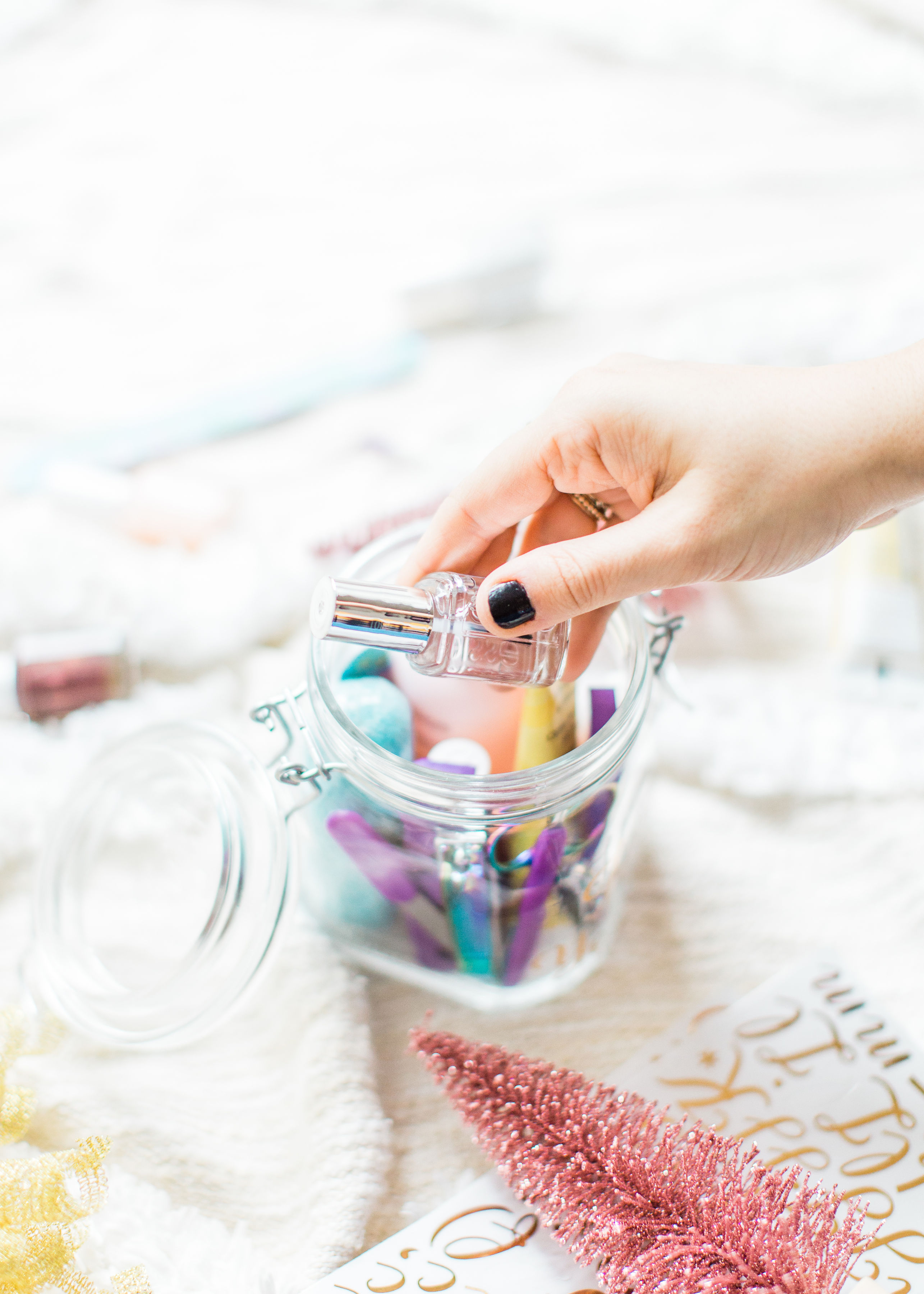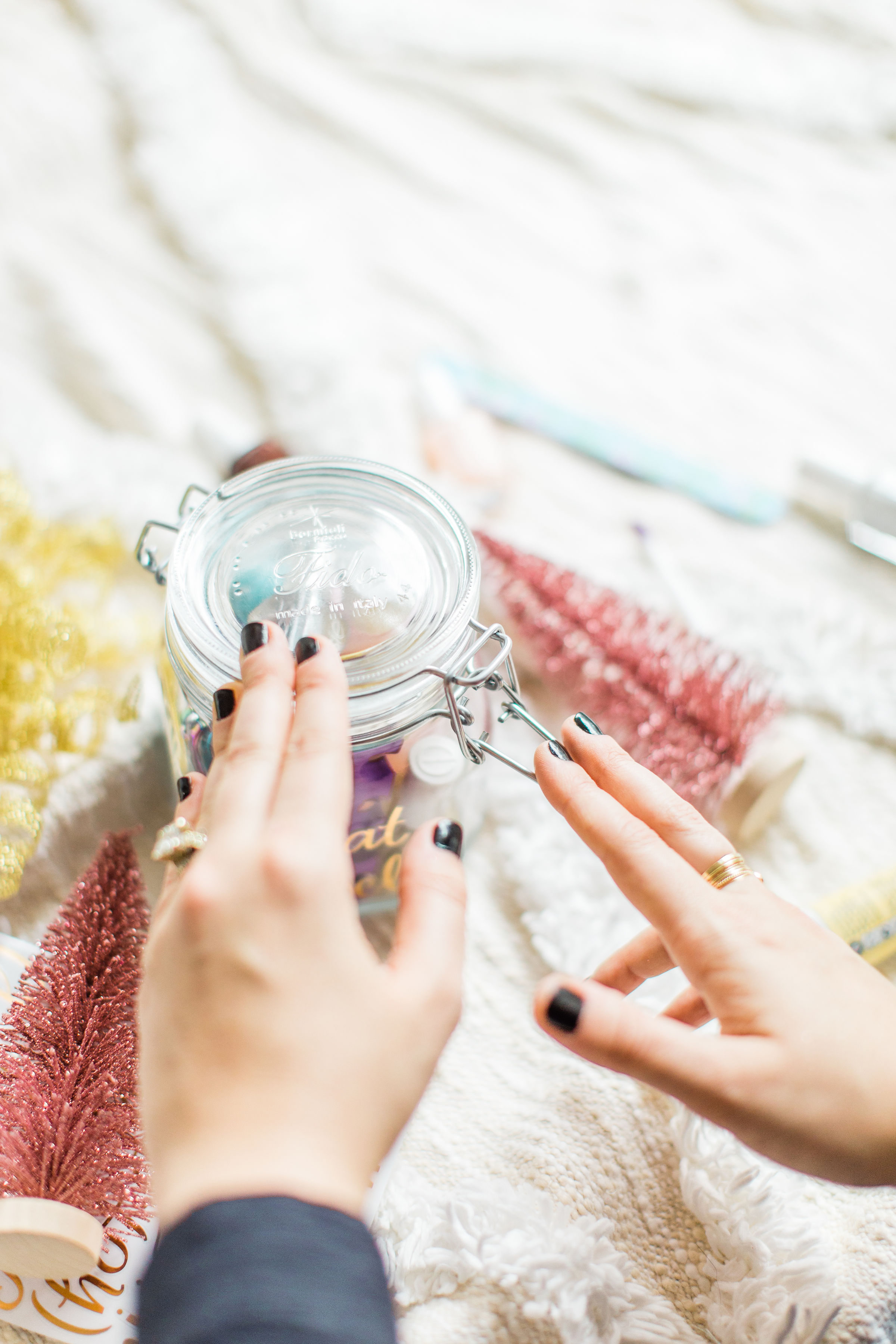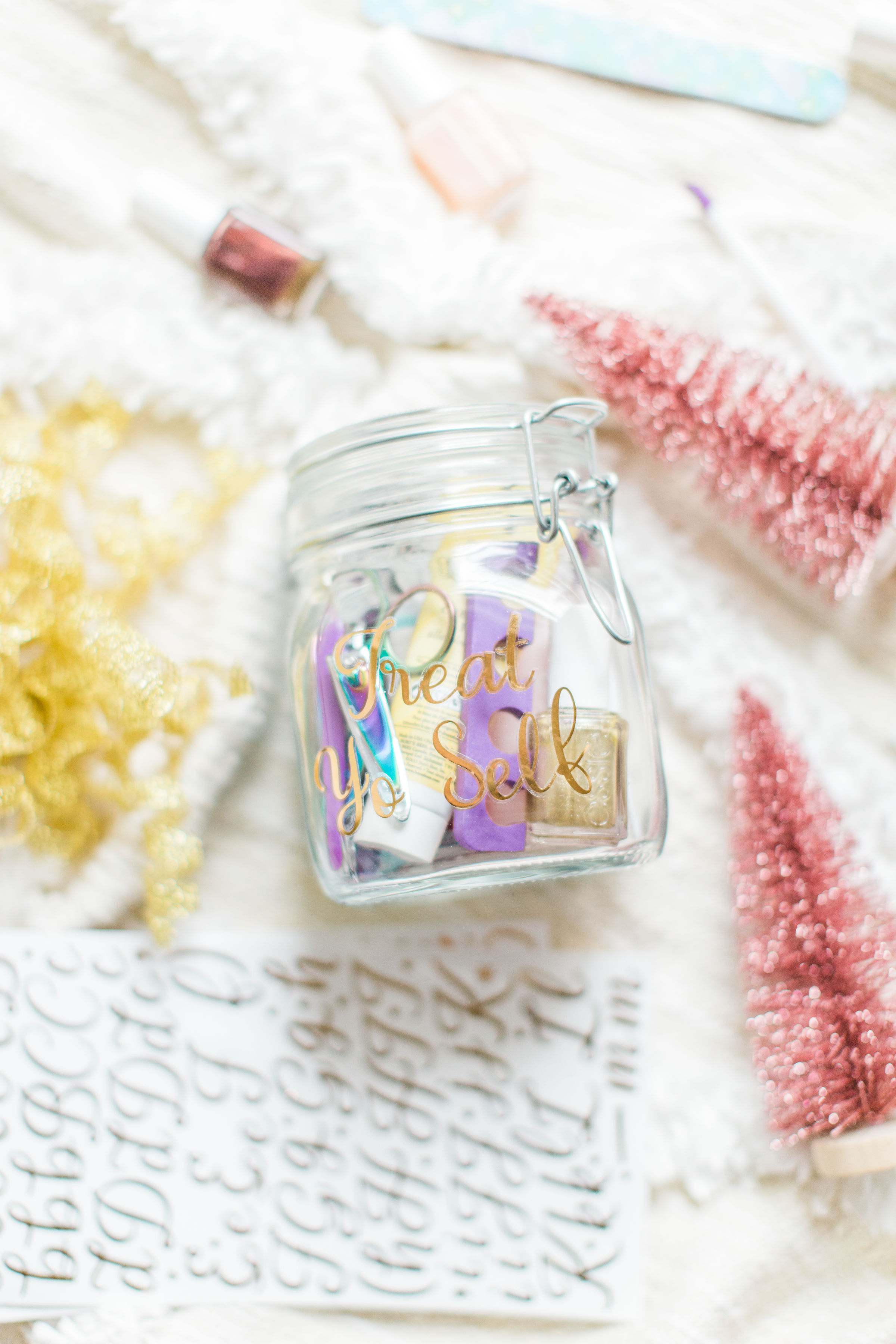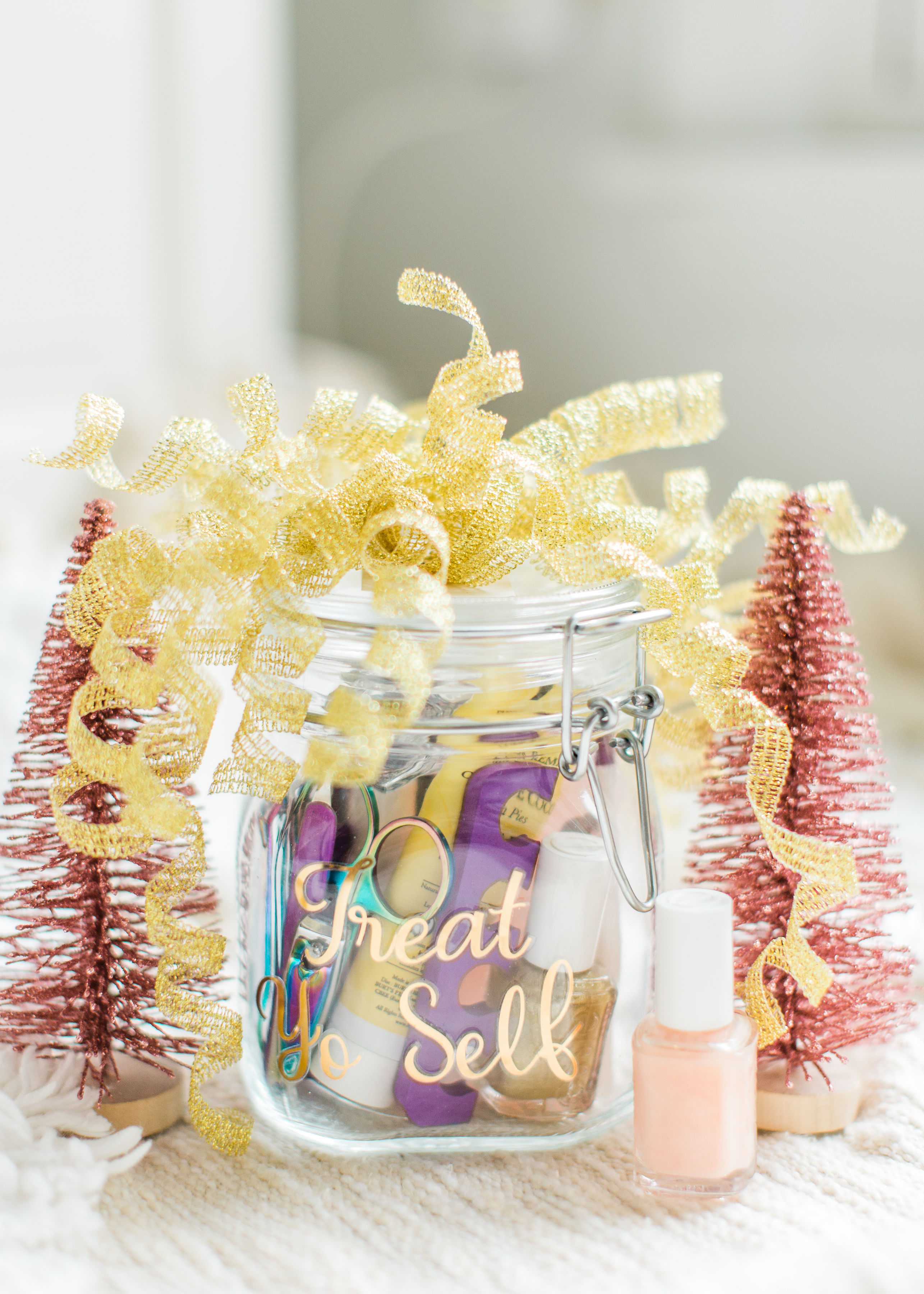 We also put together this really fun video to show you exactly how to make your own "treat yo self" pedicure in a jar:
Love this holiday gift DIY? Check out all of our crafts and projects here; and if you put together your own DIY pedicure in a jar, be sure to tag me on social media (@glitterinclexi) so I can check out all of your adorable gift creations!
Photos by Annie Timmons Photography for Glitter, Inc.