Back by popular demand, this year's gift guide for the blogger (a.k.a., all of the stuff that I want right now, because, blogging made me do it.) No shame in my fashion blogging game.
And hey, we bloggers know we may not be the first to covet that Clare V leopard foldover clutch, but it is just so darn pretty.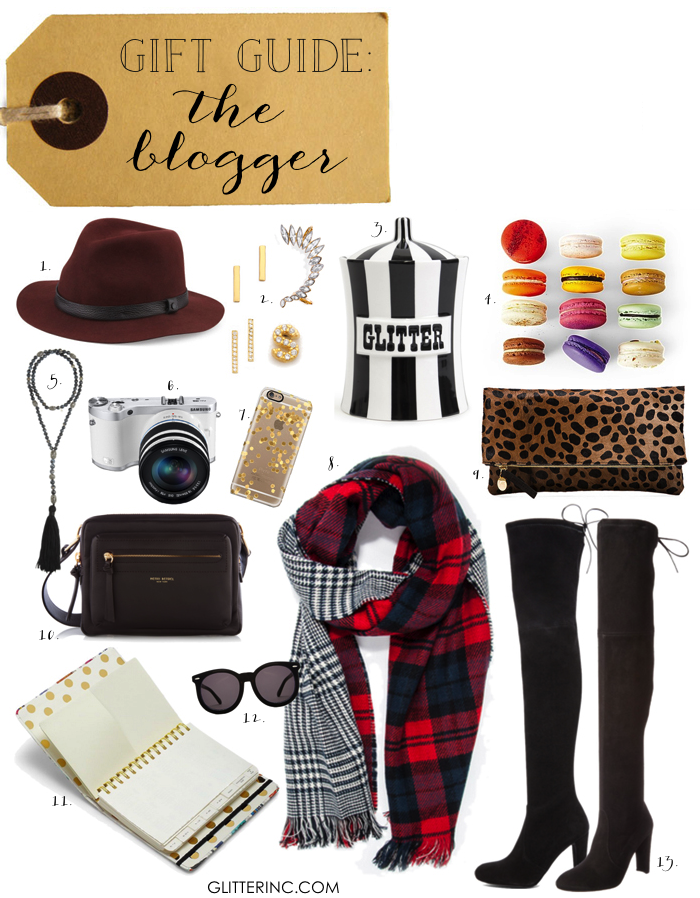 1. Rag & Bone Abbott Wool Fedora Hat: This hat keeps popping up everywhere, because it is just that good. Simple, chic, and so useful (Winter wind is a real hair destroyer.)
2. Gorjana Taner Bar Mini Stud Earrings + Jennifer Meyer Jewelry 18K Gold Bar Diamond Stud Earrings + BaubleBar Winged Crystal Ear Cuff + Tai Alphabet Earrings: Dainty earrings worn in bunches, so cool.
3. Jonathan Adler Glitter Canister: This statement decor piece has stripes and houses glitter; need I say more?
4. Macarons (like these, Natasha's Mulberry & Mott Assorted Macaron Collection): Because macarons are awesome, and such a sweet gift.
5. HIPCHIK COUTURE Mattie Agate Bead Tassel Necklace: Bringing back those Summer vibes, even when it's twenty degrees outside.
6. Samsung NX300M Compact Interchangeable Lens Digital Camera: This little beauty packs wifi (take better photos and send them to your phone in seconds), allows for interchangeable lenses, and fits easily into your purse. Basically, a blogger's dream.
7. Gold iPhone 6 plus Transparent Case: Dreaming of an iPhone 6 … and this glitzy case.
8. Oversized Plaid Scarf: I have several of these oversized "blanket" scarves, and truthfully, I can't get enough. I take these everywhere.
9. Clare V. Leopard Foldover Clutch: Possibly the ultimate blogger weakness. Leopard calf hair and the clutch style photographs oh so well; yeah, you know you want it.
10. Henri Bendel Mercer Camera Crossbody: The perfect chic camera carrying-case.
11. Kate Spade 2015 17-month Medium Agenda: I've said it before, I'll say it again – need my paper planner.
12. Karen Walker Super Worship Sunglasses: The oversized shape adds just the right touch of retro drama; love my Karen Walkers.
13. Stuart Weitzman Suede Over-the-Knee Highland Boots: It doesn't get much more gorgeous than Stuart Weitzman's over-the-knee boots, and these are both beautiful and super comfortable. On my wishlist.
I hope you've been loving this year's holiday gift guides (and Pinterest boards). Don't be shy: let me know if there are any people you really need help shopping for. Any excuse to "shop" sounds like a plan to me!