This post has been sponsored by HERSHEY'S + Jet Puffed + HONEY MAID. All thoughts and opinions are my own. Thank you so much for clicking through and helping to support this little blog business of mine! Read more about our site, privacy, and disclosure policies here.
Want to plan a family fun night that is perfect for your gang this summer? Turn your living room into a campy lounge for an epic movie night with the kids, complete with indoor s'mores!
Summer is finally here, and we've been gearing up for summer nights! With a little ingenuity, we decided to kick off the warm weather season by celebrating with a movie night with the kids—complete with indoor s'mores (one of our favorite desserts for any night of the week).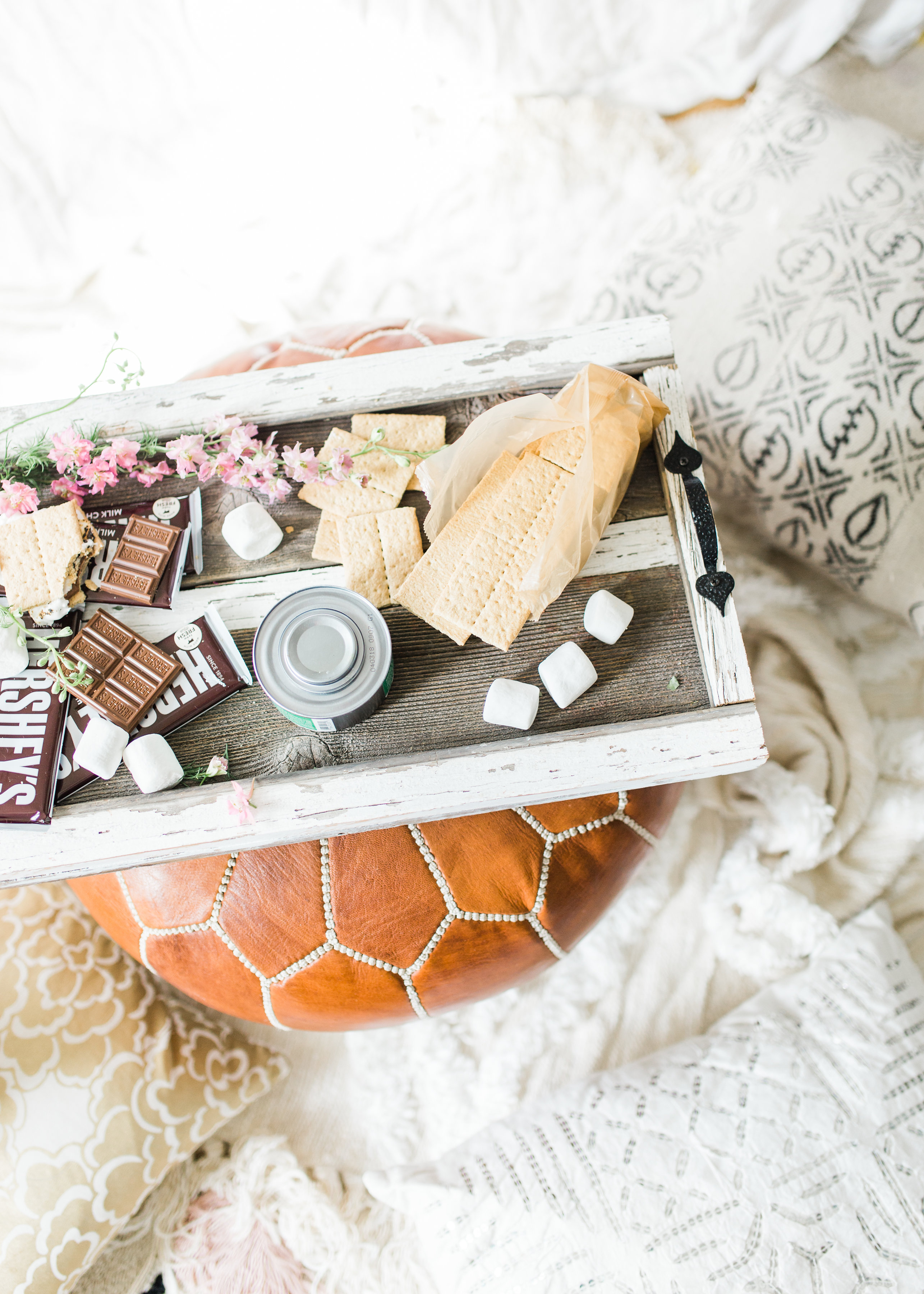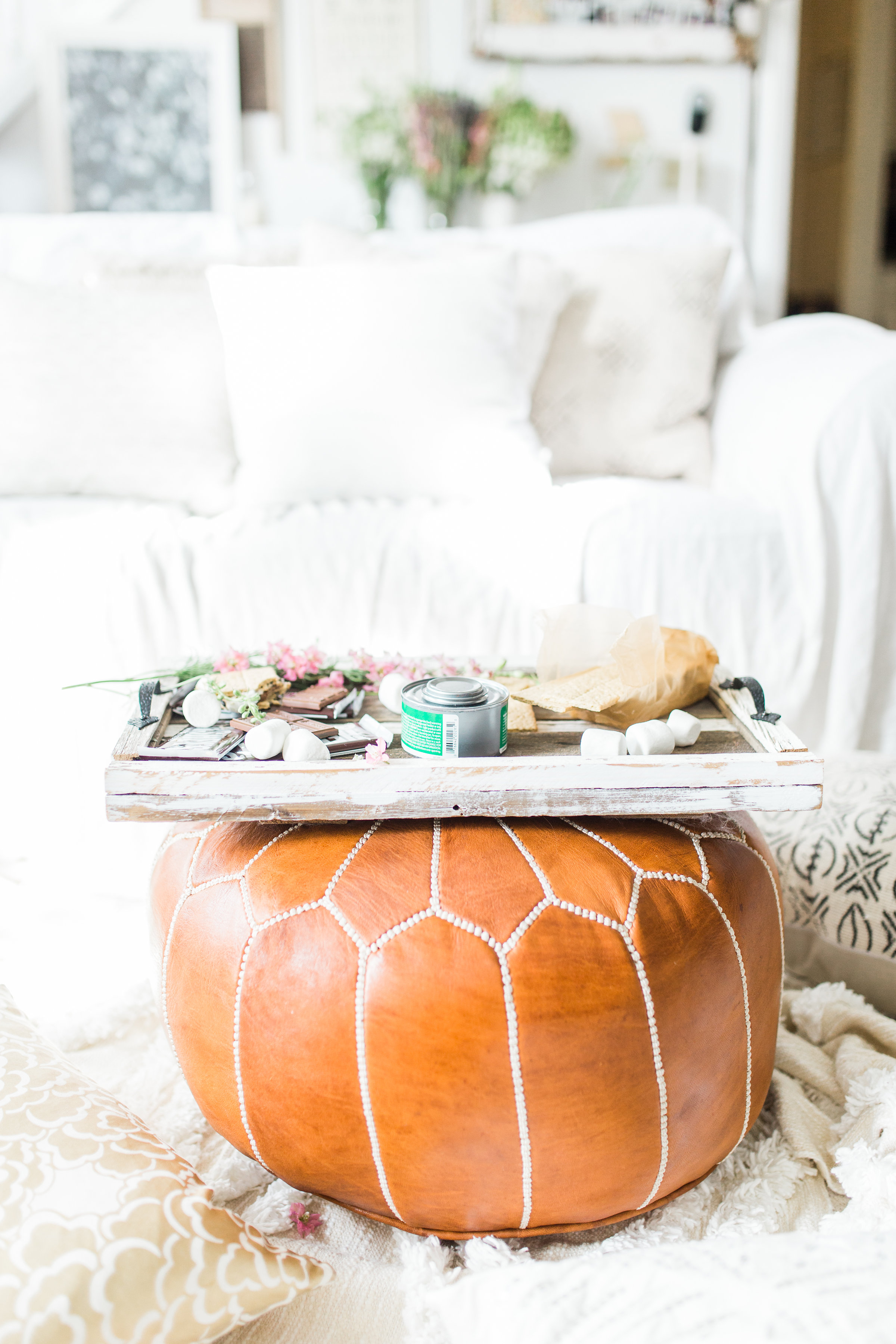 We decided to turn our living room into makeshift camp grounds and piled rugs, blankets, and pillows on our floor for a cozy spot to camp out for the night. We also covered our sofa with sheets to give the whole room a blanket fort feel! (Not to mention: sheets on the couch are a GREAT way to prevent sticky, chocolate-y fingers from making their way onto your cushions. #momwin)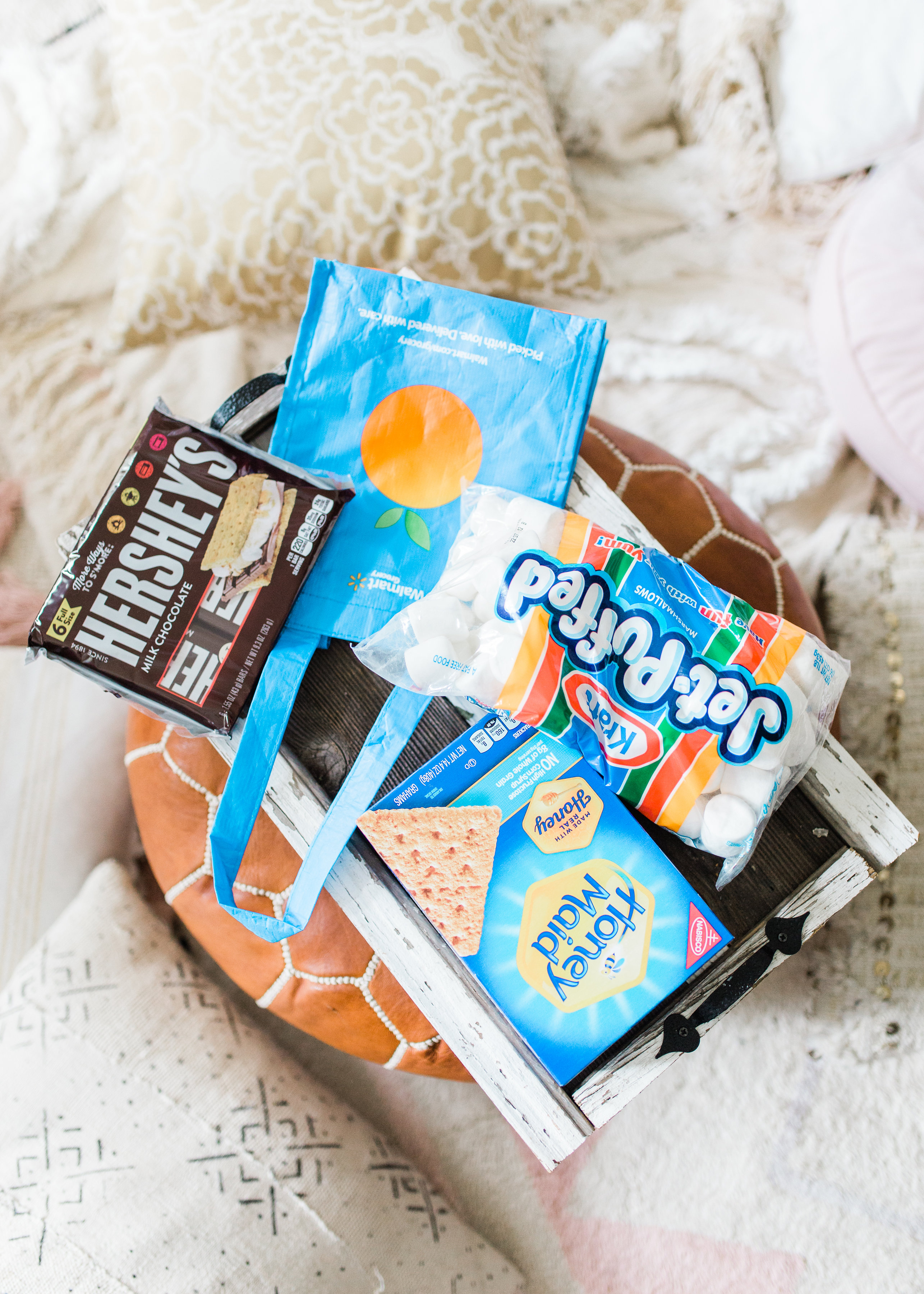 We stocked up on everything we would need for our indoor s'mores at our local Walmart. We went for the classics: HERSHEY'S Chocolate, HONEY MAID Honey Grahams, and Jet Puffed Marshmallows.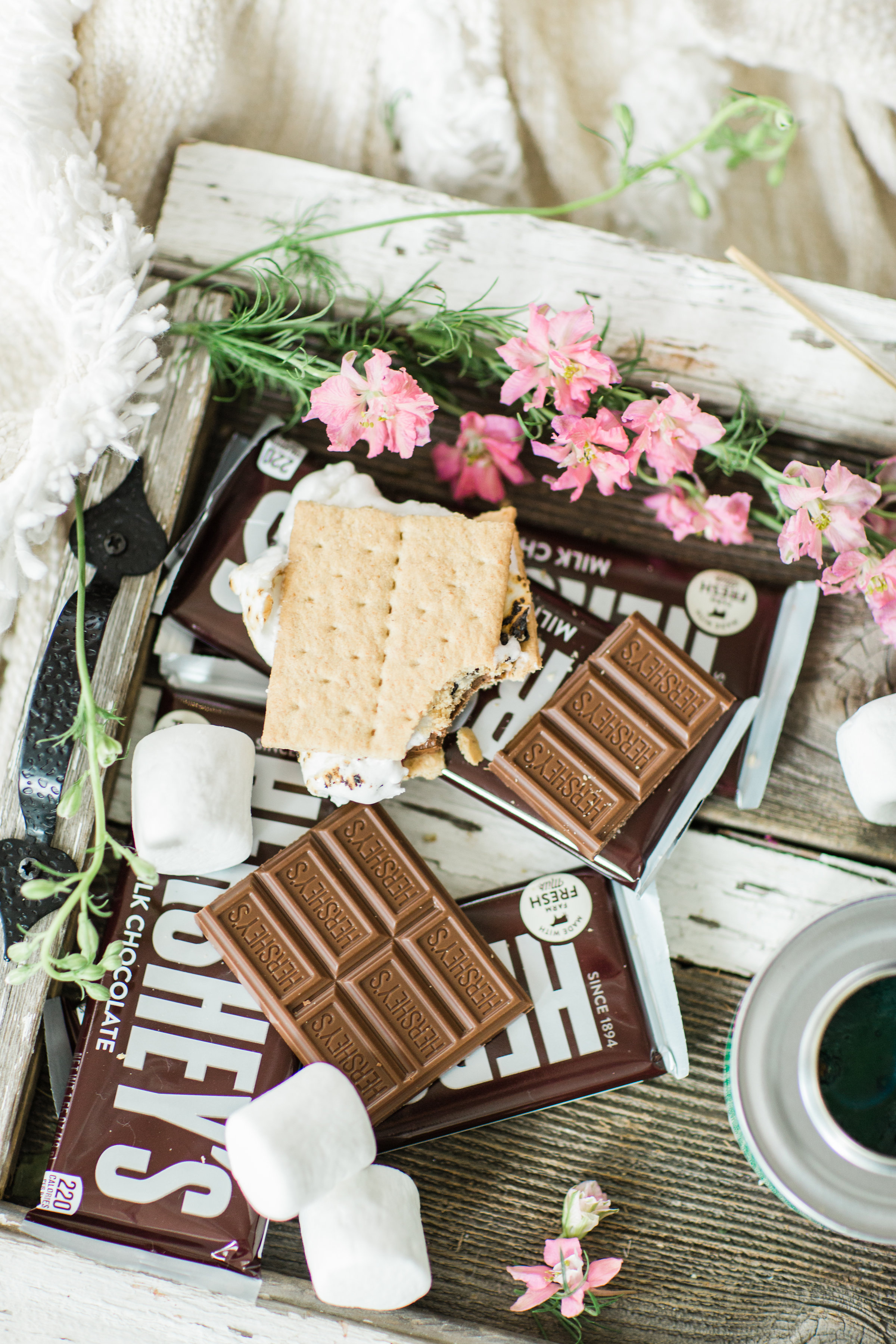 We picked two movies: one for the kiddos and one for mom and dad once the babies went to sleep. Of course we watch movies all the time, but going that extra mile, throwing some blankets out and having an extra special treat (mmmm …. s'mores) made the whole thing feel really special and fun.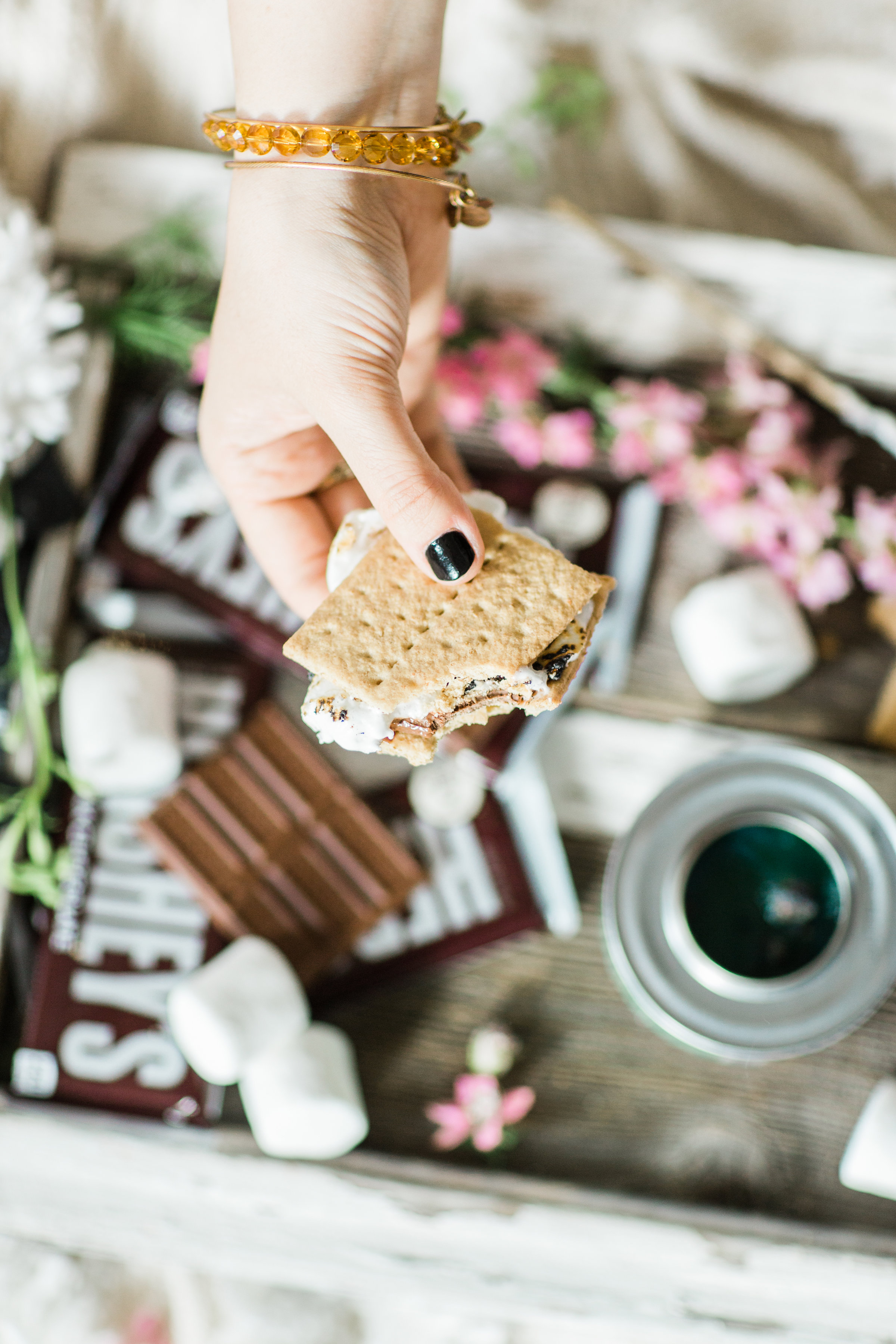 Since throwing this little family movie night, s'mores have become a regular request from our toddler. And, as it turns out, s'mores are the perfect everyday summer dessert.
I ALWAYS loved s'mores growing up, and it's really no surprise that our little one loved them too. As parents, we love the nostalgia of them; of course, s'mores taste amazing and are SO simple to make.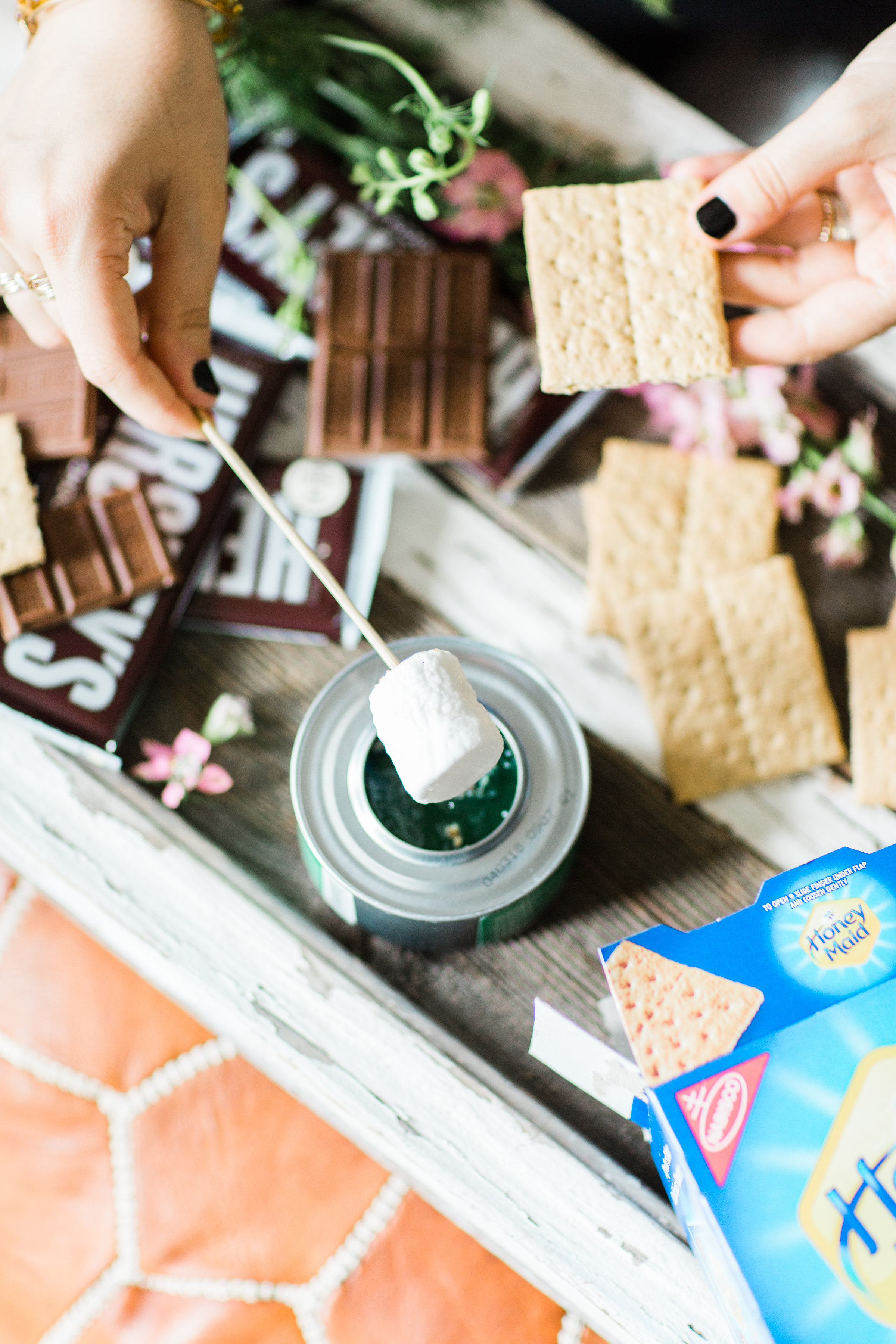 I bet you're wondering just HOW exactly we managed to pull off making s'mores in our living room??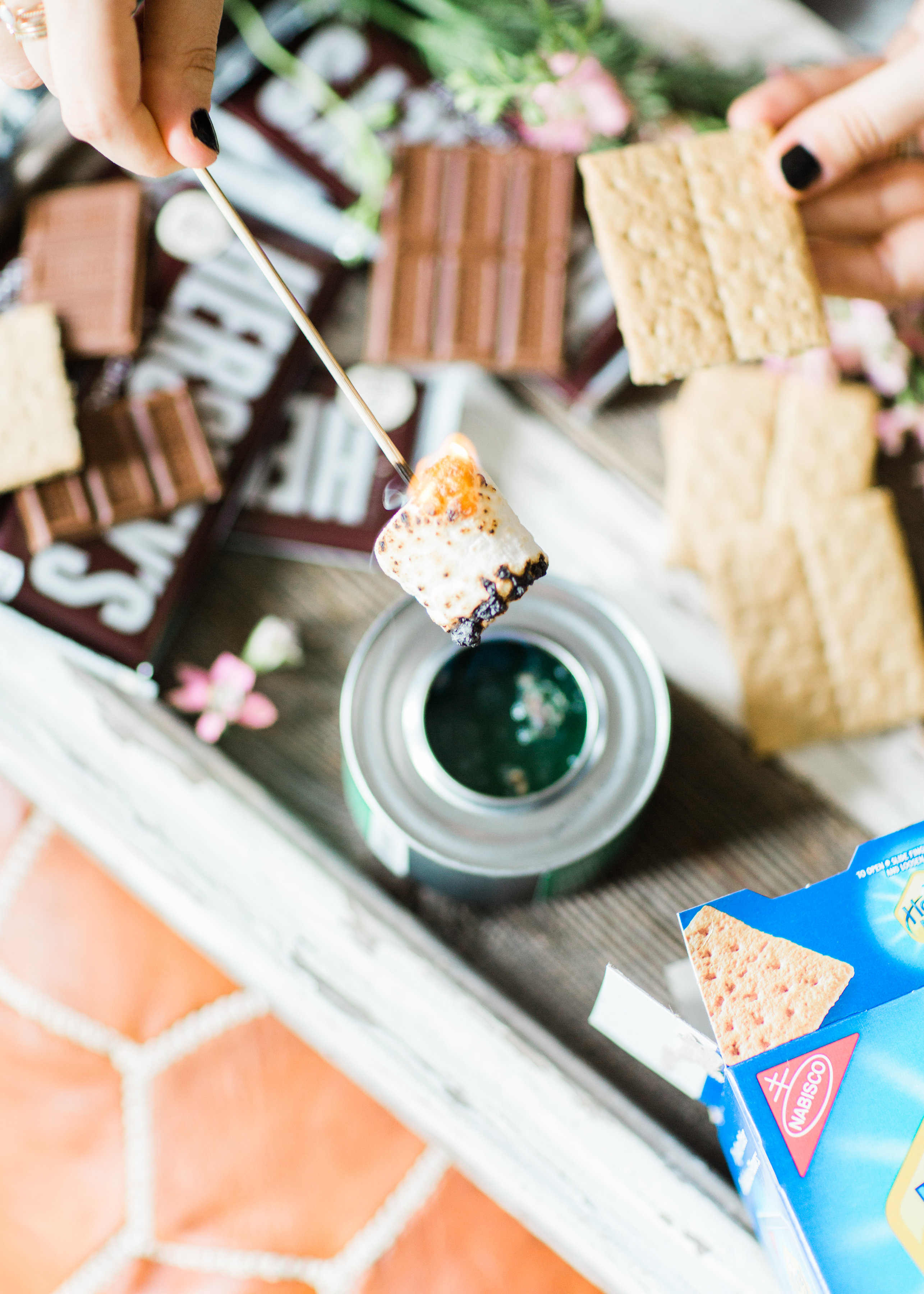 Guys, these little flame starters (a.k.a., fuel cans) – that are often used by caterers to keep trays of food warm – are genius and the perfect thing for indoor s'mores. You can find them at Walmart, typically in the camping section. Once you're ready to use it, just pop the lid, light the gel, and a small flame starts. Obviously, the toasting of the marshmallows is a "parents only" kind of job. I was amazed at how simple it was to roast our marshmallows on a skewer, right in our living room.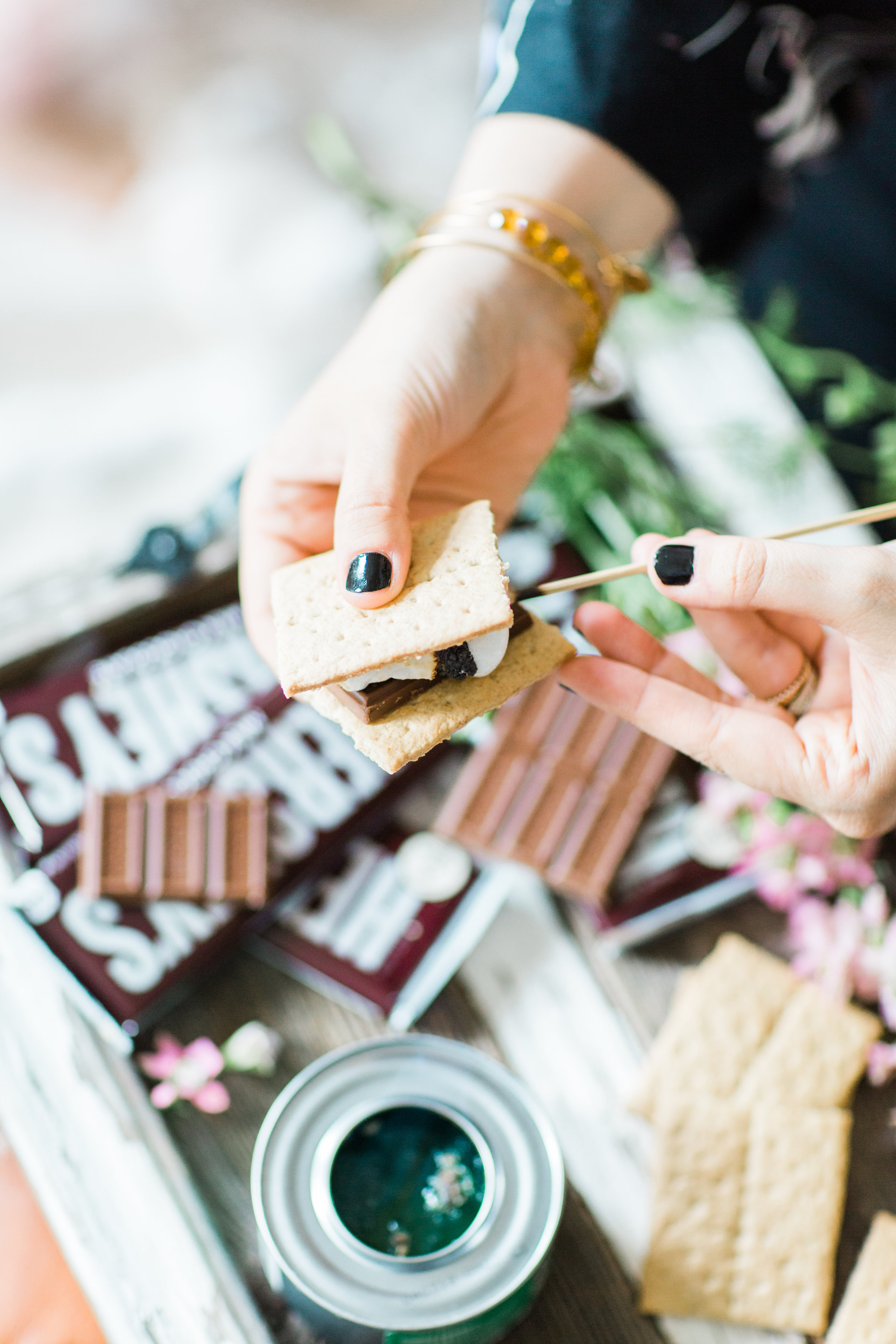 To Make Your Own Indoor S'mores …
WHAT YOU'LL NEED:
HERSHEY'S Chocolate

HONEY MAID Honey Grahams

Jet Puffed Marshmallows
Skewers
1 Fuel Can (typically lasts for up to 2 hours of use)
DIRECTIONS:
Toast your marshmallows on a skewer (a fork works too!) over your fuel can. Assemble a graham cracker, piece of chocolate, toasted marshmallow, and top with another graham cracker for the perfect s'mores sandwich!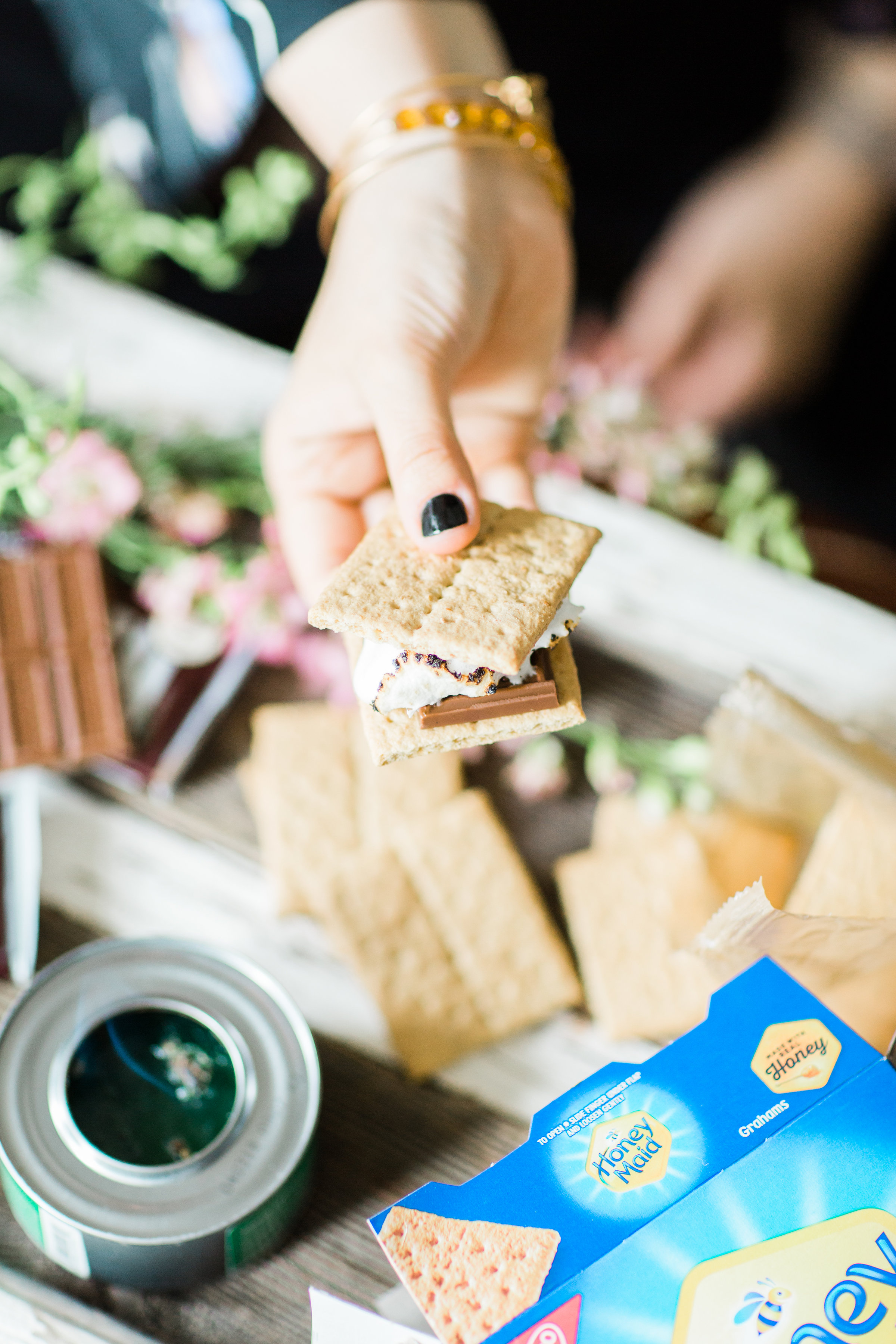 From there, the kids can easily get involved by making sandwiches of graham cracker, a piece of chocolate, and their freshly toasted marshmallow.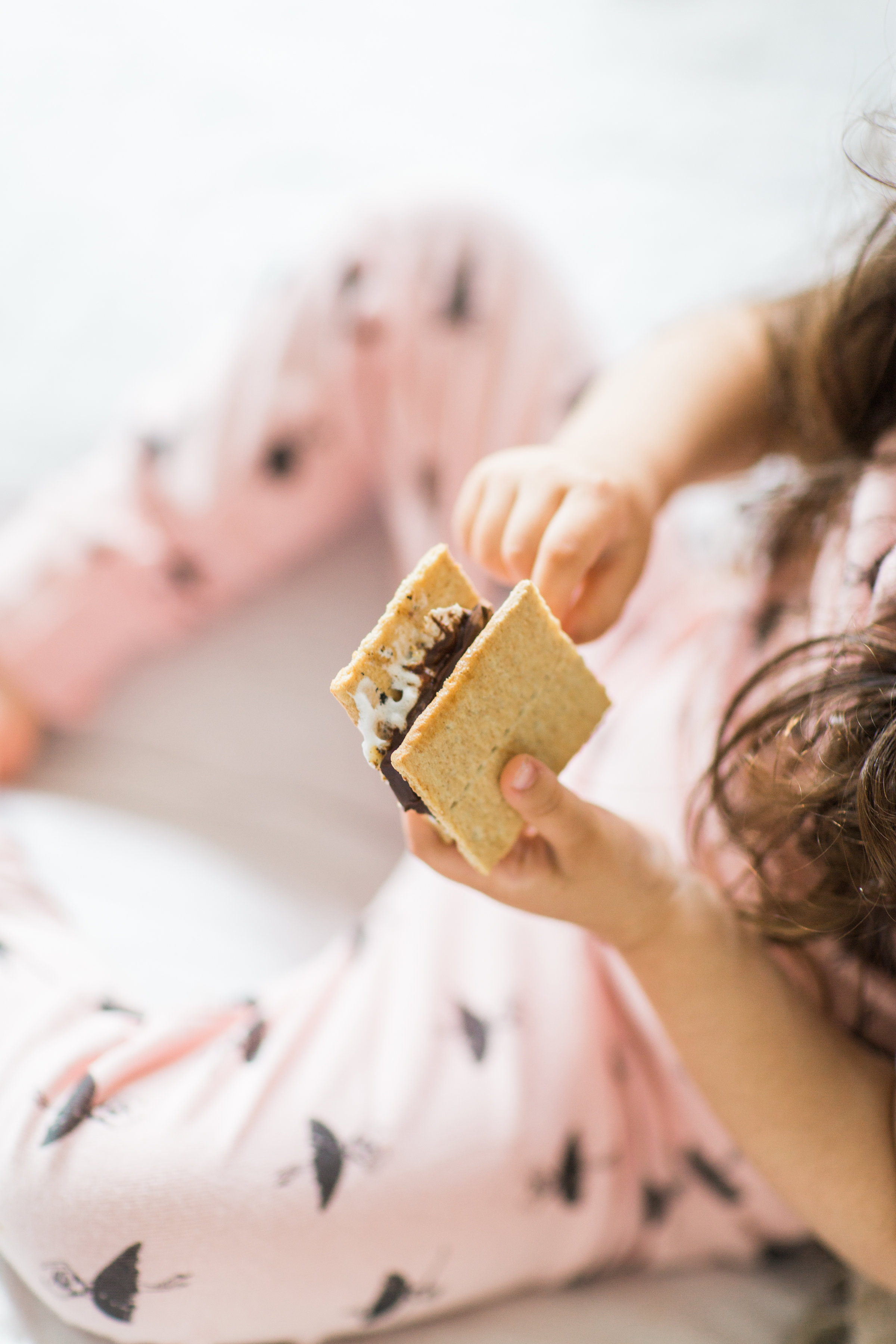 Yum.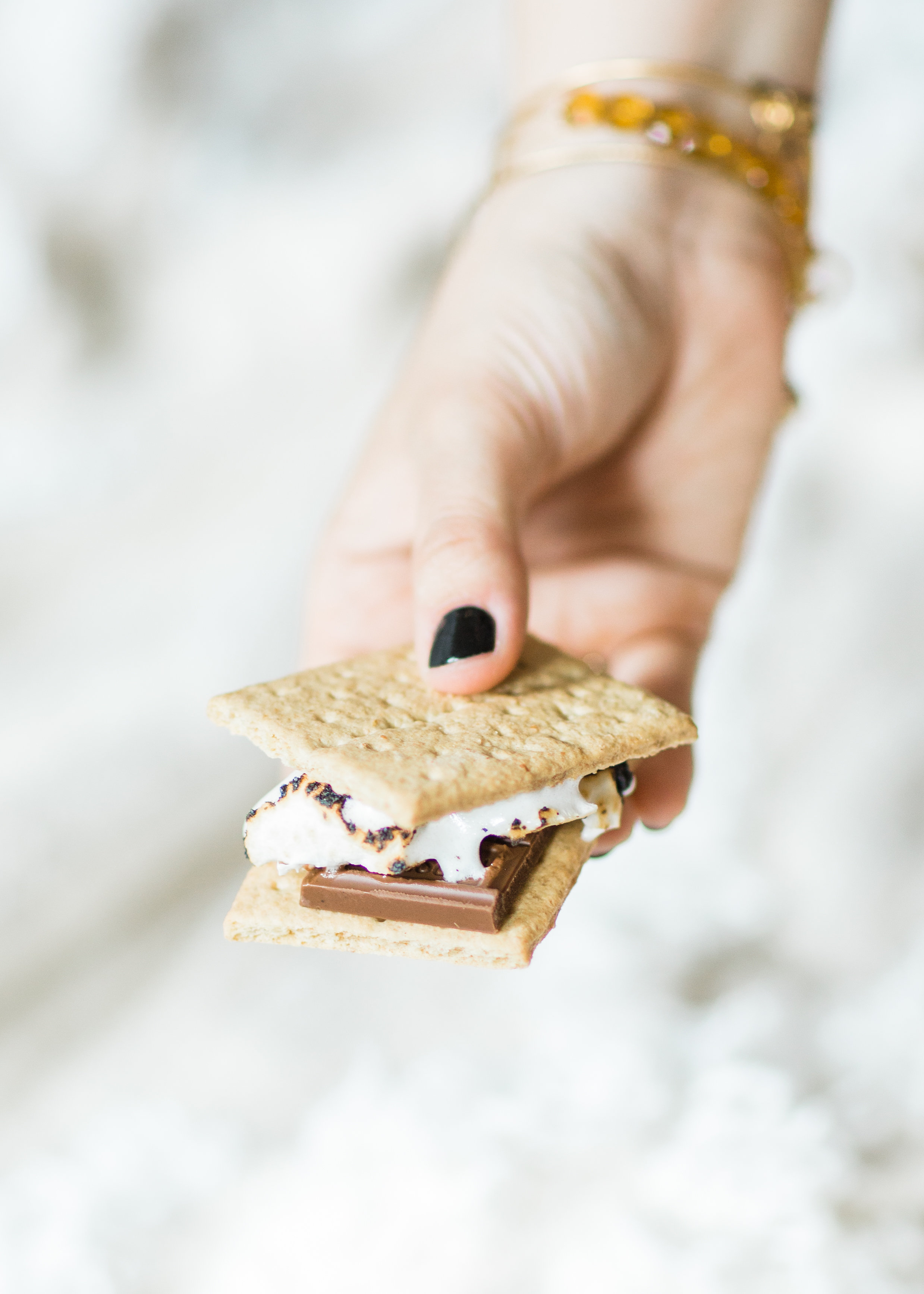 S'mores are such an adorably sweet way to bring the whole family together with a classic summertime dessert.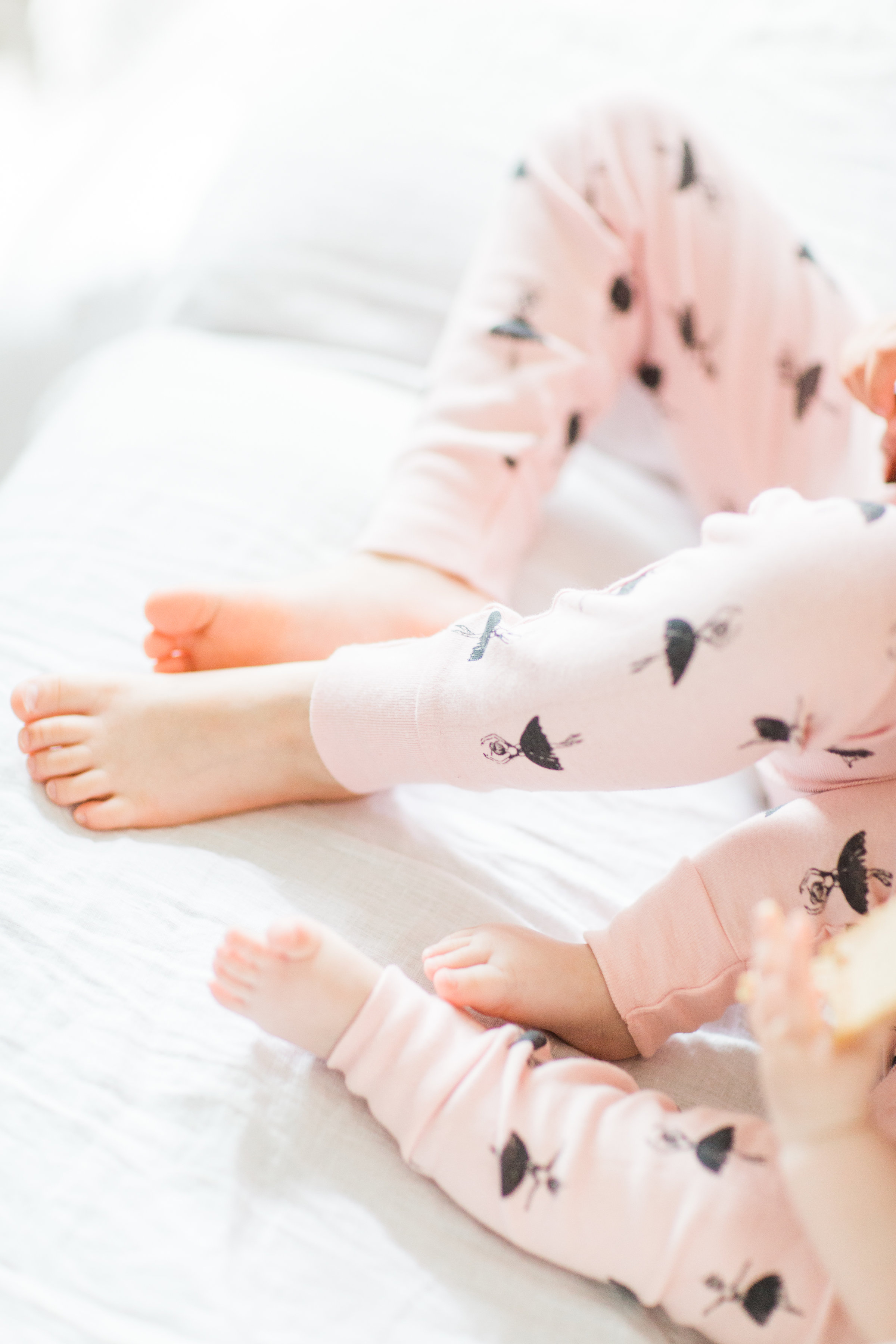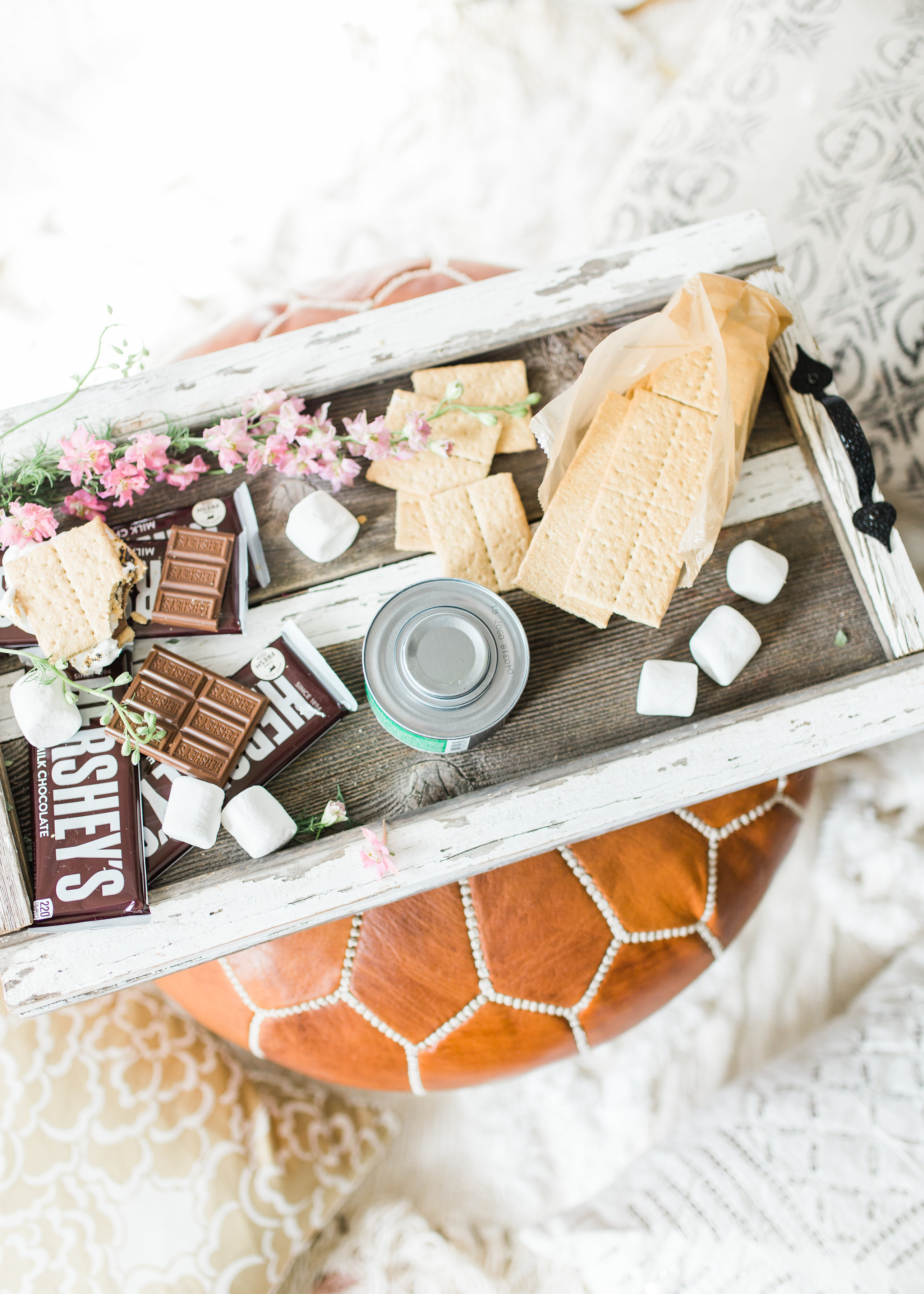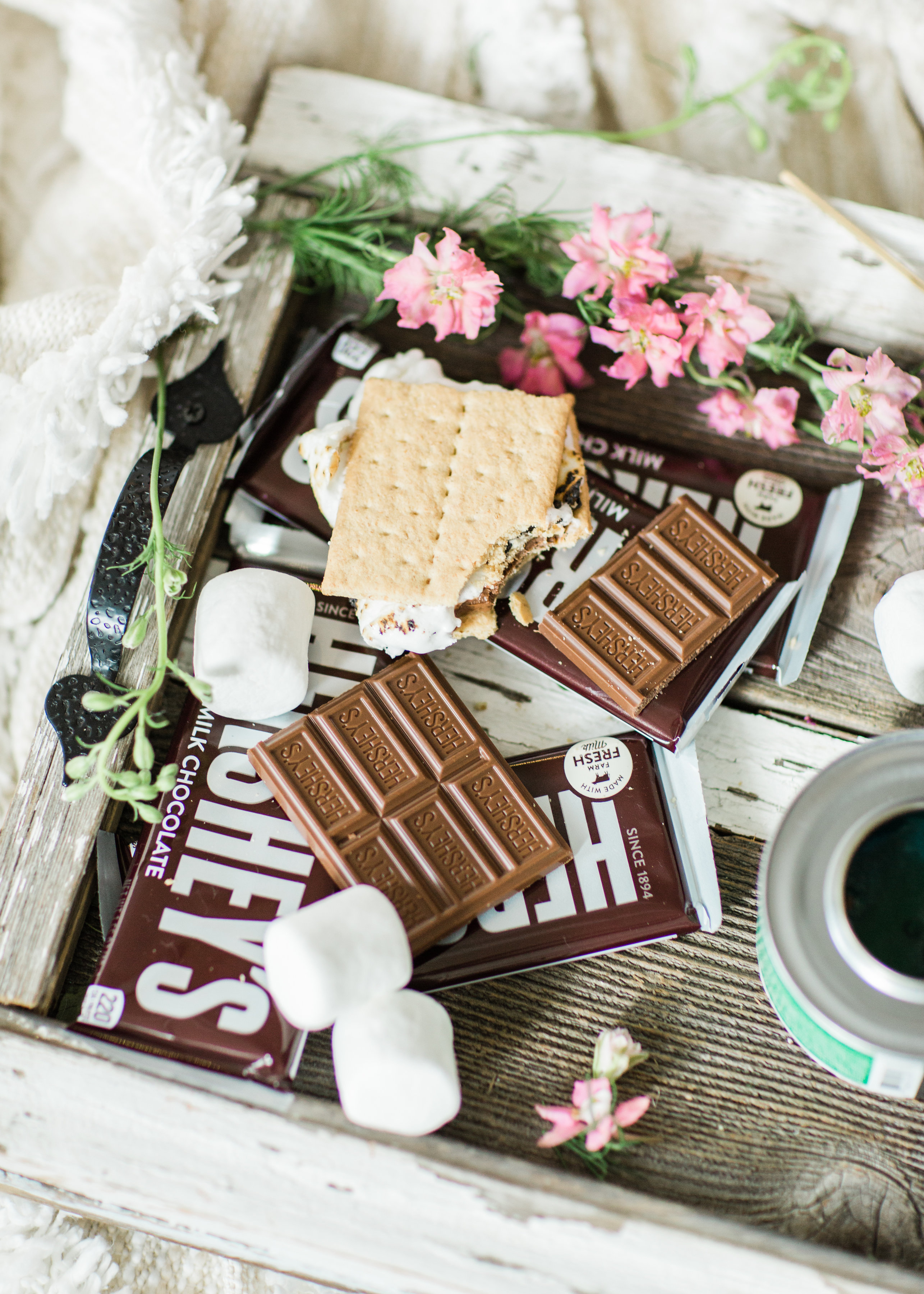 It was so much fun transforming our living room into movie night headquarters, and I'm starting to think we need a repeat night—stat! If for no other reason than MORE s'mores!
And remember, you can shop for your family favorites and everything you'll need to make your own indoor s'mores at Walmart.
Photos by Annie Watts Photography for Glitter, Inc.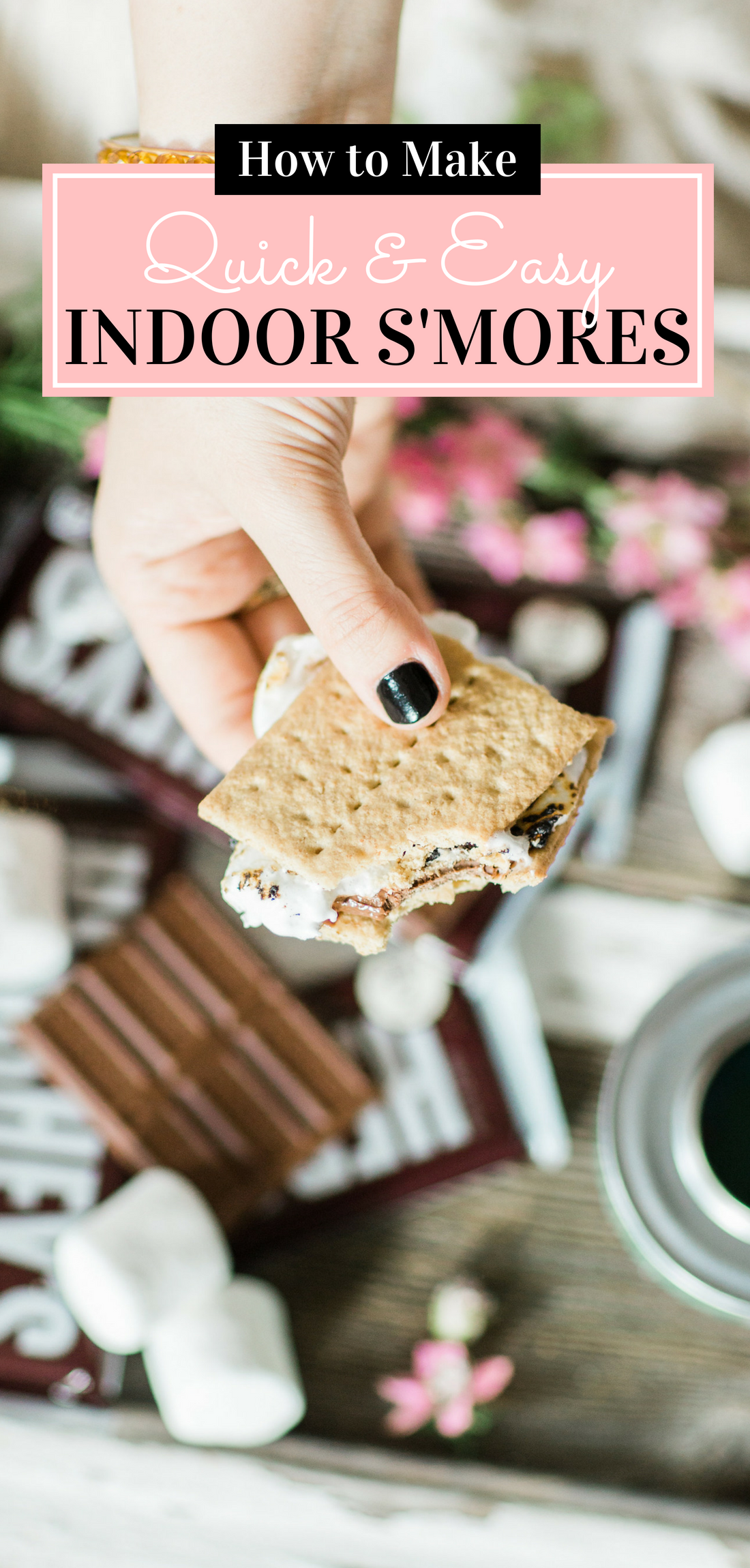 SaveSave
SaveSave
SaveSave
SaveSave
SaveSaveSaveSave