Fall, in my mind, kicks off the season of baking and cooking. Between Halloween and Thanksgiving, I find myself cooking in the kitchen even more than I already do. And of course, I love to decorate for fall. So why not combine my love of cooking and baking and fall décor, and round up a few fall kitchen decor must-haves topping my wish list?
While some of these fall items are classics that can easily work in your kitchen all year round, others are just great additions to add warm pops of fall color and whimsy to your fall kitchen decor.
I love all of the copper and brass that re-emerges every fall season, so you can bet I included a few copper accessories, including a huge KitchenAid mixer, because a girl can dream, right? (Seriously, though, I have the smaller Kitchenaid stand mixer and it is one of the most amazing kitchen tools you can own. I use it CONSTANTLY.) I also loving mixing in rustic wood, pops of gold, and clean white in my fall kitchen decor, because all of those elements work so well together and can easily translate into other seasons. And if I could put a wreath everywhere, I would; so why not in the kitchen?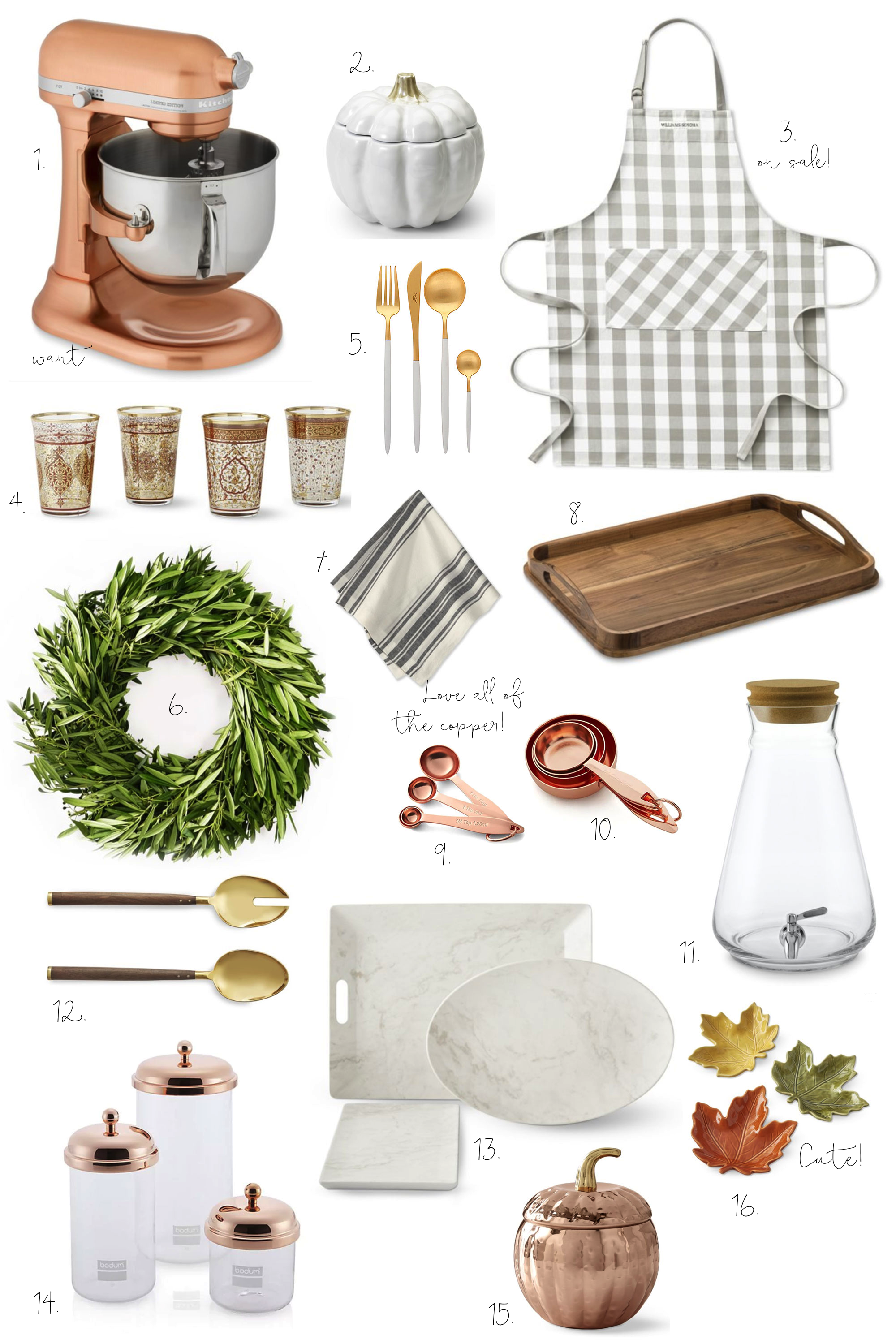 1. KitchenAid® Pro Line® Copper Stand Mixer, 7 Qt. // 2. Figural Pumpkin Bowls // 3. Williams Sonoma Checkered Adult Apron in Drizzle Grey // 4. Autumn Mosaic Tumblers, Set of 4 // 5. White and Gold Flatware Set // 6. Olive Wreath // 7. French Stripe Napkins // 8. Providence Wood Tray // 9. Copper Measuring Spoons // 10. Copper Measuring Cups // 11. Cork-Lid Beverage Dispenser // 12. Gold & Wood Servers // 13. Marble Melamine Serveware Collection // 14. Bodum ® Chambord Classic Copper Storage Jars, Set of 3 // 15. Copper Pumpkin // 16. Maple Leaf Condiment Plates
SHOP THE KITCHEN FALL DECOR POST | CLICK LEFT & RIGHT ARROWS TO EXPLORE

Anything on your fall kitchen decor "must-have" list? I'd love to know!
Love these fall kitchen decor must-haves? Head to our home décor section to get inspired and head to our recipe page to  check out what we've been whipping up in the kitchen!
This post contains affiliate links, which means that if you click on one of the product links, I'll receive a small commission. Thank you so much for clicking through and helping to support this little blog business of mine! Read more about our site, privacy, and disclosure policies here.