This post contains affiliate links, which means that if you click on one of the product links, I'll receive a small commission. Additionally, as an Amazon Associate I earn from qualifying purchases. Thank you so much for clicking through and helping to support this little blog business of mine! Read more about our site, privacy, and disclosure policies here.
This post was sponsored by Schick® Hydrosilk and Skintimate. Thank you for supporting the sponsors who help to make Glitter, Inc. possible!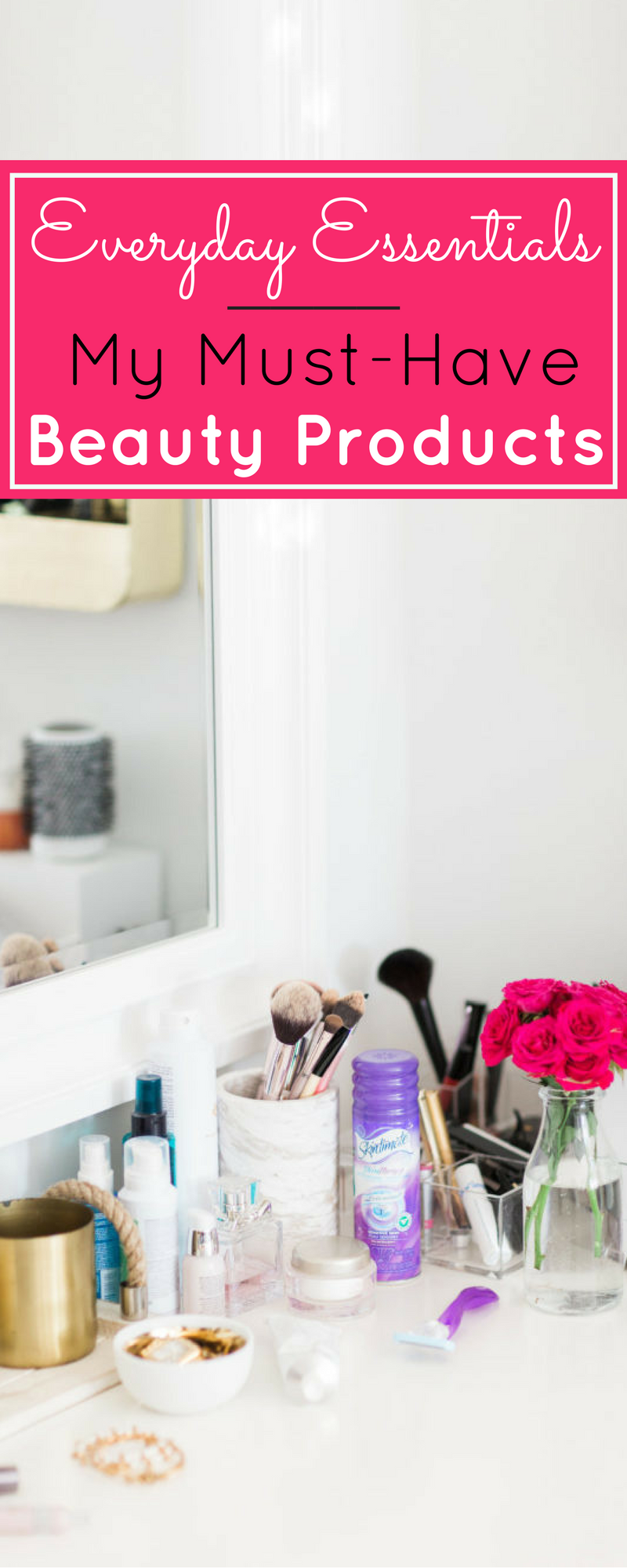 It's always fun to break down the beauty items you're loving, what you're trying out this season, and what you've come to adore, but I also really love seeing what other friends and bloggers consider essentials. You know; those everyday essential beauty must-haves. I want to know what's in your essential beauty bag; the items you use day in and day out, and can't live without.
My Everyday Essential Beauty Must-Haves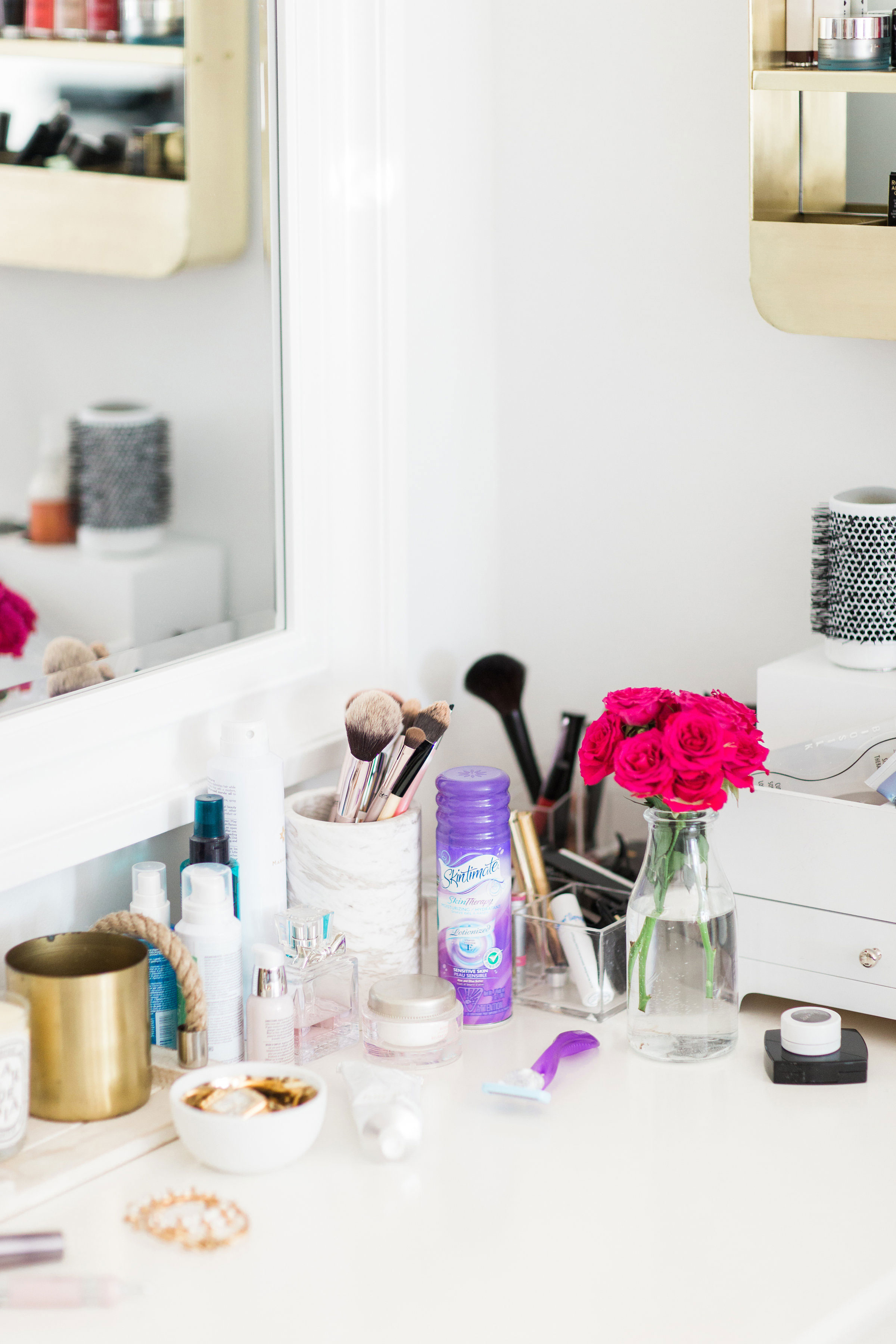 So without further ado, here are mine …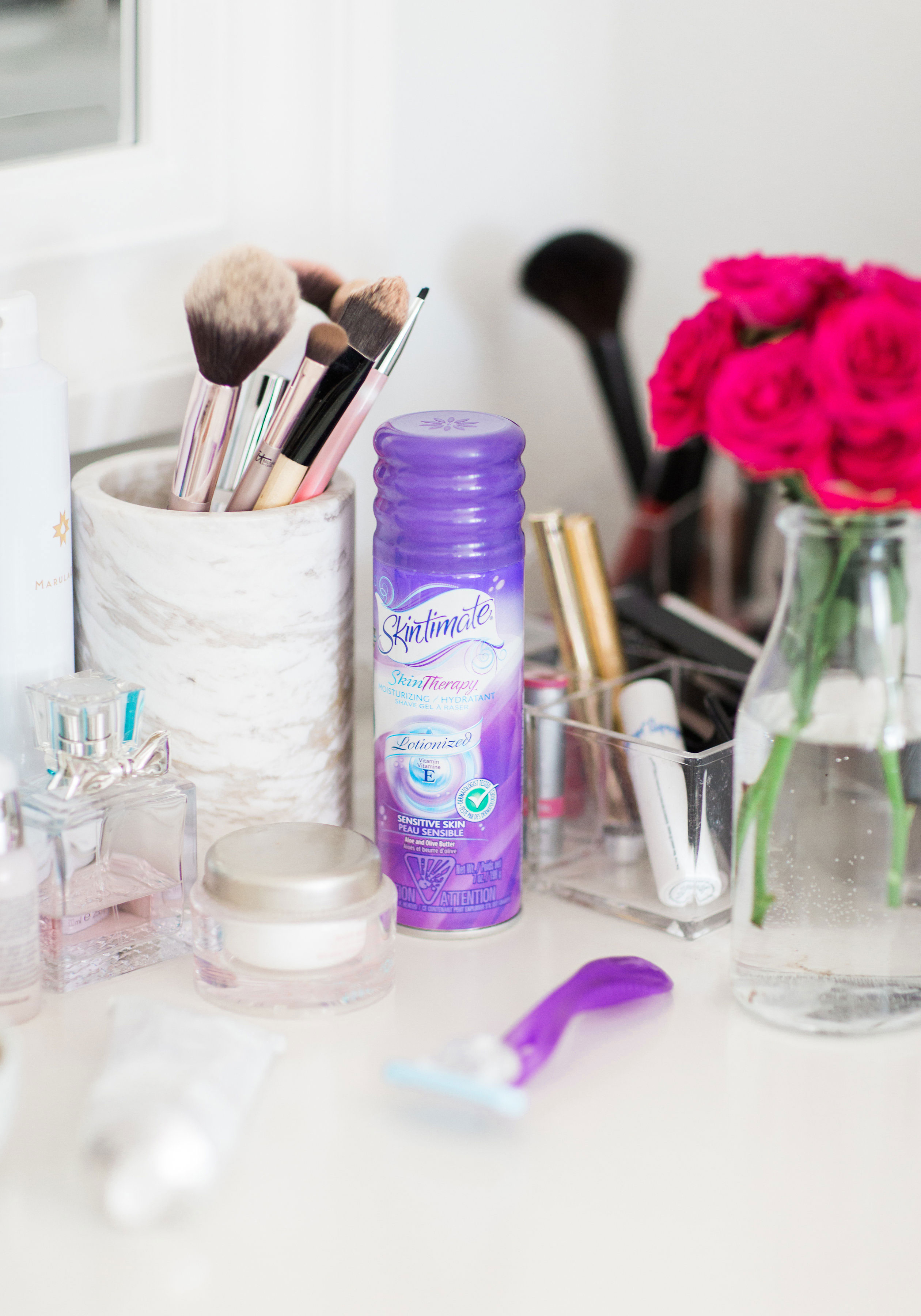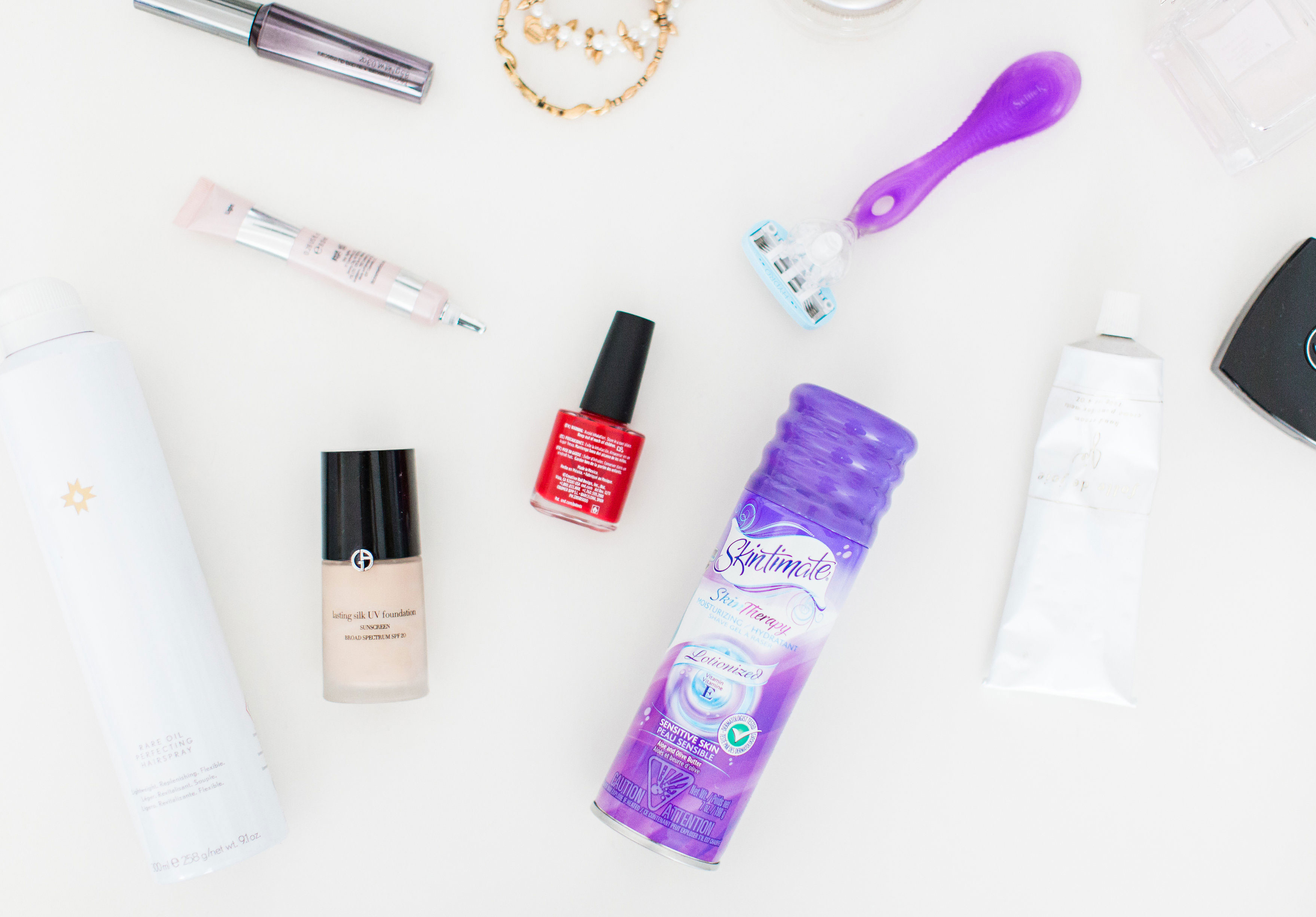 My Everyday Essential Beauty Must-Haves; a.k.a., my Beauty Regimen
I always feel better when my legs are freshly shaved and smooth and I've been a fan of Schick® for years. I've been loving this New Schick Hydro Silk® Razor because it's clinically proven to hydrate and moisturize for up to 2 hours after you shave. Here's a little tip too: when you want that new razor, there's always great deals at Kroger; click here to save!
Over the years, I've tried to fall back on using plain old bar soap or shower gel to shave my legs and let me say, it is just not the same. Using Schick Hydro Silk® with Skintimate® Shave Gel is pretty monumental. Skintimate® Shave Gel just works. It smells great, goes on thick, and when you shave with it (rather than something dreaded, like bar soap), the result is healthy-looking, beautiful, silky smooth legs.
A moisturizer with SPF in it.
I am crazy for body lotion and hand cream; having SPF in it makes it a standout for me. I'm pretty much always covered in lotion. (Thanks, Grandma!)
Foundation.
This one's pretty non-negotiable.
This is a newer, but much-needed addition to the beauty lineup, and now that I'm onboard, I'm a total fan. Even just a bit of under-eye concealer and powder and I'm presentable-ish in a pinch.
Matte powder (and usually a quick swipe of blush because I am paler than pale).
Mascara, forever and always.
Nail polish.
What can I say, I love having my nails painted. After getting my legs ready, I love to add a little more shine with a quick at-home mini manicure and pedicure!
A soft-finish hairspray; for even the worst hair days.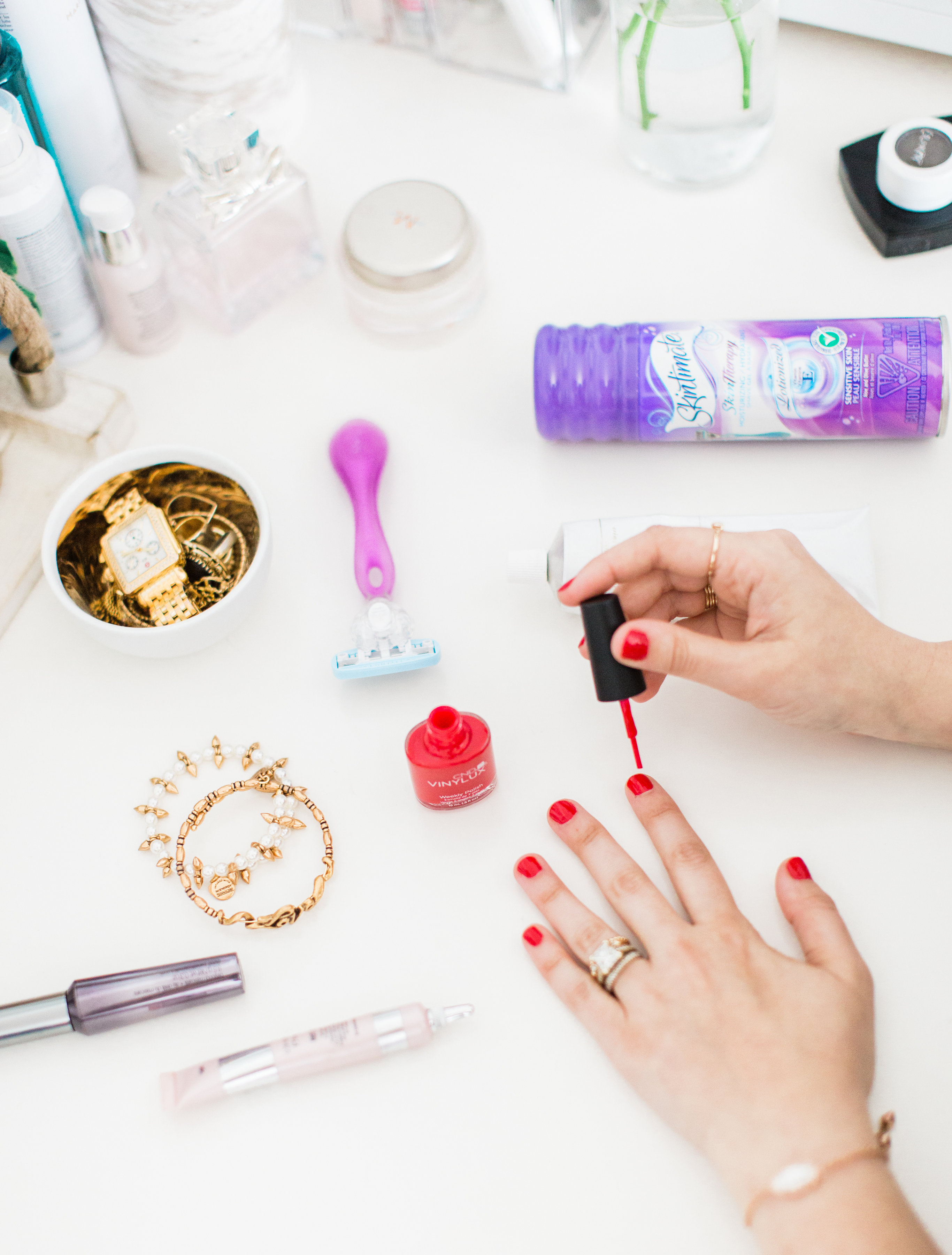 I'll also admit that I'm a total nail polish junkie. I feel "naked" without at least some polish on my nails. My staple nail polish colors: black, red, and any shade of nude.
Silky smooth legs, freshly painted nails, and a good hair day; I'm feeling pretty unstoppable.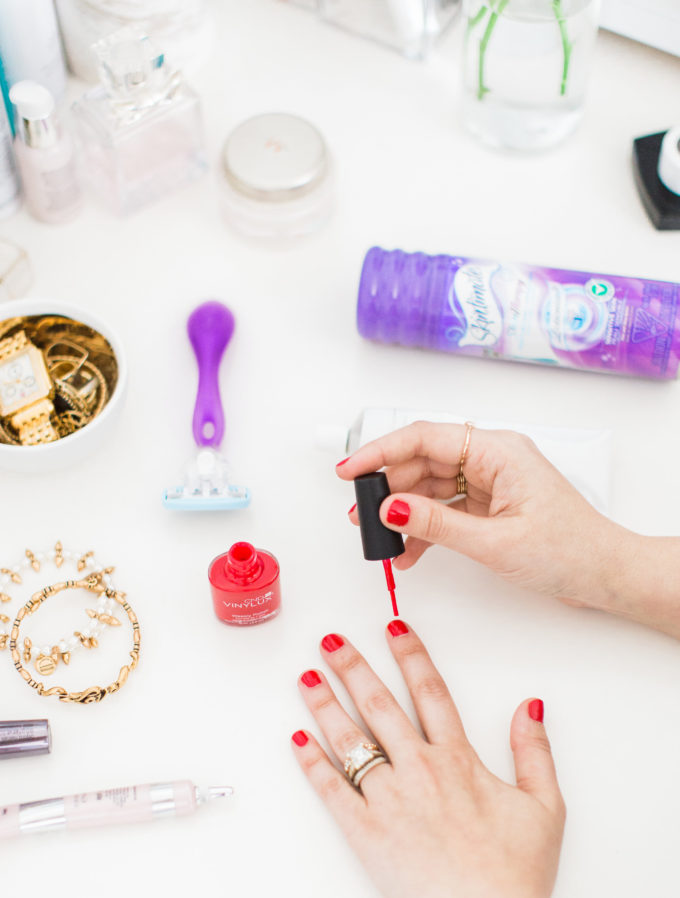 So tell me, what are your everyday essential beauty must-haves? Are there any products you feel like you can't live without?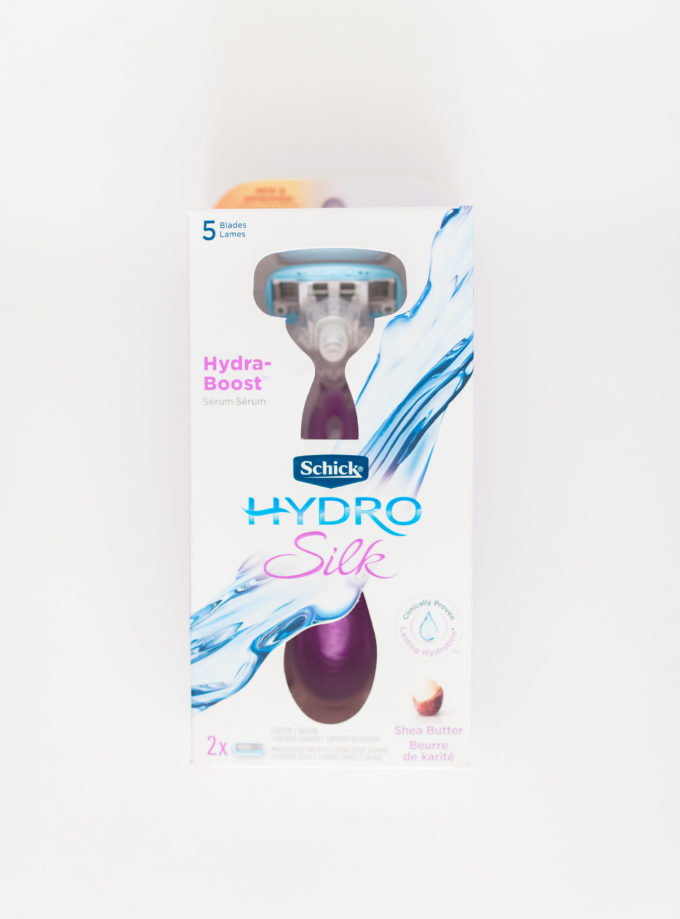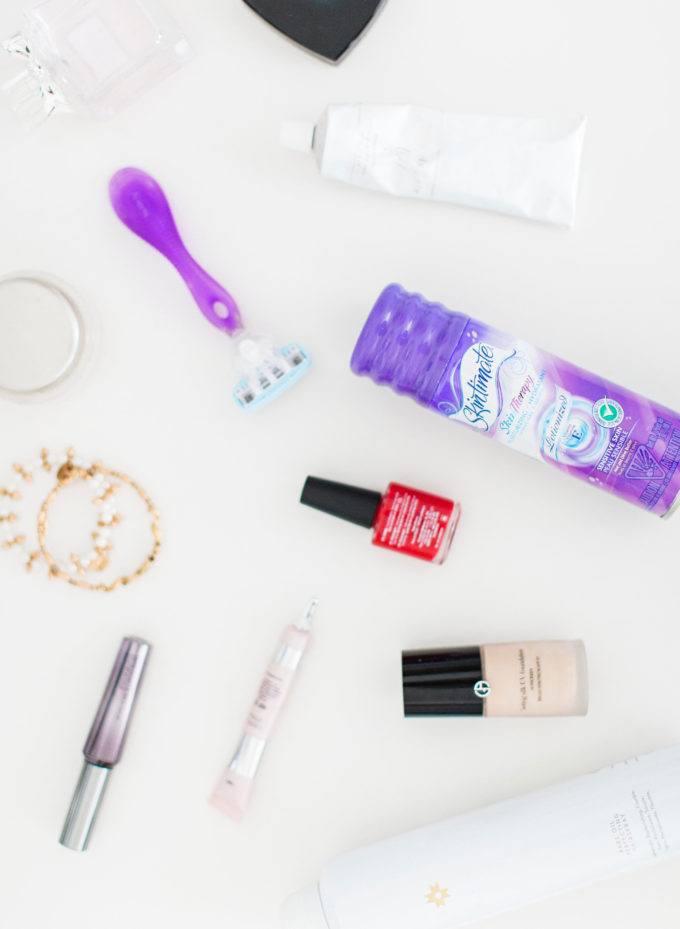 Follow this link to save on select Schick® and Skintimate products by downloading the coupon to your Kroger Plus card!