I'm crazy for pumpkin everything, and these easy pumpkin cheesecake mini swirl muffins are like having a tiny cupcake for breakfast with the frosting baked right inside (because they're muffins … totally count as breakfast, right?) I leave the whole self control thing up to you.
These pumpkin cheesecake mini swirl muffins are also unbelievably simple to make; and I'm sharing an extra-easy cheat (at the end of the post) in case you're looking for the world's easiest pumpkin cream cheese swirl muffins, stat. Because if you'e anything like me, scrolling through Instagram, Facebook, and Pinterest these days, you want pumpkin anything and you want it now. I blame Fall.
Let's talk muffins. This classic pumpkin muffin recipe is a tried and true one in our house. You start with a super moist spiced pumpkin muffin and top it with swirls of sweet cream cheese that melt into the top as it bakes. I've made variations of this pumpkin muffin again and again. (Ahem … cinnamon sugar pumpkin muffins and toasted marshmallow-stuffed pumpkin muffins with streusel topping.) Try it. You won't be disappointed.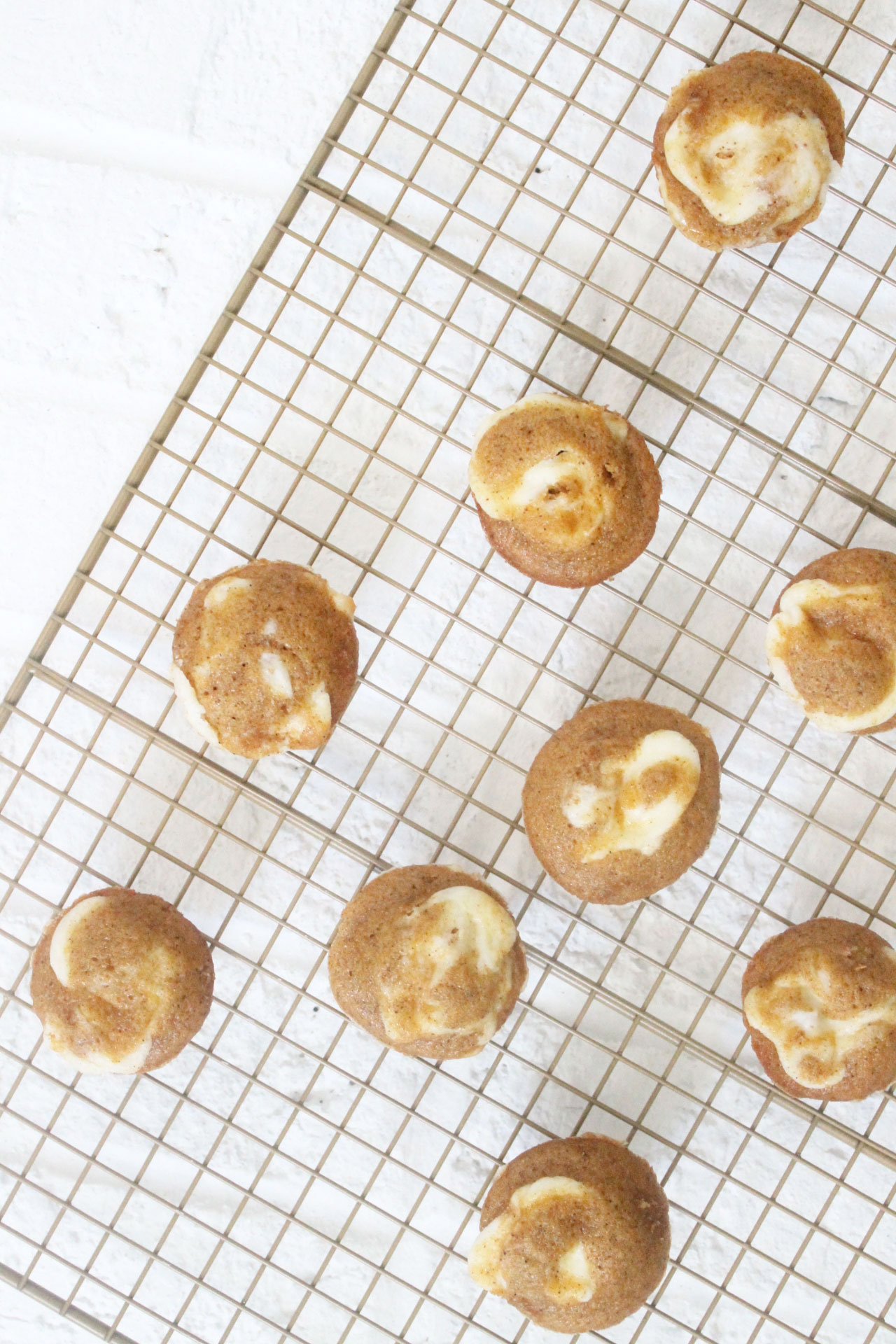 The sweet cream cheese swirled into the top adds a ton of flavor, and I'll admit, I might even double up the cream cheese filling next time, just to get more of that sweet burst of cheesecake in every bite.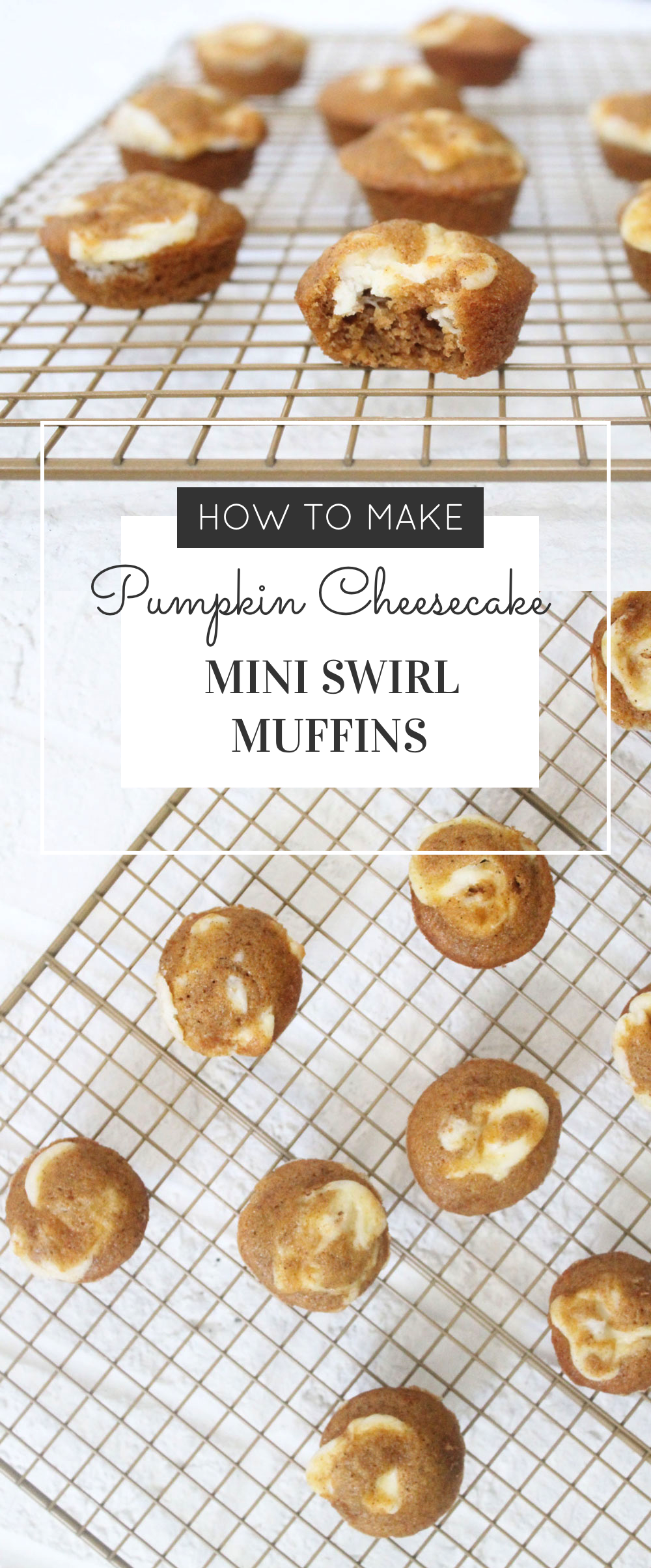 PUMPKIN CREAM CHEESE SWIRL MUFFINS
INGREDIENTS
1 cup sugar
1/2 cup peanut oil
2 eggs
1 can pumpkin (15 oz.)
1 1/2 cup sifted all purpose flour
1/4 tsp. salt
1/4 tsp. baking powder
1/2 tsp. baking soda
1/2 tsp. ground cloves
1/2 tsp. cinnamon
1/2 tsp. ground nutmeg
For the Cream Cheese Filling:
1 Stick of Cream Cheese (softened to room temperature)
3/4 to 1 cup of confectioner's sugar (depending on how sweet you want your filling)
DIRECTIONS
Preheat oven to 325°F.
Grease and flour (or spray with baking spray) muffin tins.
Beat sugar with oil until blended. Add eggs, one at a time, beating well. Continue beating until light and fluffy. Then mix in pumpkin on low speed.
In a separate bowl, mix together all of the dry ingredients for the cake.
Add dry ingredients into the wet mixture on low speed and mix well.
Pour the dough into the prepared muffin cups, being careful not to fill more than about halfway. (They rise quite a bit during the baking process.)
Cream Cheese Filling – In a small bowl, whip together the cream cheese and confectioner's sugar, and stir to combine. Using a small spoon, drop a small dollop of the filling onto each raw cupcake, and using your finger or the back of the spoon, gently stir the cream cheese filling into the tops of each raw muffin.
Bake for about 30 minutes or until toothpick comes out clean. Allow to cool for 10 minutes on a cooling wire rack (How fun is this gold version?); remove from pan and finish cooling on a rack or plate. (If you use full-size muffin tins, bake for about 60 minutes.)
NOTE: I'm a fan of these at either room temperature or chilled, though they definitely taste great warm out of the oven, just be sure the cream cheese topping has enough time to cool (it can be hot straight out of the oven.) Store these muffins in an airtight container in the fridge.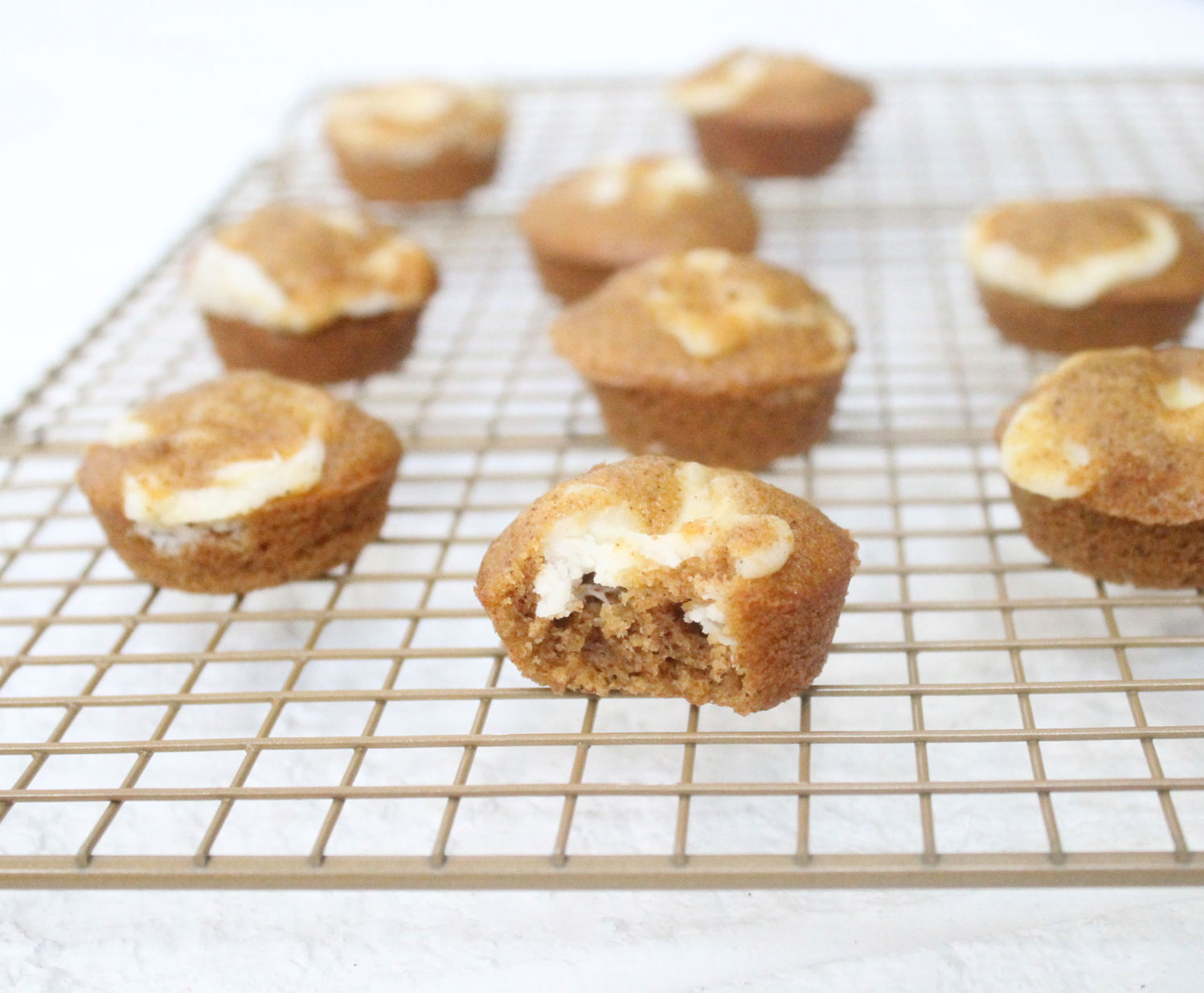 And now for the really, really good news: that magical cheat I was talking about? These easy pumpkin cheesecake mini swirl muffins taste pretty darn great made with Trader Joe's Bread and Pumpkin Muffin Mix. Yep. Buy a box, make it according to the easy directions on the box, make that two-ingredient cheesecake filling, swirl it in, throw it in the oven, and voilà!
Come on … you know you wanna make muffins. (Oh yeah, I am a pumpkin enabler.)
This post contains affiliate links, which means that if you click on one of the product links, I'll receive a small commission. Thank you so much for clicking through and helping to support this little blog business of mine! Read more about our site, privacy, and disclosure policies here.