As the temperatures drop, all I really want to do is make soup (and cuddle on the sofa with my little family.) This classic chicken and dumplings recipe is something my mom has been making for as long as I can remember and it is easily one of my favorites. Hearty but fresh, warm, and just a little bit decadent (once you go dumplings, you'll never want noodles in your chicken soup again … don't say I didn't warn you), this is the kind of dinner recipe you'll keep coming back to again and again.
Chicken and dumplings are also surprisingly easy to make – throw everything together in under twenty minutes and then just let it simmer away until you're ready to serve. Sometimes, when I feel ambitious, I'll make a quick salad and dressing to pair with this, but truth is, one great big heaping bowl of these chicken and dumplings, and you'll be more than happy.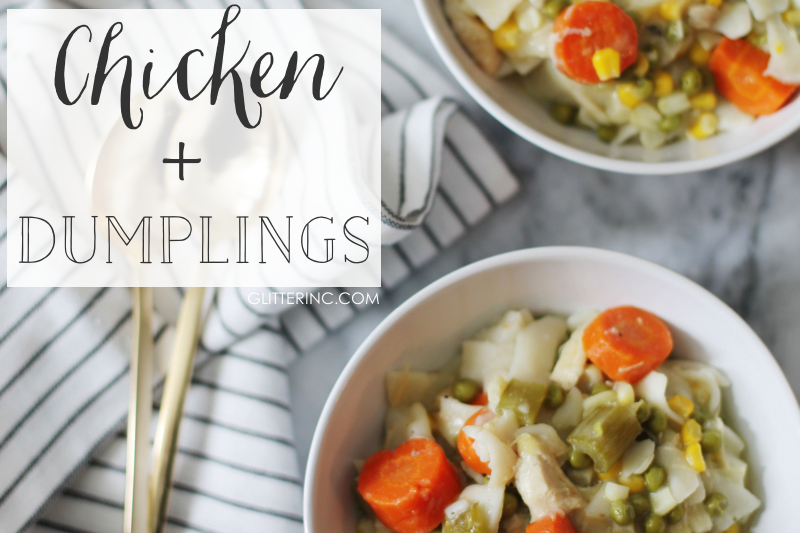 CLASSIC CHICKEN AND DUMPLINGS
Serves 4 to 6 (a.k.a., plenty for leftovers)
INGREDIENTS
1 (2 1/2-pound) chickens, cut into 8 pieces OR 3 large chicken breasts (skin on) if you prefer only white meat
3 ribs celery, chopped
1 large onion, chopped
3 large carrots, chopped
bag of frozen peas
bag of frozen corn
2 bay leaves
2 chicken bouillon cubes or large container of chicken broth/stock
1 (10 3/4-ounce) can condensed cream of celery or cream of chicken soup
Salt
Black Pepper
Garlic Powder
Frozen Dumplings (I love Anne's Flat Dumplings, but any frozen brand will work)
DIRECTIONS
Place the raw chicken, celery, carrots, onion, bay leaves, bouillon or chicken broth, and seasoning in a large pot with about 4 quarts of water and bring to a simmer over medium heat. Simmer the chicken until it is tender and cooked through, about 40 minutes. Remove the chicken from the pot and once it is cool enough to handle, remove the skin and separate the meat from the bones. Return the chicken meat to the pot and discard the bones and skin. Keep warm over low heat.

Add the cream of celery soup to the pot with the chicken, add your frozen vegetables and frozen dumplings along with another sprinkle of salt and pepper, and simmer gently over medium-low heat, stirring occasionally (but gently) to keep the dumplings from sticking together.

NOTE: If the chicken stew is too thin it can be thickened before the dumplings are added either by adding in a cornstarch mix (simply mix together 2 tablespoons cornstarch and 1/4 cup of water then whisk this mixture into the stew) OR by adding a second can of condensed soup.
This time around I went a bit dumpling crazy so there was a lower broth-to-dumpling ratio, but this could have been easily remedied with a few extra cups of water and bouillon when first simmering everything together.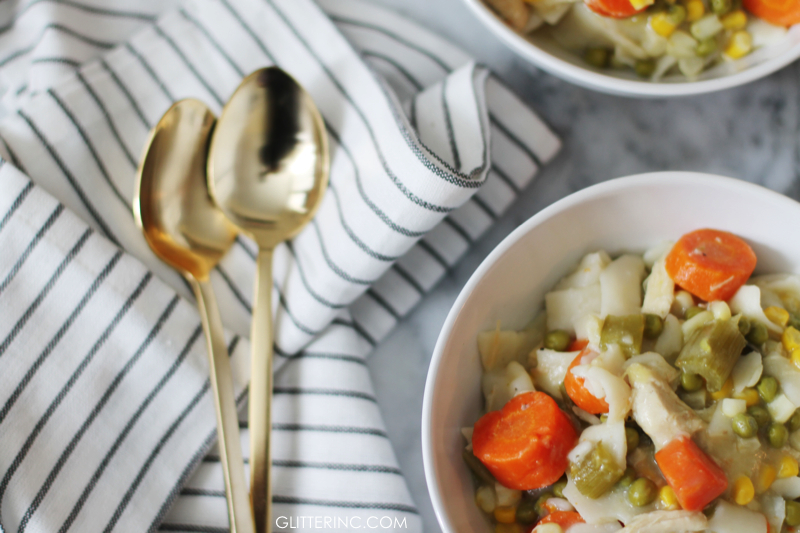 Be sure to let me know how your chicken and dumplings turn out!