With October nearly through, it's time to start planning for the holidays (time is flying, isn't it?) We're party people, so the festivities start as early as November, which means my party-planning starts sooner than that. When Starbucks asked me to try out their new Mocha K-Cup® Packs, I knew just how I would dream up my mocha coffee. The trend I've had on my mind since last season: the DIY hot cocoa bar. I absolutely love the idea of an over-the-top cocoa and coffee station with all of the yummiest toppings and add-ons. So I rounded up a bit of hot cocoa bar inspiration, to get you started.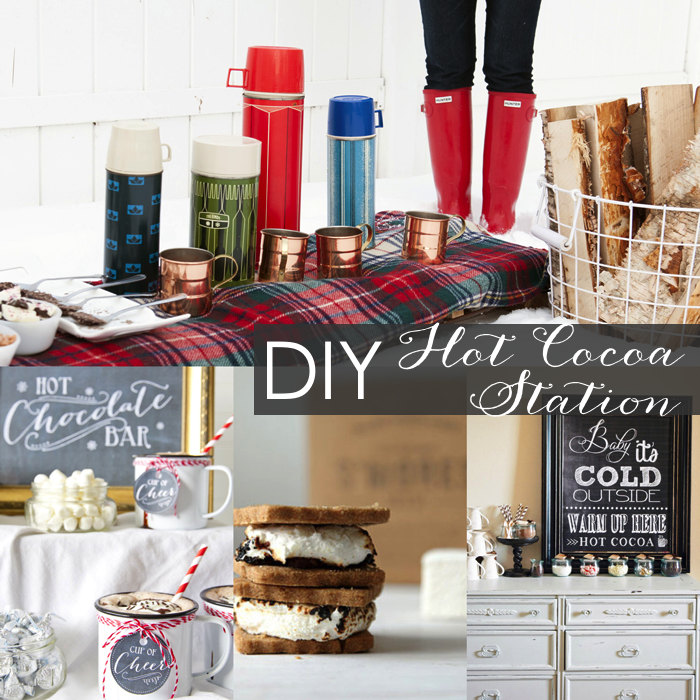 The key to a great hot cocoa bar is creativity. Great mix-ins and toppings should be fun (and cute), so don't be afraid to go beyond the marshmallows. Though homemade marshmallows are always a good idea. (Throw in the option of s'mores with a stack of graham crackers and chocolate bars and your guests will love you forever. Love this DIY s'mores kit!)
Offer more than one variation on the traditional hot cocoa. I love Starbucks® Mocha K-Cup® Packs. They're single serve and hot and fresh as each person is ready to craft their creation. Plus, it's coffee, with mocha flavor … a winning combination in my book. You can also stock the cocoa bar with chai tea and hot milk; let your guests experiment with flavors and toppings.
Print up a few of these printable chalkboard tags and signs to complete your bar!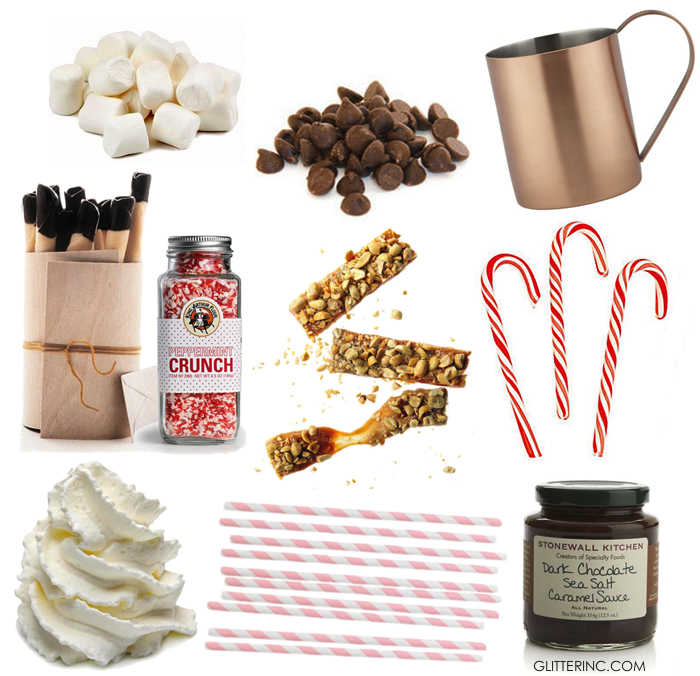 HOT COCOA BAR INGREDIENTS:
Hot Cocoa (mix, packets, K-Cup® Packs)
Starbucks® Mocha K-Cup® Packs
Warm Milk
Whipped Cream
Chocolate Syrup
Chocolate Fudge
Marshmallows (mini, Mallow Bits, PEEPS Marshmallows, even flavored marshmallows!)
Chocolate Chips
White Chocolate Chips
Butterscotch Chips
Peanut butter Chips
Toffee Bits
Crushed Candy Canes
Crushed Cookies (chocolate chip and/or Oreos)
Peppermint Bark
Caramel Sauce and/or Caramel Bits/Squares
Cinnamon
Chopped Nuts
Sprinkles
For stirring:
Candy Canes
Cookie Rods (Pepperidge Farm Pirouettes or homemade cigarettes russes are perfect for this! Try your hand at Martha Stewart's recipe … basically a buttery sweet wafer dipped in chocolate. So good.)
Salted Peanut Bars (Another great Martha recipe!)
Pretzel Rods
Chocolate Sticks
Decorative Straws
Gold or Silver Plastic Spoons
Mugs (Love these Crate & Barrel copper mugs – and they're on sale!)
Glam up your toppings: I love the idea of using candy canes or pretzel rods as marshmallow skewers, and chocolate-dipped stirring spoons are always a winner (dip them in melted chocolate and cover in sprinkles – then set to cool – for some added flair!)
Have fun with your cocoa bar. The beauty of this kind of set-up is there are no rules. Buy candies and sweets and whatever other toppings your heart desires, throw everything into cute dishes and bowls, stack a few pretty mugs, print out a little sign, and voilà – one adorable hot cocoa bar!
Images via Red Stamp // Yellow Bliss Road // Whimsy & Spice // Love From the Oven // Pen & Paper Flowers

The rich aromas and sweet flavors you love from Starbucks®, now brewing at home. Introducing two new K-Cup® flavors for fall, inspired by our café favorites.
LEGAL: Developed in partnership with Starbucks Coffee Company and their new Starbucks® K-Cup® packs. K-Cup® packs for use in Keurig® K-Cup® brewing systems. Keurig, the Cup and Star Design, Keurig Brewed, K-Cup and the Keurig brewer trade dress are trademarks of Green Mountain Coffee Roasters, Inc., used with permission.
Disclosure: Compensation was provided by Starbucks Coffee Company, via Mode Media.  The opinions expressed herein are those of the author and are not indicative of the opinions or positions of Starbucks Coffee Company.