This post contains affiliate links, which means that if you click on one of the product links, I'll receive a small commission. Additionally, as an Amazon Associate I earn from qualifying purchases. Thank you so much for clicking through and helping to support this little blog business of mine! Read more about our site, privacy, and disclosure policies here.
As Winter is fast-approaching, and on the coldest of days, especially during our crazy travel season through mostly cold cities, all I really want to do is climb into a fluffy bed and cuddle with my little family. I've started to crush in a major way on all of the hotel beds on our trips – you know the type, the big comfy white bed (like Westin's heavenly bed): piles of white pillows, an extra-soft crisp white duvet, pressed white sheets, a cozy throw … it's like living in a spa, without ever having to make the bed. And though once home, I will have to make the bed (you know, when company is over), I can't get the fluffy white hotel bed look. The trick is, creating an all-white (or mostly-white) space that is warm and inviting, rather than antiseptic (designing a warm space with such a limited/clean palette can be challenging) … but I'm hoping these easy-to-follow tips will make the all-white styling much easier.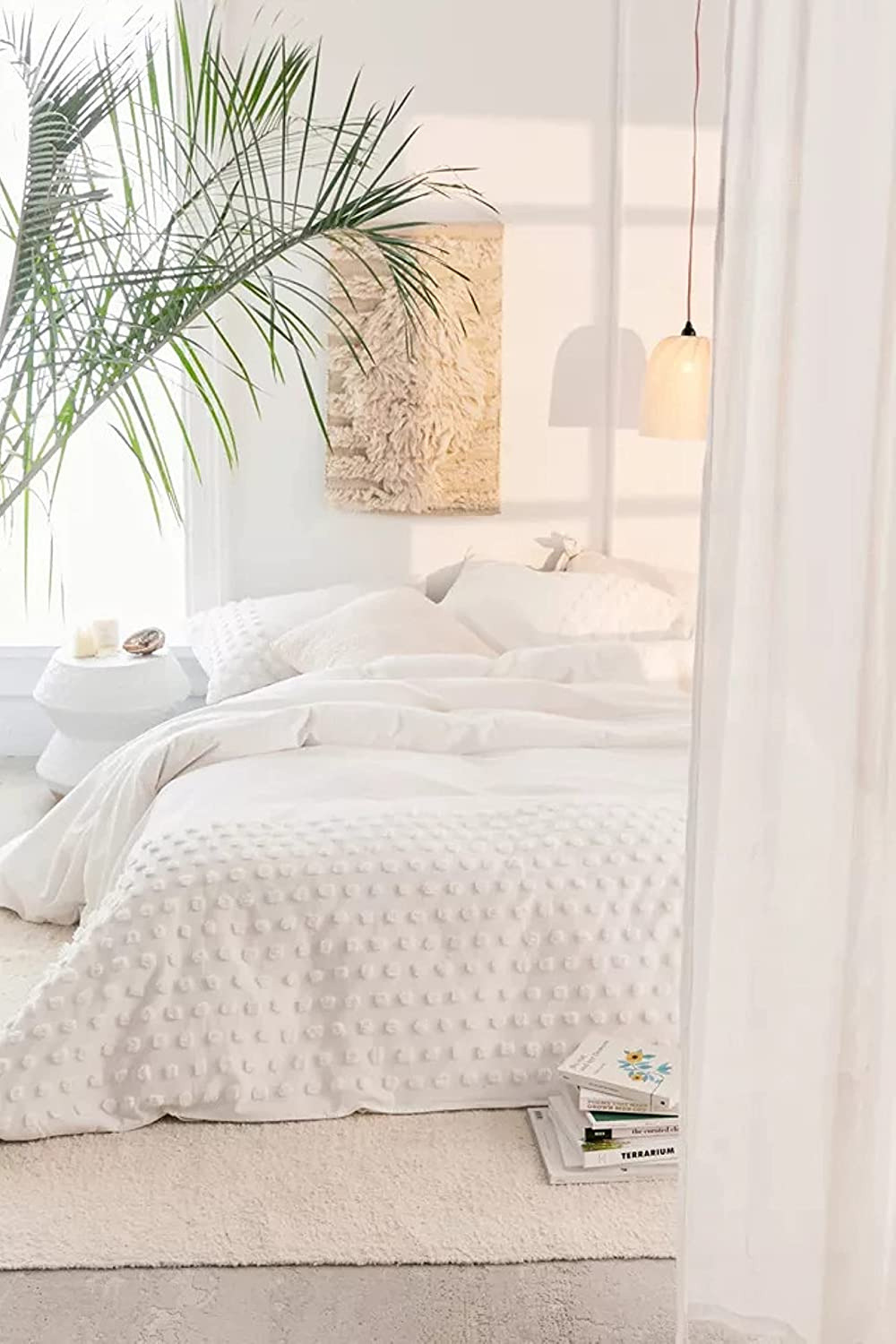 7 Tips for Creating the Perfect White Bedroom
If you're going to go for white, don't be afraid to really go for it. Breezy white curtains will add to the ethereal feel of the room, and painting other wood elements in the room white (here, an older fireplace) looks modern and chic. (Hint: the dark floors work so well in this room against the other bright white elements, whereas white-washed wooden floors would look more natural, soft and add its own layer of depth to the room.) Everything from the ceiling to the floor is a place to add visual interest.
Add texture. Now that Winter is on the way adding in furry blankets, throws and pillows is the perfect way to use natural element to add warmth to the all-white space. (And I love a bedroom that can transition from season to season!) Hint: You can also bring in a few accent pillows, different scented candles, and simple plants to fit the new seasons. Create texture, depth and layers with varying shades of white or ivory linens for visual interest (A textured duvet does double duty – adding both the crisp white element and built in texture). Use different materials like fur, sheepskin, seagrass (on the walls), branches in vases, wool and linen with a lot of texture, to create the perfect balance.
Don't be afraid to throw in a pop of color. Here, black and charcoal shiburi pillows make the perfect (albeit still neutral) pop, but if hot pink is your thing, throw that in too. Pillows and throws and sweet desk accessories are a great way to sneak in that dose of color.
Add modern decor elements to the traditional white room. An on-trend Moroccan wedding blanket in cream or off-white or an open weave throw blanket will add texture and complexity to the space. Try a unique piece of wall art like this natural Juju hat. (Hint: An upholstered or tufted headboard like the one above will also help continue the plush bed feel.)
Pair neutrals and utilize a variety of similar shades. Grey is a white bedroom's best friend. So are neutrals; think cream, ivory, beige, and any other whites that set off the bright white. A variety of "white" or "neutral" tones will help highlight the room's various components and will further create dimension in the space. A lack of color means every element in your design should stand-out somehow, either through its texture, form, or use; An ivory throw on crisp white bedding, a cream sheepskin rug, or a mirrored or lacquered nightstand will still feel airy and light in the room while adding complexity and a modern feel to the design.
Embrace rustic chic. An all-white bedroom can take real shape in a farmhouse style room; think, brushed light-washed wood, layers of white linens, a soft rug, a fireplace, and one or two statement vintage pieces.
Play with Metallic Accents. Choose from gold, chrome, bronze, and brass to add sparkle, shimmer, and glamour to your all-white bedroom. You can incorporate these metallic finishes through unique light fixtures, photo and art frames, and decorative accessories. Hint: The reflective surfaces of the metallic objects will actually help carry and distribute light and brighten the whole space.
Once your white elements are set, sprinkle in decorative accessories to add small dashes of color and interest. Picture frames, favorite books, vases with flowers and branches (another great textural element), mementos, artwork and photos will all feel right at home once you've struck the rest of the mostly white balance.
Image: Urban Outfitters Tufted Dot Duvet Cover