Forget the resolutions, this year I'm focusing on being happier in the new year …
Every year, despite promising myself that I won't set such high expectations, I make lofty unspoken goals for myself; and you guessed it: I can't ever seem to keep those goals. Typically, resolutions like the ever-present "lose weight" or "don't let things I can't control upset me" slip out of my grasp as time flies on. Because life gets in the way. The real world happens. My daughter grows older, marriage takes work, my business grows, and all the while, the hours are short. And then those resolutions, the resolutions I laid out with such good intentions, they hang heavily on my head and weigh down my heart. It's a self-fulfilling prophecy.
Call it a New Year's resolution of sorts, but this year, I'm vowing to put myself first; you know, after I take care of my family and business, of course. But I can be happy too. I usually am. Sometimes I'm annoyingly happy. But the unnecessary expectations I place on myself; those I don't need. The stress I feel when I'm striving for perfection; yeah, I don't need that either. So I'm laying out the 5 ways I plan to be happier in the new year, and I think you should too!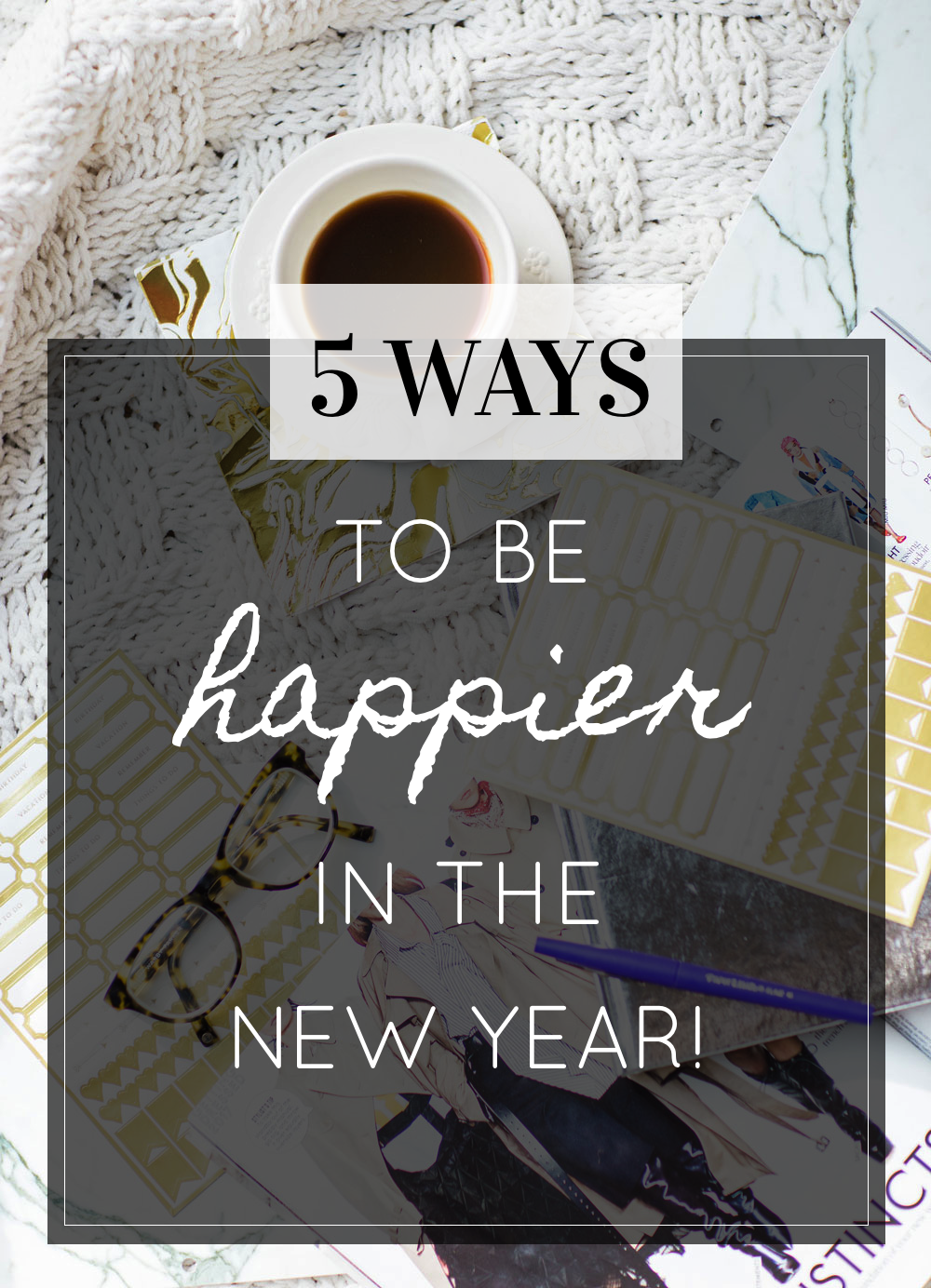 5 WAYS TO BE HAPPIER IN THE NEW YEAR
Work smarter, not harder. THIS. I'm not good at letting go, so this year, I'm calling it

outsourcing

. Recently I've realized that it's not only okay to let people be experts in their fields, it's smart business. A few months ago I hired a photographer, and I'm just beginning to get help with social media as well, and I'm already seeing results on both fronts. I CAN'T BE EVERYTHING ALL OF THE TIME. I'm a mom, a wife, a business owner, a blogger, writer, and lawyer, but under the umbrella of a blog, I've also had to become a photographer, editor, graphic designer, SEO expert, marketing guru, assistant, the list goes on and on, and as it goes on, I become less great. In fact, at some point last year I started to feel like I was failing at

everything

just trying to BE it all, and who does that help? Trust me when I say, absolutely no one. So I'm letting go a little and trusting the experts in their fields. I know money will be tight at first as I try to adjust and accommodate for the help, but my hope is that with the right help, this little blog of mine will continue to grow. (Can you believe it's been 7 years?!) Here's to hoping I can start adding and growing even more!
Soak up the success. When something good happens, it's worth celebrating. From the smallest most insignificant wins to the big, amazing moments, celebrating is what makes the moments so worthwhile. Made it out the door with kid and all seven packages for the post office in record time; I'm going to Starbucks because I earned it. Hit my highest pageviews ever because a pin went viral on Pinterest; doing the funky chicken dance and then convincing hubby to take us to dinner to celebrate the occasion. You name it, I'm cheering myself on.
Stop calling myself "fat." That word sucks. I have a beautiful little girl, the newly minted stretch marks and soft skin I loathe – they held her body as she grew and will continue to hold her – and if I can't love myself, how can I expect her to love herself? How can I possibly raise a strong, secure, beautiful woman, if all she ever hears is her own mother breaking herself down? It's ugly and sad, and I'm going to try to be better, to love myself better. If loving myself means taking a yoga or barre class or going for a walk, great, and if it means taking a much-needed couch day with my little one, that's great too. But I won't berate myself because I didn't exercise. I'll build myself up and try again the next day. I'll also accept my husband's compliments. When he says I look beautiful, that's just it, I look beautiful, to him, and that's what matters.
Kick comparison to the curb. You are enough. I am enough. Perfection is exhausting. And a myth. I'm not saying I'll get it right every time. I may still find myself comparing. Especially in the creative industry, it's so hard not to compare what you're doing to what your peers are doing; but I sure am going to try.
See the good first. I want to be better about approaching situations with positivity in mind. (Typically I walk into things with anxiety, nervous about the response, and most of the time, it's unwarranted and I've only worked myself up for no reason. ) There is good in there, in everyone, in every situation. I will try not to judge unfairly, or presume without understanding. I will try to enter each new beginning with an open mind. That's how we continue to make strides.
So forget the resolutions, and tell me how you plan to be happier in the new year! Leave me a comment or say hi on on instagram, facebook, twitter, and snapchat → glitterinclexi, and let me know about your wins. I wanna hear the good stuff!
Photos by Annie Watts Photography