This post has been sponsored by M&M's, SNICKERS, STARBURST & SKITTLES. All thoughts and opinions are my own. This post contains affiliate links, which means that if you click on one of the product links, I'll receive a small commission. Thank you so much for clicking through and helping to support this little blog business of mine! Read more about our site, privacy, and disclosure policies here.
Growing up, my mom always celebrated football days with great food and drinks. Now that we're a family of our own, I'm carrying on the tradition here in North Carolina. Finger foods and snacks you can easily scoop up handfuls of are top priority on game day, and this year, salted pretzel Snickers vanilla caramel corn (say that three times fast!) has become a top contender in our house.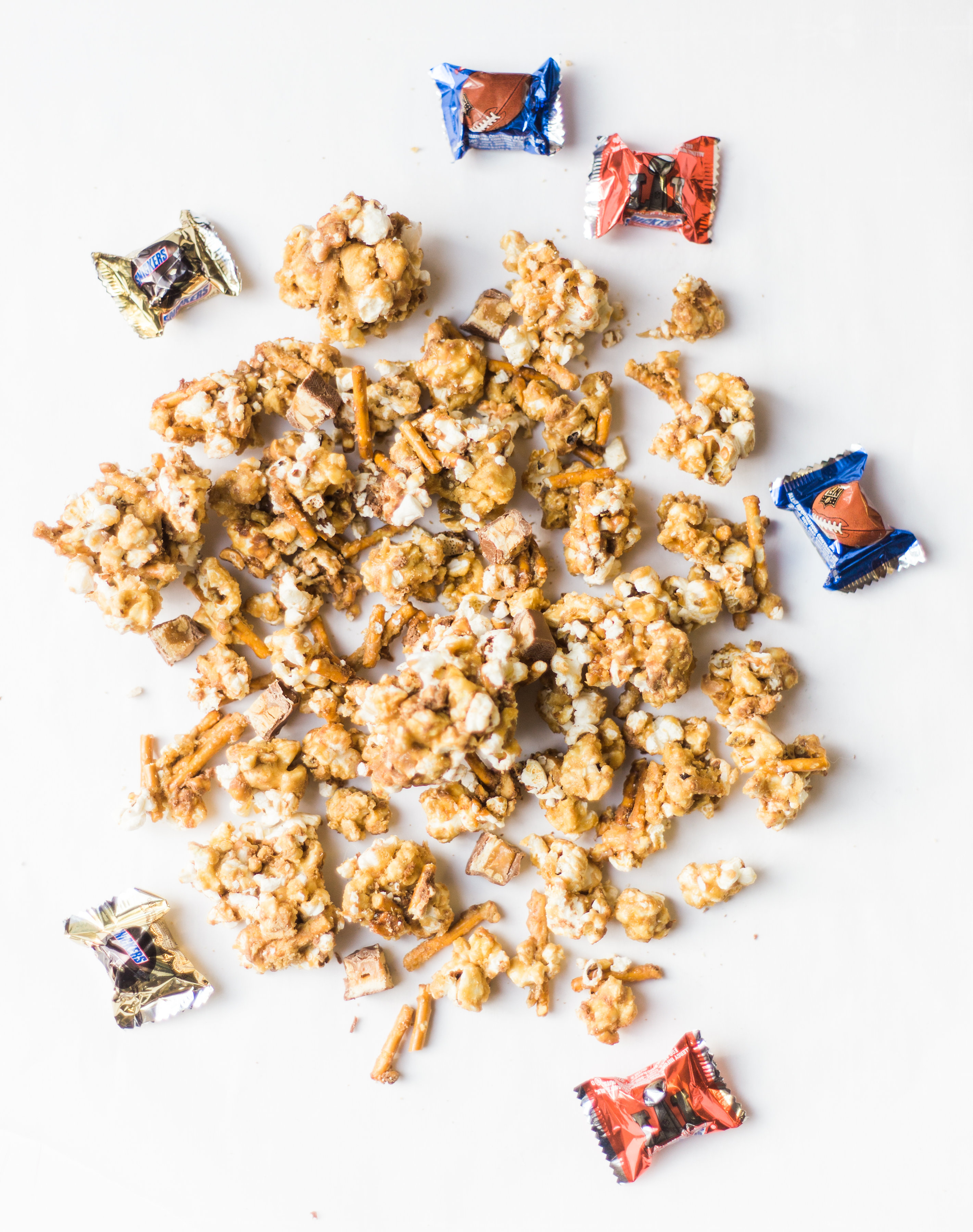 The sweet and salty from the caramel and pretzels, hints of peanut and chocolate swirled into the mixture – that melt ever-so-slightly when coated with your hot caramel – and an underlying touch of vanilla; this salted pretzel Snickers vanilla caramel corn is just TOO GOOD.
I also love that the salted pretzels and Snickers chunks add a surprising and oh-so-good twist to an already loved classic.
Plus, caramel corn is perfect for a great big group because you can easily double or triple this recipe for a crowd.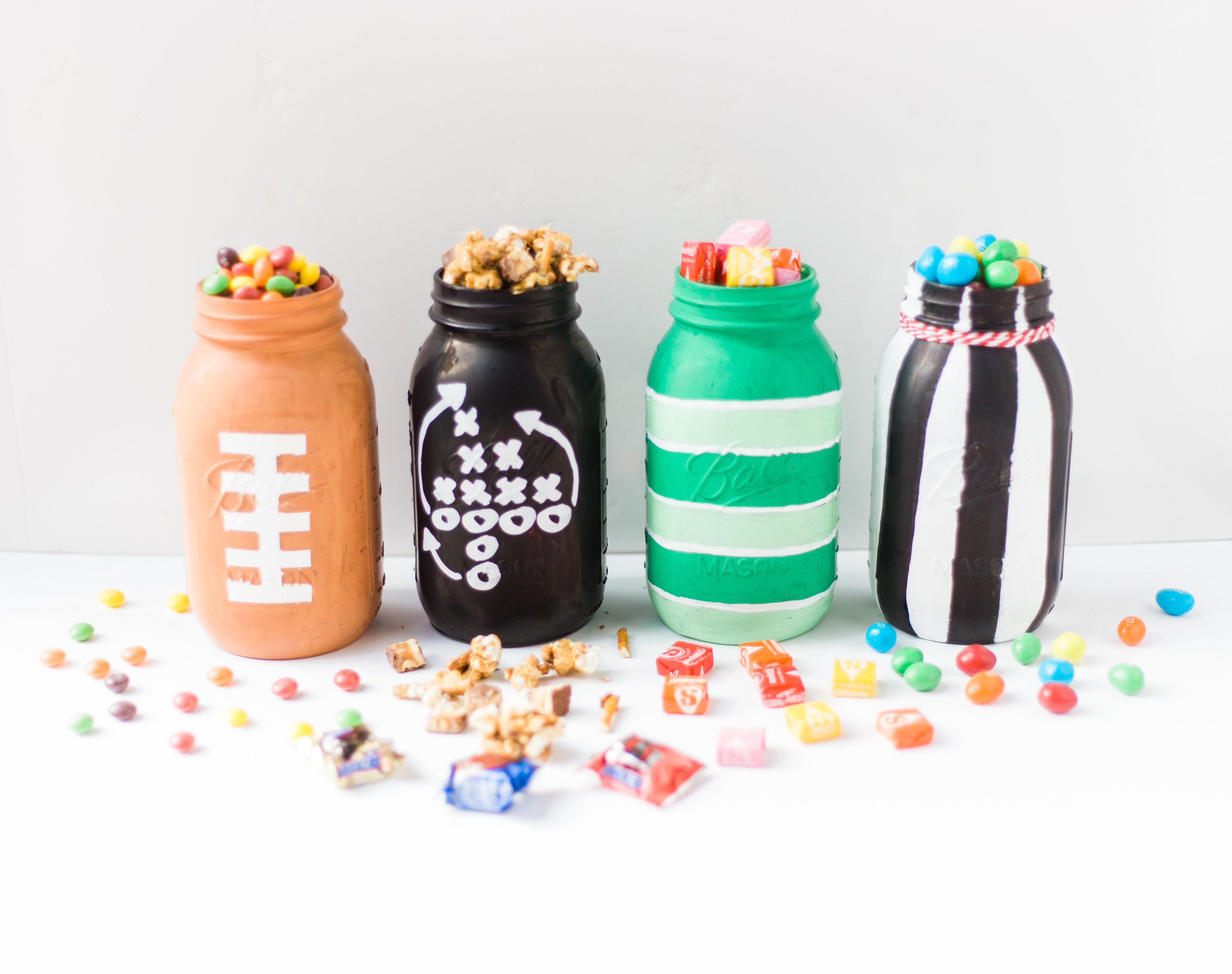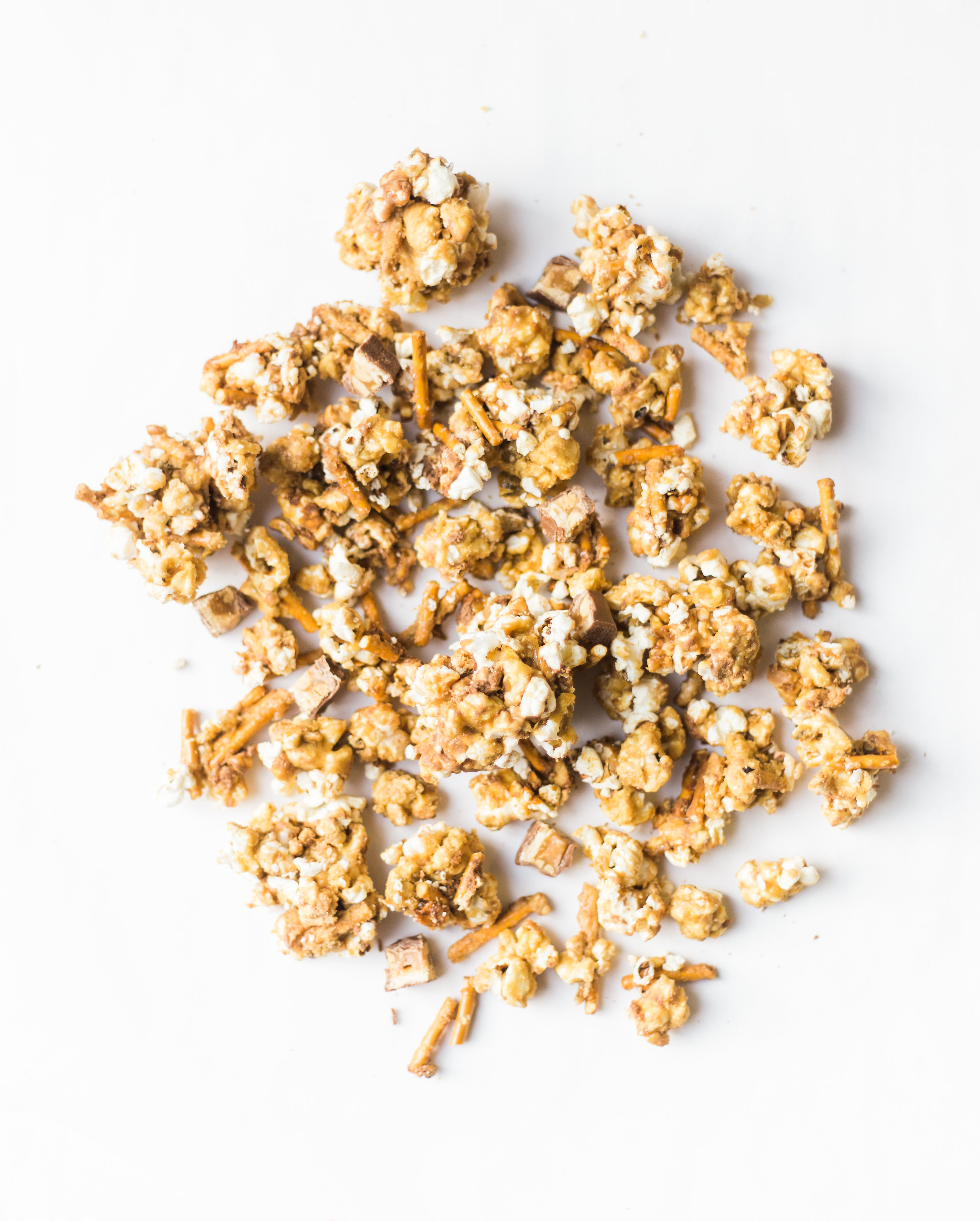 Now let's talk about the actual process of making caramel corn: I know that the idea of making your own homemade caramel can seem intimidating, but this caramel recipe actually doesn't require a candy thermometer, or any fancy tools for that matter. It's actually so simple; in a saucepan, combine brown sugar, butter, and corn syrup, stir for a few minutes – just until it starts to slowly boil, and then you leave it be as it's bubbling away on your stove for just five short minutes. Watching it bubble away is half the fun.
After five minutes, you just remove the pan from the heat and stir your baking soda and vanilla extract into the bubbling mixture and then a pinch of salt. It's actually the baking soda that causes the key chemical reaction that fluffs the caramel. It's like magic!
That golden fluffy caramel is then poured over your popcorn, pretzel, and chocolate mixture, it's stirred and coated quickly, getting as much coated as possible, put in a low oven to dry out and set. Once it's rested in the oven, you can top the mixture with another small sprinkle of salt, and then you have the most insanely good salted pretzel Snickers vanilla caramel corn.
Once your homemade caramel corn has dried and cooled it will be crisp and chewy and AMAZING.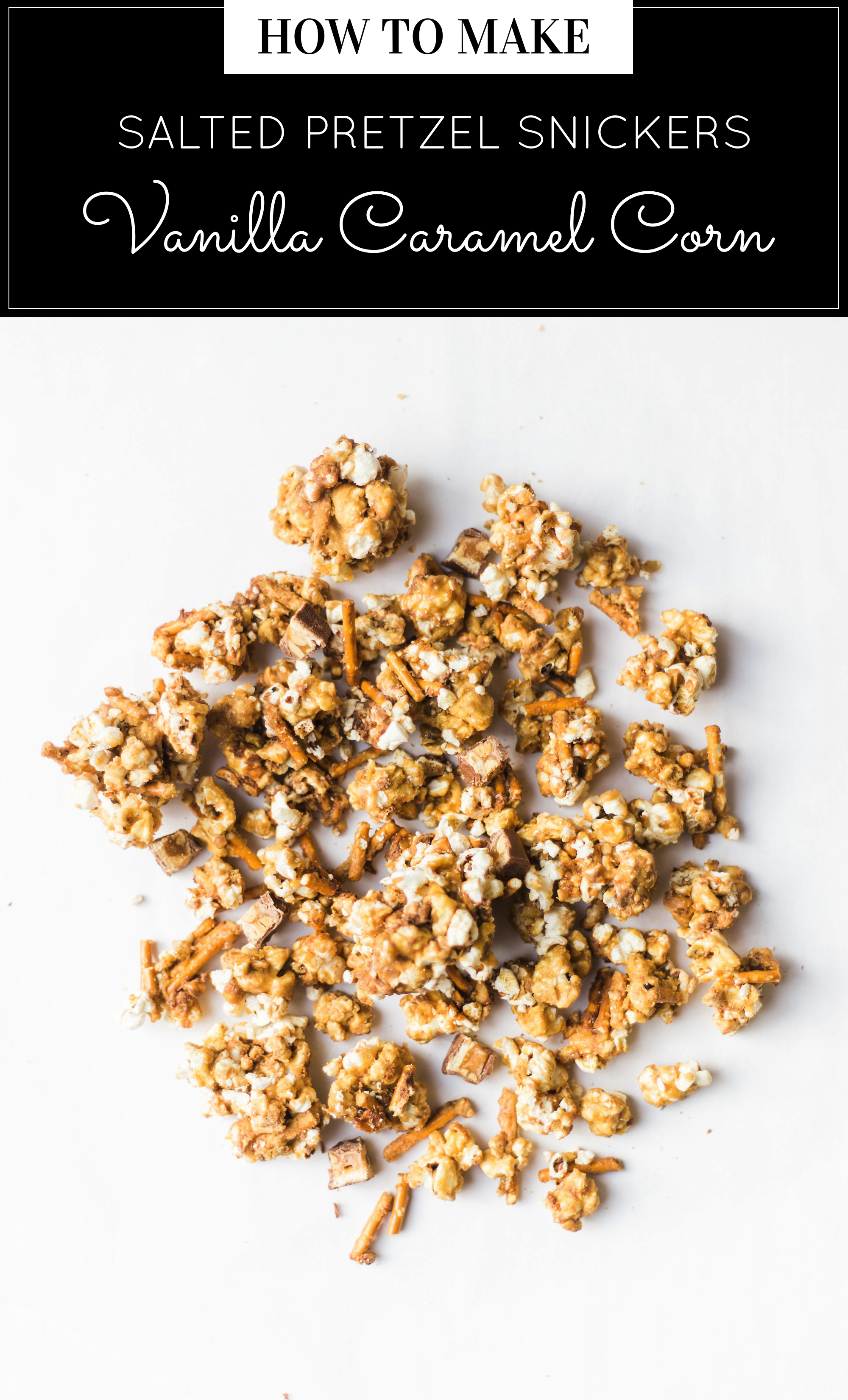 Salted Pretzel Snickers Vanilla Caramel Corn
makes 14 cups popcorn
INGREDIENTS
about 12 cups popped popcorn (about one microwavable bag of popped popcorn)
about 2 cups pretzel sticks or twists, broken
1 bag of Snickers minis (chopped)
1 cup packed light brown sugar
1/2 cup light corn syrup
1/2 cup (1 stick, 4 ounces) unsalted butter
1/2 teaspoon salt
1/2 teaspoon baking soda
1 teaspoon pure vanilla extract
Optional: You can also add 1 cup of peanuts to your popcorn and pretzel mix before coating in caramel.
DIRECTIONS
Place a rack in the center of the oven and preheat oven to 250 degrees F. Grease a large (but shallow) roasting/cookie pan with butter or cooking spray. Set aside a large bowl and spray that with cooking spray as well. Add popcorn, pretzels, and chopped Snickers to the greased bowl and toss gently to mix.
In a 2 quart saucepan, combine brown sugar, corn syrup, butter, and salt. Whisk over medium heat until it begins to boil. Allow to boil over medium heat (without stirring!!) for about 5 minutes. The mixture will be deep gold and bubbling.
Remove from the heat and immediately stir in the baking soda. The mixture will foam and froth. That's ok. Keep stirring. Stir in the vanilla extract.
Quickly pour warm syrup over popcorn and pretzel mixture in your greased bowl. Use two large spoons to toss the mixture, coating all of the popcorn and pretzels in caramel. Work as quickly as you can. Transfer coated mixture onto your greased roasting/cookie pan.
Place in the oven and bake for 20 minutes. Remove and toss. Return to the oven to bake for another 20 minutes. Remove from the oven and toss. Sprinkle with a little more salt; about a 1/2 teaspoon should do. Allow to cool before handling and packaging.
Caramel corn will last up to 4 days well wrapped at room temperature.
Recipe adapted via Joy the Baker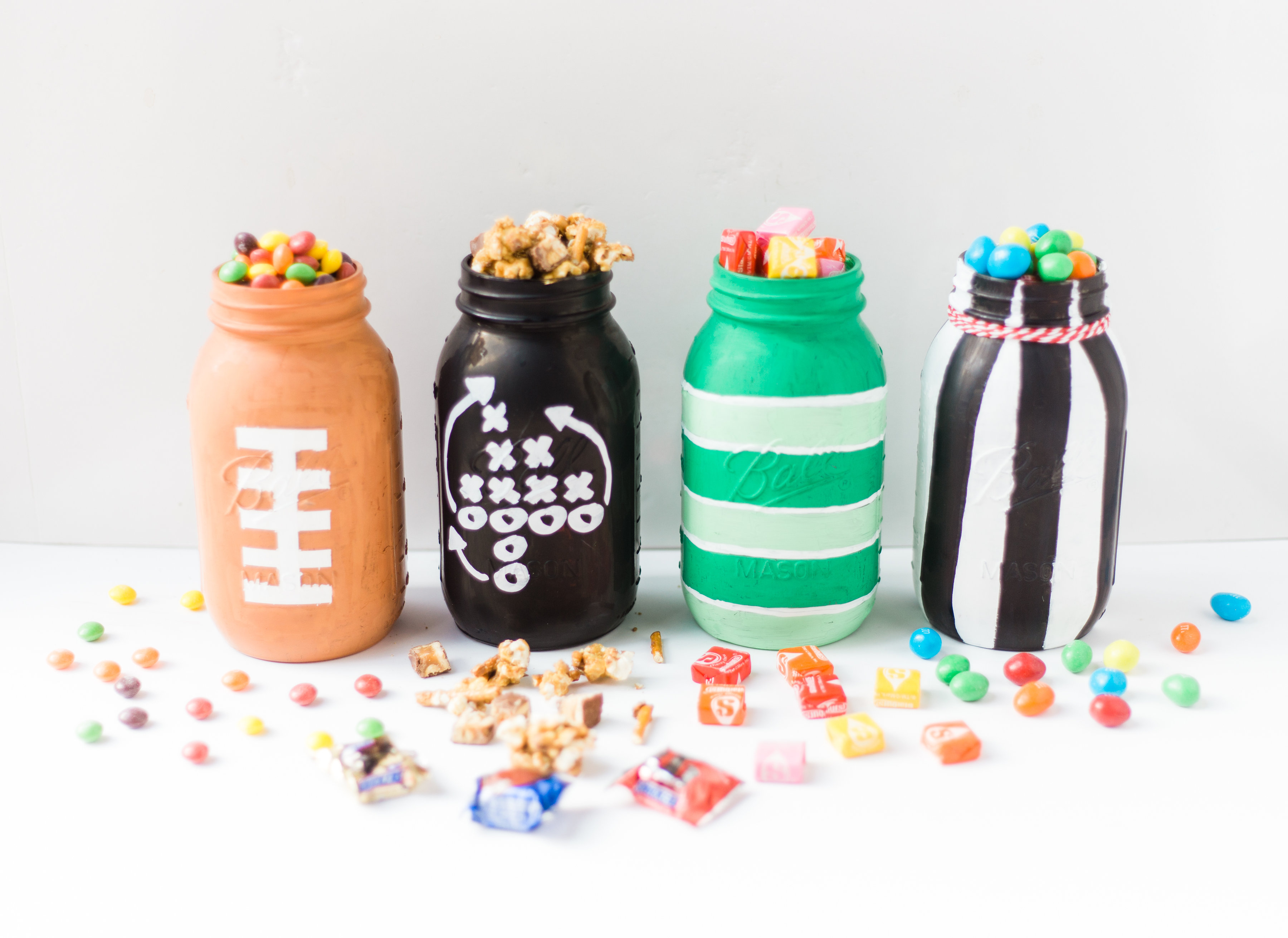 And in celebration of game day, I also put together a fun DIY! Say hello to our adorable new game day mason jars.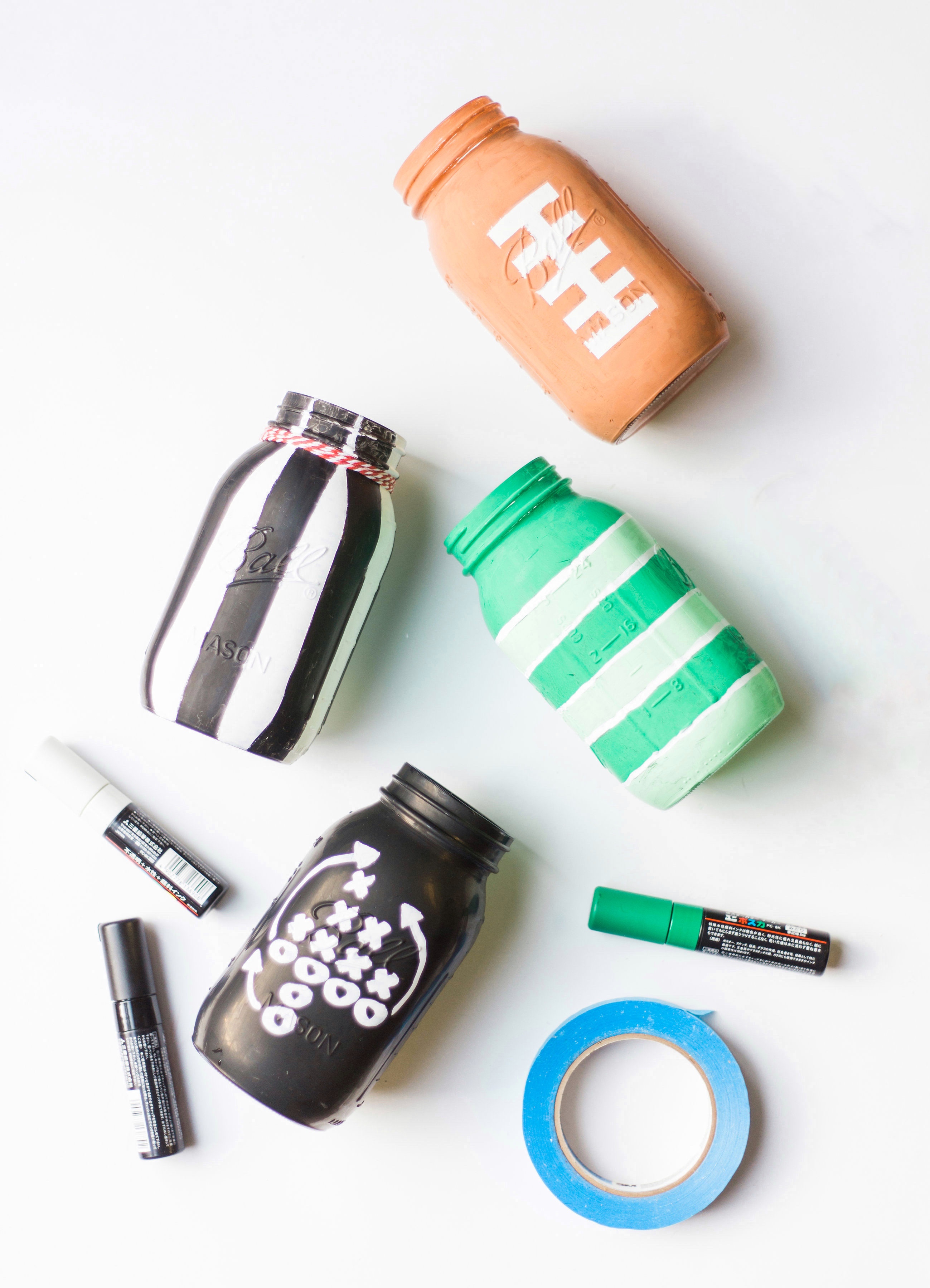 DIY Painted Game Day Mason Jars
To make the DIY game day mason jars I used large wide-mouth mason jars, Paint Pens, and Painter's Tape, and created football-themed painted jars to fill with my salted pretzel Snickers vanilla caramel corn and candy like Skittles, Starburst, Peanut M&M's, and SNICKERS NFL Minis. Told you I get excited about game day!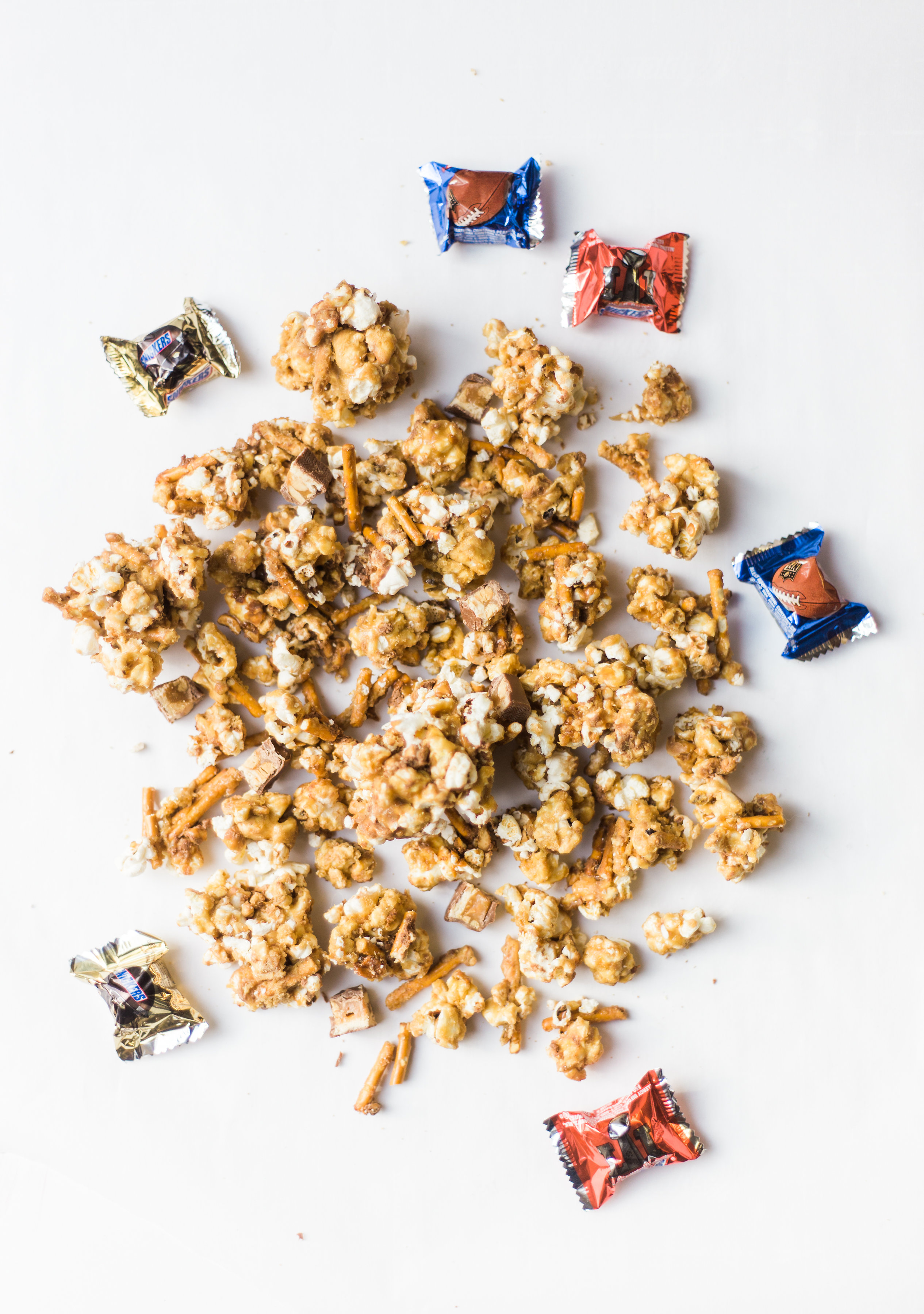 You can find everything you'll need to create your own Game Day Salted Pretzel Snickers Vanilla Caramel Corn and DIY Painted Game Day Mason Jars at your local Target. Target is definitely my go-to for the big game, from food to candy to party décor. Be sure to check out the Cartwheel app for deals on your favorite game day snacks!
Photos by Annie Watts Photography