This post contains affiliate links, which means that if you click on one of the product links, I'll receive a small commission. Thank you so much for clicking through and helping to support this little blog business of mine! Read more about our site, privacy, and disclosure policies here.
I am on a quest. A quest to find the best of the best easy appetizer, dinner and dessert recipes, both for my own family and for guests – to whip up when friends come over, and to bring places we're invited. (See my 15 Favorite Vegetarian Dinner Recipes and my 10 Favorite One-Pot Dinners, and you know, ALL of my dessert recipes for plenty of inspiration.) Fall seems to be the season of the dinner party, and I'm prepping my recipe arsenal.
I'm about to give you 22 mouth-watering reasons to cheat, and use store-bought puff pastry. There are so many unexpected ways to use frozen puff pastry dough with these oh-so-yummy puff pastry recipes.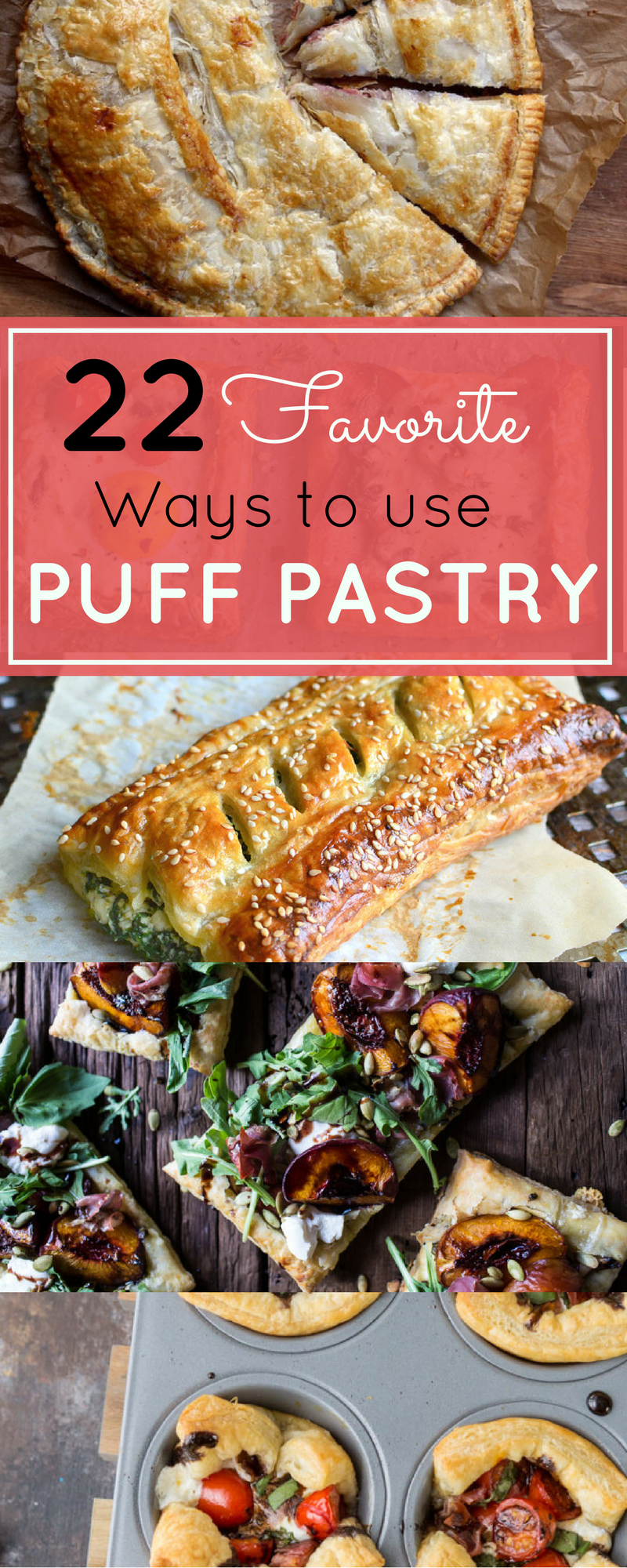 Truth is, I rarely use pre-made things, with the exception of an occasional spin on cake mix (because there are some really awesome variations on that stuff!) I am that person who bakes chocolate chip cookies using the Nestle Tollhouse recipe on the back of the bag, rather than buying the pre-made dough (which I'm well aware, would be far easier.) But store-bought puff pastry, unlike a lot of pre-made mixes and doughs, is just so good. Puff pastry can really add a special element to a dish, and the store-bought kind – it's darn tasty (and a huge time saver.)
Vegetarian Garden Tart With Roasted Vegetables and Feta Spread via Vegetarian Ventures.
5-Ingredient Cranberry + Brie Cinnamon Sugar Puff Pastry Swirls via Half Baked Harvest.
Cheddar and cherry jam puff pastry pop tarts via How Sweet Eats.
Skillet Chicken Pot Pie with Butternut Squash via Bon Appétit.
Balsamic Roasted Peach, Basil Chicken and Prosciutto Tarts via Half Baked Harvest.
Chai Spice Palmiers via Tutti Dolci.
Spinach Puff Pastry Rolls with Feta & Ricotta via Picture the Recipe.
Bacon and Egg Breakfast Pies (perfect to bring for brunch!) via Drizzle & Dip.
Broccoli Cheddar Soup Mini (and so Flakey) Pies via Half Baked Harvest.
Ham and Cheese Puff Pastry Pie via Joy the Baker.
Spinach, Artichoke and Caramelized Leek Tart via Savory Simple.
Plum Tarts with Honey and Black Pepper via Bon Appétit.
Quick Balsamic Fig Roasted Tomato and Burrata Cheese Tarts via Half Baked Harvest.
Roasted beet, goat cheese and honey drizzled tarts via How Sweet Eats.
Elephant Ear Cookies via Annie's Eats.
Sweet and Savory Cheesy Bacon Wrapped Puff Pastry Straws via Half Baked Harvest.
Lemon Berry Cheesecake Puff Pastries via I Wash You Dry.
Gruyere, Mushroom, and Caramelized Onion Tarts via Little Spice Jar.
Nutella Banana Tarte Tatin with Cinnamon Sugar Roasted Pumpkin Seed and Hazelnut Crunch via Half Baked Harvest
By the way, if you're in a pinch, guests are always a fan of the classic pigs in a blanket (cocktail weenies, a.k.a., miniature hotdogs, wrapped in puff pastry and baked). I mean, who doesn't love those?
Any favorite puff pastry recipes?
Be sure to head to our recipe page to check out what else we're dreaming up in the kitchen. If you make any delicious puff pastry recipes, tag me on social media (@glitterinclexi) so I can live vicariously through all of your delicious creations! Seriously, send those pictures my way!!