You guessed it, we're going to the beach! Last year it was Cancun, and this time, we're headed to the Dominican Republic for the holidays! I can't tell you how excited I am to see my family … I've been just a wee bit homesick (moving several states away will do that to you.) I'm also ridiculously excited for the break, the sunshine, and a few extra helping hands (thanks, family!) My hubby gets the whole week off as well, and after the last several weeks doing patient consults at the hospital with long hours and not seeing Scarlett (bedtime is typically long before her Daddy gets home), I know he's looking forward to it as well. It's funny how sometimes you have to escape to really spend time together and enjoy your family in big doses.
But don't you worry, I'll be popping in on the blog throughout the next week, and I'm sure I'll be sharing a few fun vacation recaps once we're back, but until then, follow along on instagram, facebook, twitter, and snapchat → glitterinclexi (my newest social media obsession) for fun peeks at our travels and check out my beach vacation packing list.
Now onto the packing! Packing for a winter beach vacation can be tricky. You've already stuffed your Summer wear into the deepest recesses of your closet, and in comes that beach vacation and you've got to magically pull out your cutest summer stuff, stat. My advice: keep it streamlined. Go for a few of your favorite simple dresses for day and night (I'm partial to dresses in the heat because they don't cling), sandals, sunglasses, a pair or two of shorts and a skirt and cute tops (tank tops are always easy but I am also loving the delicate sleeves on this lace blouse … I may have ordered it in black and white for the trip!), a lightweight crossbody bag, and at least one or two floppy hats (because, why not?)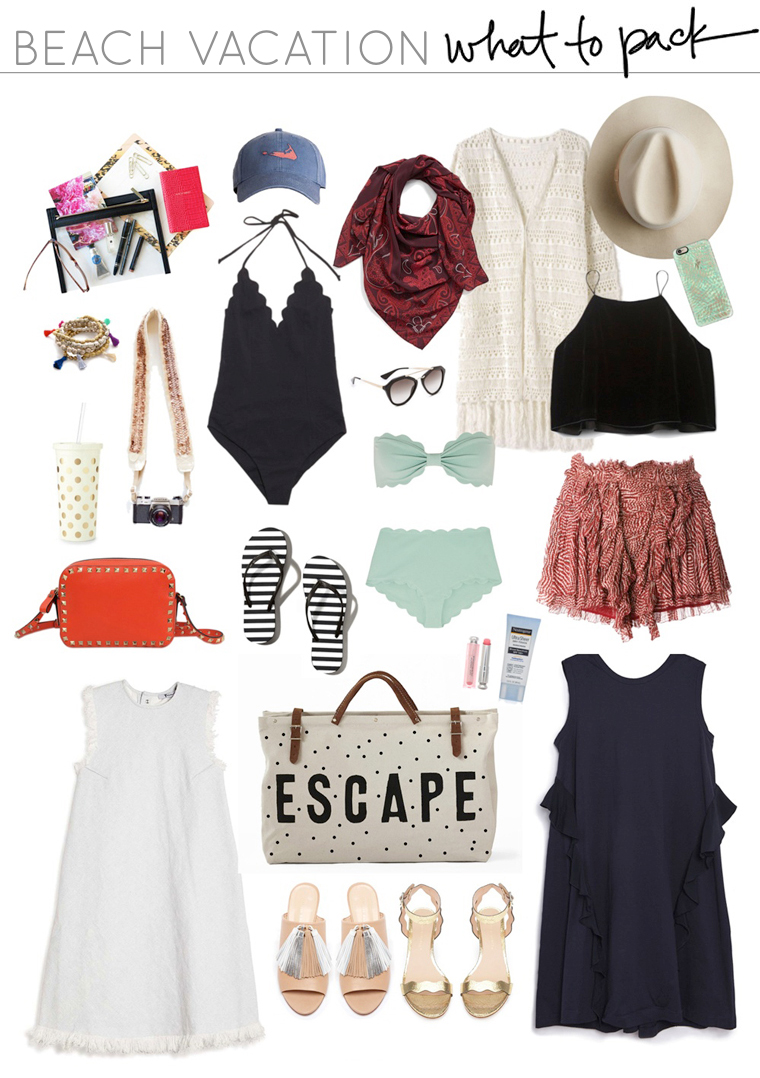 Shop my Packing List: Truffle Clarity Pouch // Needlepoint Hat // Marysia Swim Broadway Swimsuit // Halogen 'Delicata' Square Silk Scarf // East Hand Crochet Long Cardigan // ARTESANO CREATIONS LLC Collete Wool Fedora // iPhone 6 Plus/6/5/5s/5c Case in Green Palm Leaves // Aritzia Rians Blouse // Lacey Ryan Happy Hands Bracelet Set // Kate Spade Gold Dots Insulated Tumbler // Prada Aviator Sunglasses // Marysia Antibes and Santa Monica scalloped bandeau bikini // Bloom Theory Sequin Camera Strap // Isabel Marant 'Melissa' skirt // Valentino Rockstud Camera bag // Abercrombie & Fitch Striped Rubber Flip Flops // Polka Dot ESCAPE Canvas Utility Bag // T by Alexander Wang Frayed Burlap Dress // Loeffler Randall Kiki Tassel Mule Slide Sandals // Loeffler Randall Reina Sandals // NO. 21 T-Shirt V-Back Dress
Plus, a bit of mama advice (but truly, this applies to all of us!): buy and pack bathing suits you'll actually be comfortable in! For years I squirmed my way into little string bikinis and tops with never-ending straps. Well, I'm over it, and Scarlett is not having it anyway. I have become her human rock-climbing wall, and an ill-fitting swimsuit is just not going to measure up to the force that is a toddler. I discovered Marysia bathing suits sometime last year and I have never looked back. The fabric/material they use is uber flattering (unlike so many swimsuits that cut in all the wrong places), and their one-pieces and high-waisted bikini bottoms are mom-approved and so sexy. I'm on the high-waisted bikini train and I'm never getting off.
Have an amazing New Years Eve and cheers to R&R!
This post contains affiliate links, which means that if you click on one of the product links, I'll receive a small commission. Thank you so much for clicking through and helping to support this little blog business of mine! Read more about our site, privacy, and disclosure policies here.