Up until our baby girl arrived (hello, big news!), I have been running around like crazy this Summer – from work to appointment to baby errands and back again; having a great bag with all of the right tools that can keep me organized and on-the-go is key.  So I thought I'd share a little glimpse into my Summer tote and what I keep with me to get me through those extra-packed days.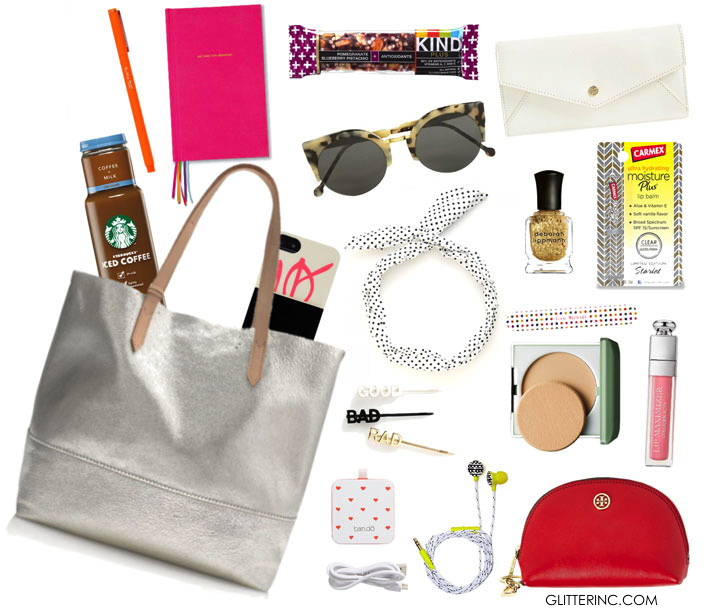 Shop What's in My Bag:

For starters, this Summer I am all about the tote (and this J.Crew Downing tote in metallic leather – adorable and functional); a tote is roomy and functional and carries everything that I need.
I never leave the house without a pair of sunglasses and great hair accessories like this ban.do twist scarf and bobby pins are essential in this Miami Summer heat.  I also like to carry a nail file and a trusted glitter nail polish for quick repair (glitter fixes everything … and a quick coat of glitter hides any chips as well).  As for the Summer makeup I tote, I try to keep it light with a super moisturizing chapstick, a shiny pink gloss, and mattifying powder.
To stay organized and keep on time, I also keep a notepad or journal plus a pen, an iPhone charger and cute case, plus a pair of headphones for those extra-long waits at the doctor's office.
And last but certainly not least, Coffee and snacks are a must and I can't get enough KIND bars (super convenient, filling, and healthy) and these Bottled Starbucks® Iced Coffee beverages. Bottled Starbucks® Iced Coffee is essential for me; it's convenient and portable, the drinks are lightly sweetened and Starbucks® offers a low-calorie version; plus it keeps me energized and refreshed day-to-day.  I have always been a devoted Starbucks® fan, but these handy dandy portable beverages are actually keeping me sane while learning to manage my new mom status!  I'd call that a win!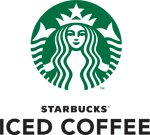 Bottled Starbucks Iced Coffee beverages are the perfect blend of premium Starbucks coffee and 2 percent milk. Available in four delicious offerings: Coffee + Milk, Low Calorie Coffee + Milk, Vanilla, and Caramel, Starbucks Iced Coffee ready-to-drink beverages are the perfect on-the-go refreshment to get you through the daily commute, big projects such as spring cleaning, or an exciting road trip with friends. Look for it at major grocery and convenience stores, available nationwide.
Disclosure: Compensation was provided by Starbucks Coffee Company via Mode Media. The opinions expressed herein are those of the author and are not indicative of the opinions or positions of Starbucks Coffee Company.