When Glam and Sony got in touch with me about Sony's new film, Hope Springs, a real-life comedy about relationships, love, and marriage, I knew I wanted to be a part of the marital bliss.  I married my high school sweetheart (oh yes, I'm one of those crazy people), and we have years of stories.  Back when my husband I were dating, way back when in the very beginning, he used to bake cookies (not very good cookies, but he baked, and that's the point), he "decorated" with rose petals, he wrote me song lyrics that at the time, I thought were the best thing, ever.  A total of ten years together and many anniversaries later, and two  full-time jobs (three if you count my obsessive blogging), anniversaries are tough.
But I'd have to say, the very best gift my hubby ever got me was the gorgeous diamond on my finger.  I know it's cliché, but that ring meant the world.  I knew for a long time that he'd be the boy to put a ring on my finger.  What I didn't know is that he'd design and sketch it himself, spend months picking the perfect diamond, arguing with jewelers that it had to be yellow gold even though they all wrinkled their noses at him and insisted platinum was better — not to me, and picking the best spot in the world to propose — where we met when I was 16 years old (at the movie theater … where he worked at age 17 … I was like putty.)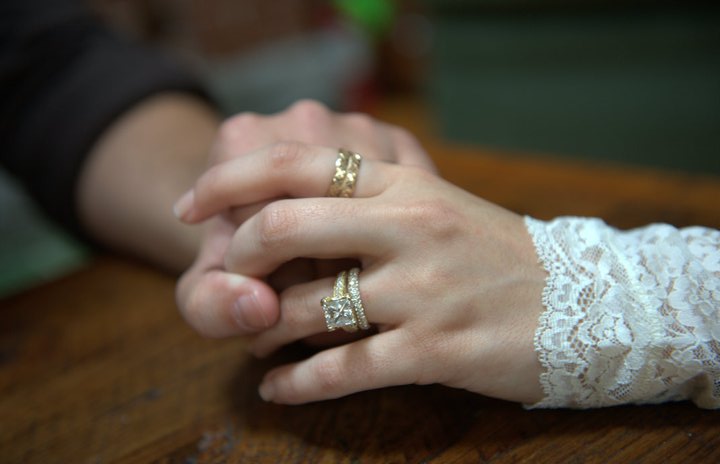 The worst anniversary gift he ever gave me … the realization that my diamond ring counts as "the gift" for eternity.  Kidding, sort of.  (And yes, every time he gets in trouble, forgets a mini-anniversary, orrr a not so mini-anniversary, he points to my ring and smiles.  Idiot.)
What was the best anniversary gift your someone special got you?  The worst?
Sony Pictures Presents "Hope Springs", A new comedy from the director of "The Devil Wears Prada" starring Meryl Streep, Tommy Lee Jones, and Steve Carell. Watch the trailer here.
**Compensation was provided by SONY via Glam Media.  The opinions expressed herein are those of the author and are not indicative of the opinions or positions of SONY.