This post contains affiliate links, which means that if you click on one of the product links, I'll receive a small commission. Additionally, as an Amazon Associate I earn from qualifying purchases. Thank you so much for clicking through and helping to support this little blog business of mine! Read more about our site, privacy, and disclosure policies here.
It's time to decorate your front porch for fall! I'm sharing easy tips and tricks for styling a Halloween porch that can easily transition to a fall porch just in time for Thanksgiving!
It's porch decorating season! And now that we're in our new home, you know I had to decorate our front porch, stat.
Though I know that Halloween is just about the mid-way point in Fall, I still love decorating for all things Halloween, so I do tend to start our fall porch with a Halloween slant.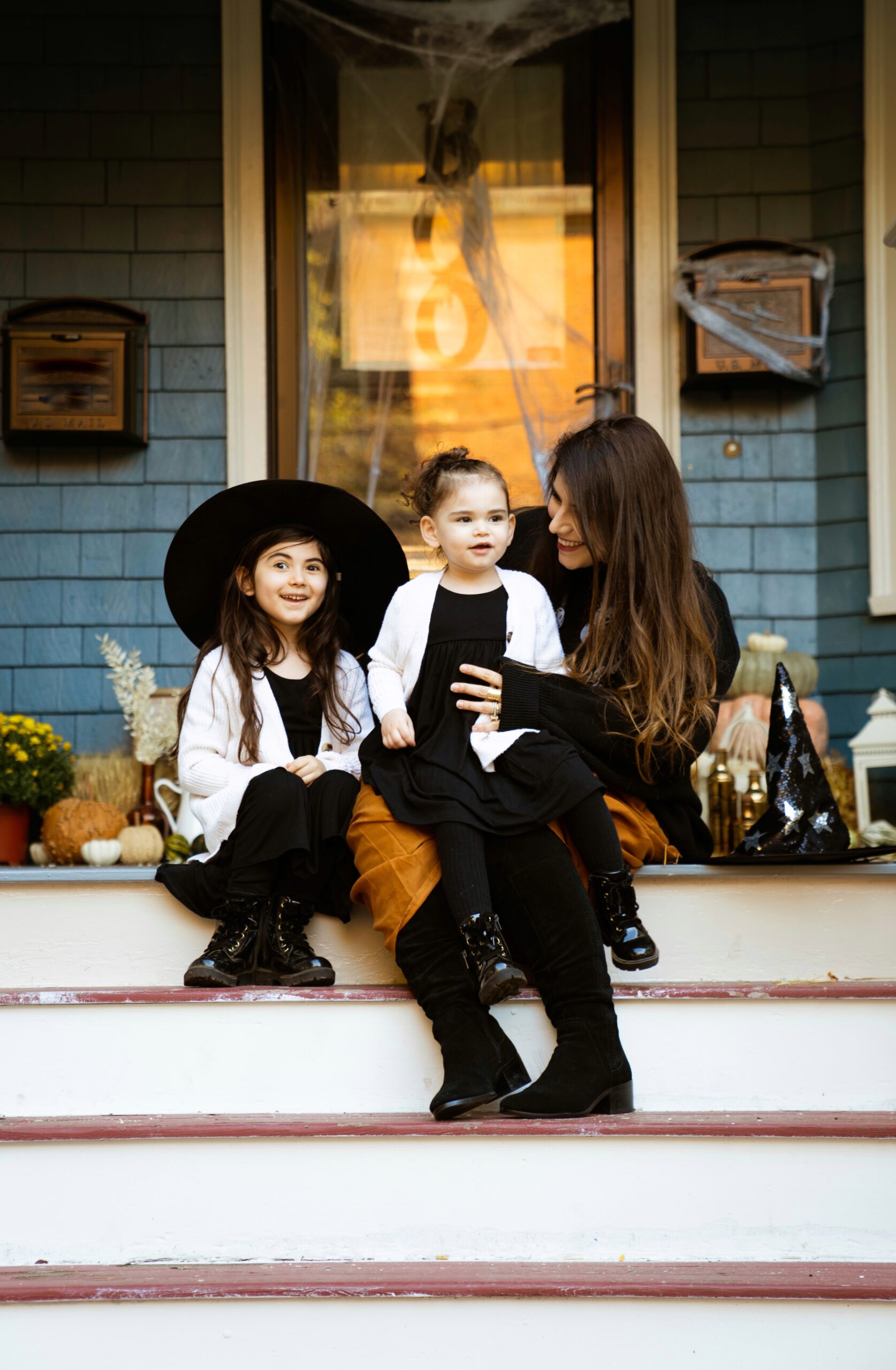 I mean, you guys know I'm obsessed.
The key to styling a Halloween porch that can transition into fall once Halloween has passed: layering your Halloween accents over a Fall themed front porch so that when the time comes, you can easily remove the spooky pieces and quickly swap things out for Thanksgiving!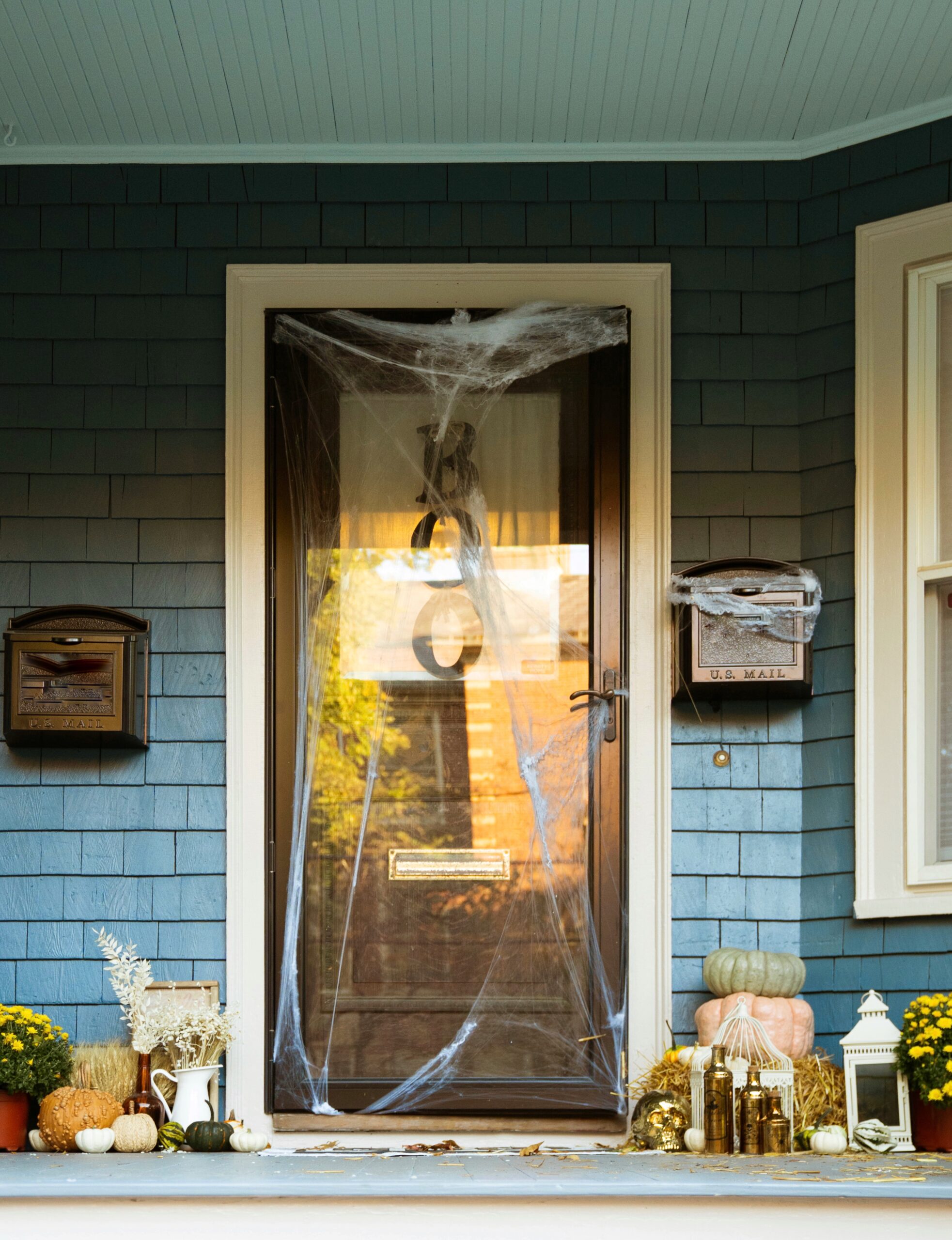 I so look forward to the changing of the seasons, and the transition into fall is easily my favorite of all. Bring on the pumpkins, crisp air, fall colors, and any excuse to layer!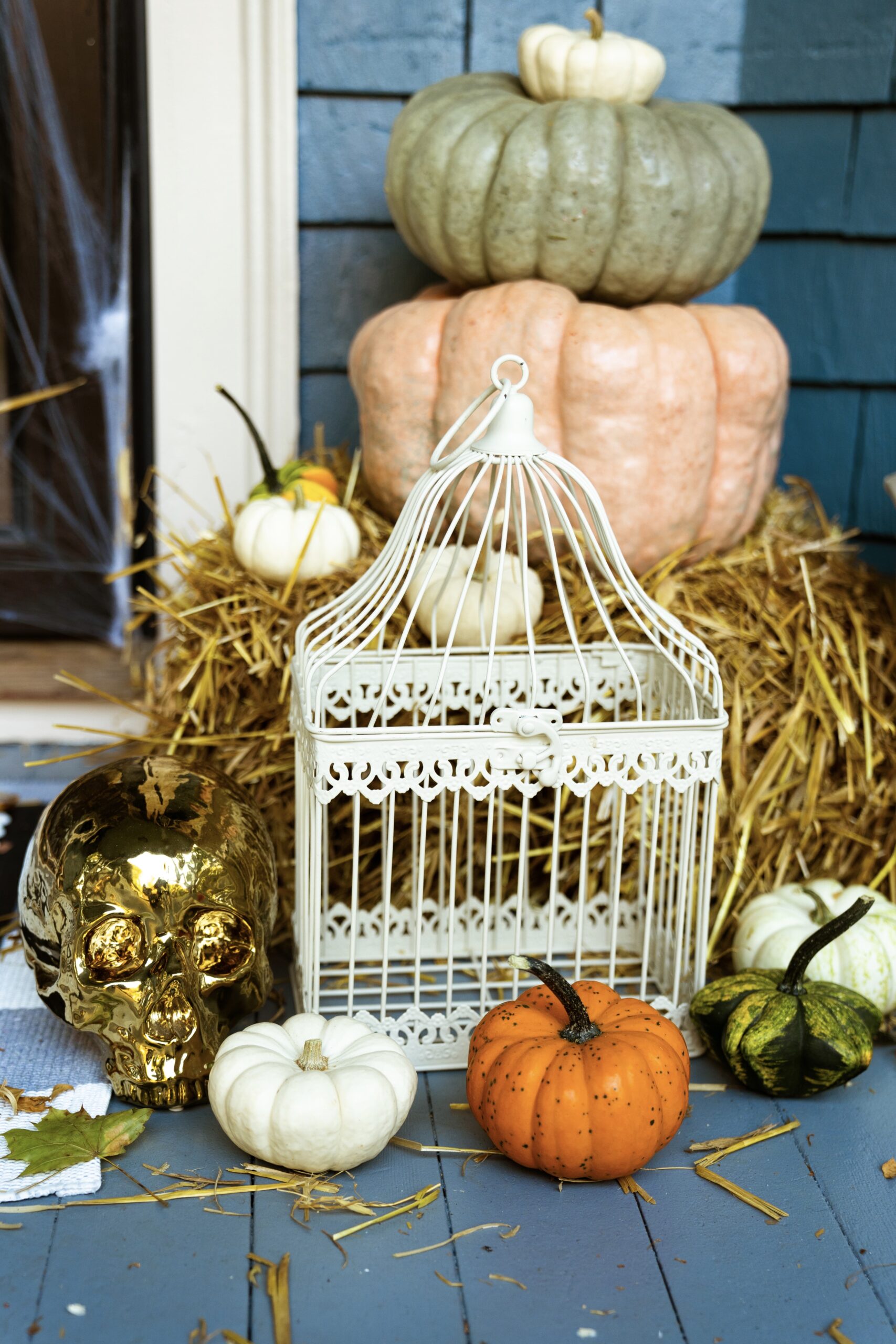 Our fall porch is full of mums, pumpkins, and hay, plus every year I try something new with the layered doormat look. I also love the look of "fancy pumpkins" – a.k.a., Cinderella pumpkins – because they add variety and varying levels of height that are perfect for stacking. This year I also added in a few lanterns for a welcoming glow!
Today, I'm sharing a round-up of where I get my favorite fall styling pieces and how I decorate our porch for Halloween and Fall; plus, a peek at this year's Halloween front porch in our brand new home! Hint: I kept it super natural this year with plenty of pumpkins, gourds, mums, and hay, and then the girls and I donned our best witch wear, because why not? 🖤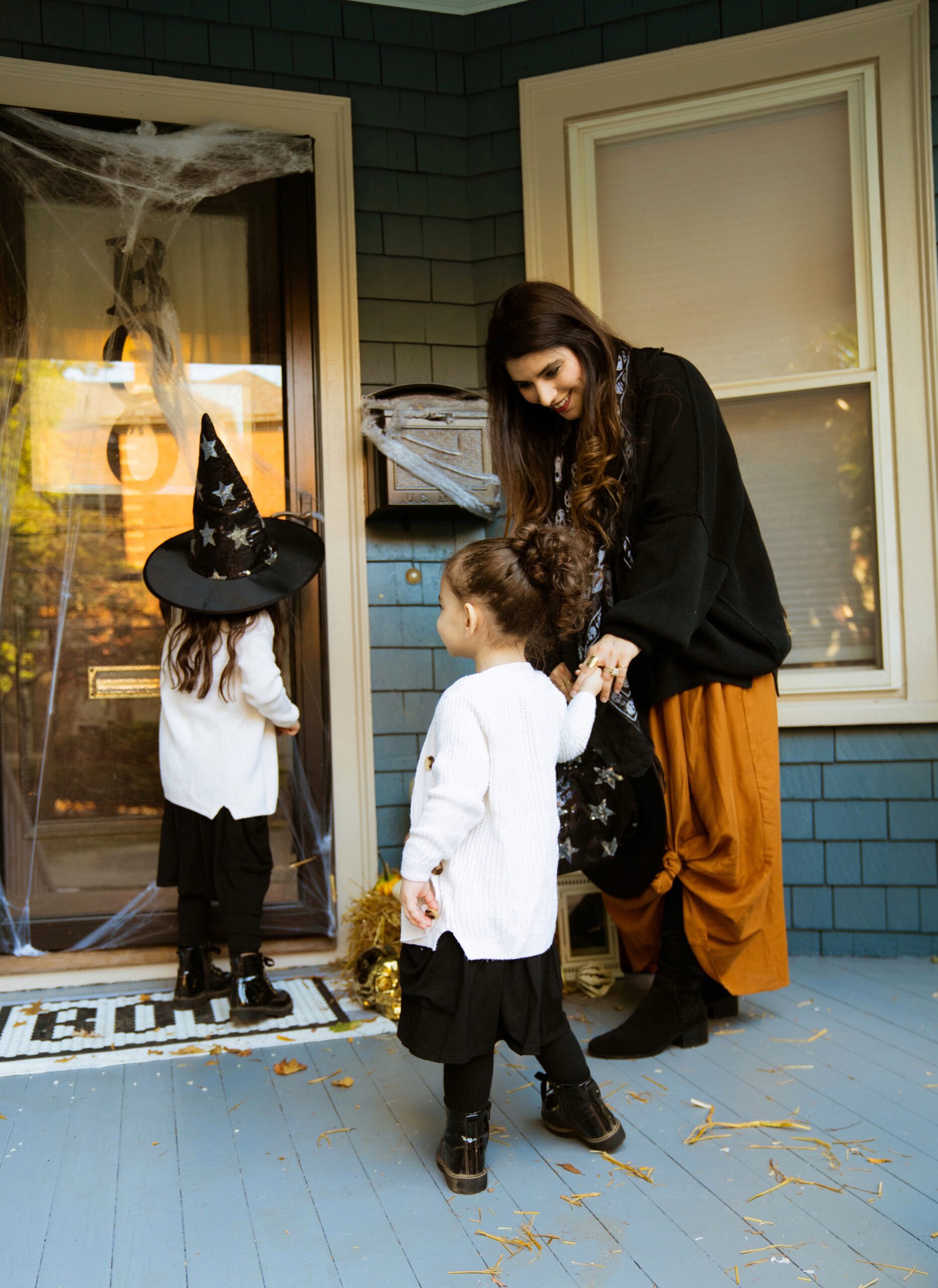 How to Decorate Your Fall Front Porch for Halloween
Step 1:
Clear your porch so that you have plenty of space to work.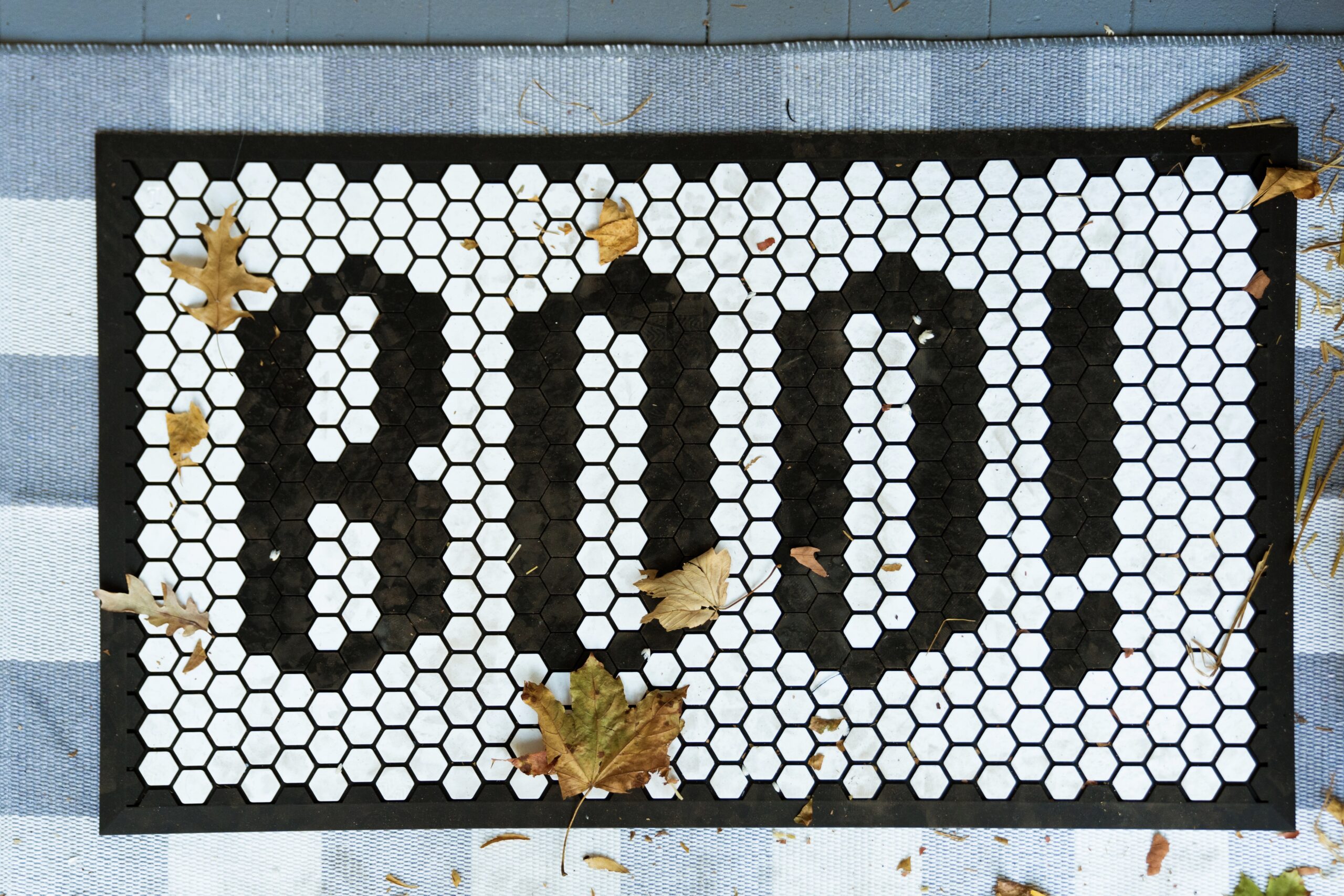 Step 2:
Start with a doormat; or better yet, layer those doormats! A great fall porch makes the most of layers and textures. This year, I went with a classic buffalo check woven doormat (light grey and white this time around) and my brand new Letterfolk Tile Mat!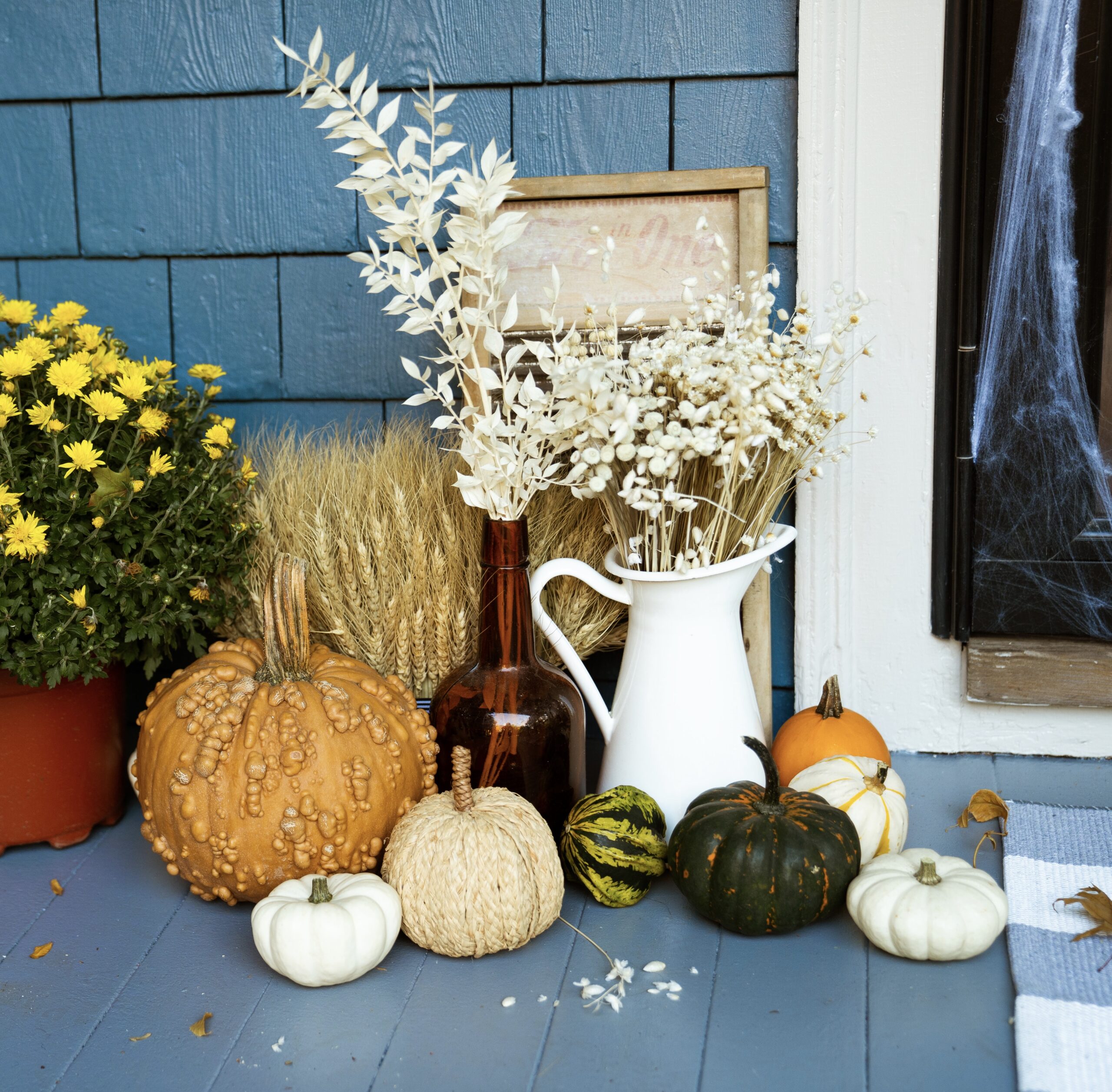 Step 3:
Add in larger, textural pieces. I've been incorporating a bale of hay for a few years now, and I love the texture and dimension it adds to our fall front porch. This year I also included a big bunch of wheat that I snagged at HomeGoods last year.
I also love using a few lanterns. Add in flameless outdoor electric candles, for an extra pretty candlelit effect at night.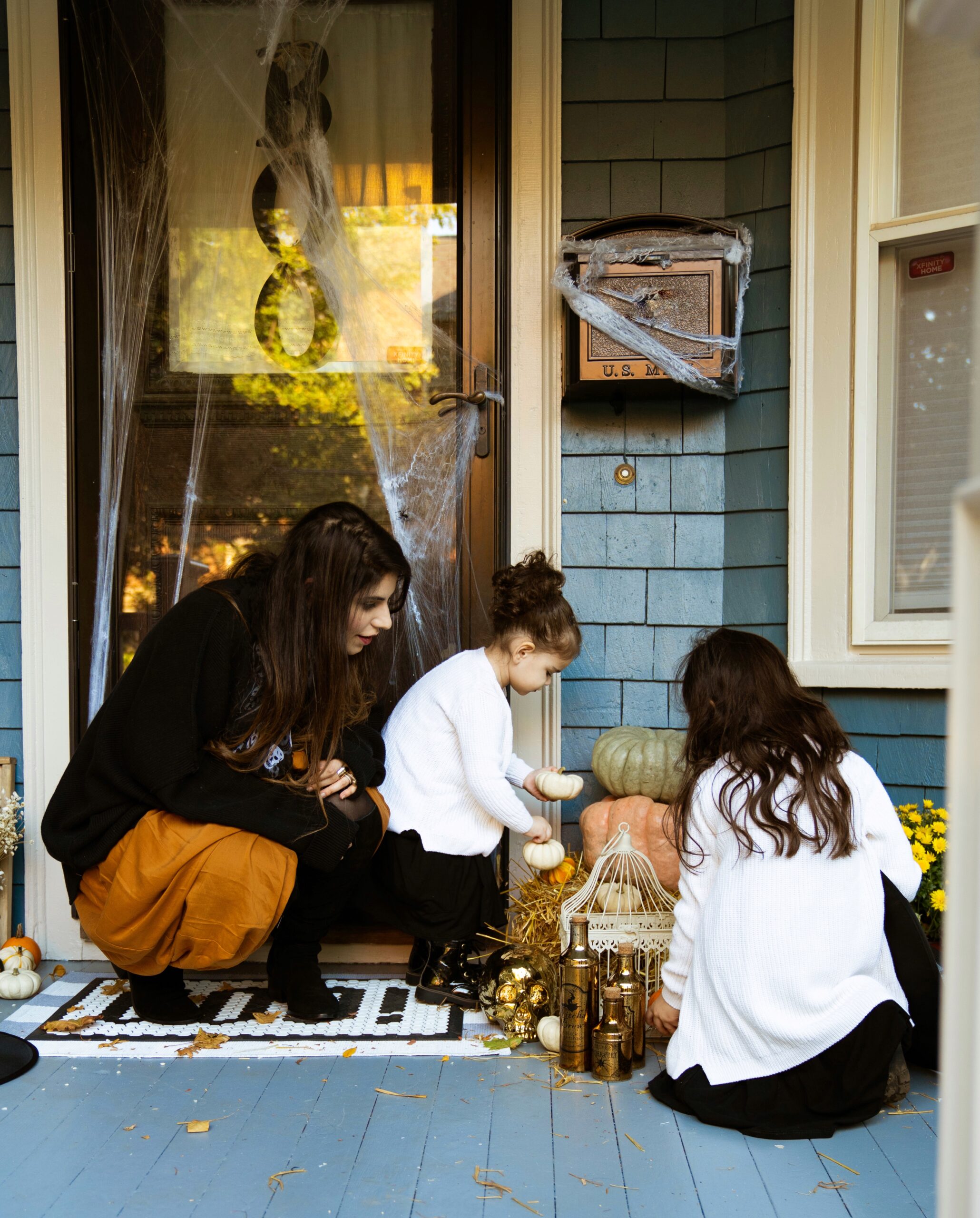 Step 4:
Add in the pumpkins, mums, and flowers (mums are a fall staple for us!) I like to add a mixture of faux pumpkins and real pumpkins to our front porch. If keeping mums alive is tough for you (guilty!), I've heard great things about these faux mums on QVC.
I also included a pitcher and a jar of dried flowers for more of that textural goodness.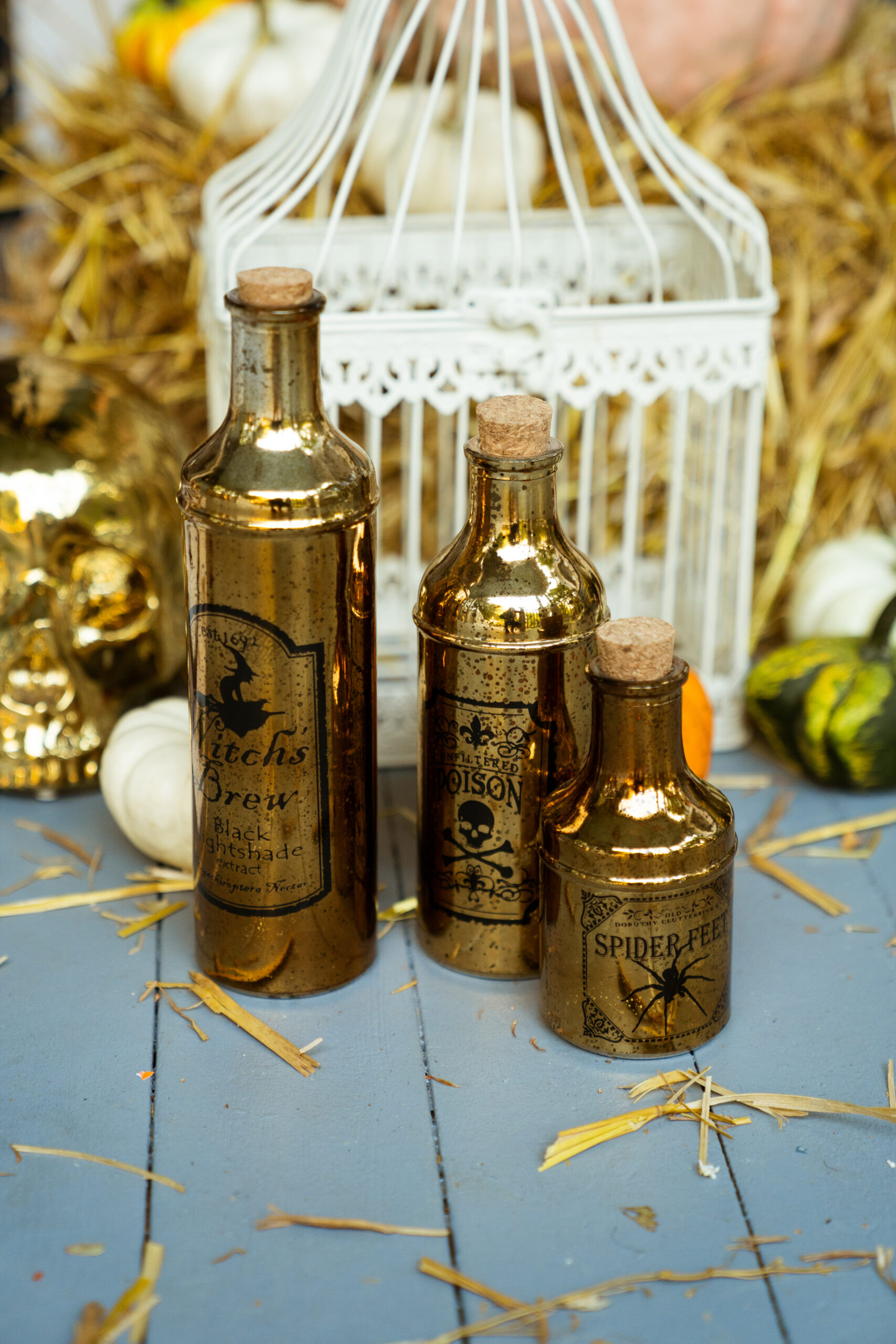 Step 5:
Add in the spooky elements for Halloween; ghosts, bats, skeletons, spiders, potions, cauldrons, skulls, let your imagination soar.
The beauty of layering in these Halloween pieces is that you can just as easily pull them out come November 1st to switch your porch back to a fall-themed, Thanksgiving porch.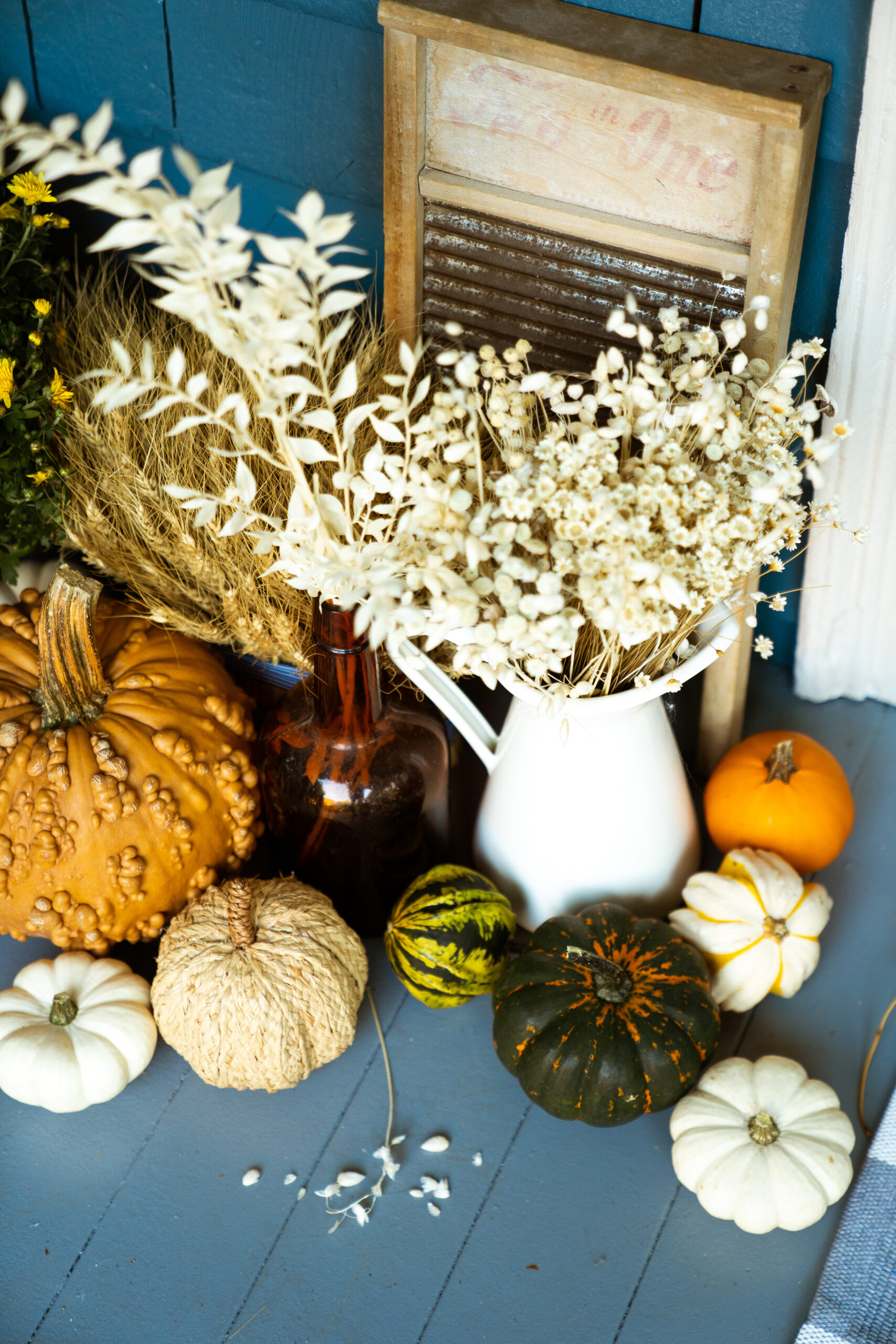 Step 6:
Once you swap out the Halloween decor for a fall/Thanksgiving front porch, you can add in fun seasonal elements, like a wreath. I love changing up our wreath each year for the holidays and I still haven't picked ours for the new season ahead. We do have and love this gold wreath hanger from Target, and that's what I'll use to hang our wreath on when the time comes.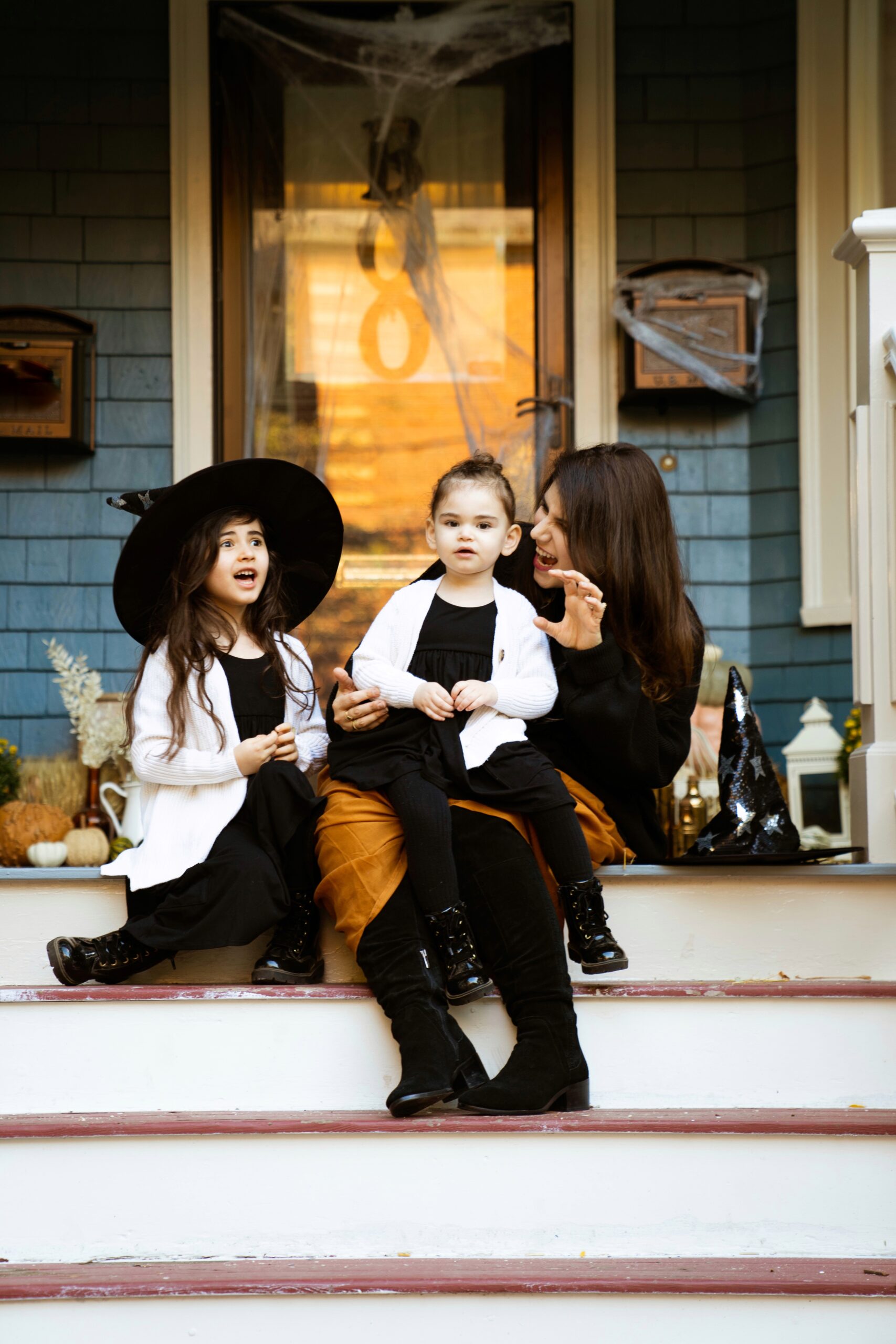 Once our own Halloween front porch was complete, the girls and I donned our witch hats and danced around the porch.
I'm thinking of starting a tiny girl coven. Who's with me?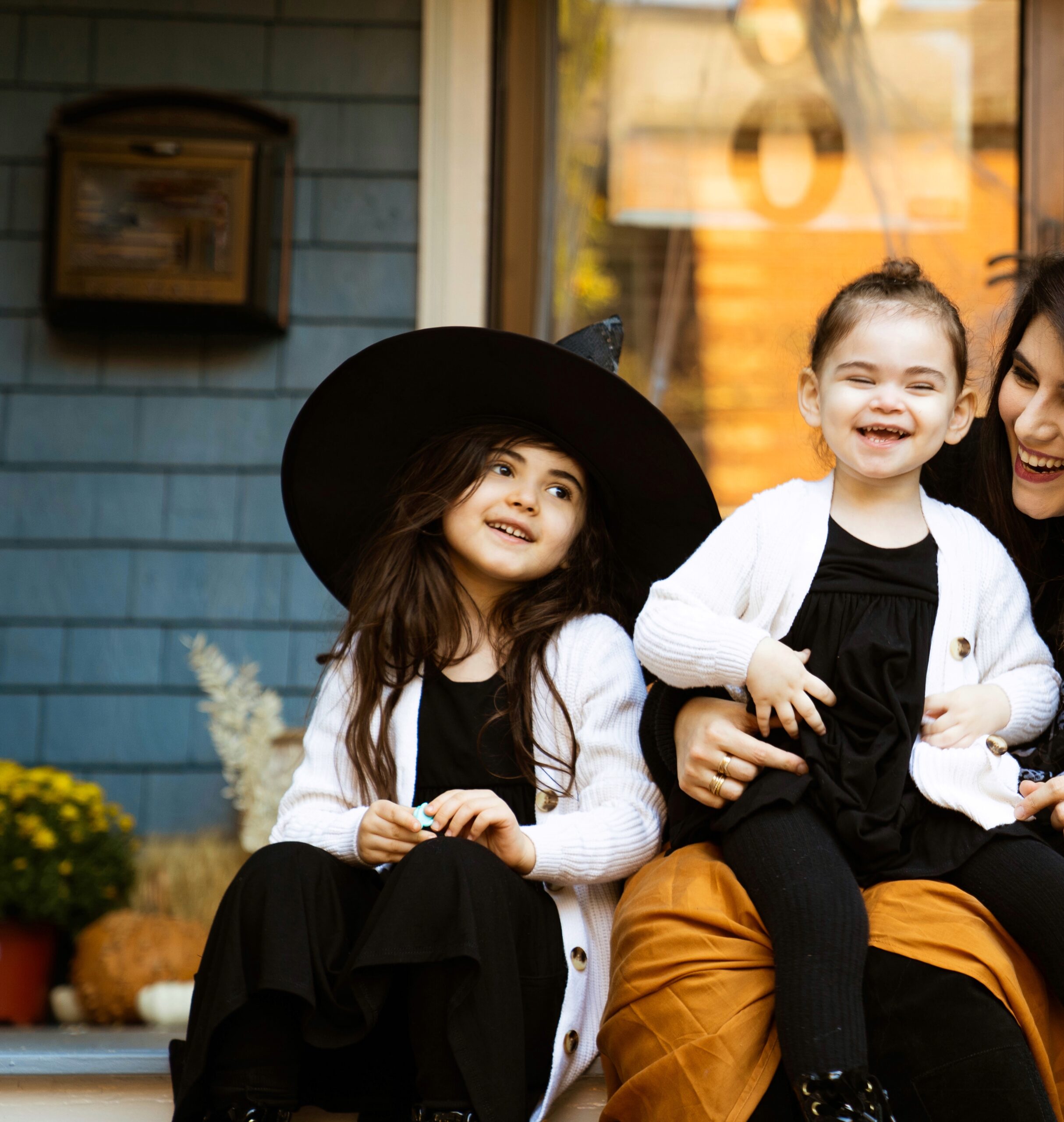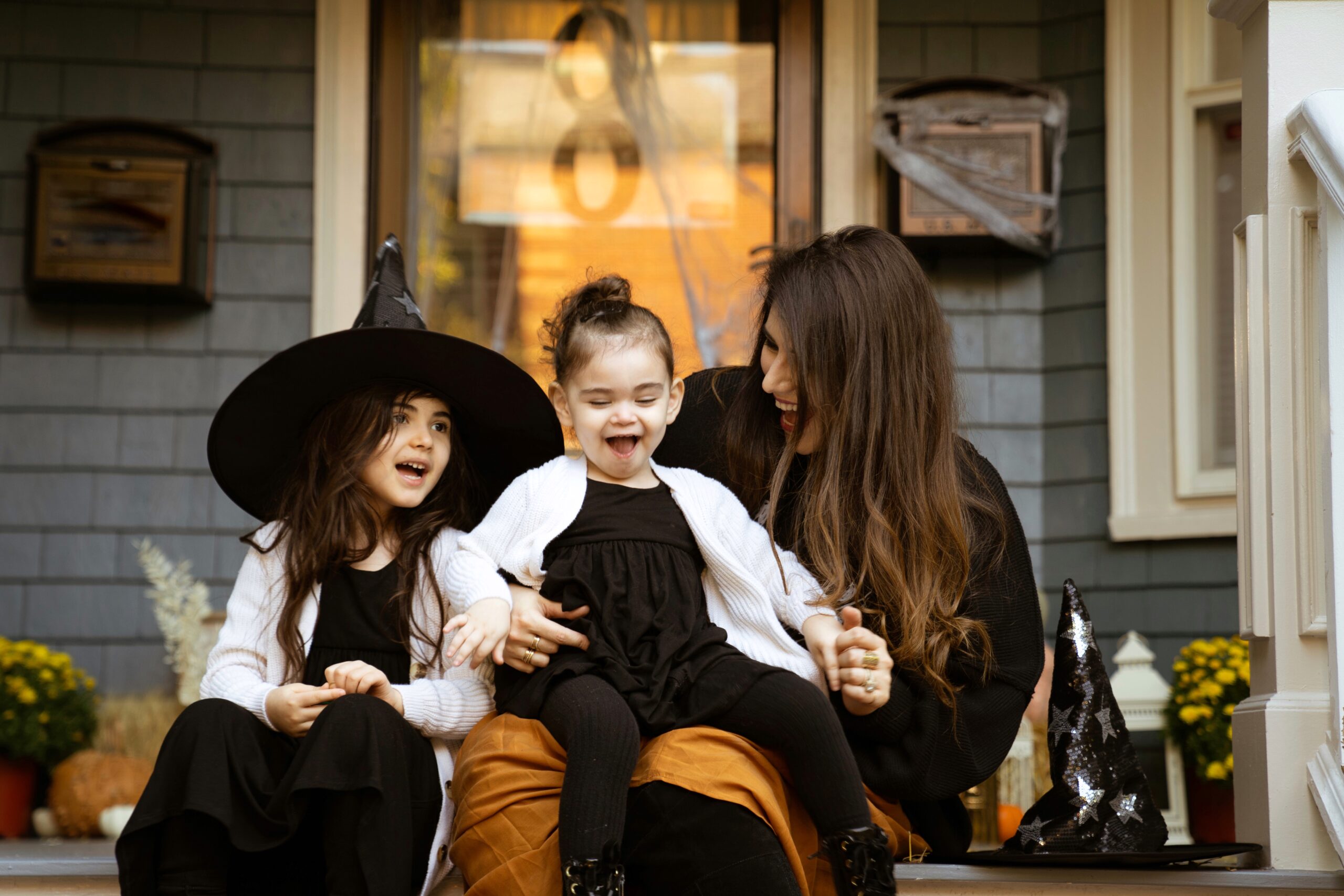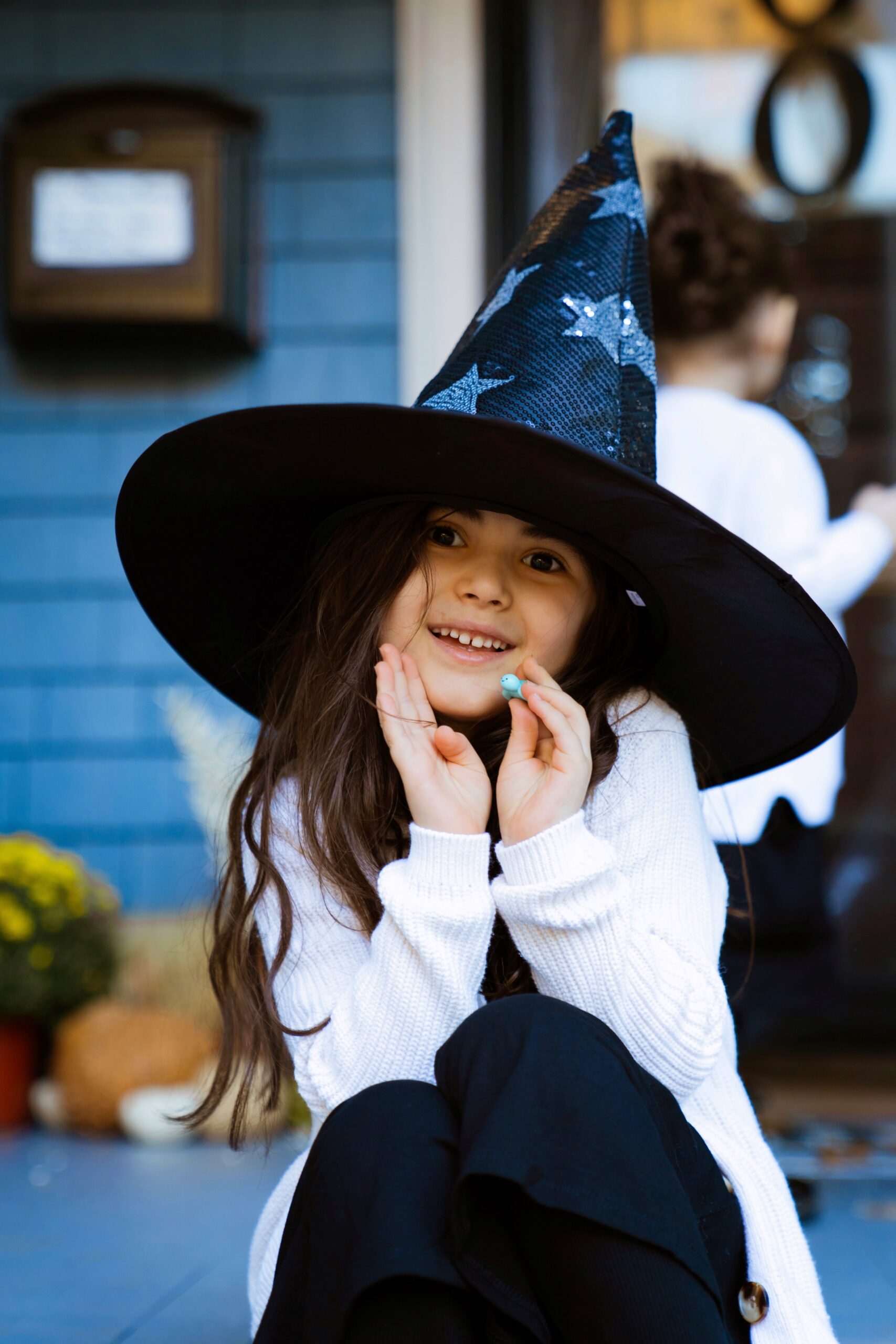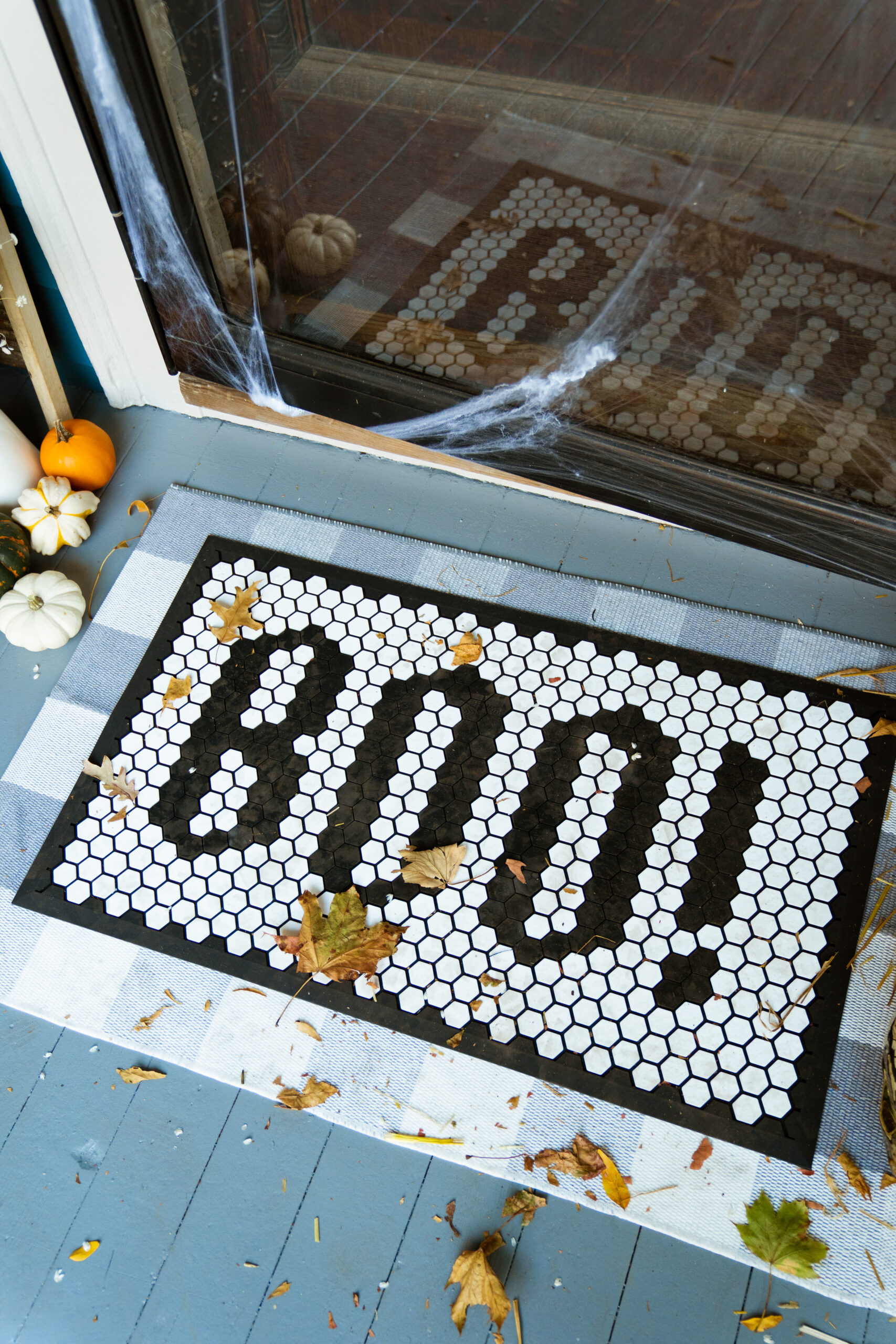 How are you decorating your front porch this season? Let me know in the comments!
SHOP OUR FALL FRONT PORCH | CLICK LEFT & RIGHT ARROWS TO EXPLORE
SHOP OUR FALL FRONT PORCH | CLICK LEFT & RIGHT ARROWS TO EXPLORE

Photos by Leah Jayne Productions for Glitter, Inc.