They say absence makes the heart grow fonder, and it's been far too long since my last trip to the beach.  I know that's weird and all, given that we live in Miami, and I really have no excuse.  Miami Beach tends to be a bit of a tourist destination.  Most Miami natives know how to find the quieter local beaches, but we rarely visit during Fall and Winter.  It's totally nonsensical, because even on our coldest Winter day (we're talking mid fifties here, people), most Miami-ans are bundled up in a coat and scarf, when the rest of the country would probably relish in that kind of weather.
And yes, I am that girl who paints her nails at the beach.  I also over-pack on the snacks, cover myself in sunscreen, and snap a million photos. And I love every minute of it. Which is why, I'm seriously dreaming of the beach. I'm hoping to sneak a quick weekend getaway with hubby soon, preferably somewhere full of ocean, sand, and beach-side cocktails.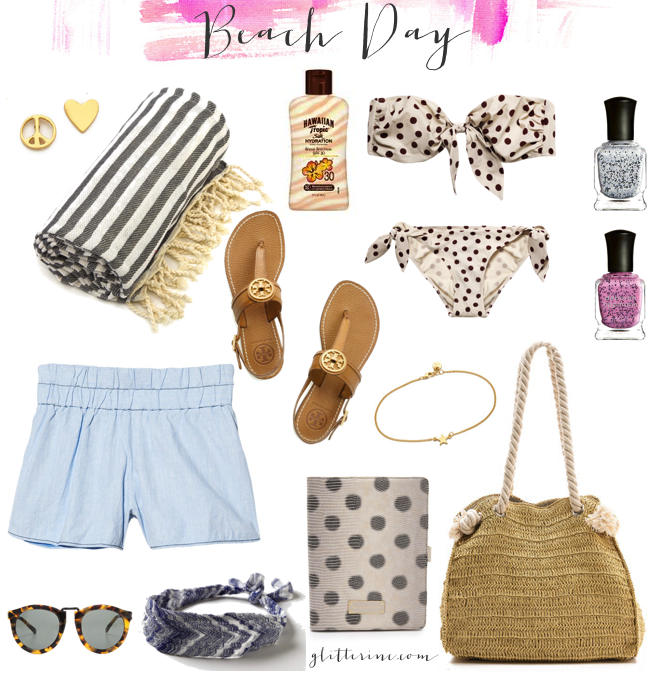 Get the Look: Gorjana Peace & Heart Studs // Pestemal Fouta Graphite Grey Turkish Cotton Beach Towel // Hawaiian Tropic Silk Hydration™ Lotion Sunscreen // Dolce & Gabbana Bow-front Polka Dot Bikini // Tory Burch Selma Flat Slingback Sandal // 10 Crosby Derek Lam Boxer Short // Deborah Lippmann I'm Not Edible Glitter Nail Polish // Deborah Lippmann Polka Dots And Moon Beams // Jules Smith Star Ankle Bracelet // Karen Walker Harvest Sunglasses // Missoni Chevron Waves Turban // Marc by Marc Jacobs Take Me Embo Lizzie Dots Tablet Cover // Shopbop Bop Basics Straw Day Tote
Speaking of the beach, I wanted to take minute to get on my SPF train (because, of course, I've already professed my love for sunscreen).  I'm always trying out new sunscreen formulas — I love a lightweight lotion that isn't oily or greasy and packs a high SPF for my pale skin.  And Hawaiian Tropic does just that!
Hawaiian Tropic has recently gone through a little reinvention of their own with a new modernized brand to better appeal to today's Hawaiian Tropic women, who love how the sun and their beauty products make them feel, but also understand the importance of sun care in helping to keep their skin healthy (which I love!)  And the famed brand is moving away from its Bikini Contest and searching for a new spokesperson through the "New Face" contest.
– On the Hawaiian Tropic Facebook page, women can enter to become the new face of the brand and/or vote for the person that they feel best represents the modern Hawaiian Tropic woman.
– Contest Entries will be accepted from 4/22 – 5/31.
– The new face will be revealed on July 19th, and will be featured in new advertising, receive a complimentary tropical vacation and serve as an official brand spokesperson!
Disclosure: This post was sponsored by Hawaiian Tropic. All opinions are my own.