This post contains affiliate links, which means that if you click on one of the product links, I'll receive a small commission. Additionally, as an Amazon Associate I earn from qualifying purchases. Thank you so much for clicking through and helping to support this little blog business of mine! Read more about our site, privacy, and disclosure policies here.
Let's DIY a pair of Pearl embellished slippers using the fluffiest plush Amazon slippers and a simple trick for creating pearl daisy patches.
I've been spotting so many gorgeous embellished slippers all over Instagram and TikTok (some with hefty price tags), and being the slipper snob that I am, I had a hunch that I could create my own customized pair of embellished slippers that were equal parts glamorous and cozy.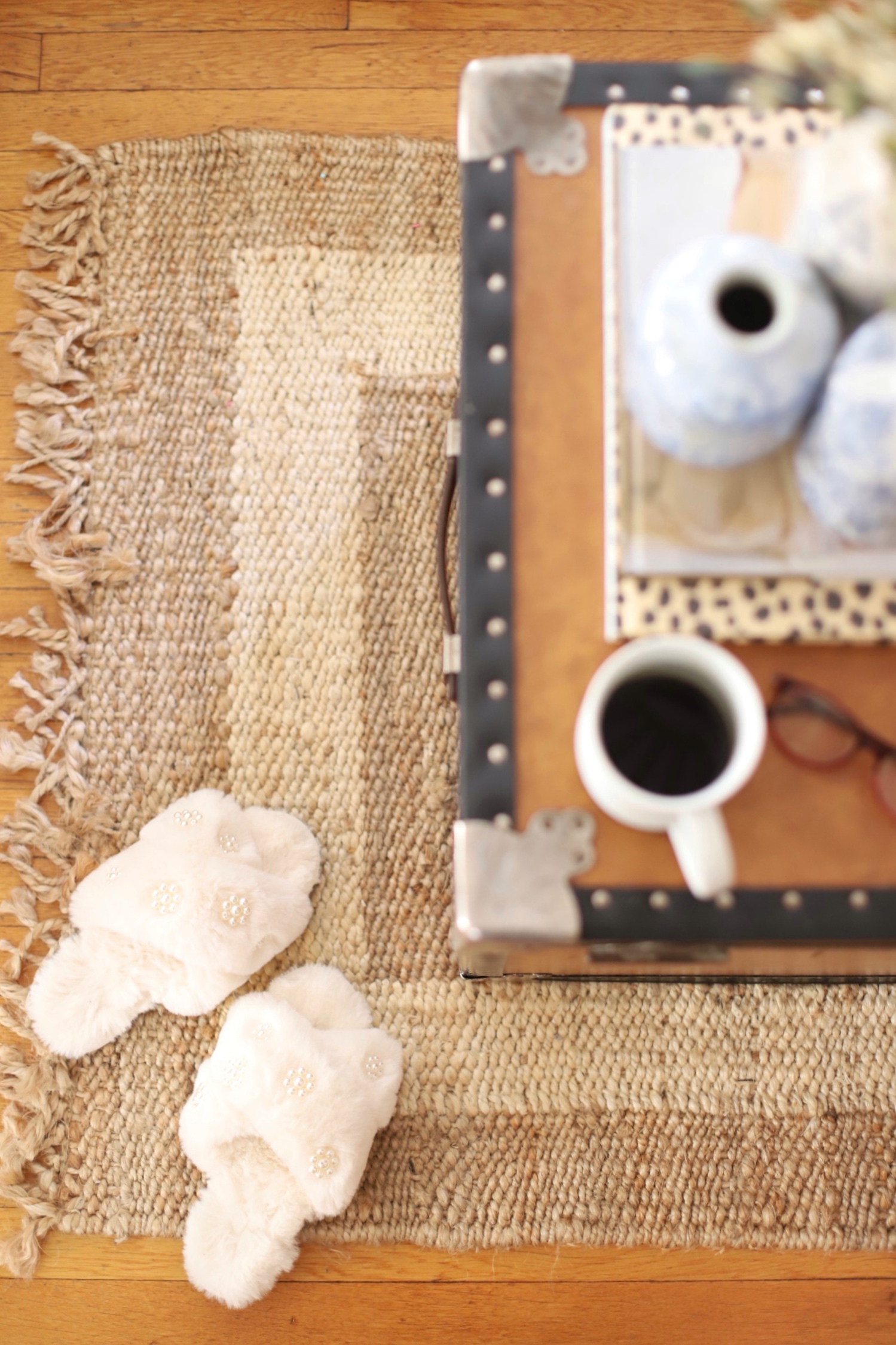 DIY Pearl Embellished Slippers
Creating your own DIY pearl embellished slippers is actually pretty simple once you get the hang of creating these little pearl patches I dreamed up.
To make your own pearl-studded slippers, you'll need just a few things:
pearls (or gems)
paper towel sheet
scissors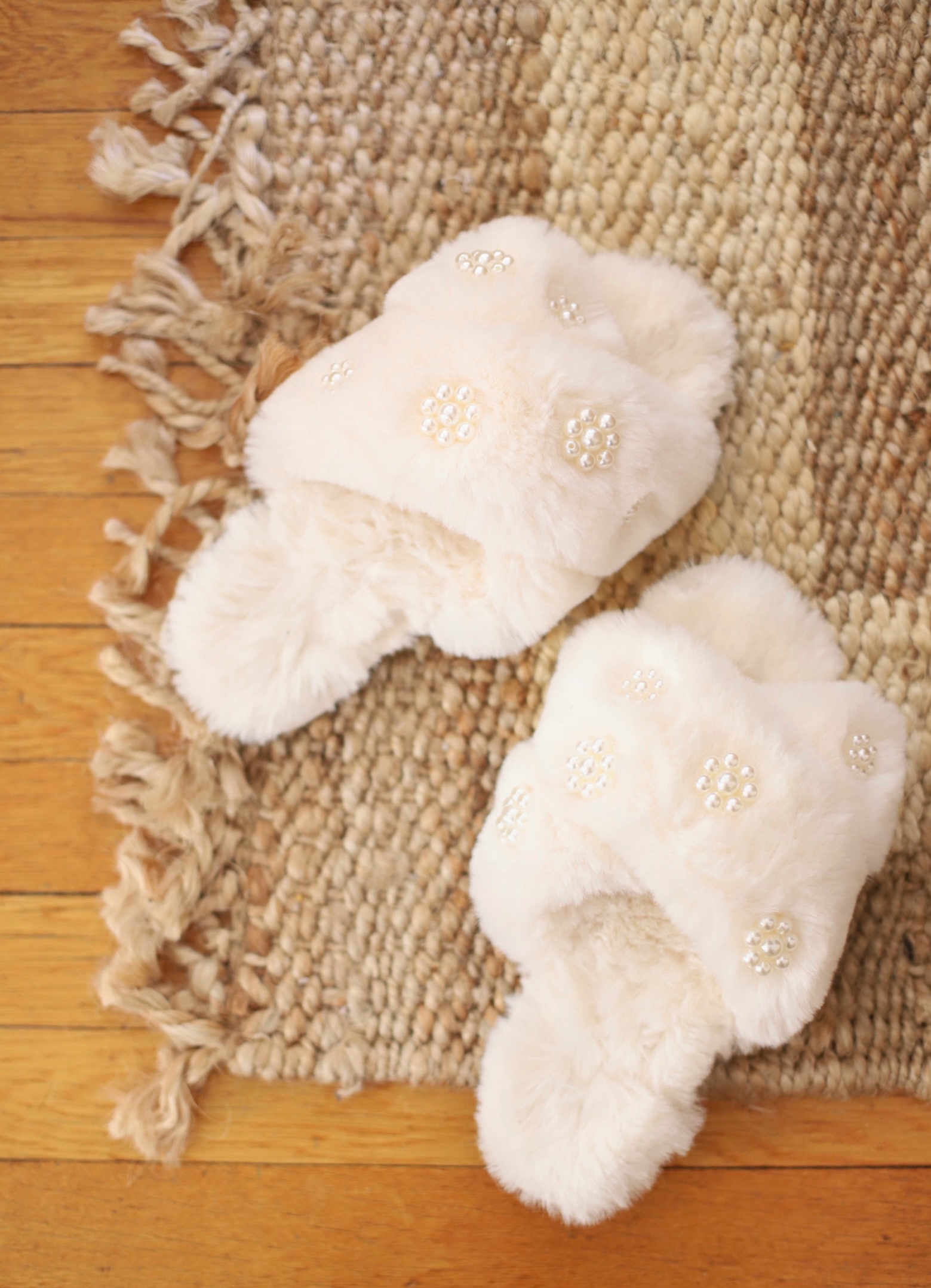 I had all of these pearls from a previous craft, and figured I could use those to make my very own pearl embellished slippers.
I also adore these plush fuzzy slippers from Amazon, and since they're super affordable, I figured if I totally botched the DIY, it wouldn't be that big of a deal.
Admittedly, I love a good hot glue gun project. It's easy, foolproof, and with my favorite cordless hot glue gun, I feel like a crafting wizard any time I use it.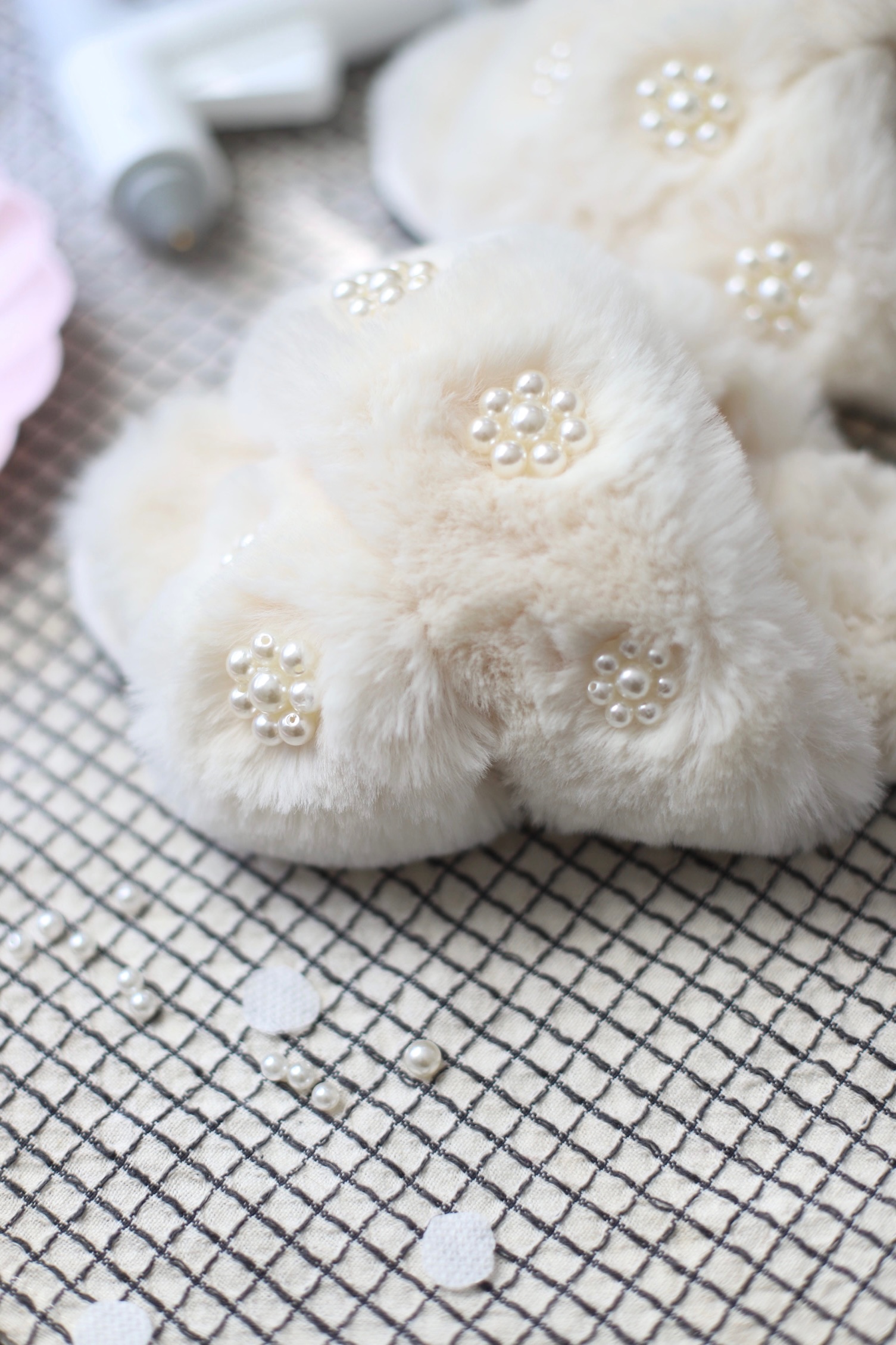 The Secret to Easily Attaching Pearls to Slippers
After a bit of trial and error, it became pretty obvious that gluing the pearls directly to the fluffy faux fur of the slippers wasn't going to cut it, so I came up with this idea to create DIY "pearl patches" using paper towel (cut into little circles), pearls, and a hot glue gun.
The pearl patches were quick to make and so much easier to glue onto my slippers.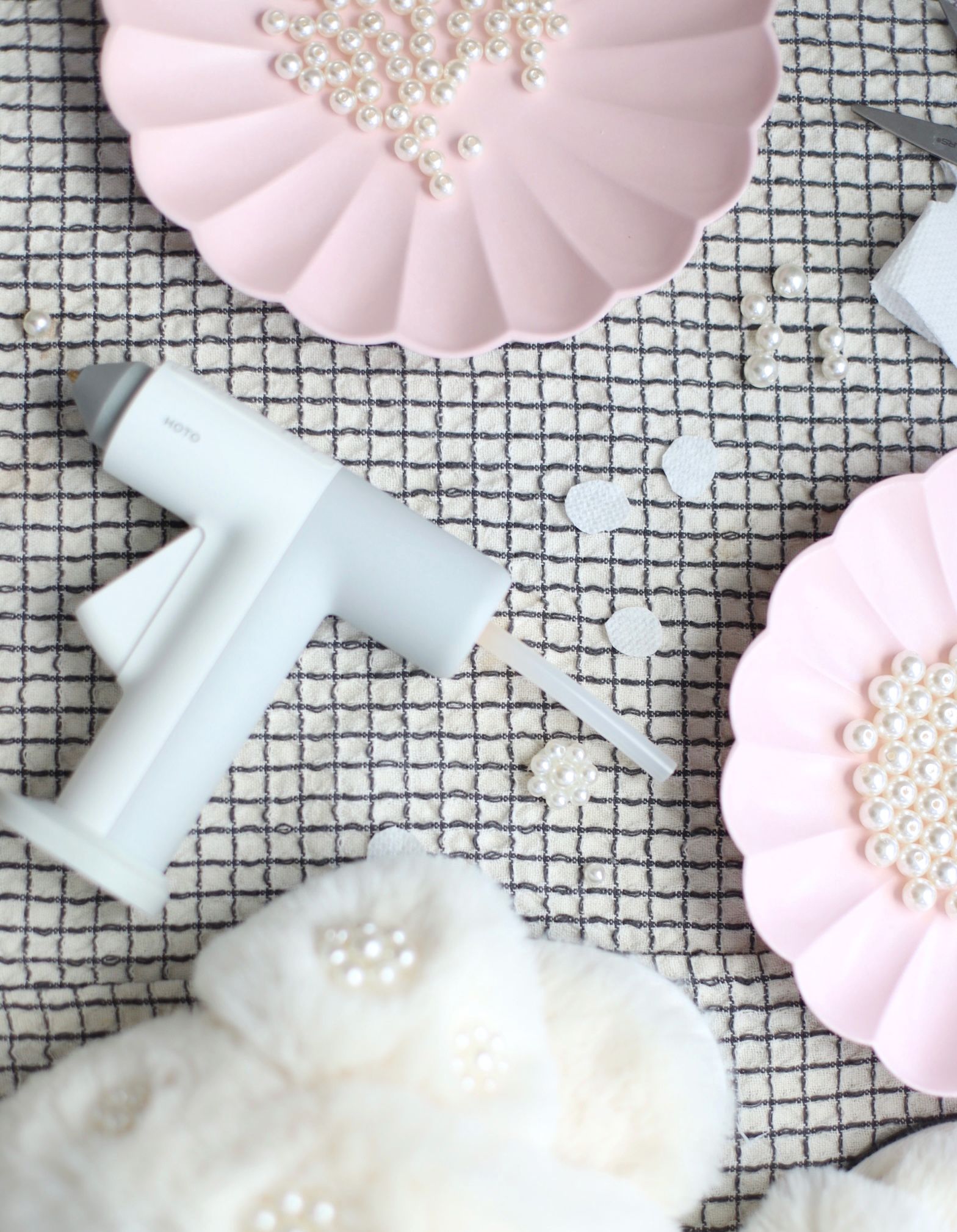 Because I'm daisy-obsessed, I made my pearl patches in the shape of daisies, but obviously, you could just add the paper towel backing to a single pearl or clusters of pearls.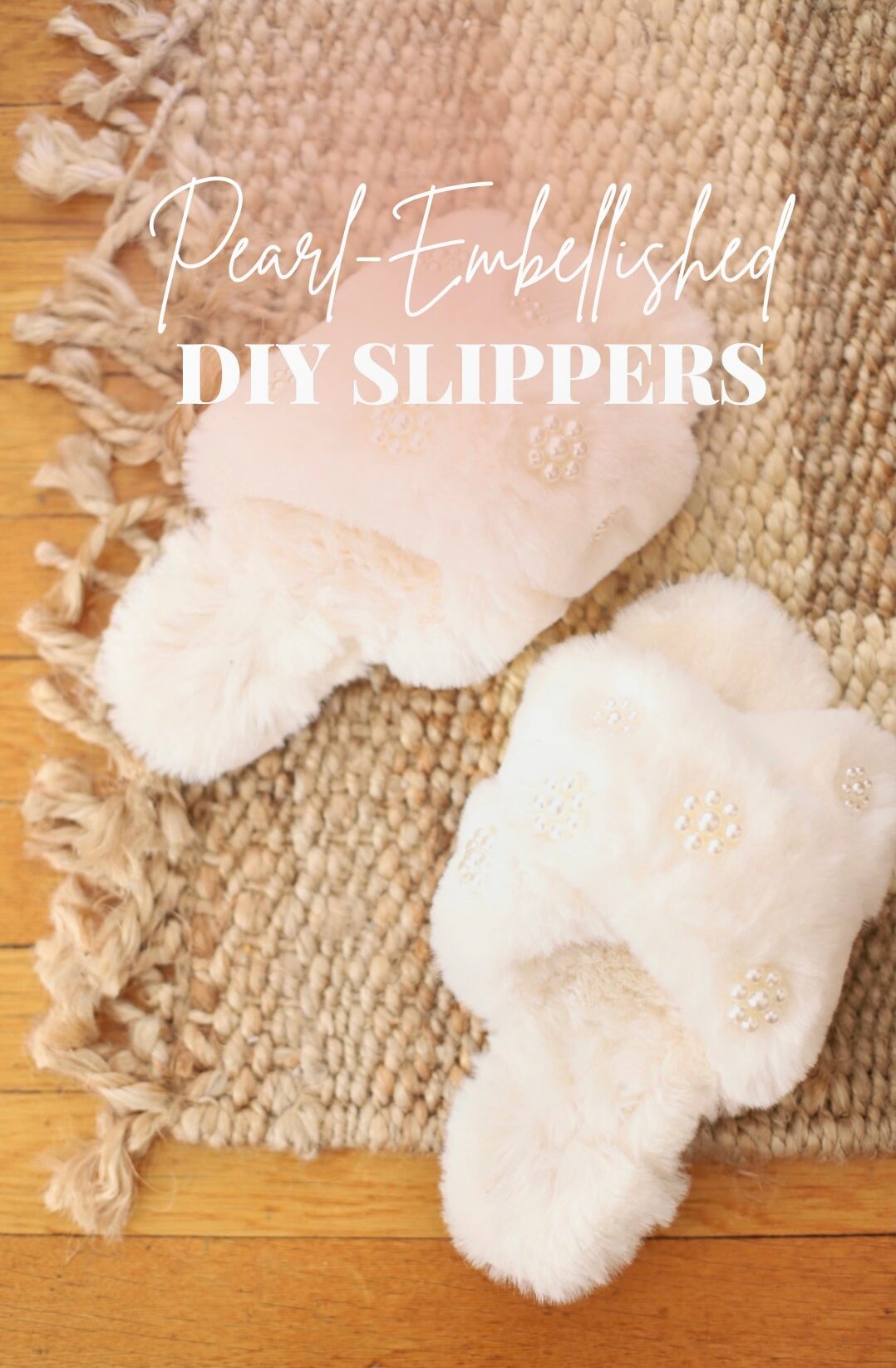 DIY Pearl Embellished Slippers
WHAT YOU'LL NEED
hot glue gun
hot glue sticks
pearls
sheet of paper towel
scissors
fuzzy slippers
DIRECTIONS
Set up your work station, pour your different sized pearls onto plates or in bowls. Heat up your hot glue gun.
Next, cut around 10-12 small circles from your paper towel sheet and set them aside. (These don't have to be perfect at all, they just need to be able to fit your pearls.)
Carefully glue your pearls onto the paper towel circles. (I made a daisy design, using a slightly bigger pearl at the center and gluing smaller pearls all around the larger center pearl.) Repeat until you have enough pearl patches.
Use the hot glue gun to glue your pearl patches to you fuzzy slippers. I put a bit of hot glue on the back of a pearl patch, stuck it to my slipper where I wanted it, and then pressed/squeezed it down for about 15-20 seconds. Repeat until all of your pearl patches are adhered to your slippers where you want them.
I'm also sharing all of the details on Instagram in REEL form, in case seeing the DIY in action is helpful!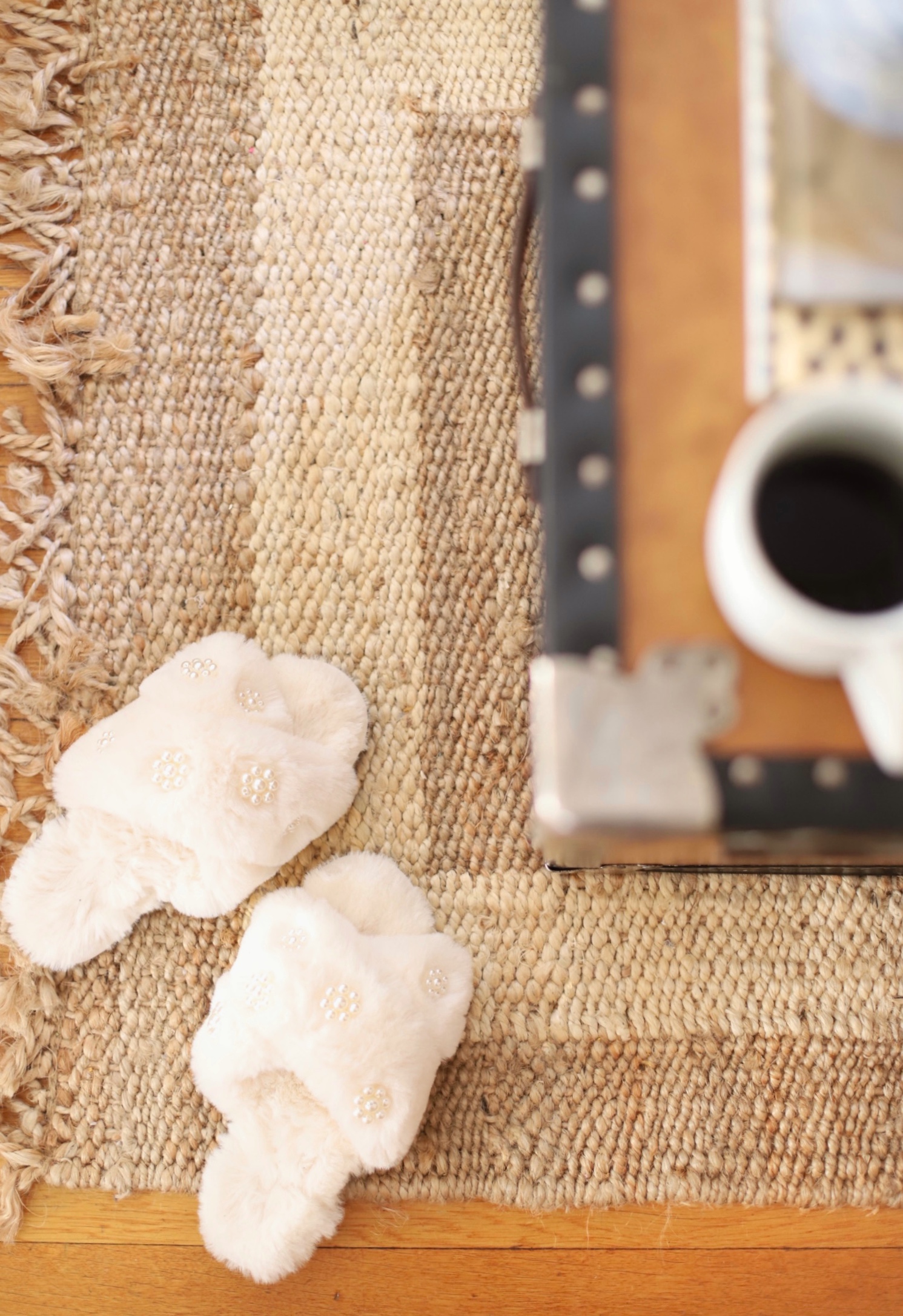 SHOP THE DIY PEARL EMBELLISHED SLIPPERS POST | CLICK LEFT & RIGHT ARROWS TO EXPLORE

If you make your own DIY pearl embellished slippers, be sure to tag me on social media (@glitterinclexi) so I can live vicariously through all of your totally chic craft creations!
Love this DIY? Head to our DIY page to check out what else we're creating.