Without a doubt, Thanksgiving is my favorite holiday. And that might have something (…everything) to do with the food. There's nothing better than the classic combination of turkey, mashed potatoes, and gravy. But don't get me wrong, the plethora of side dishes – stuffing, sweet potatoes, green bean casserole – are absolutely key to a successful Thanksgiving dinner. However, Thanksgiving sides often lack a bit of luster when repeated year after year (especially for a foodie, like myself.)
Meet our Thanksgiving side dish secret weapon: Brussels Sprouts with Candied Bacon and Walnuts (plus green apples, onions, mushrooms, and kale all tossed in a balsamic glaze!)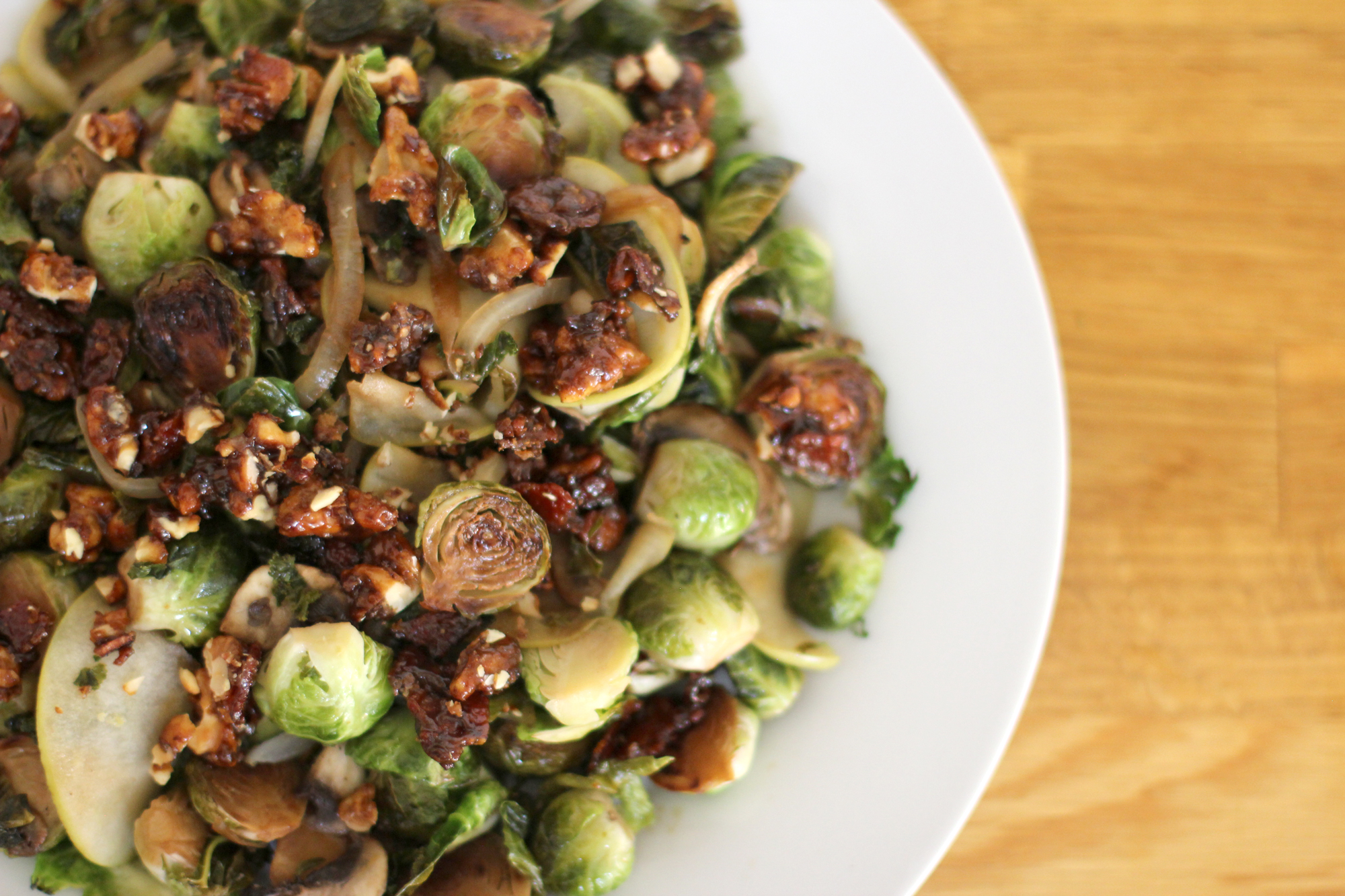 This year, the goal was to find a side dish that not only everyone will love, but one that will become widely accepted into the family tradition. These brussels sprouts are a mix between a hearty side dish and a warm salad, with candied walnuts and bacon (yes, candied bacon) has something for everyone. It combines a variety of Fall vegetables, like mushrooms and kale, with caramelized Brussels Sprouts. A hint of sweetness from the Granny Smith apple pairs deliciously with the balsamic glazed vegetables. Top the dish off with the rich, salty & sweet crunch of candied walnuts and bacon – and you're in for a new family favorite.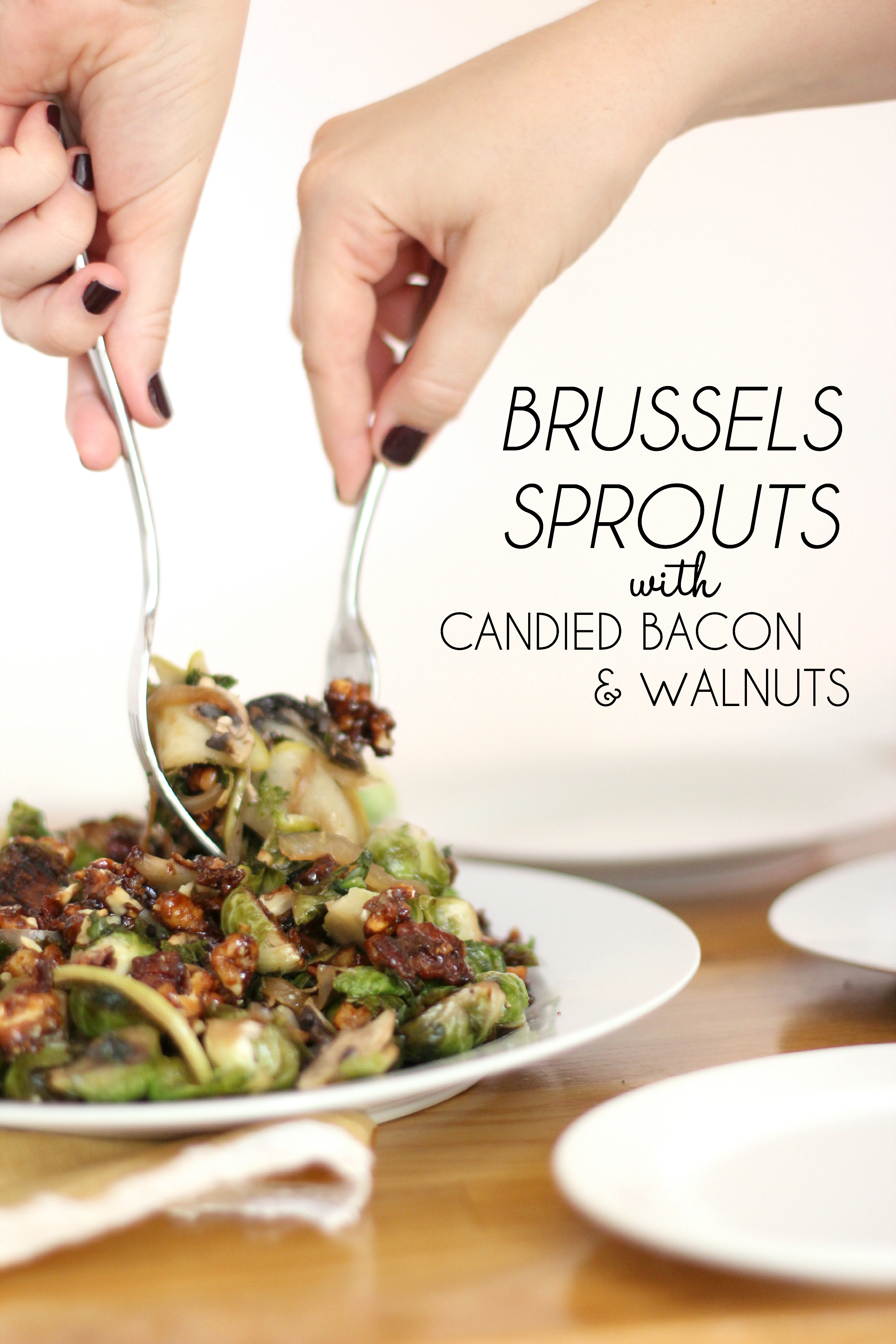 BRUSSELS SPROUTS WITH CANDIED BACON AND WALNUTS
Serves 4.
IINGREDIENTS
For the candied bacon and walnuts…
2 strips of bacon, cooked until crisp
¼ cup walnuts, chopped
1 tbsp. white sugar
1 tbsp. brown sugar
1 tbsp. water
a pinch of cinnamon
For the Brussels Sprouts…
1 tbsp. reserved bacon grease
1 tbsp. olive oil
1 tbsp. balsamic vinegar
½ tbsp. brown sugar
1 lb. Brussels sprouts, cleaned & cut in half
1 cup of kale, thinly chopped
¼ of a small yellow onion, sliced into thin strips
4 large white mushrooms, thinly sliced
½ of a large granny smith apple, thinly sliced
salt & pepper to taste
DIRECTIONS
Fry up two strips of bacon until crisp. Drain remaining grease from the pan, reserving one tablespoon.
To the same pan on medium heat, add a tablespoon of both white and brown sugar, a tablespoon of water, and a pinch of cinnamon.
Once this mixture is bubbly, add in the chopped walnuts and crumbled bacon pieces. Stir until everything is coated in the syrup.
When the liquid evaporates, and the nuts and bacon pieces are covered in a thick glaze (about 3-5 minutes,) empty the pan out onto a baking sheet lined with parchment paper to cool.
While the candied walnuts and bacon pieces cool, heat the reserved bacon grease, olive oil, balsamic vinegar, and brown sugar in a large pan. Place the Brussels sprouts, cut side down, into the pan.
On top of the layer of Brussels sprouts, add the thinly chopped kale and onion (they will cook down as the Brussels sprouts get some color.)
When the Brussels are a deep golden color on one side, add in the thinly sliced mushrooms and green apple. Stir to combine everything and cook for another 3 minutes or so, until the mushroom and apples have cooked down slightly.
Season the pan with salt and pepper, give it a taste, and adjust accordingly. Serve the Brussels sprouts on a platter and sprinkle the candied walnuts and bacon all over the top. Enjoy!
For a step-by-step visual guide, click through the images …