This post contains affiliate links, which means that if you click on one of the product links, I'll receive a small commission. Thank you so much for clicking through and helping to support this little blog business of mine! Read more about our site, privacy, and disclosure policies here.
Ready to throw one beautiful and memorable princess pajama birthday party? Have we got some inspiration for you! We turned our living room into one giant "slumber party" and covered every available space with sheets, pillows, and blankets, plus gorgeous pink florals, a cozy tent lounge, a DIY magic mirror decorating activity for the kids, a dress-up station with crowns, wands, and wings, a pin the tail on the unicorn game, and so much more.
I am sooooooo excited to finally share our oldest daughter, Scarlett's 4th birthday princess pajama party! Today, I'm taking you on a little behind-the-scenes post to follow up on our FEATURE over on Kara's Party Ideas. (YAY!!) You all have been asking me for details on this party, and I'm tickled pink to finally be sharing it here and on Kara's amazing site!*
*Side note: It's SO exciting when a party we put together with so much love is featured on a huge site. We've had parties featured on Style Me Pretty, Inspired By This, Ruffled, and more; and still, it never gets old! 
Any time we dream up a party, we start with a general theme. Now that Scarlett is 4, she has her own opinions about her parties (which I LOVE), and she 1,000% knew it had to be a princess party.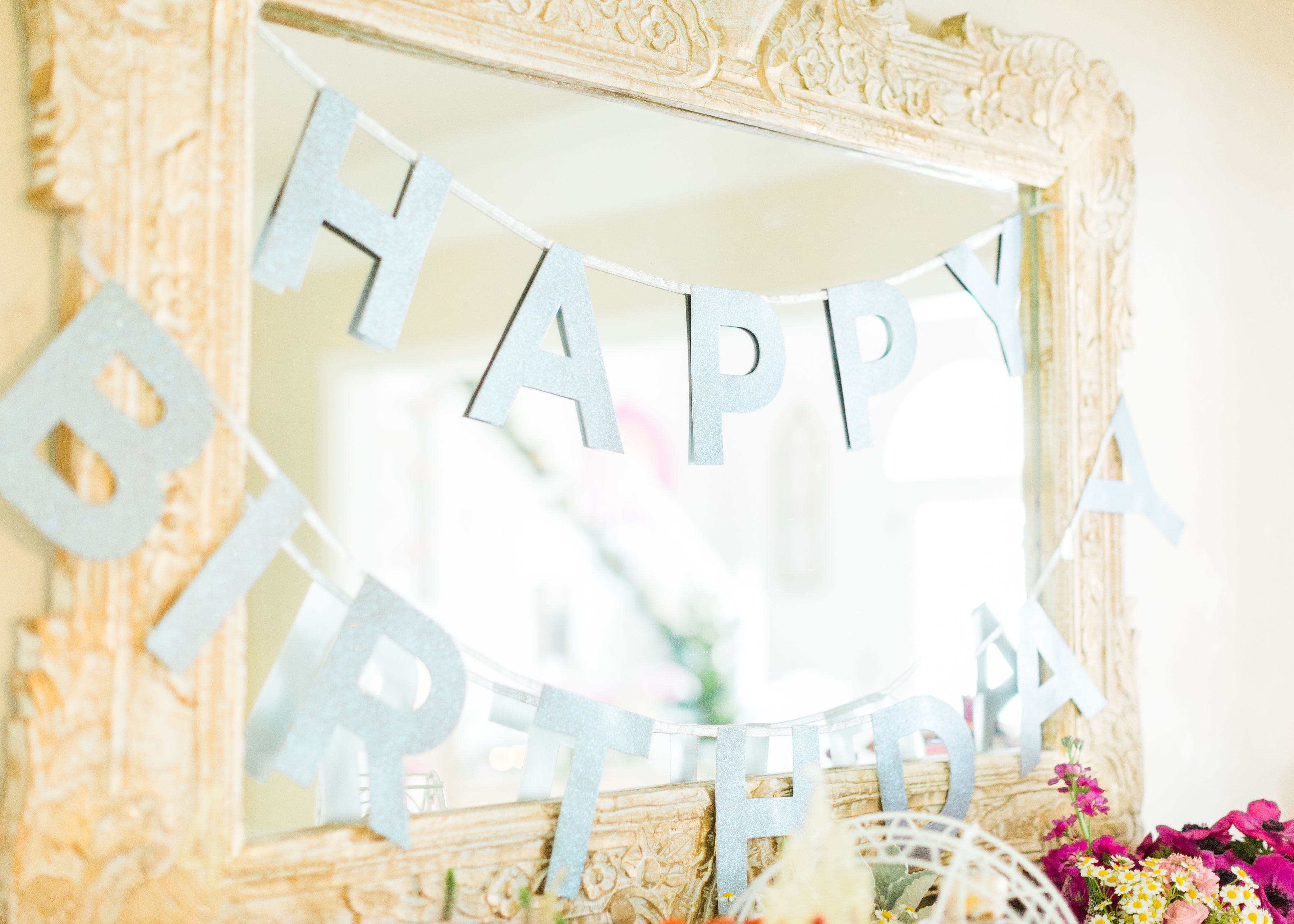 For Scarlett's 4th birthday party, we knew we wanted to do something a little bit different. I was hoping to steer clear of the more generic princess party, while still making it just what our four year old wanted.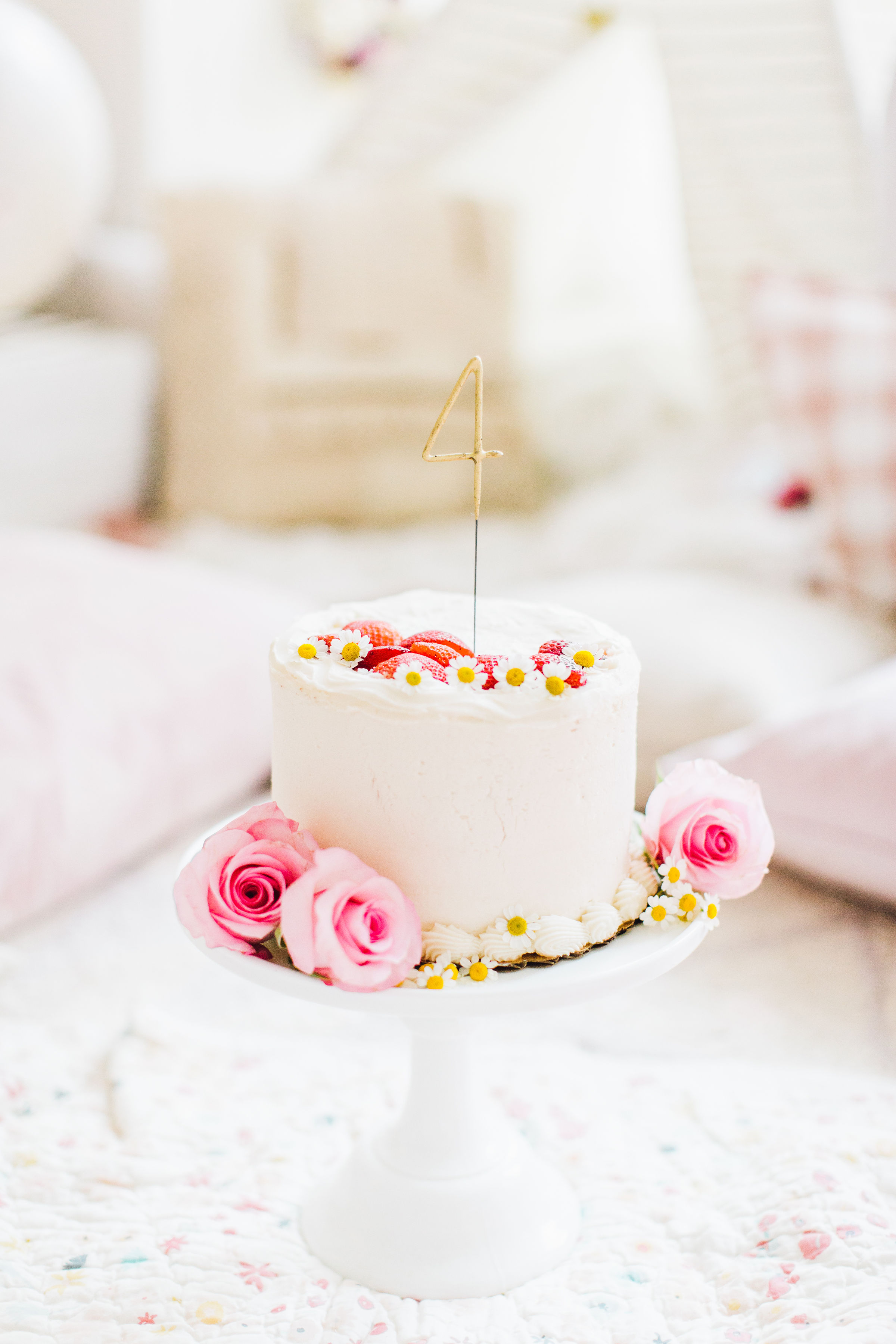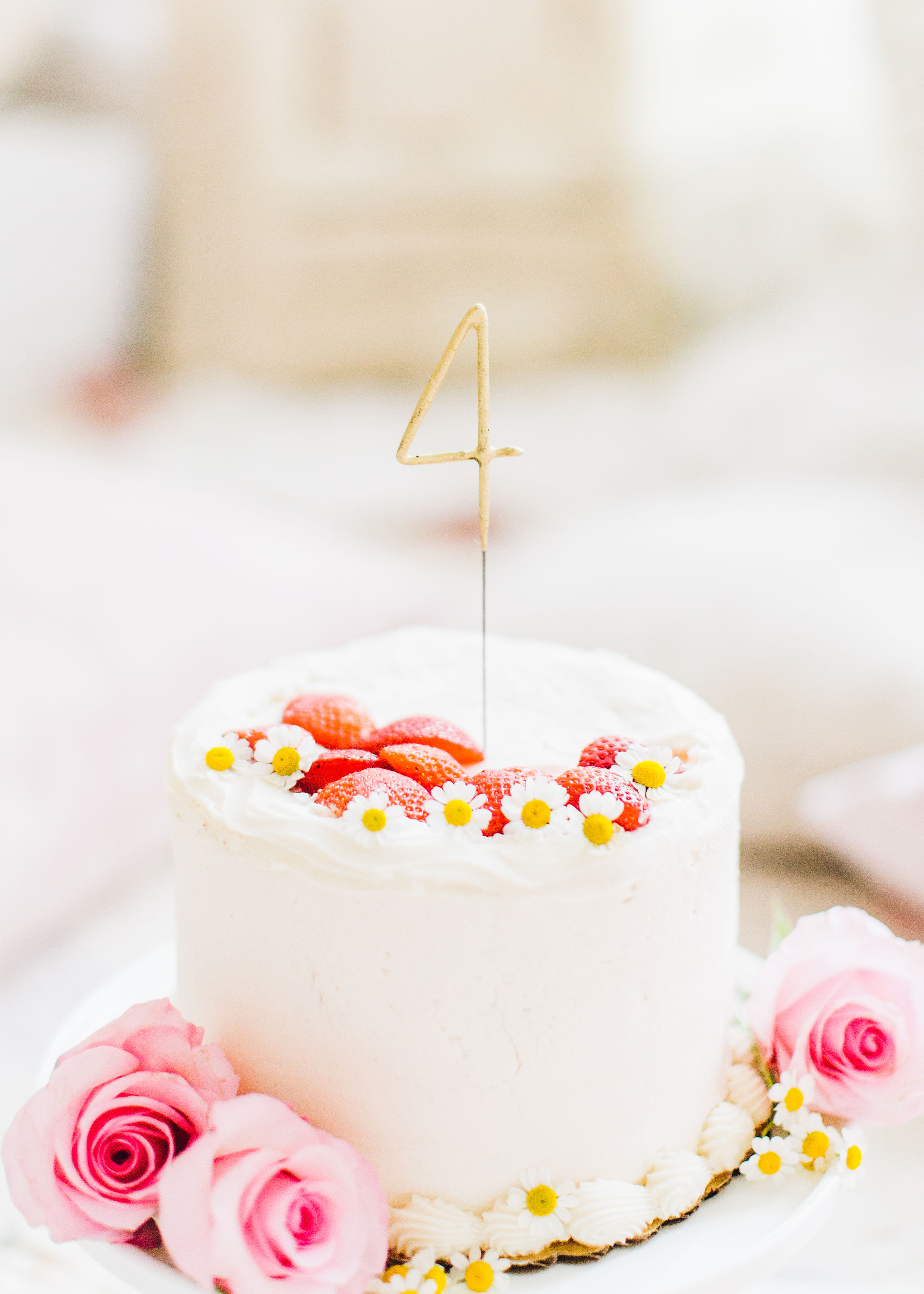 I thought a lot about how we play.
We have two girls and we're always turning our living room into a blanket and pillow fort oasis. We're big fans of cuddling, and probably own at least a dozen throw blankets already. Scarlett's one, very specific request: make it a "pink princess extravaganza!"
How to Throw a Princess Pajama Party
Playing on those ideas, we came up with a perfectly pink daytime princess pajama party theme and transformed our downstairs into a giant, cozy room, perfect for an all day royal "slumber" party (minus the sleeping, of course.) I mean, slumber parties are the best … amiright?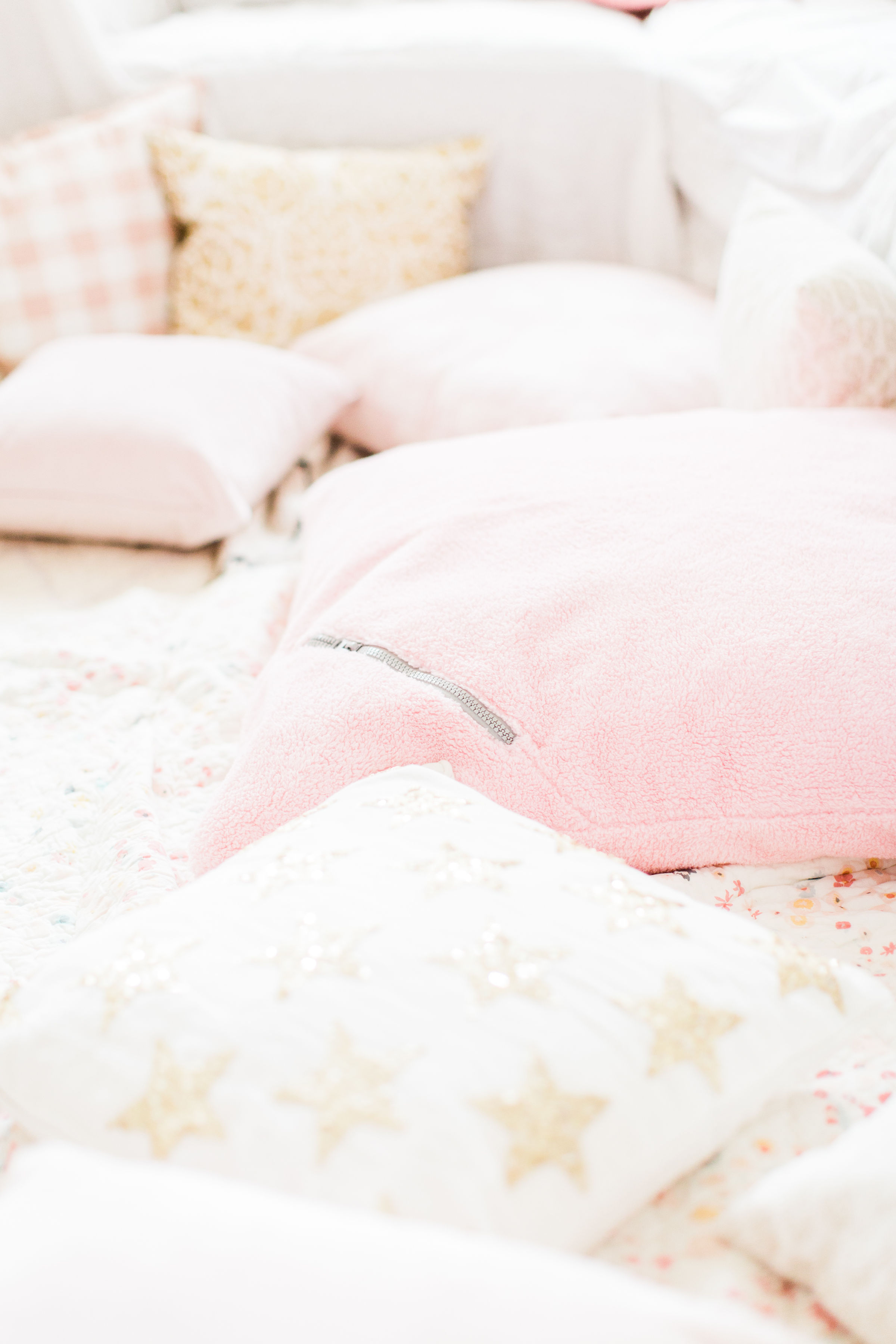 As I do for all of our parties, I went to Pinterest and immediately started creating an inspiration board where I pinned a bunch of beautiful party ideas that could work with our fun pajama princess party theme.
A few days before the party, we started to transform our home into the coziest, pinkest princess pajama party hangout we could dream up.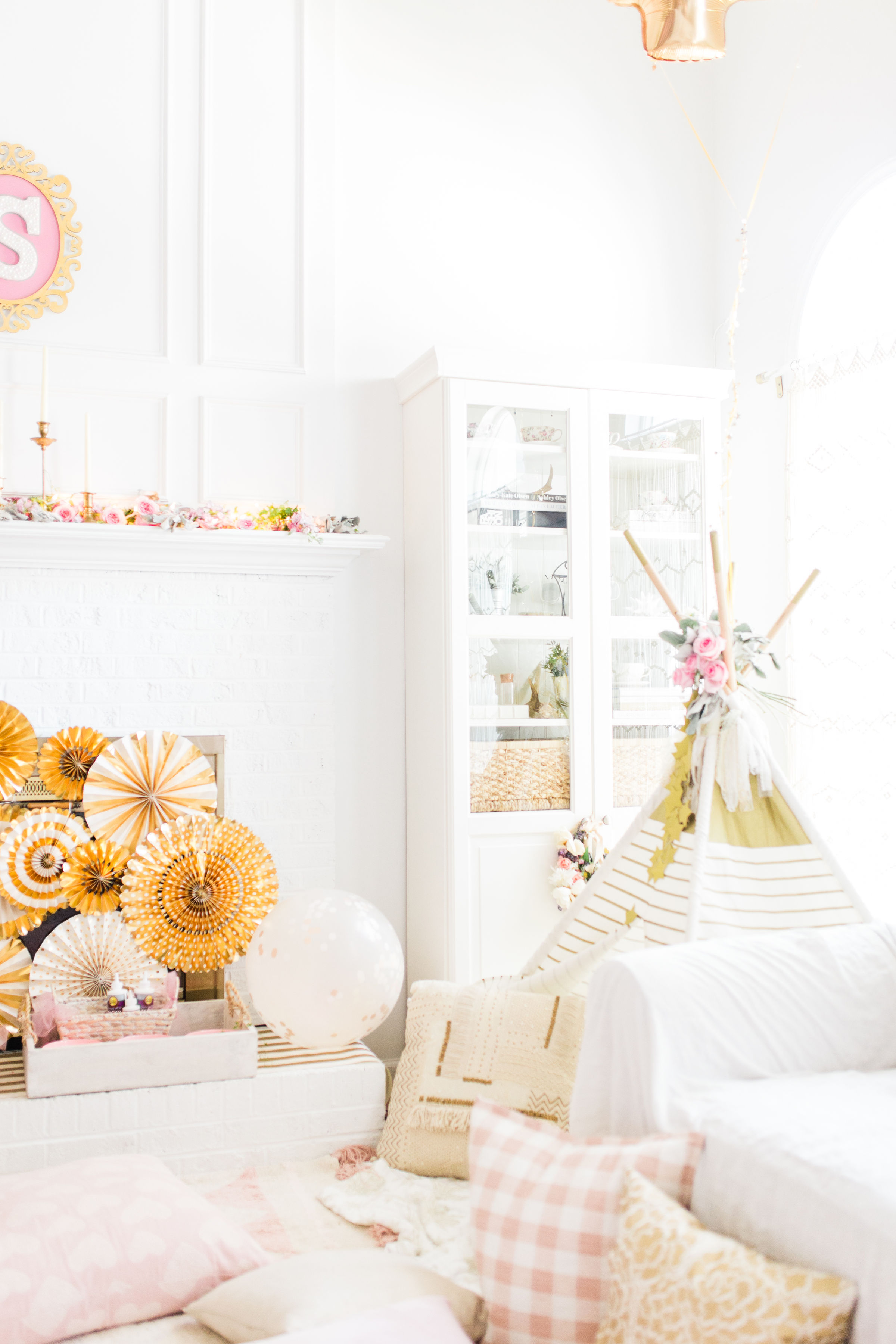 To get the full comfy, pillow fort effect, we covered the living room in cozy supplies. Our entire sectional sofa was covered in sheets, we layered blankets and quilts all over the floor, and propped up pillows and set down oversized floor cushions everywhere.
I also love the idea of asking each little guest to bring his or her own sleeping bag or pillows for pillow fights to set up in the cozy play area. You could also set out board games or other party games in this area.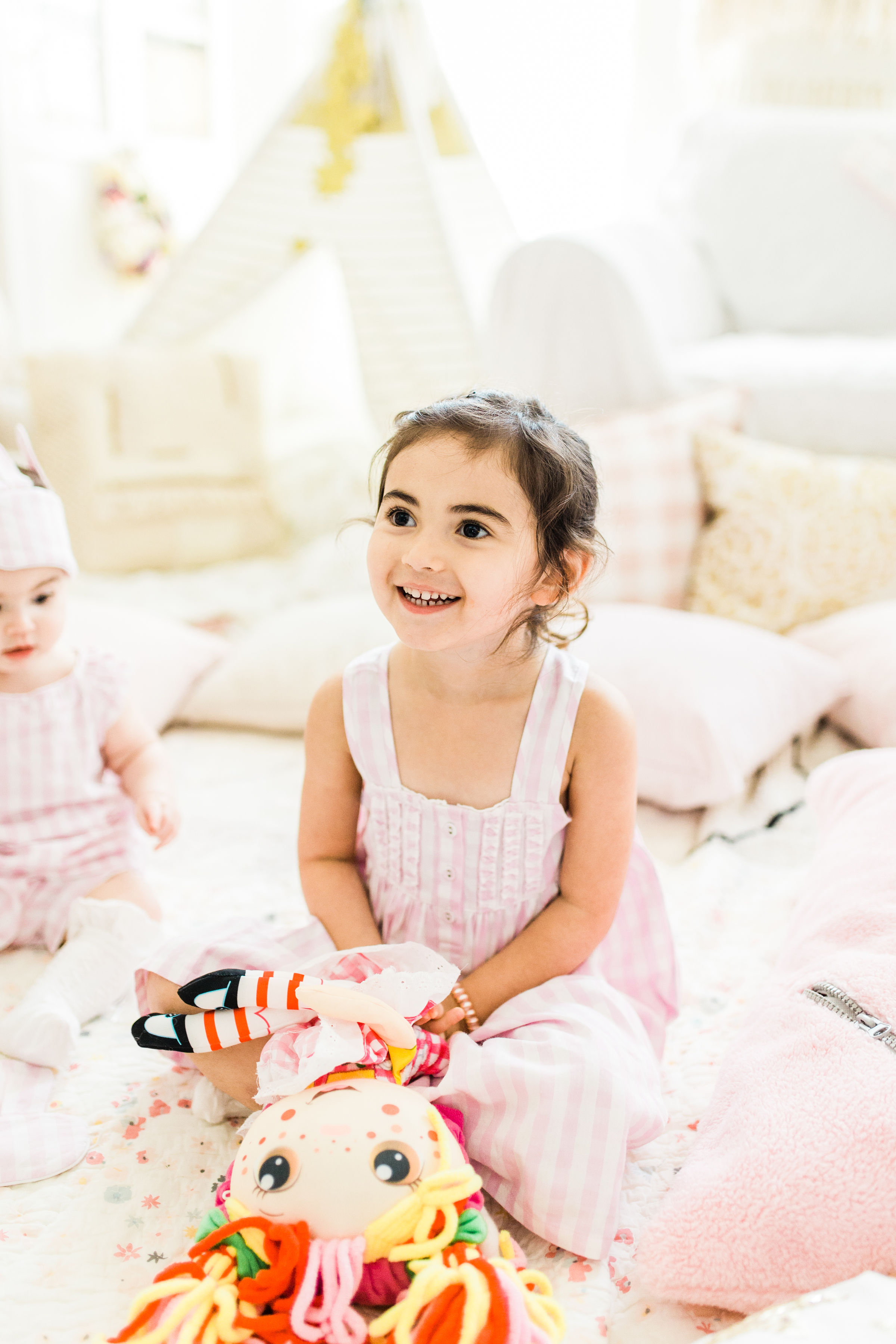 Just look at this happy birthday girl!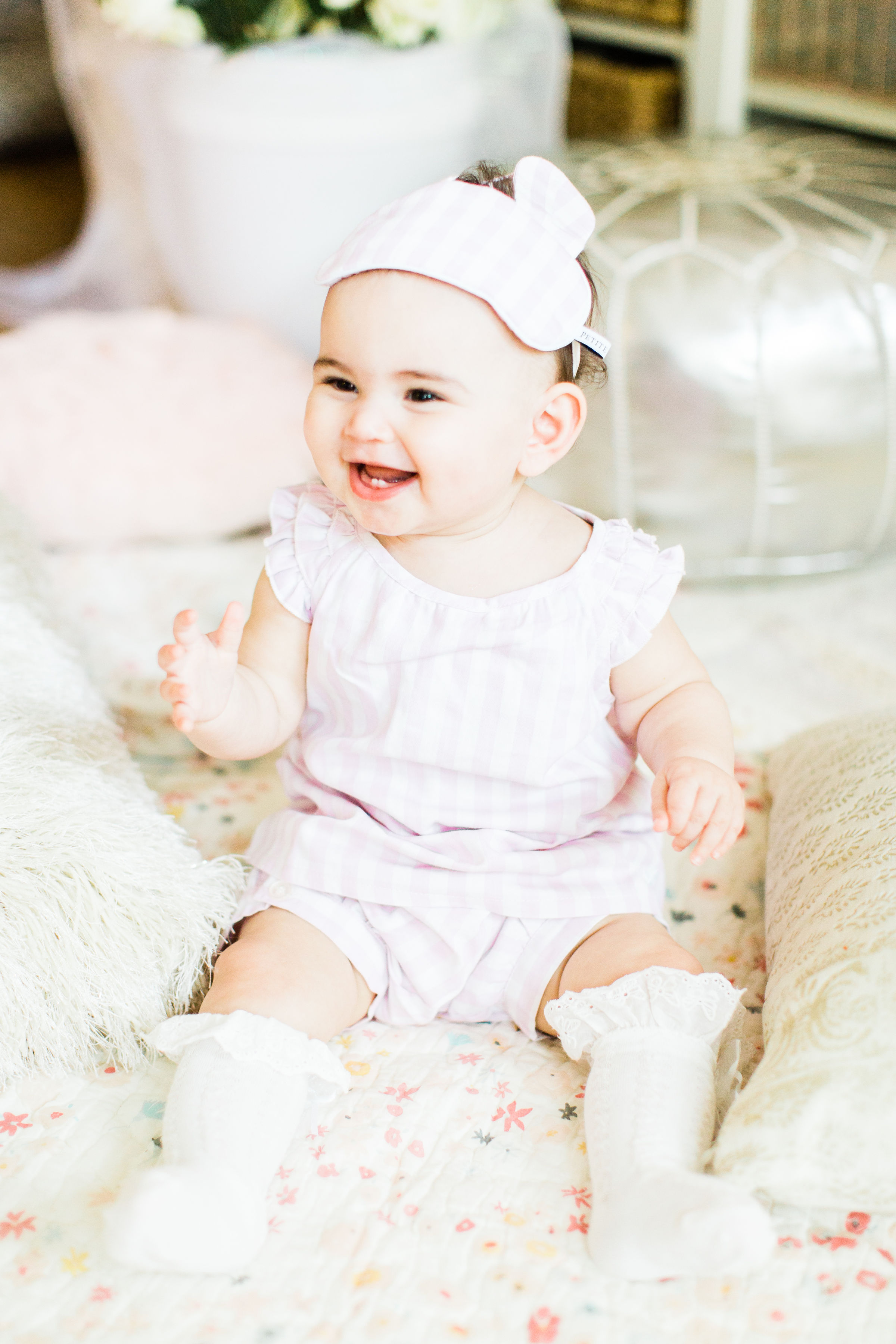 And of course, her cutie patootie little sister.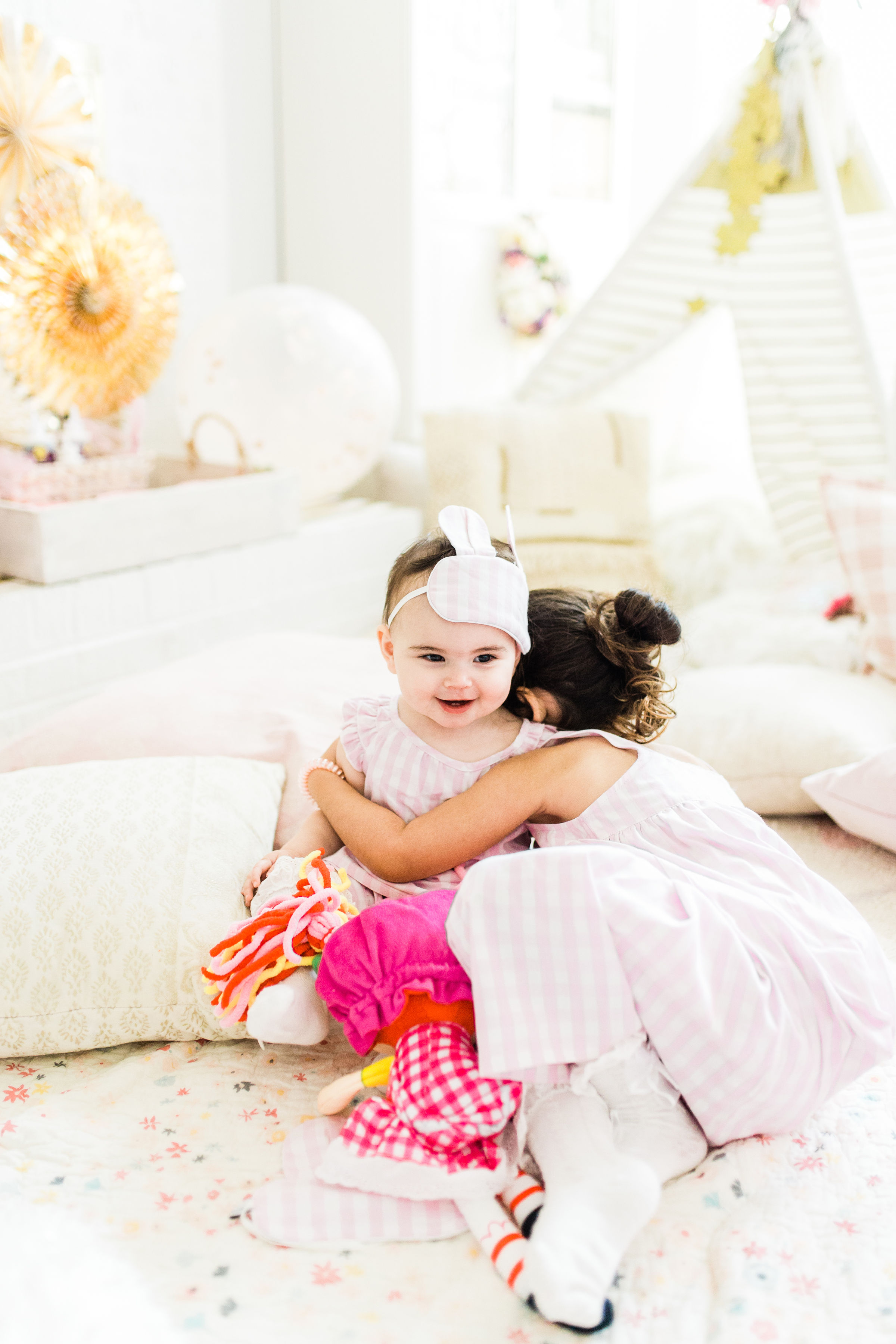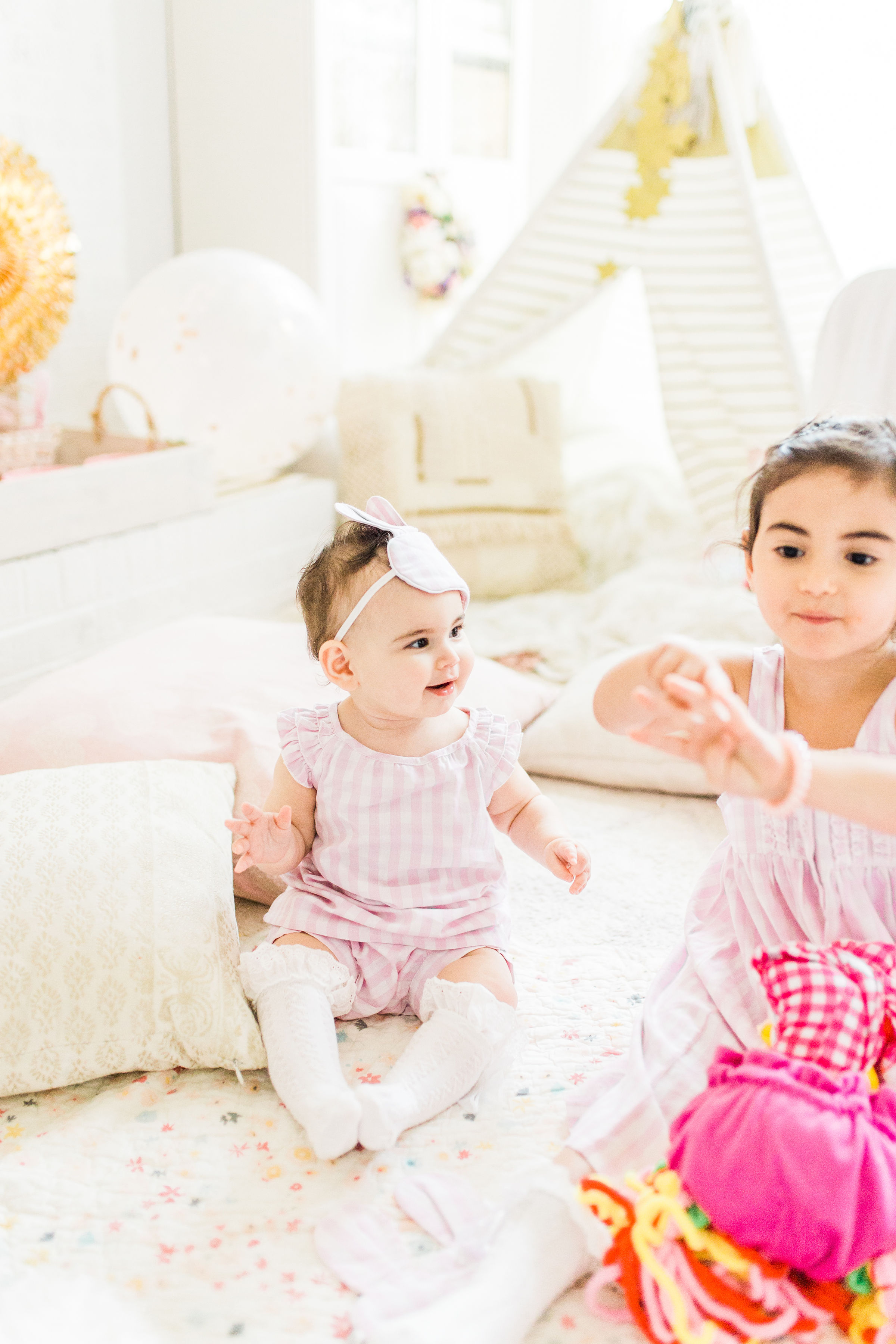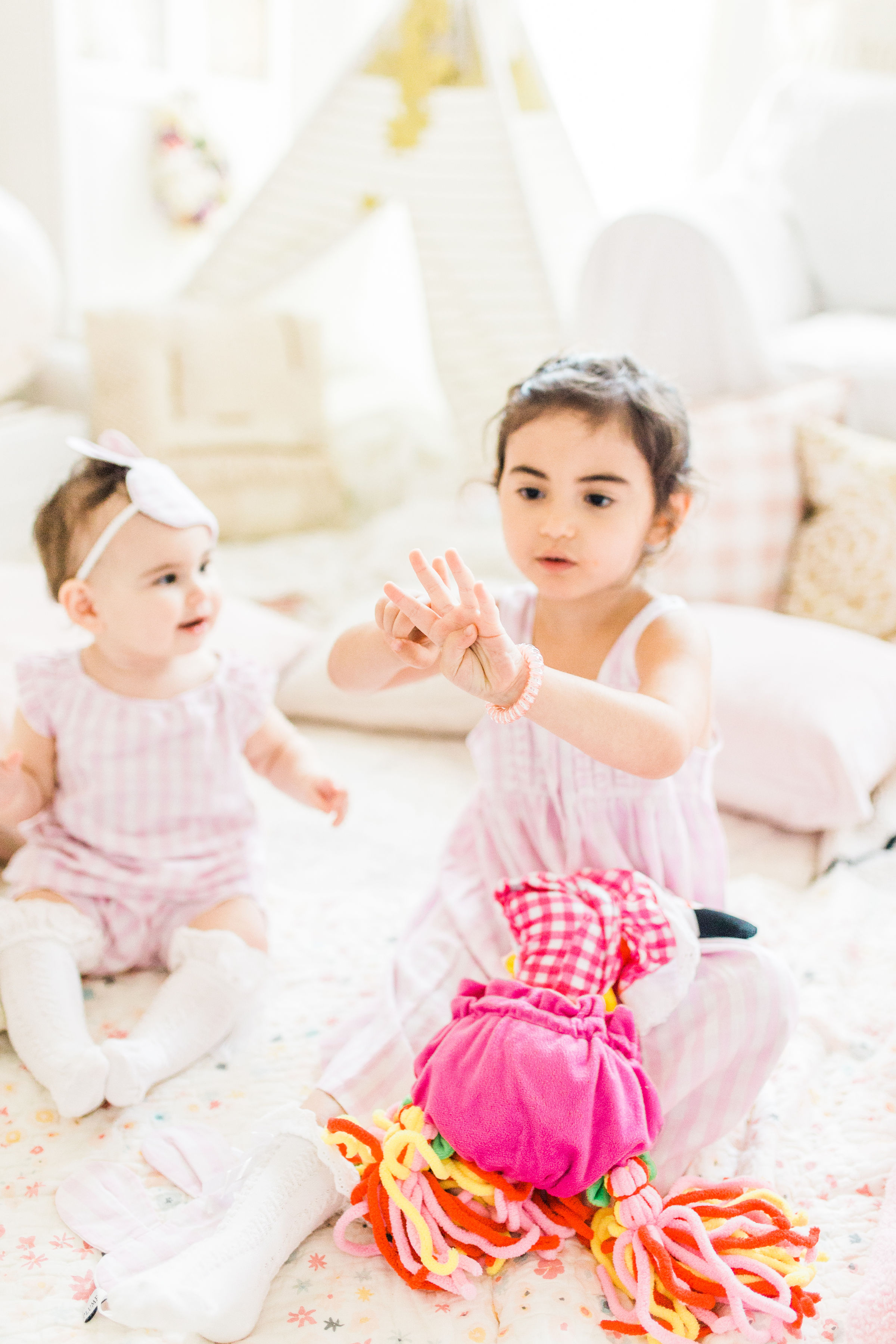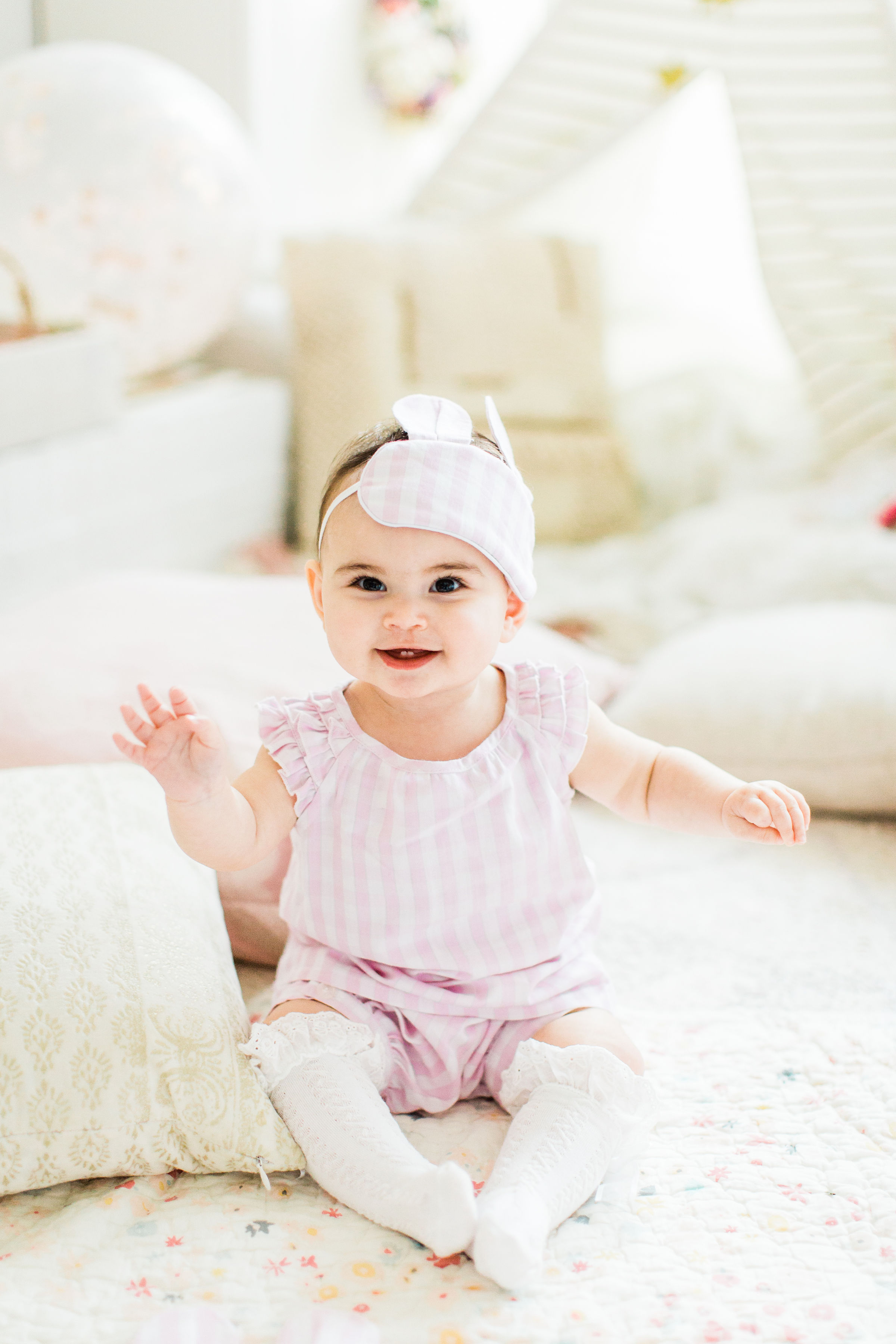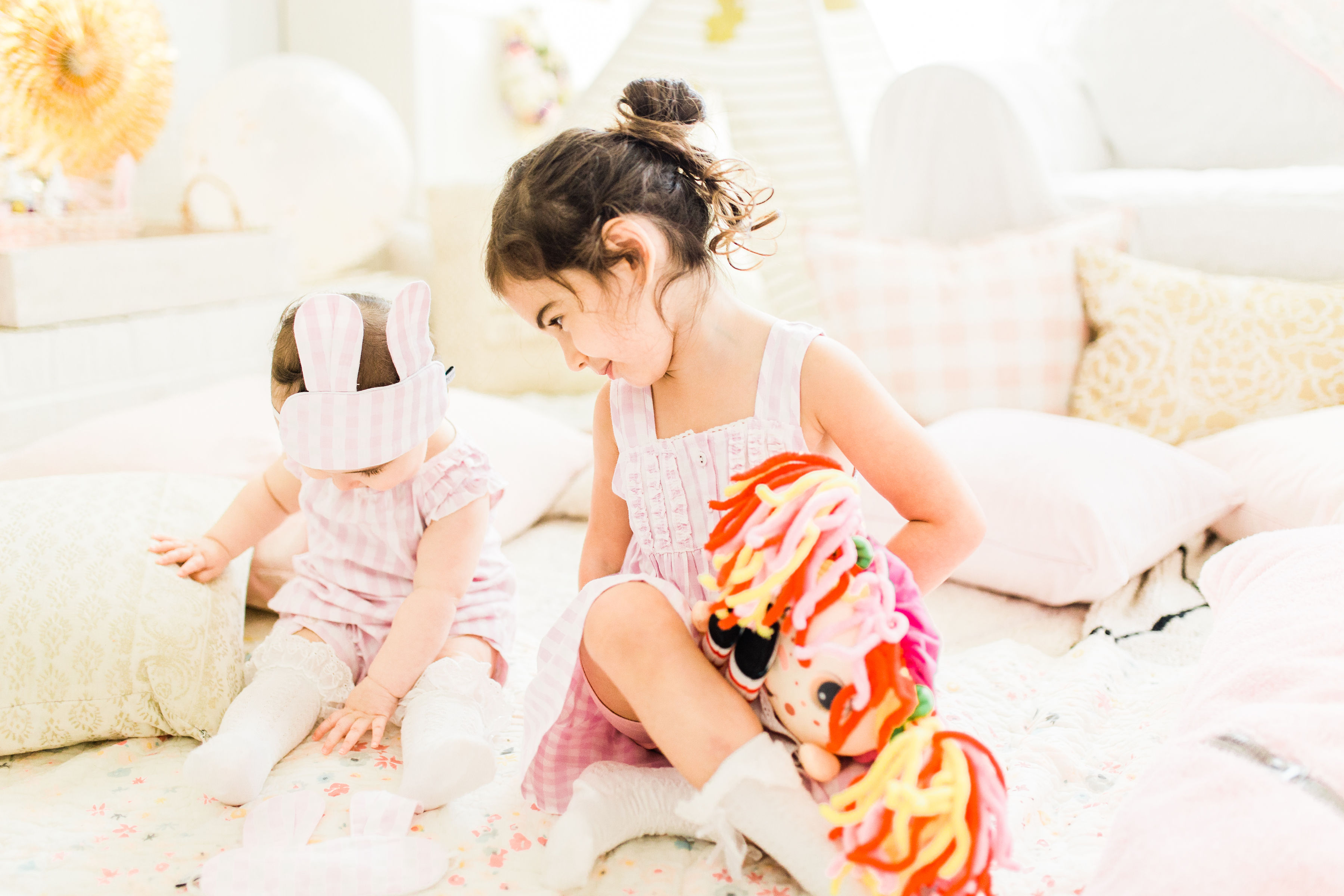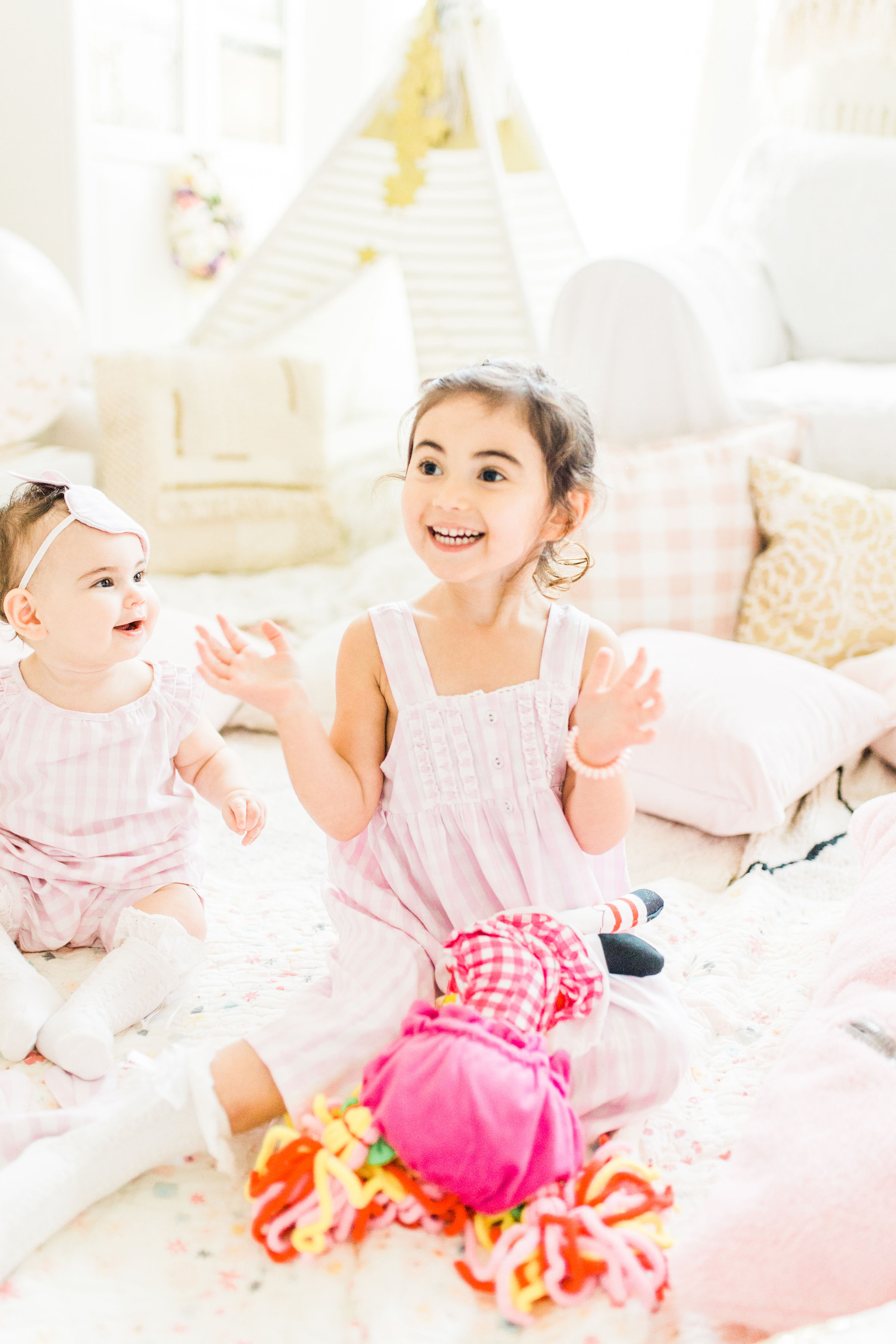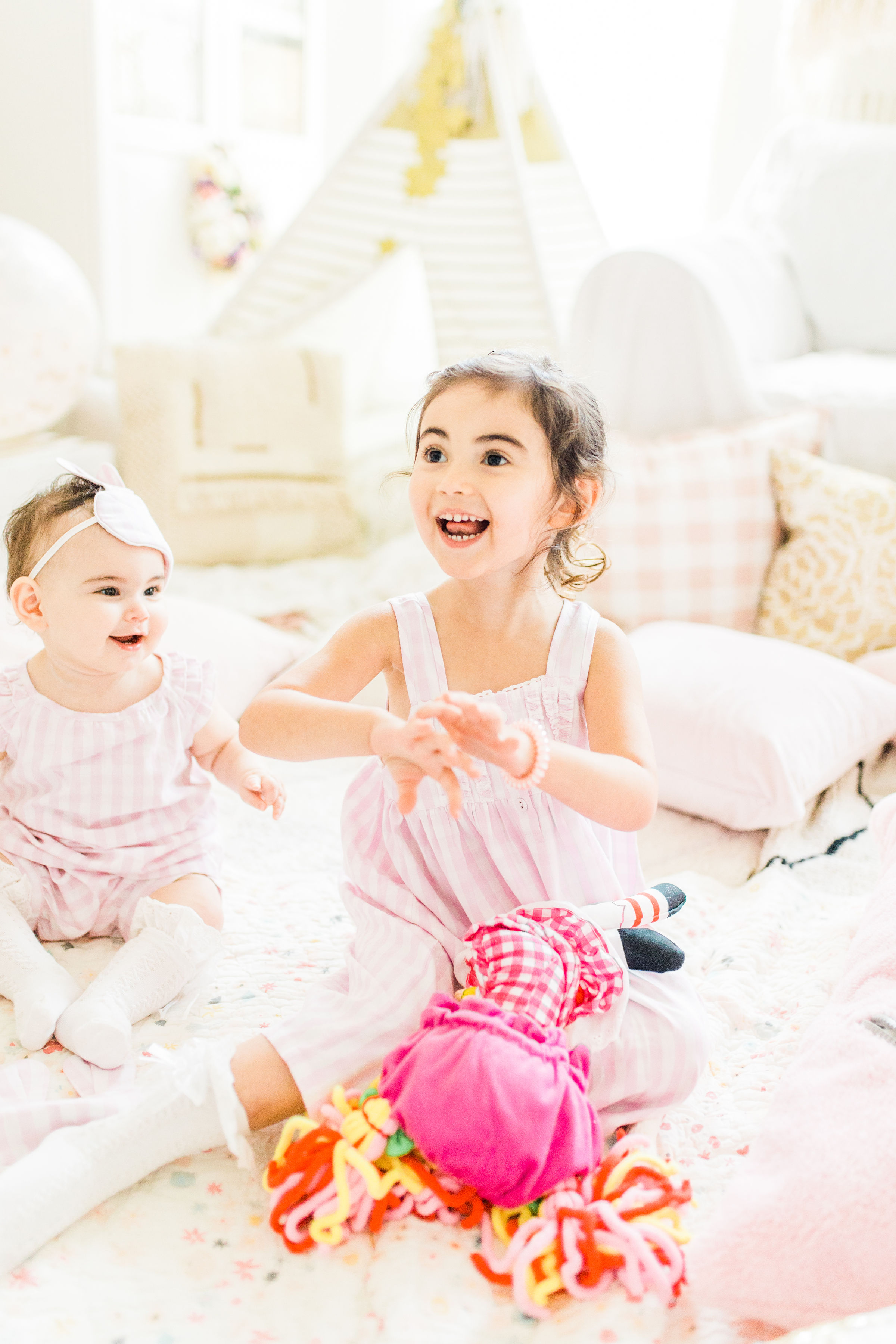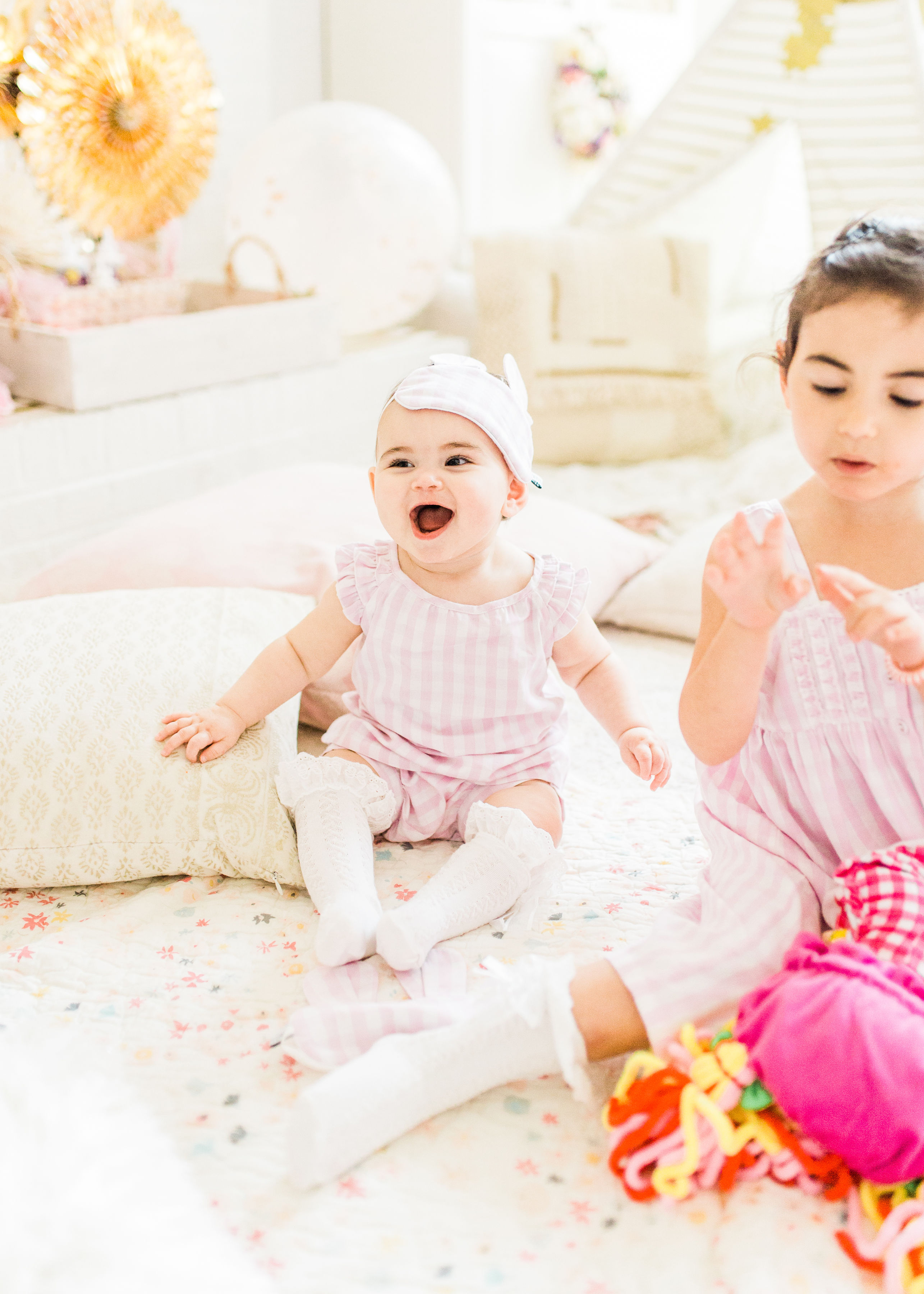 Heart bursting.
Behind-the-Scenes of Scarlett's 4th Birthday Princess Pajama Party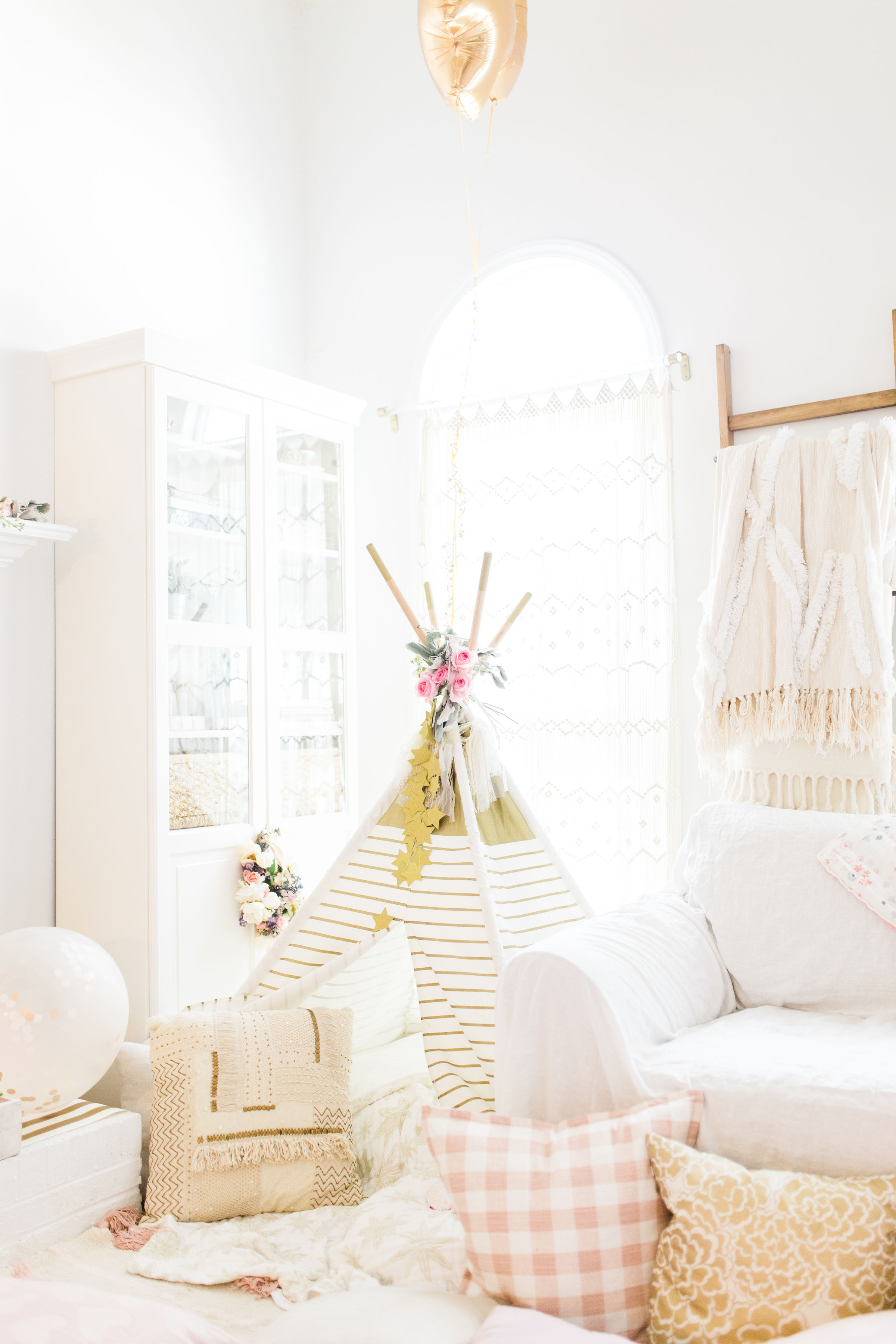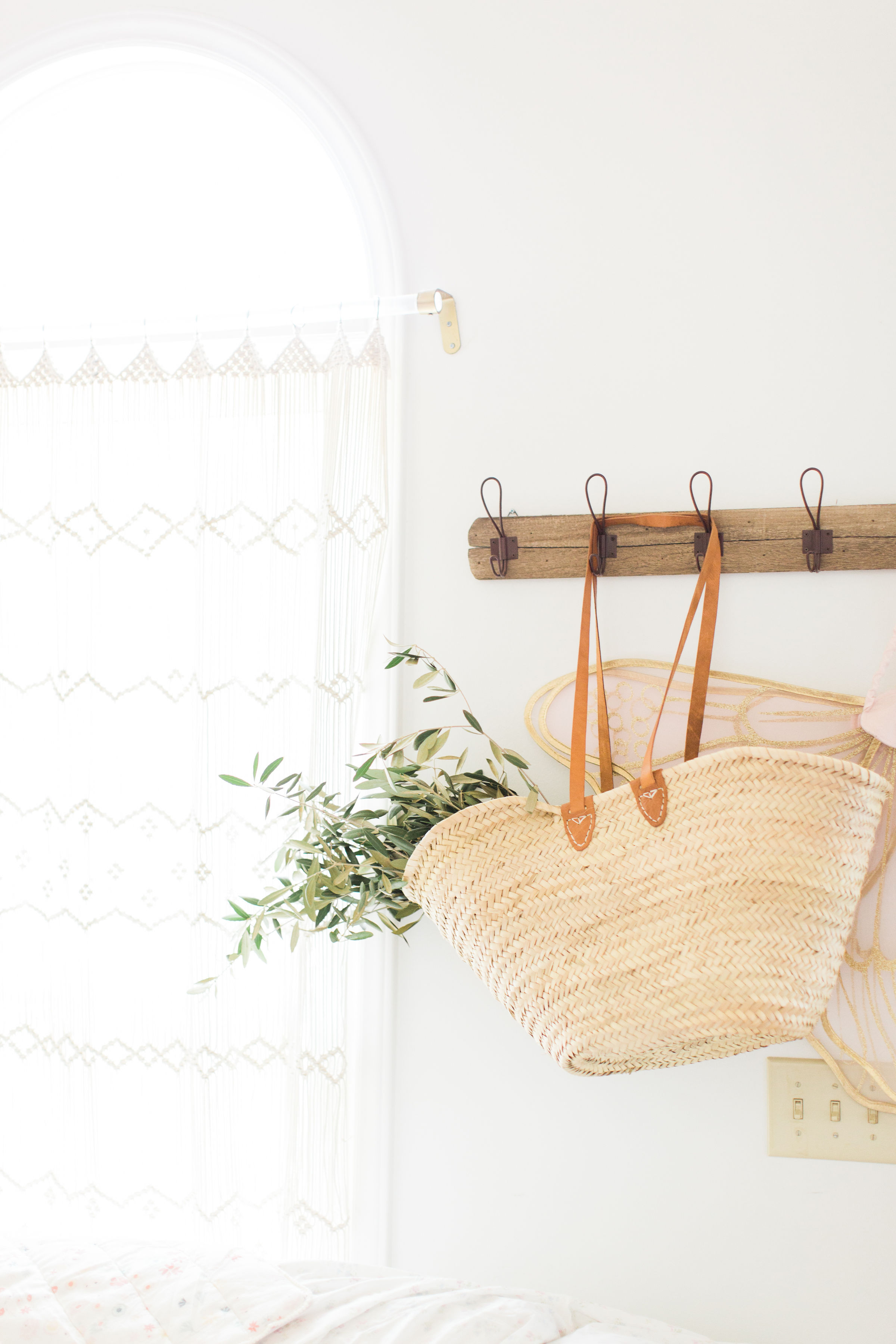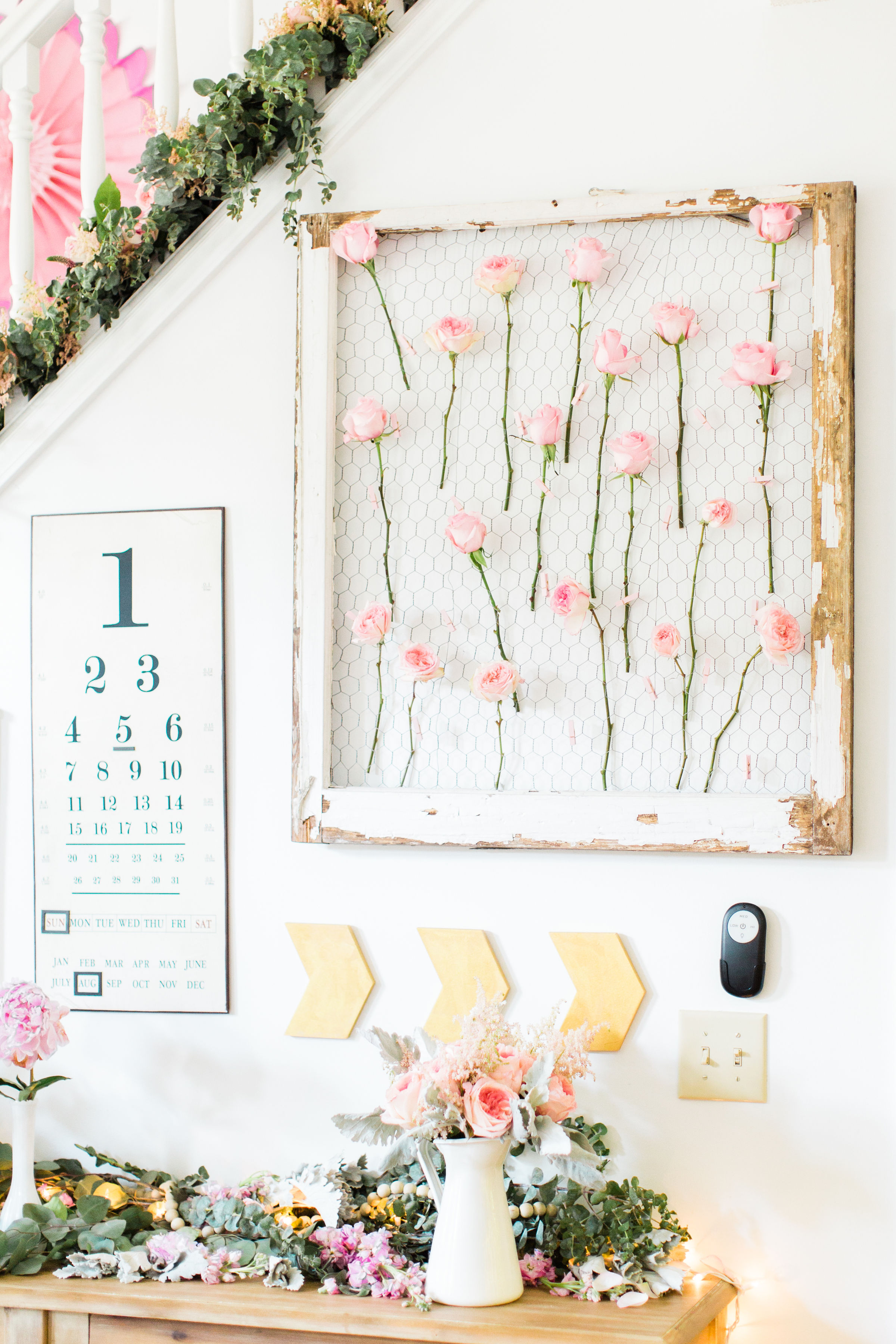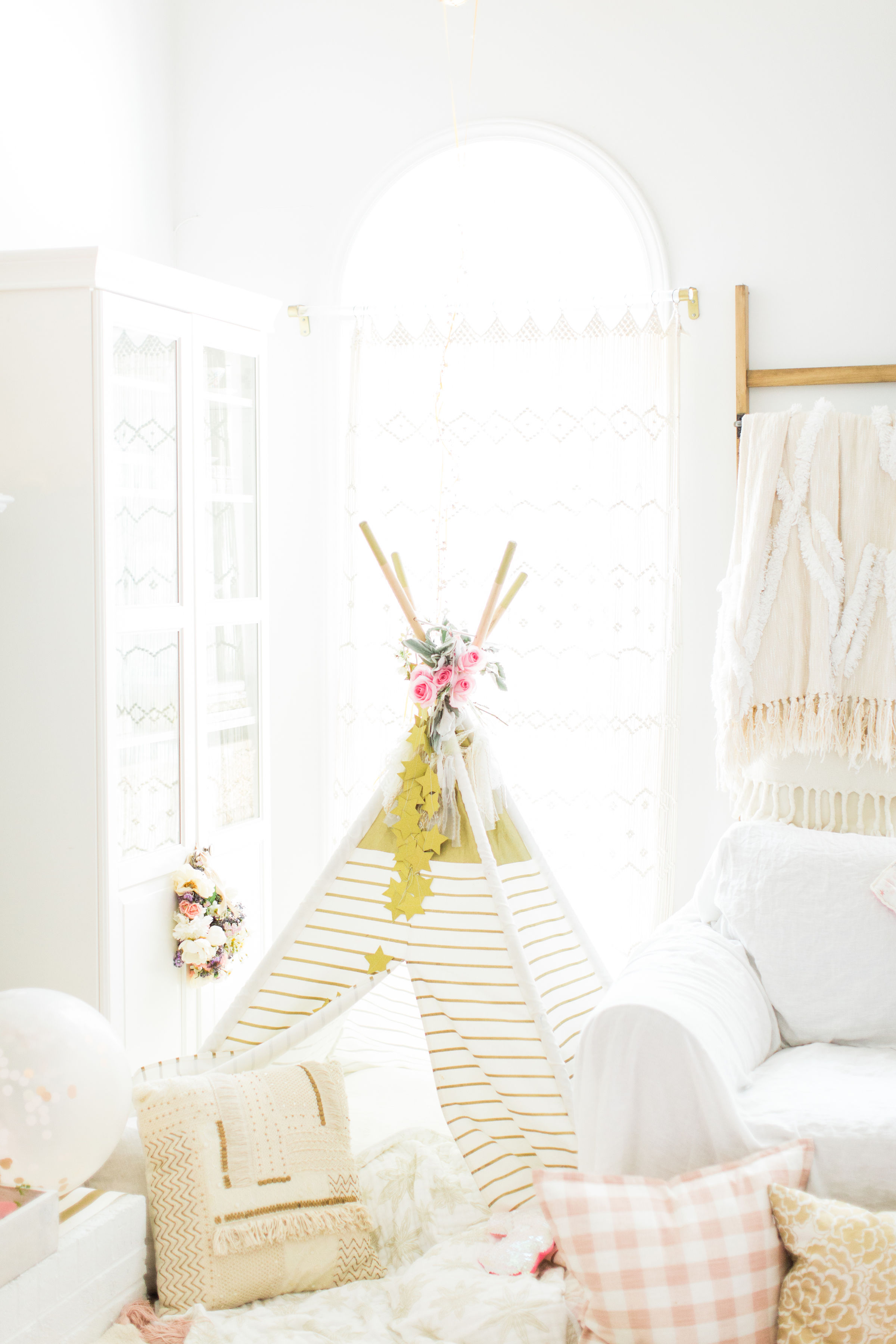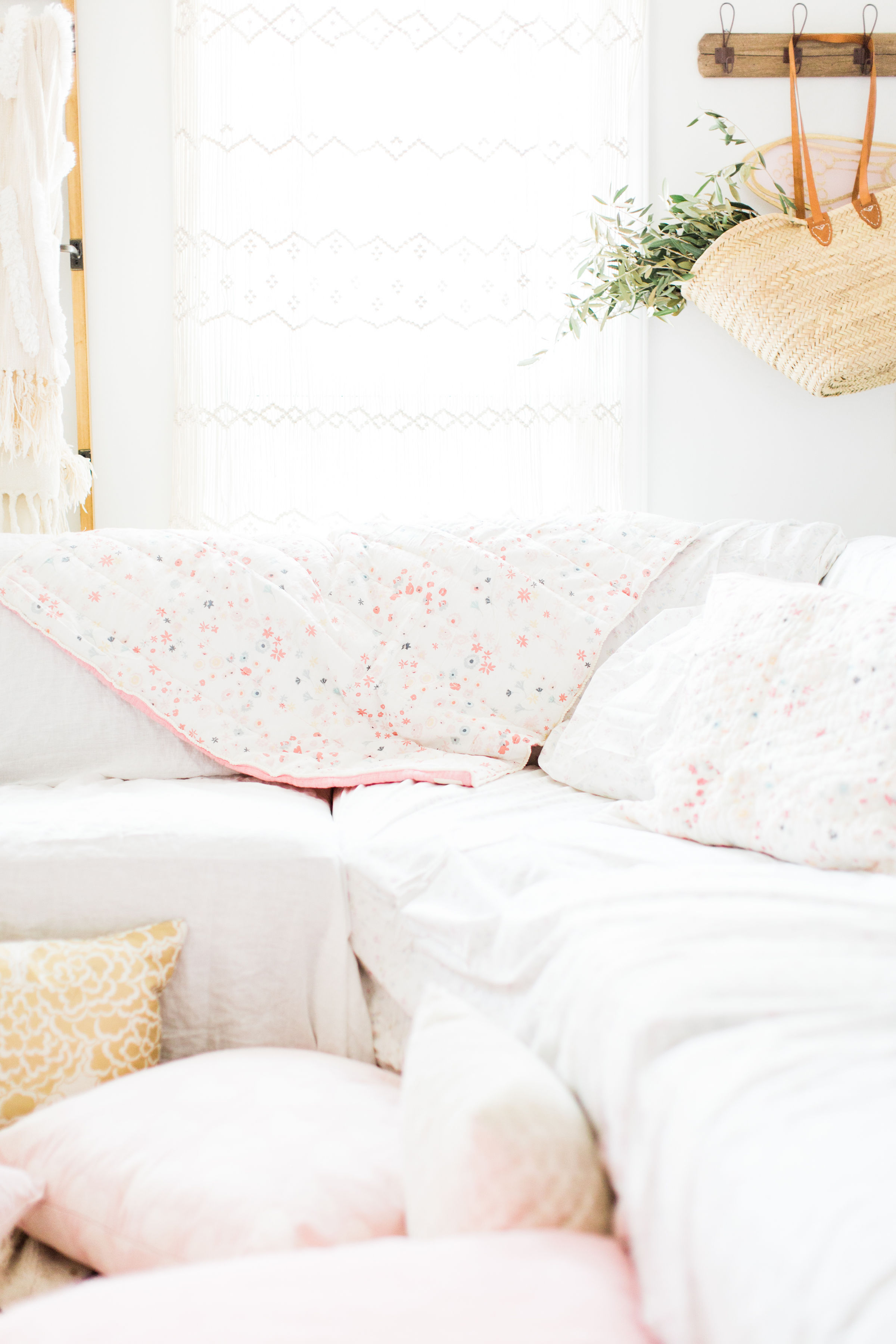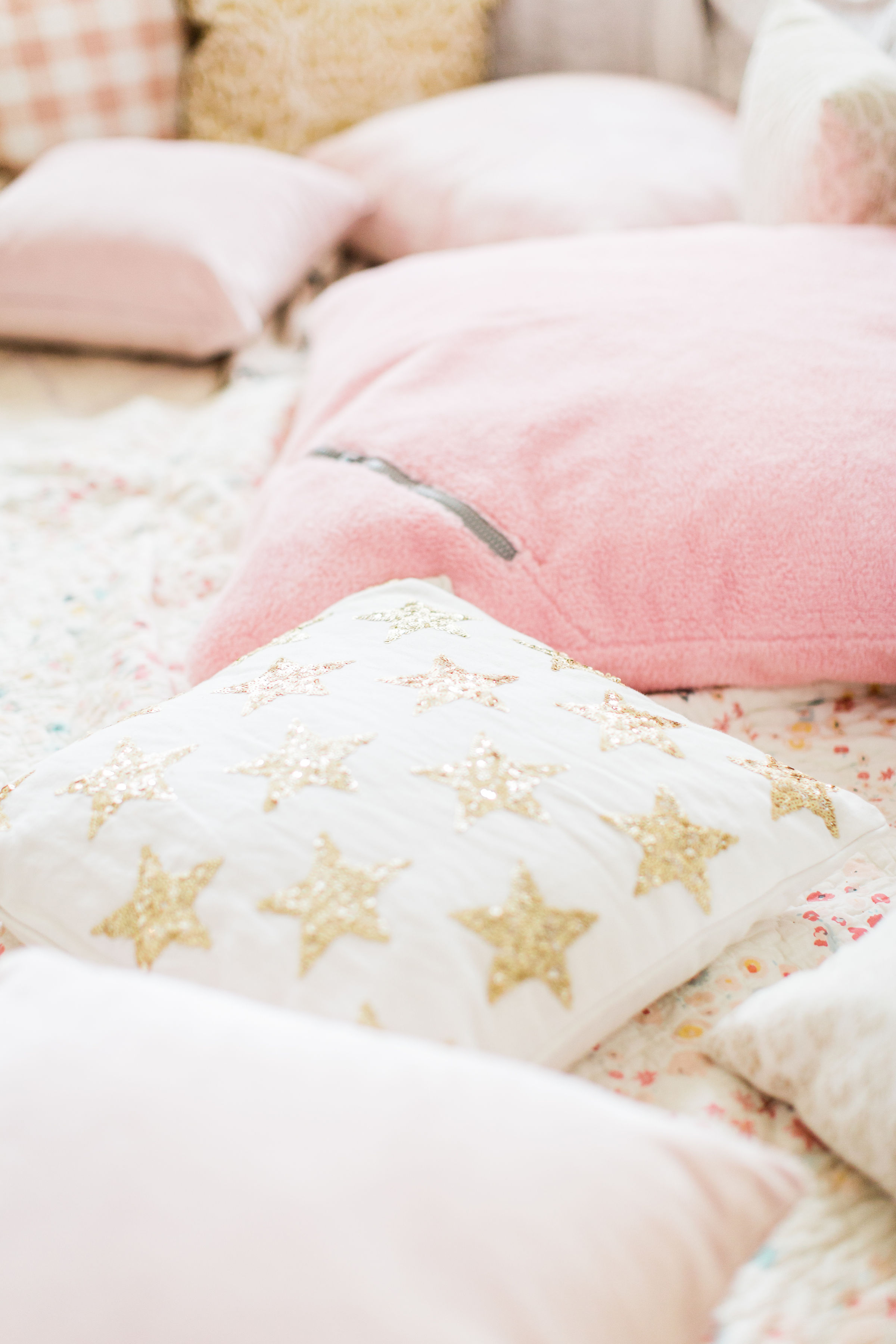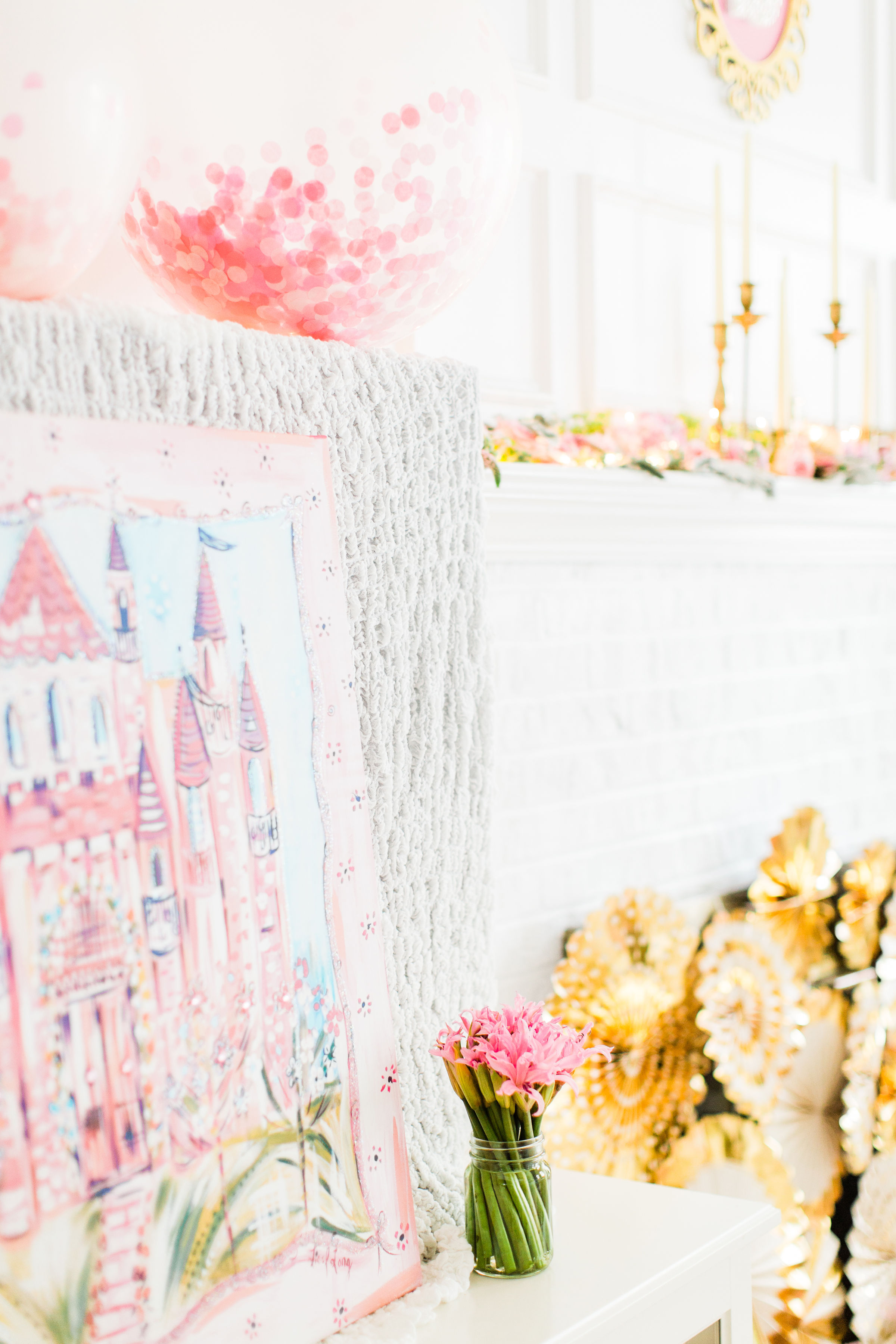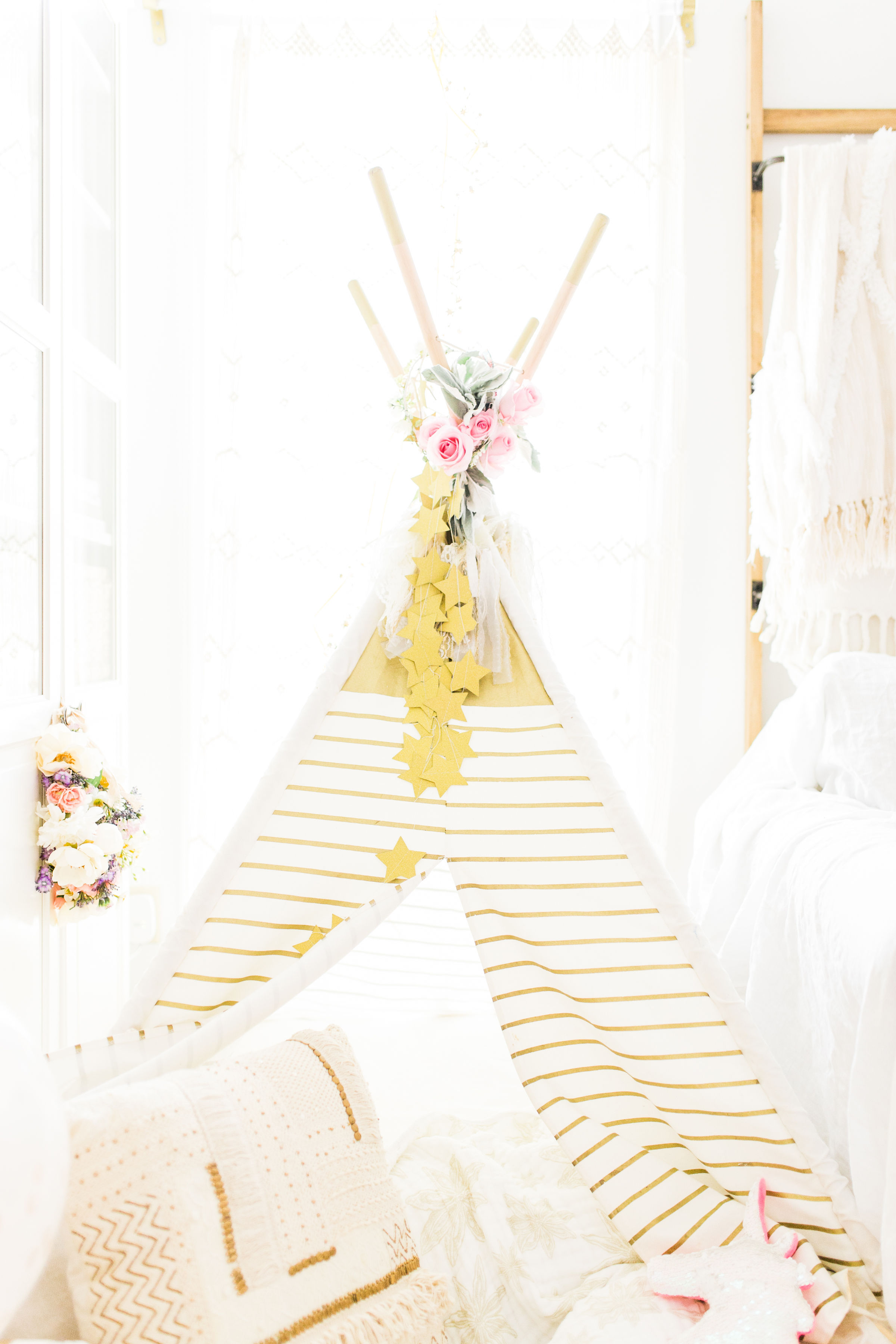 Now let's talk party details!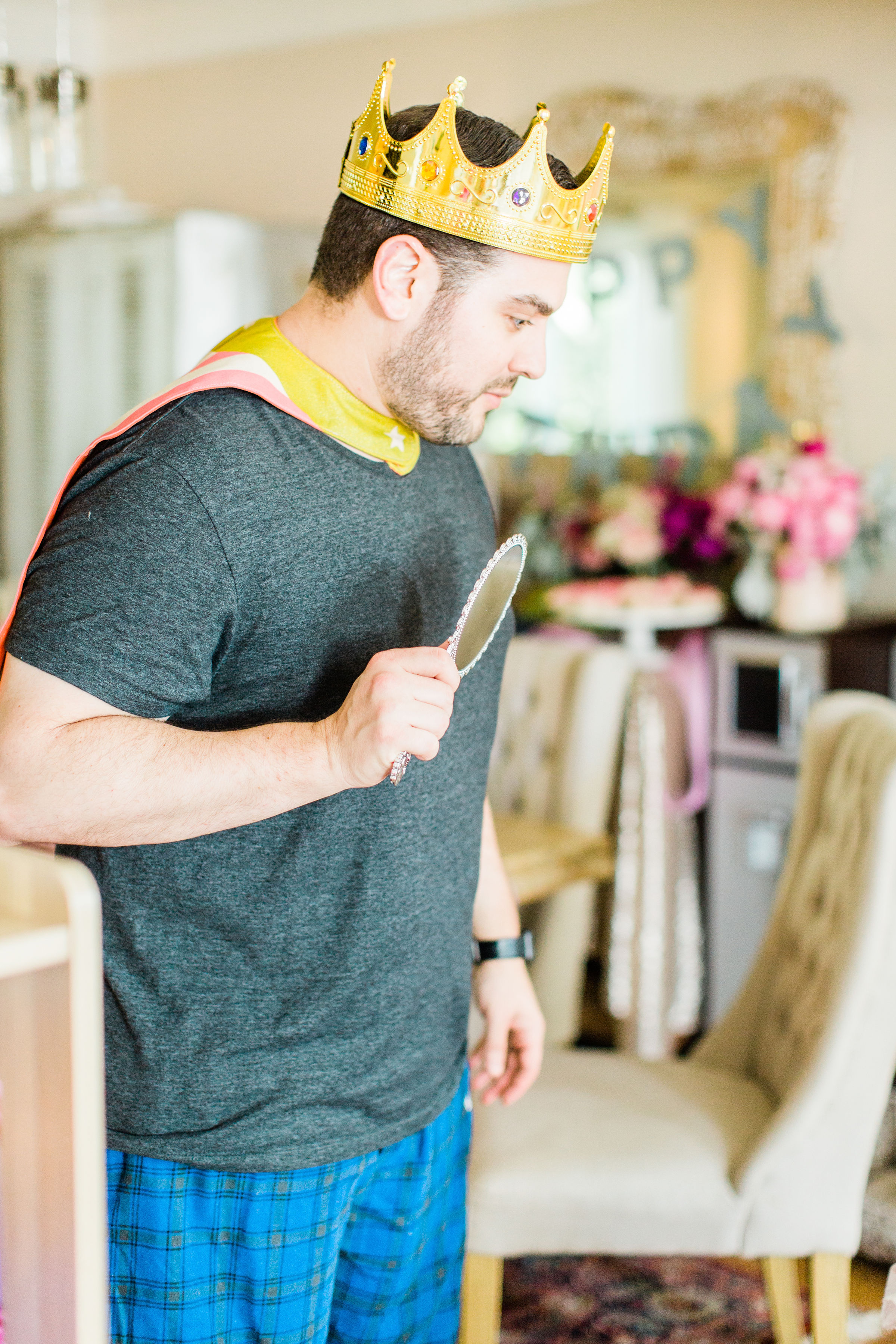 We asked all of our guests to wear pajamas to the party, and having everyone "dress up" was a huge hit. (I mean, hellloooooo, hunky hubby.)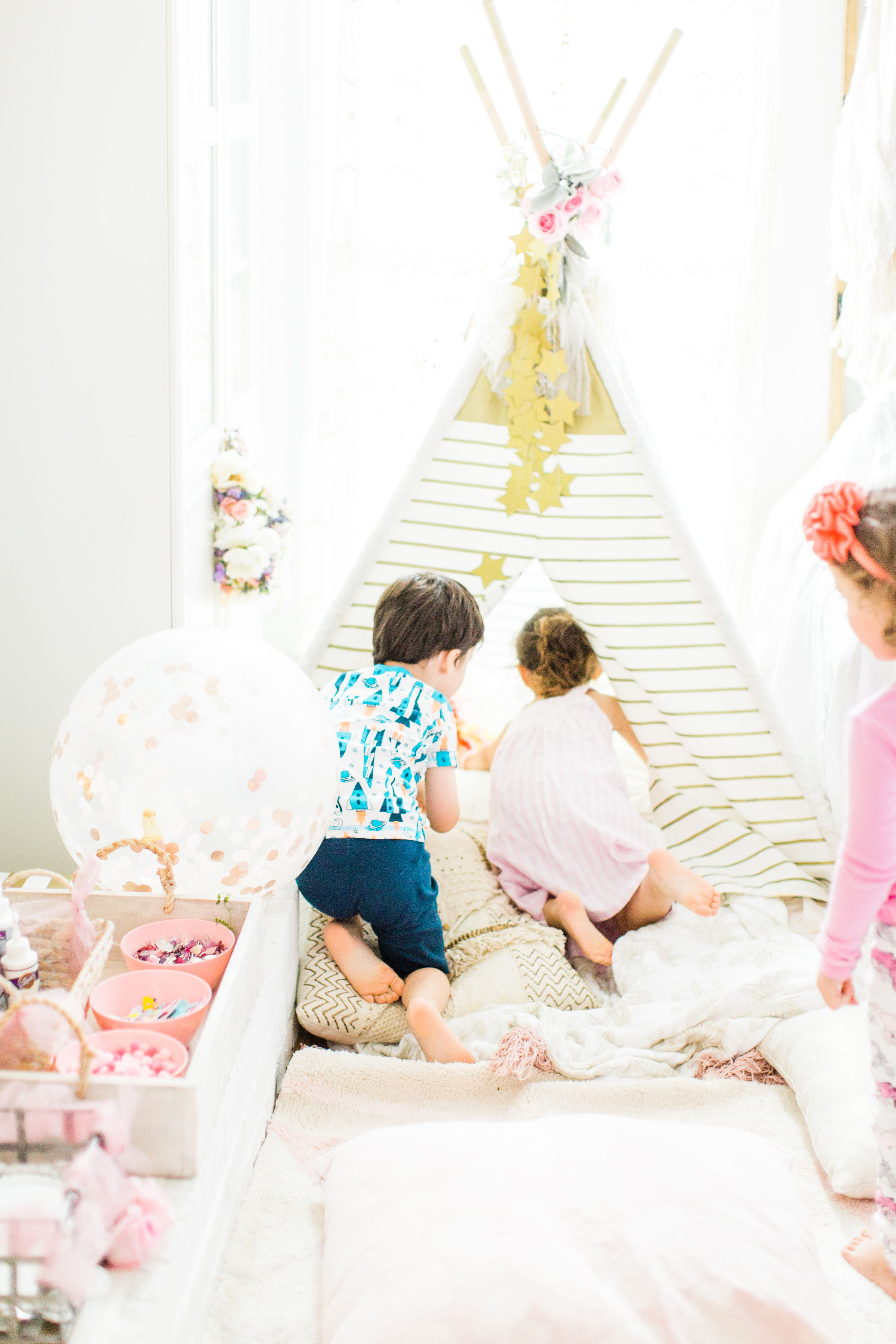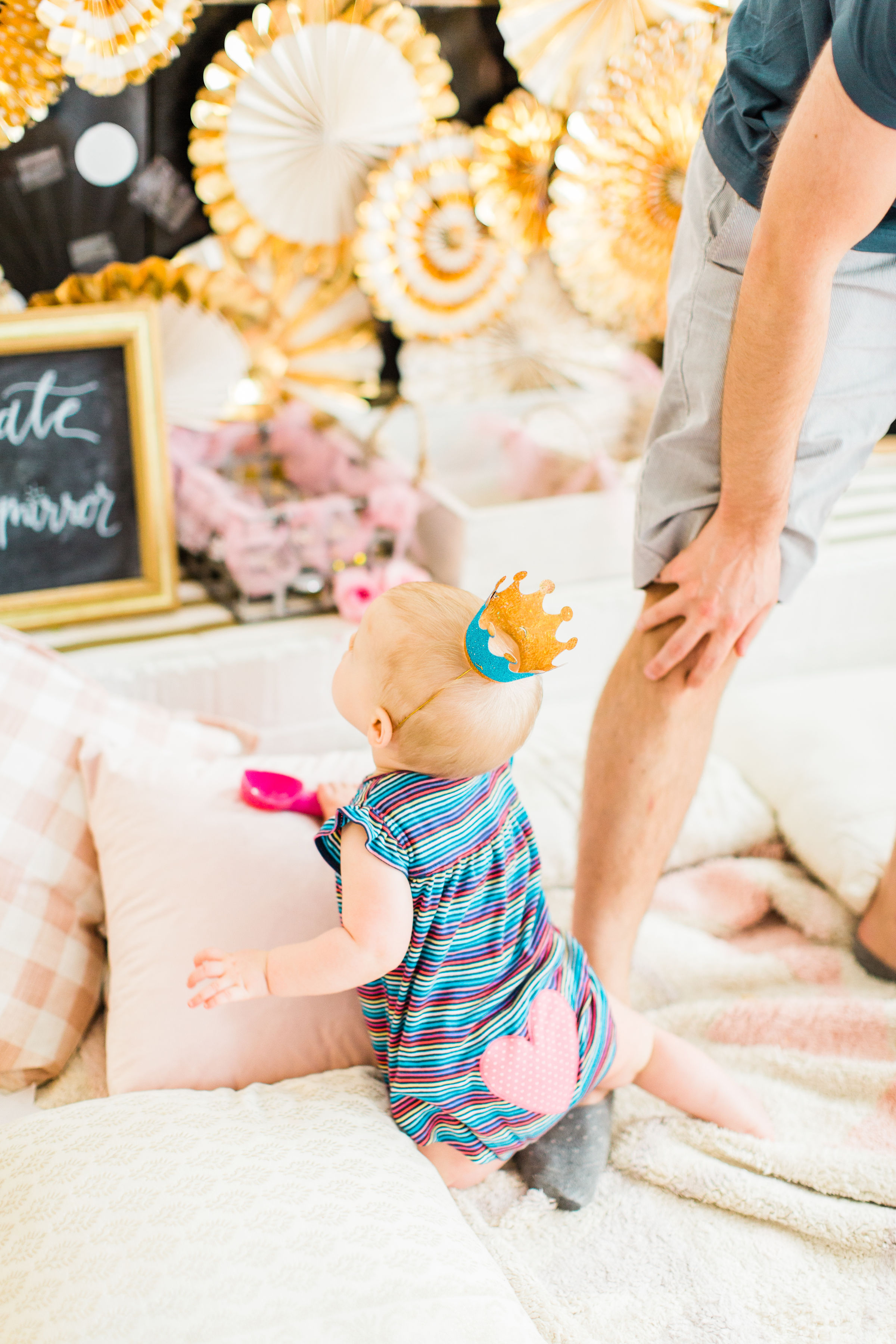 We even had parents arriving in their favorite jammies.
Also, we set up baskets around the room, filled with paper crowns and wands, giving everyone the chance to dress like royalty for the afternoon. They also doubled as a fun and inexpensive party favor.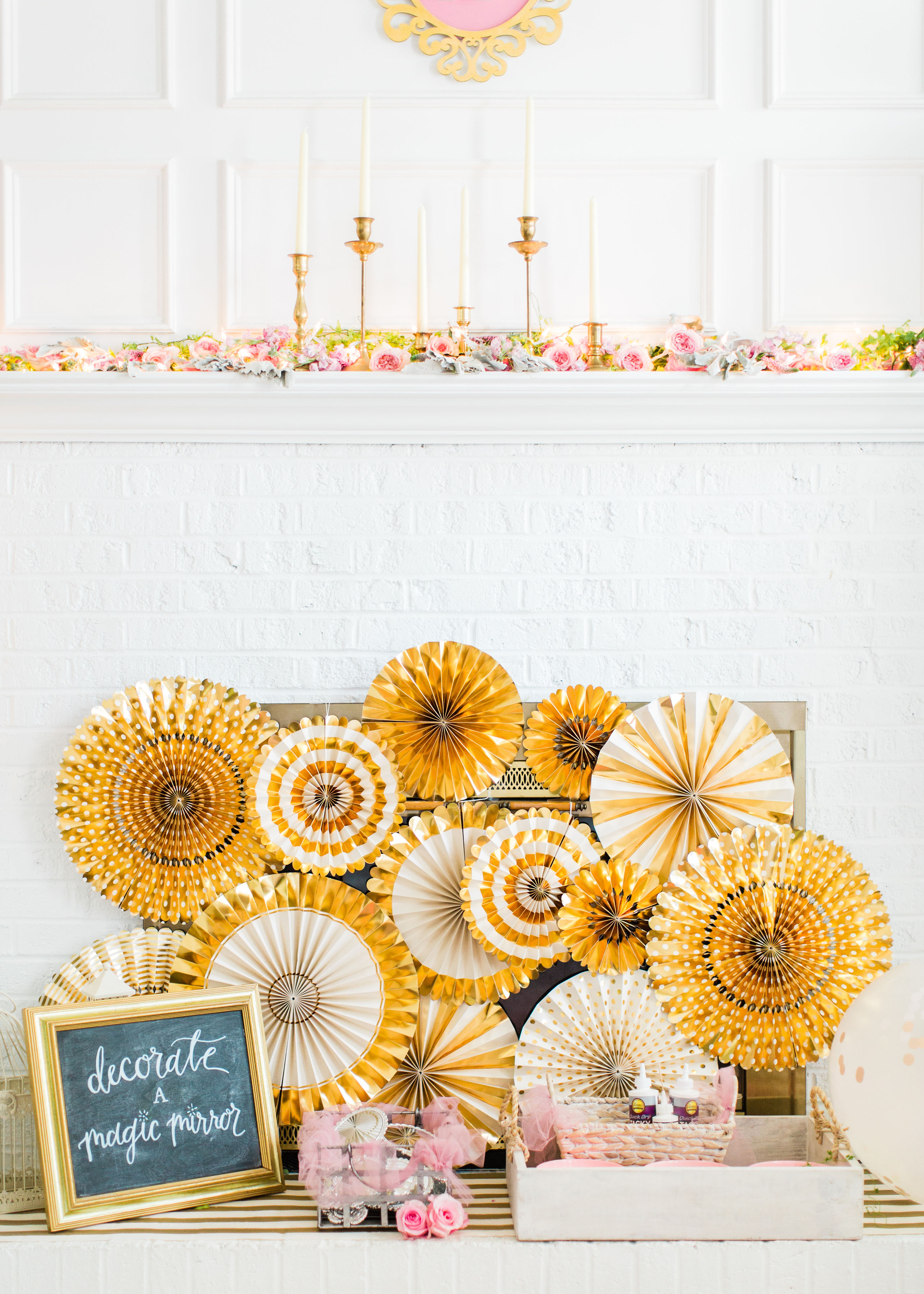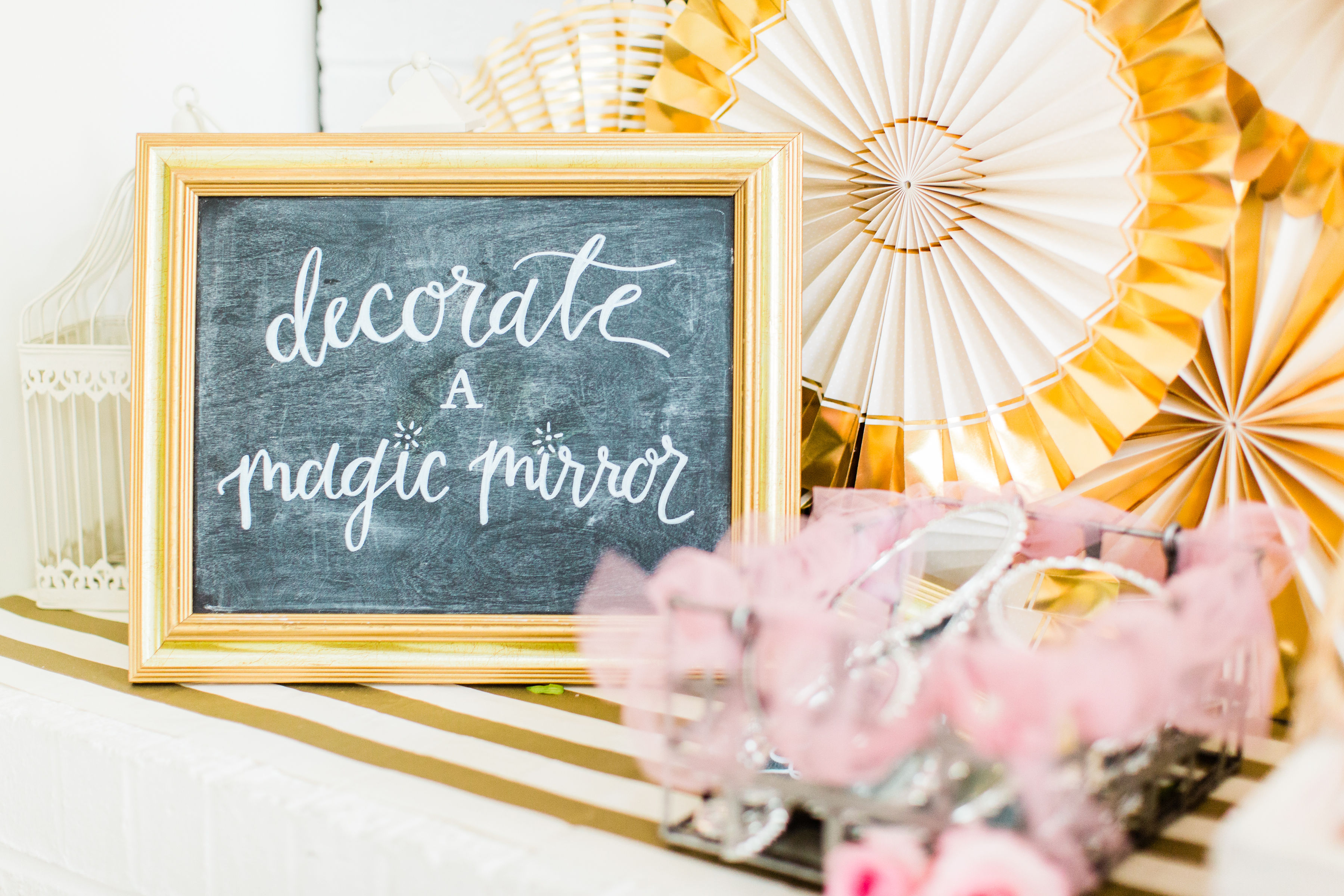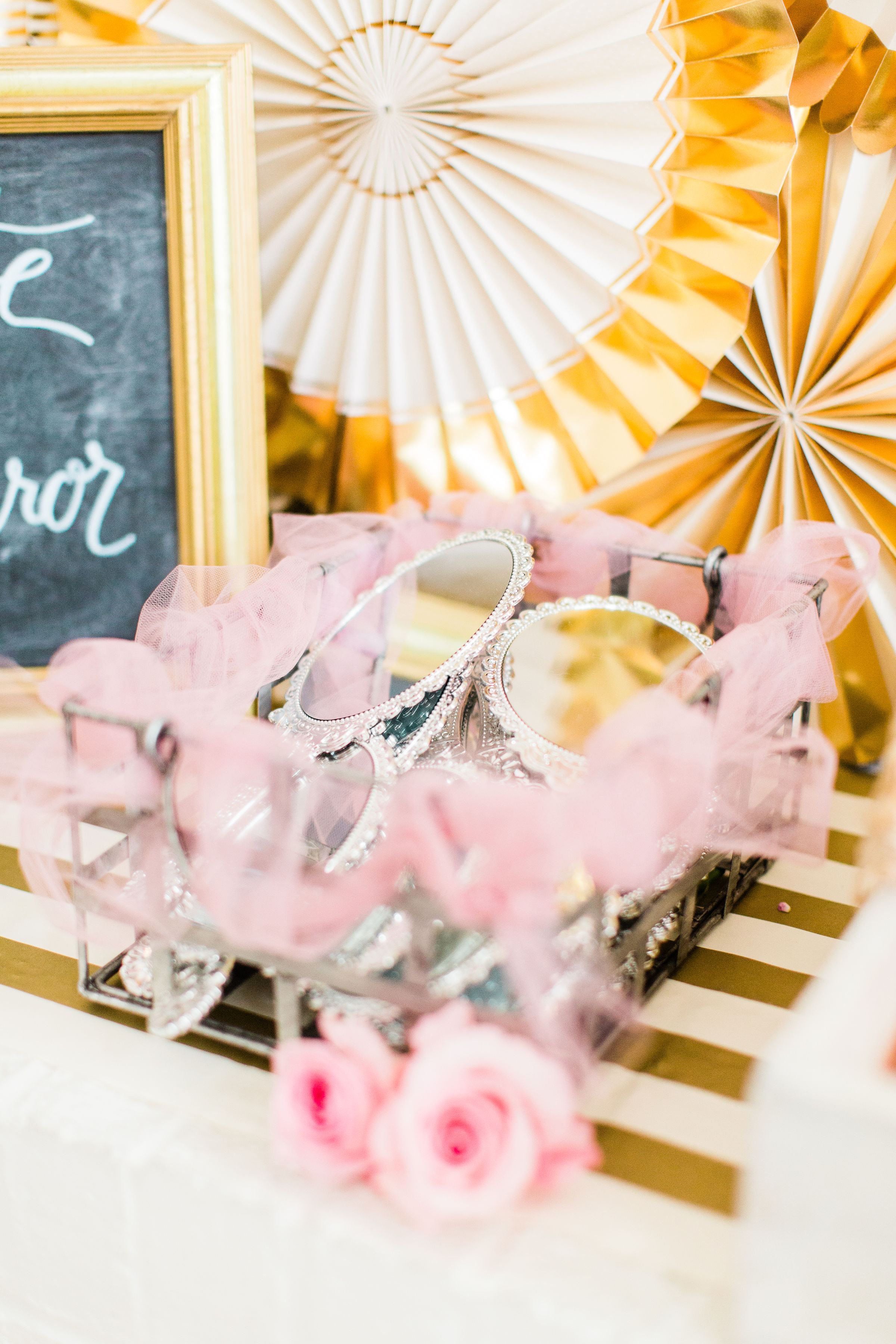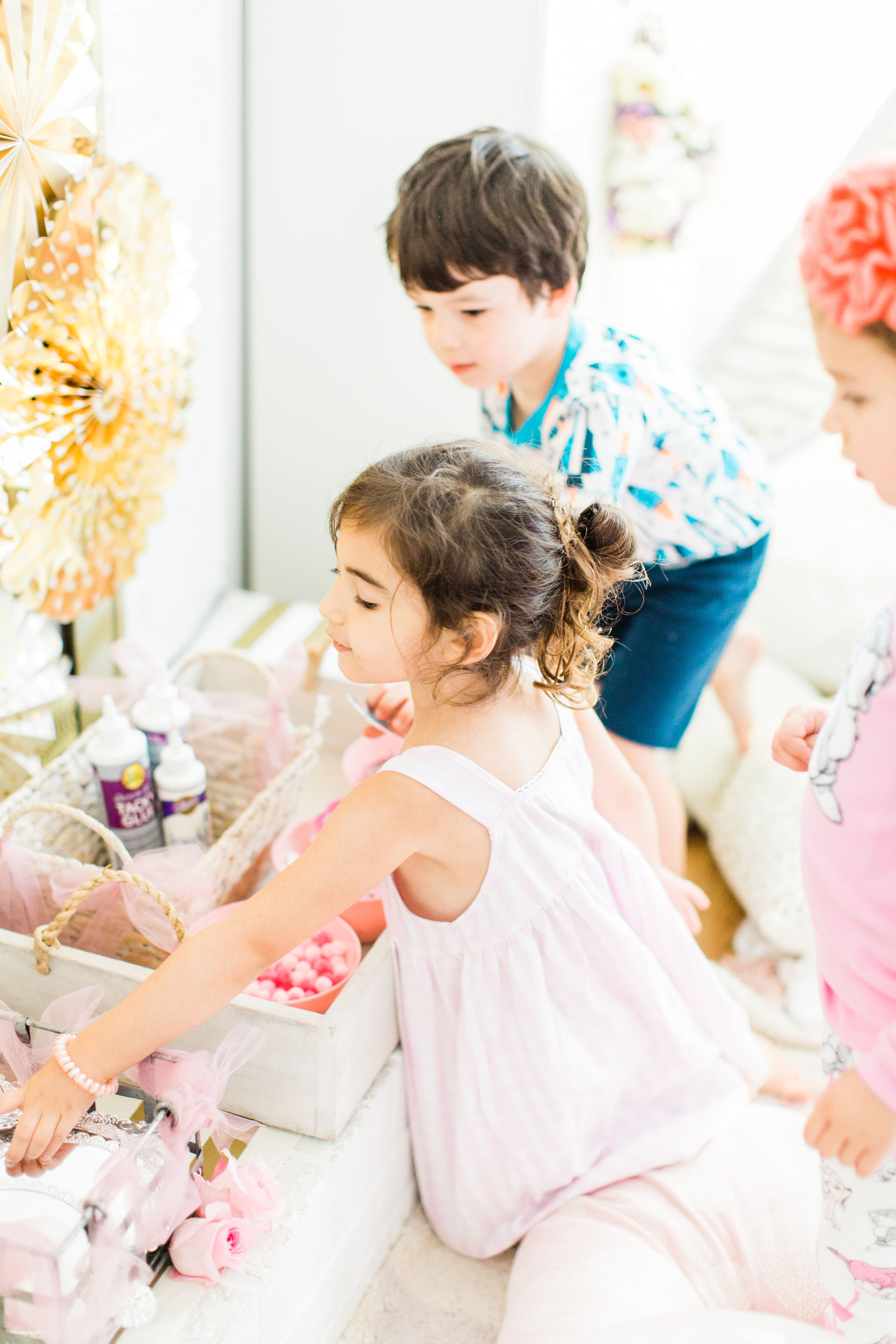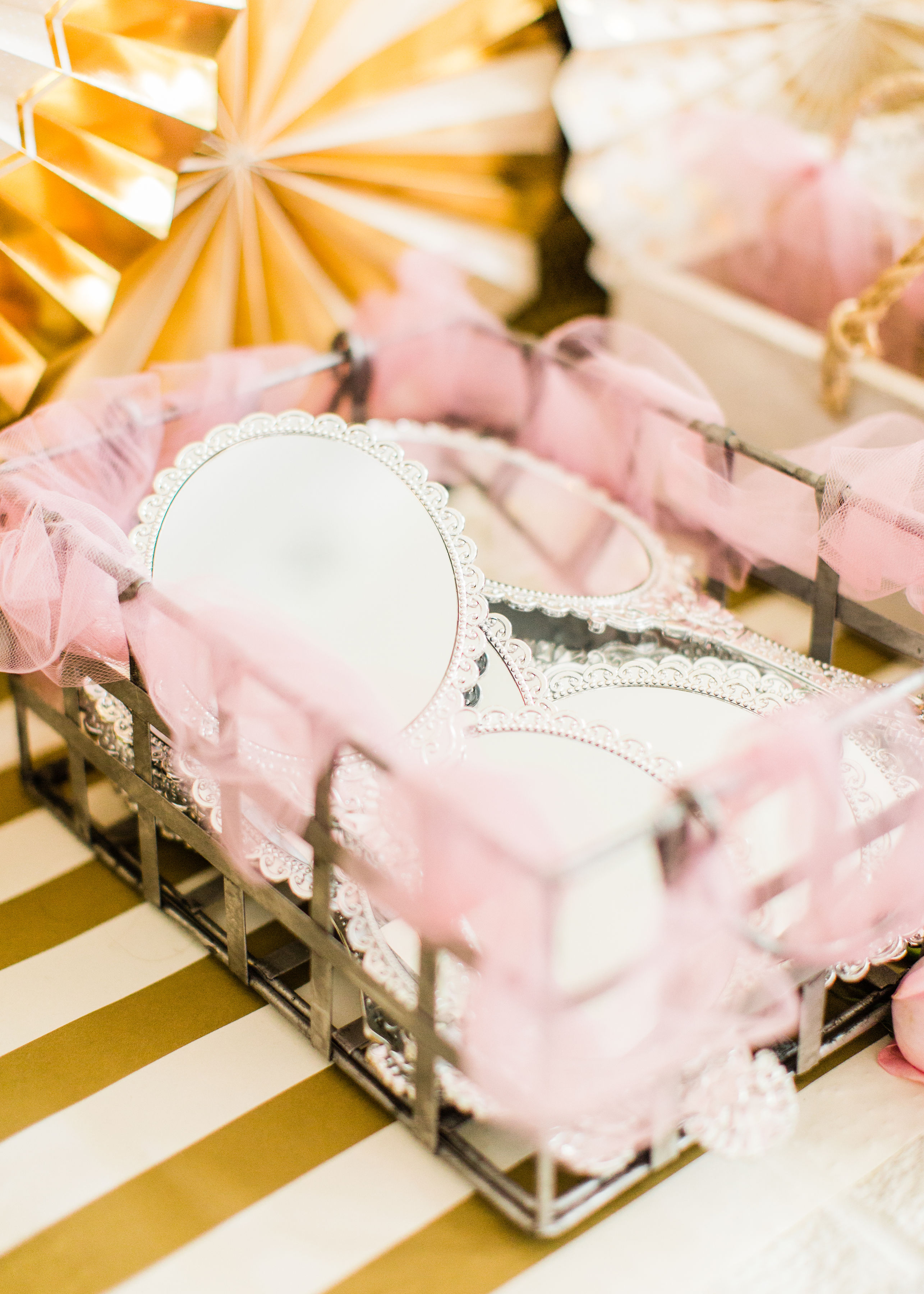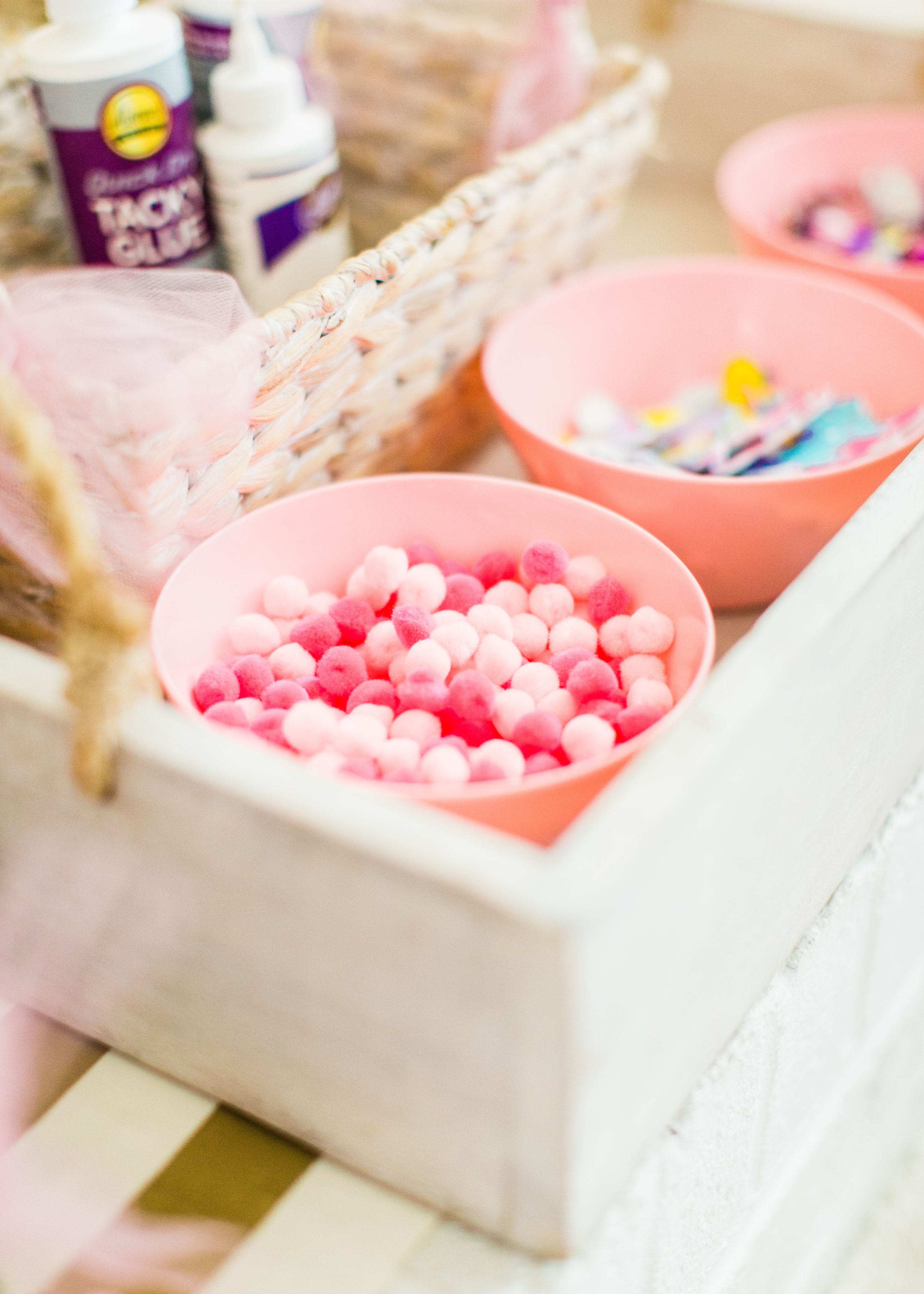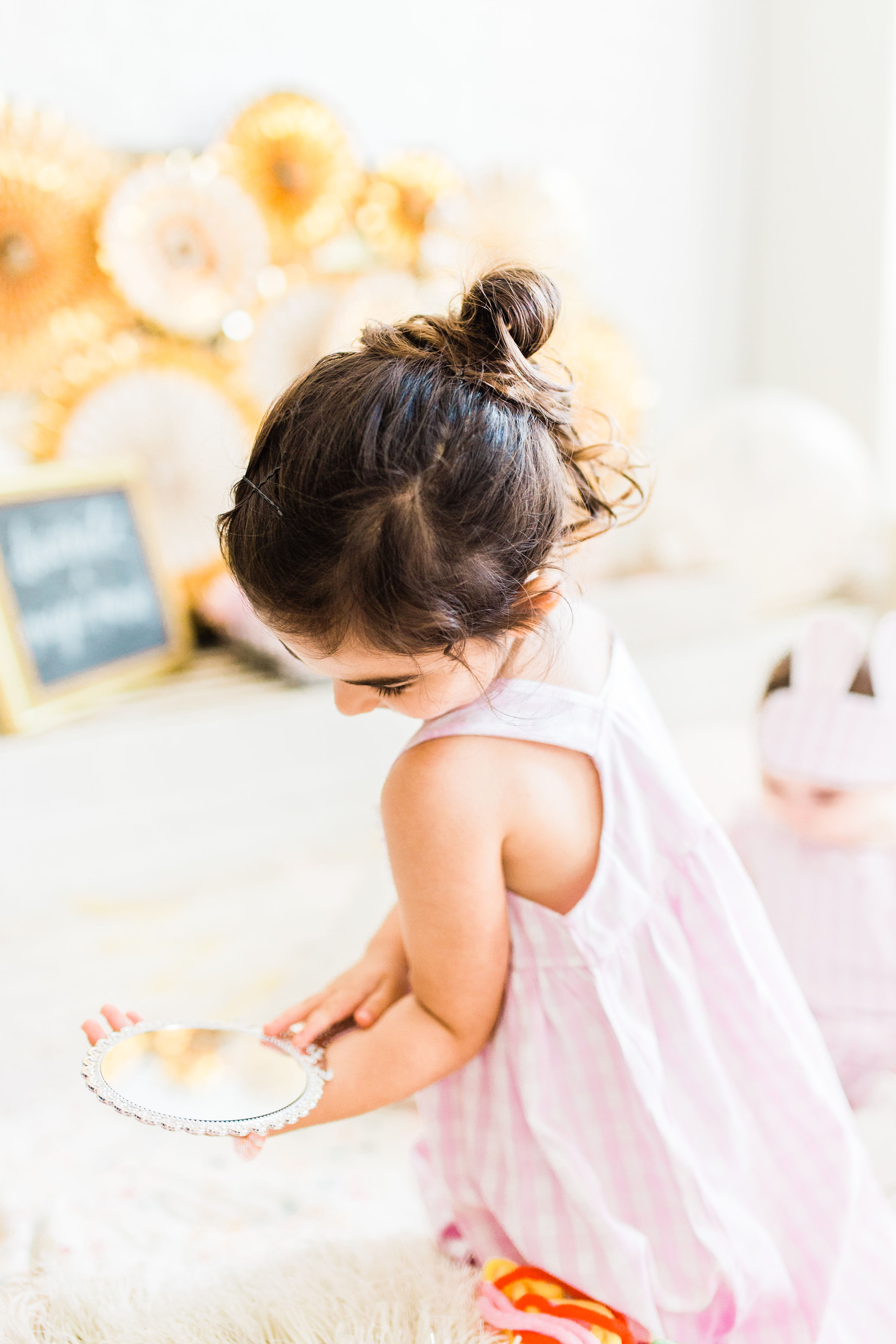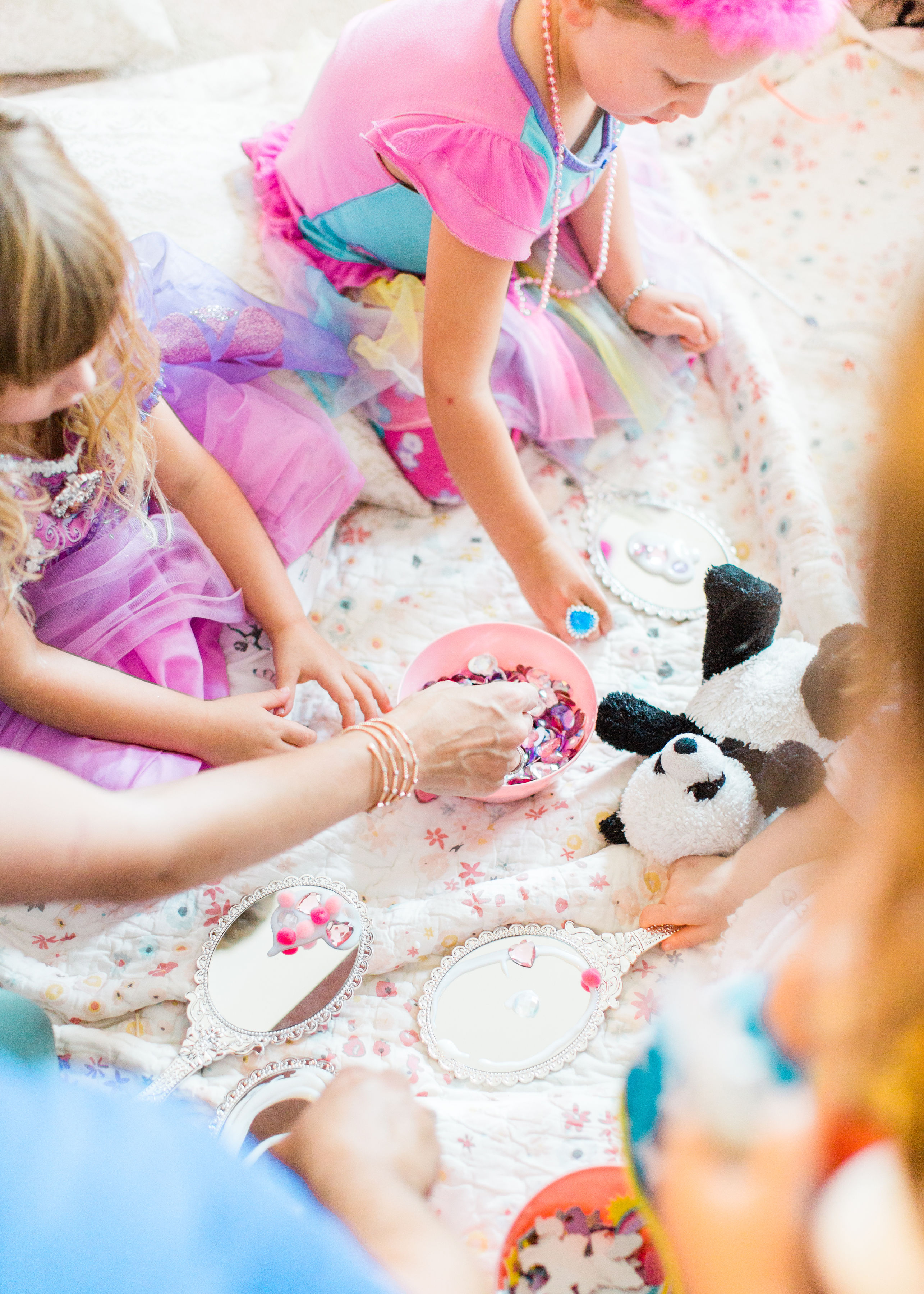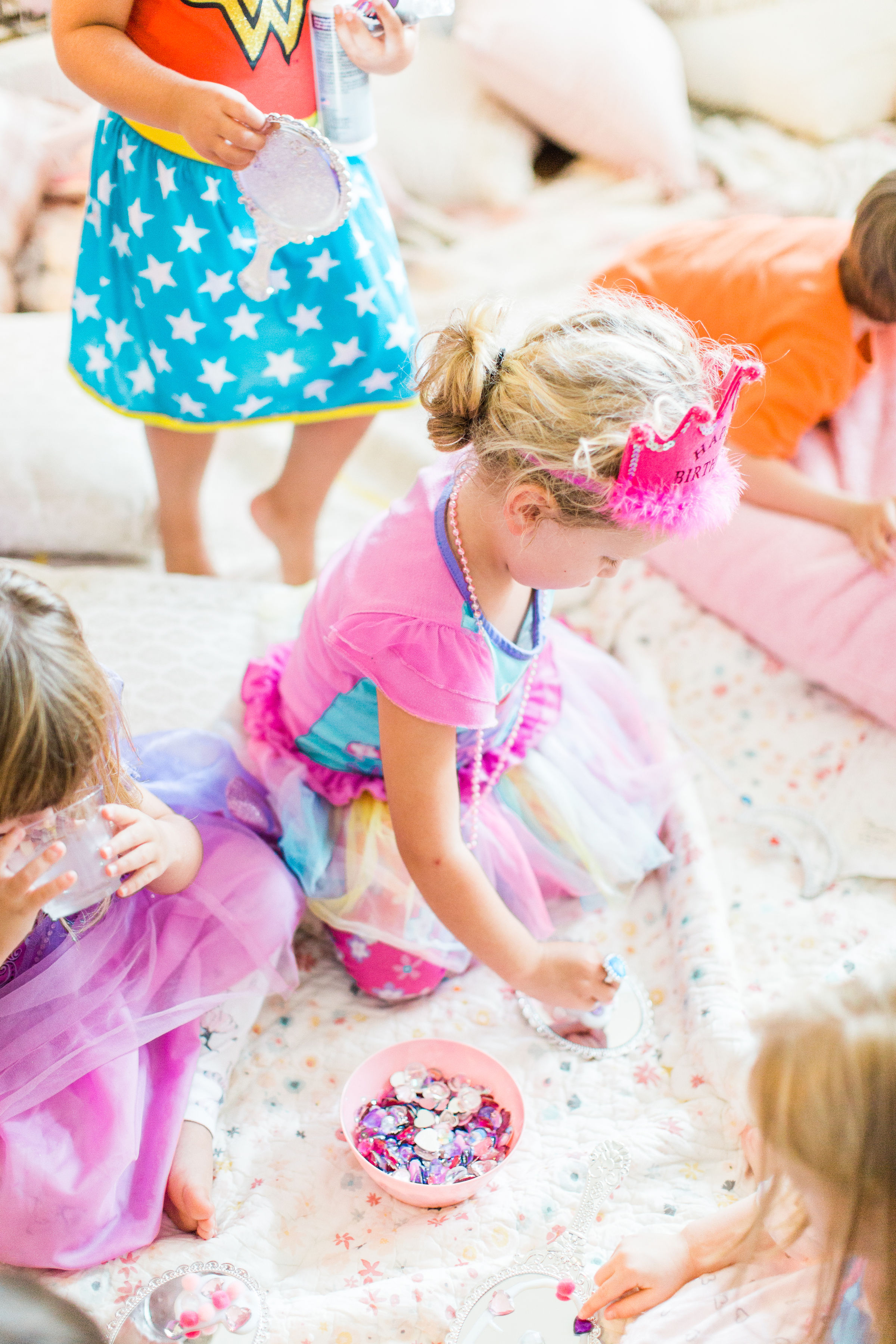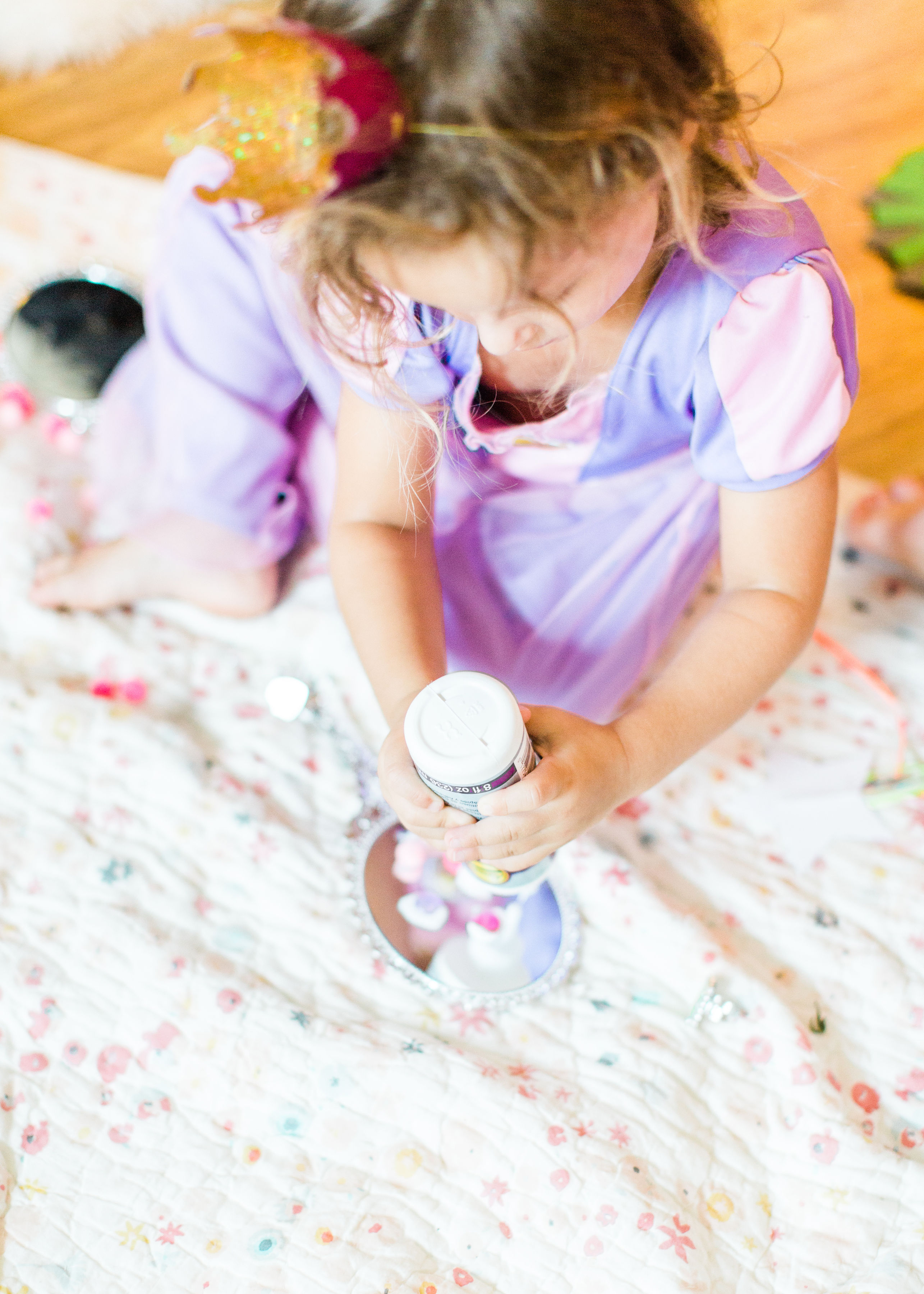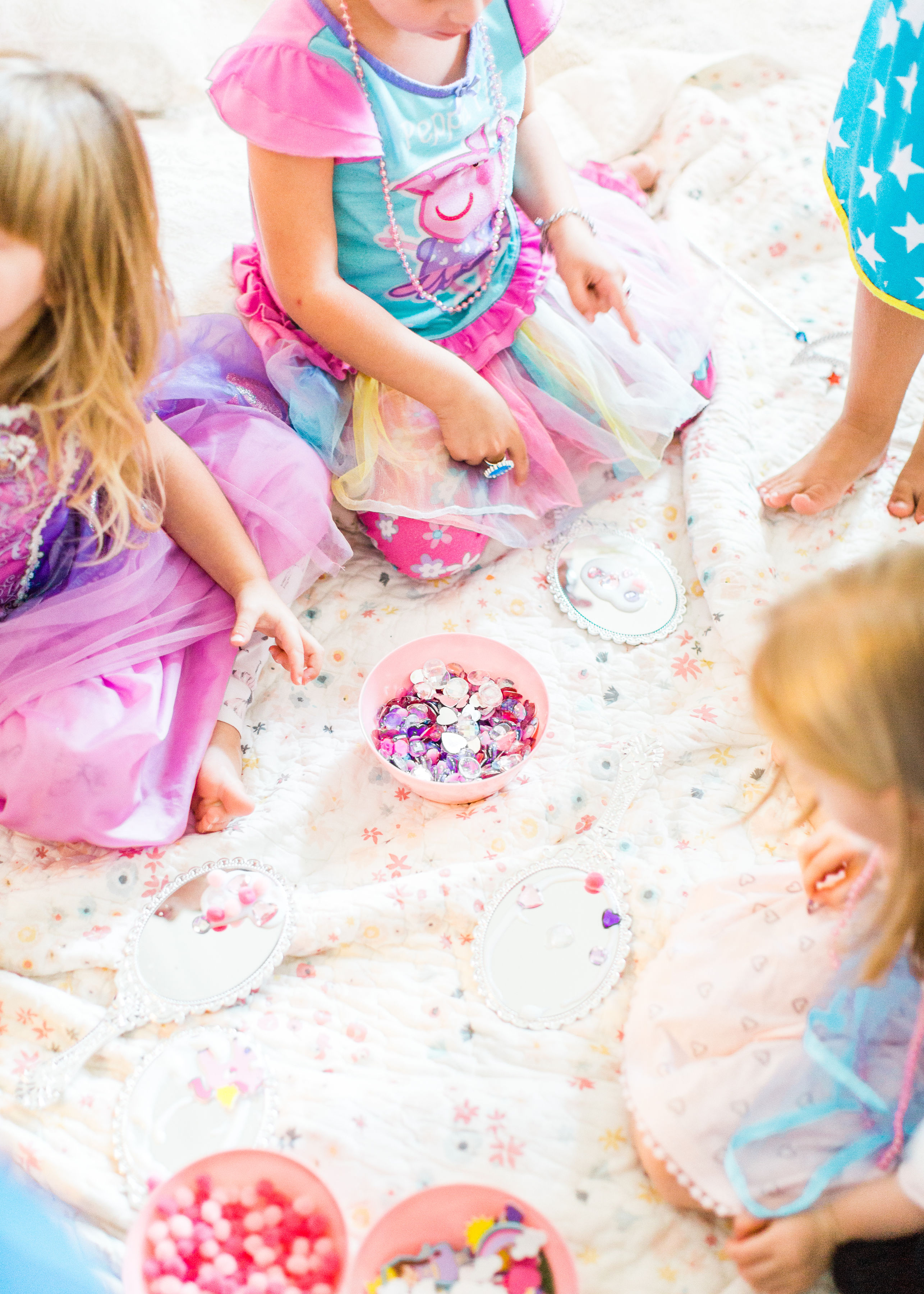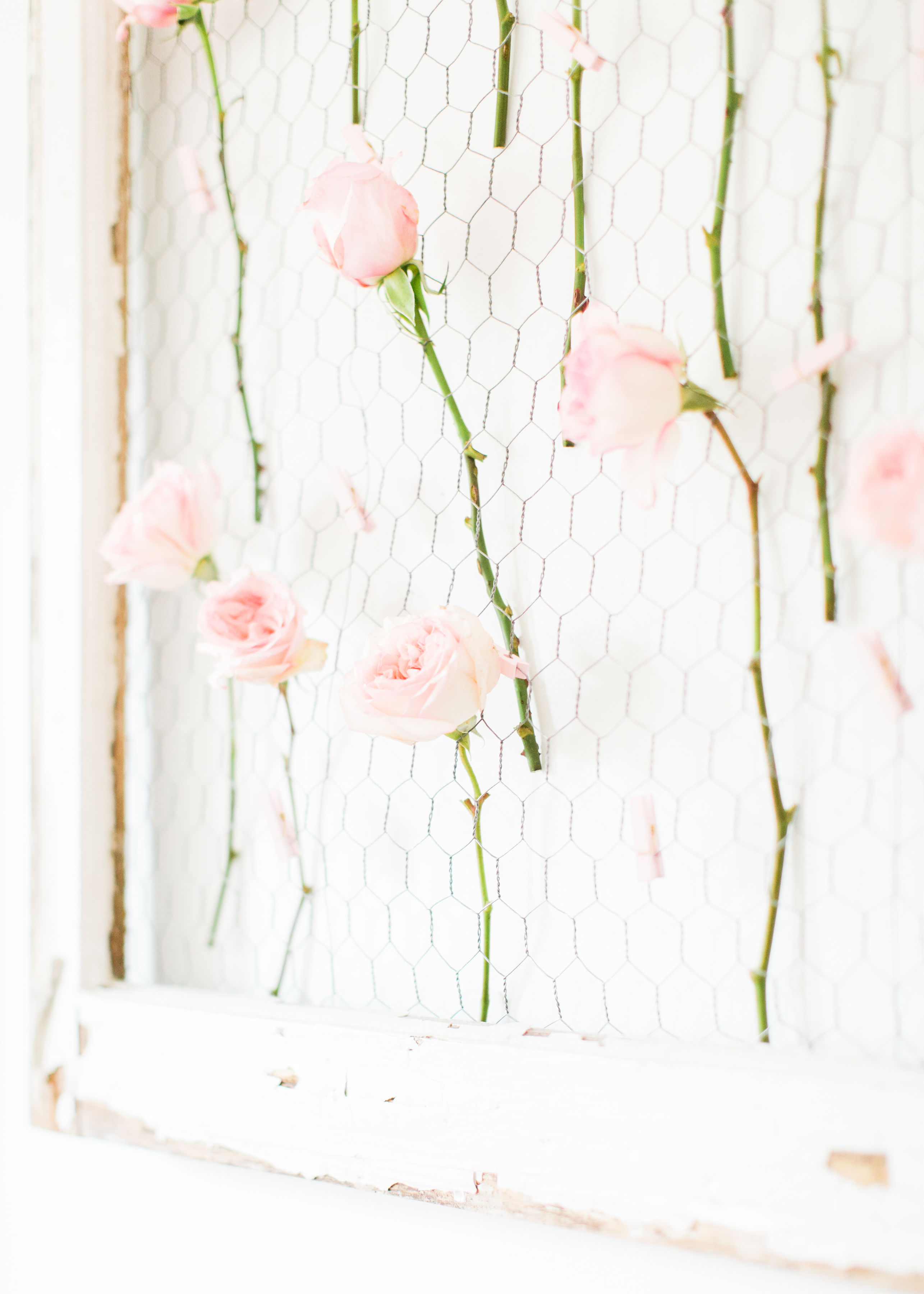 We had a "DIY Magic Mirror" station set-up.
Over there kids could decorate their mirrors with glitter puff paints and glue gems, jewels, pom poms, and princess foam stickers to the mirrors. The DIY magic mirrors were the perfect party favor, and kids of all ages got in on the DIY action.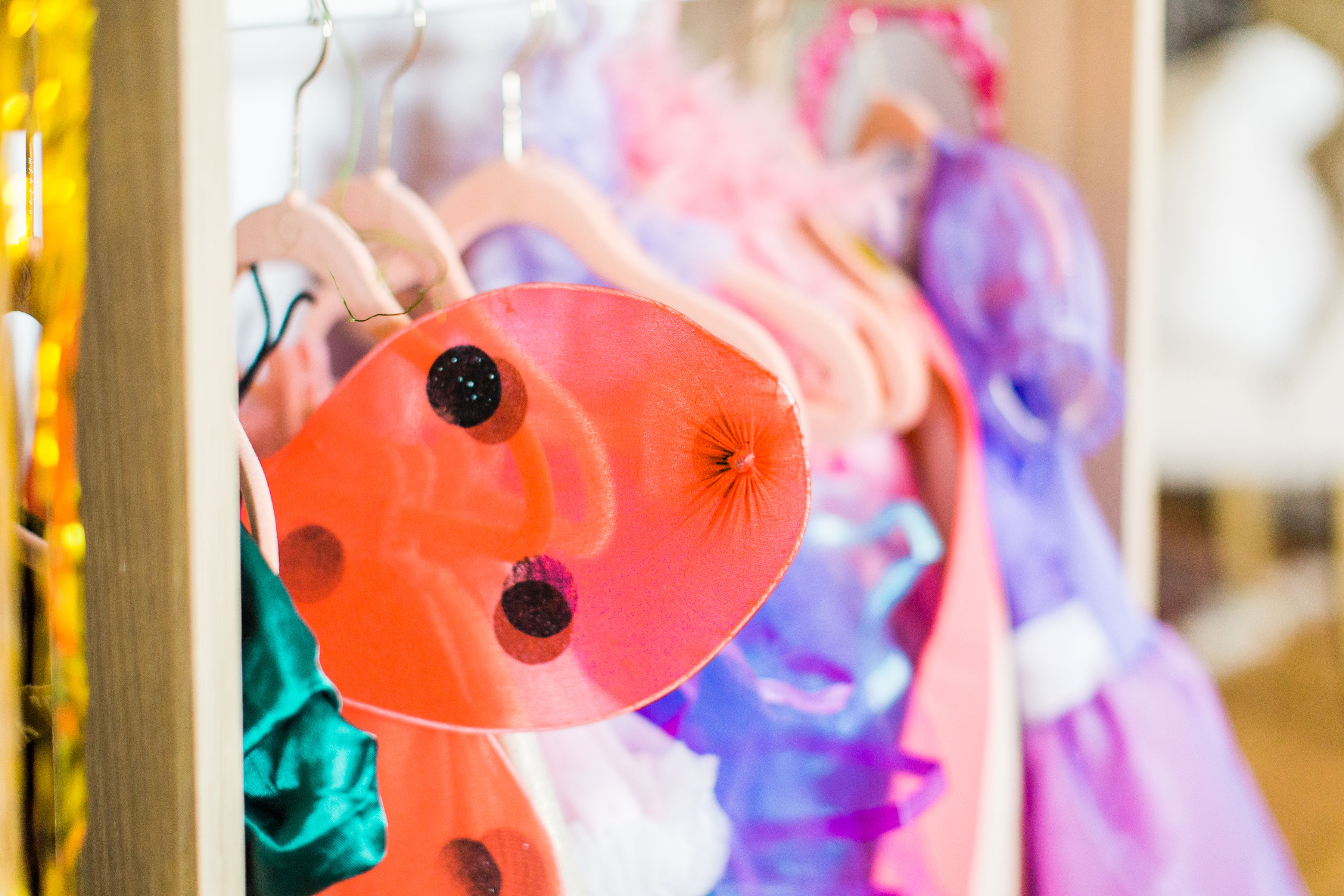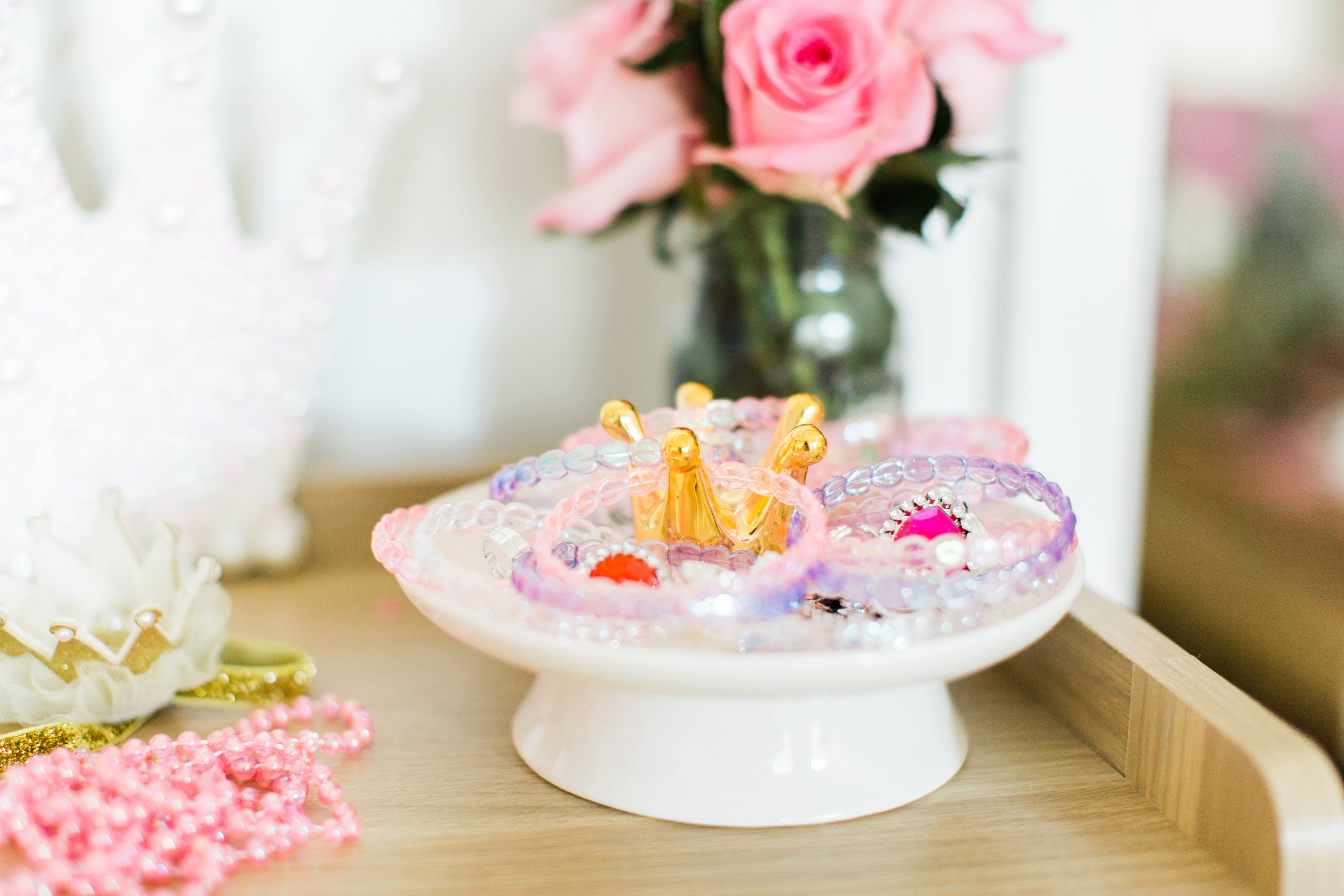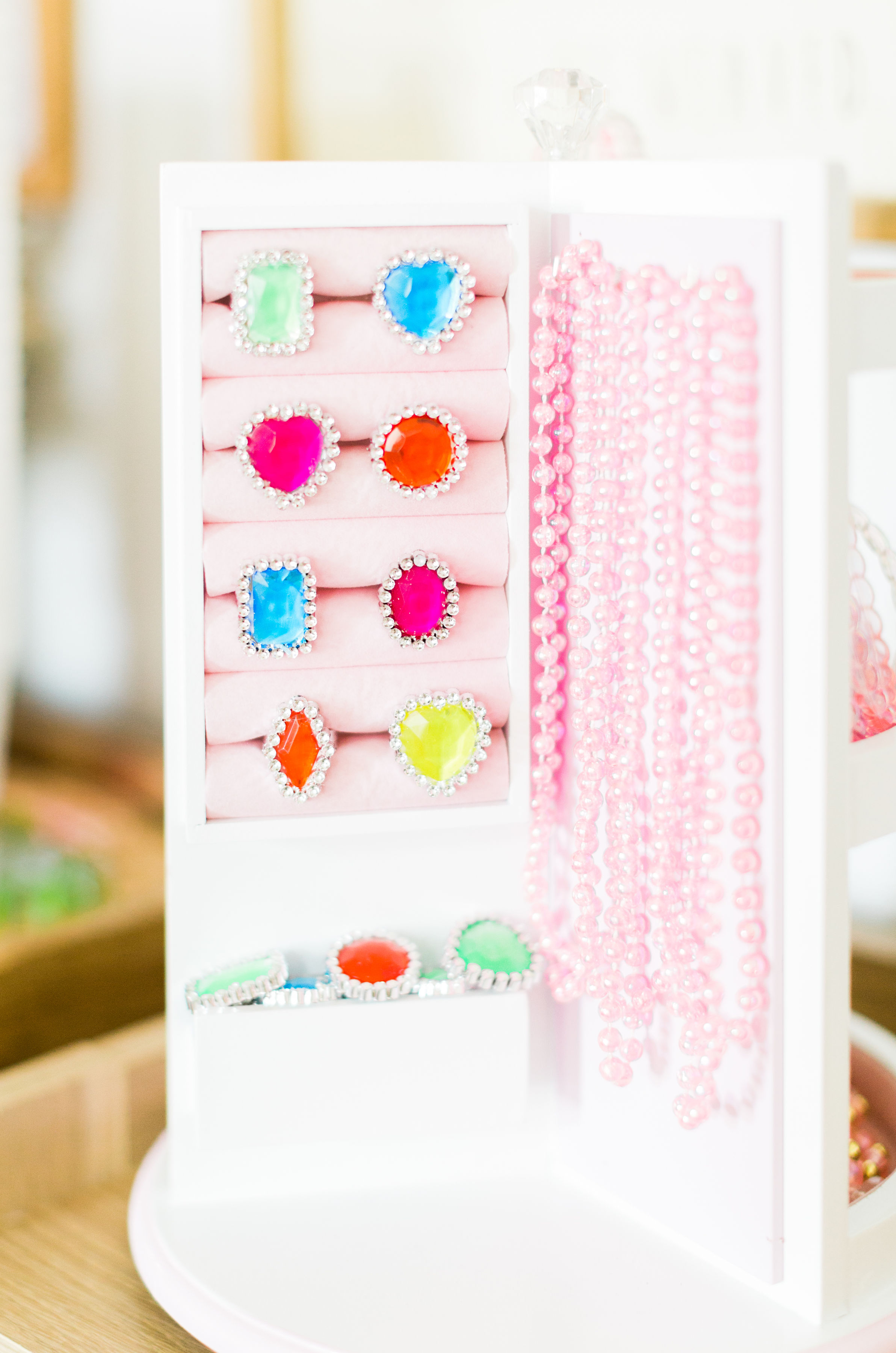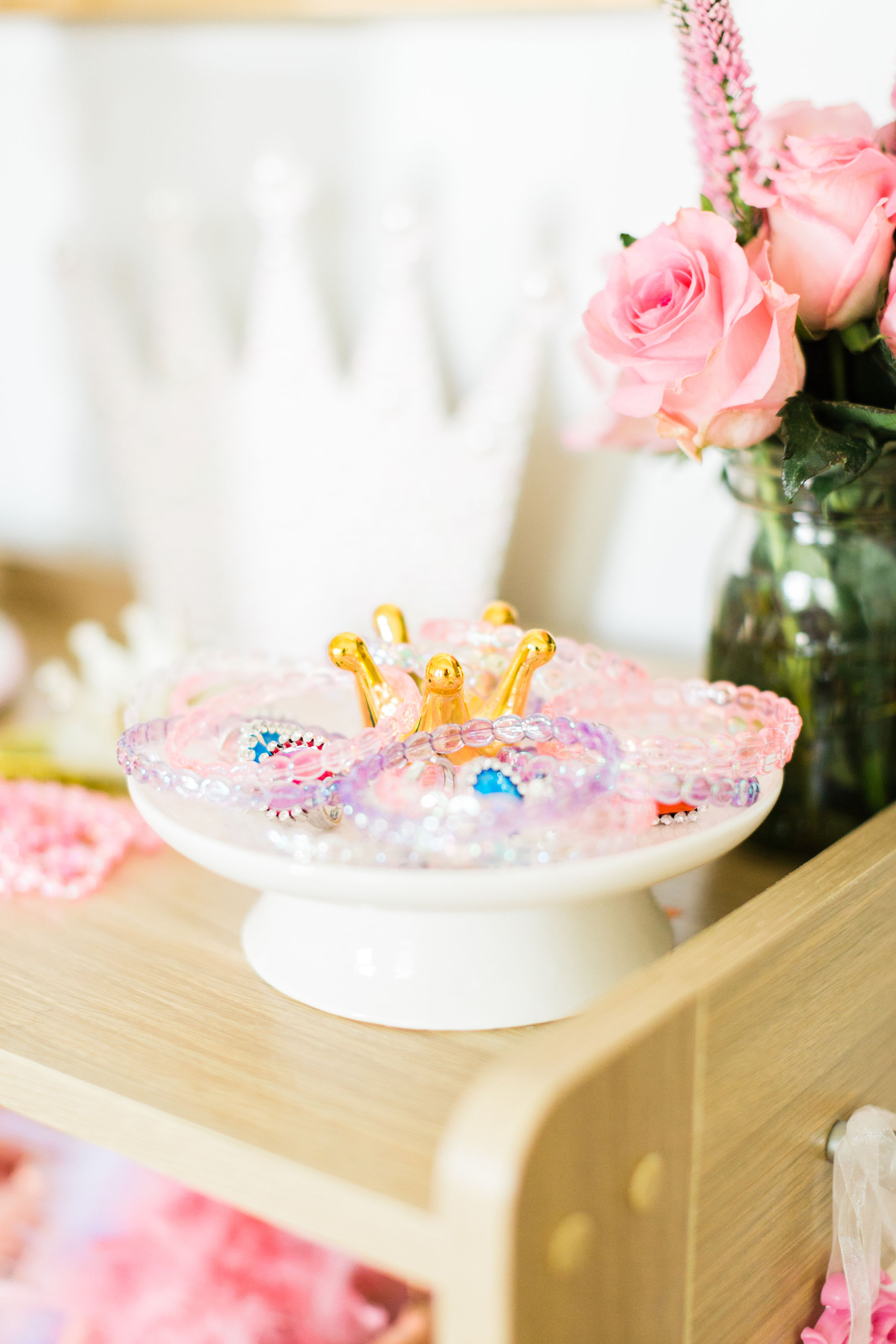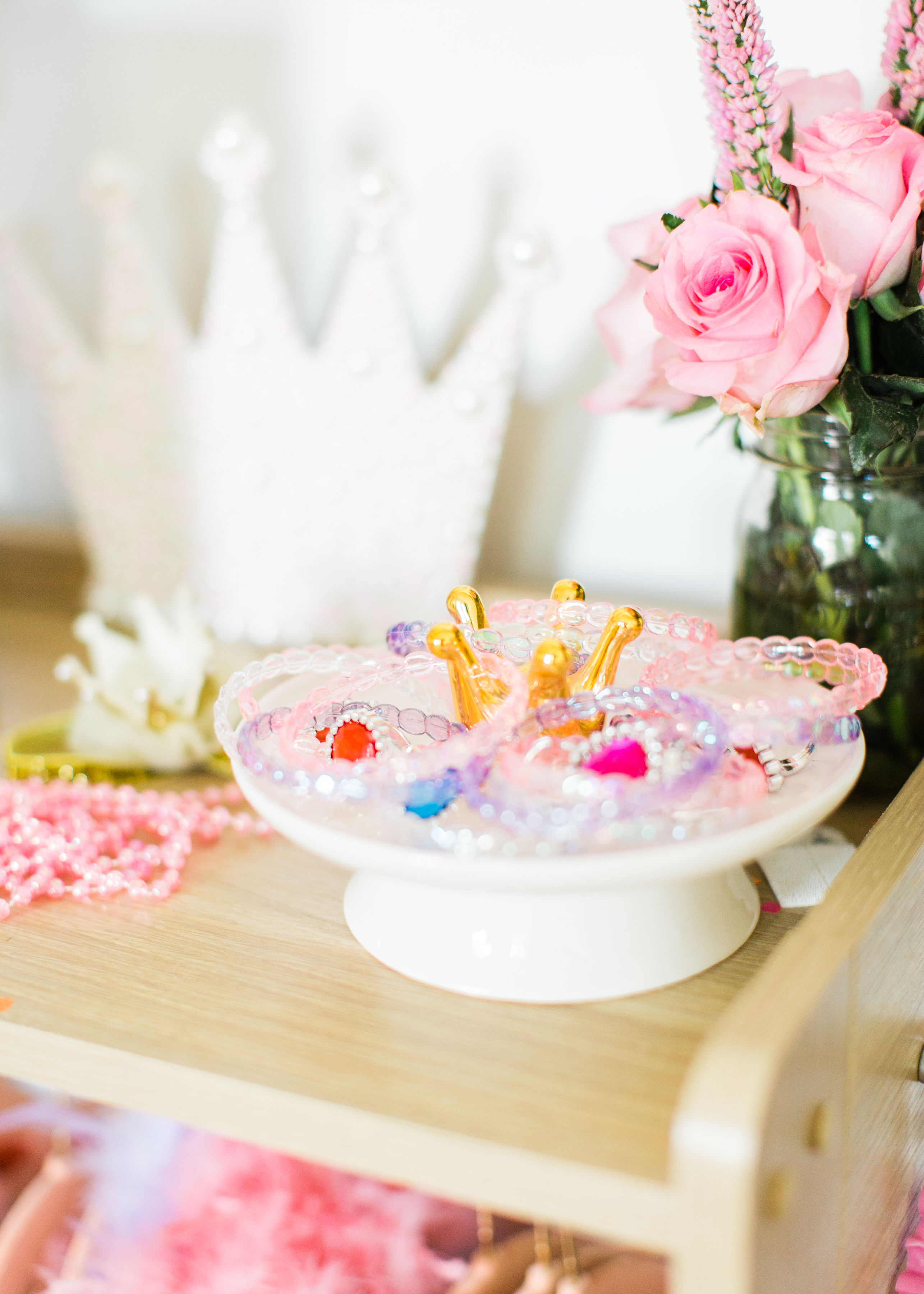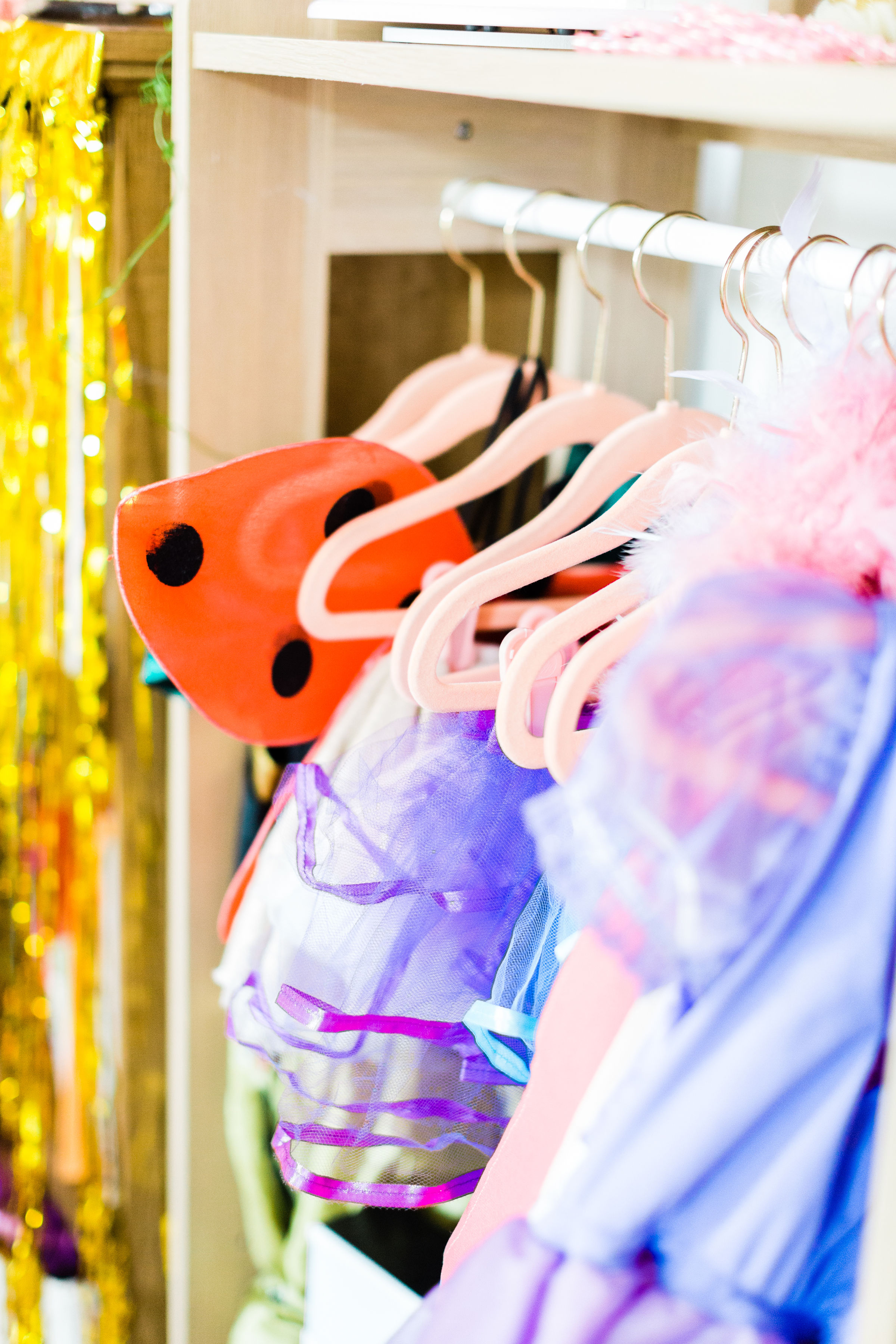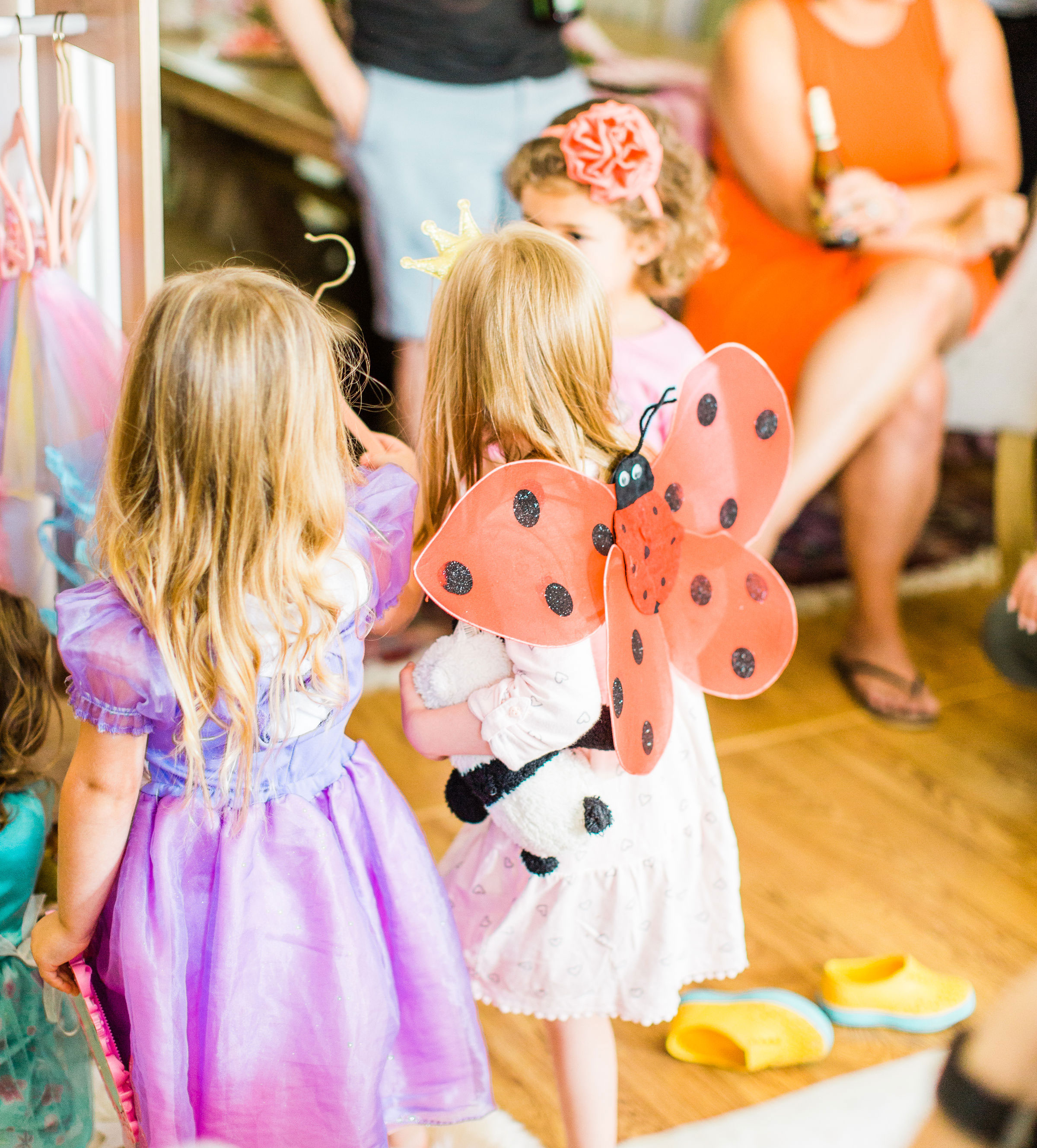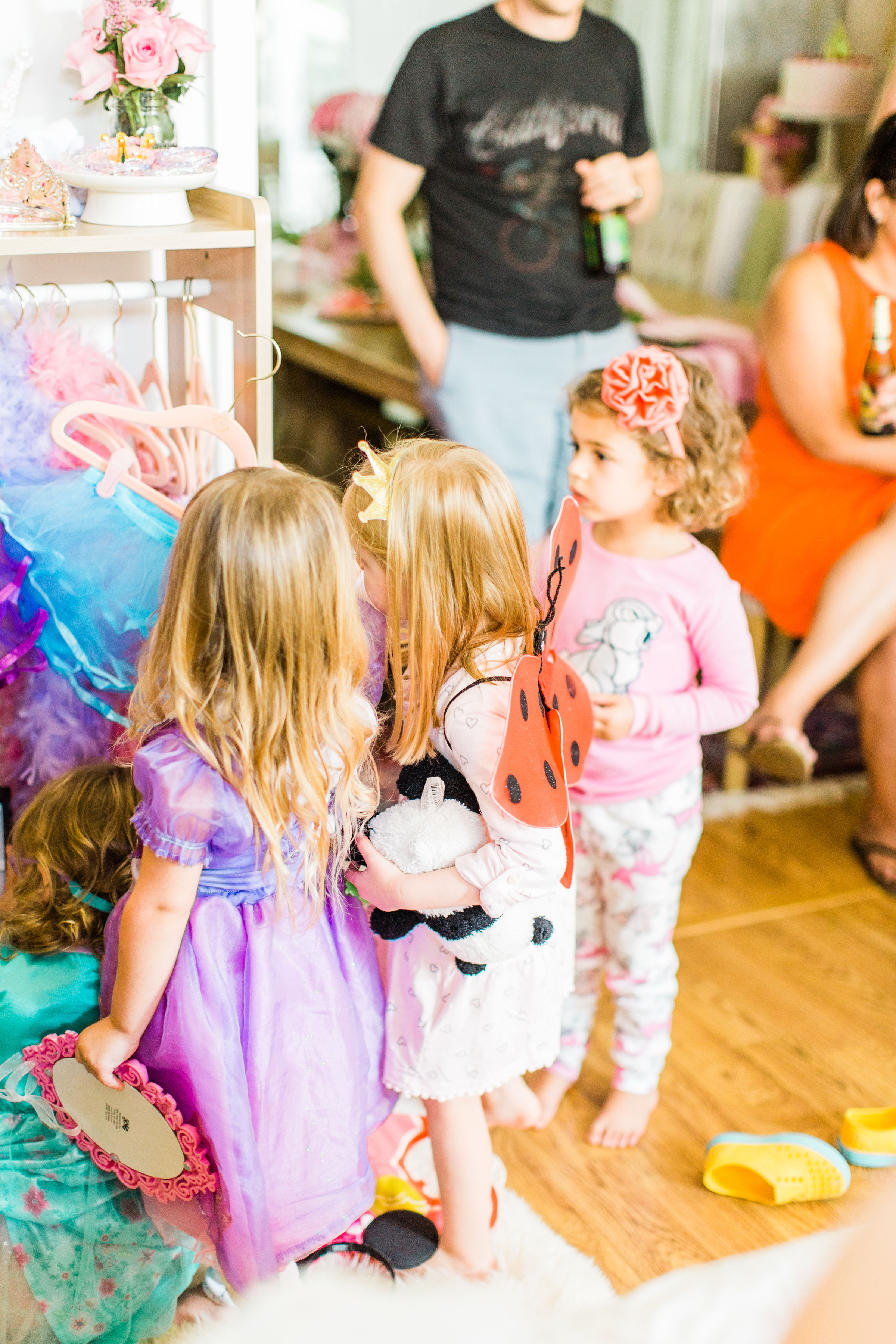 We created a princess (and prince) dress-up station using an inexpensive kid-size garment rack we found on Amazon, stocking our dress-up closet with tutus, wings, masks, capes, wands, crowns, and play jewelry like beaded necklaces, bracelets, and sparkly rings. The kids had a blast dressing up and everywhere you looked, someone was bouncing by in tulle and glitter.
And … BONUS … the girls are loving their new dress-up closet since the party!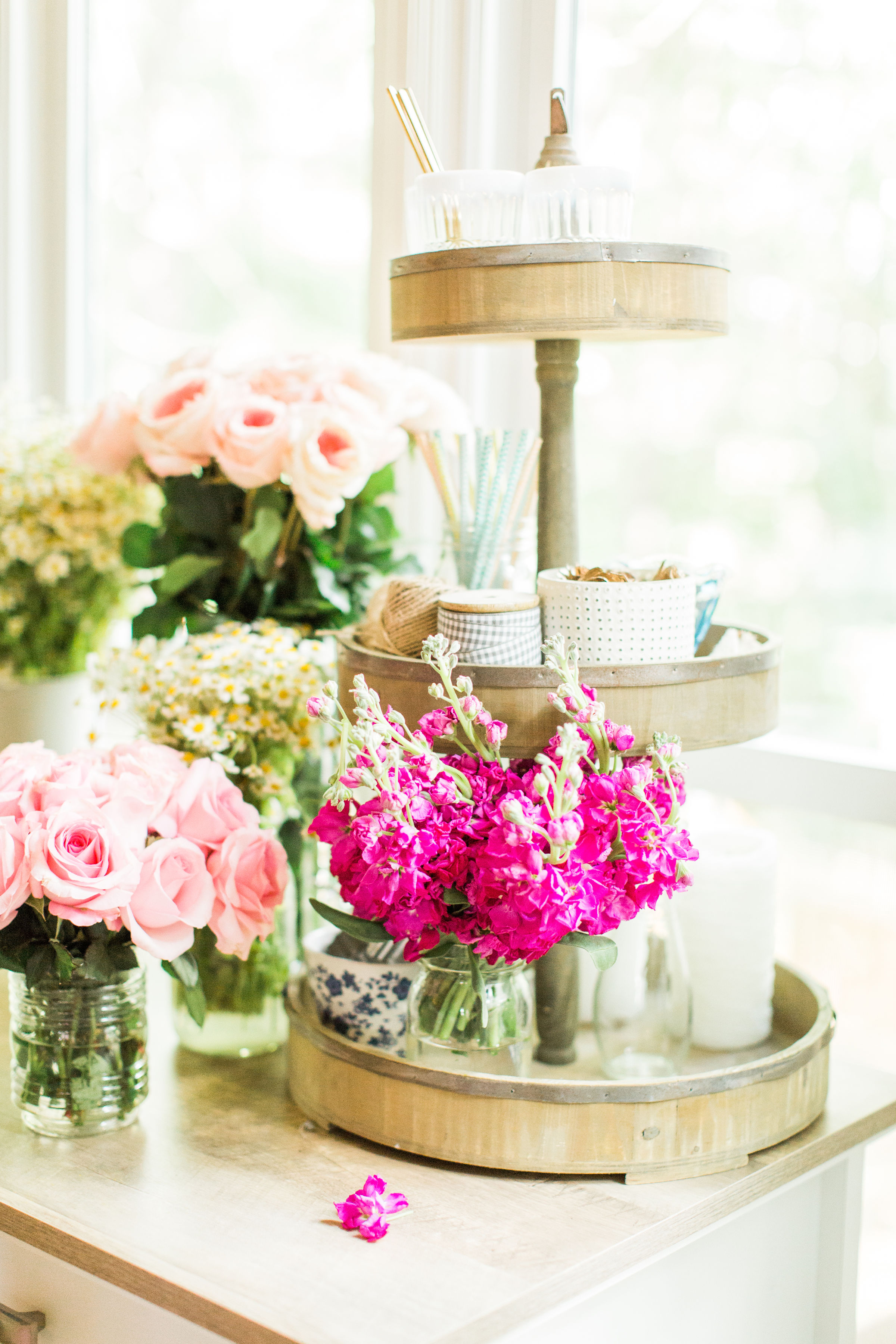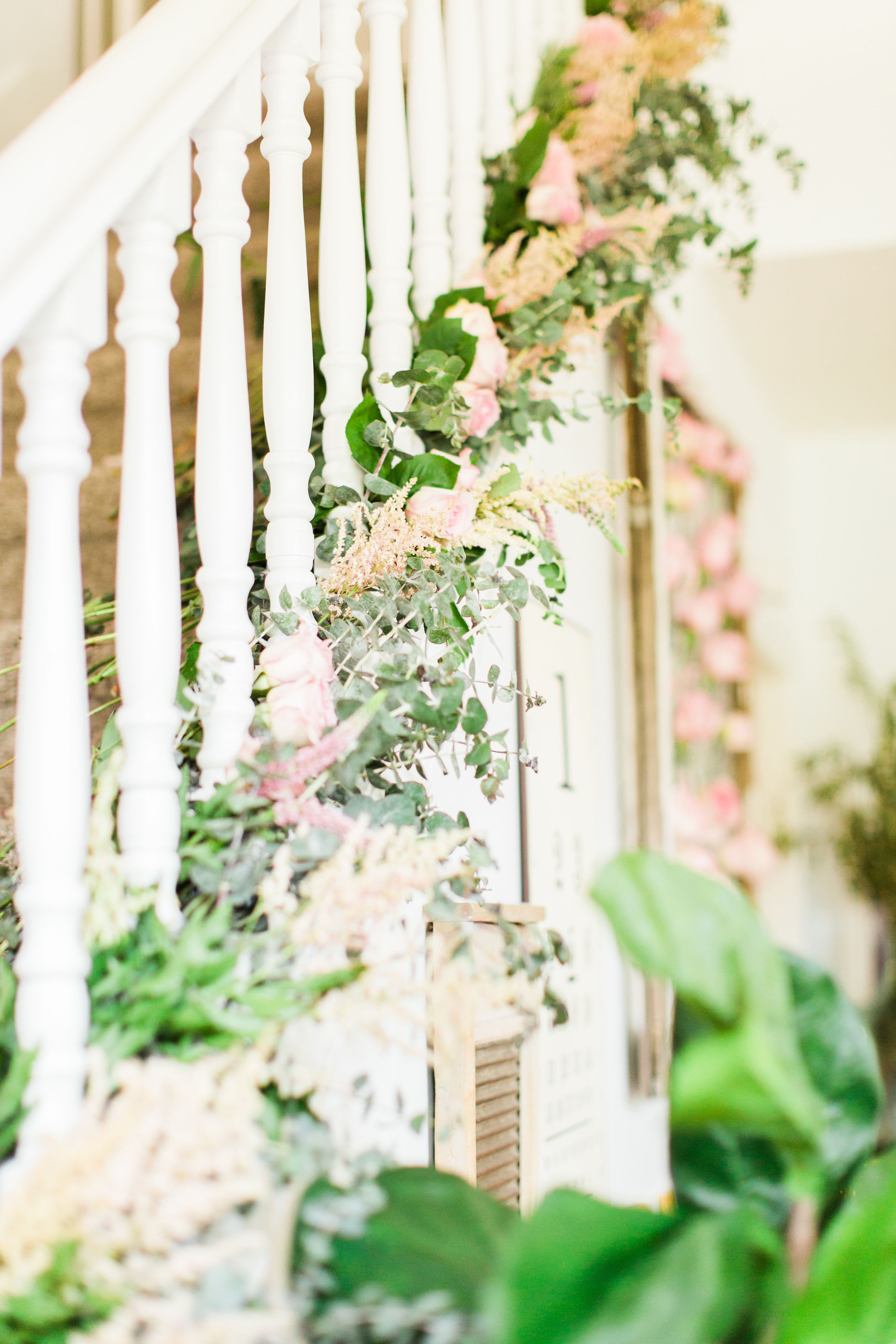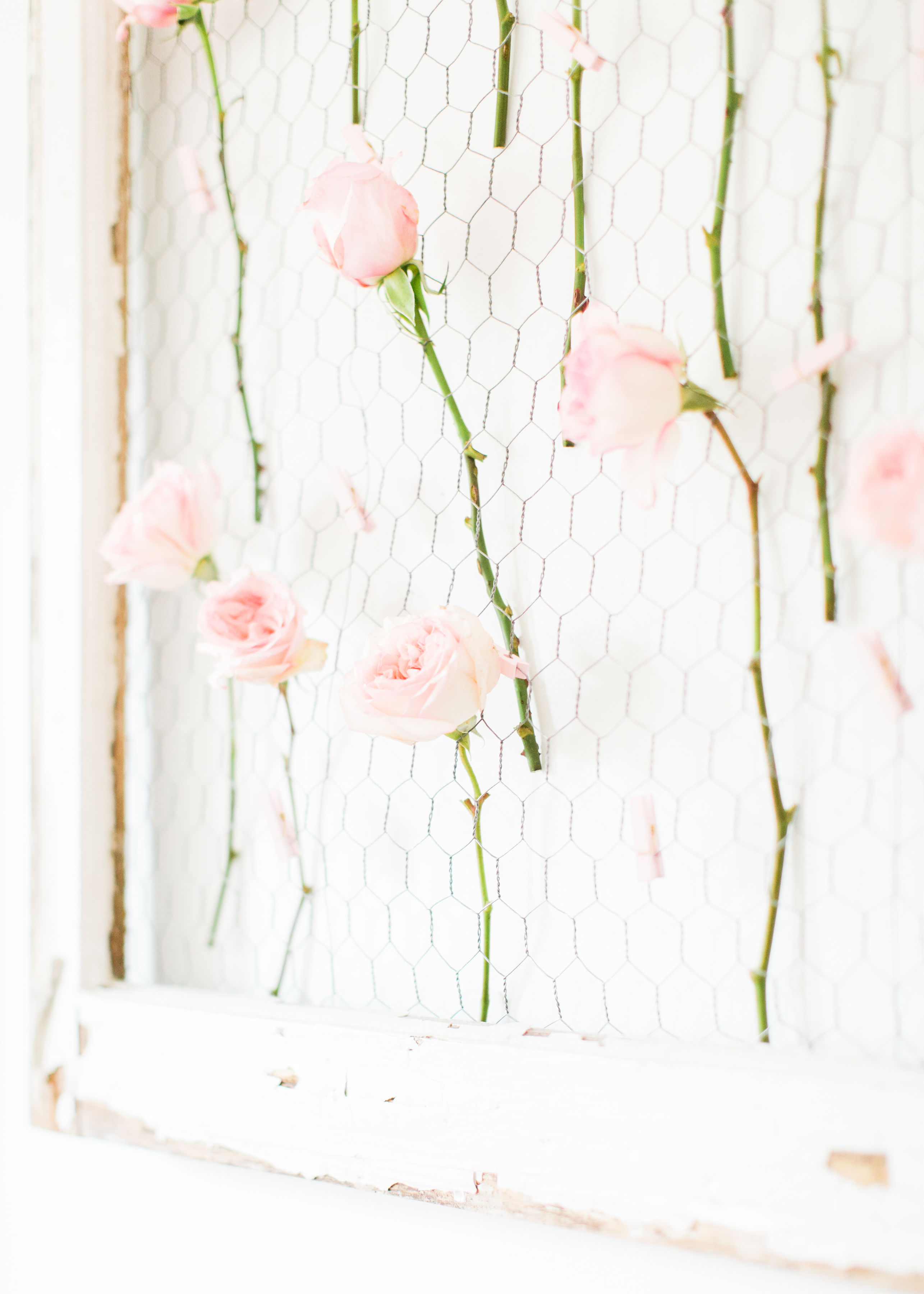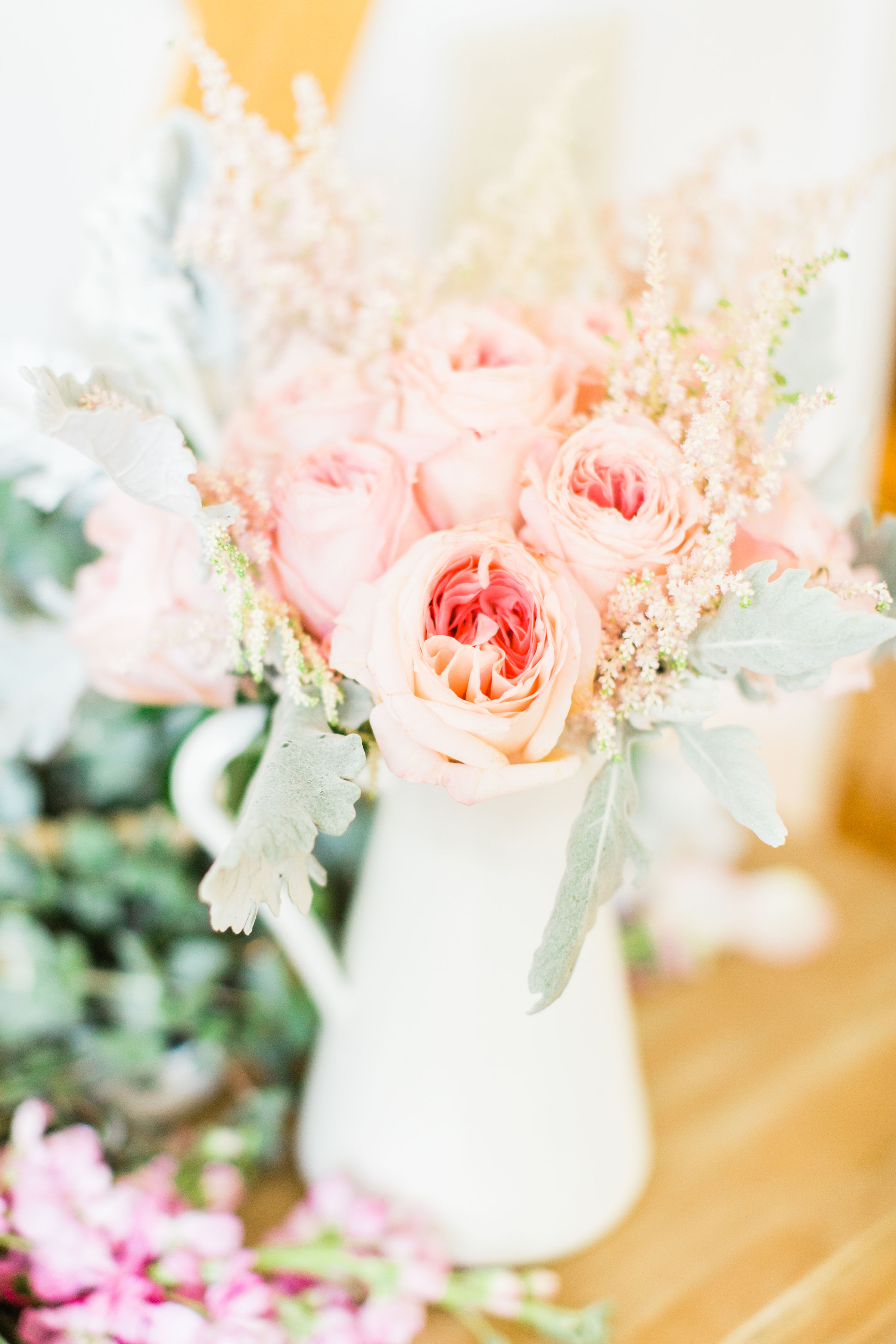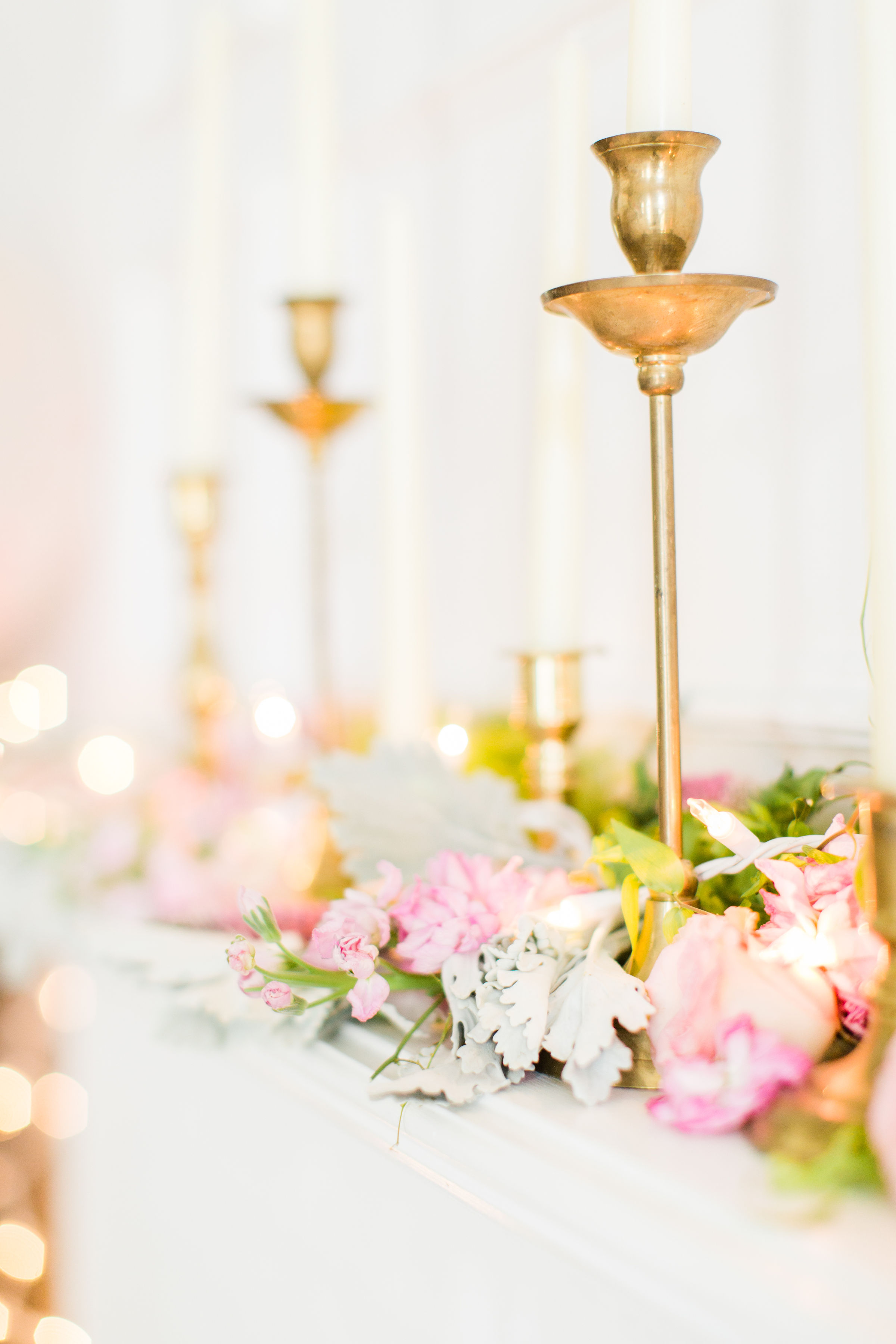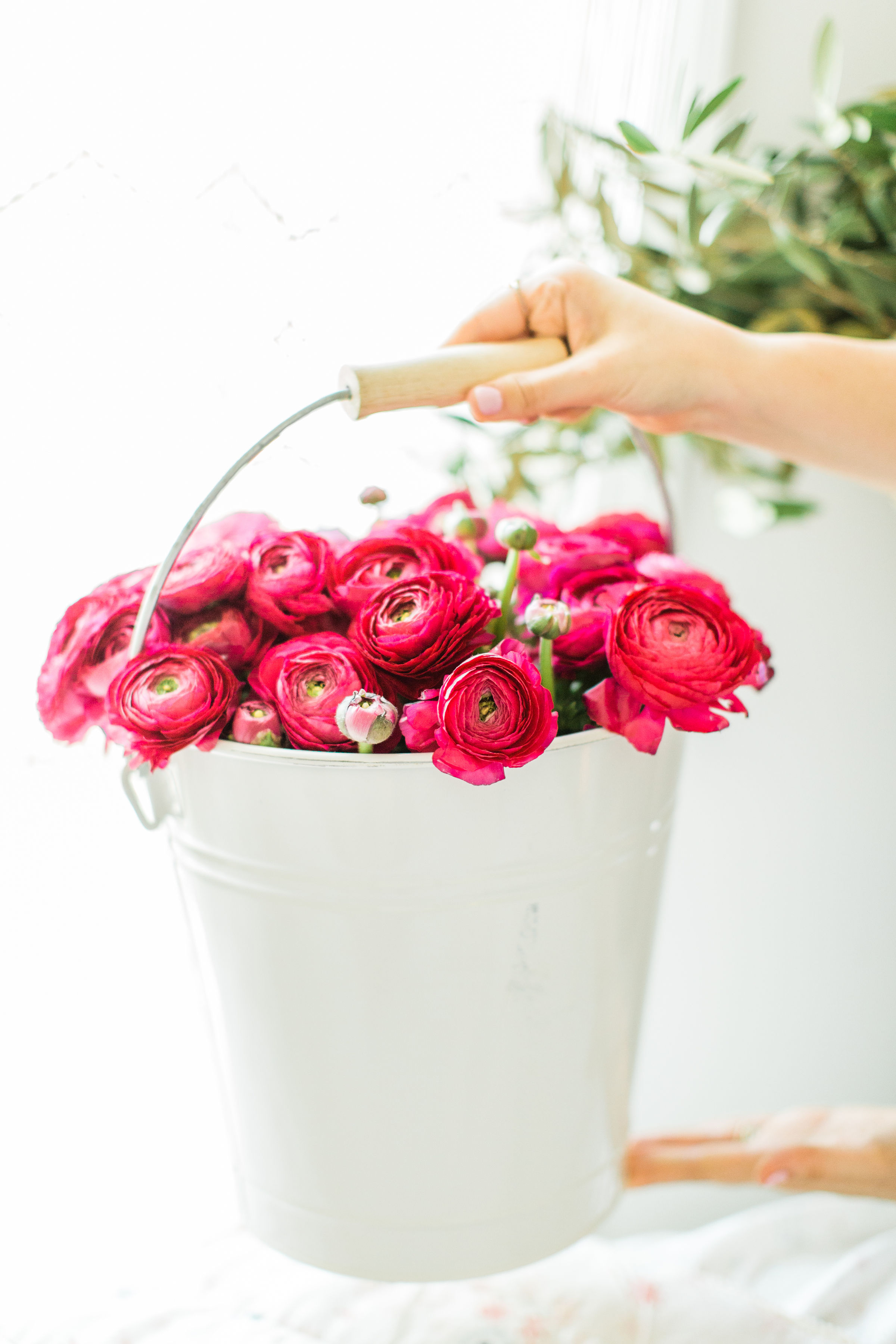 We lined every available space with beautiful blooms, including up the stairs, on the fireplace mantle, and on all of the counters and tables. Between the flowers and the giant gold pinwheels, even our fireplace got the glam royal treatment. Flowers totally make a party for me!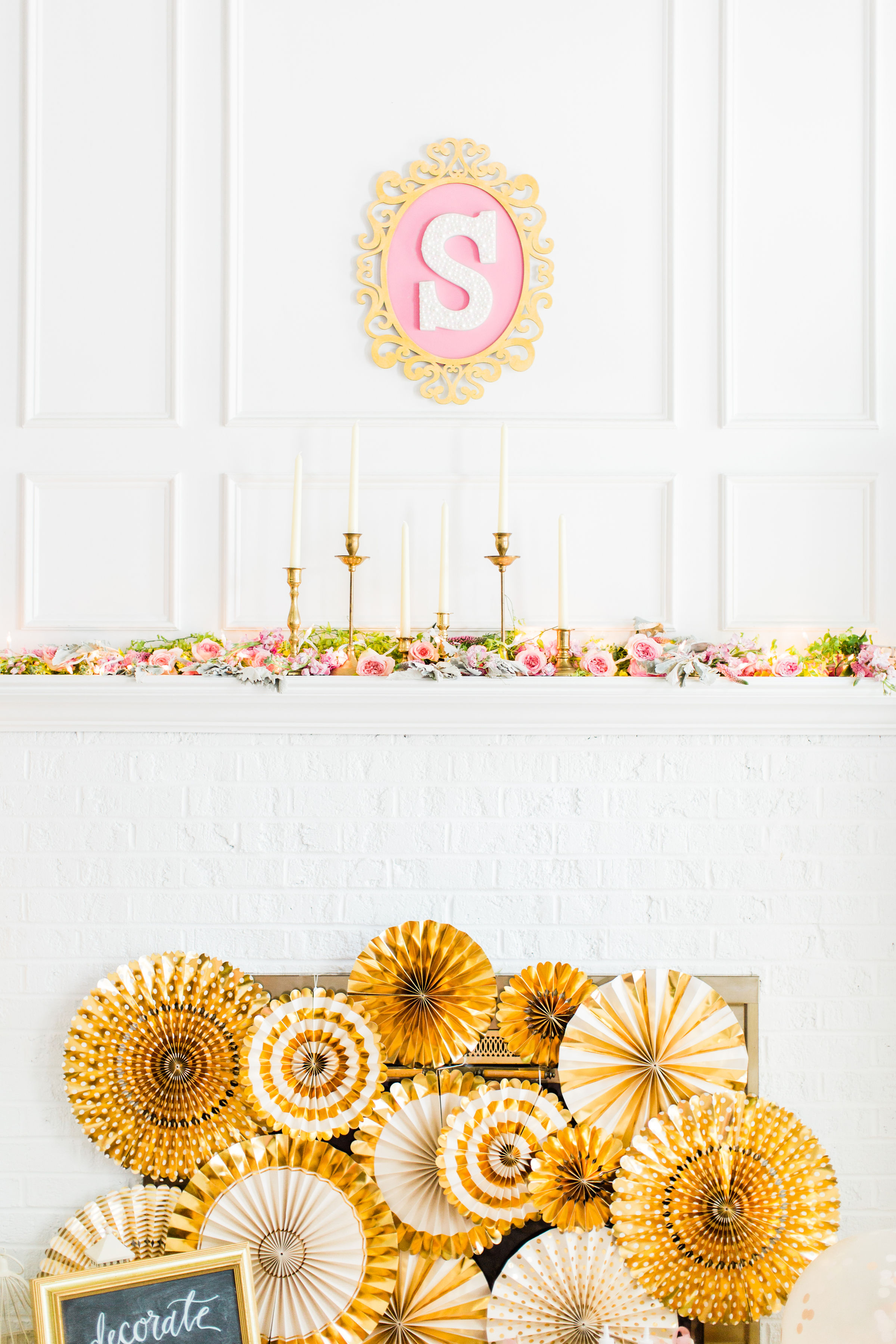 We also created DIY signs with the help of our amazingly crafty babysitter, Michelle; like the pearl "S" above the fireplace – perfect for Princess Scarlett, various pink and gold castles, and a pearl crown affixed to the dress-up station. There was a "pin the tail on the unicorn" game set up at the front of the room as well.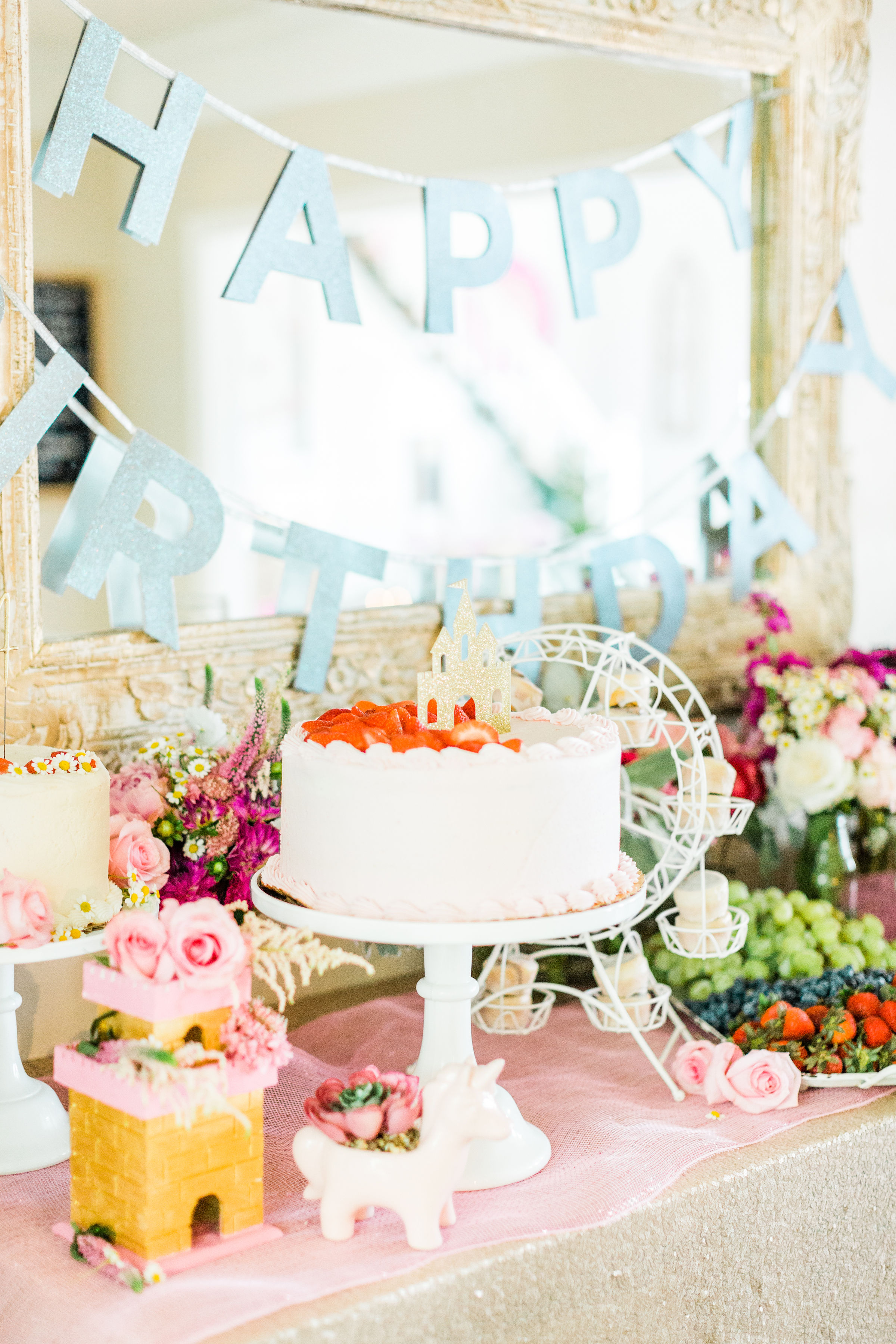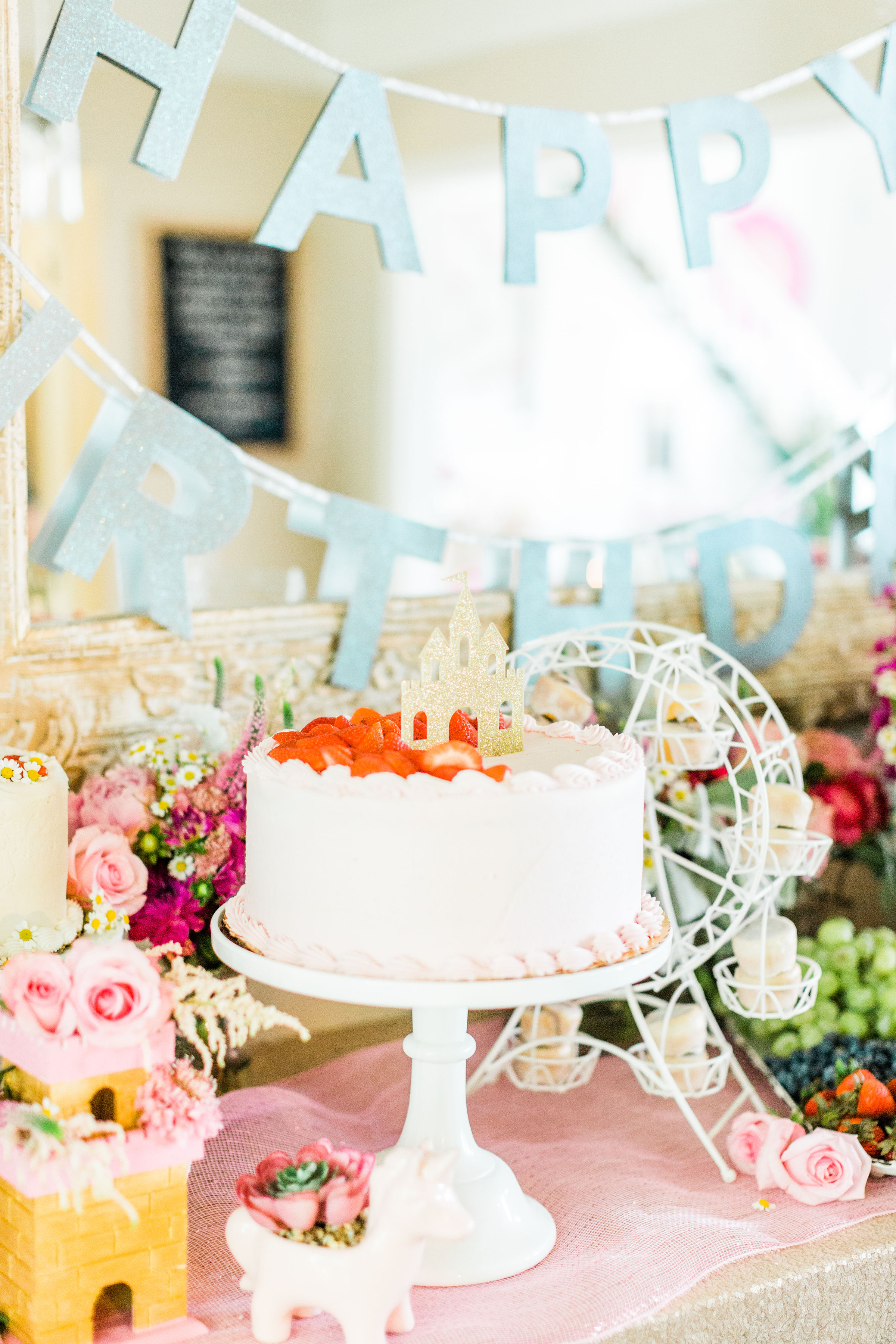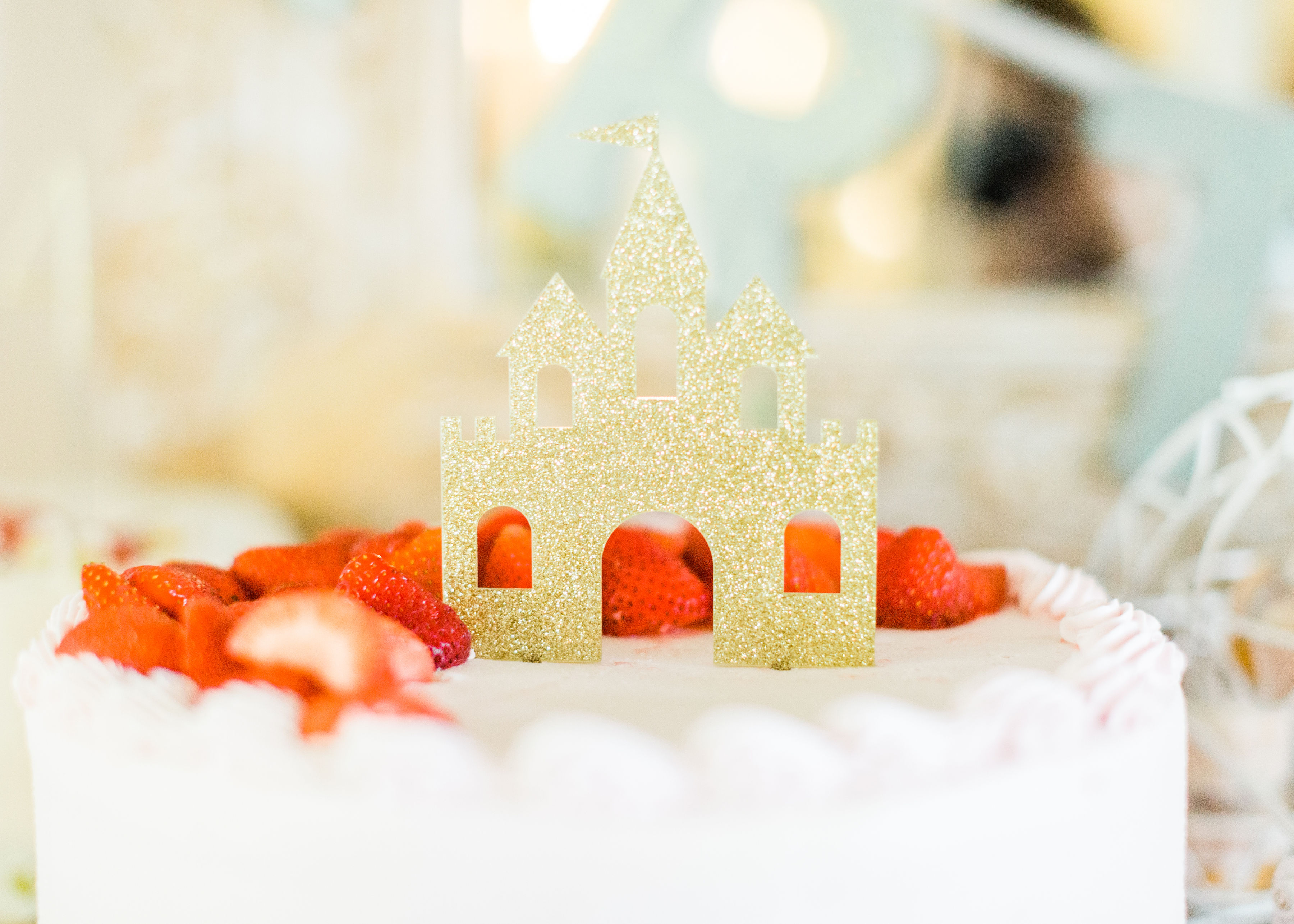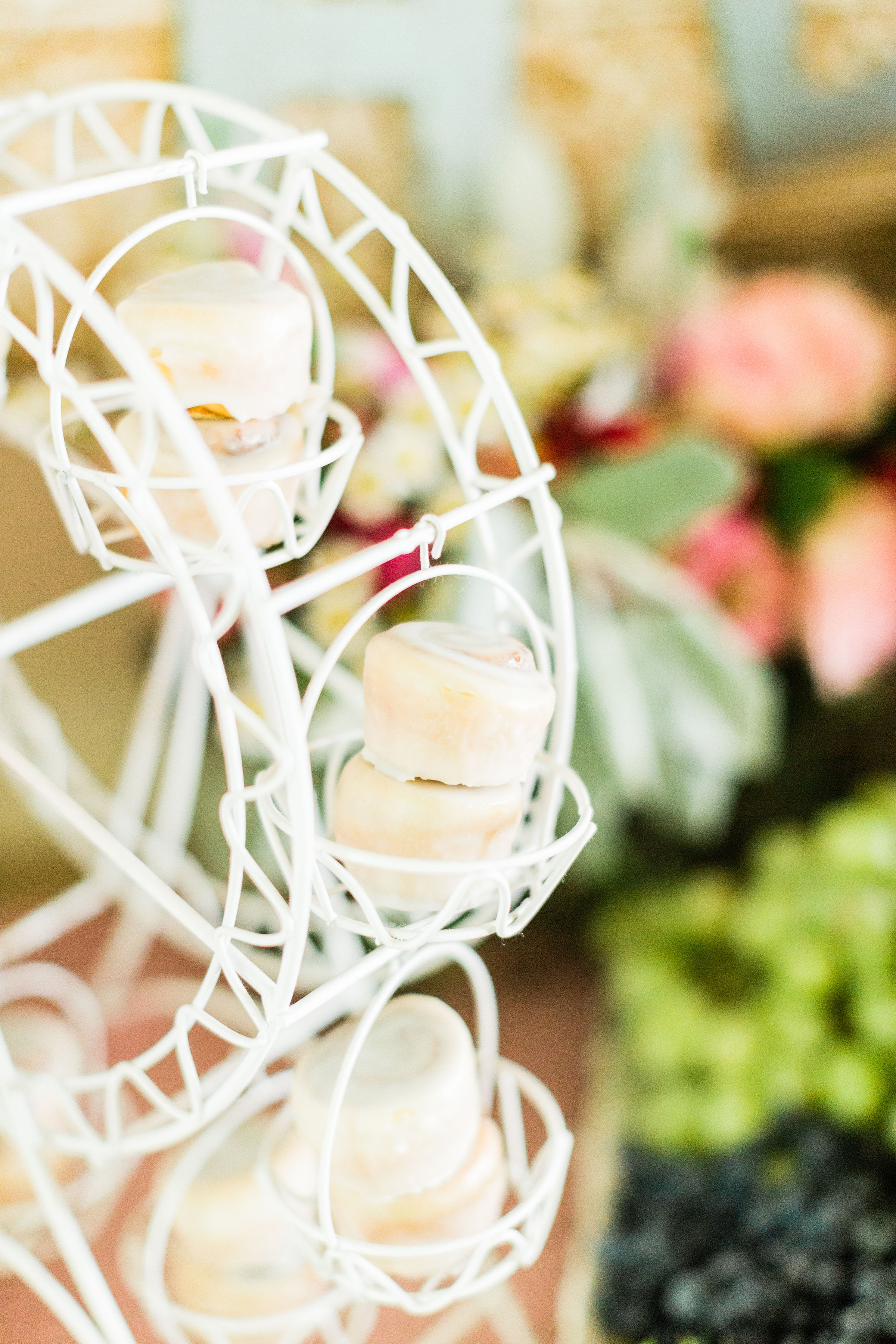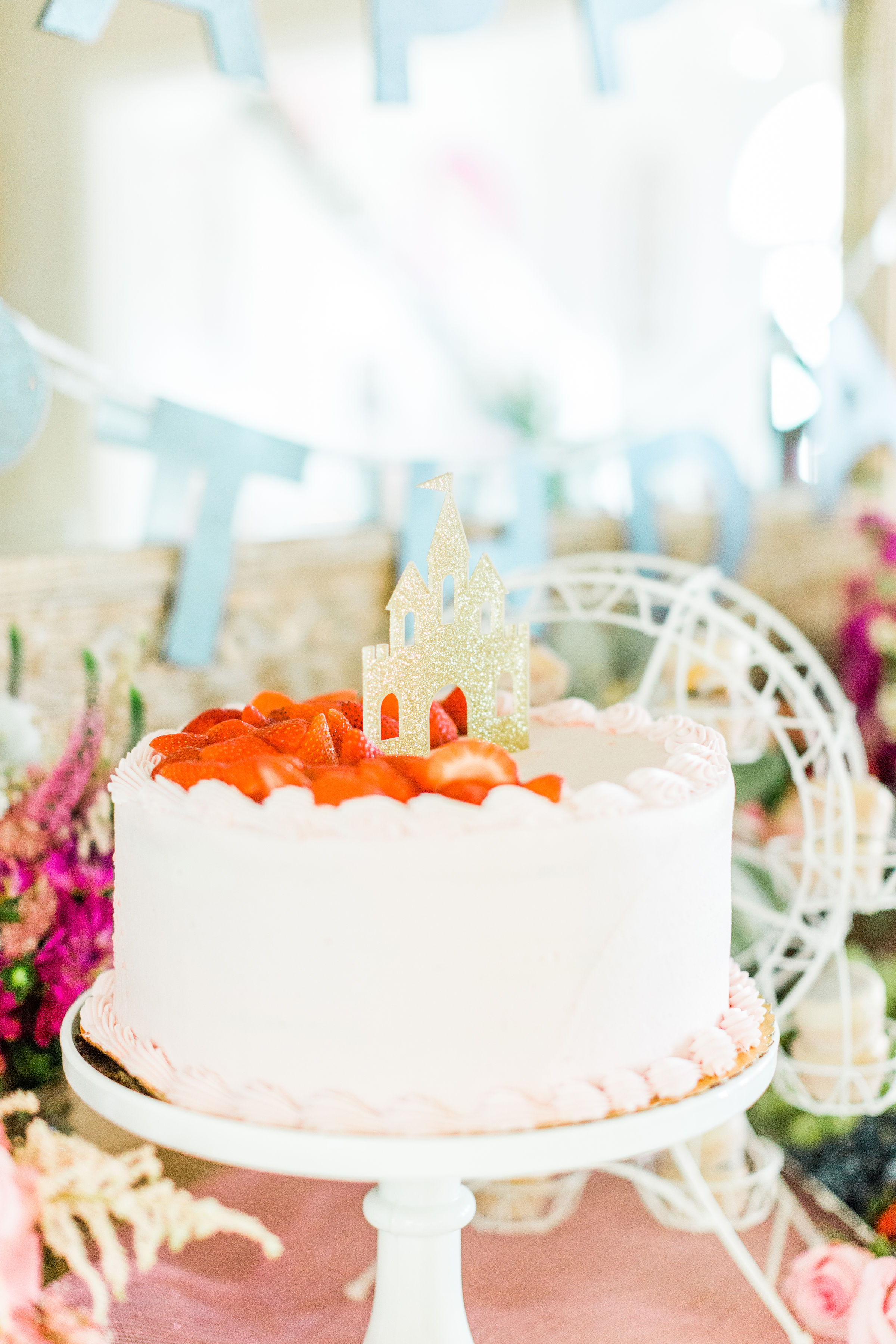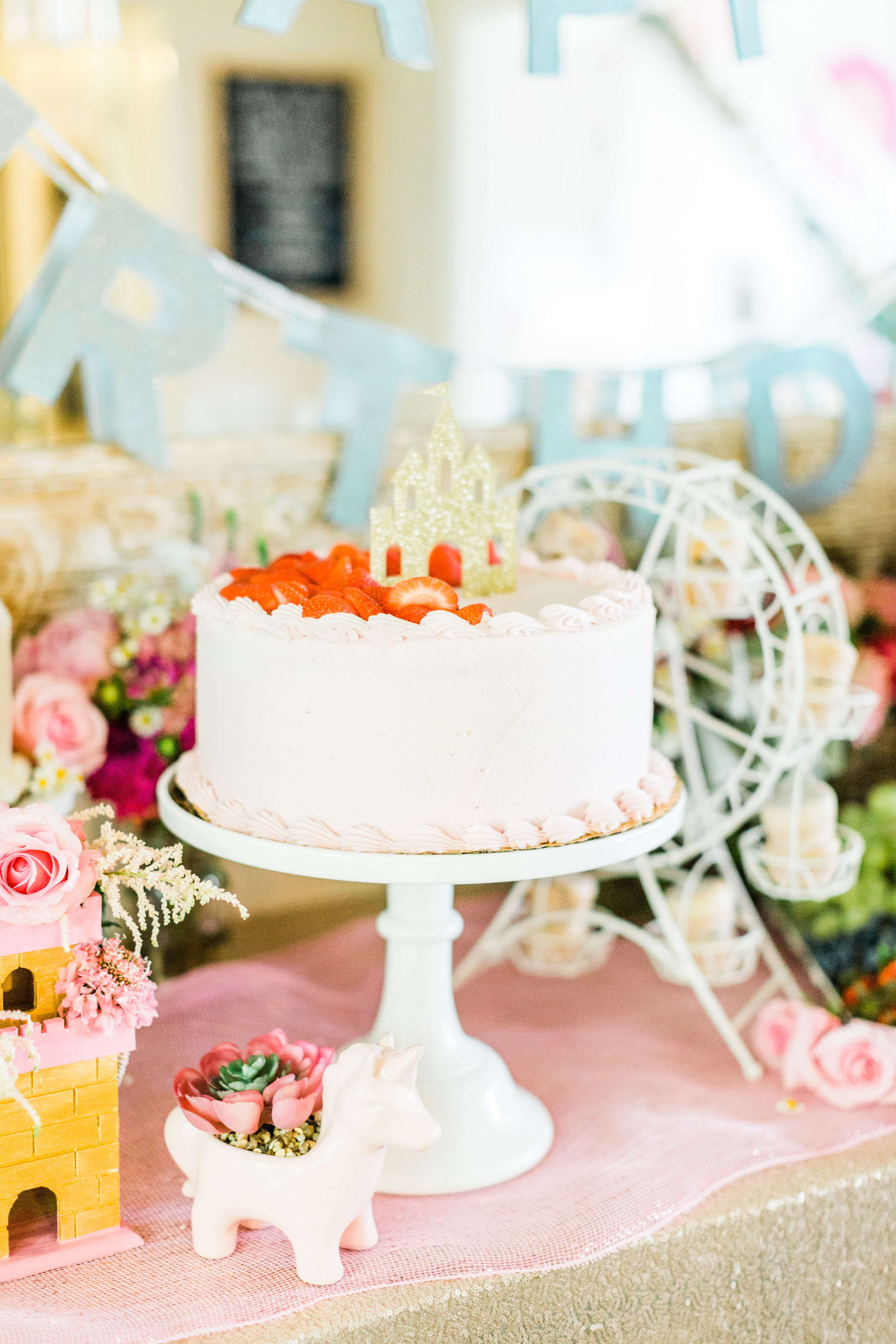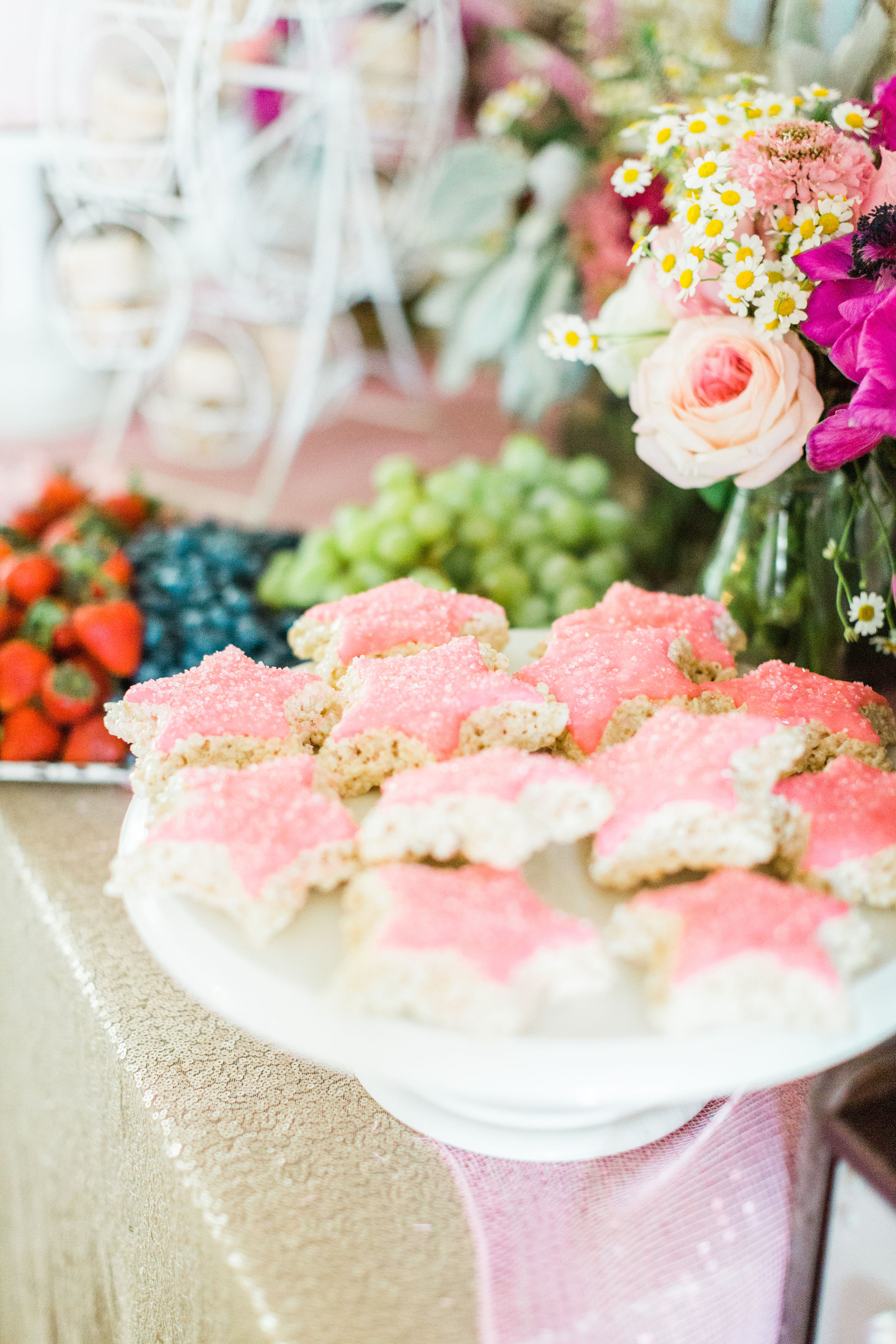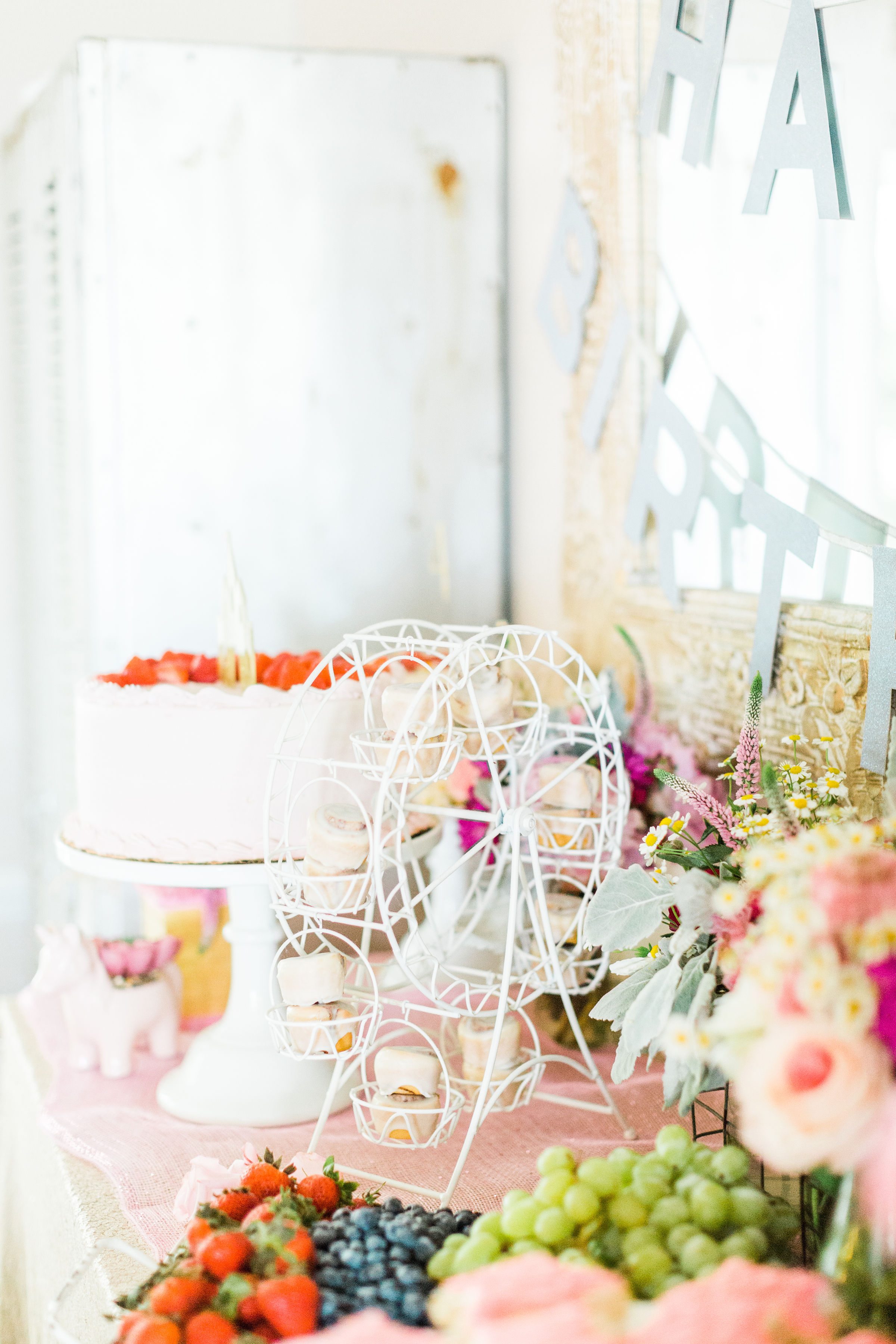 Fun Pajama Party Menu
Because we were channeling the best ever pajama party, the menu was a nod to brunch. We served pretzel bites, pigs in a blanket, mini quiche bites, cheese and crackers, artichoke dip and pita chips, veggies, and my mom's famous crème brûlée french toast casserole. The dessert station was stocked with two cakes – one chocolate and one strawberry, pink frosted star rice krispie treats, a carousel of mini cinnamon buns, cookies, a huge spread of fruit, and a unicorn for good measure.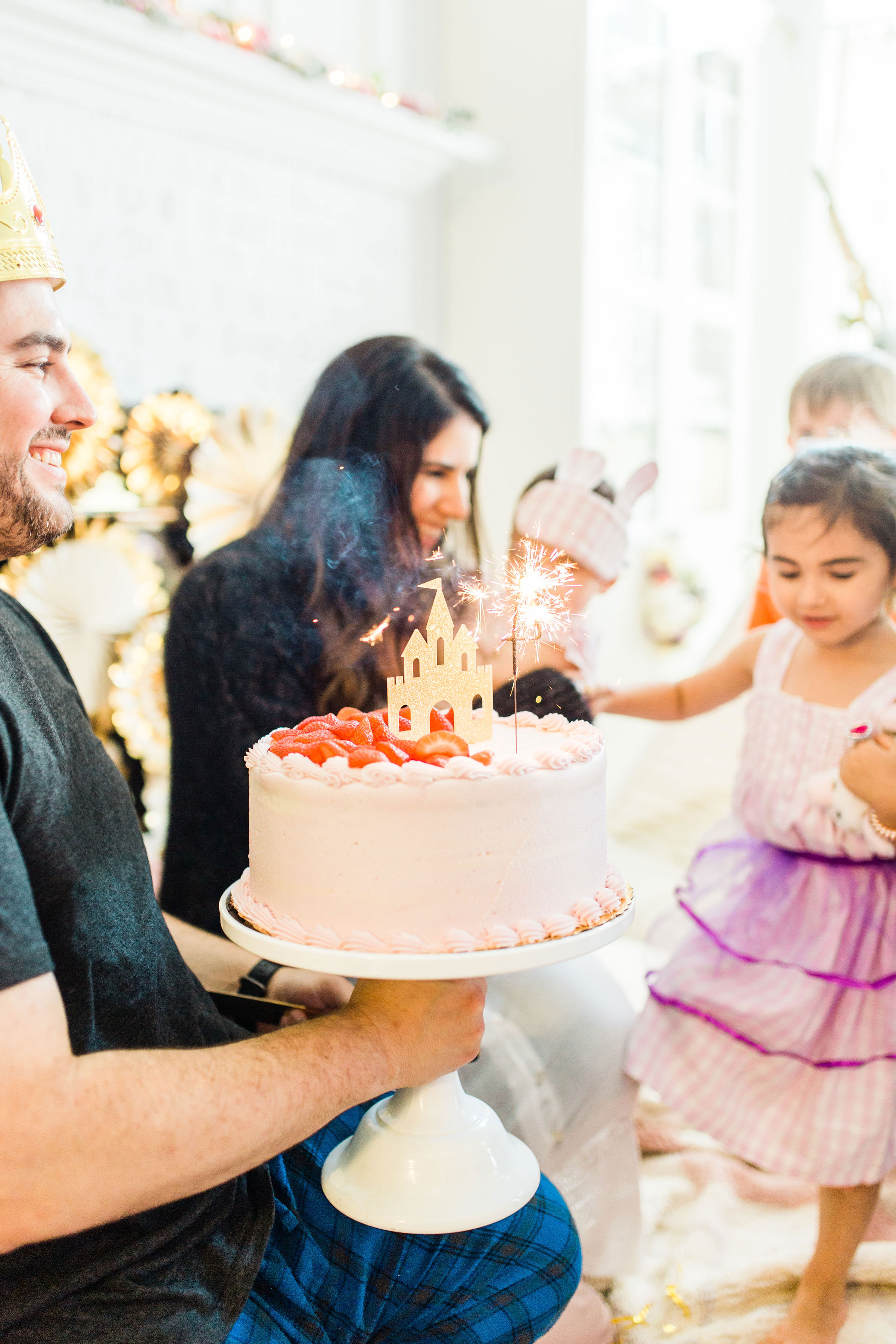 And of course, singing "happy birthday" with a "4" sparkler!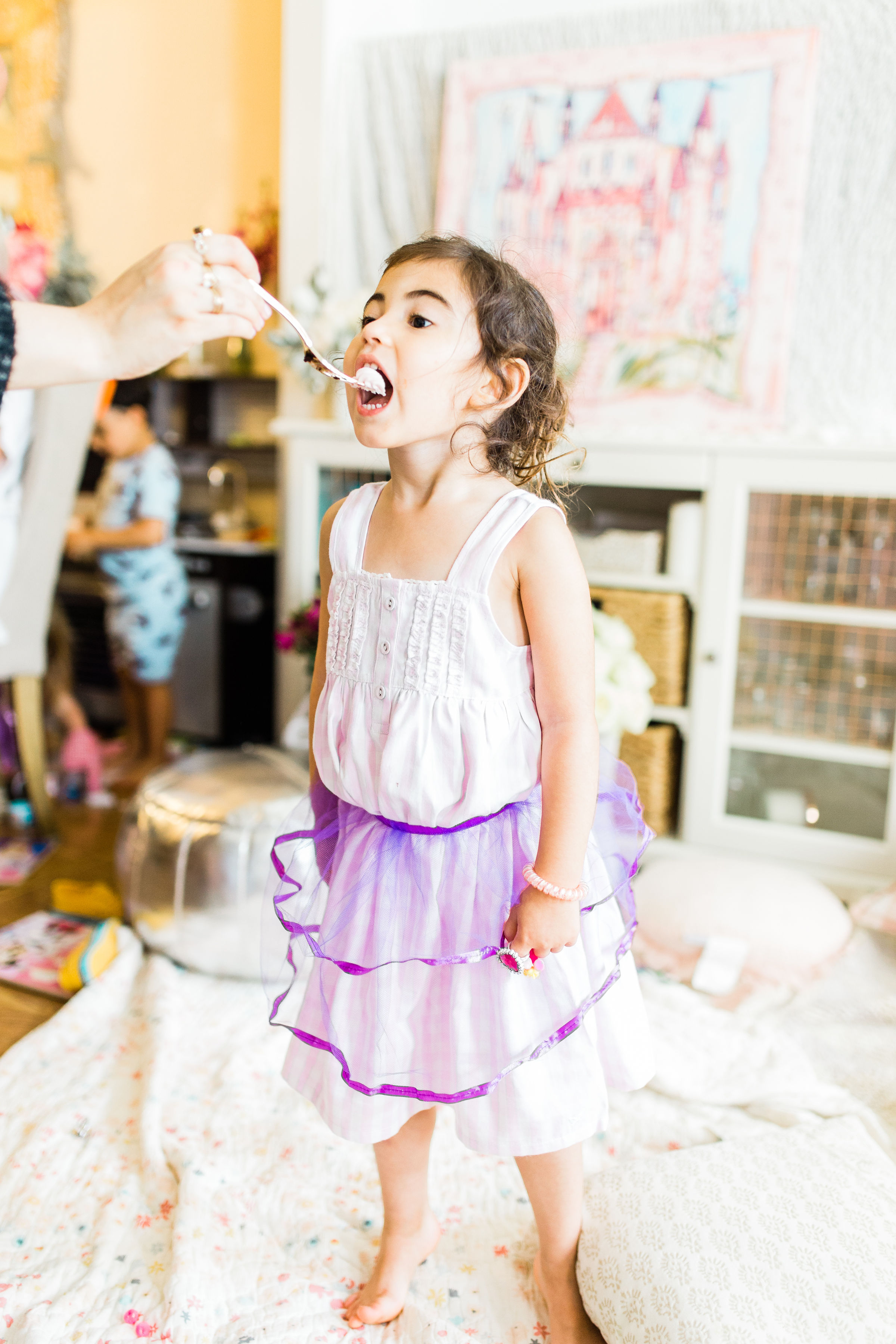 Vegan Whole Foods cake for the win.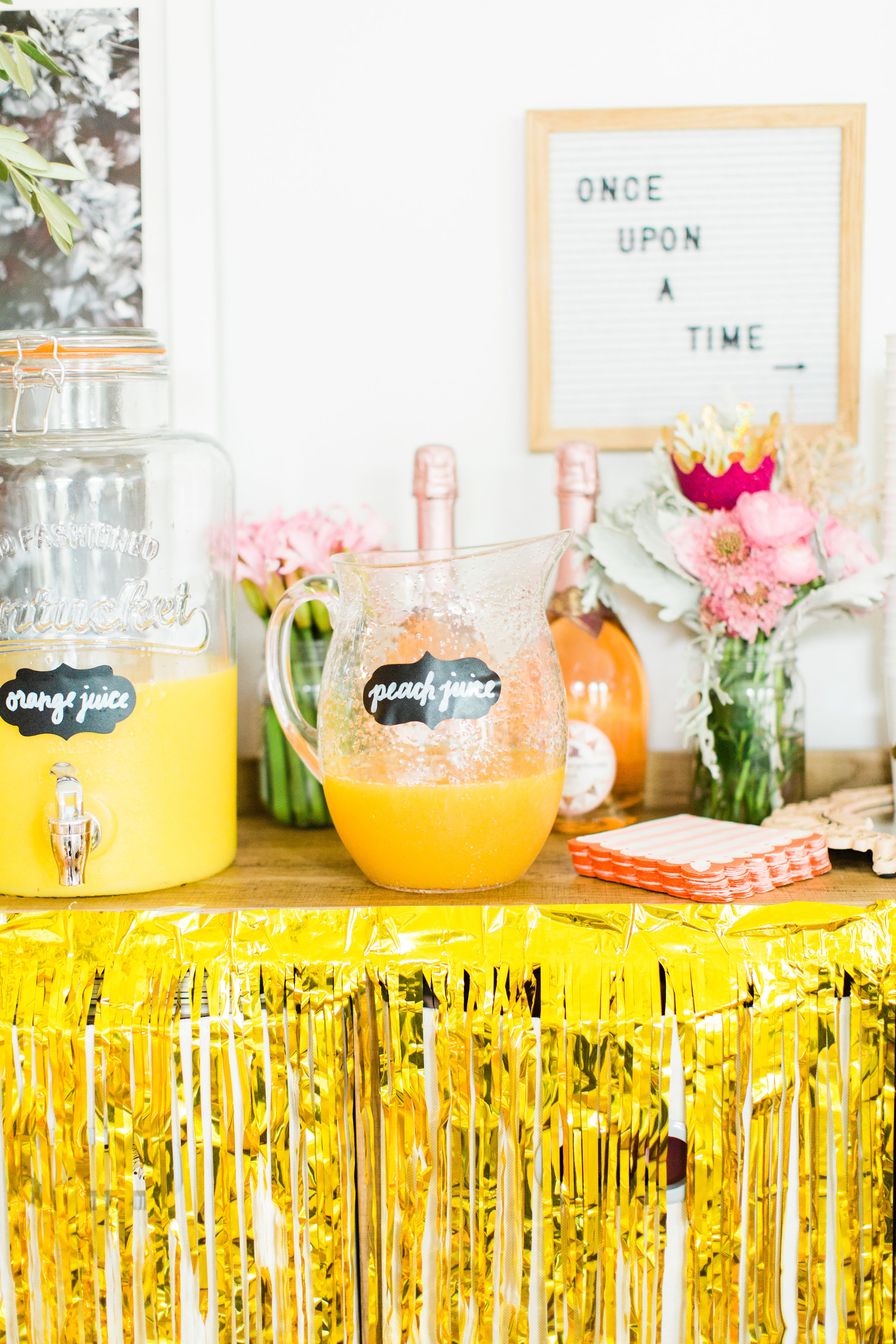 The grownups had their own "royal drink station" complete with everything they'd need to make mimosas and bellinis, plus craft beer and sodas. There were juice boxes and waters for the kids as well.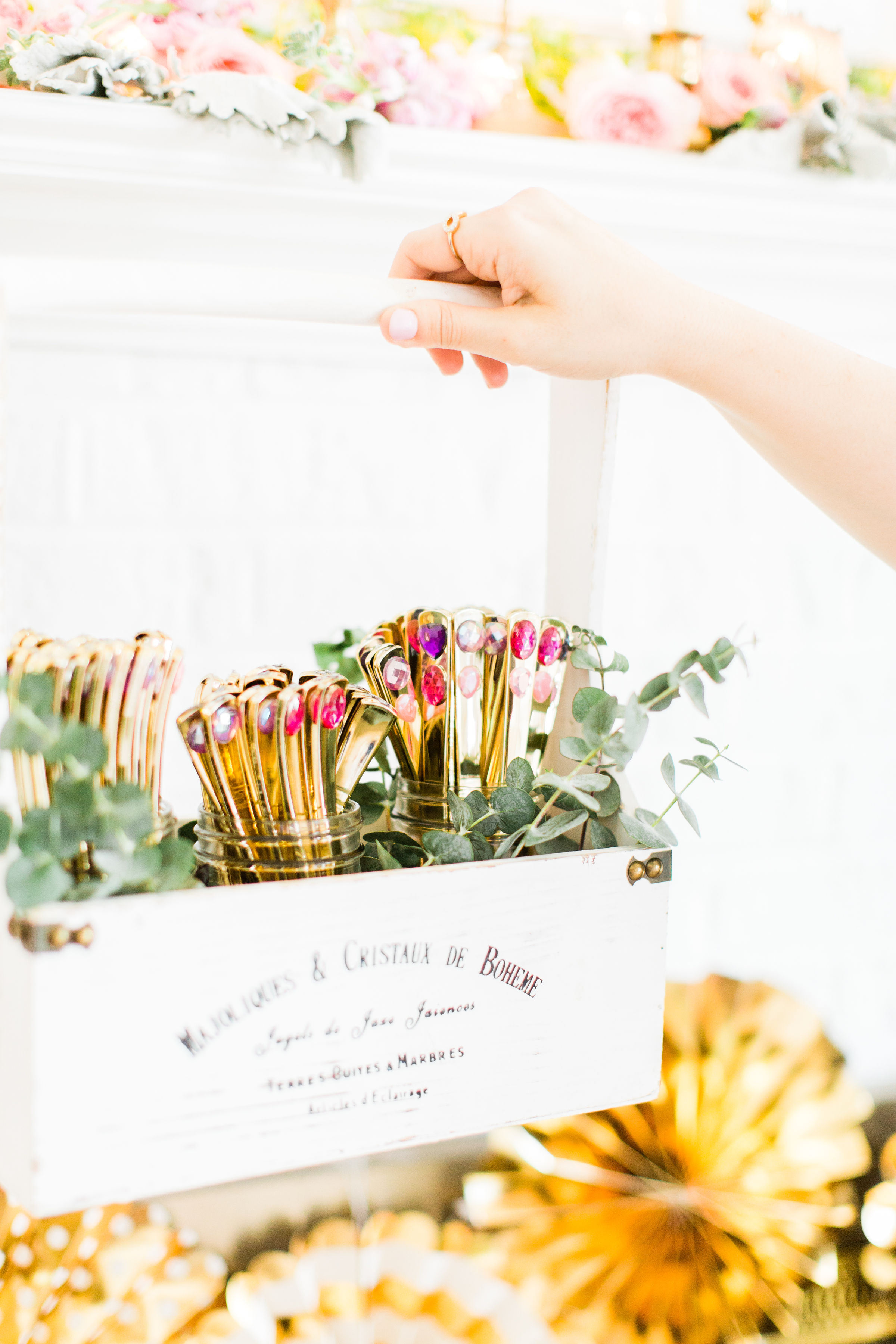 Even the gold flatware was decked out for the princess party. (Yep, I glued jewels to each and every utensil the night before the party. Whoops!)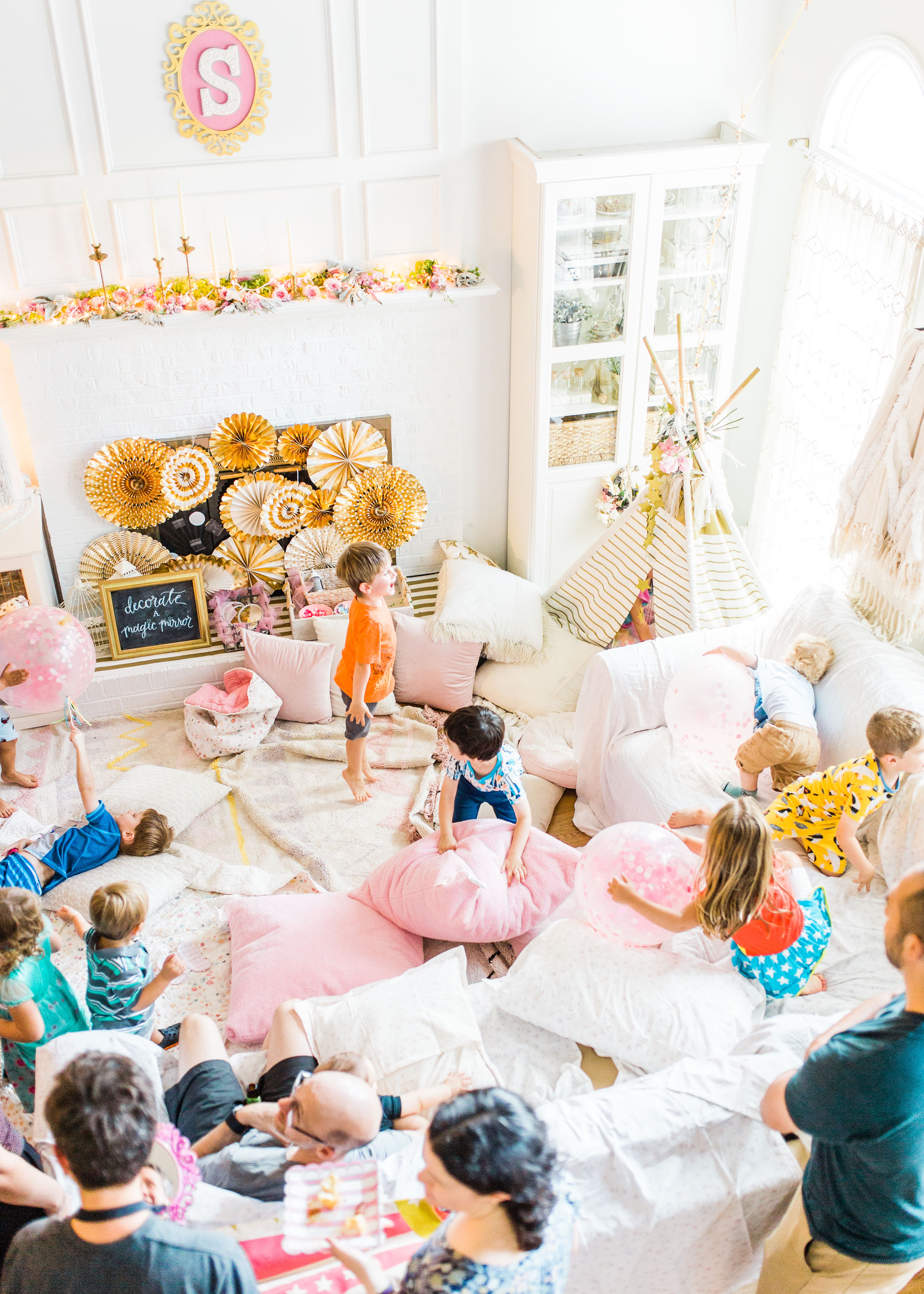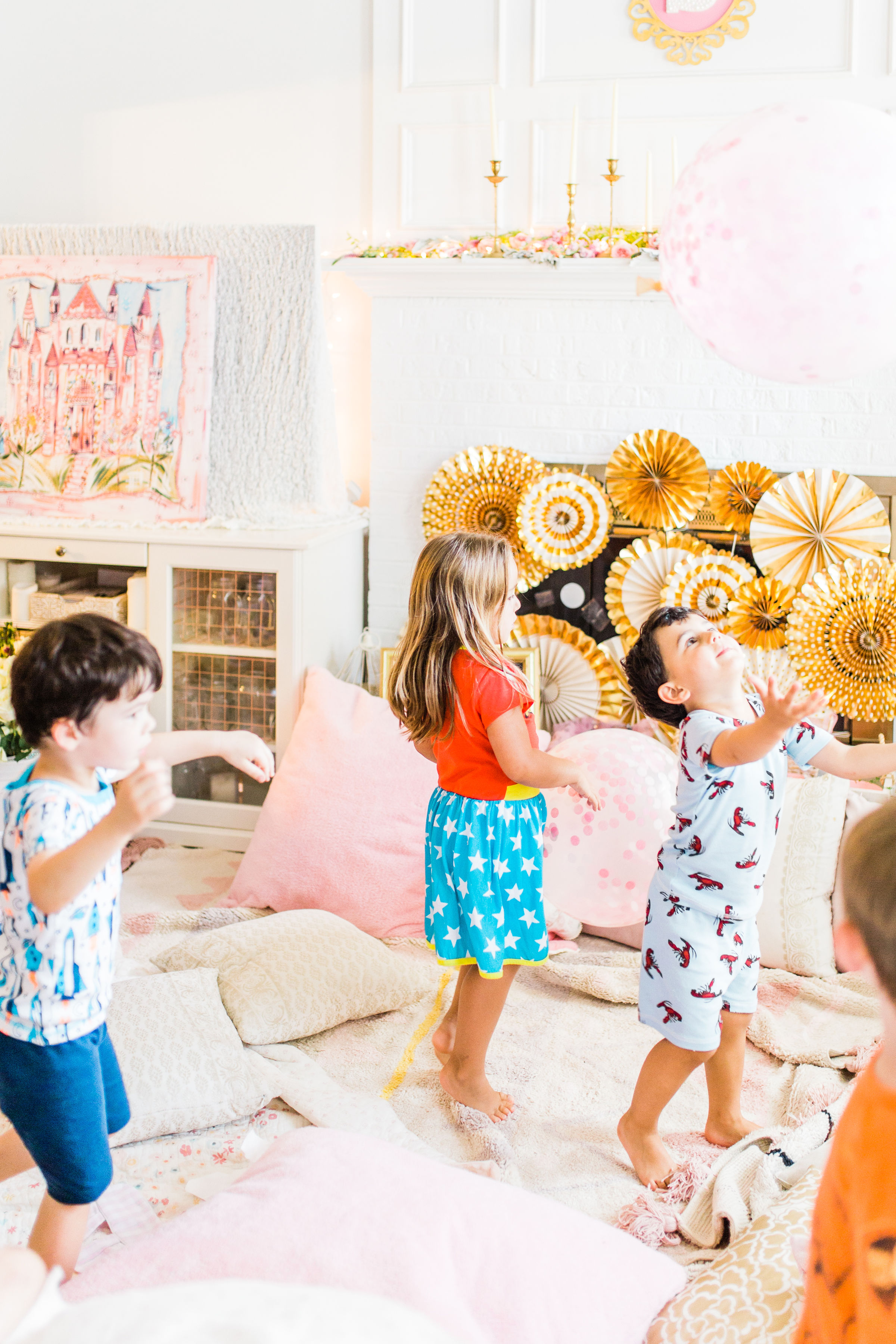 The party was a huge success, and the kids had such a fun time dressing up, creating magic mirrors, playing games, and bouncing from pillow to pillow in our giant slumber party room.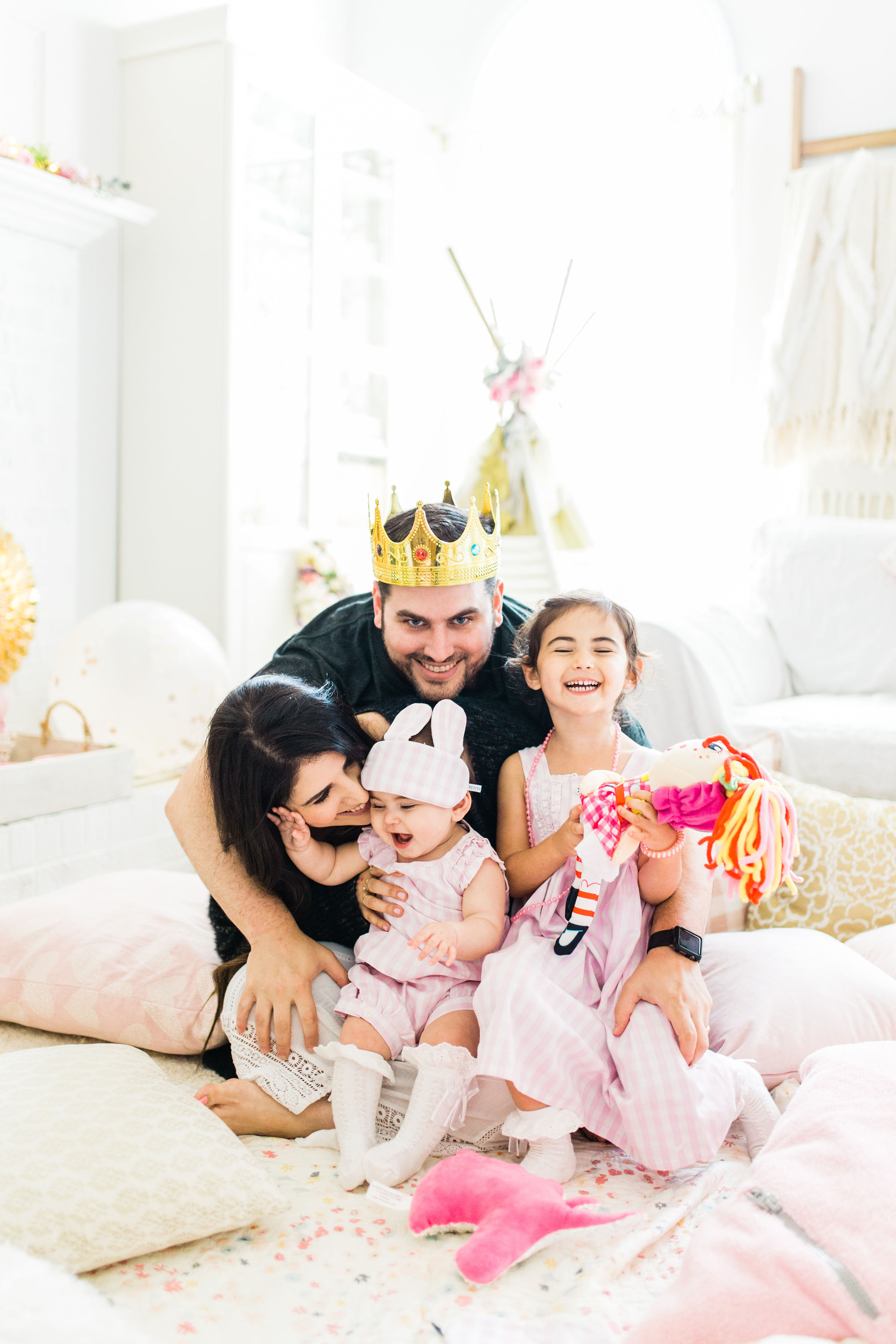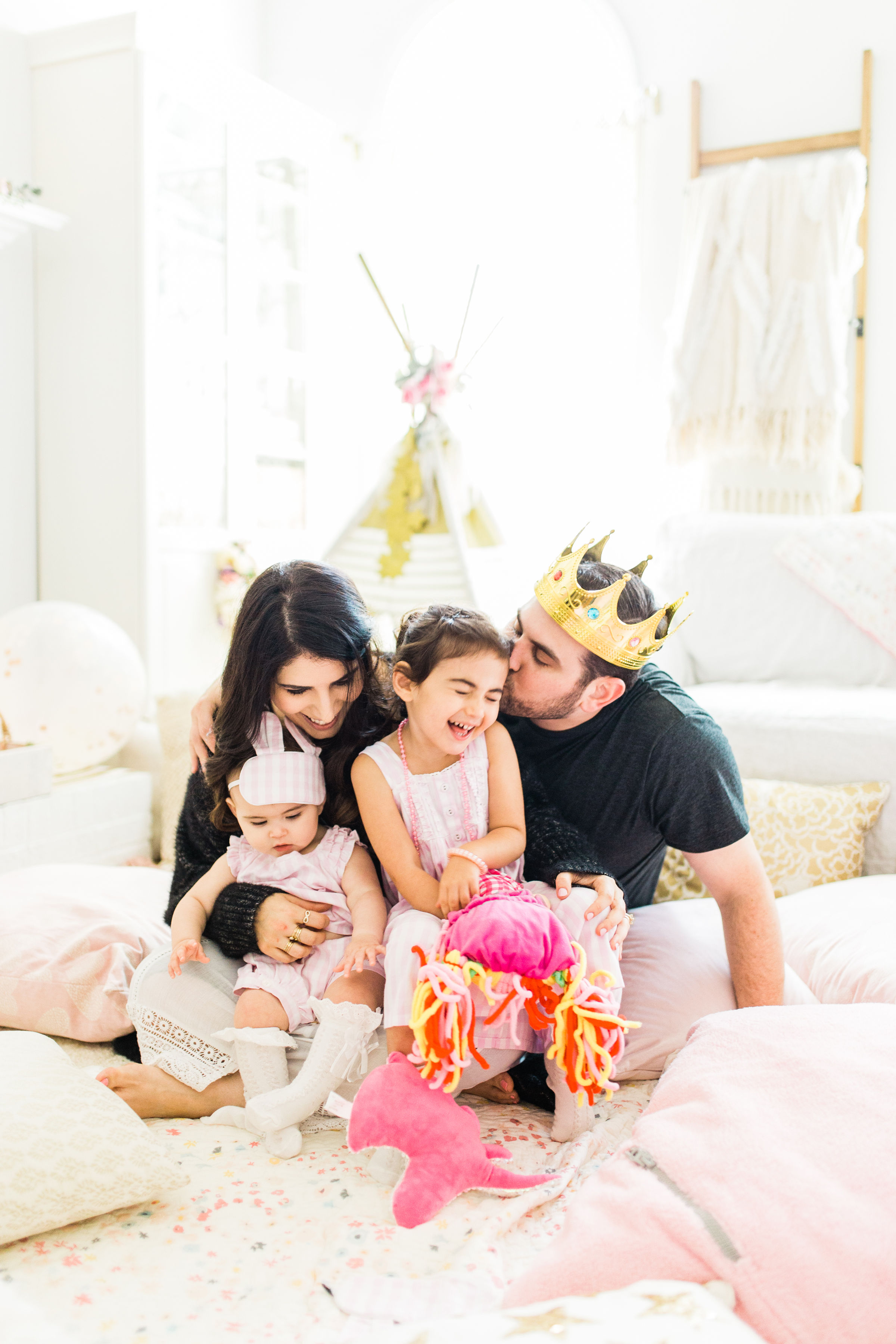 I am so in love with this little family of mine.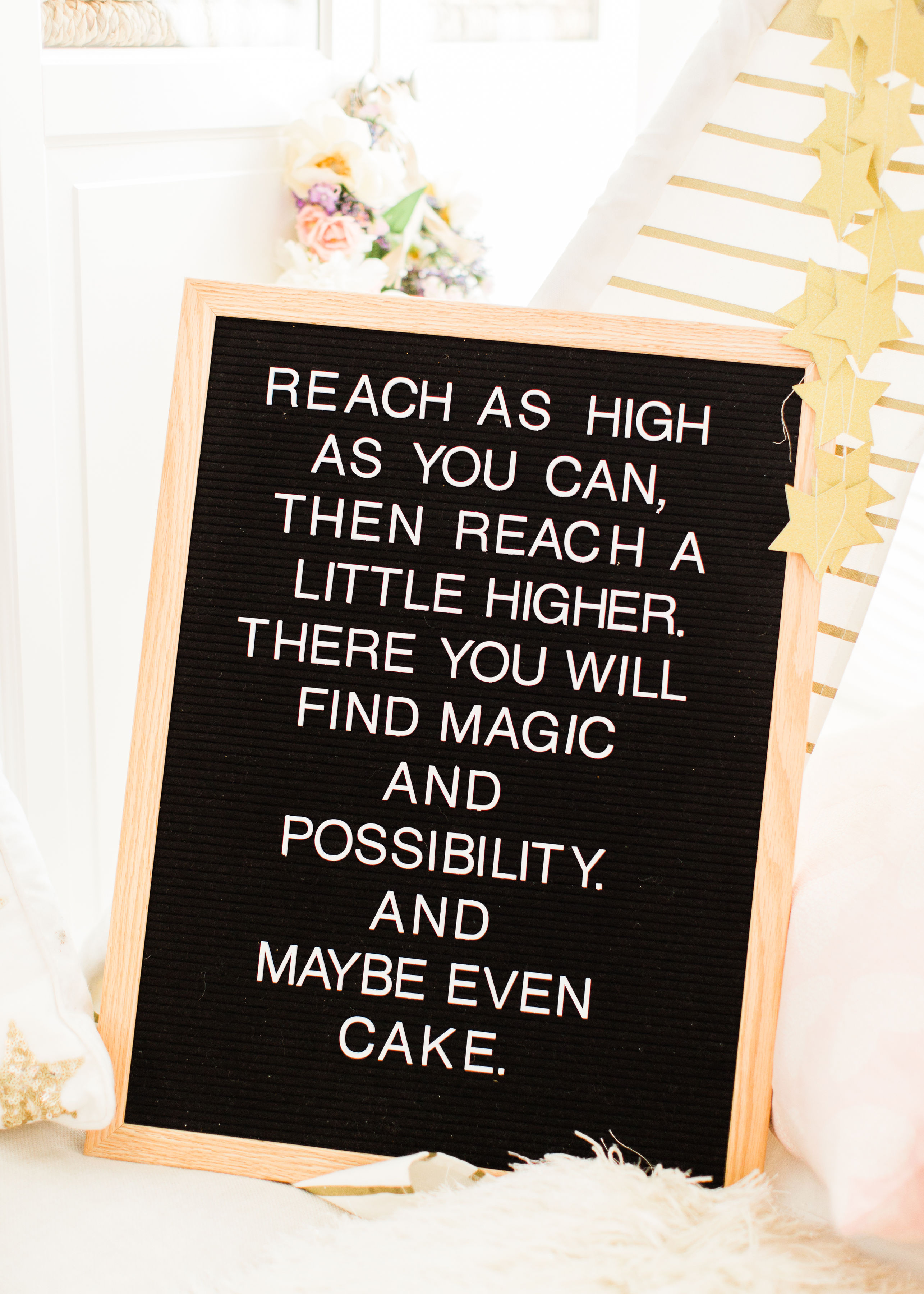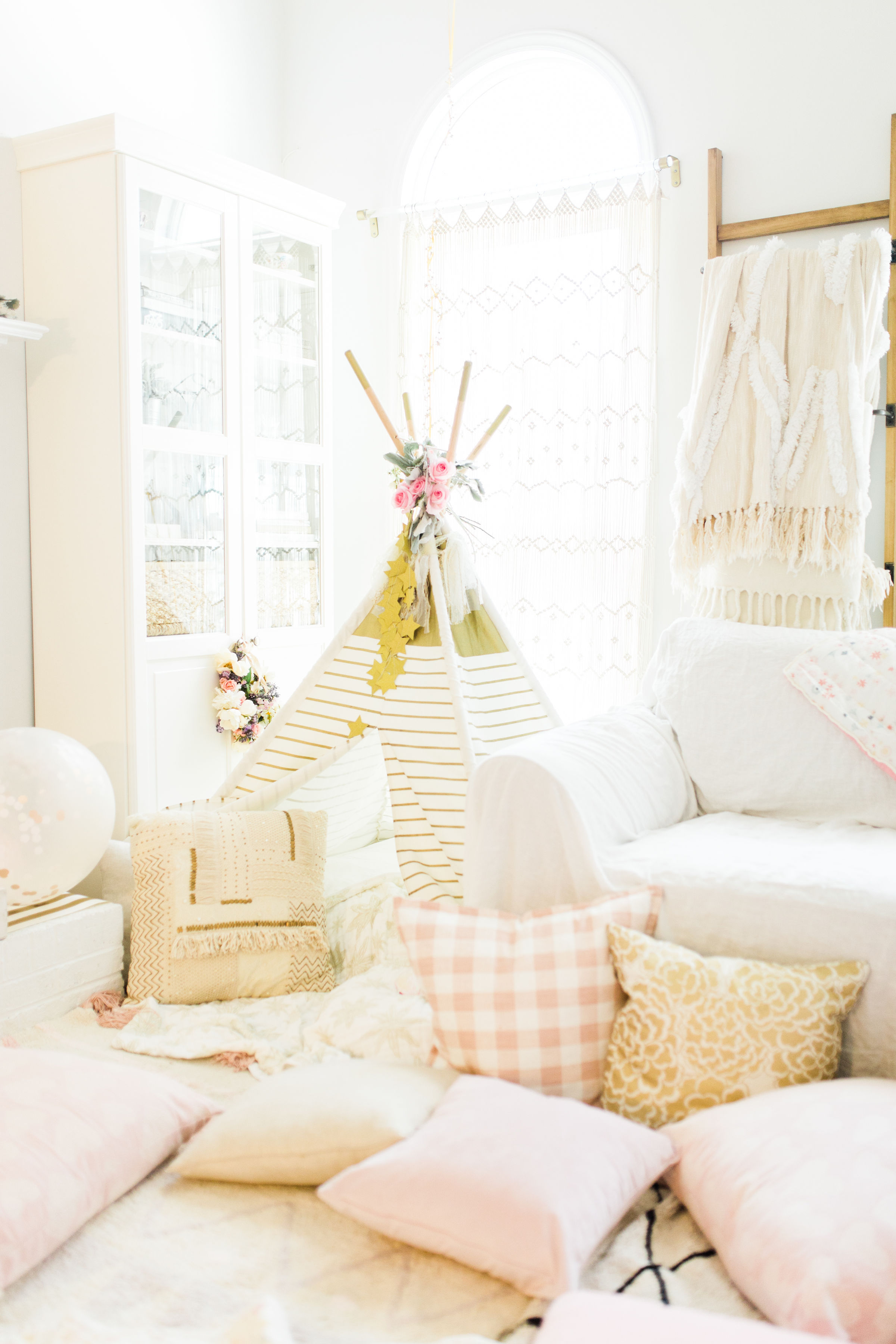 In case you really want to dive into all of the beautiful princess pajama pictures, I'm including a gallery below:
Huge thanks to Kara's Party Ideas for featuring our little princess's birthday party, Annie Timmons Photography for taking the most amazing photos (as always!), my hubby and Michelle (who are the best helpers a girl could ask for!), and Fifty Flowers, Maisonette, Swoozies, Santa Margherita, and Lorena Canals who provided so many of the beautiful supplies to make our party extra special!
Photographer: Annie Timmons Photography // Planner/Designer: Lexi Holzberg Kritzer of Glitter, Inc. // Flowers Provided by Fifty Flowers // Girls' Petite Plume Pink Gingham Pajamas and Bunny Eyemasks, Lovelane Flying Super Hero Set, Petit Pehr Blankets and Storage Floof Floor Pillows Provided by Maisonette // Plates, Napkins, Balloons, and Party Supplies Provided by Swoozies // Wine Provided by Santa Margherita // Rugs Provided by Lorena Canals