When registering for our own wedding, my now-husband and I scratched our heads over what to buy.  My grandma insisted that fine china was a must – but never, not once, have we used the fancy dishes.  My mom kept suggesting practical things like serving spoons and cheese graters.  We were also moving into a new place, and more than flatware and vases, we wanted a new duvet, a great rug, and maybe a bit of spending money for our upcoming honeymoon.
In comes Wedding Republic.  Wedding Republic is an online registry that allows you to quickly set up a customized wedding registry, full of the gifts that you really want.  With Wedding Republic, you can add anything; your house down payment, honeymoon, your favorite wine or charity – or just register for cash, it's up to you.  Nothing is off limits.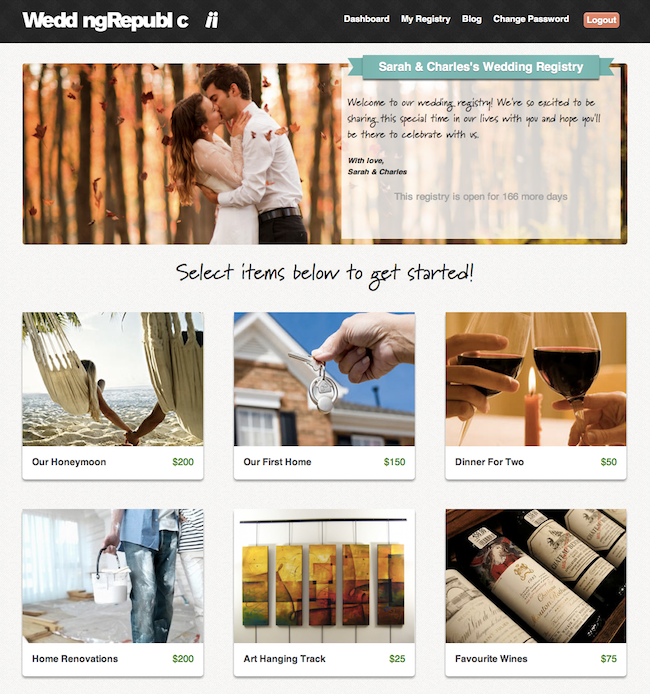 Plus, they offer a Wedding Registry Guide with everything you need to know about setting up your registry, communicating with guests, and wedding registry etiquette – seriously helpful when you haven't a clue how or where to get started.  You'll even have access to your own personal registry consultant that can answer any questions or concerns you might have about the process.
Creating your registry is easy, just add items from a gallery of gift suggestions or add your own gift ideas. Every gift is customizable, so you can add your own price and description, giving it that personal touch your guests will love. With Wedding Republic's signature puzzle piece feature, you can break apart expensive gifts, say your trip to Italy, into smaller, affordable pieces so guests can each contribute to a portion of the trip.  (Read more about how it works here, and check out a sample wedding registry here.
Since Wedding Republic is a cash wedding registry, you don't have to worry about return policies, shipping charges or multiple trips to the store – you simply collect the cash value of your registry through a pretty user interface that both you and your guests will love.
Seriously wishing Wedding Republic was around when the hubby and I registered? Oh yes.
Create your Wedding Republic registry today!
*Disclosure: This post was sponsored by Wedding Republic. All opinions are my own.