This post contains affiliate links, which means that if you click on one of the product links, I'll receive a small commission. Thank you so much for clicking through and helping to support this little blog business of mine! Read more about our site, privacy, and disclosure policies here.
Get crafty this October and create something special with one of these 7 easy Halloween crafts and hands-on activities for toddlers and young kids! These simple crafts are the perfect DIY to keep your little ones occupied this spooky season.
With the kids home this year more than ever – yayyyy, remote school 🤪 – I've been on the hunt for easy crafts and activities to keep our little ones entertained in the afternoons.
We love Halloween; decorating for Halloween, picking pumpkins, watching not-so-spooky movies, dressing up for Hallowen, baking all of the festive Halloween treats, you name it. So naturally, incorporating a few easy Halloween crafts and hands-on activities makes perfect sense for keeping the Halloween spirit alive in our house.
Pinterest is basically an endless black hole of incredible seasonal crafts and activities for kids, but I thought I'd narrow it down here, with six really fun and easy crafts and hands-on activities we'll be trying this month.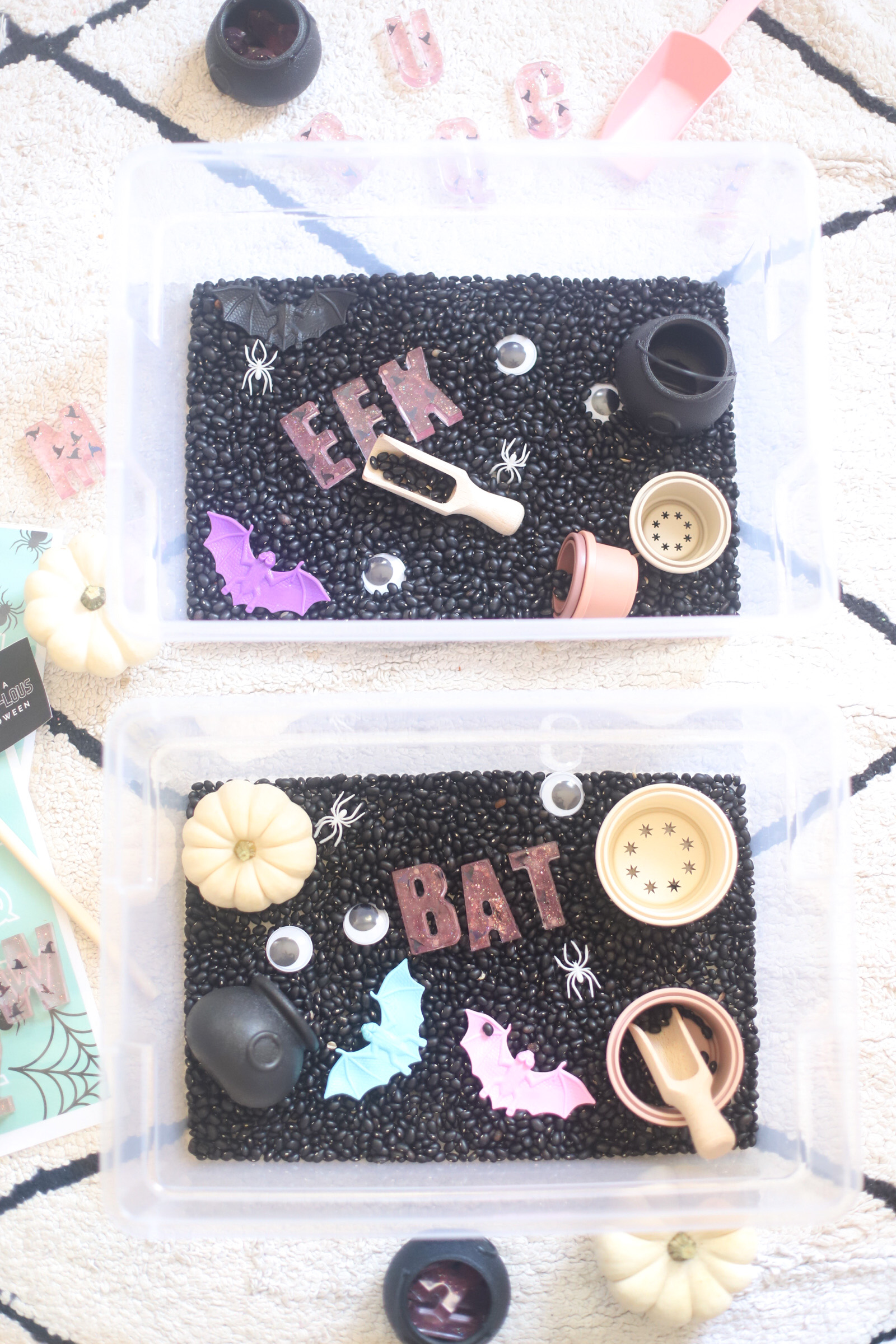 7 Easy Halloween Crafts and Hands-On Activities to do with Young Kids
From sensory bins to paper crafts, spooky bats and toilet paper roll owls, these simple Halloween crafts and hands-on activities are sure to entertain your little ones all October long.
We've already put together our own Halloween sensory bins (the easy how-to is below) and today we're going to try our hand at apple stamping pumpkins! 🎃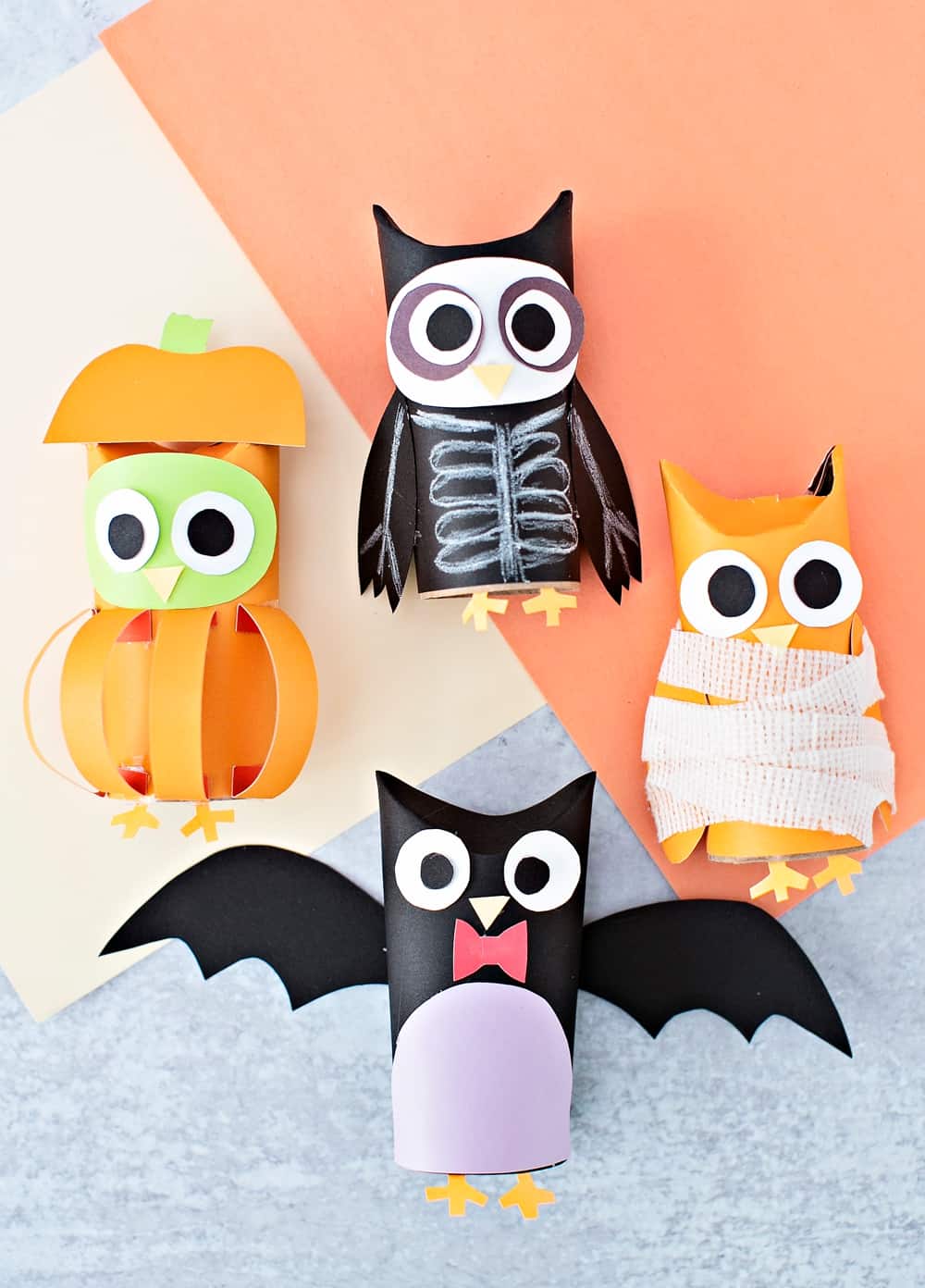 These Halloween Paper Tube Owls make a spooky cute Halloween craft for kids using simple recycled materials like toilet paper rolls.
I'm also loving these DIY paper roll pumpkins!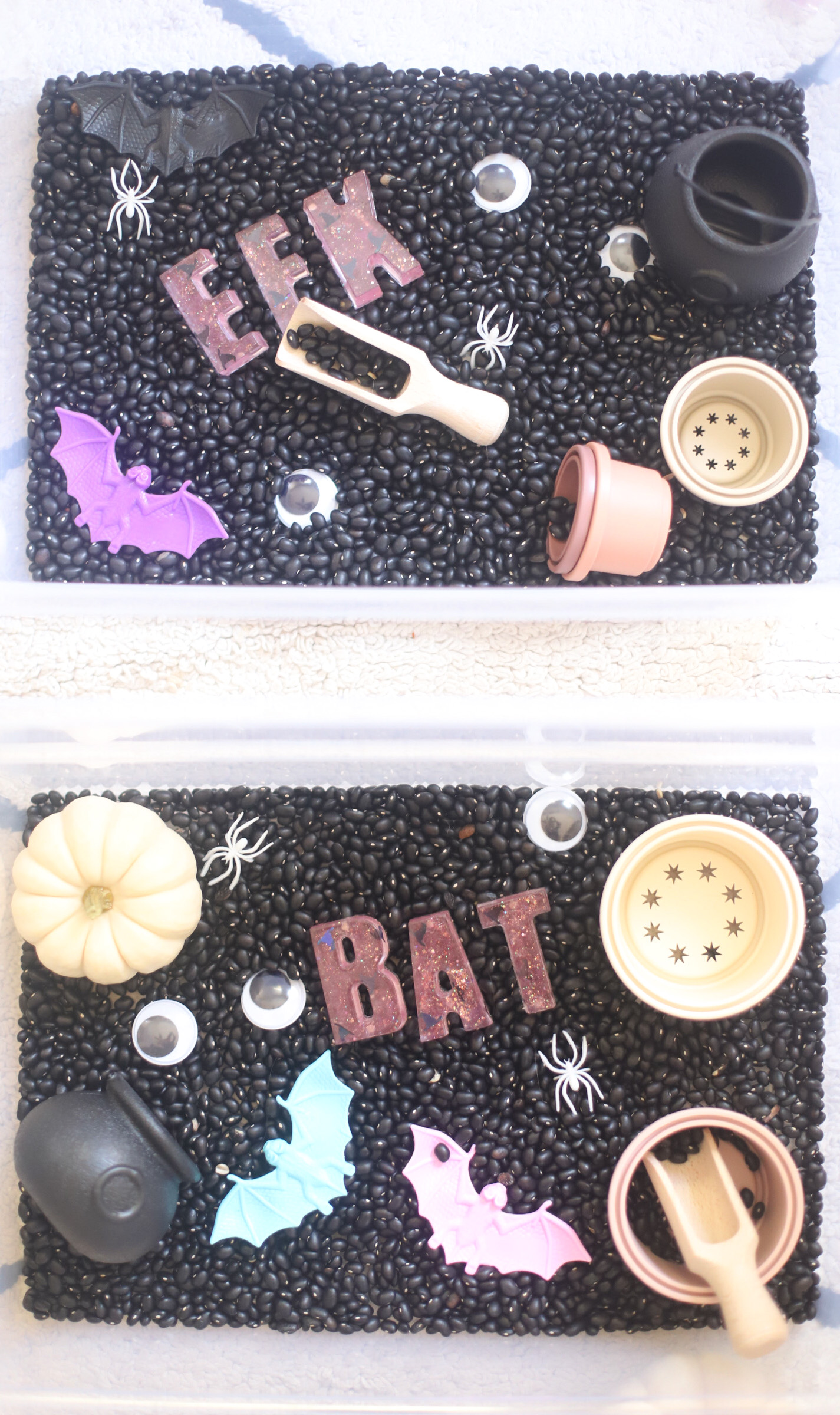 Halloween Sensory Bin
Our girls have been loving sensory bins lately. The kids are obsessed with sensory bins like the kinetic sand dinosaur digand our ocean sensory bin with blue hair gel. We also love using our easy homemade rainbow rice and water beads that can be used in so many kinds of sensory bins!
I kept seeing sensory bins filled with dried beans all over Pinterest and Instagram, so I figured black beans would be the perfect base to use for a Halloween sensory bin!
How To Make Your Own Halloween Sensory Bin
What You Will Need:
1 large rectangular bin
two bags of dried black beans
scoops (like these cute wood scoops)
cups, measuring cups, etc. (We love these adorable stacking cups!)
tongs
small halloween toys (check the Target dollar spot, a party store, or your local dollar store)
plastic spiders and bats
mini pumpkins
Optional: resin letters (We love these letters for letter recognition – for our toddler – and spelling – for our 1st grader – because they double as really cute refrigerator magnets!)
To Set Up Your Halloween Sensory Bin:
Be sure to set down a splat mat or sheet under the sensory bin before your kids dive in to make for easy cleanup.
Add in all of the accessories and let your kids' imaginations soar!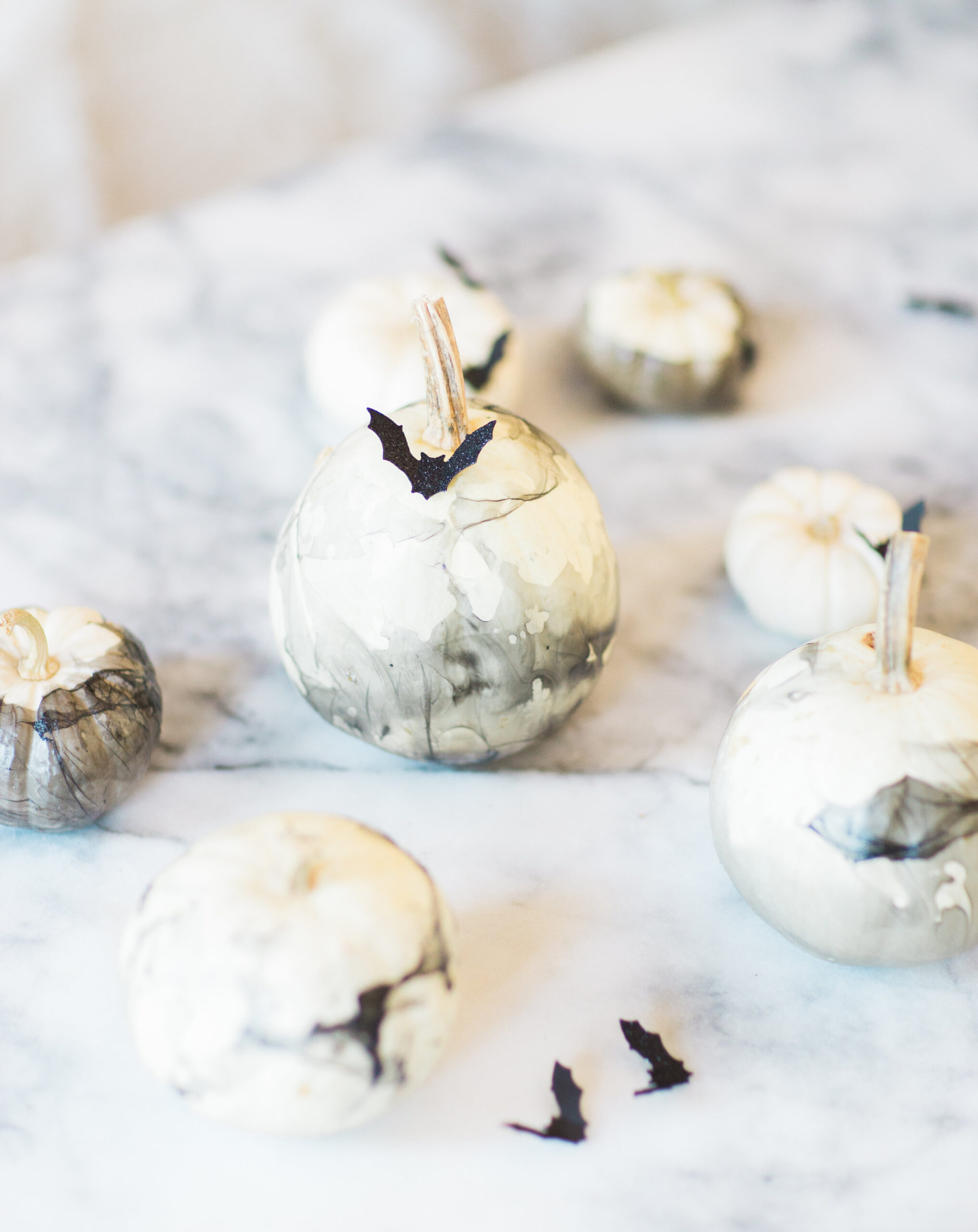 Want a simple and fun Halloween craft to try this season? All you need is nail polish (and pumpkins) to make these totally darling marbled pumpkins! The craft is simple enough for kids and grownups alike. (Use a bunch of colored nail polish options to add a colorful twist!)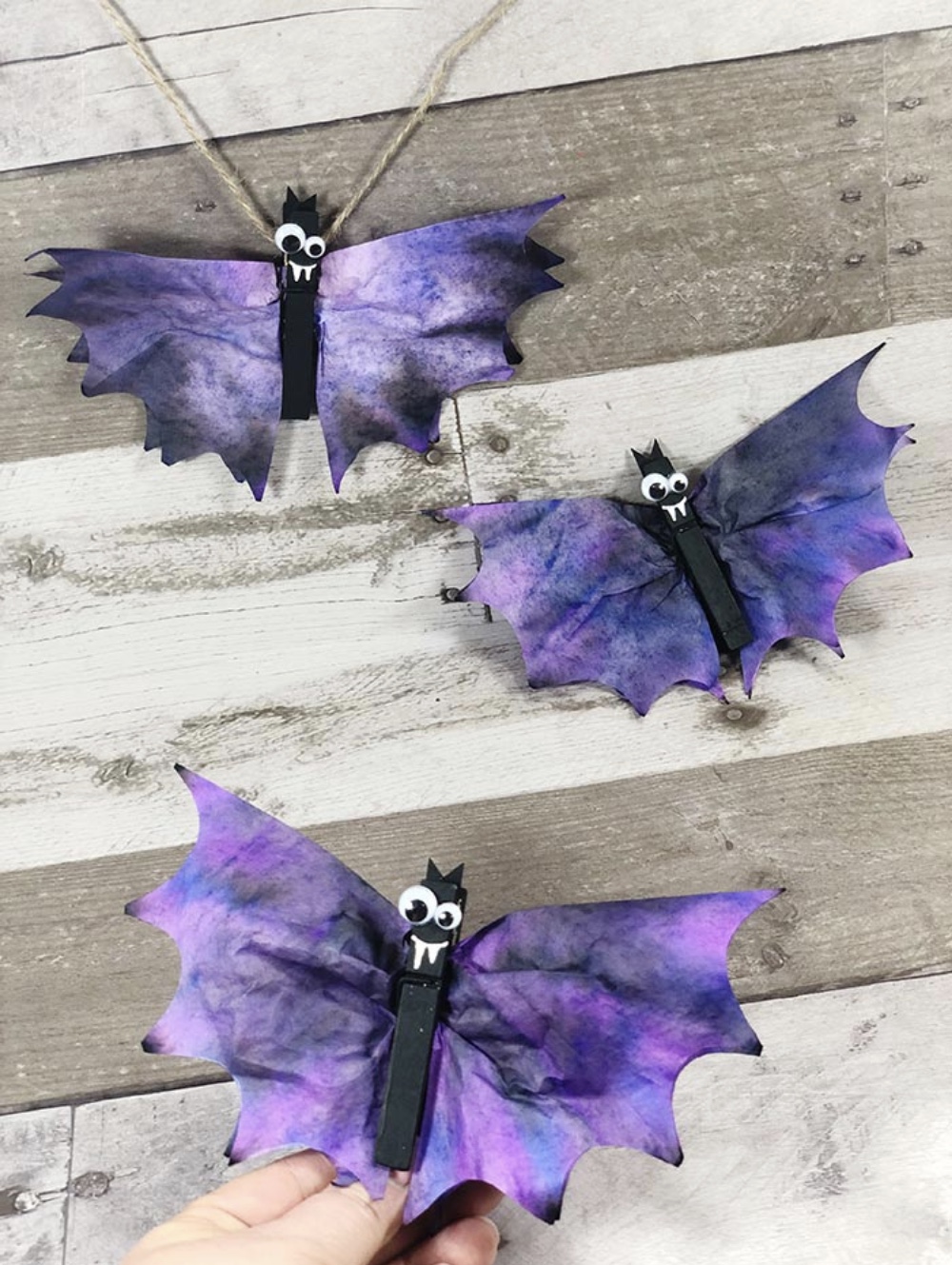 These coffee filter bats are an easy Halloween craft for kids of all ages to make. They take about 20 minutes and use craft supplies you probably already have in your house.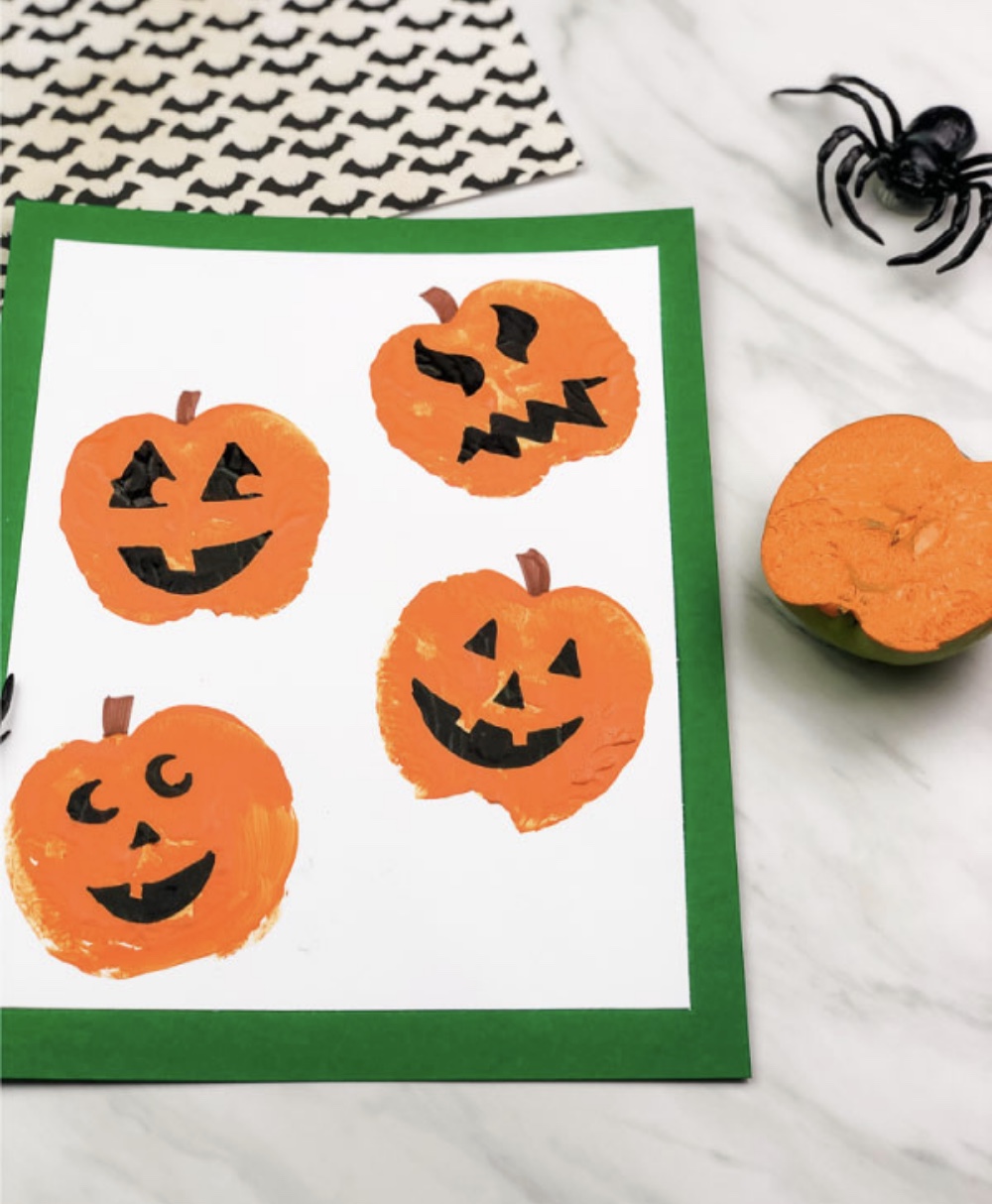 Bring the fall inside with this apple stamp pumpkin craft for preschool. It's a simple art project that will keep your kids engaged and working on fine motor skills.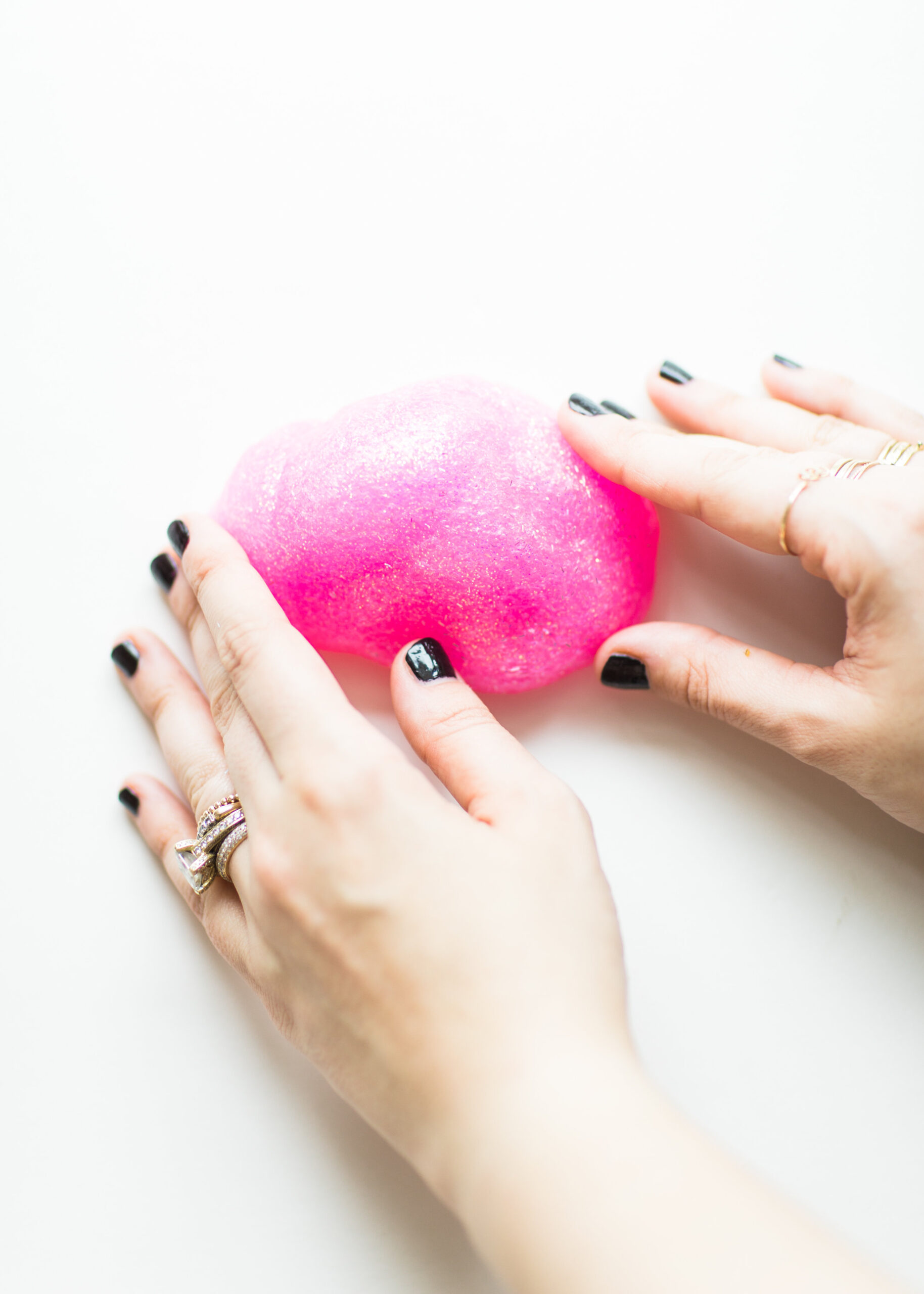 This awesome 3-ingredient glitter slime is super simple to make since you probably have most of the ingredients in your home, and kids are obsessed! It's a perfect kids activity. Want to really get in the Halloween spirit? Use orange glitter glue for Halloween or green glitter glue for zombie slime!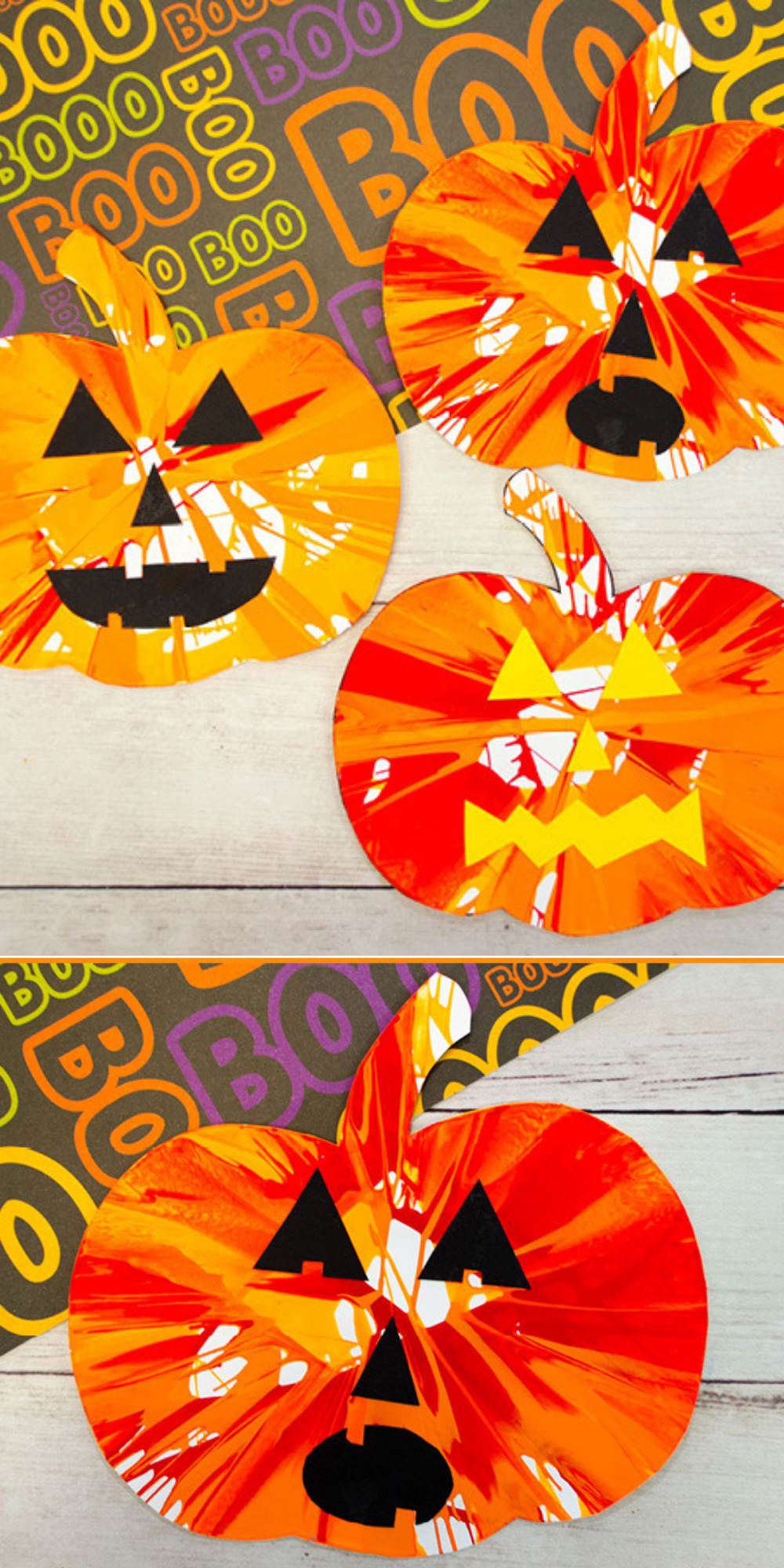 This Halloween pumpkin spin painting is so fun! We love spin art, it's super easy for kids to do and creates such cool and interesting patterns. All you need is a little paint, paper, scissors, glue, and a salad spinner!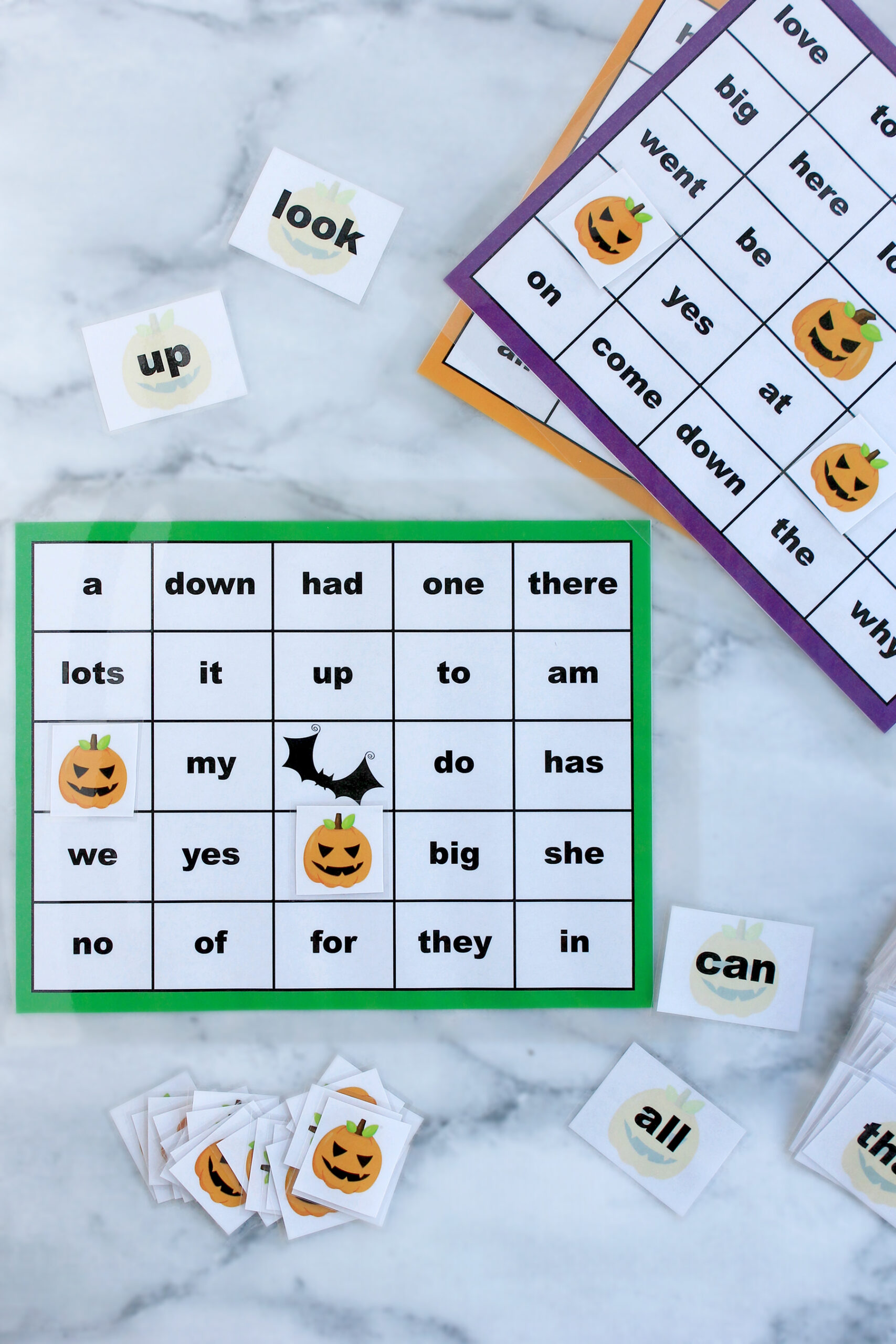 BONUS: As an extra fun learning activity for our first grader, I love this Halloween Sight Words Bingo activity! Our oldest is currently obsessed with Bingo. This Halloween Bingo is such a fun way to incorporate learning.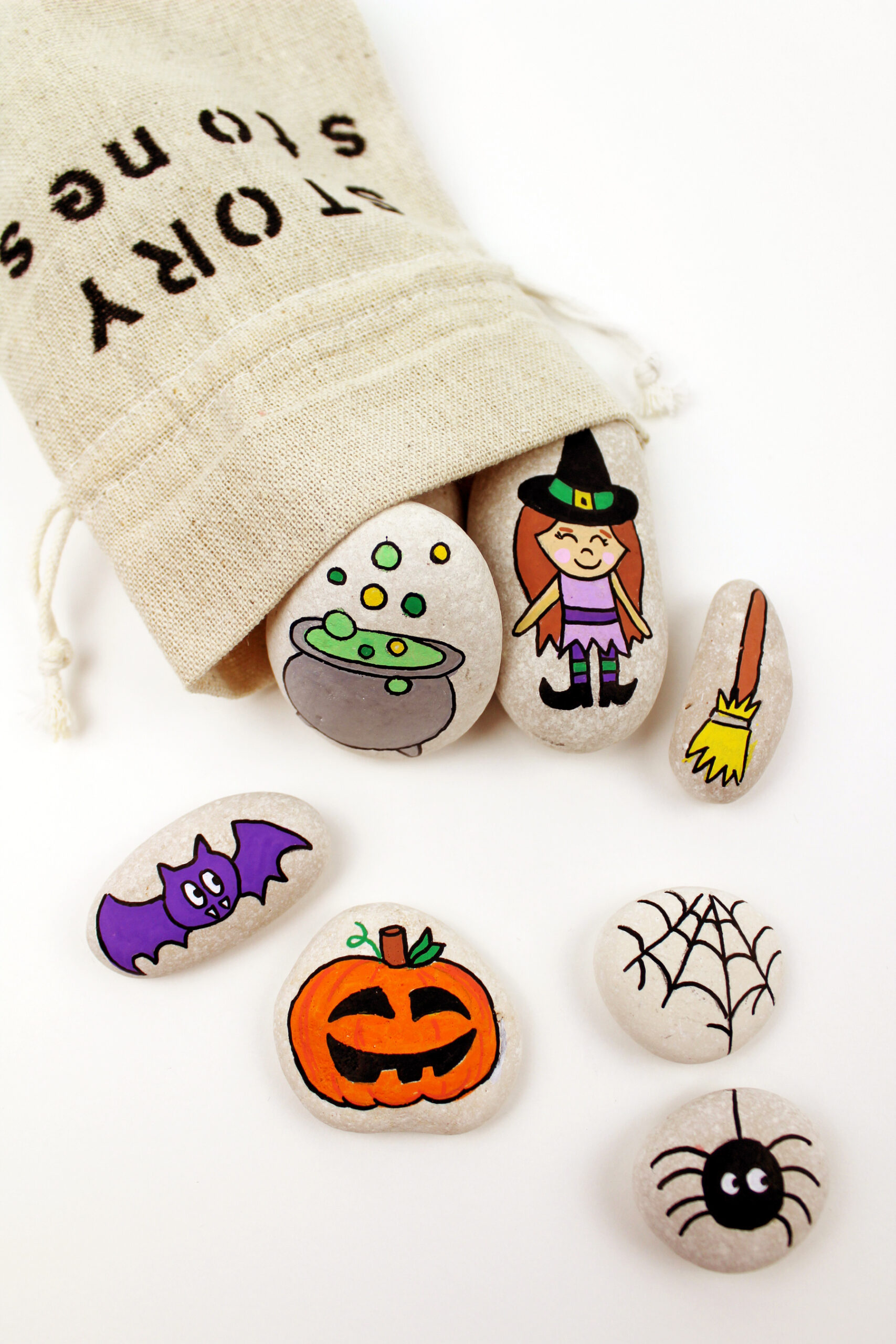 I'm also loving these Halloween story stones for elementary aged kids! Of course, making the story stones would probably require an adult's help, so I'm throwing this one in as a bonus activity as well, but honestly, how clever is this?! Basically, you can use these adorable Halloween story stones to let your child's imagination soar. Their creativity to develop stories using the stones will amaze you. Have them tell you a new spooky story or use the stones to retell their experience of Halloween!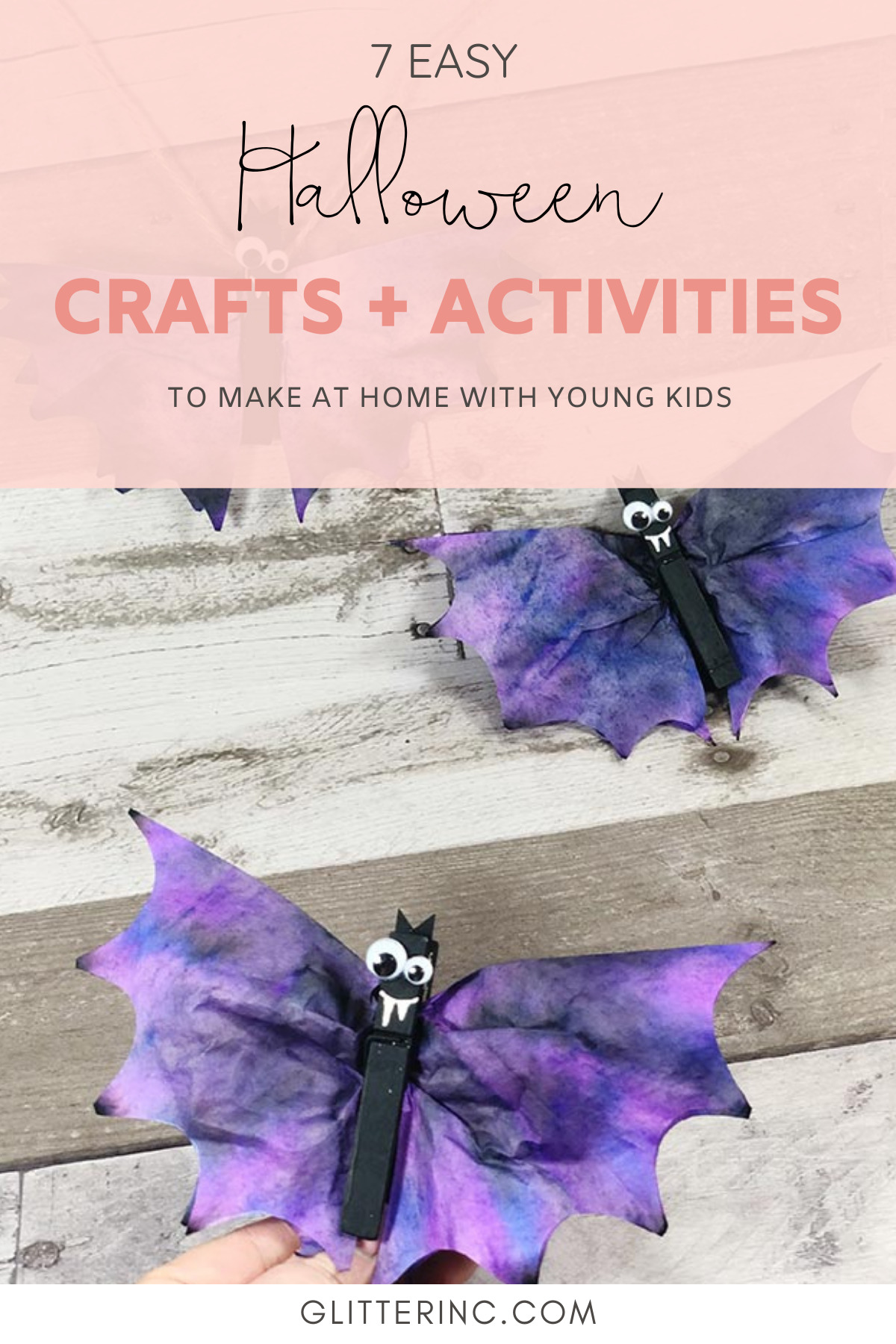 SHOP THE HALLOWEEN CRAFTS AND ACTIVITIES | CLICK LEFT & RIGHT ARROWS TO EXPLORE
Do you have any favorite Halloween crafts and activities? Are there any that you do year after year with your kids? You can see all of our favorite Halloween activities, décor, and recipes here!
Looking for more fun activities to do with the kids? Try this DIY kinetic sand dinosaur dig sensory bin; our ridiculously pretty DIY painted rocks, or these simple DIY snow globes! You can also try your hand at Fluffy Slime. As you can probably tell, we're a big crafting family, and we all really love doing fun arts and crafts together. The kids always feel so accomplished and proud of their creations, and it's a really great way for us parents to get involved.
IF YOU LOVED THESE KID-FRIENDLY CRAFTS, YOU CAN SEE MORE OF OUR LIFE WITH TWO LITTLE ONES HERE.
Cover image via Hello, Wonderful