This post has been sponsored by DYMO. All thoughts and opinions are my own. Thank you for supporting the sponsors who help to make Glitter, Inc. possible! 
Is your living room overflowing with toys? I know ours is! Of course, someday having a playroom dedicated to the chaos and toys is the dream, but until that day, we're working on organizing our kids toys in our living space so that it's livable for all of us. And in an effort to keep more organized (and sane!) this new year, organizing the toys in our living room was high on my list of priorities. With the help of DYMO® LetraTag (and a quick trip to Target's office supply aisle to pick up our new label-maker and label tape cassette refill) we made our living room a lot more manageable, and I'm pretty darn excited about it.
I should start by saying that I have long been a fan of labeling EVERYTHING. So when I discovered the DYMO LetraTag Plus LT-100H Personal Label Maker, I was over-the-moon with the convenience of it. A handheld label maker that doesn't need to be plugged in and also happens to be affordable? All of my label-maker dreams come true! The LetraTag label maker is so easy to use, and is perfect for jobs all over the house. We use our label maker for everything from school lunches and sending mail to organizing our pantry. And the DYMO LetraTag Label Maker prints on a range of different colors of labels plus has a host of label formatting options such as font styles, underlining, text sizes and more.
When I realized we could use labels to organize the chaos that is our living room, I breathed a huge sigh of relief.
Scarlett, like most toddlers, has a lot of toys, books, puzzles, you name it. And since the arrival of our second baby girl, the "stuff" has multiplied ten-fold. I honestly forgot just how much babies need. A few weeks ago, I realized that we were all constantly tripping over everything. We've been working with Scarlett to pick up after herself, but I would cringe every time she threw all of the legos, stuffed animals, books, and more into one great big bin.
We had this great wood cubby/store piece, but I was never sure how to utilize it well. Finally, a lightbulb went on, and I quickly got these great soft, foldable bins to use in the cubbies. Then I labeled each of the cubbies (just above the bins) with what would go in each, using my new label maker. We broke the kids toys down like this:
Crafts
Puzzles
Books
Hard Toys
Soft Toys
Dress-Up
Baby Toys
And then we used the top row to keep things for the grownups:
Artwork, school things, and other items I want to save
My own crafts, journal, pens, scissors, tape, etc.
My cameras and lenses
Miscellaneous (mail, important documents, sunglasses, etc.)
Cubbies, bins, and baskets are pretty much always the way to go for kids storage; but labeled cubbies, bins, and baskets? Well, that's pretty life-changing. I swear, there's something about labeling things that gives my organization more purpose. And it REALLY helps to teach your kids about putting things where they belong. Scarlett has even been working on her letter recognition and will point to a label and say, "C is for Crafts." It makes my mommy heart soar, I tell 'ya.
We also made a small crafting and snack area with Scarlett's kids table and chairs, just at the foot of the couch and out of any walkways.
Funny enough, though we created these designated spaces to get most of our toddler's things up and out of the way, she was actually quite thrilled to have her own space(s). I'm in no way a very neat person, but it always amazes me what a clean space and a little organization can do for your well-being. Seeing the same positive effect in our three-year-old was kind of amazing.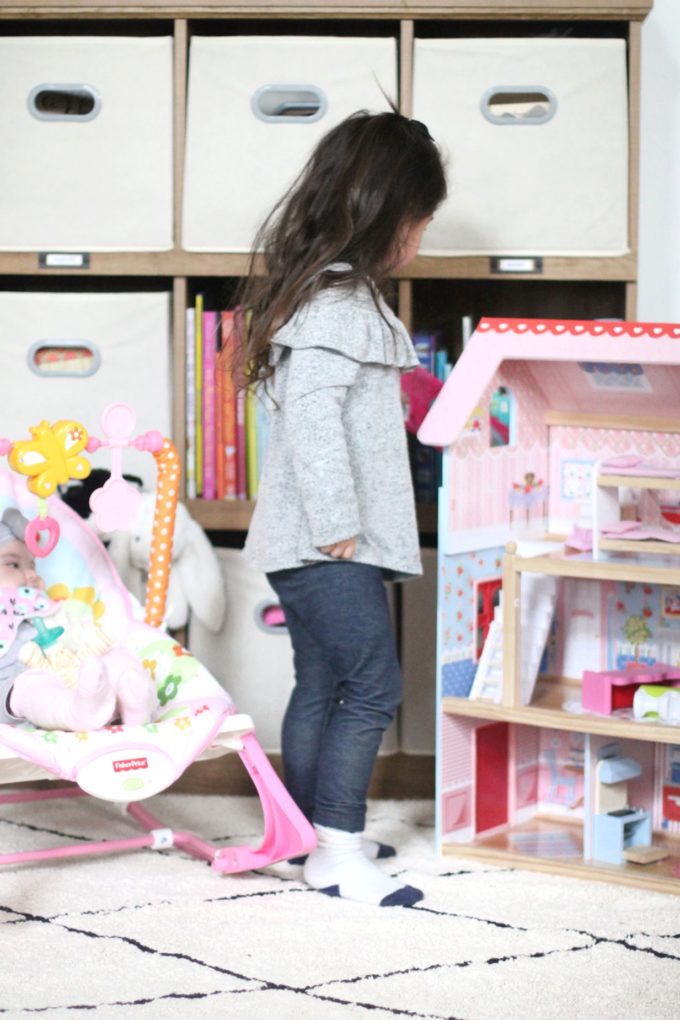 You can pick up a Letra-Tag label maker in either the handheld version (my preference!) or the tabletop version (along with the DYMO LetraTag Paper Label Tape Cassette and a variety of other colors and materials of label refills) at your local Target. Because who isn't just looking for an excuse to take themselves on a little mom date to Target? And with Ibotta rebate offers on both the tabletop label maker and the refills, you can't pass it up!
If you loved this post, you can see more of our life with two little ones here.
This post contains affiliate links, which means that if you click on one of the product links, I'll receive a small commission. Thank you so much for clicking through and helping to support this little blog business of mine! Read more about our site, privacy, and disclosure policies here.