This Amazon Echo review contains affiliate links, which means that if you click on one of the product links, I'll receive a small commission. Thank you so much for clicking through and helping to support this little blog business of mine! Read more about our site, privacy, and disclosure policies here.
Just get an Amazon Echo? Not sure how to make Alexa work for your family? We're sharing 15 surprising and amazing ways Amazon Echo makes your life easier as a mom, including a brilliant new baby hack. Read on for the details!
I have to thank our toddler for today's post. She's completely in love with Alexa, a.k.a., the voice behind our Amazon Echo , and she's really taught our whole family to use and love it. Not a day goes by that I don't hear a squeaky toddler voice barking out commands like, "Alexa! Play 'True Colors' From the 'Trolls' Movie!!!" I swear, she's like a tiny dictator. "Alexa! Play 'Welcome to New York!!!" Within seconds, her BFF, Alexa, is playing her favorite song, and our little tyrant is bounding up and down the hallways shimmying and shaking, tapping her feet and singing at the top of her lungs. They're a good pair, those two.
But more than Amazon Echo's ability to respond to a demanding toddler (which I love!), Alexa does so much for our family and actually makes our day-to-day life a bit easier. I mean, there's even a "magic word" feature that offers positive reinforcement to your kids: When you say "Please," it replies "thanks for asking so nicely." How's that for a mom win?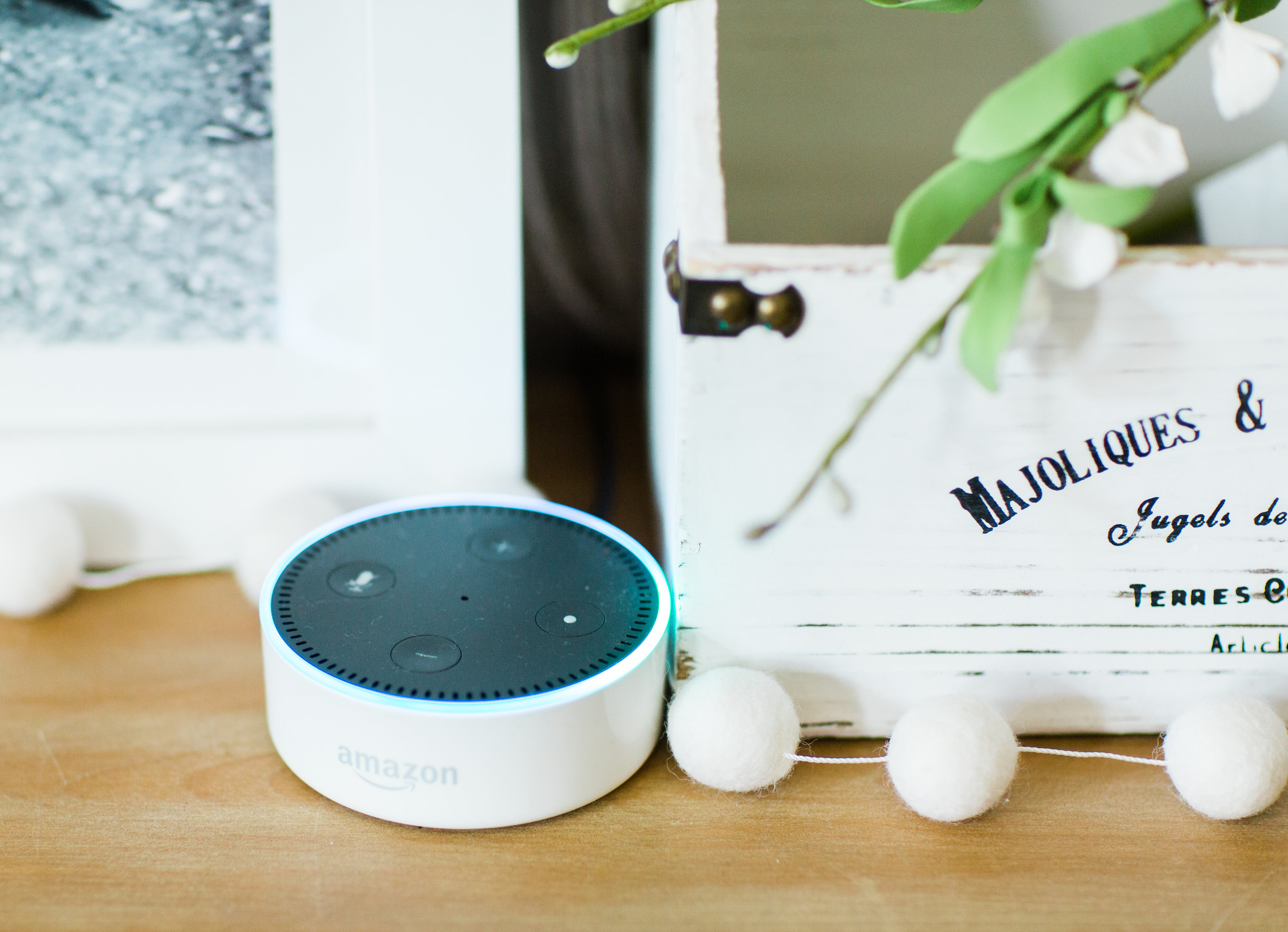 So today, I'm sharing 15 surprising ways Amazon Echo makes your life easier as a mom (or parent).
Hint: did you know Alexa can act as a sound machine?!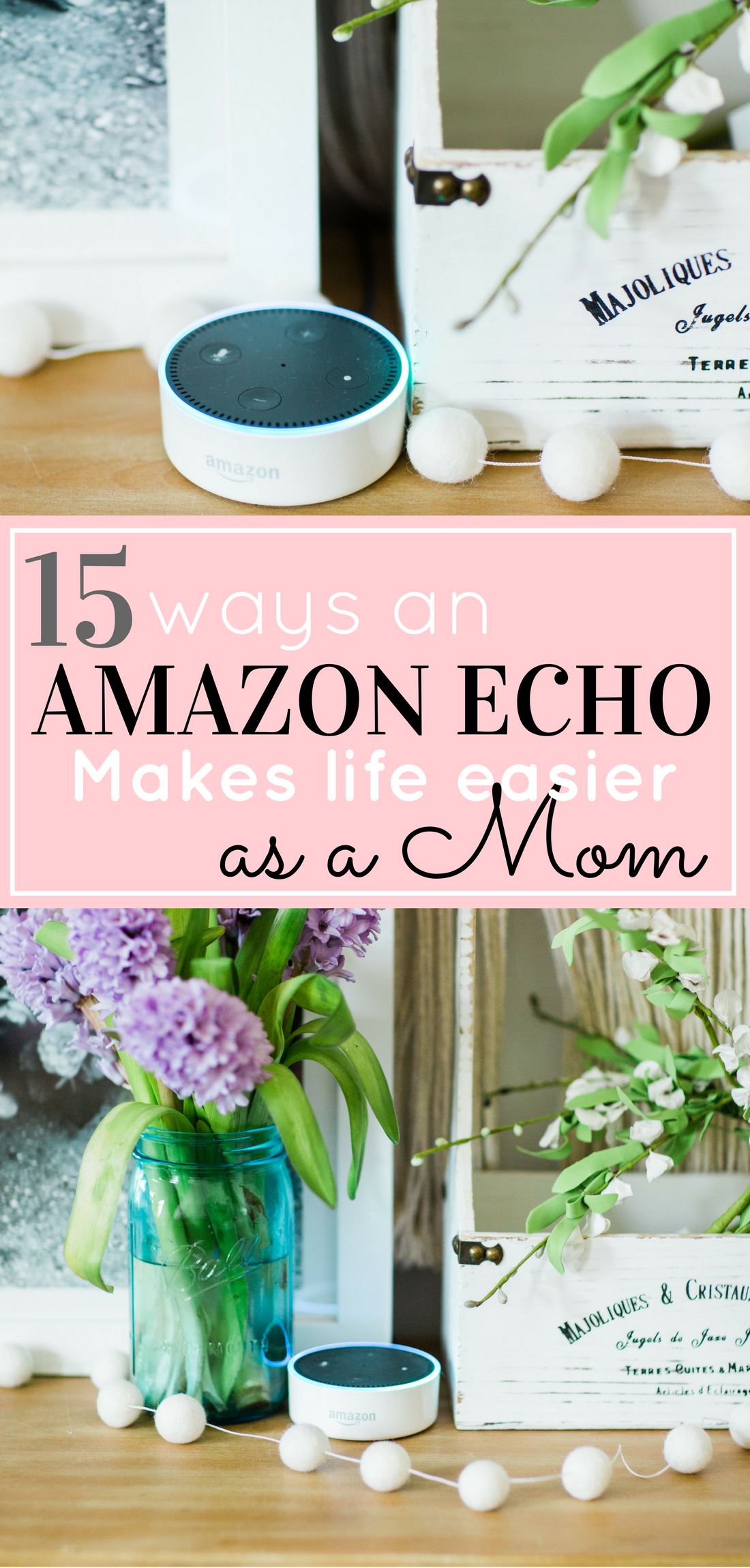 AMAZON ECHO REVIEW:
15 Ways to Use Amazon Echo for the Whole Family
It's a Sound Machine. Sometimes, I think of Alexa as the awesome white noise machine we use for the baby, that happens to do a million other things. But seriously, put the baby down for a nap in a room with an Amazon Echo and ask Alexa to play white noise. Easy peasy and it works like a charm!
It Tells Bedtime Stories. Amazon Echo offers a selection of short original bedtime stories. Just say: "Alexa, open bedtime stories." This is so helpful on nights when I'm exhausted and mama could use a break. (The bedtime routine with two kids is a whirlwind!)
It Can Translate Words, Phrases, and Sentences. You can use the Translated skill to ask Alexa to translate short sentences from English into 36 languages. Alexa will read out the translation for you so you can learn how to pronounce it. Our toddler loves this feature and often asks Amazon to translate things into Spanish and Hebrew. We've both actually learned a lot of new words and phrases this way!
It Tells You the Weather. Not a day goes by that I don't ask Alexa to tell me about the weather. Especially when I'm getting our girls ready in the morning, it's so helpful to quickly get the weather forecast for the day (or even week), all without ever touching my phone or opening up my computer screen.
It Tells the Time. This one may seem obvious, but especially when I'm getting ready in the morning, or to leave for an appointment, I find it so helpful to quickly call out, "Alexa, what time is it?"
It Acts As an Alarm Clock and Can Set Timers. Whether you need to set an alarm for the morning, or you want to be out the door in fifteen minutes to make it to an appointment, setting alarms and timers on your Amazon Echo can be such a lifesaver. I'll even set it when I say things to our toddler like, "You can play for five more minutes." Once Alexa sounds the five-minute alarm, our little one knows it's time to clean up.
It Plays Music. This is probably the most-used feature of Amazon Echo in most homes, including ours. We added Spotify as the default music player on our Alexa App, and Alexa is able to play from our playlists, like songs, find music, etc. I also sometimes play podcasts when I'm editing photos, etc.
It Helps You to Meditate. We've found two different meditation skills that work well for us: "Meditation Studio" and "Guided Meditations." You can either say, "Alexa, ask Meditation Studio to play a meditation." or "Alexa, open Guided Meditations" You can skip around by saying, "Alexa, play next meditation." You can also ask for specific meditations like "Happiness Meditation," "Sleep Meditation," and "Stress Meditation." I have been amazed at how well mindfulness and meditation works for our three year old. Sometimes, when she's absolutely losing it, I'll ask Alexa to play a meditation, and it really helps to calm our little one down.
It Answers Questions. We regularly ask Alexa questions. Especially with an inquisitive toddler around, who has many, many questions, I find myself constantly telling our little one that we can ask Alexa! (So much easier than having to stop and Google her questions!) For instance, "Alexa, what's the biggest dinosaur?" "Where do lemurs live?" "What do alpacas like to eat?" "What place has the most snow?" "Why does lightning happen?" "Alexa, what is six plus three?"
It Creates Shopping and To Do Lists. Just say things like, "Add apples to my shopping list," or "What's on my To-Do list?" to have Alexa help you with your lists. You can create those lists by saying, "Alexa, create a list". Alexa will ask, "What would you like to name the list?" Then just add things to your list! You can even print your Alexa Shopping List from the Alexa app on your computer's web browser.
It's great in the kitchen. Alexa can guide you through a recipe, add things to your grocery list, set timers so you know, for instance, when to take something out of the oven, and answer questions like, "Alexa, how many teaspoons are in one tablespoon?"
It Can Help You to Workout. No more complaining that you don't have the time or resources to workout. Alexa actually offers a guided 7-minute workout! Just say, "Alexa, start 7-minute workout." It changes the routine daily, and is actually a surprisingly tough workout. You can even pick your own music before you start and it plays in the background. There's also a 5-minute workout, a pushup challenge, and a 5-minute plank workout.
It Can Read You the Days News. You can ask Alexa to read your favorite news source's headlines, or just say, "Alexa, what's in the news?"
It Can Organize and Plan Out Your Calendar. Add your Google Calendar and Alexa can tell you what your day's like; a.k.a., you can turn the Echo into a personal assistant! Go to the Alexa app → Settings → Account → Calendar, to link your Google account. You can ask things like "Alexa, what's on my calendar this weekend?", "Alexa, what's on my calendar Saturday?", or "Alexa, when is my next event?"
It Plays Games. The fun possibilities with Amazon Echo are pretty endless. For fast entertainment, kids can say things like, "Alexa, I'm bored." You can enable a game skill such as Jeopardy, then say "Alexa, play Jeopardy." (That one is fun for the whole family!) There are also "Easter Eggs" with plenty of great and entertaining things to do with Alexa. A few great ones:
"Alexa, tell me a joke."
"Alexa, my name is Inigo Montoya."
"Alexa, beam me up."
"Alexa, tell me a fact."
"Alexa, who lives in a pineapple under the sea?"
"Alexa, how many roads must a man walk down?"
"Alexa, may the force be with you."
"Alexa, show me the money."
"Alexa, surely you can't be serious."
"Alexa, how many licks does it take to get to the center of a tootsie pop?"
"Alexa, do you know the muffin man?"
"Alexa, where in the world in Carmen Sandiego?"
"Alexa, these aren't the droids you're looking for."
"Alexa, flip a coin."
The list goes on and on.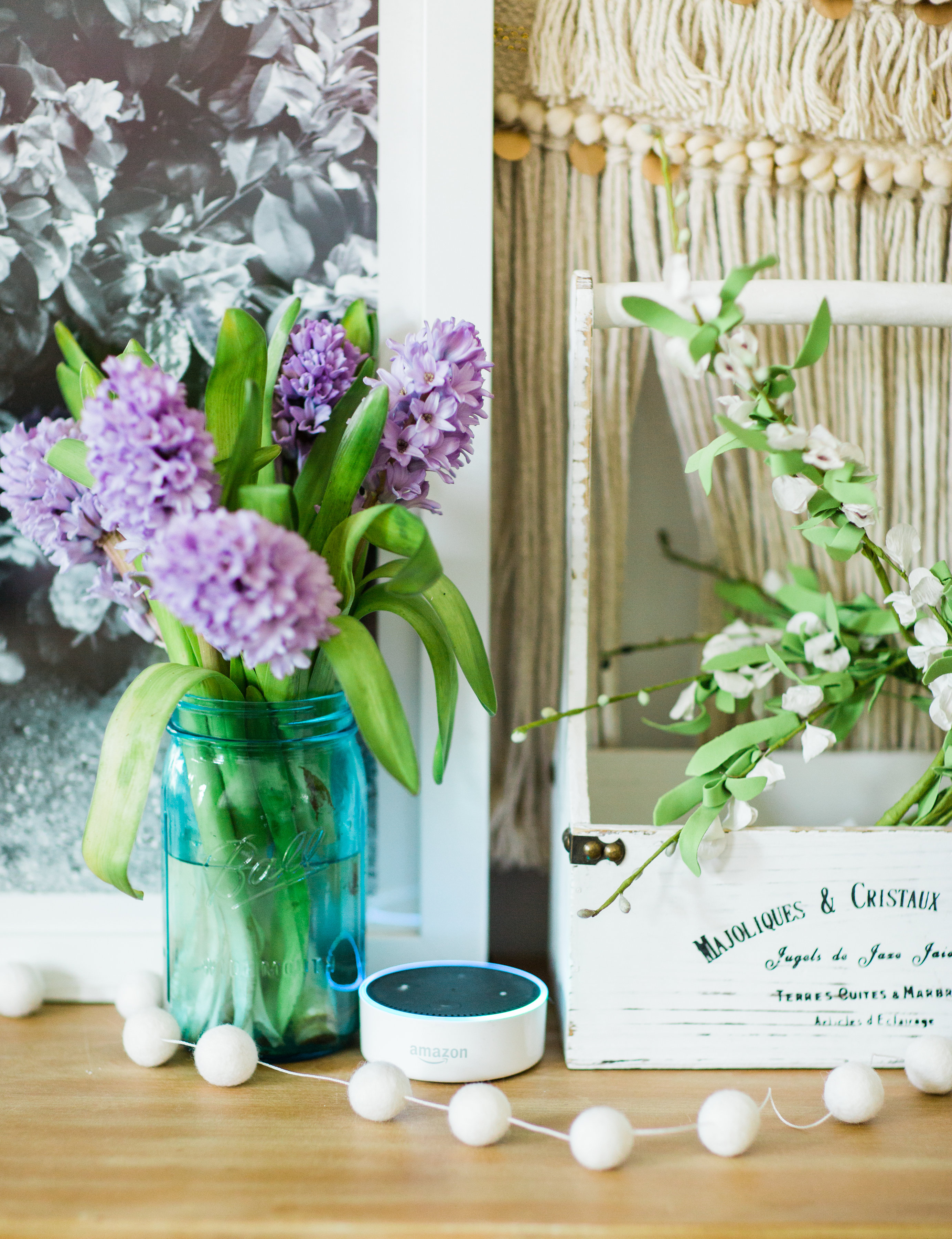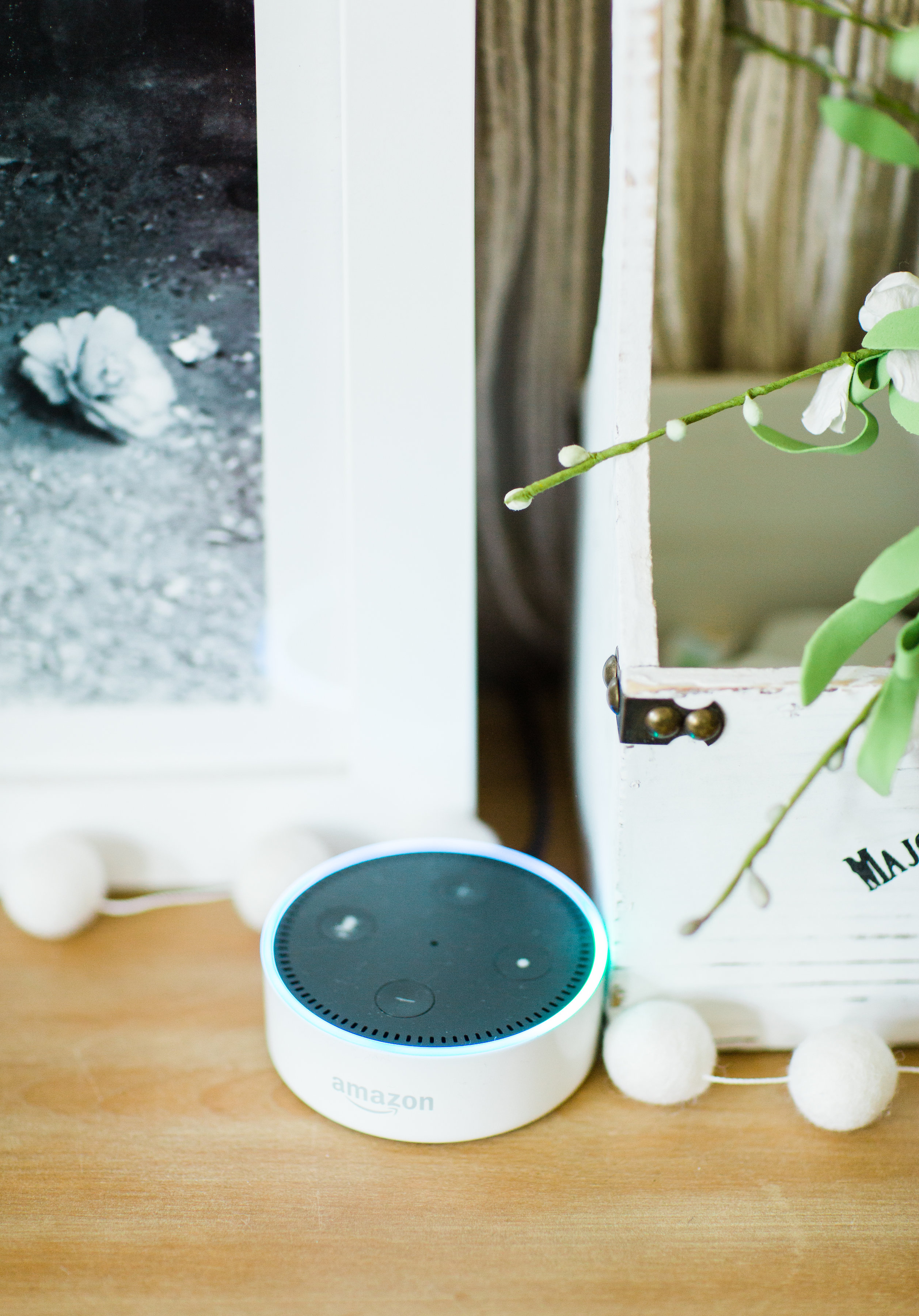 You can buy an Amazon Echo on Amazon with free Prime Shipping.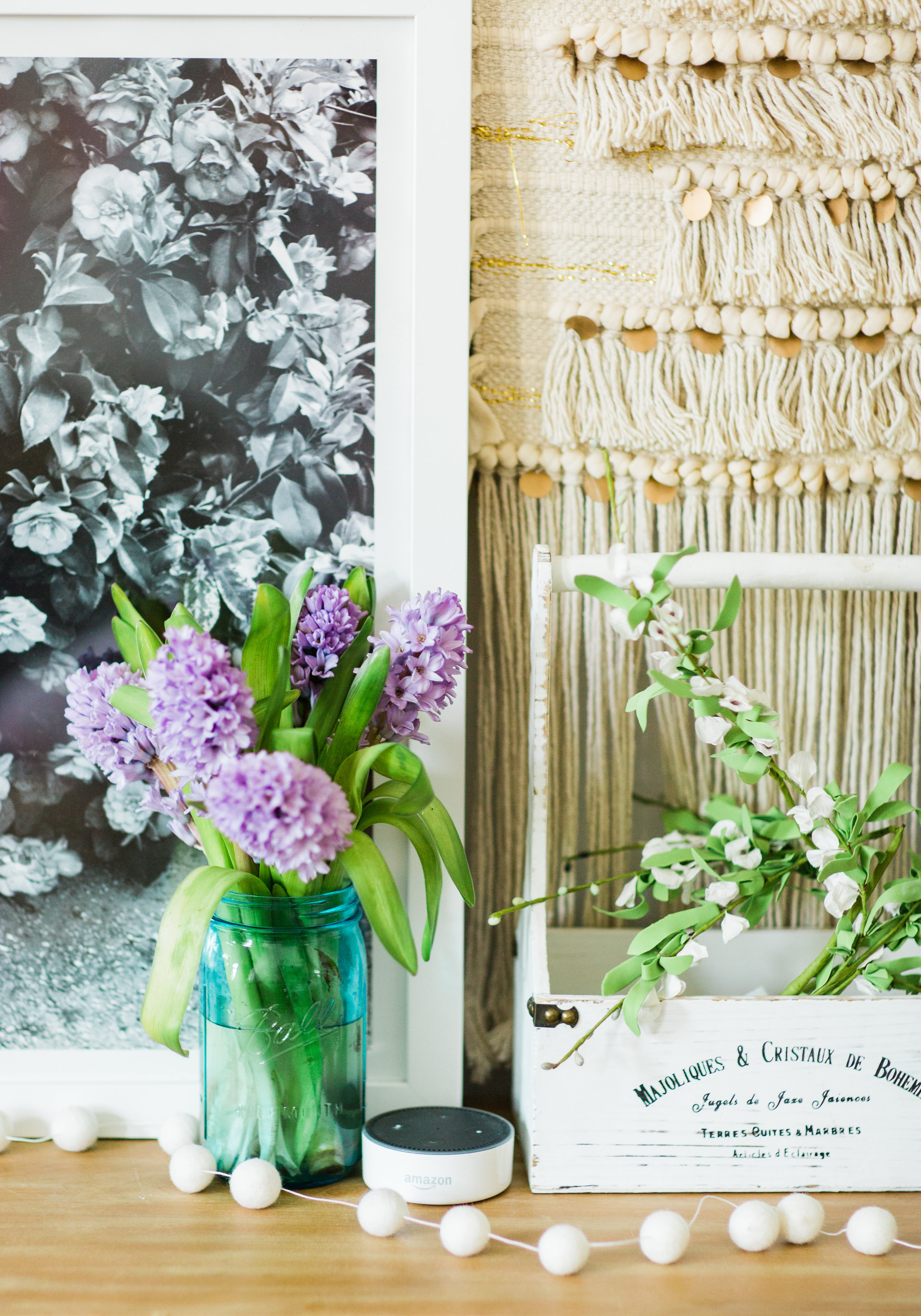 IF YOU LOVED THIS AMAZON ECHO REVIEW AND POST, YOU CAN SEE MORE OF OUR LIFE WITH TWO LITTLE ONES HERE.

Photos by Annie Watts Photography for Glitter, Inc.