Yesterday was tough. Really tough. I spent the day in the hospital, pretty unexpectedly (I had about two days notice plus a few less than great bloodwork results).  I'm okay now, I promise.  A bit defeated, maybe a bit more shaken than before, but I'm used to this. I've had a surgery and at least one major procedure every year of the first three years of my marriage.  I'm actually bizarrely chipper once I'm in the hospital – this time, post piña colada on IV drip, I waved like a prom queen and said goodbye to every staff member on the floor.  I'm so unbelievably grateful for my family and husband.  Everyone in my family has gone above and beyond; even my sister read me Harry Potter last night … (Which, by the way, I have never read!  I'm a weirdo.)  I could not do this without them.
And I know sometimes love seems tough, but it's so worth it. I love my husband in a way that almost hurts. We've been together more than a decade, we met and began dating as kids, but to this day, I miss him when he's gone (and we're barely apart, so I'm talking the hours before he's home from work.) Yesterday he had to run to the lab to finish last minute details for his thesis, because in addition to moving into a new apartment on Tuesday, surgery on Wednesday, recovery today, attempts at unpacking our new apartment, packing for Europe, and getting all of my own posts and legal work done before next Wednesday when we get on a plane headed for a trip I won to London, the day we get back hubby starts rotations so his PhD work has to be done before our trip.  To say this week has been crazy is an understatement.
Ahhh, yes, to the point: last night, hubby shows up to my parents house, where I basically spent my afternoon post-hospital buried in blankets, with six bags of frozen yogurt and toppings.  I could have burst with excitement, pride, and so much love.  (I really really really like frozen yogurt … in a big way.)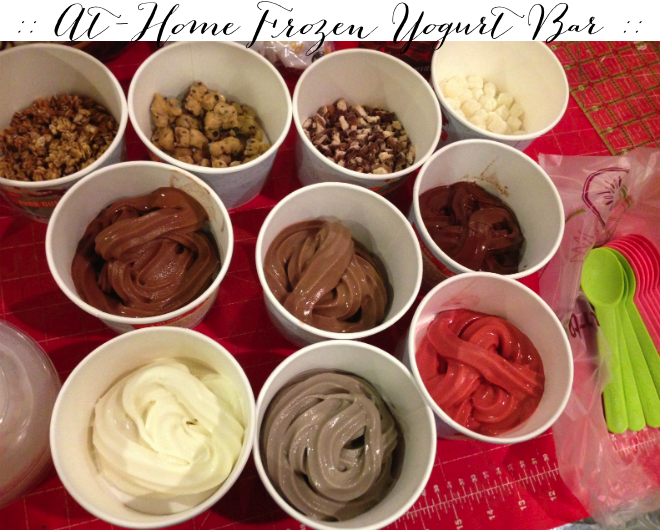 I guess what I'm trying to say is, I know things get tough, and crazy scary sometimes, but it's the people around you that back you up, make you tougher, make you smile, and feed you endless frozen yogurt.