Confession number one: last week, when I was racing to New York Fashion Week on the heels of a birthday weekend getaway, I was on track to arrive at and attend Target's super top secret fashion show.  I was giddy with excitement and it took all of my willpower to not tweet, post, and squeal about the incredible show, all of the clothes I so desperately wanted, and my brand new collaboration with Target.
You heard that right!  Target's secret show was just the beginning; for the next five months I'll be bringing you sneak peeks of all of the fashion goodness that Target Style has in store, plus I'll be sharing how to style, wear, and create some of the biggest trends – outfits and beauty included.  I could not be more excited!  Today I wanted to share with you a few of my favorite shots from last week's show, plus one of my favorite trends for Fall: the bold lip, and how it looks on.
The show was high energy, the models were all smiles, and decked out in Fall's most wearable trends, but let's start with the makeup, shall we?  I absolutely loved the simple makeup, sleek black liquid eyeliner, and most of all, the bold lip.  Backstage, makeup artists went with either a bold red and/or berry lip or a matter nude lip, all of which I loved.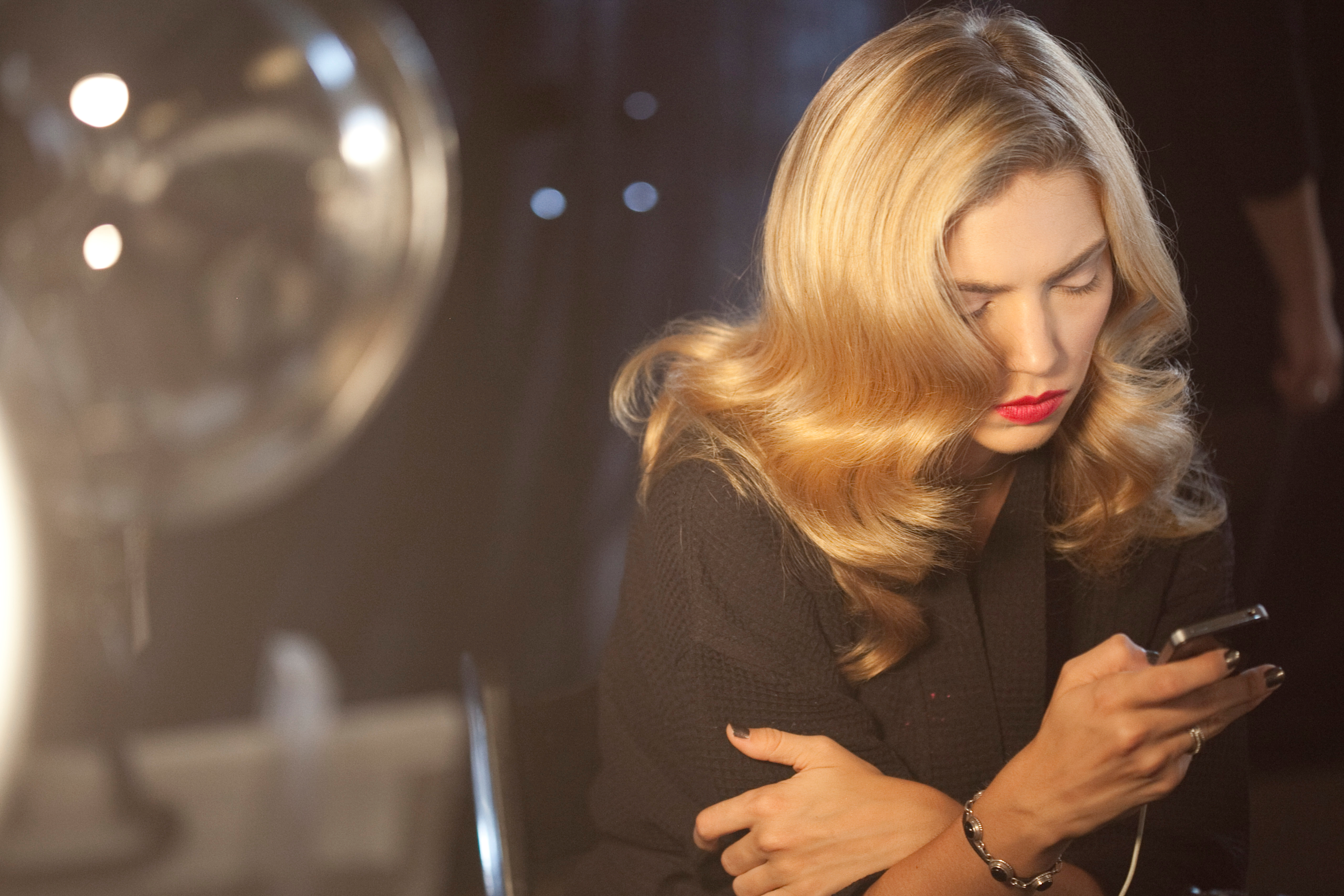 I gave the bold lip look a try, being a devout red-lipstick girl, it was no stretch for me to play with some of Target's best beauty products.  I decided to try the Sonia Kashuk brand, having heard amazing things about the designer makeup collab.
Sonia Kashuk Geometric Print Double Zip Clutch // Sonia Kashuk Satin Luxe Lipstick in Red Orange, No. 95 // Sonia Kashuk Ultra Luxe Lip Gloss in Polished Plum, No. 38 // Sonia Kashuk Velvety Matte Lip Crayon in Red
I tried Sonia Kashuk's Satin Luxe Lipstick in Red Orange, No. 95 // Ultra Luxe Lip Gloss in Polished Plum, No. 38, and Lip Crayon.  My favorite was the Satin Luxe Lipstick in Red Orange, No. 95: vibrant, but not too orange-y, definitely more of a bright candy apple red — the type that looks good on nearly every skin tone.  I'm also loving the Velvety Matte Lip Crayons; beautiful matte convenience in crayon form.
Over the next few weeks and months, I'll be sharing more behind-the-scenes looks from the top secret Target fashion show held during this year's Mercedes Benz Fashion Week.  Be sure to follow along here on the blog, and with the #TargetGoesGlam and #TargetStyle hashtags.

Disclosure: Compensation was provided by Target via Glam Media.  The opinions expressed herein are those of the author and are not indicative of the opinions or positions of Target.
Images by Photographer, Ken Pao // First, Second, and Fourth Photo by me, Lexi of Glitter, Inc.