This post contains affiliate links, which means that if you click on one of the product links, I'll receive a small commission. Additionally, as an Amazon Associate I earn from qualifying purchases. Thank you so much for clicking through and helping to support this little blog business of mine! Read more about our site, privacy, and disclosure policies here.
Let your kids imaginations run wild with this farmhouse-inspired spring sensory bin! These sensory bins, filled with dried beans, chicks, eggs, nests, baby farm animals and more, are the perfect hands-on activity for promoting hours of independent play this season.
Sensory bins have become a staple in our weekly activities. Our kids – ages 3 and 6 – are huge fans. And bonus, any time I introduce a few new elements to the kids' sensory bins – dried beans, colored rice, play dough, a few new small play toys, new gems, scoops, measuring cups, droppers, the list goes on and on – they'll sit and play at their sensory bins for hours.
In case you're not familiar with sensory bins, a sensory bin is typically a designated plastic tub, cookie sheet, or a large container of some sort filled with materials and objects meant to help foster creative play and touch for kids. A sensory bin can be filled with a whole variety of different materials; anything from play dough to dried beans, shredded paper, water beads, water, kinetic sand, and more. The fun part is adding in all of the tools and toys to inspire more creative, imaginative play for young kids.
Our Favorite Sensory Bins:
Ocean Sensory Bin
Kinetic Sand Dinosaur Dig
Rainbow Rice; a.k.a. Unicorn Rice Bin (and how to dye rice!)
Water Beads + Our Favorite Water Beads Accessories
Bubble Foam Bins
Play Dough (This is the absolute softest, best dough. I just add a few drops of food coloring to make our colors!)
Dried Beans (shown here!)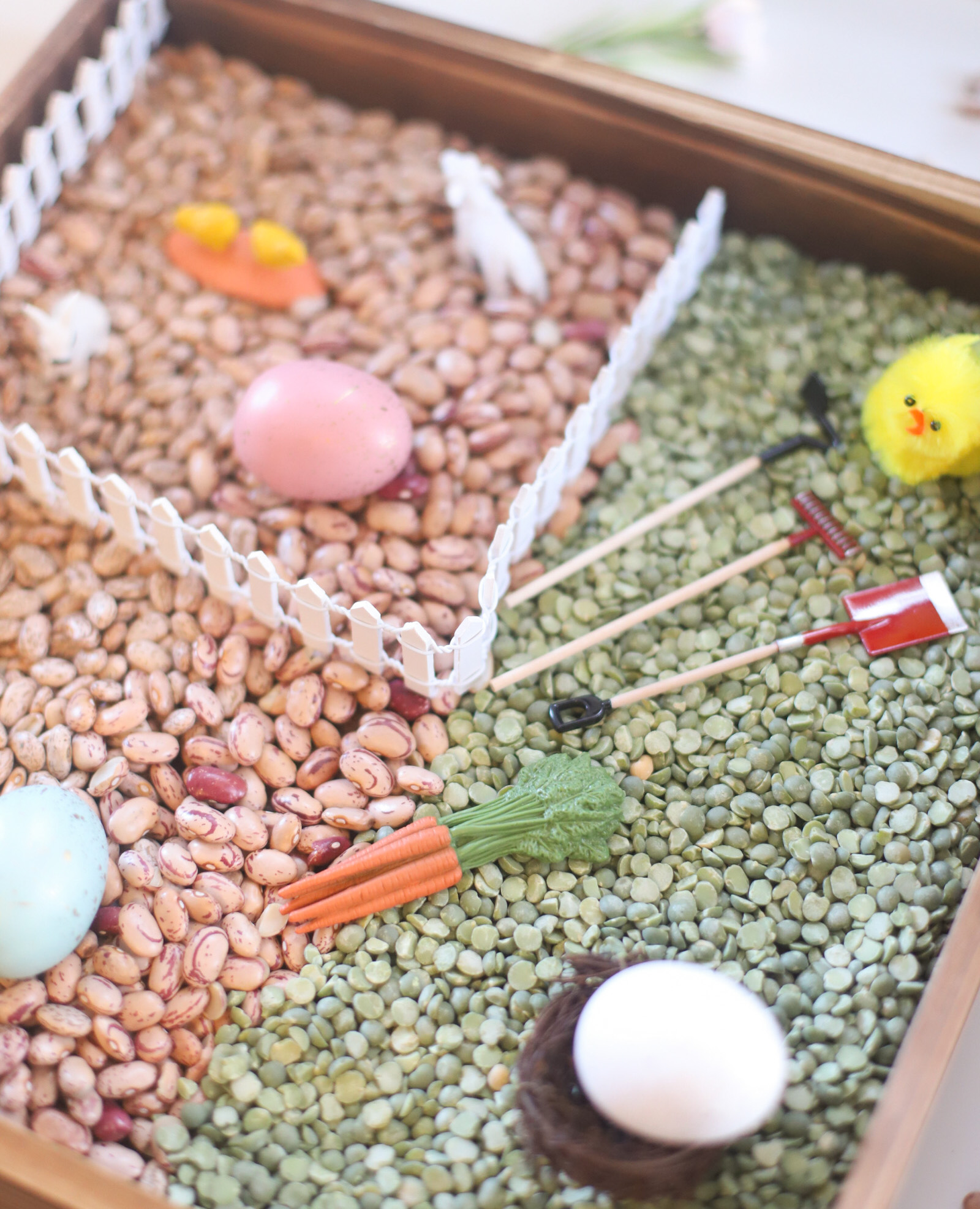 Farmhouse-Inspired Spring Sensory Bins for Kids
This most recent springtime sensory bin was a real success – we've had it out for the last two weeks and the girls have played with it every single day; always the sign of a great kids activity in my book! 🙌🏻
It's the perfect kids activity to ring in spring and Easter!
For our last several sensory bins, I've used large plastic bins to hold all of the contents. (We typically use the 14.5qt. Latchmate Blush Storage Box with Tray by Recollections from Michaels. You can also find the Latchmate Storage Boxes on Amazon!)
For this spring sensory bin, I knew I wanted a bin that was a bit more shallow so that the kids could easily play and manipulate everything in their box.
By the way, for messier activities like water, water beads, etc., I still really like using the large plastic bins, but for smaller pieces like dried rice or dry beans, or for playing with play dough I am all for a shallower tray or bin.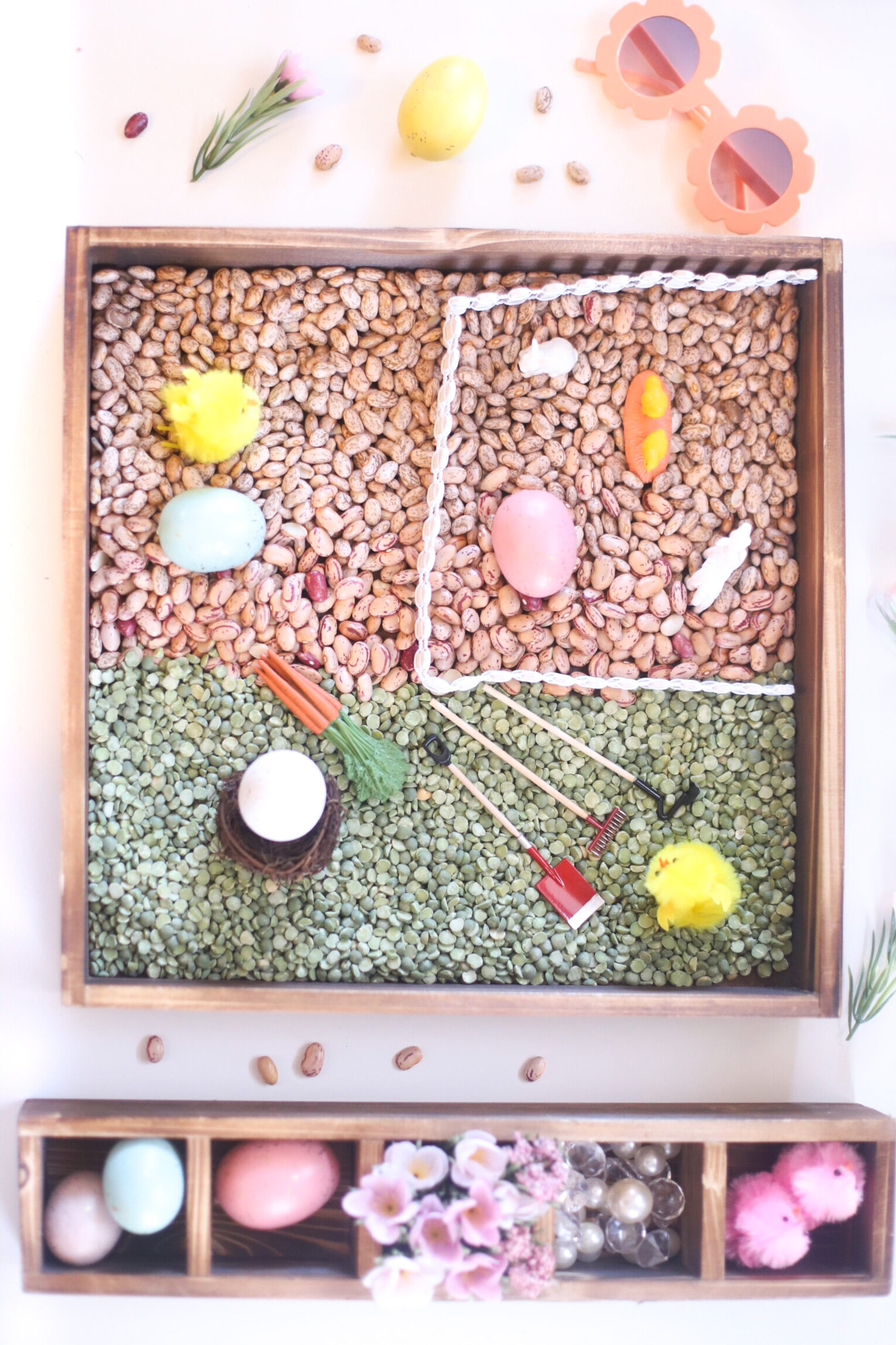 I found these absolutely adorable farmhouse-inspired wood square trays at Michaels on sale for under $6, and though they're meant for using as home décor, they turned out to be the perfect size for our sensory bins. I especially loved that there was a matching 5-section tray – perfect for holding all of the small toys and accessories for the kids' sensory bins.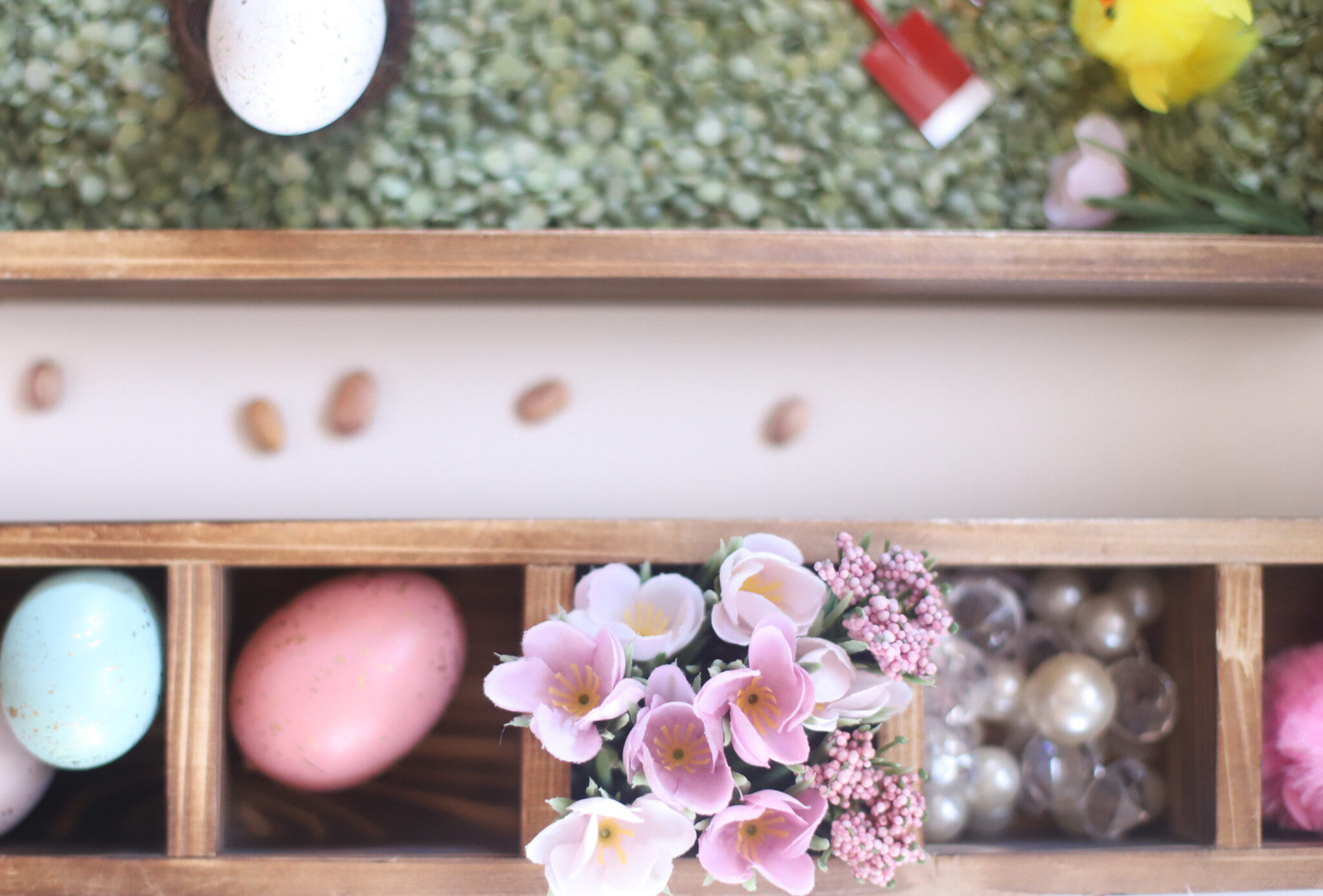 What We Put in Our Spring Sensory Bins:

Putting Together the Spring Sensory Bins:
Once you have everything, putting together a sensory bin couldn't be simpler: put all of the accessories into the bin, set your kids up on a playmat to catch any spillover or mess, and let them play!
I had fun adding a few additional toys and accessories in the 5-section tray to really encourage the kids to mix and match and play.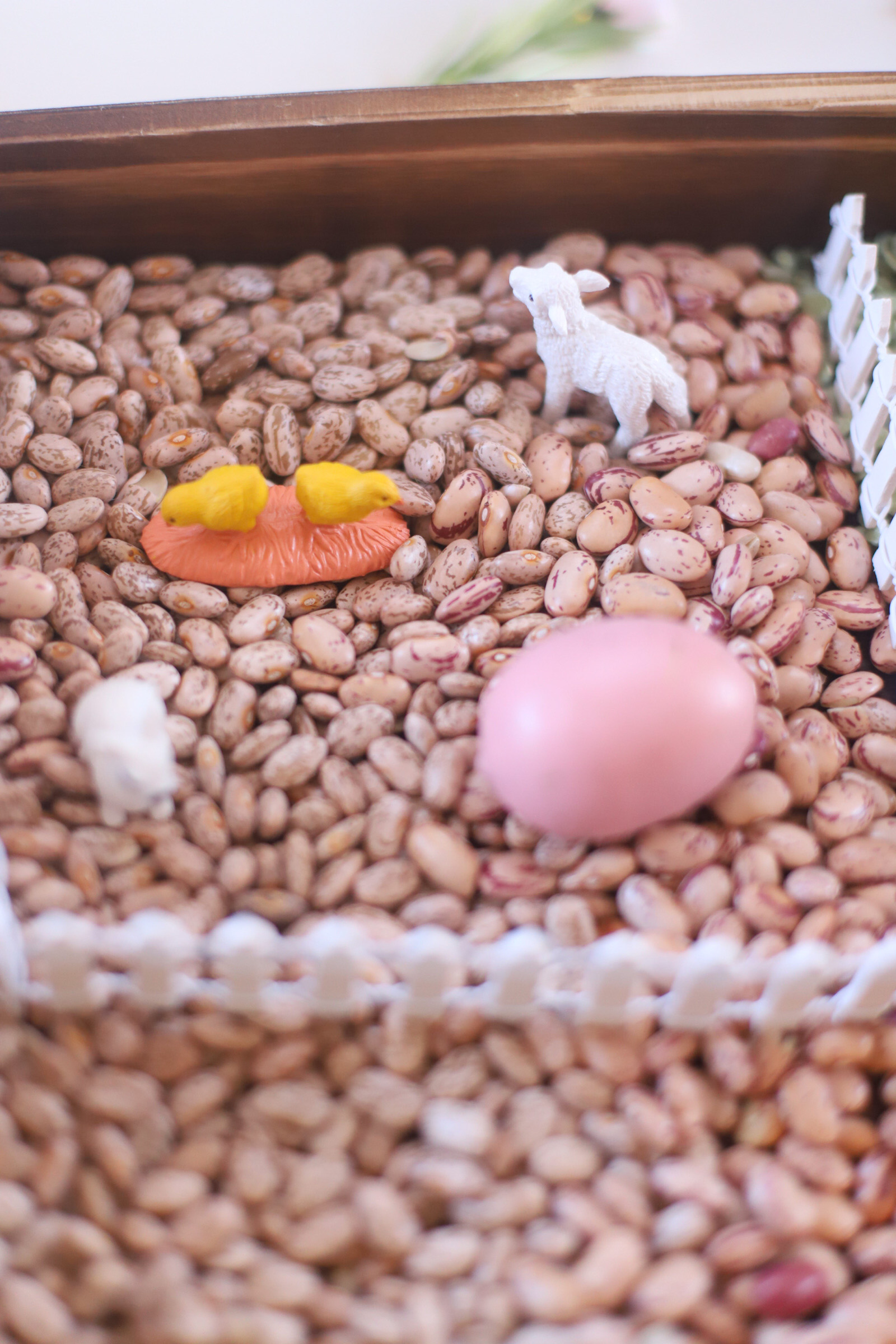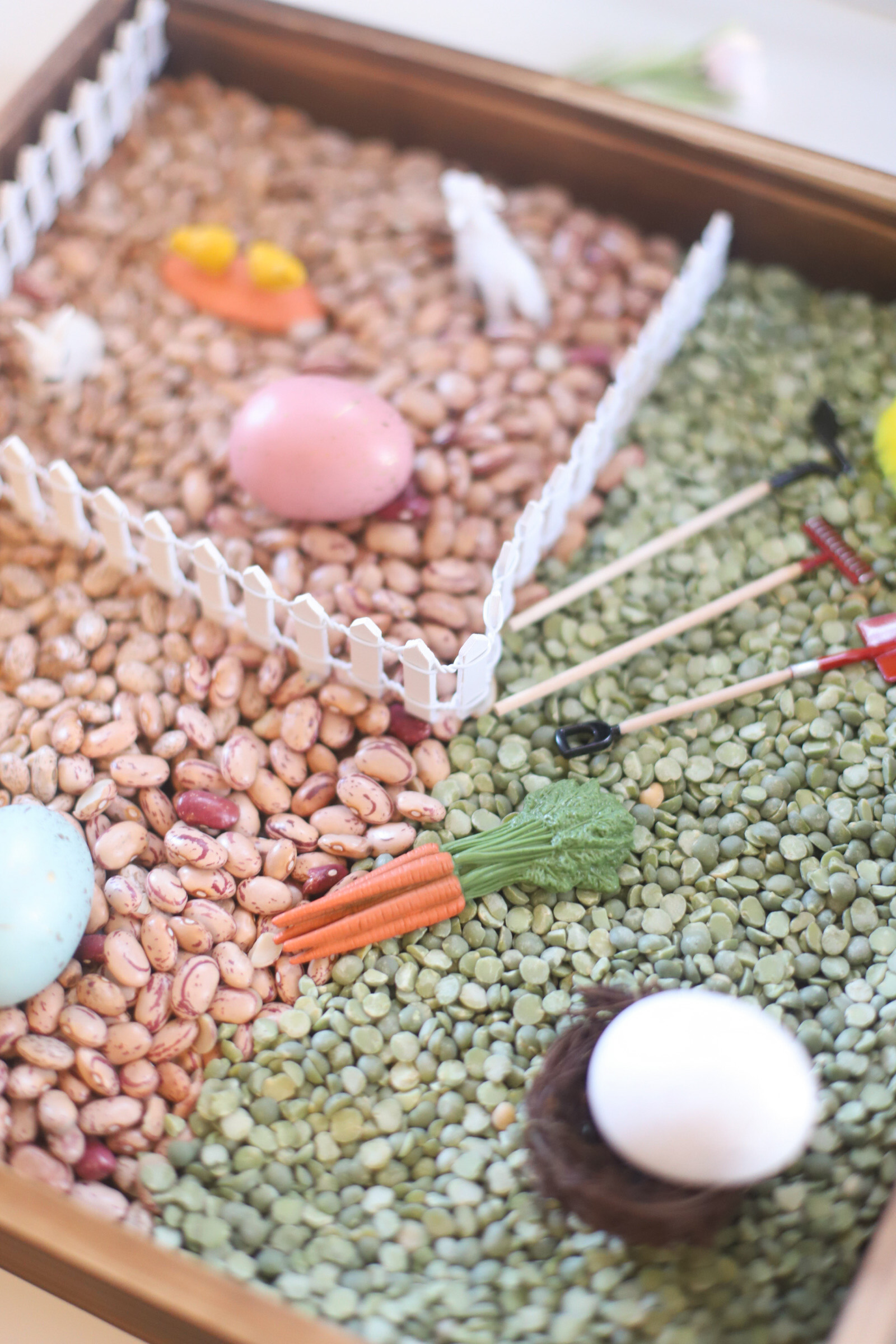 It was so much fun watching our kids create scenes with their spring sensory bins. They built a garden for their vegetables, a house with a fence for their baby farm animals, hatched baby chicks, made rows in the fields with different colored beans, measure the animals by height and then by size, and so much more.
And as a parent, I love using dry beans for sensory bins because they're super inexpensive, non-toxic, totally natural, easy to clean up with a vacuum, and the kids can play with them again and again.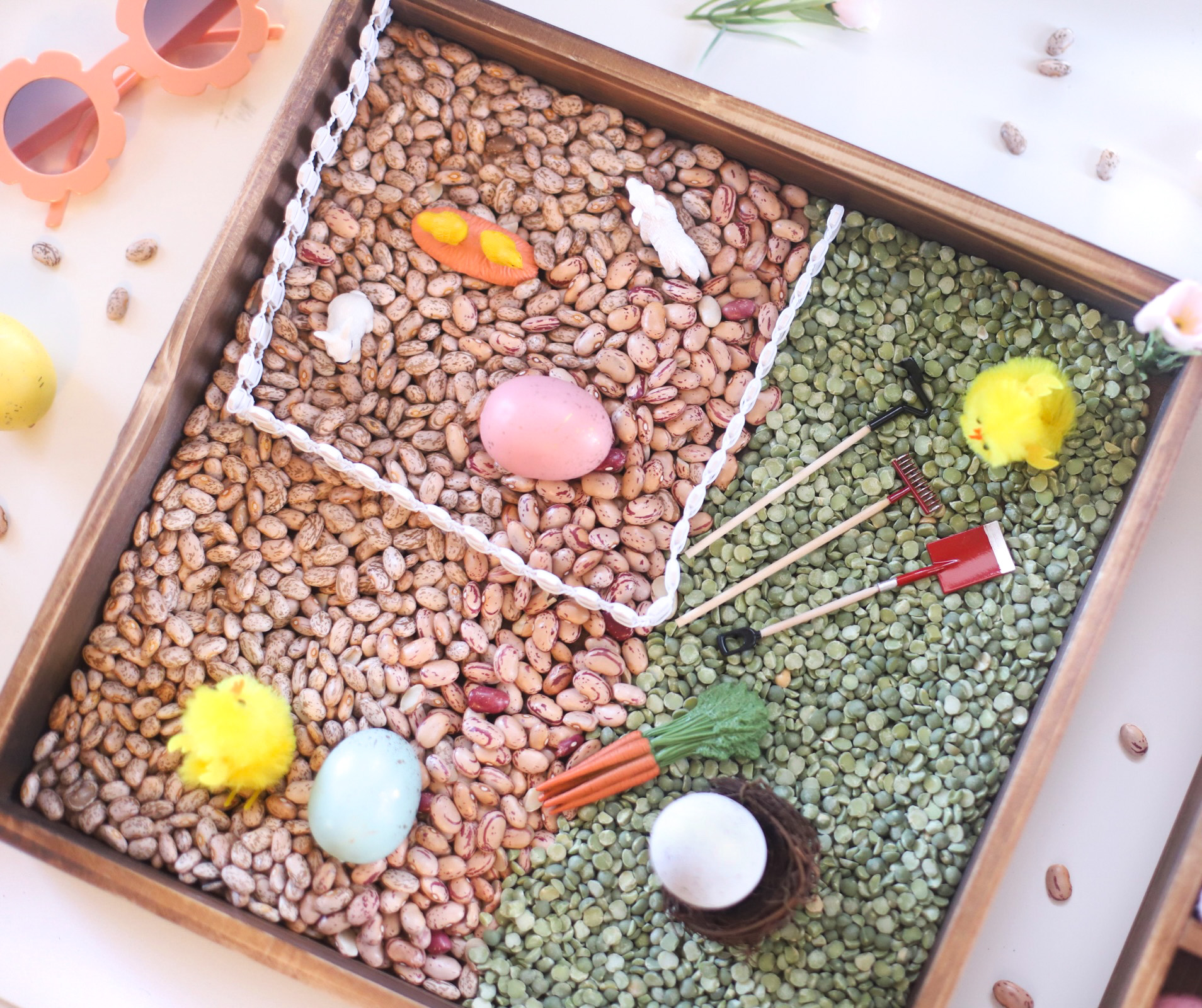 I may even swap out the beans for play dough and add in mini terracotta pots and little shovels next to encourage more "planting" for the spring season.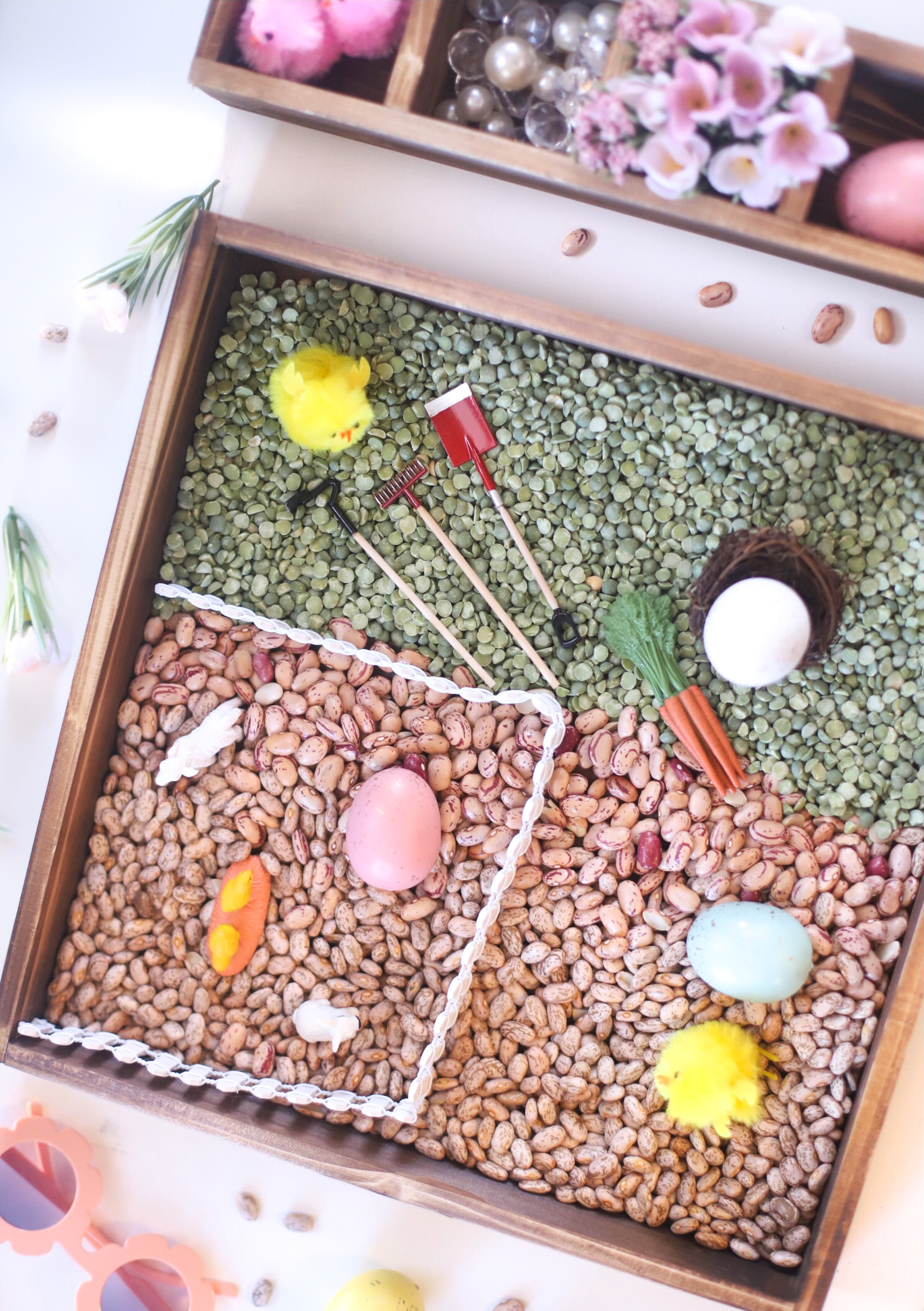 So there you have it: the cutest farmhouse-inspired spring sensory bins for kids; a.k.a., the perfect hands-on activity for toddlers and beyond.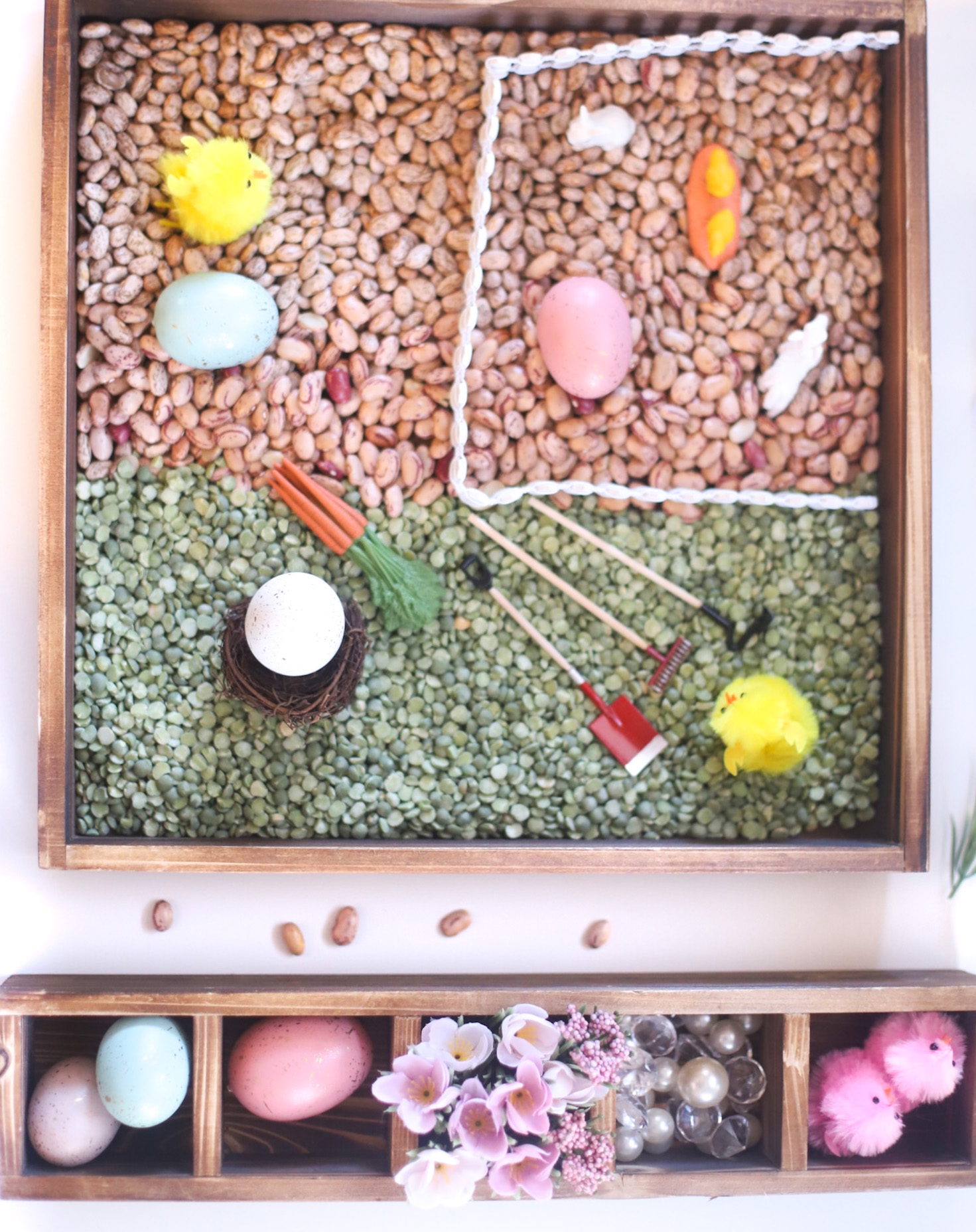 SHOP THE KIDS SPRING SENSORY BINS ACTIVITY | CLICK LEFT & RIGHT ARROWS TO EXPLORE

Looking for more fun activities to do with your kids this season?
IF YOU LOVED THIS KID-FRIENDLY POST, YOU CAN SEE MORE OF OUR LIFE WITH TWO LITTLE ONES HERE AND ALL OF OUR KIDS ACTIVITIES AND CRAFTS HERE