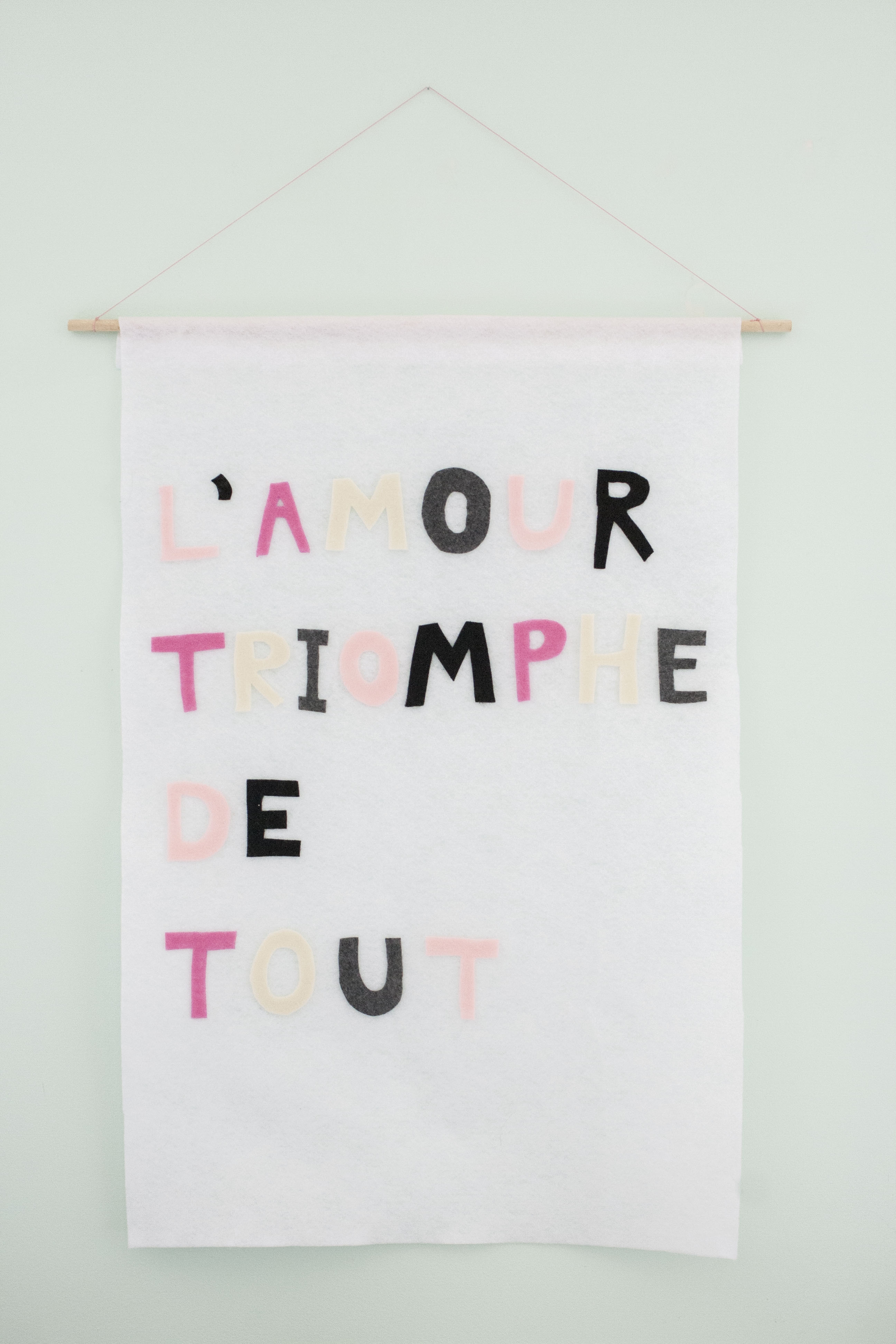 I am so thrilled to be here on Glitter Inc. today while Lexi enjoys time with her brand new little one! Knowing that Lexi and her hubby were about to welcome a baby girl provided instant inspiration for me to create a pink-filled DIY felt banner to one day grace her nursery. With a pretty Parisian phrase in mind care of Lexi herself ("L'amour triomphe de tout," or "love conquers all"), I hit the ground running, craft glue in hand.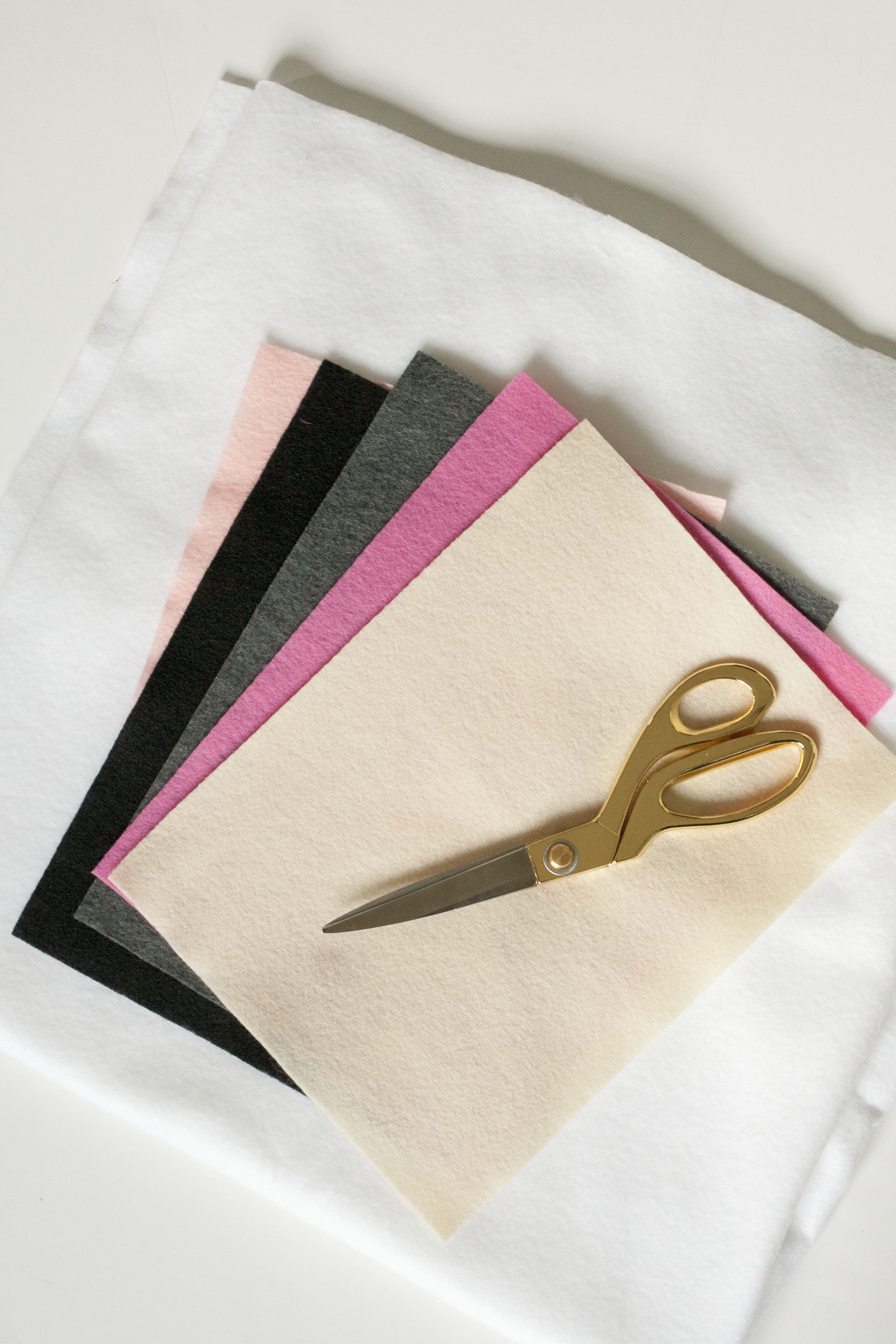 Large sheet of backer felt (we went with white)
Small sheets of colored felt (the more colors the better!)
Scissors
Pen or fabric marker
Craft glue
Dowel rod
Hot glue gun, hot glue sticks
Colored string
With Lexi's muted pink, gold and gray color scheme in mind, I started by gathering felt to match. These printer paper size sheets of felt can be purchased at your local craft store and cost just a dollar or so apiece, making this project perfect for the budget-savvy DIY-er. For the larger piece of felt (that the letters would ultimately go on), I bought 1 yard of white felt from the fabric store, cutting it down to size—about 3 feet by 2 feet.
Next came the letters for Lexi's dreamy French phrase, "L'amour triomphe de tout." Alternating colors, I drew each letter onto the felt sheets using a pen and then cut them out with a pair of heavy duty scissors—this golden pair from Target is perfect for projects like this! Next, I flipped each letter over in turn and squeezed a bit of craft glue onto the backs, pressing them into place on the white felt.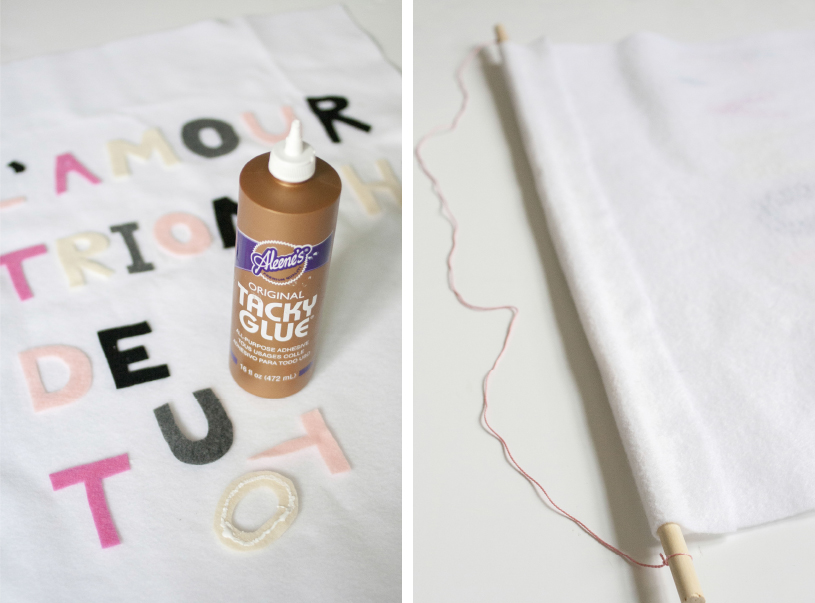 With the phrase in place and after allowing the letters to dry for about an hour, I flipped the felt over and laid a dowel rod about two inches down from the top. Then, I folded the felt over and hot glued it into place. The final touch was a piece of pink twine cut to size (about 2.5 feet long) tied to each end of the dowel rod. To finish, I added a tiny nail to the wall and then looped the banner on top.
NOTE: It's a little tough to see here in these photos, but happily it's much easier to read in person. To guarantee easy readability for your own banner, simply choose darker colored felt!
Although shown here in my studio before mailing off to Lexi, I can't wait to see how it looks dressing up the walls of her baby's new nursery. Thanks for having me, Lexi, and congrats!!
Carrie Waller is the writer, designer and stylist behind the blog, Dream Green DIY. Photos courtesy of Carrie Waller for Glitter Inc.