It's here!  It's finally here!  The legal e-book I wrote for The B Bar is officially live, and I couldn't be more excited.*  When Victoria and Meg approached me a few months back, asking if I would be interested in writing a book for their blogging bar [an amazing online bookstore stocked full of e-books (a.k.a., cocktails) for all of your blog and business troubles], I jumped at the chance.  I've been looking for a way to combine my career as a lawyer and blogging in a way that feels really organic and approachable, and an e-book, explaining the ins and outs of the legal issues that might come up as a blogger, seemed like just the way to start.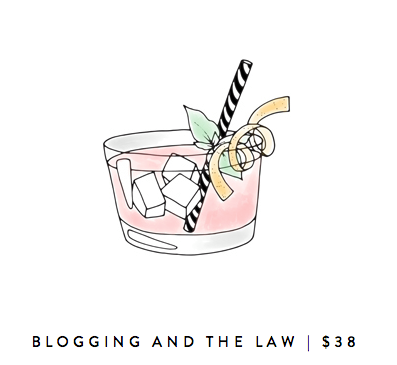 The Blogging and The Law e-book is for bloggers who are interested in learning more about the legal issues that can arise throughout blogging. This includes things like using other artists' photographs (fair use), protecting your own original content (think photos, graphics, etc.), disclosing gifted items, how to handle cases of plagiarism and defamation, and so much more.  So head over to The B Bar, and get yourself a copy!
*I've also added a handy link up at the top of Glitter, Inc. under the Business Services drop-down menu to easily hop over to my Blogging and The Law e-book.  Plus, there's a link to The B Bar on my Small Businesses + Boutiques page (more great businesses, coming soon!)
*I just wanted to send a little thanks to my Daddy – who has practiced as an attorney for 30+ years and has taught me so much of what I know – for all of his insight and help on this e-book!