Earlier this month I shared the nursery inspiration style board for baby girl's upcoming Paris chic nursery, and today I'm so excited to share her bookshelf styling as well.  I fell instantly in love with the Petal Pusher Wallpaper in Gold, OhJoy! for Hygge & West (and doesn't it make just the dreamiest of backdrops?), though we're only in this apartment for another ten-or-so months … so we may just frame wallpaper samples for the time being.  Other than that, we're going a bit accessory crazy, because there is just so much cuteness out there.  The Paris prints keep our French theme going strong, and we've stocked up on all of my own favorite books that I adored as a little girl.  (Now let's just hope the real-life version looks half as good!)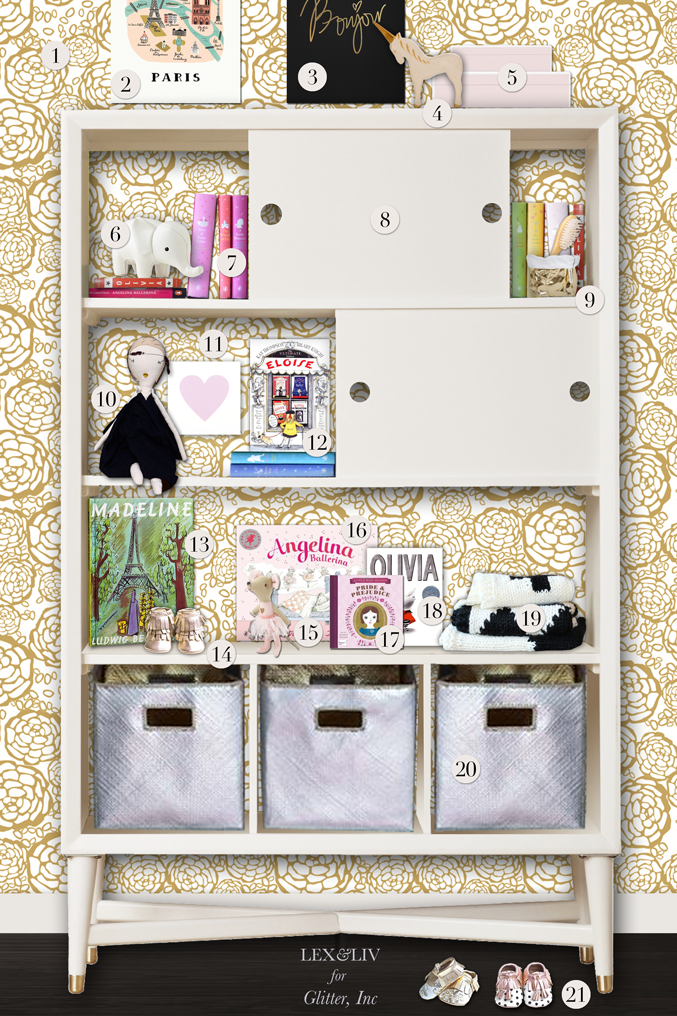 Shop the Nursery Bookshelf:
Petal Pusher Wallpaper in Gold, OhJoy! for Hygge & West
Paris Print, Rifle Paper Co.
Bonjour Print, SS Printshop
Wooden Unicorn, Acorn Toy Shop
Elle Lacquer Storage Box Set, Swing Design
Elephant Menagerie Bookend, Serena & Lily
Puffin Children's Classics, Set of 10
Mid-century Bookcase, Dwellstudio
Uashmama Gold Paper Bag, Safari Living, or here for the gold/ white version
Jess Brown Doll, Loup Charmant
Heart Print, DIY
Eloise Ultimate Edition, Kay Thompson & Hilary Knight
Madeline, Ludwig Bemelmans
Gold Mocc Boots, Minimoxie
Maileg Ballerina Mouse, My Sweet Muffin
Angelina Ballerina, Katharine Holabird and Helen Craig
Pride and Prejudice Board Book, Jennifer Adams and Alison Oliver
Olivia Board Book, Ian Falconer
Mini Rodini Jaguar Print Sunglasses, Alex and Alexa
Gold Tiara Headband, Atsuyo et Akiko
Knitted Blankets, Yarningmade
Metallic Pandan Bins, Serena & Lily
Moroccan Wedding Moccs and Black/ White Polka Dot Moccs, Minimoxie
Image board created by Lex & Liv for Glitter, Inc.