This post has been sponsored by American Greetings. All thoughts and opinions are my own. Thank you for supporting the sponsors who help to make Glitter, Inc. possible!
We're nearing the seventh month in pregnancy number two over here (I know! Where did the time go?) and of course, I've got baby on the brain. You can see how our little family announced that we were expecting baby number two here, how I told hubby we were pregnant (again) here, and what we're having here.
Funny enough, I know SO many friends who are pregnant as well, and with all of these ladies expecting, I keep trying to come up with sweet ways to let them know we're thinking of them once their sweet babies have arrived. I LOVE freezer meals, meal trains, and basically anyone willing to feed me in those first few weeks and months after baby's arrival, but I also know we'll quickly be having a new baby of our own, so prepping meals ahead for several friends may start to get trickier.
So I thought a lot about what it was like in the beginning with Scarlett; and what I remember most is how overwhelming it can feel. There's a steep learning curve when it comes to navigating life as a new mom (or a mom to two, three, etc., I suspect.) There were days that I felt a bit like I was losing "me" – totally normal, I now realize. What made a huge difference: the helpful hand, the thoughtful calls, the reminders to take care of myself too.
The idea: create a "New Mom Survival Basket" that any mom with a brand new baby would love.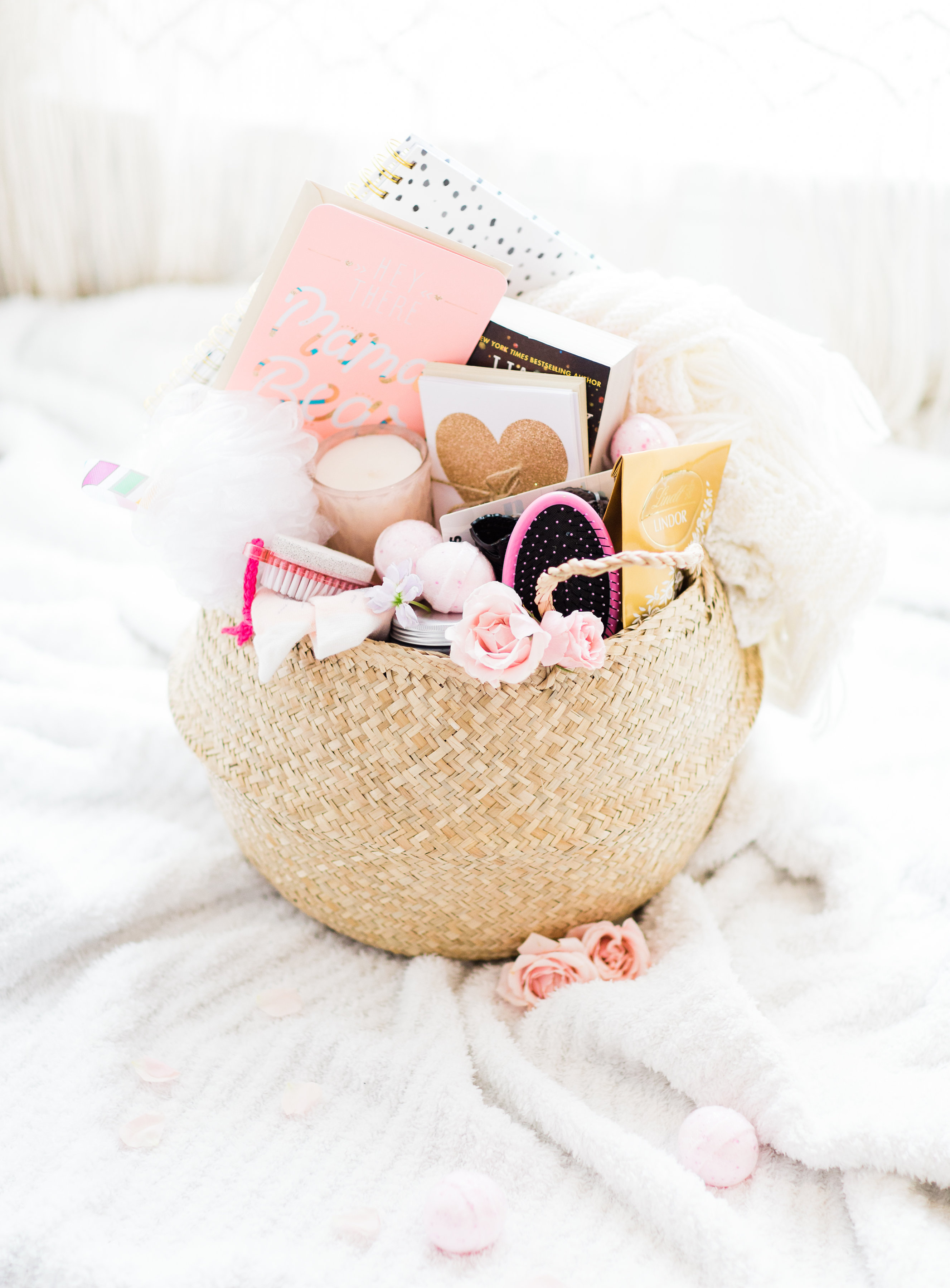 The perfect "New Mom Survival Basket" is filled with love and a whole lot of spoiling for a mother of a new baby.
Obviously, these are just a few idea for things you might want to put in a basket for a new mom; there are so many variations, and you might want to tailor the contents to your gift recipient.
How to Make A New Mom Survival Basket
WHAT YOU'LL NEED
A Basket (Loving these belly baskets lately!)
The Perfect Card for Mom
A Cozy Blanket
Bath Bombs
Foot Wand or Bath Brush
Bath Sponge
A Pack of "Thank You" Cards
Comfy Socks
Chocolate (or their favorite candy)
A Good Book (or a stack of favorite magazines)
Candle
Hair Brush
Hair Clips (Because a bun is her new hairstyle go-to!)
Face Mask
An Activity Book (like a coloring book or this hand-lettering book)
Markers or Colored Pens or Pencils
DIRECTIONS
Head to your local Target and find just the right card for mom, plus everything you'll want to fill their basket with.
Then, with an empty basket, start by folding a comfy throw blanket into the basket. Layer the gift items into your basket; and finally, top with a card. You can also wrap your gift basket in colored cellophane wrap.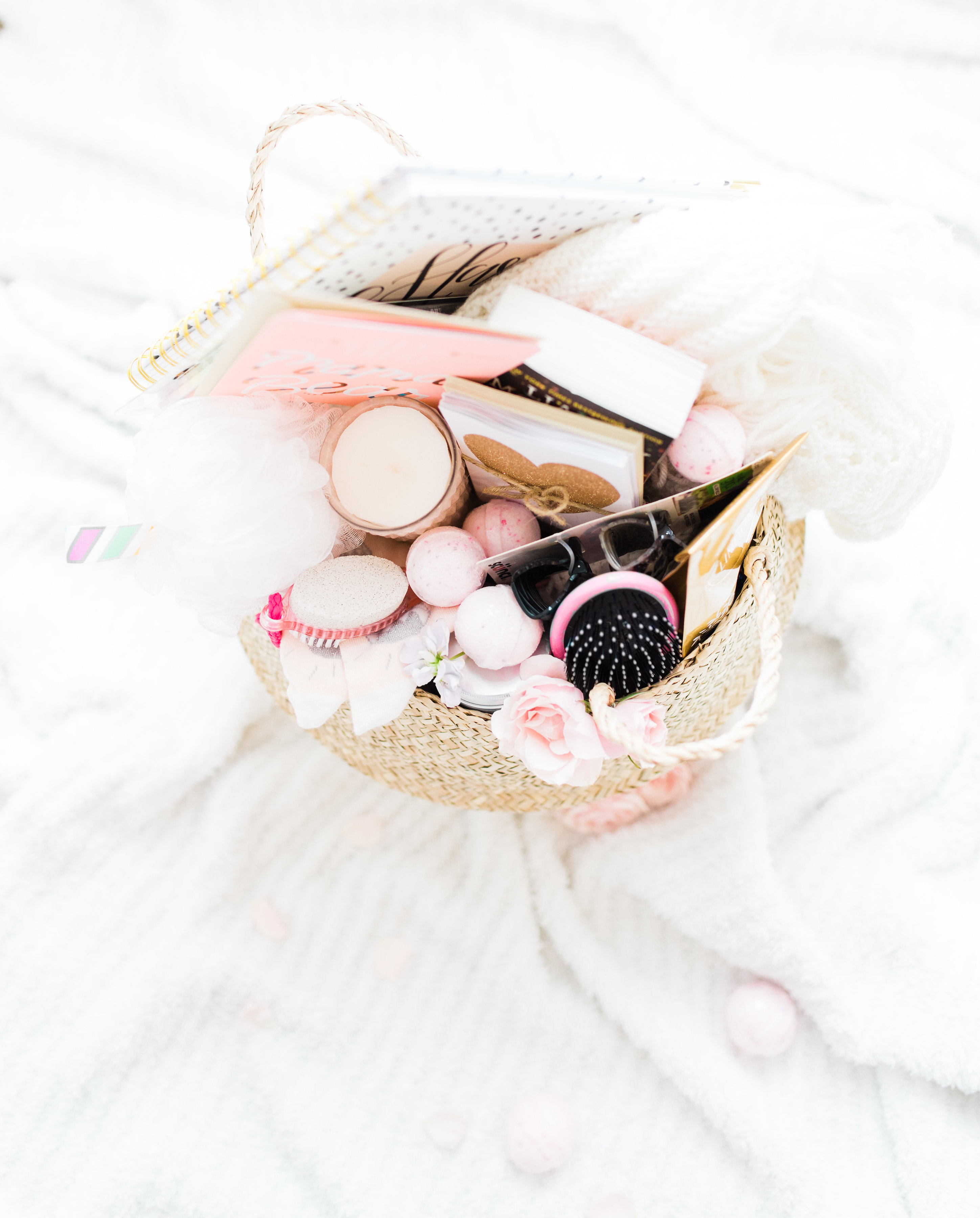 Voilà! A gift any new mom would love.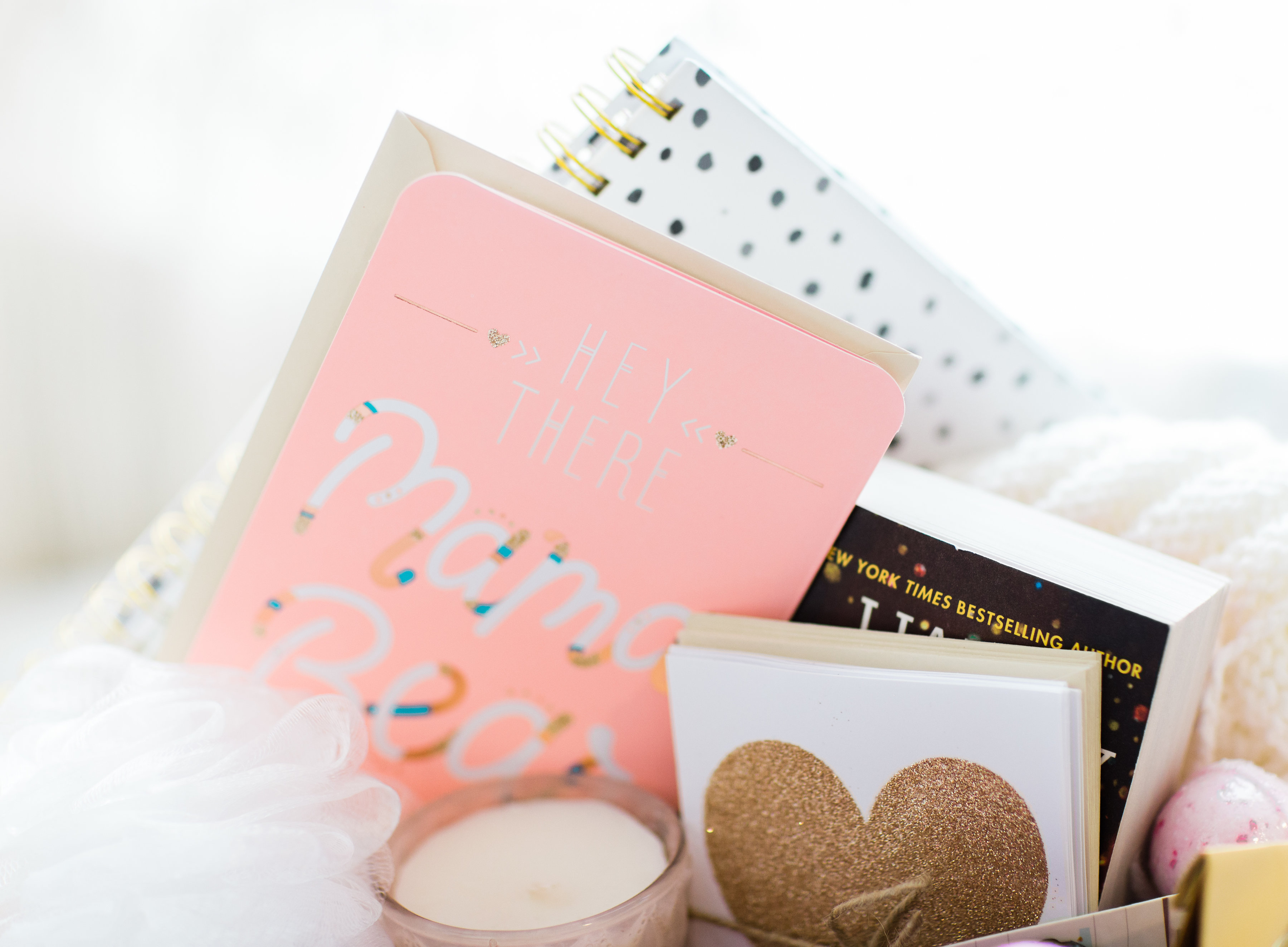 I loved standing in the card section at Target, reading each and every sweet greeting and sentiment. I can't believe we'll have another sweet baby in just a few short months.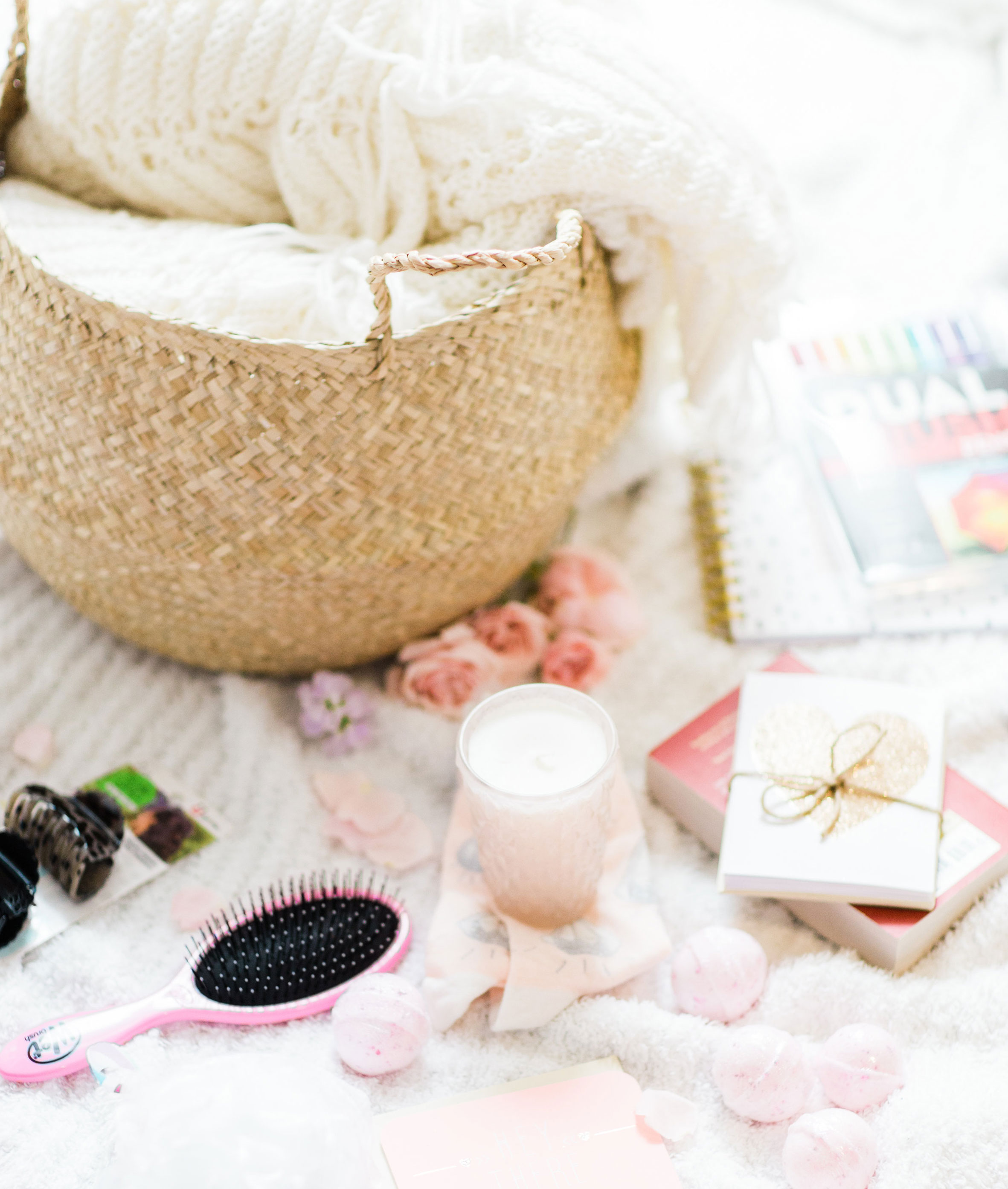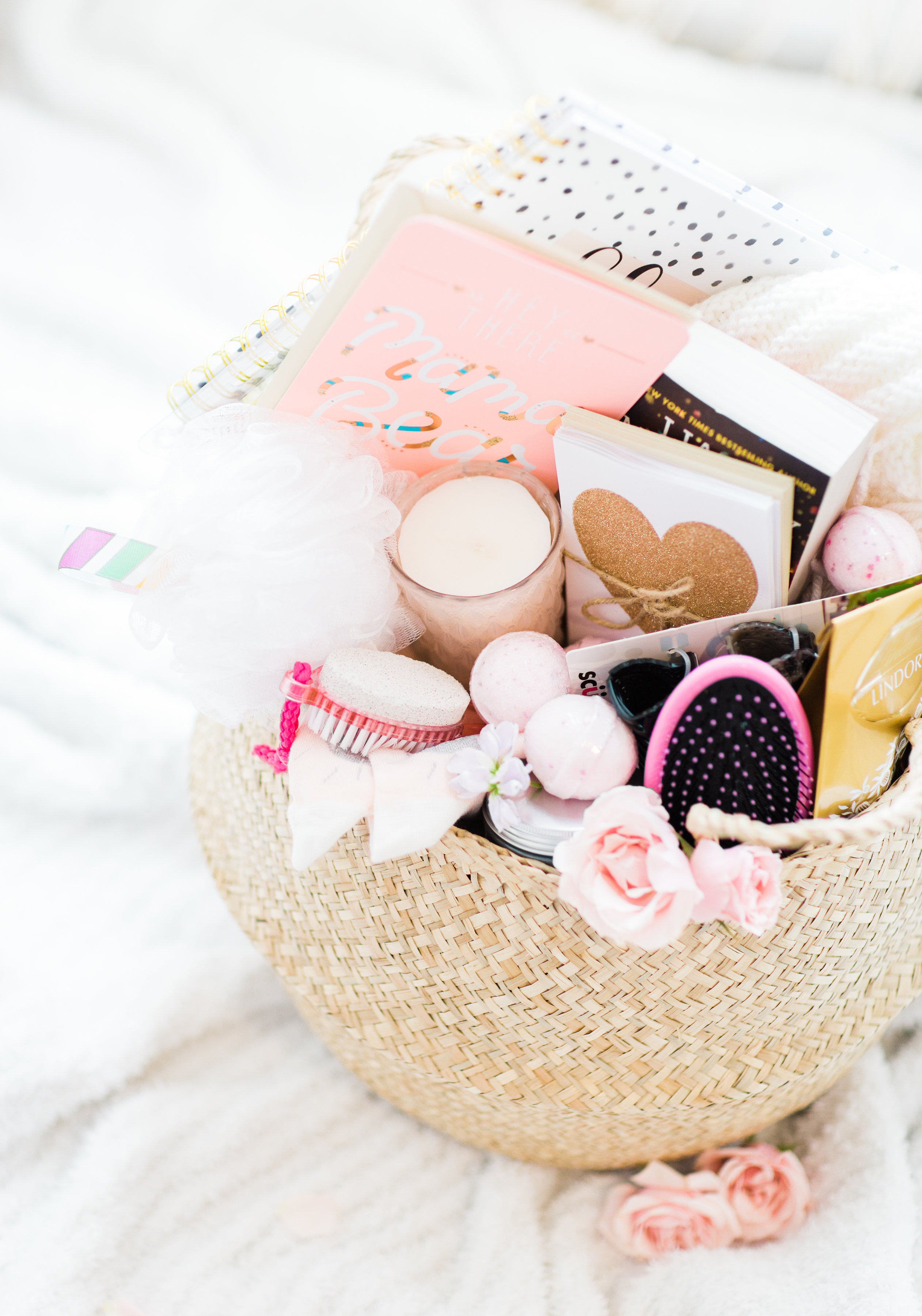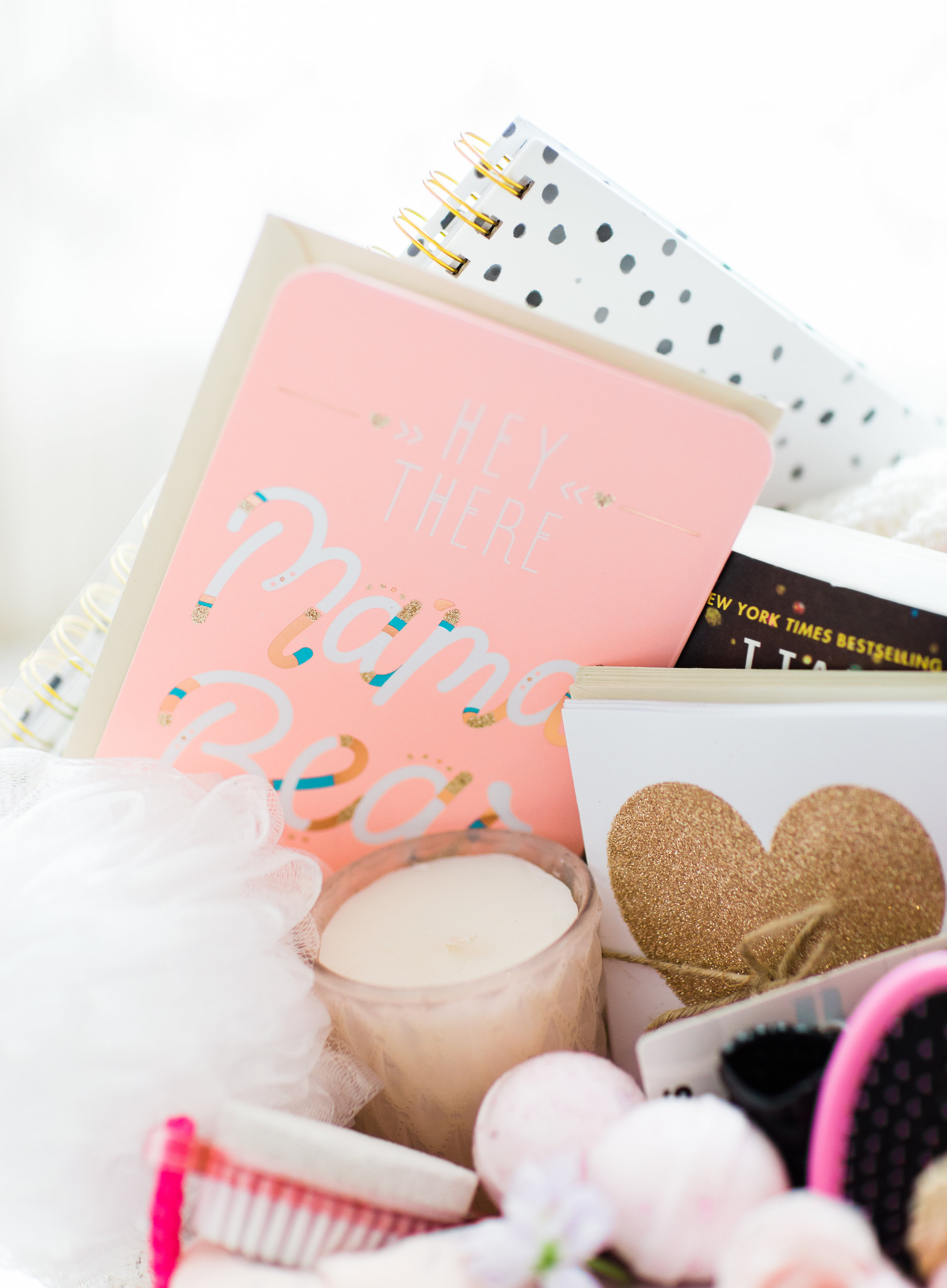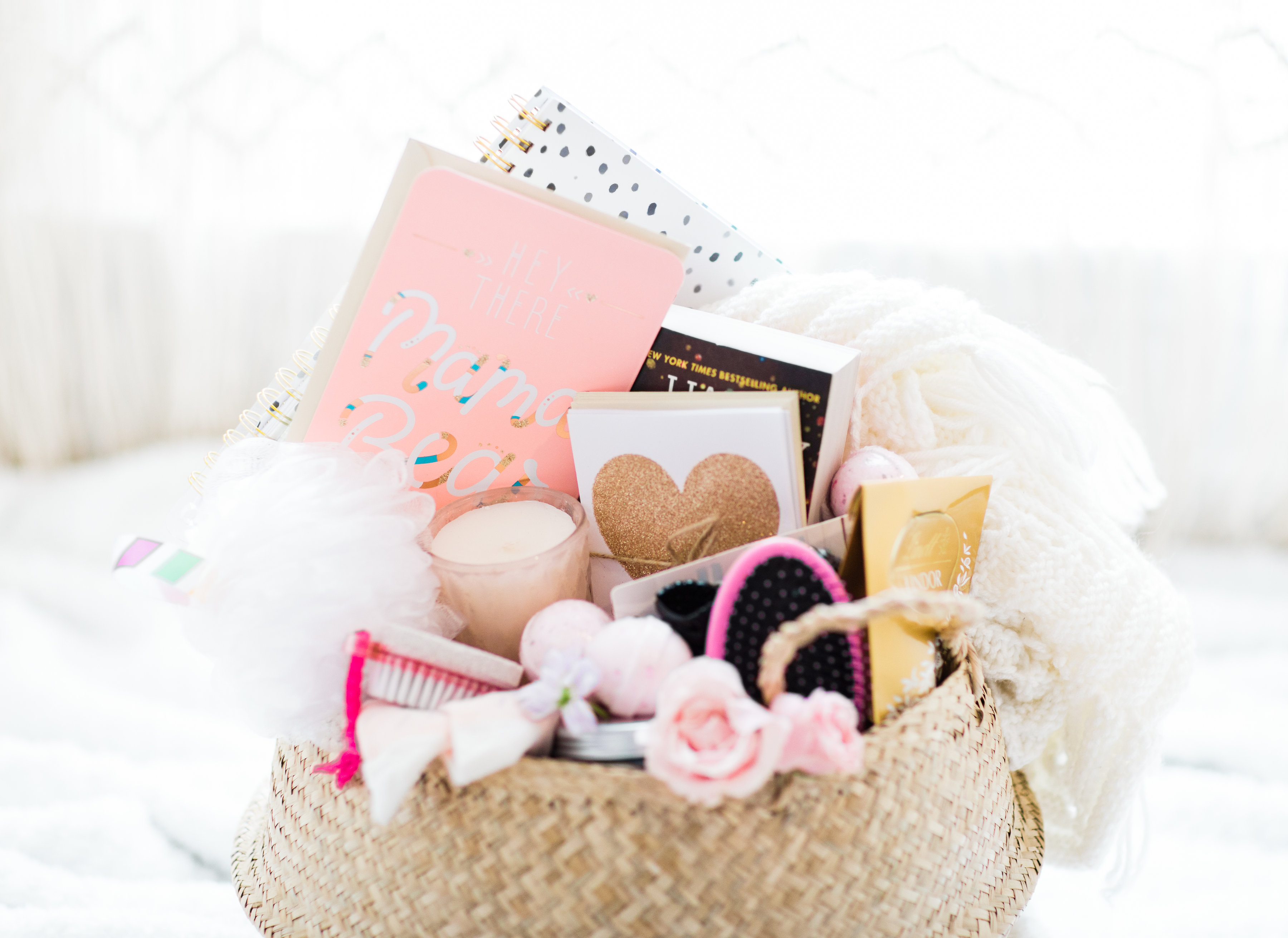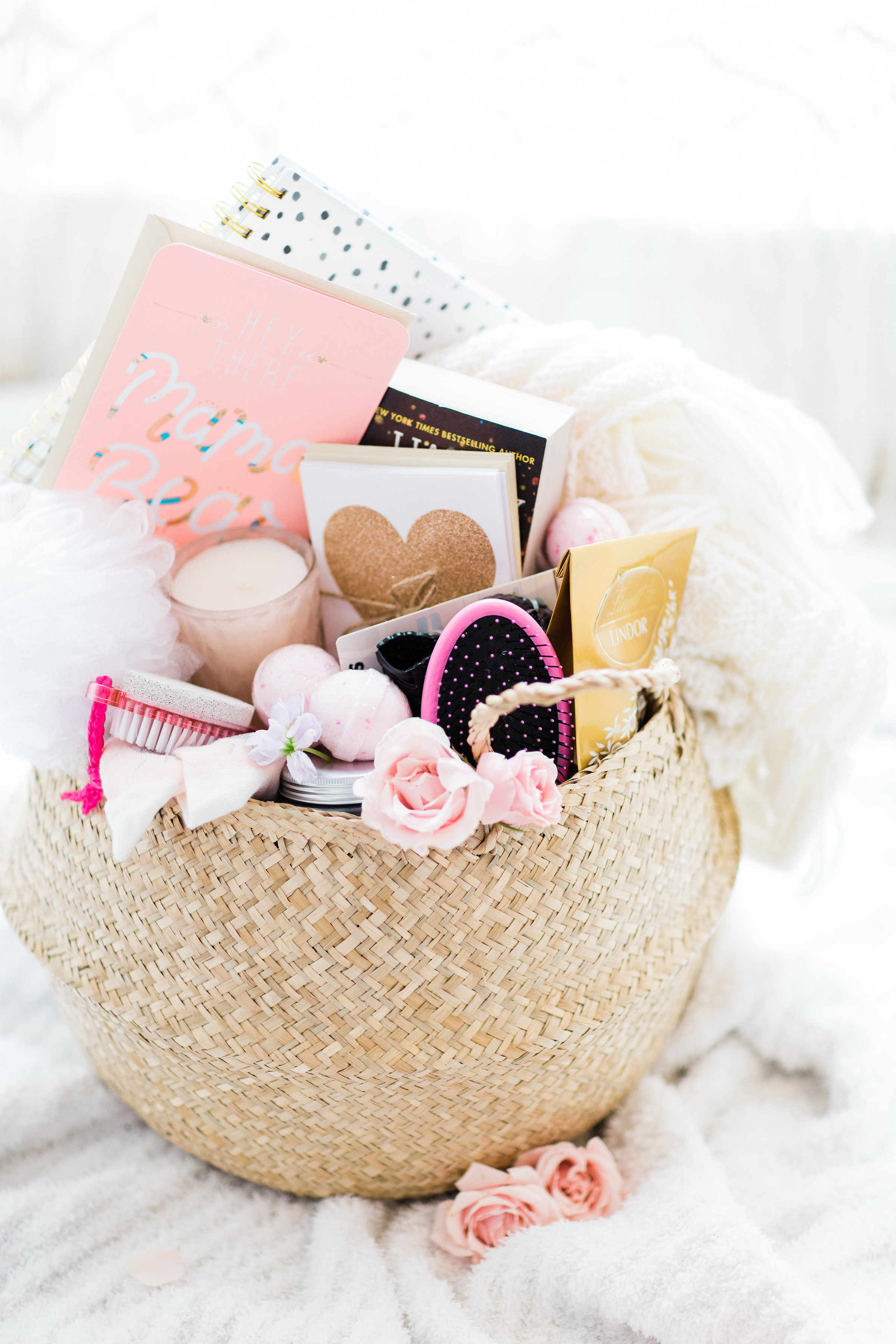 So there you have it: how to make a new mom survival basket, and just what you'll need.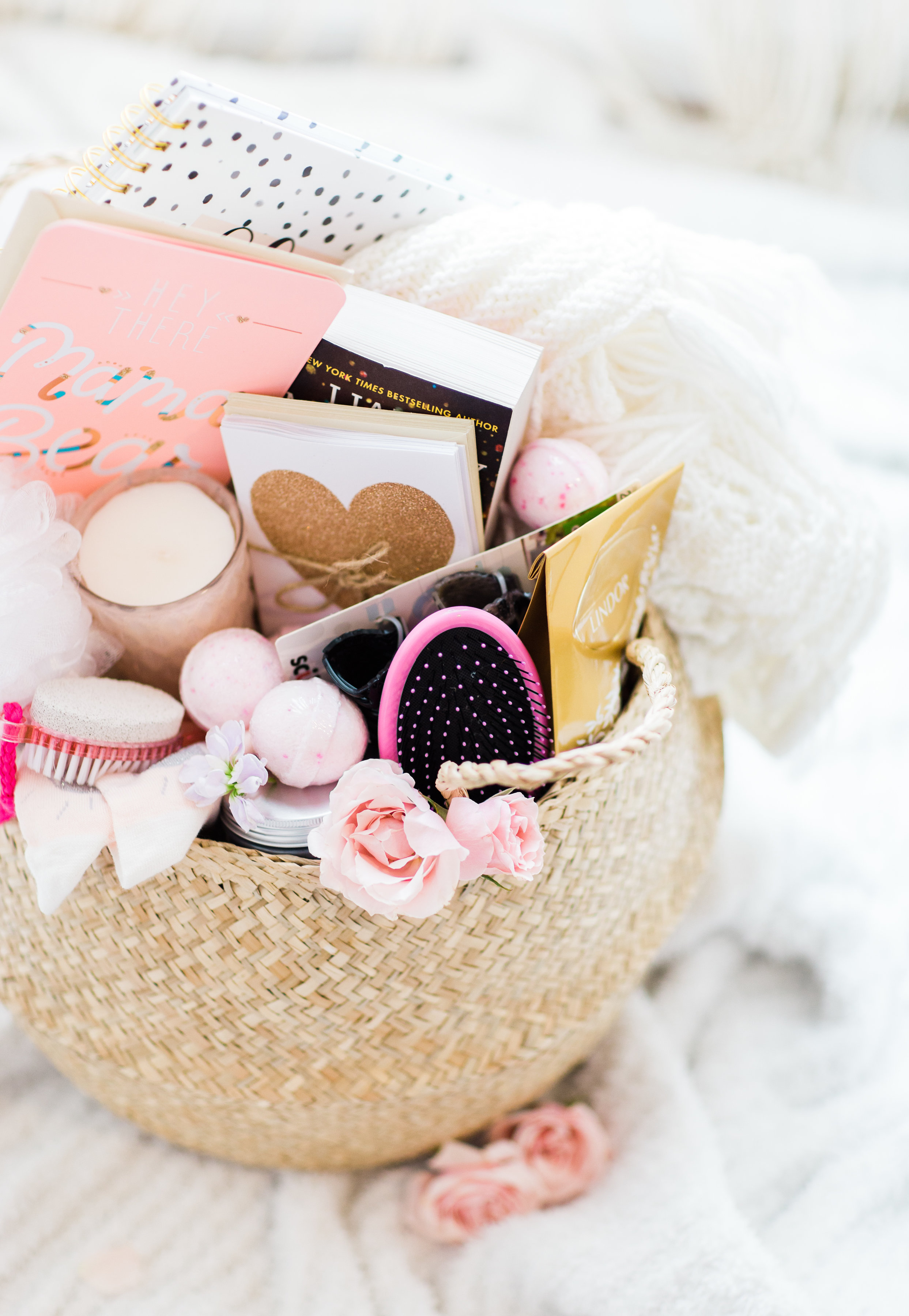 What would you put in a new mom survival basket?
If you're a mama yourself, any must-haves you know you would have loved in a basket or gift like this?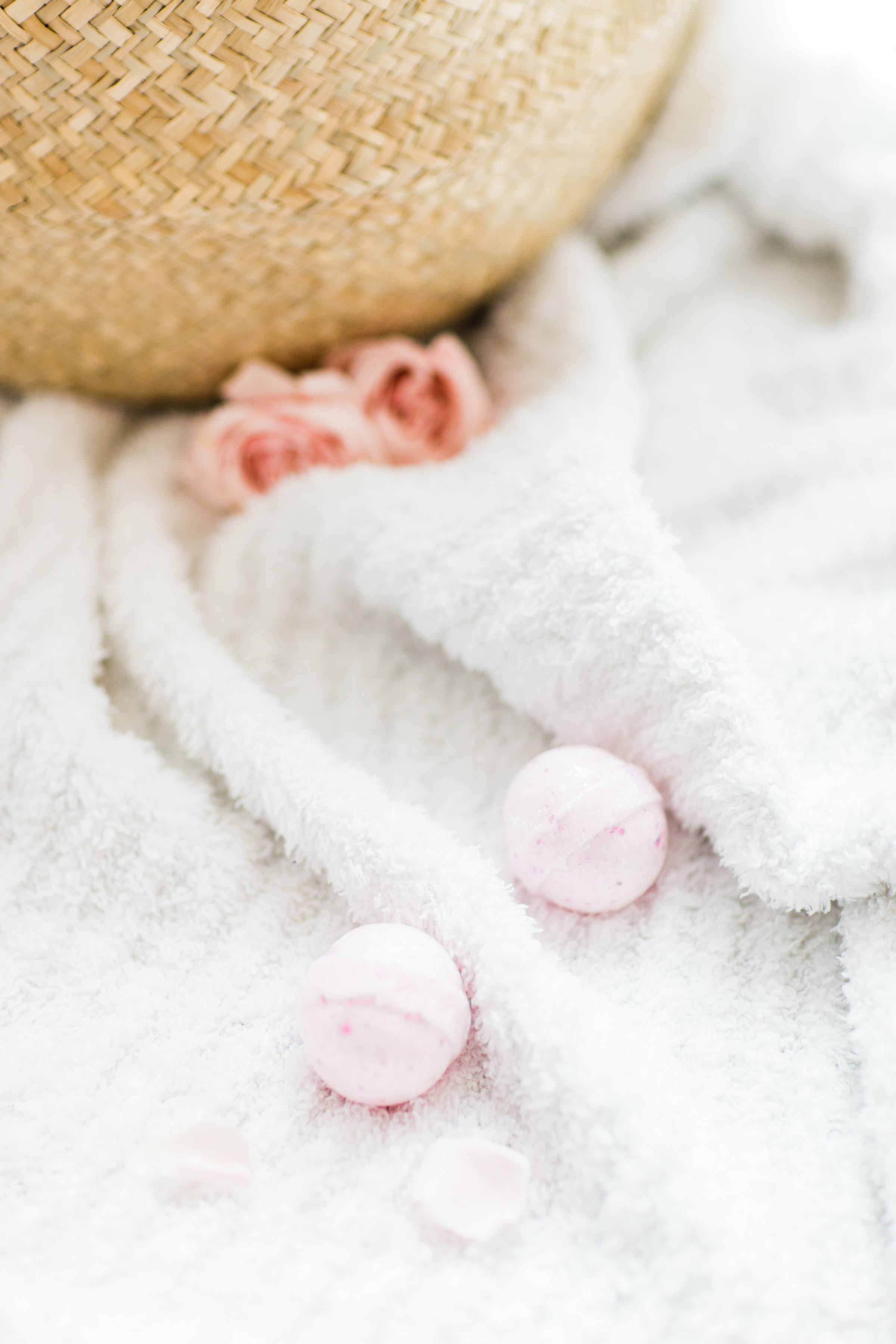 Check out the American Greetings Pinterest board for more inspiration.
Love this post? See more of our DIY projects here.
Photo by Annie Watts Photography for Glitter, Inc.
This post contains affiliate links, which means that if you click on one of the product links, I'll receive a small commission. Thank you so much for clicking through and helping to support this little blog business of mine! Read more about our site, privacy, and disclosure policies here.