This post contains affiliate links, which means that if you click on one of the product links, I'll receive a small commission. Thank you so much for clicking through and helping to support this little blog business of mine! Read more about our site, privacy, and disclosure policies here.
Celebrate Easter and the spring season with these adorable no-bake chocolate birds nests. The recipe is super simple to make, totally kid-friendly, and with a few easy tweaks, your chocolate bird's nest can be made totally vegan!
Easter is right around the corner, and naturally, we are whipping up a few sweet treats to celebrate. These No-Bake Chocolate Birds Nests are not only ADORABLE, but they're super easy to make, and kids can help every simple step of the way.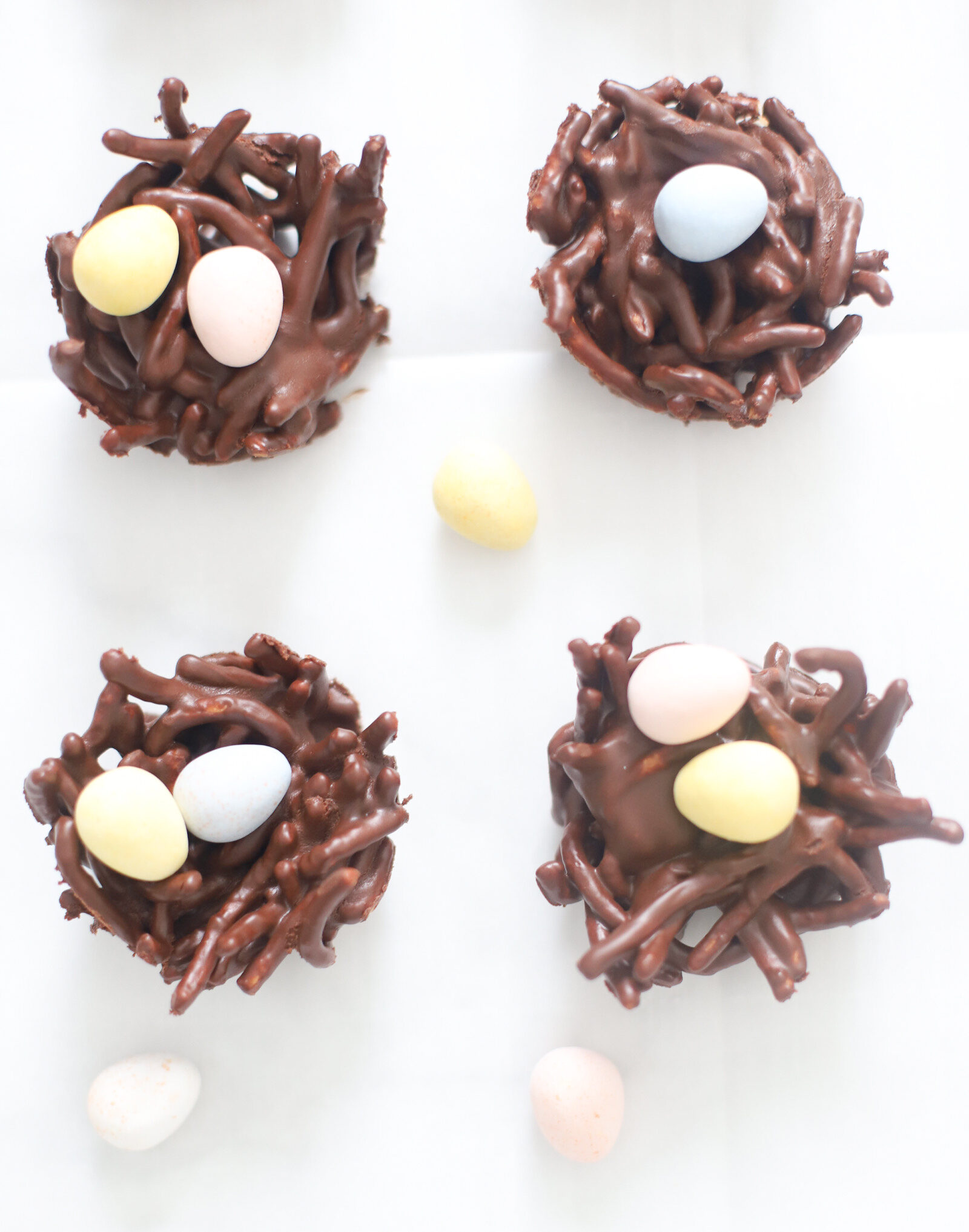 No-Bake Chocolate Birds Nests
To make these unbelievably charming chocolate bird's nests, you'll need just 4 ingredients: chow mein noodles (yep, you read that right!), chocolate chips, peanut butter, and candy eggs.
For our traditional chocolate birds nests, I used Cadbury mini eggs as the bird's nest "eggs" and for the vegan chocolate bird's nests, I used big jelly beans.
And of course, because there are only 4 ingredients, the recipe for these chocolate bird's nests is simple to make and pretty foolproof. There is no baking involved – just melting your chocolate and peanut butter either in the microwave or on the stove top. After that, you just mix in your chow mein noodles, give it a good stir, pour the mixture into pre-greased cupcake tins (I used a 12-cup muffin pan!), and once the chocolate cools and hardens, you've got your chocolate nests!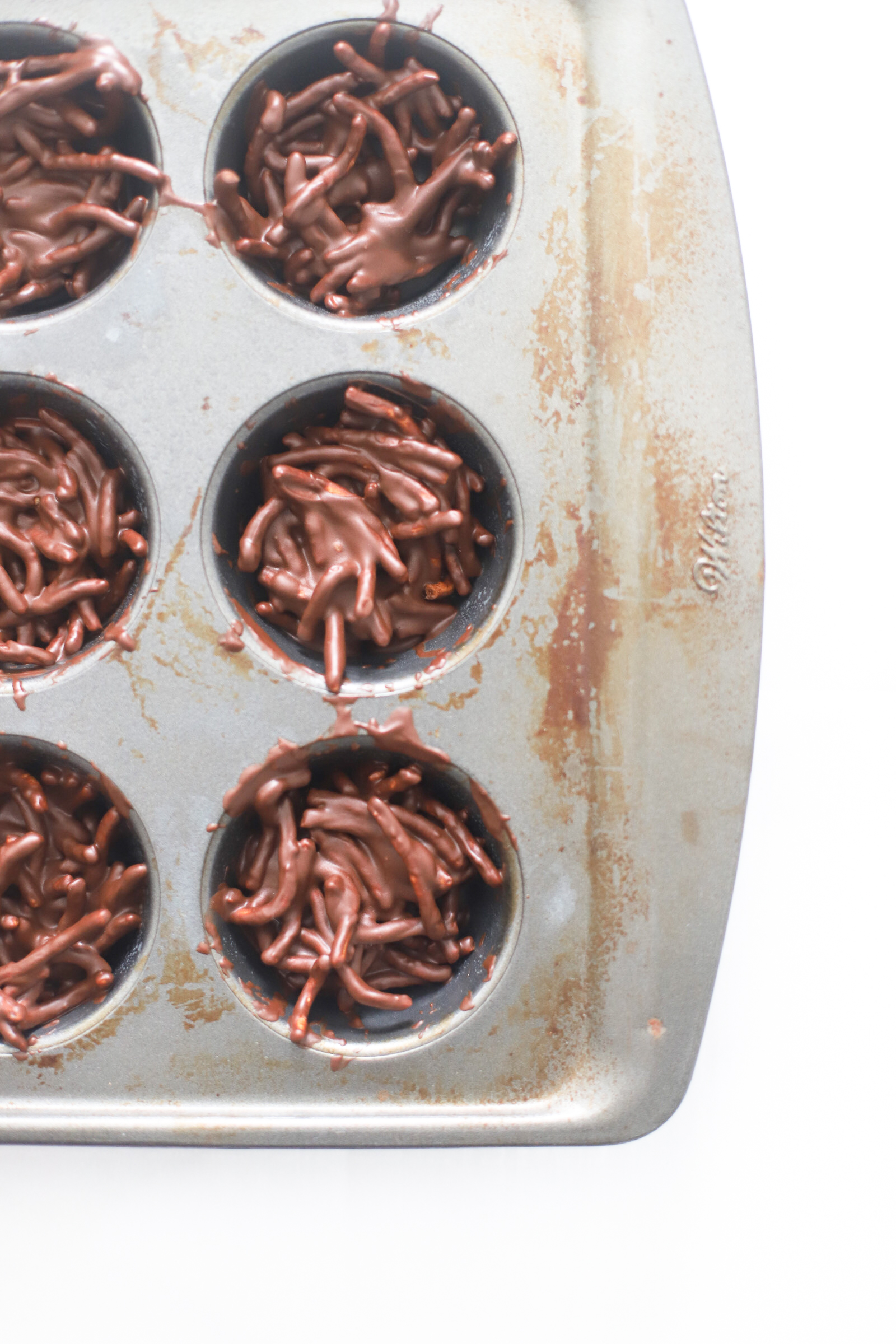 Then top those chocolate nests with your "eggs" and serve! EASY and ADORABLE, I tell you.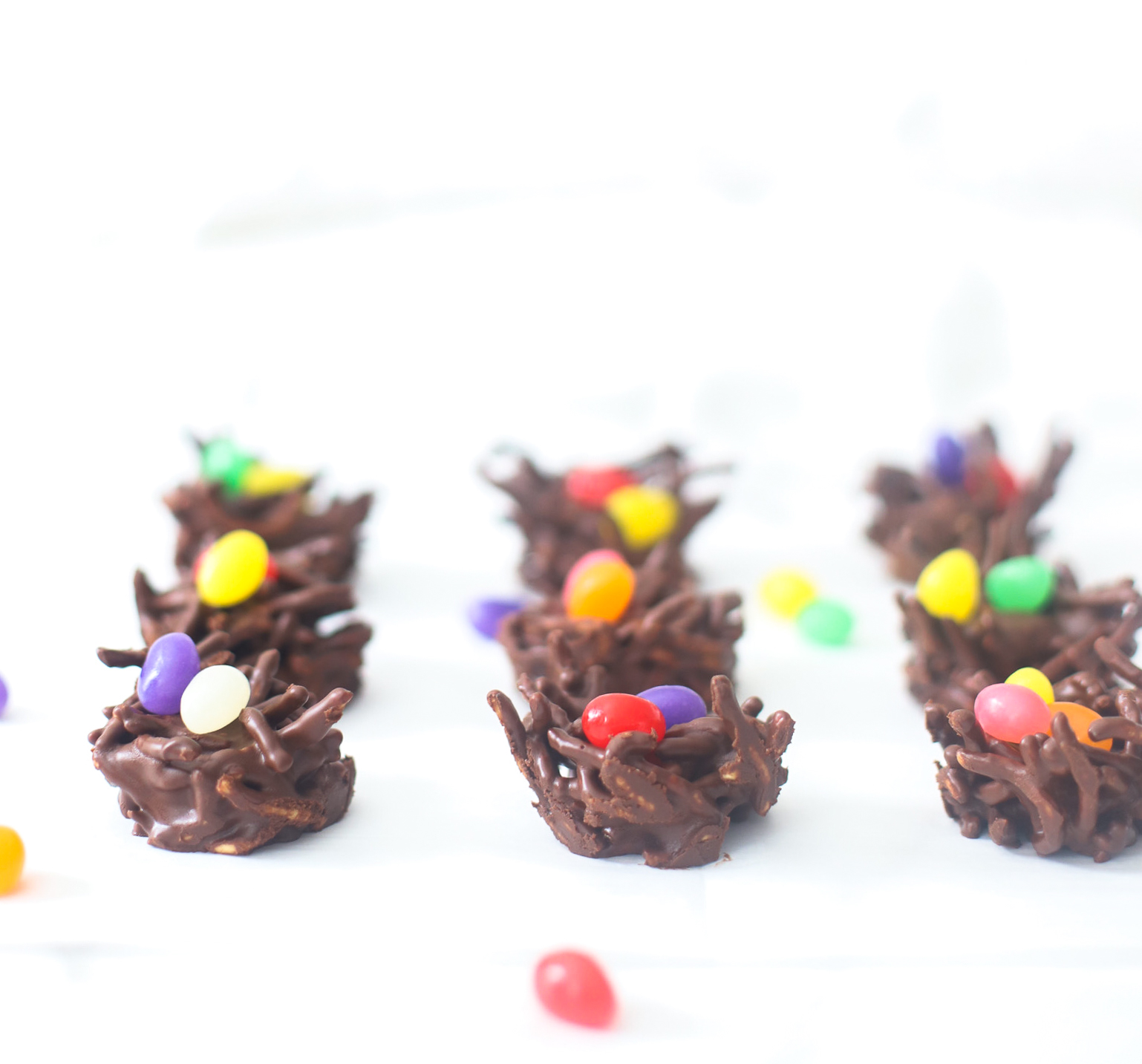 For the Vegan No-Bake Chocolate Birds Nests:
To make a vegan version of these no-baked chocolate birds nests, substitute regular chocolate chips for vegan chocolate chips, like Enjoy Life Chocolate Chips and instead of using Cadbury chocolate eggs, use jelly beans. (Such easy substitutions for a dairy allergy-friendly treat!)
Fun fact: chow mein noodles are vegan and you can even find gluten free chow mein noodles if you also want to keep things gluten-free.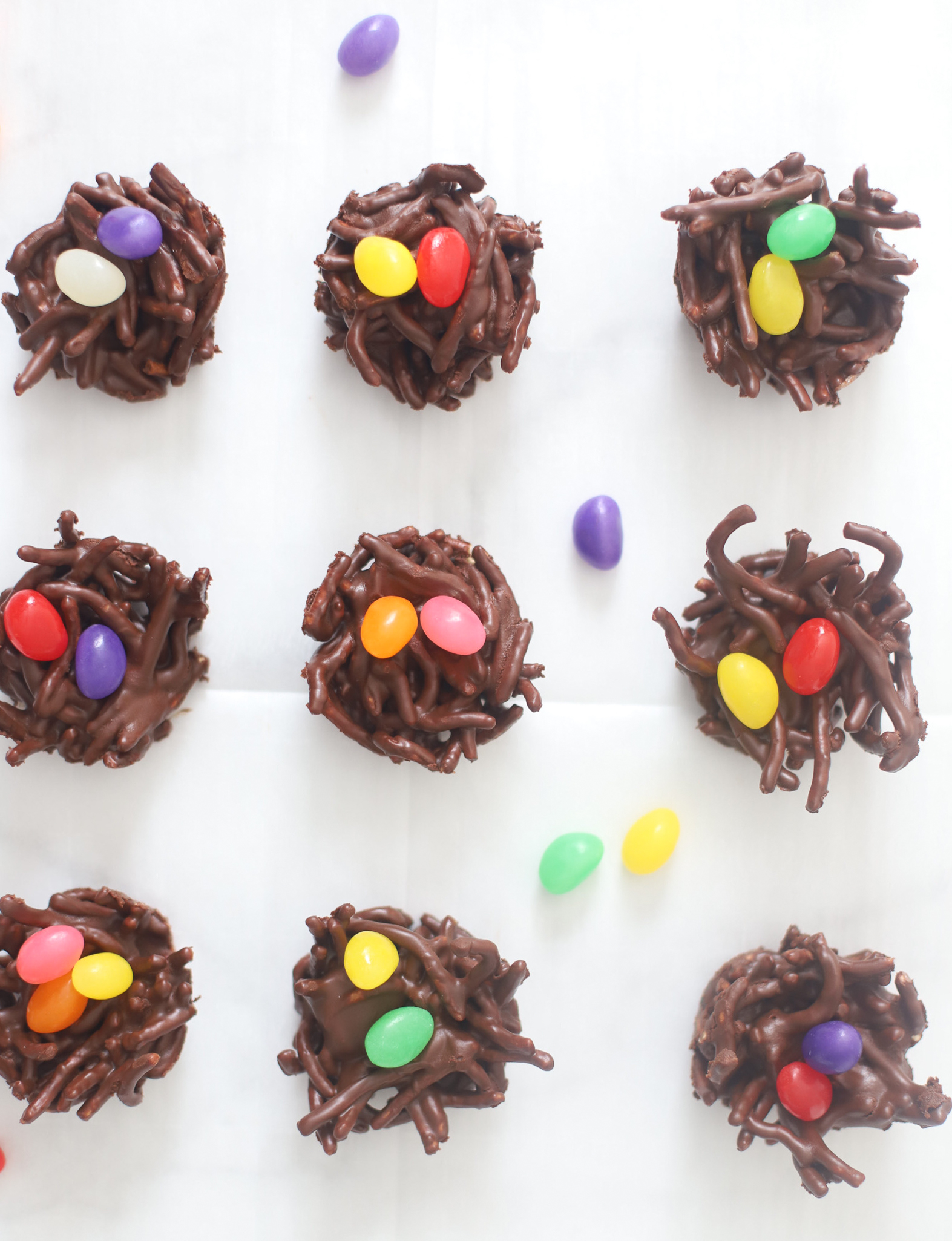 By the way, you may have noticed that we often adapt our recipes or offer solutions to recipes to bake up vegan and dairy-free treats. That's because our oldest daughter, Scarlett has MPIES (Milk Protein Induced Enterocolitis Syndrome). Over the years, we've changed a lot of our eating habits and I've made tweaks here and there in my baking to accommodate a dairy-free diet. We're always experimenting with vegan and dairy-free recipes, in case you're interested.
One of my secrets for yummy chocolate dairy-free desserts are these amazing chocolate chips. I use Dairy-Free Chocolate Chips (by Enjoy Life). The Enjoy Life Chocolate Chips are easily our favorite; they're gluten-free, dairy-free, nut-free, and soy-free, and totally delicious. Also, they bake and melt incredibly well. Even Target carries them!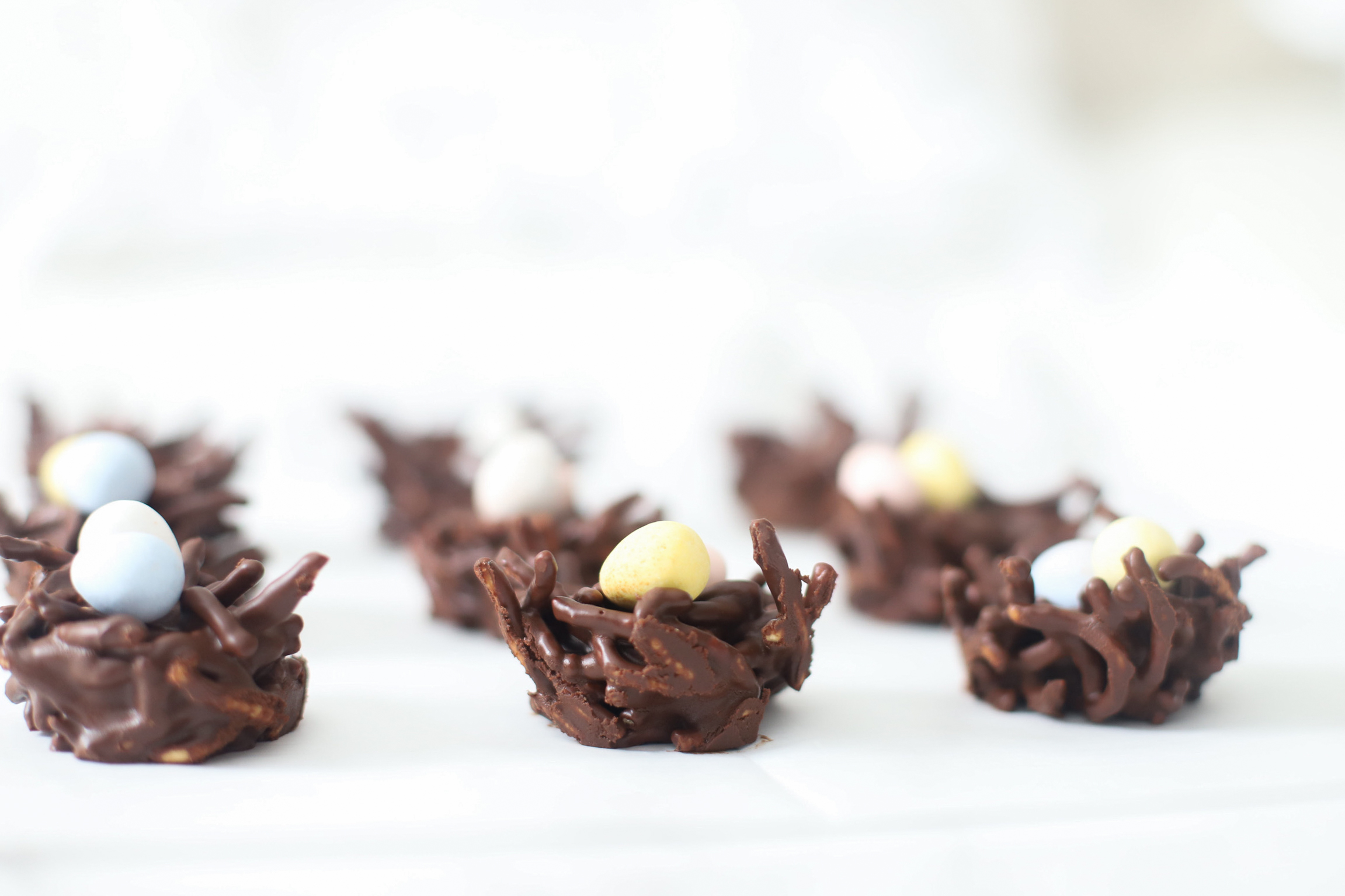 Now let's get to the recipe for these positively delightful No-Bake Chocolate Birds Nests!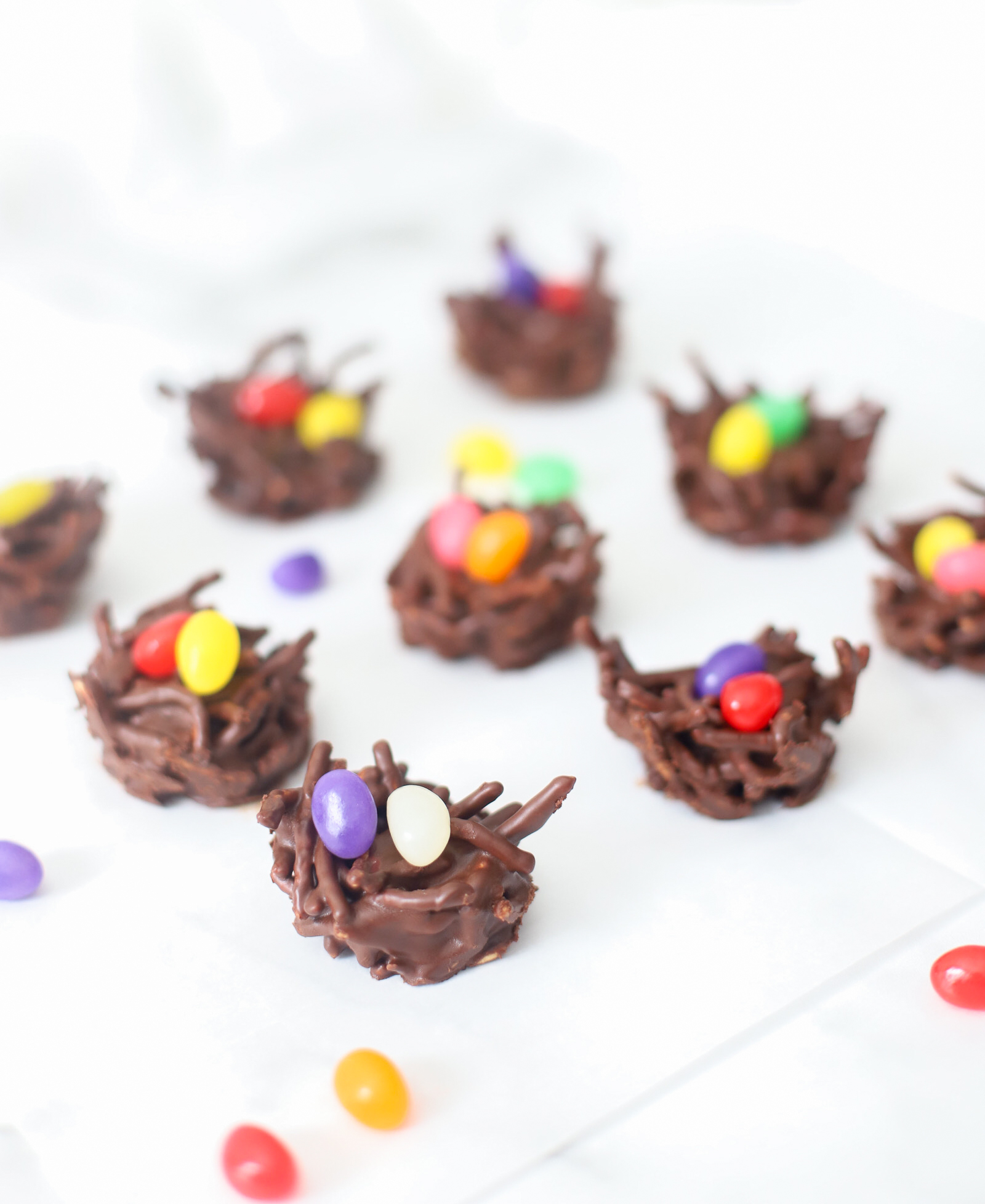 No-Bake Chocolate Birds Nests
Prep Time: 5 minutes

Total Time: 5 minutes

Make a batch of these adorable No-Bake Chocolate Bird's Nests to celebrate spring and Easter!
Ingredients
3/4 cup chocolate chips*
1/2 cup smooth peanut butter
2 cups chow mein noodles
1/4 cup candy eggs (Cadbury Mini Eggs or Jelly Beans)
Instructions
Spray the tins of a 12-cup muffin pan with baking spray or coconut oil (this ensure that your chocolate nests will pop out easily.) Set aside.
Melt the chocolate chips with the peanut butter either in a saucepan over low heat, stirring continuously until melted, OR in a microwave, in a large microwave-safe bowl, heating in 30 second intervals and stirring between each interval until melted. (Microwave method typically takes no more than 1 to 1-and-a-half minutes.)
Remove your saucepan or bowl from heat and pour in the chow mein noodles and stir to combine.
Fill up each tin of your muffin tray with a heaping spoonful of this mixture. (I was able to make/fill about 10 chocolate nests. The number of nests will vary based on how big you make your nests.)
Allow to cool for at least an hour and remove from the tray. Be careful when you are removing the nests, so as to not break them.
Top with 2-3 Cadbury Easter eggs or jelly beans per chocolate nest.
Notes
*VEGAN Chocolate Nests: Substitute regular chocolate chips for vegan chocolate chips, like Enjoy Life Chocolate Chips (that are gluten-free, dairy-free, nut-free, and soy-free, and totally delicious) and instead of using Cadbury chocolate eggs, use jelly beans.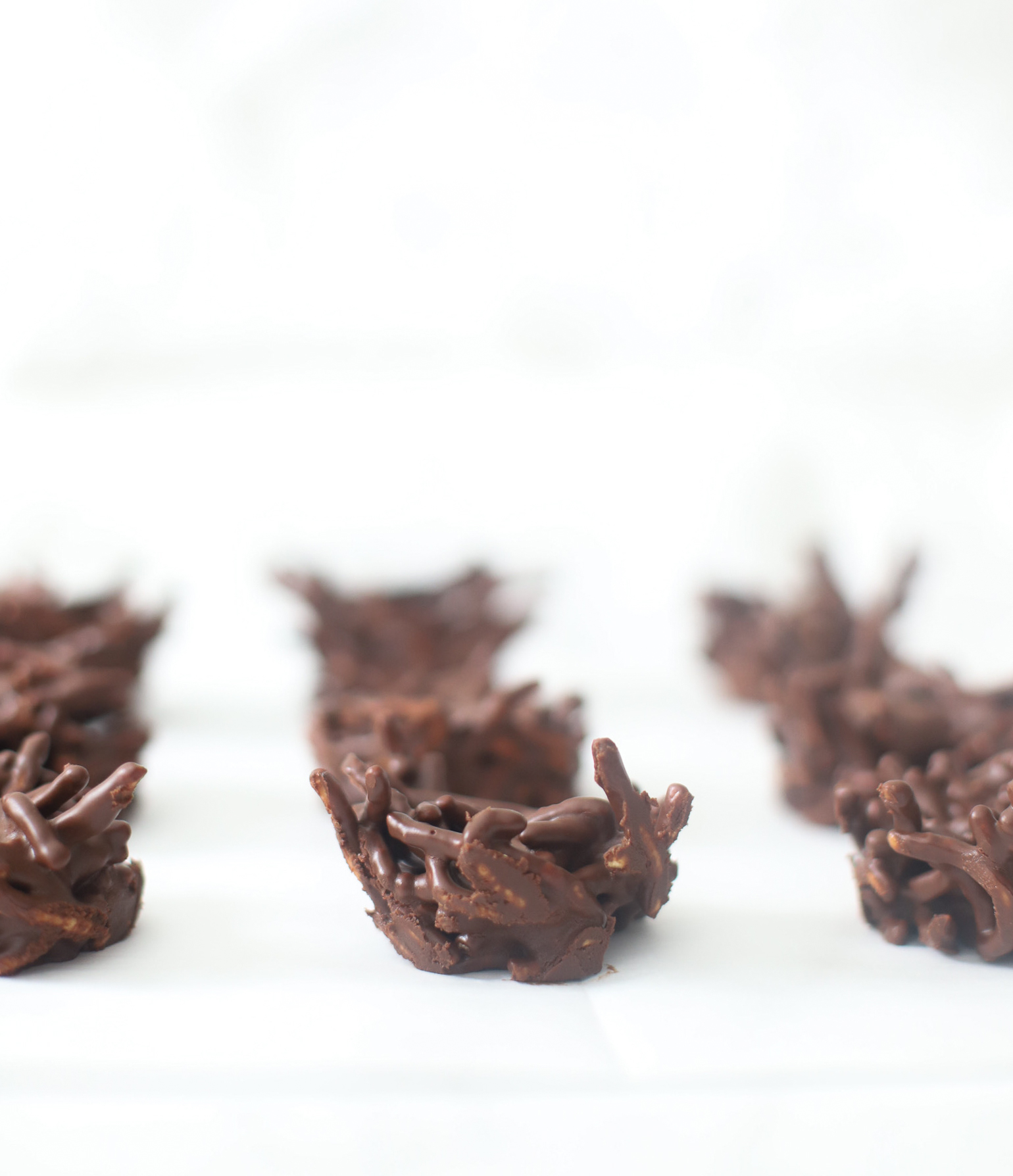 Doesn't adding the … and/or jelly beans just bring these adorable treats to life?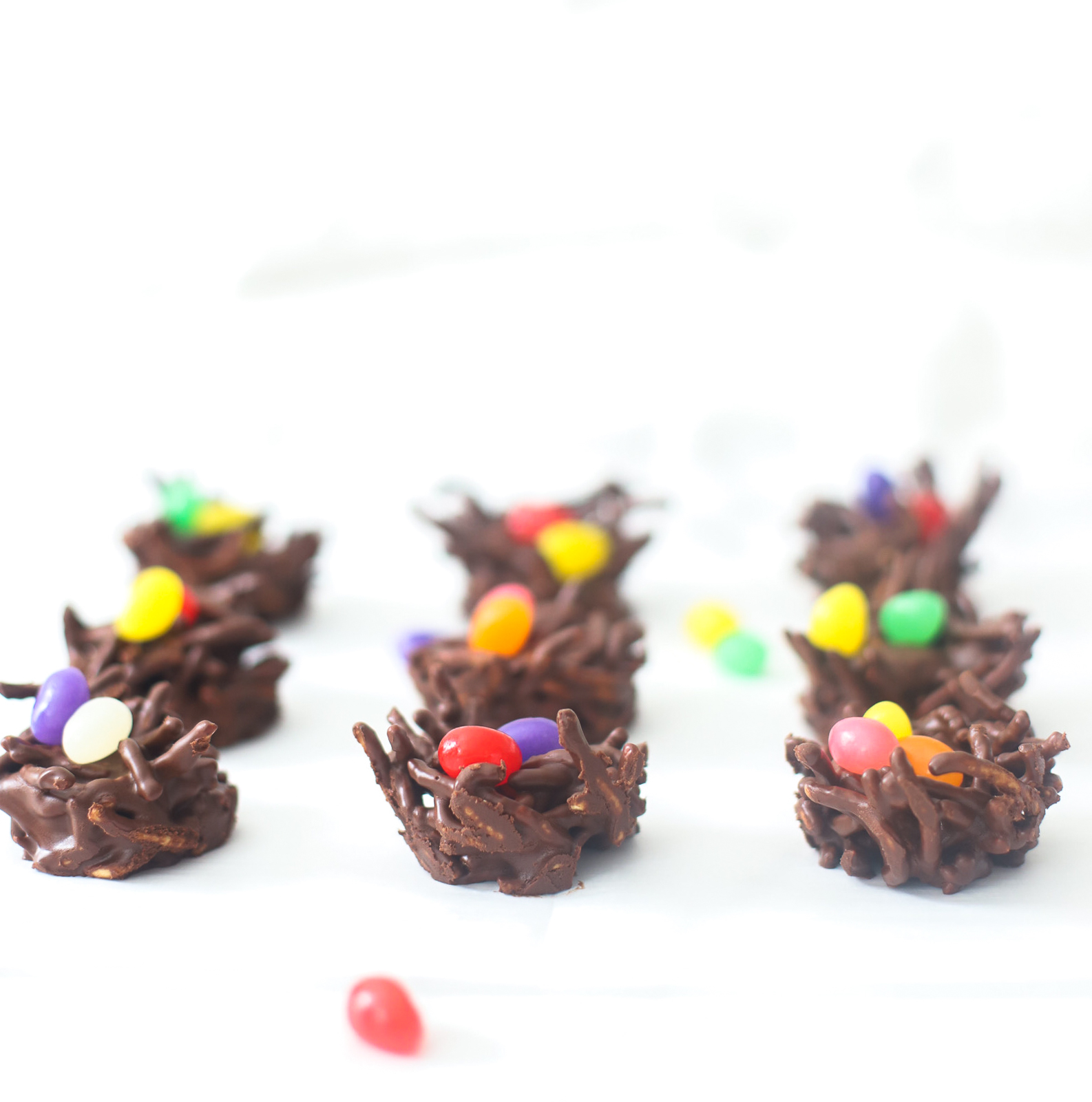 This is such a fun celebratory snack to make at home (especially something fun to do with your kids) or to serve at an Easter party!
By the way, the bird's nests refrigerate really well and it's best to refrigerate them without the candy eggs. Just top your chocolate bird's nests with the candy eggs when they're ready to be served.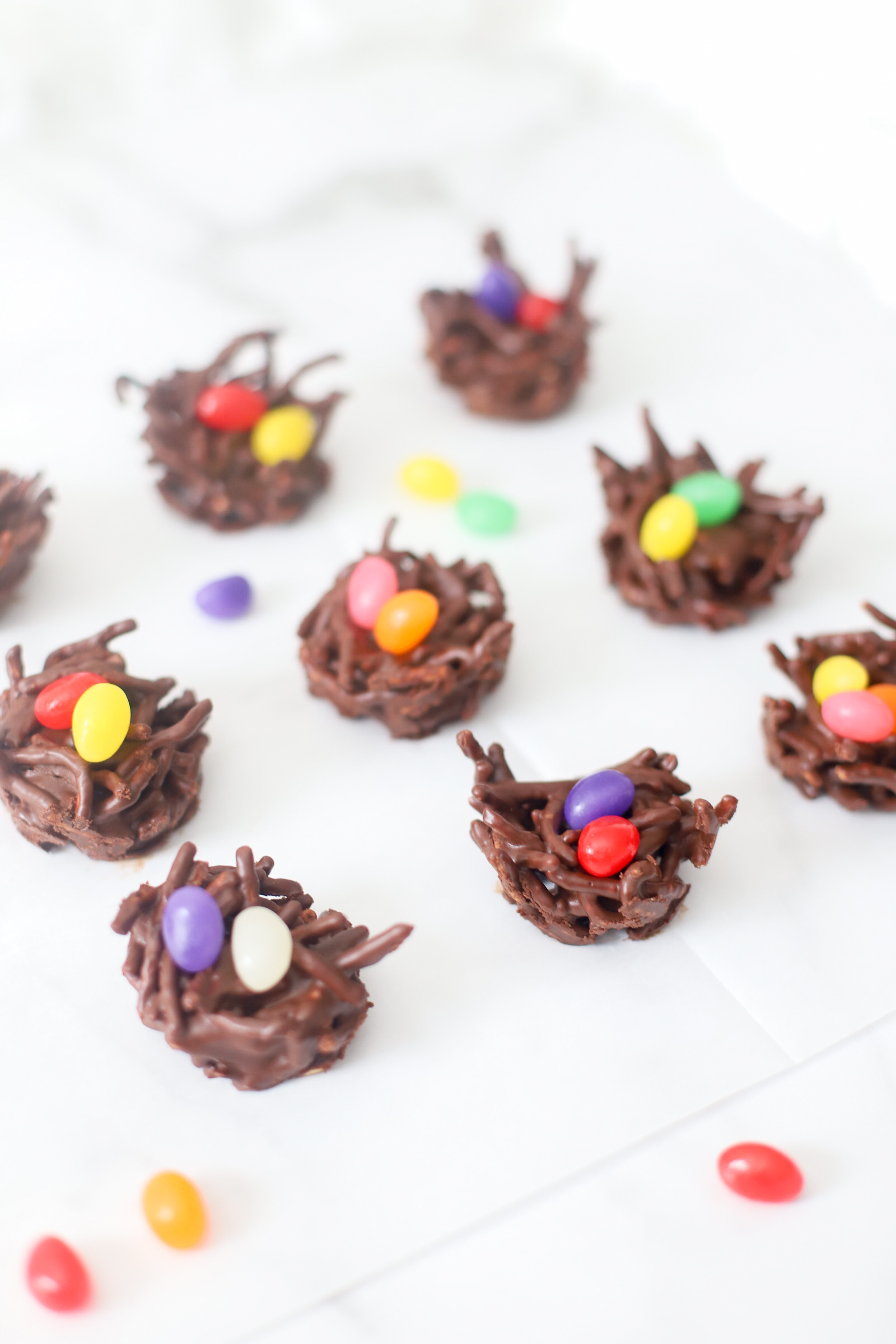 Have you ever made no-baked chocolate bird's nests for Easter? Do you have any favorite spring or Easter-themed treats?
More Delicious Easter Treats from Glitter, Inc.:
Easy Strawberry Cake (So good!)
Carrot Cake Scones with Cream Cheese Glaze
Amazing Overnight Crème Brûlée French Toast Casserole
SHOP THE CHOCOLATE BIRD'S NESTS RECIPE POST | CLICK LEFT & RIGHT ARROWS TO EXPLORE

Be sure to head to our recipe page to check out what else we're dreaming up in the kitchen. If you make your own no-bake chocolate bird's nests (or a vegan chocolate bird's nest version), tag me on social media (@glitterinclexi) so I can live vicariously through all of your sweet creations! Seriously, send those pictures my way!!