This post contains affiliate links, which means that if you click on one of the product links, I'll receive a small commission. Thank you so much for clicking through and helping to support this little blog business of mine! Read more about our site, privacy, and disclosure policies here.
Candied Pecans are sweet, crunchy, and perfect for holiday parties and homemade gifts! These cinnamon-sugar roasted and spiced nuts are also super easy to make, especially in big batches.
I have been making candied nuts for years, especially during the holidays.
Candied pecans and almonds are my holiday season go-to. I've shared the easy recipe for candied cinnamon-roasted almonds, but I would be remiss if I didn't let you in on the candied pecans! They're just SO good and admittedly, totally addicting. Not to mention, it is such an easy recipe to whip together.
These candied cinnamon-sugar pecans taste JUST like the kind you get from a cart at a holiday market, on the boardwalk, at a fair, or on the streets of New York City, but you can make these right in your own kitchen. They're oven-baked, crispy, and delicious. (Pro tip: use these silicone baking sheets for super easy cleanup!)
You can also easily throw these together using almonds or walnuts instead. Basically, they always taste incredible.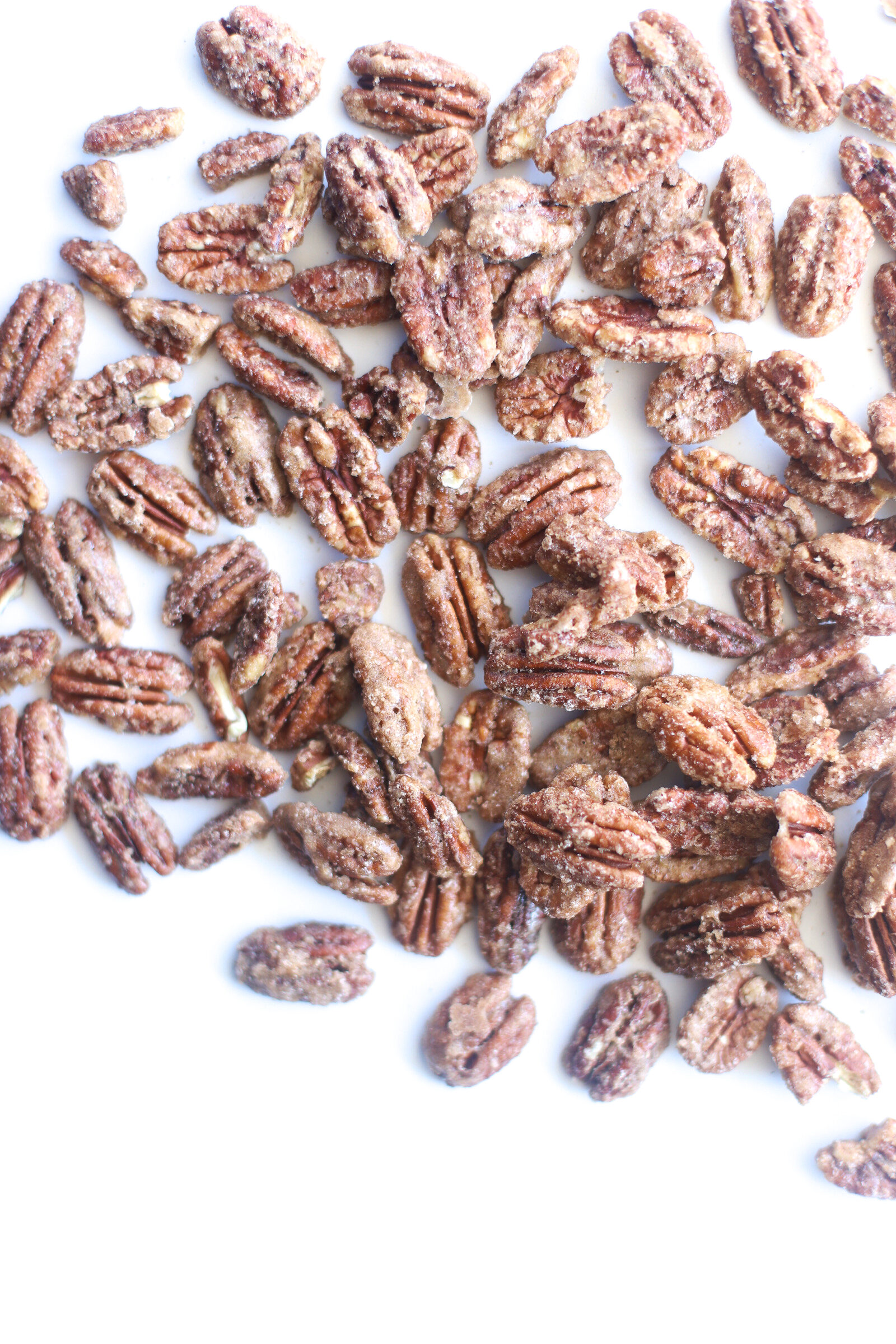 How to Use Candied Nuts
Candied nuts are the perfect snack to serve in bowls before Thanksgiving, at a Christmas party, or at your next Holiday dinner.
I use candied nuts to decorate almost all of my charcuterie, cheese boards, and snack stations. (Exhibit A: this big, beautiful holiday charcuterie board, complete with candied pecans.)
I also LOVE giving candied nuts as gifts. If you're looking for a simple homemade gift that you can make in big batches and gift to teachers, delivery drivers, friends, as hostess gifts, etc., these are THE perfect option. I love doubling or tripling this recipe – since it's so easy to make in big batches – and then I package them up in mason jars, tie chunky yarn, ribbon, and a gift tag around the jar, and gift them throughout the holiday season. And let me tell you, just about everyone loves getting a jar of these. They're always a huge hit. 🎁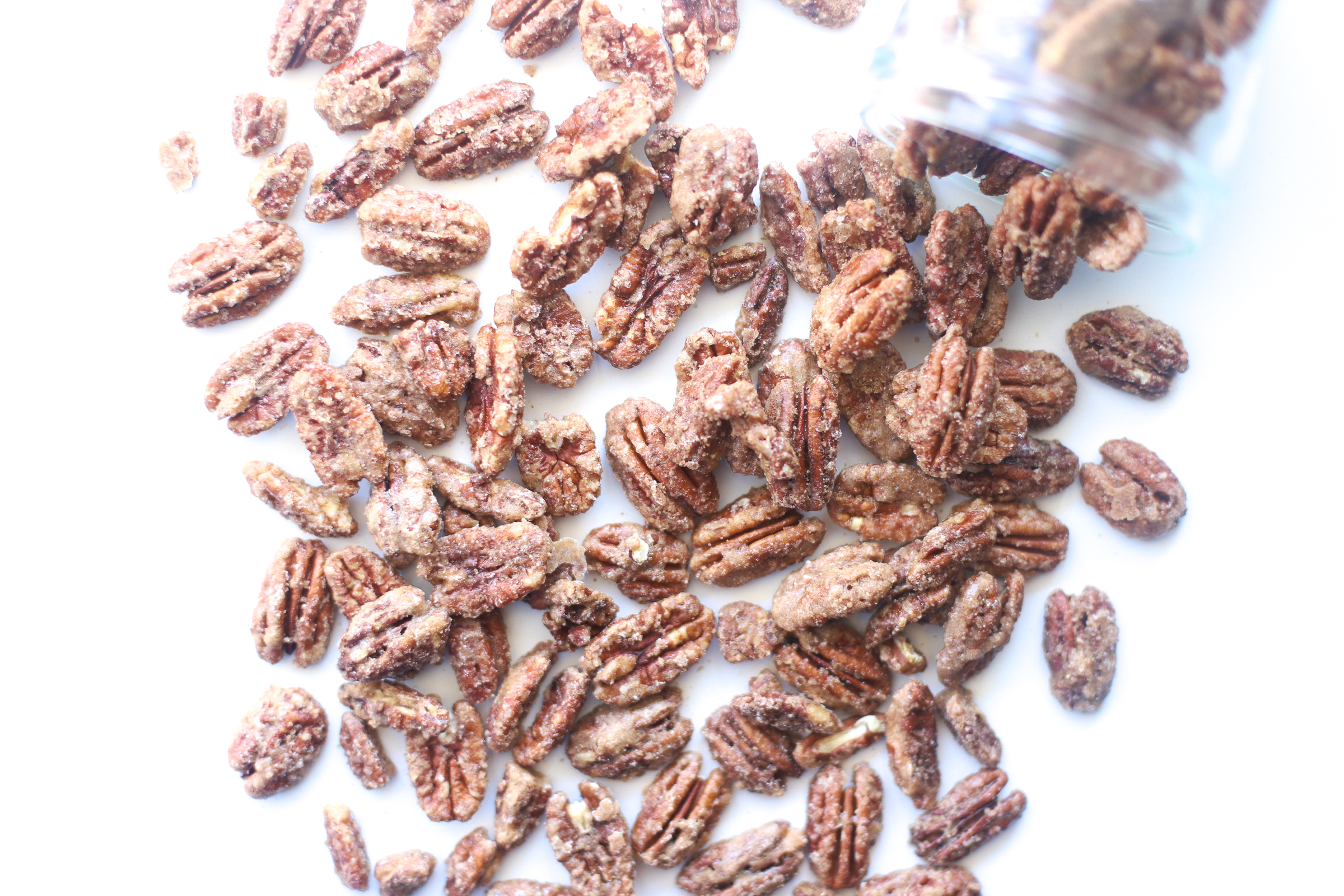 How Long Do Candied Nuts Keep
These candied pecans typically keep fresh at room temperature for one to two weeks, covered and sealed. I find they lose a little bit of their crunch if they are not stored in an airtight container so I like to store mine in a Tupperware container or mason jars in the refrigerator.
If you make a batch for a party, I would make them the day before for the best flavor. Same goes for gifts.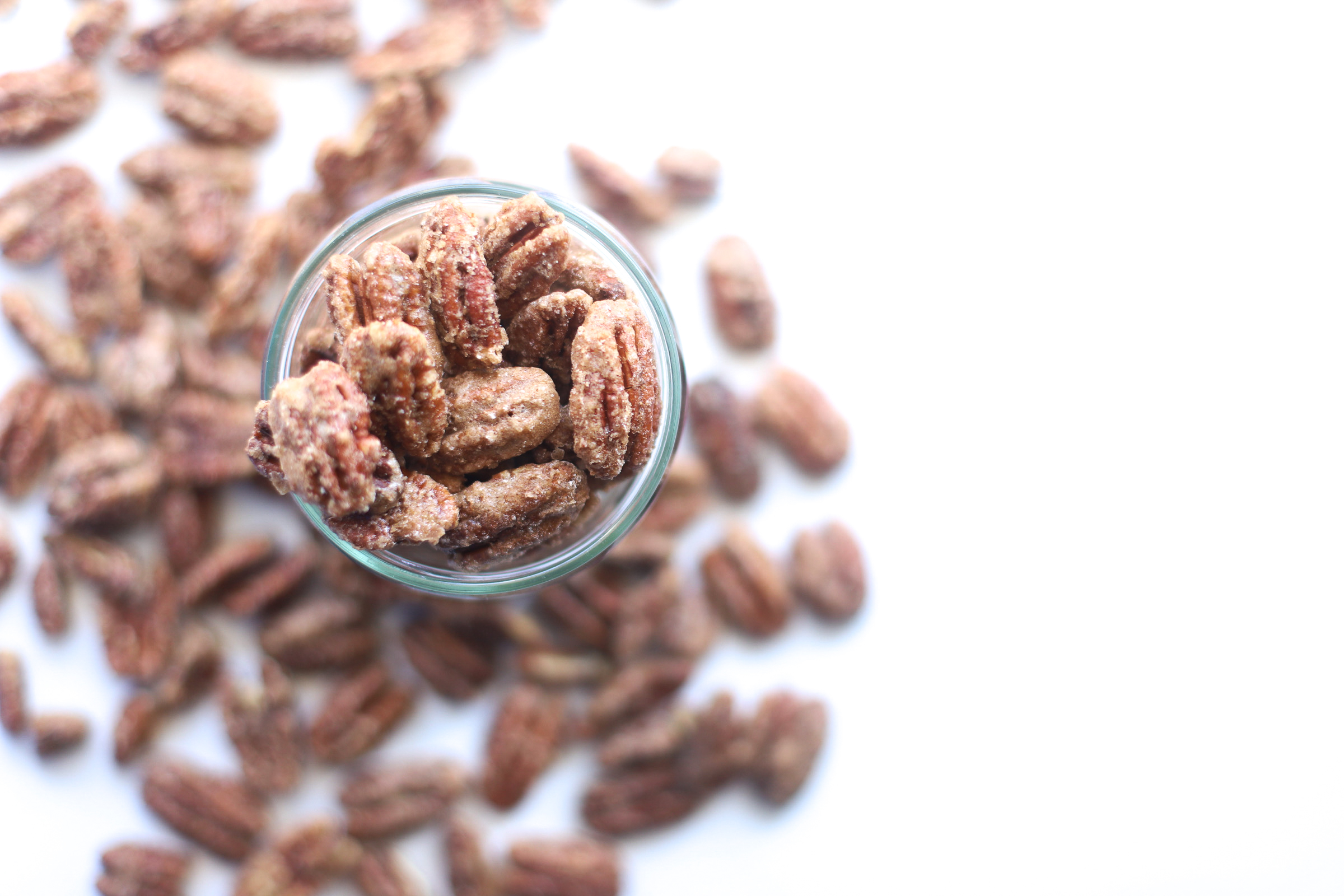 Today, I'm teaching you how to make candied pecans that you'll fall head-over-heels in love with. Truly, they're that good.
The only real negative with these candied pecans is trying to convince yourself to stop snacking on them as you're packing them up.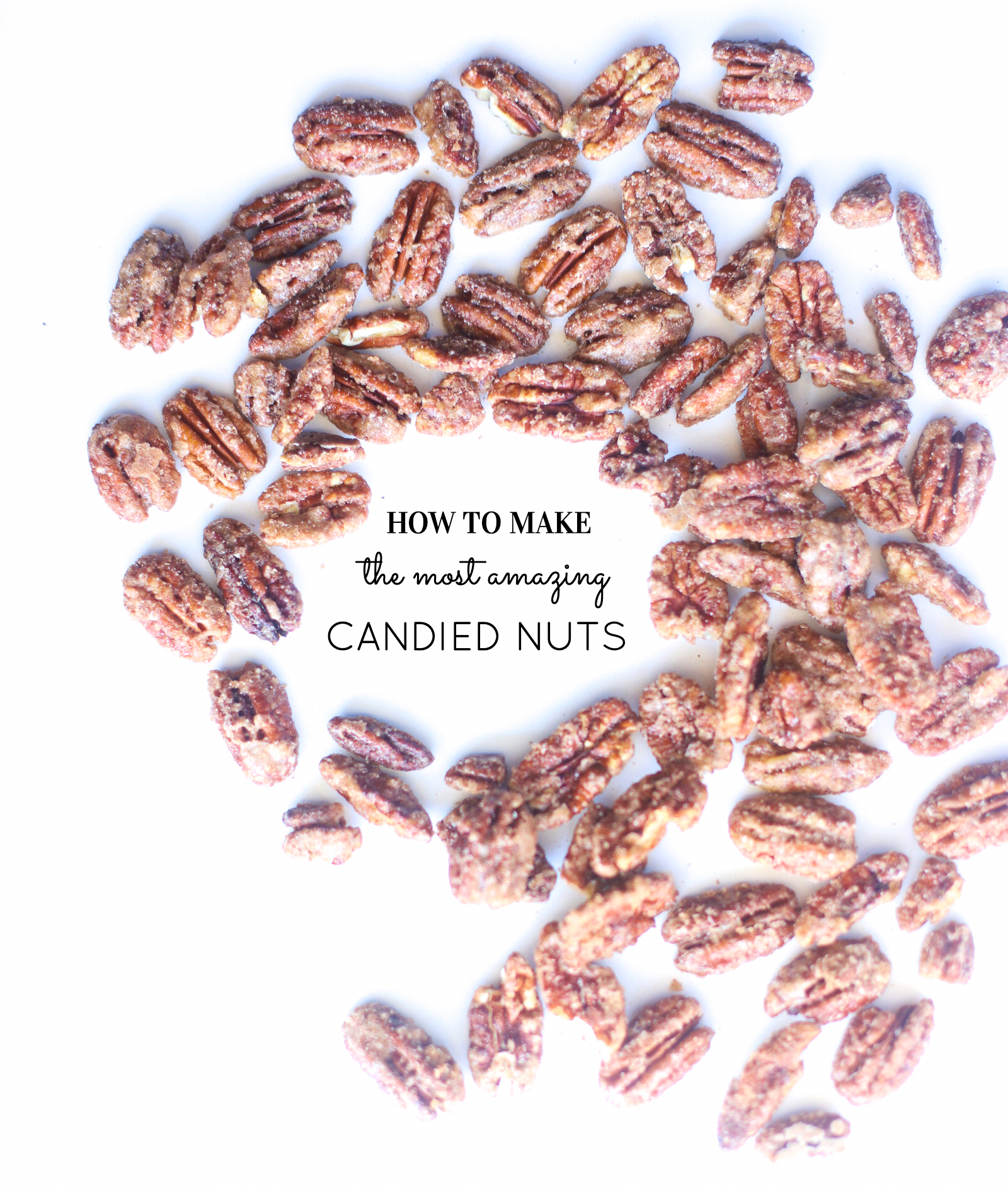 How to Make The Most Amazing Candied Pecans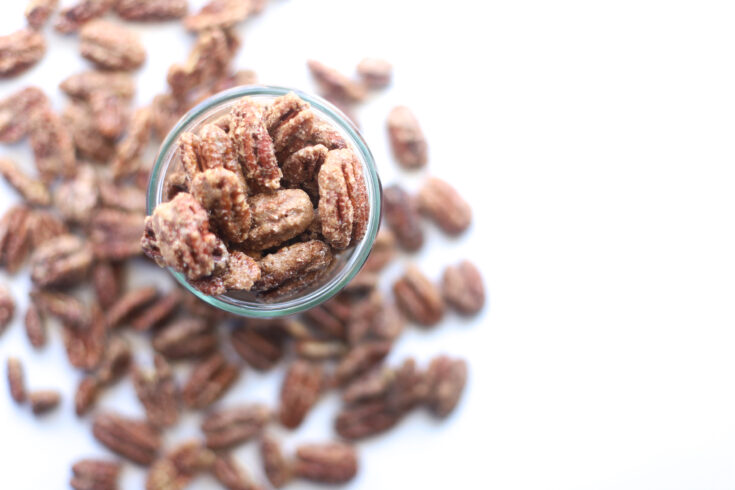 Candied Pecans
Ingredients
1 egg white
1 teaspoon cold water
3 cups whole unsalted raw pecans*
1/4 cup white sugar and 1/4 cup brown sugar (or 1/2 cup white sugar)
1/4 teaspoon salt
1/2 teaspoon ground cinnamon
1/4 teaspoon nutmeg (optional)
Instructions
Preheat oven to 250 degrees F (120 degrees C). Line a baking sheet/pan with parchment paper or a silicone baking sheet.
Lightly beat the egg white; add water, and beat until frothy but not stiff. Add the nuts, and stir until well coated.
Mix the sugar, salt, cinnamon, and nutmeg (optional), and toss with the nuts to coat. Spread nut mixture evenly onto the prepared pan.
Bake for 1 hour in the preheated oven, stirring occasionally, until golden. Allow to cool, then store nuts in airtight containers or mason jars.
Notes
*You can also use almonds or walnuts in this recipe -- they all taste AMAZING. Sometimes I'll even do a mix of nuts. Just be sure to use raw, unsalted nuts.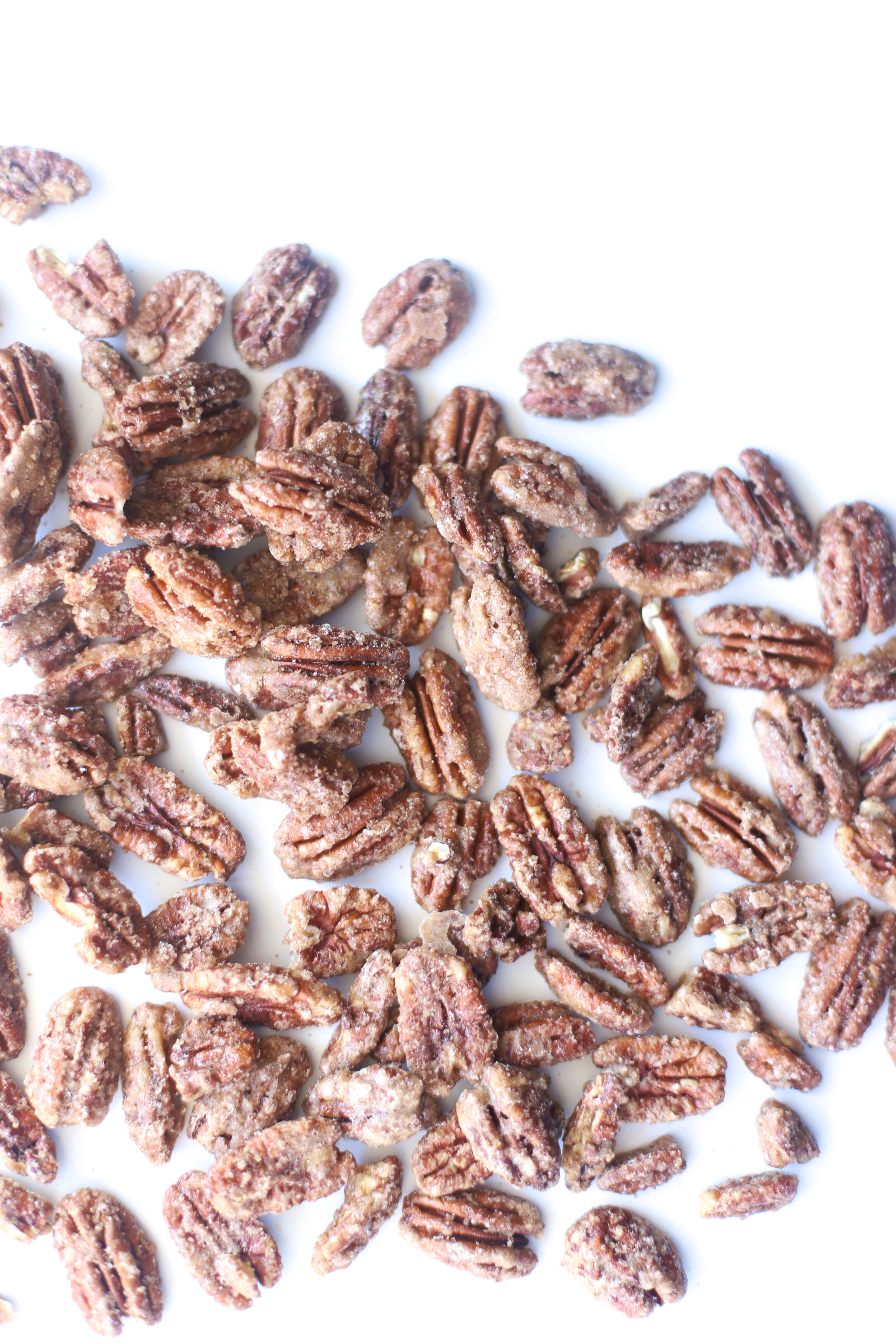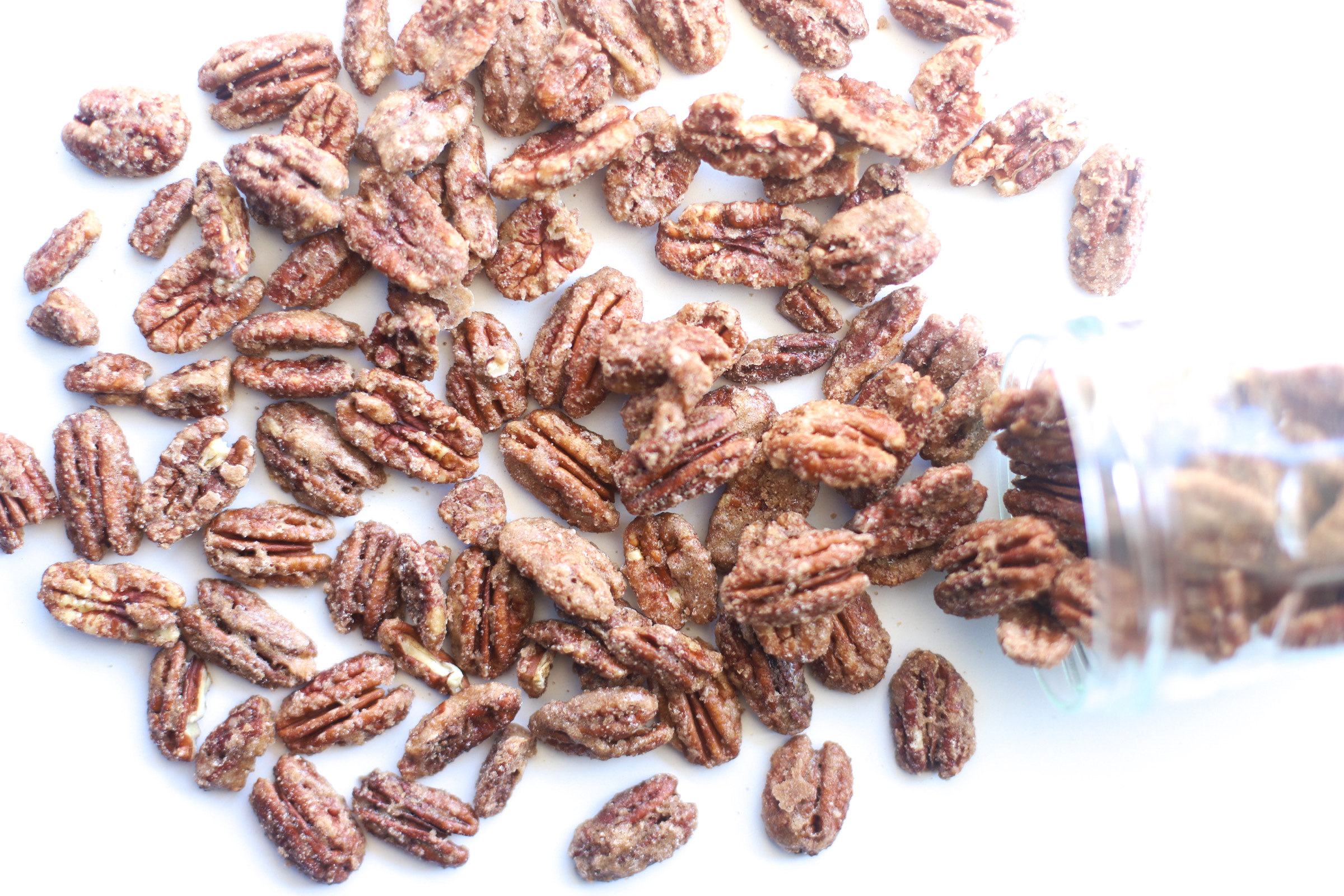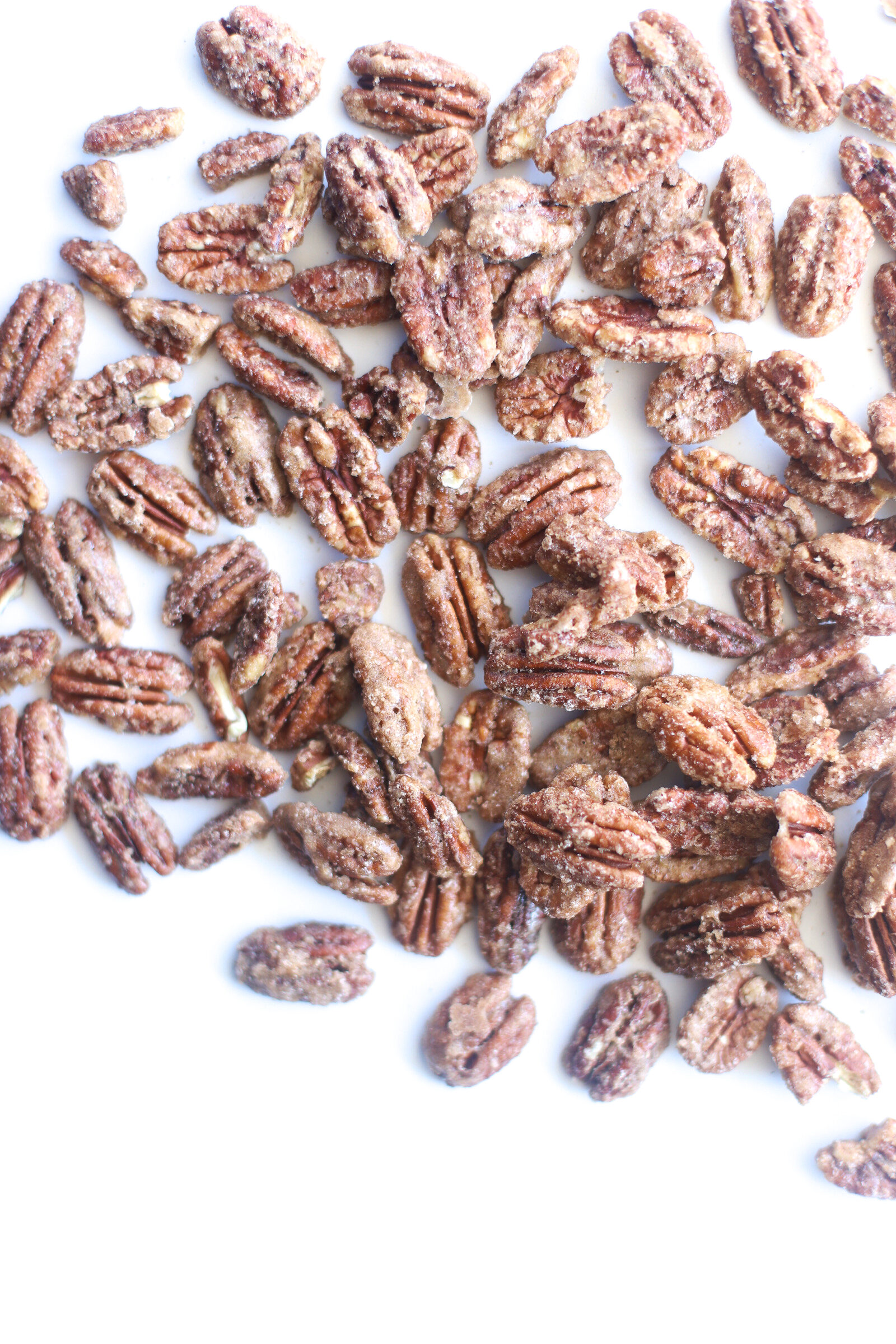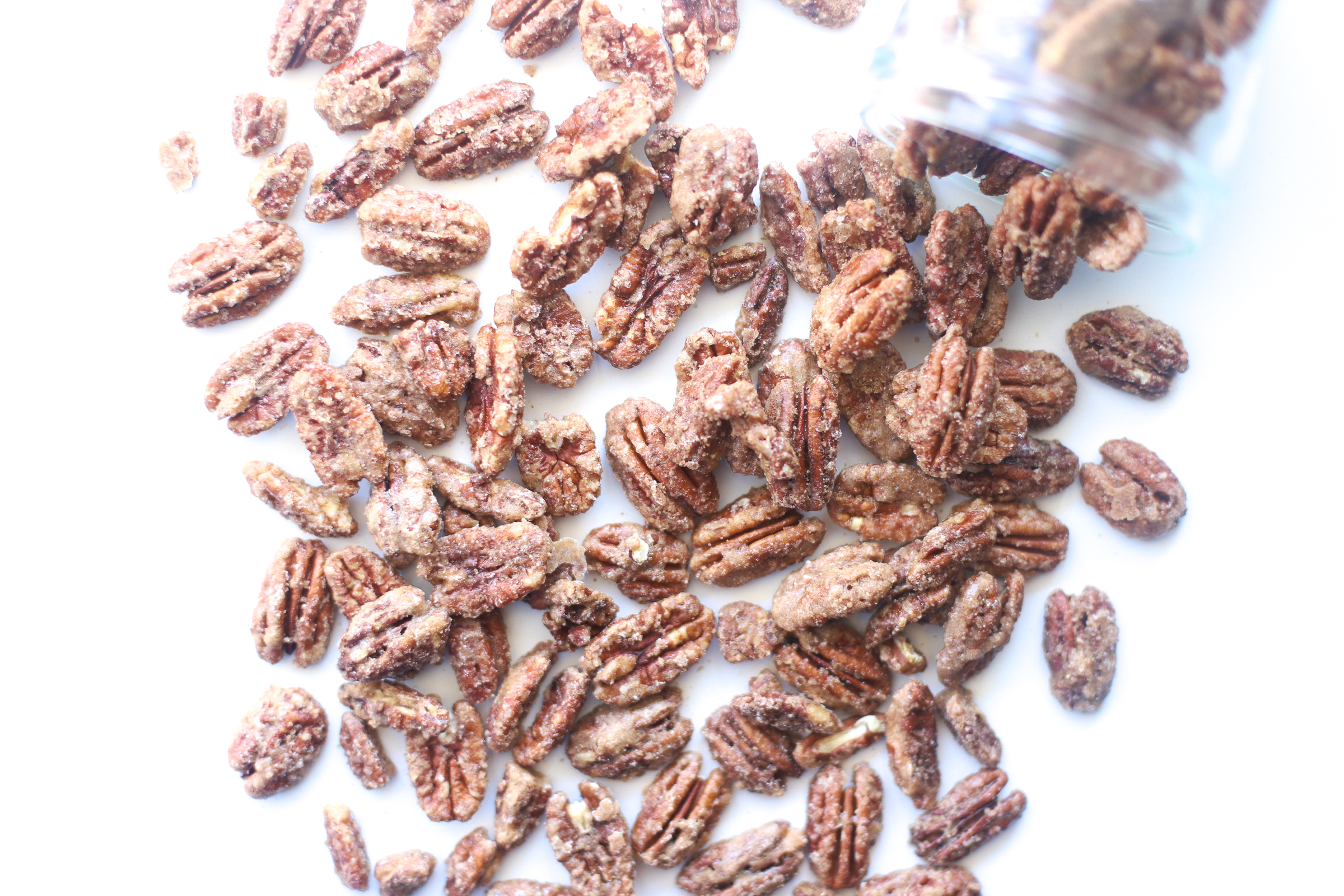 So there you have it: how to make the most amazing candied pecans! Happy making!!
SHOP THE CANDIED PECANS RECIPE POST | CLICK LEFT & RIGHT ARROWS TO EXPLORE

Be sure to head to our recipe page to check out what else we're dreaming up in the kitchen. If you make your own candied nuts, tag me on social media (@glitterinclexi) so I can live vicariously through all of your delicious creations! Plus, I'd love to see how you use them. Seriously, send them my way!!