This post contains affiliate links, which means that if you click on one of the product links, I'll receive a small commission. Thank you so much for clicking through and helping to support this little blog business of mine! Read more about our site, privacy, and disclosure policies here.
Putting together a big, beautiful charcuterie board is actually much easier than you think. Make this impressive Thanksgiving cheese board for the fall holiday this year and seriously wow all of your guests!
Thanksgiving is just around the corner and goodness knows I love a good holiday celebration! Lately, cheese boards and charcuteries have been all the rage, and honestly, the super versatile appetizer makes perfect sense: it's relatively easy to put together – no cooking required, can feed a big crowd, and there's pretty much something for everyone on a great charcuterie. Plus, it looks super impressive!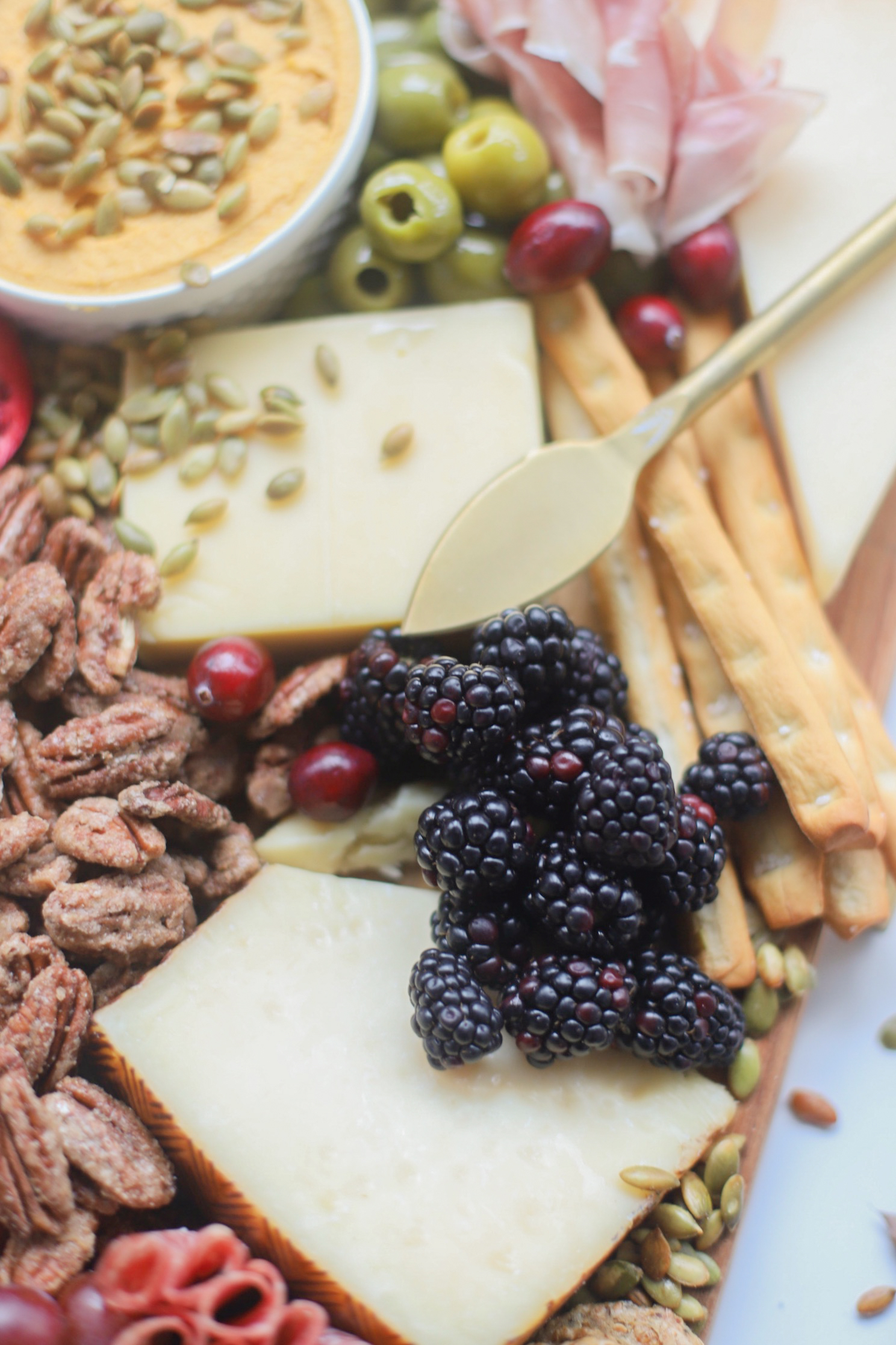 I love the idea of a Thanksgiving cheese board because it's something you can put out before dinner or even right on the dinner table to encourage snacking and chatting before and during the big meal.
When creating a Thanksgiving charcuterie, the goal is to channel all of the yummy autumn flavors. Special fall touches like pomegranate, rosemary, pecans, almonds, pumpkin seeds, pears, fried fruits like figs and dates, and cinnamon are going to highlight that fall flavor profile in a perfect way.
The idea is to make a cheese board that celebrates the holiday with a unique spin especially for Thanksgiving and is of course, a total crowd pleaser.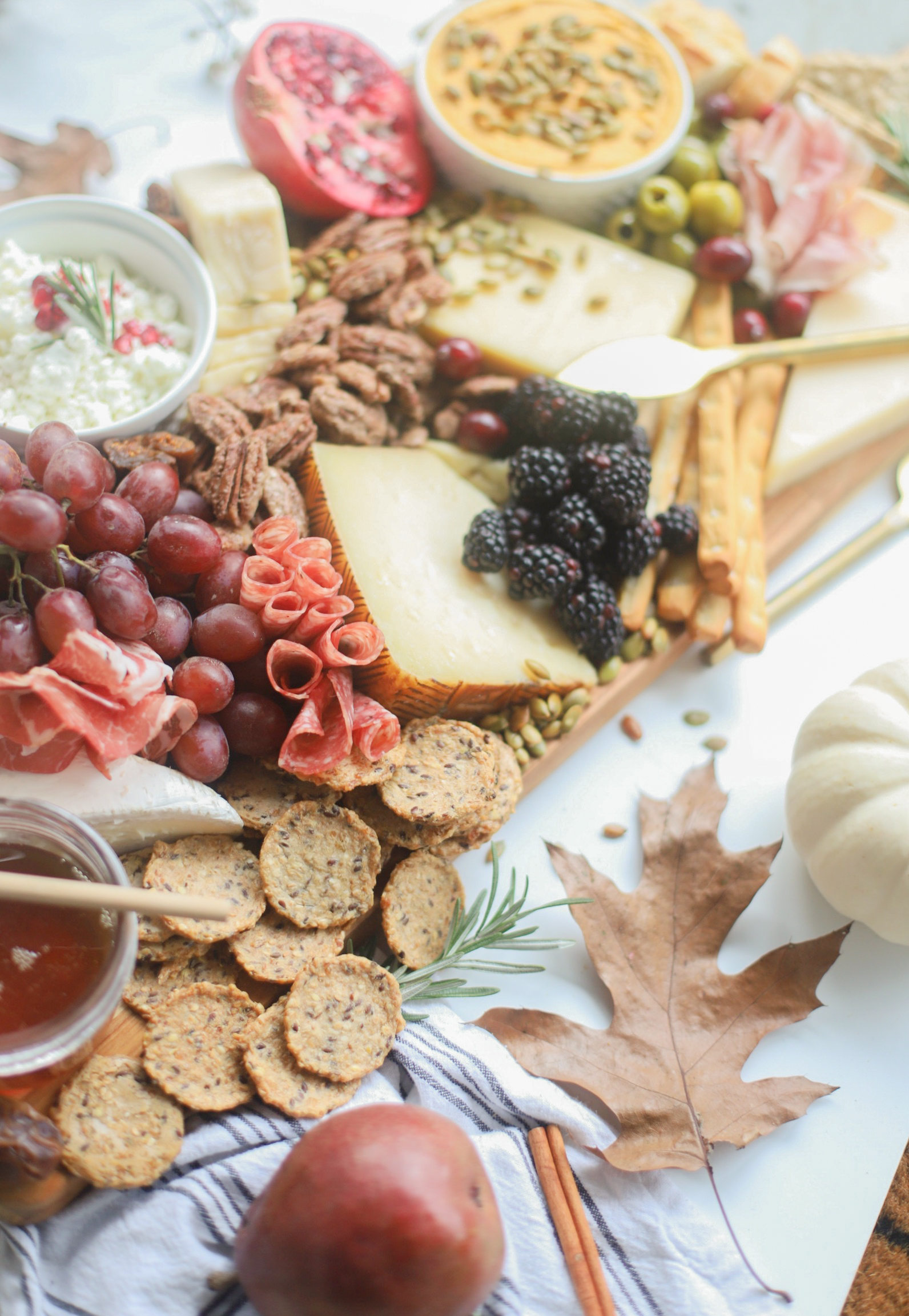 And a great cheese board shouldn't be hard to put together. With a few easy tricks, you can have an impressive looking charcuterie in no time!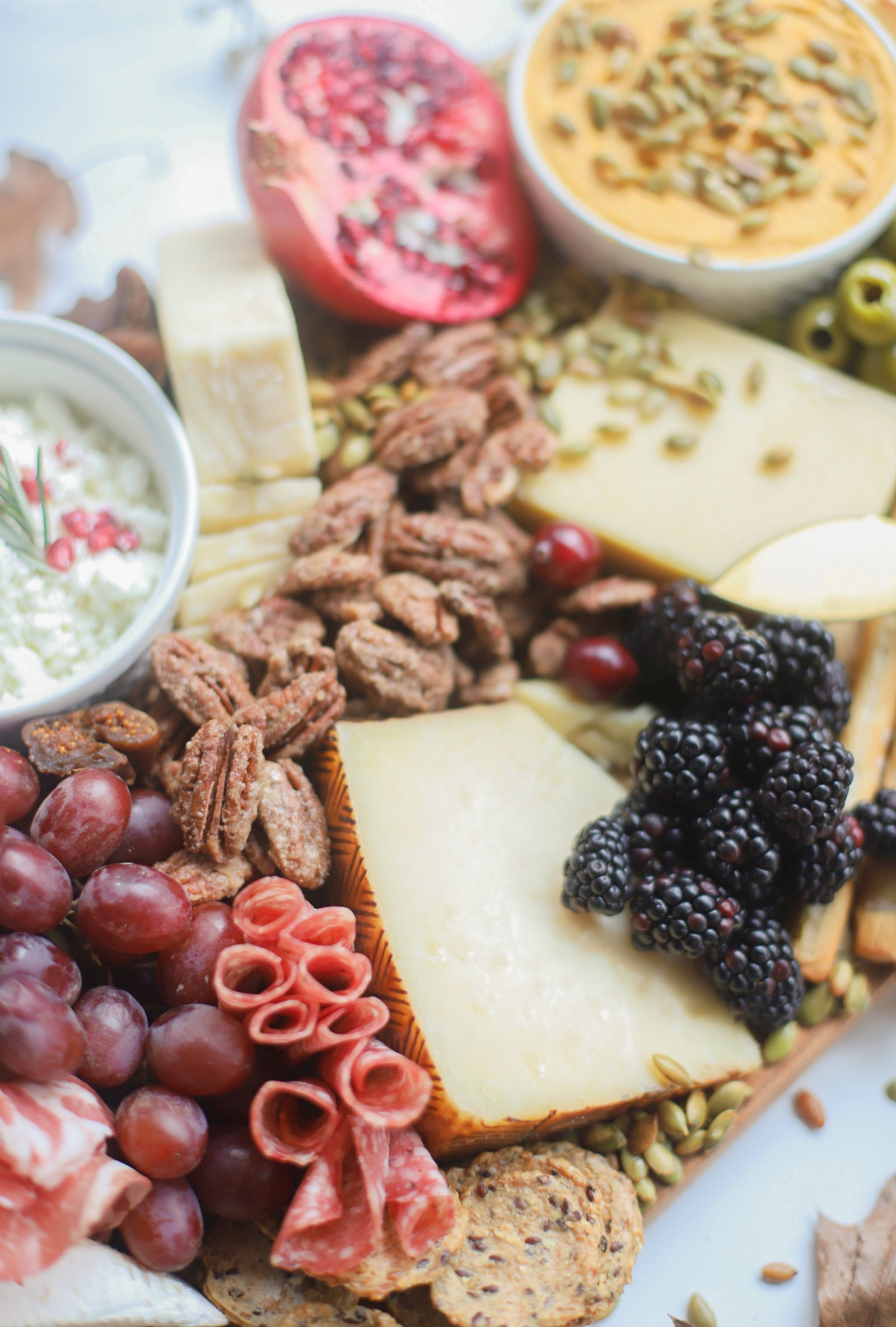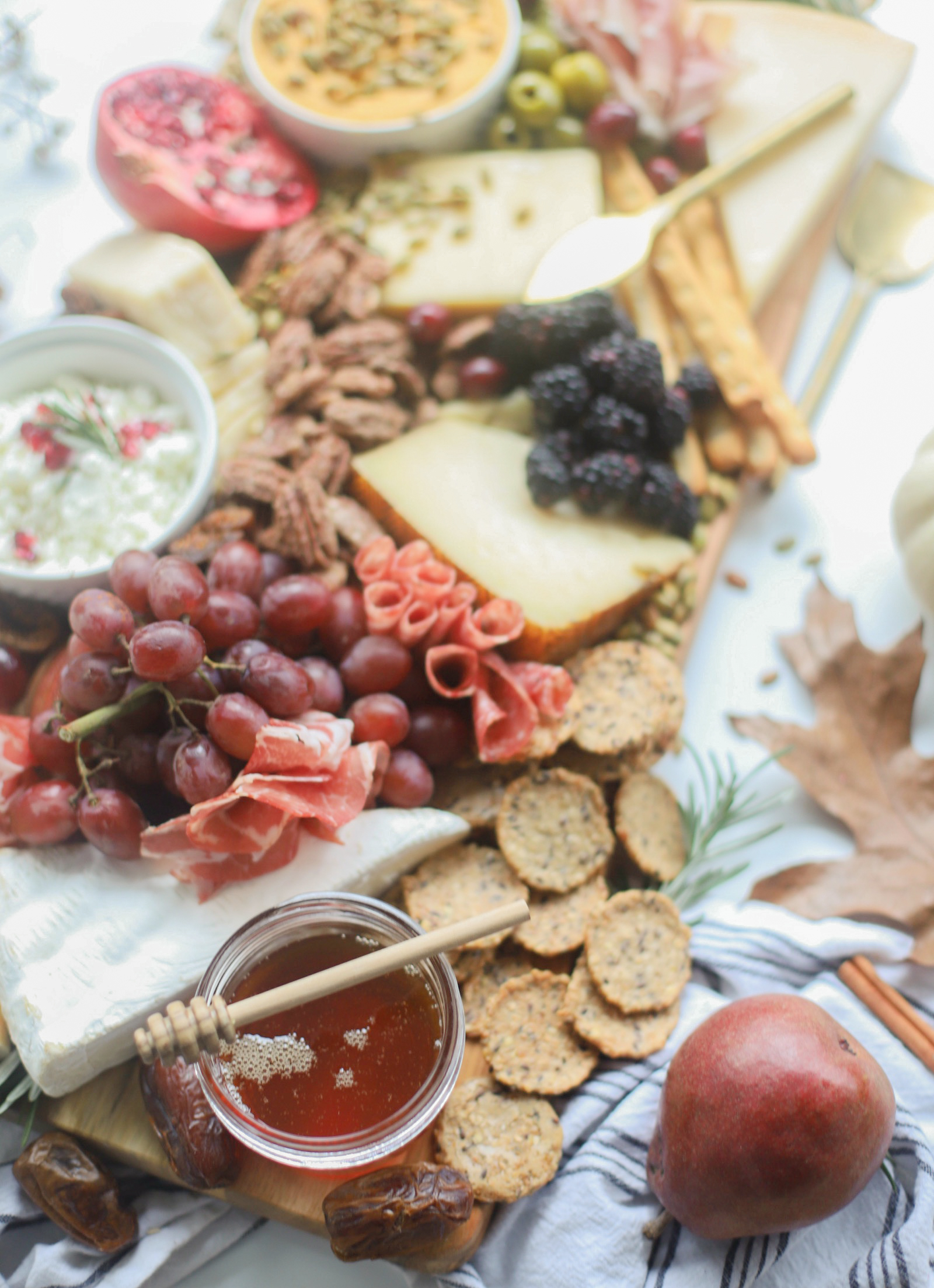 Preparing The Perfect Thanksgiving Cheese Board
I'm breaking it all down, including all of the ingredients to make the perfect cheese board, including details for an extra festive fall-themed charcuterie!
What To Include:
THE CHEESES
When it comes to making a great cheese board, don't be afraid to include a lot of different cheese options for your guests. Your best bet is to follow a loose guideline when buying cheeses that includes plenty of options, flavors and textures. That way, everyone will wind up happy. I tend to stick to this formula where I typically include at least one cheese from each category (though you can easily skip one depending on the flavors you're going for):
AGED
Aged cheese like cheddar, gruyere, gouda, parmesan, or provolone.
SOFT
Soft cheese like brie, goat cheese, fresh mozzarella, fresh burrata, or ricotta.
BLUE
Blue cheese like maytag, gorgonzola, stilton, roquefort, or danish blue.
FIRM
Firm cheese like manchego and asiago.
Our Favorites:
I typically double up on types of cheddar – something more local and an aged Irish white cheddar, since those are always a crowd pleaser. (Aged cheddar cheeses taste universally great, in my opinion!) I included a wedge of good aged parmesan because not only is that a pretty safe bet, but the leftover parmesan is so good grated on pasta and Italian dishes for months to come. I also almost always include a wedge or wheel of creamy brie (it's my favorite!), some kind of goats cheese – this time I chose a crumbled variety, manchego, and sometimes include a Jarlsberg or Swiss and/or a stinkier blue cheese.
Often, during the holidays, grocery stores and Trader Joes will carry special holiday and Thanksgiving cheese. So add something like that in for an extra Autumn feel.
THE CHARCUTERIE
I've often made cheese boards without meat, but this year, I decided to go full-blown charcuterie, and include am impressive mix of both meats and cheeses.
Most charcuterie boards have some combination of salami, proscuitto, and sopprassata. You can also mix it up and add in meats like coppa, mortadella, thin sliced bologna, ham, bacon, or pâté.
If you really want to commit to the autumn theme, look for cured meats that have seasonal flavors like maple, fall spices, etc.
For this year's Thanksgiving board, I used prosciutto, Italian dry salami and dry coppa.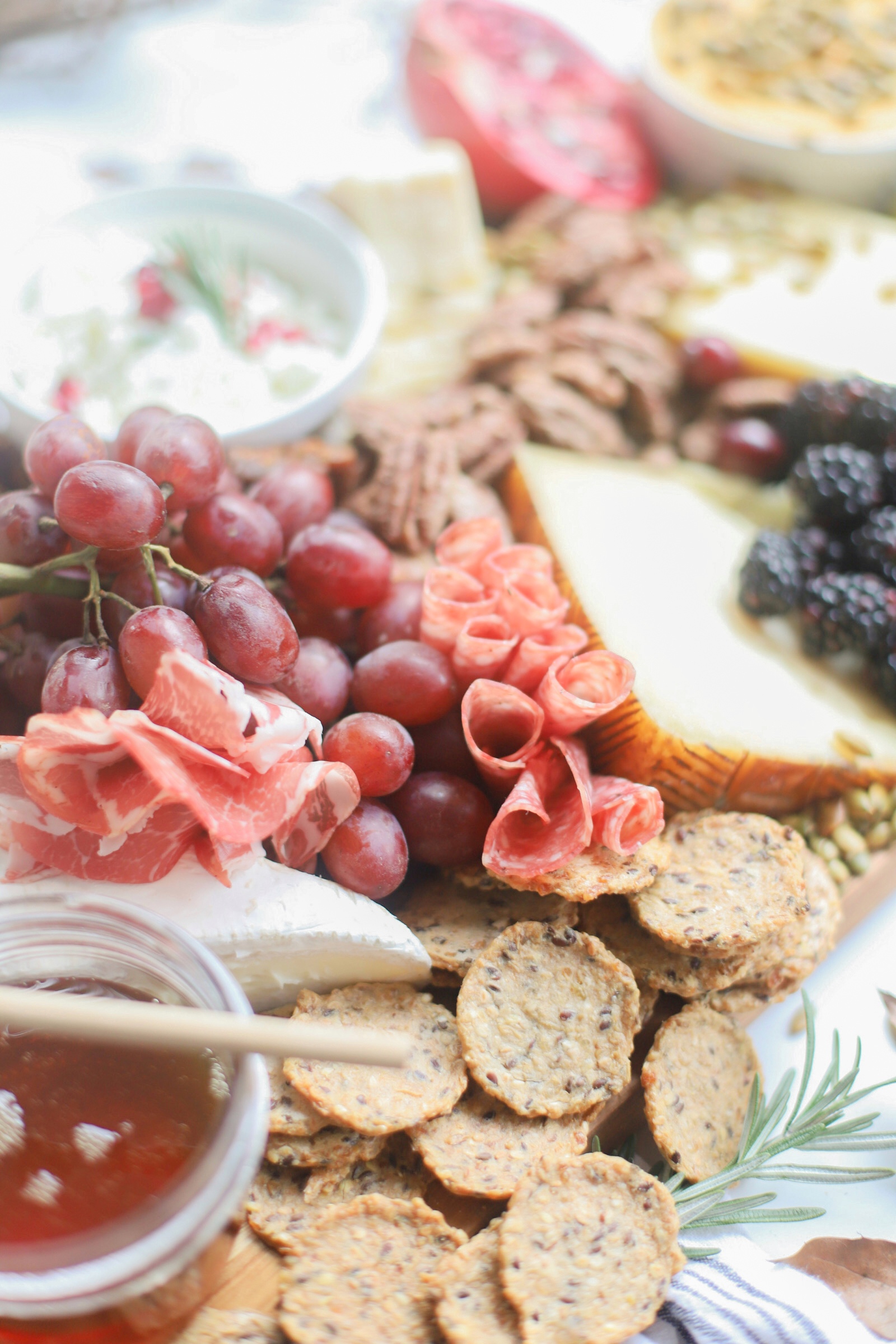 THE CARBS
I am a firm believer in providing plenty of carbs for any good cheese board. Carbs are the vehicle for all of that meat and cheese, and in my opinion, the carbs are totally indispensable. Plus, if you've ever served any kind of cheese board or charcuterie, you'll know that the carbs are typically the items that run out and need replenishing most often.
Sometimes I just serve a whole bunch of crackers. Other times, like if I'm including a hummus or dip on the board, I'll include toasted pita or naan bread triangles. I also like to get fancy and serve the cheese board with chewy and/or grilled sliced French bread, crunchy breadsticks, etc.
Some of our favorite carbs to include are seeded crackers. Basically, any cracker from Trader Joe's, Grissini breadsticks, sliced French baguette, toasted pita and/or naan triangles, raisin and nut or seed "raincoast" crisps, and sea salt crackers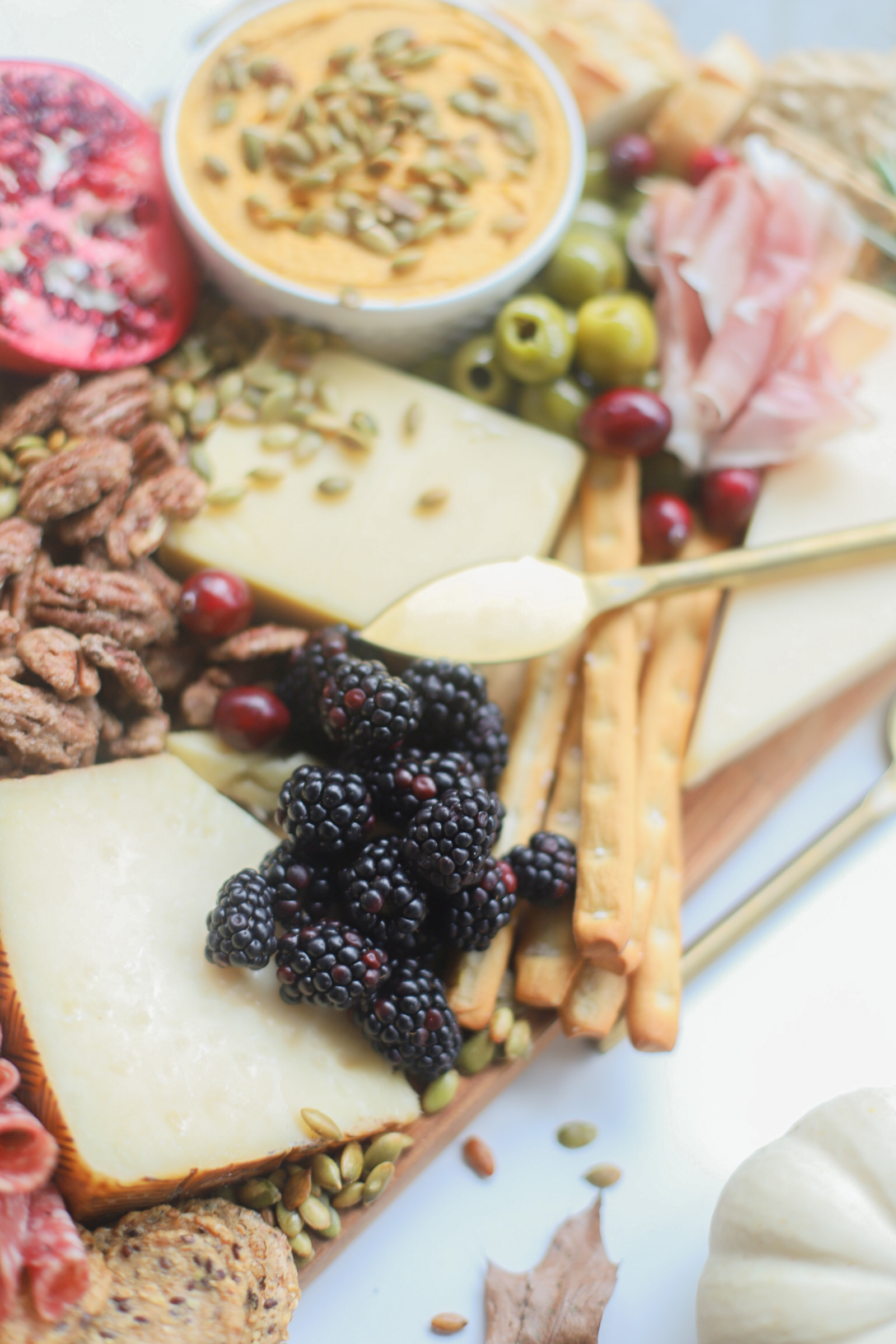 THE EXTRAS
The extras are where you can really get creative with your cheese board or charcuterie. Drum up seasonal flavors here by including those extra special fall flavors, produce, spices, and herbs. Look for differing textures, a mix of savory and sweet, and have fun with it!
PRODUCE
Reach for things like apples, cranberries, grapes, pears, pomegranate, dried fruits like dates and figs (or you can get fresh!), dried apricots, pumpkin, roasted acorn squash, roasted or brined artichoke hearts, and roasted sweet potato to get that Autumn feel.
PRO TIP: Slice fruit so that it's easy to grab and eat. Split open a fruit like pomegranate. Fruit always looks prettier halved and it makes it much easier for your guests to dig into.
CONDIMENTS
There are so many condiments that you can add to a good cheese board.
I always like to have at least one sweet "topping" on my board. Something like honey*, fig jam, apple butter, chutney, and cranberry sauce all work really well on a fall cheese board. (If I'm serving honey with the cheese, I'll usually put it in a honey pot with a dipper or in a weck jar or shallow bowl with a dipper.
Some cheeses and meats also pair well with a grain mustard, a balsamic vinegar reduction, even maple syrup.
This year, I also added in a bowl of pumpkin hummus and then topped it with roasted pumpkin seeds. Hummus is always a hit, and pumpkin hummus makes it extra festive.
OLIVES, NUTS, AND SEEDS
Head to the olive bar at your local grocery store and pick up your favorite olives. I like to buy pitted olives, just to make things easier.
For nuts and seeds, I'm a big fan of roasted options. Either toast your nuts at home, or buy pre-roasted. (I just bought pre-roasted pumpkin seeds this time!)
Also, I love including at least one kind of candied nut. I have a super simple recipe for candied cinnamon-roasted almonds and a recipe for candied pecans coming soon! Candied nuts are surprisingly simple to make and TASTE SO GOOD. They also beautifully balance out a good charcuterie and are often a big crowd pleaser.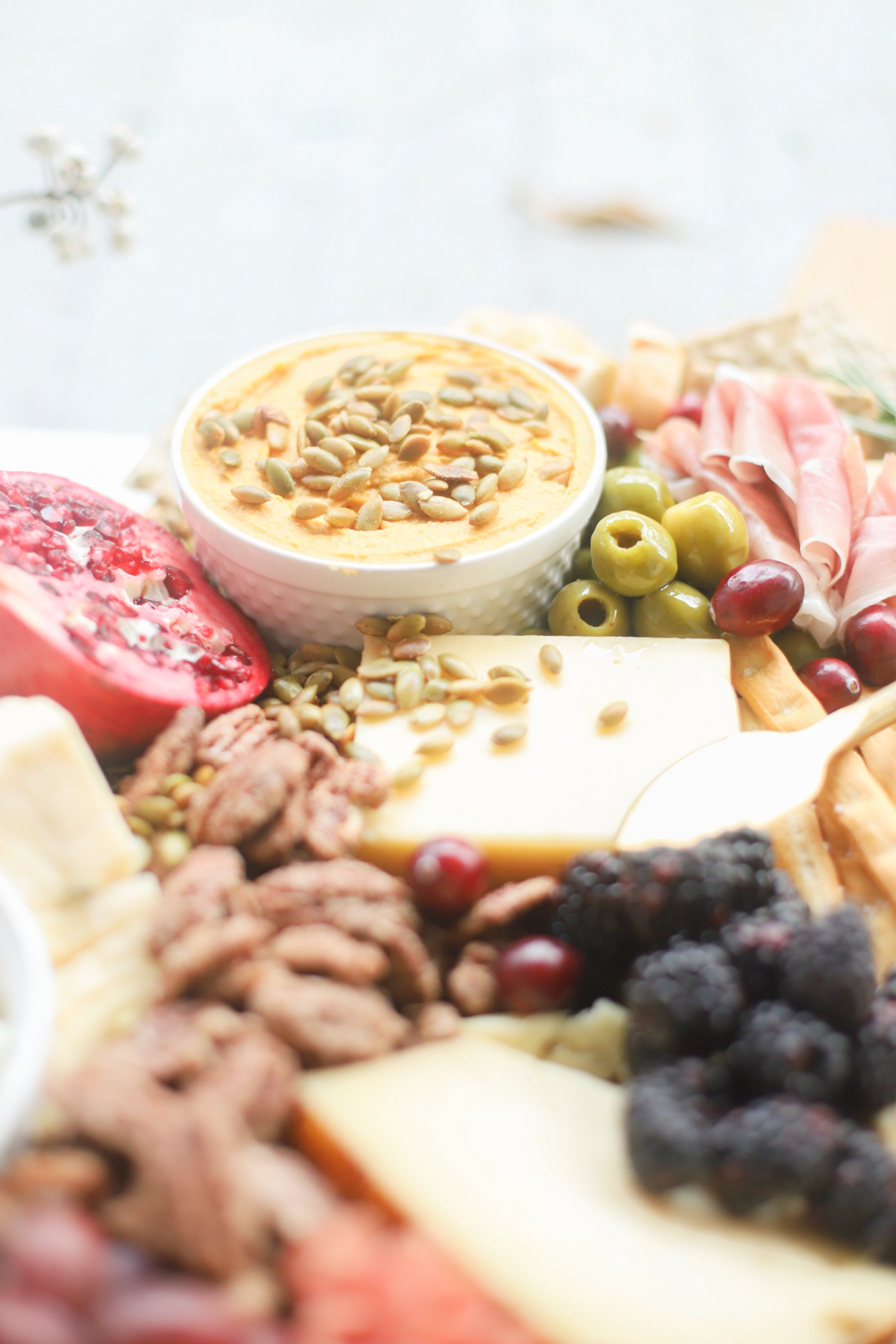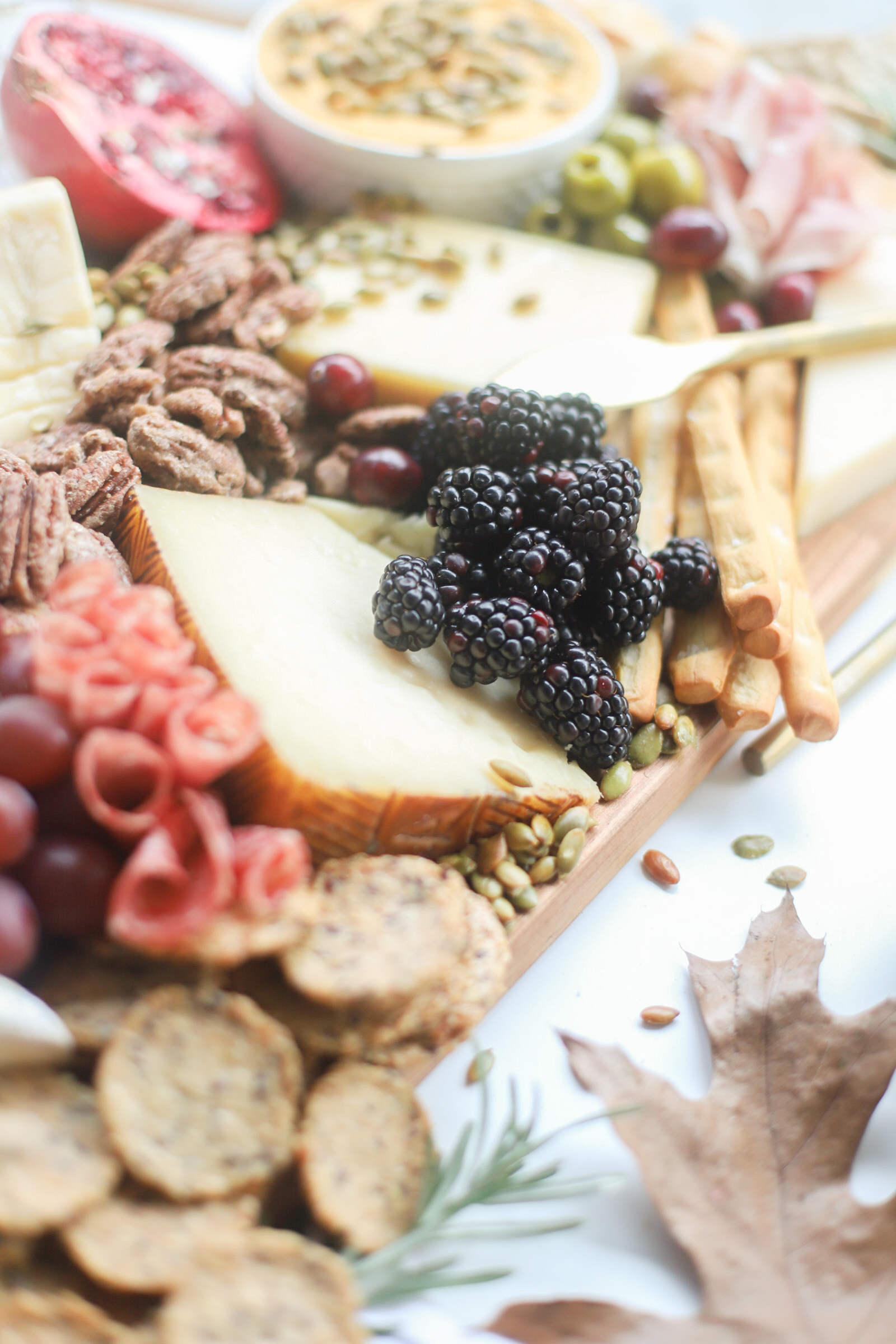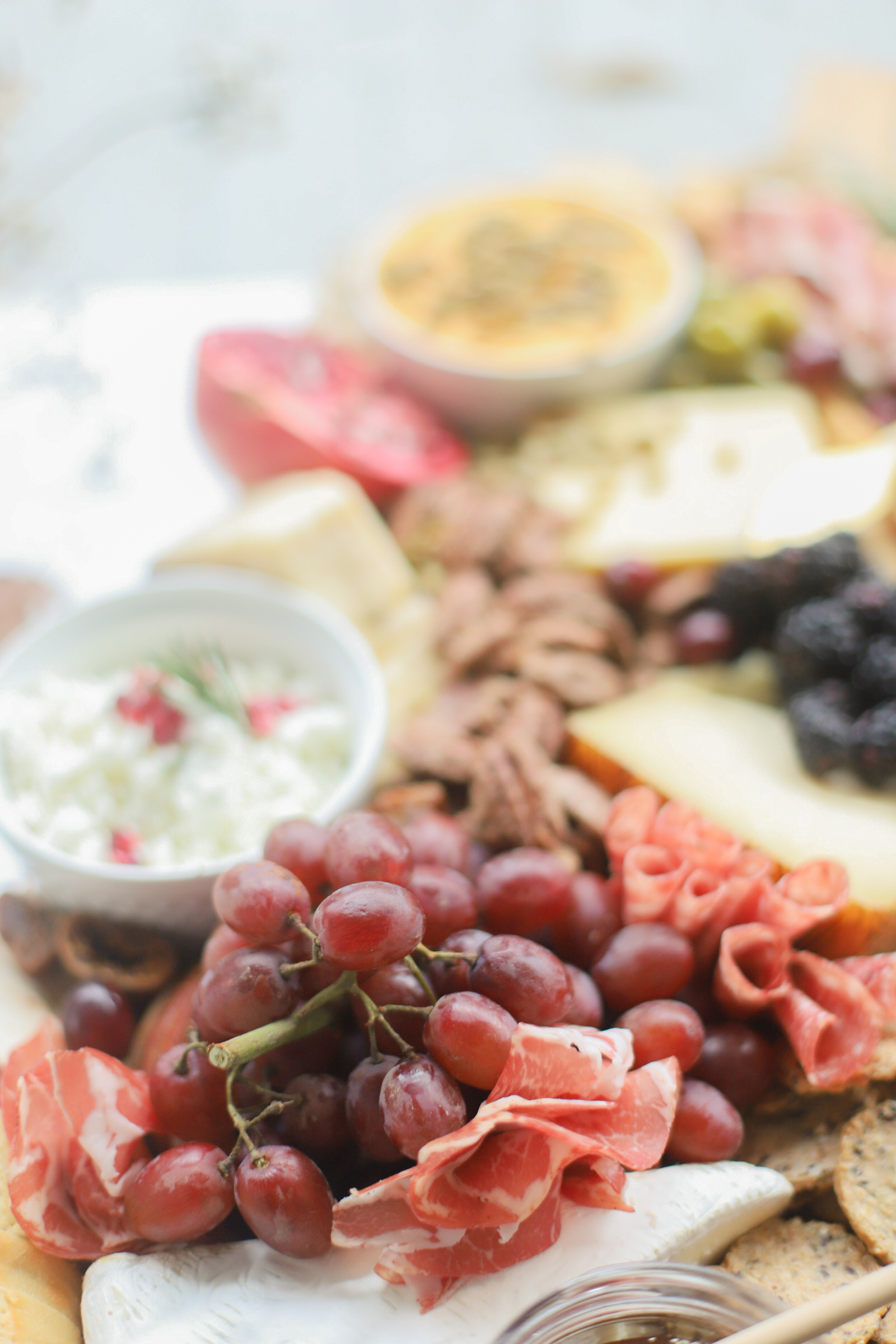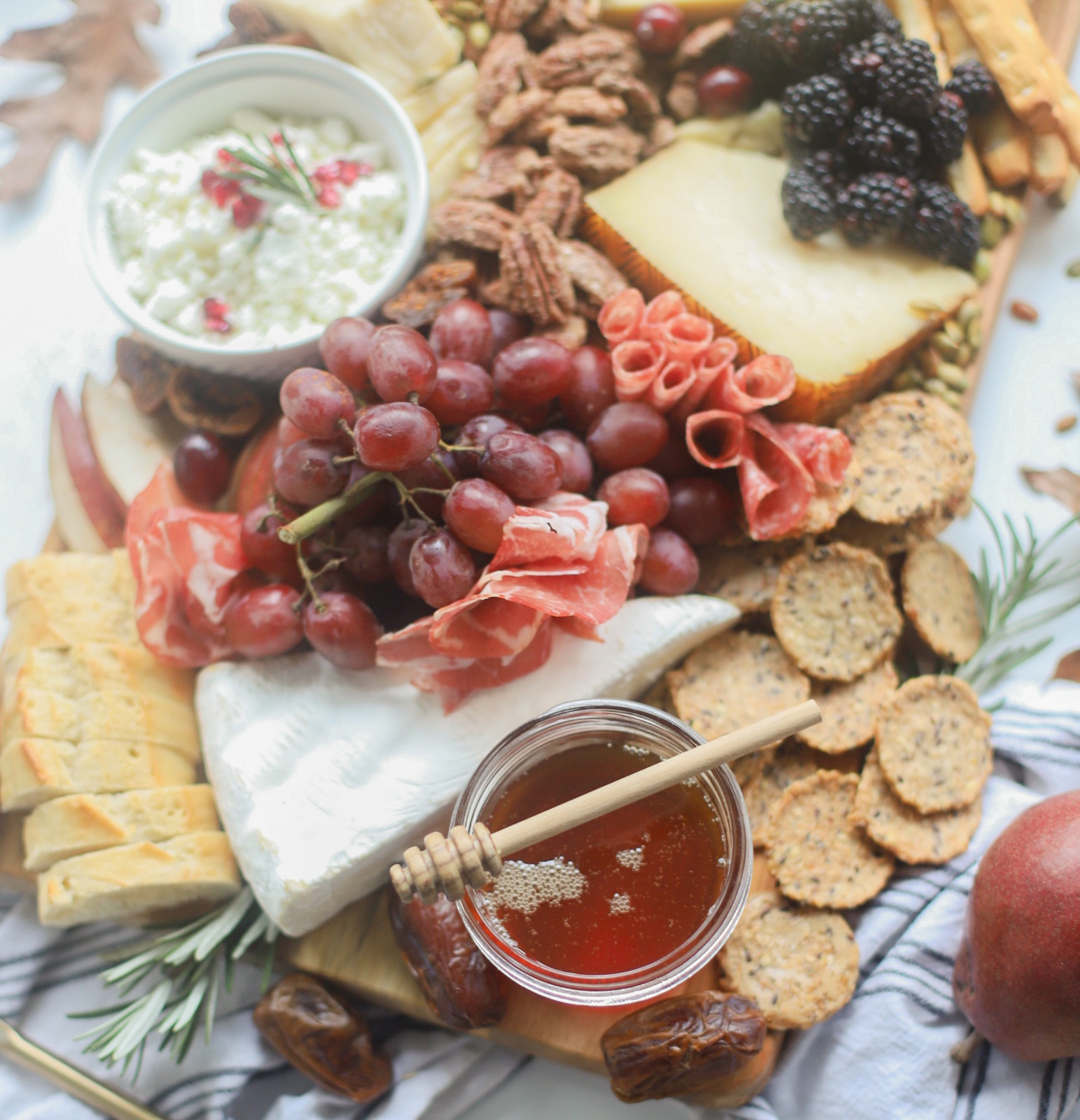 DECORATING YOUR THANKSGIVING CHEESE BOARD
How to Arrange a Cheese Board or Charcuterie
Start with a large wood board. Something like this or this or this works really well. If you're setting up a charcuterie on a large dining room table or buffet and you don't have a wood board, you can also always just set down a long piece of parchment paper or kraft paper and build your "board" right there. Boards are nice just because it's a relatively easy cleanup.
Space out your cheeses, setting them on the board with a bit of room between each cheese.
Next, add in any condiments that are in a jar or bowl, since those will take up a bit of space as well. (I love using shallow bowls and jars like weck jars for these kinds of condiments and crumbled cheeses.)
In the remaining spaces, add in bunches of grapes, sliced fruit, rosemary, pomegranate seeds, nuts and seeds, etc.
Work your carbs in and around those spaces as well. I typically build in my carbs – like sliced baguette and crackers from the outside, so that when I see those running out, I can easily just add a few more in without getting in everyone's snacking way.
Lastly, I add in the charcuterie meats because they're often thin.
Some pieces I fold up and wedge into places between the cheese, nuts, and meat, and some, like salami, I roll, make handfuls of the rolled meats, and stuff those "bouquets" in-between places as well.
Sometimes I like the look of some visual space on my board. It makes it easier for guests to maneuver around the cheeses. Other times, I like to pack in the goodies. For instance, for this year's Thanksgiving cheese board, I was going for a nature's bounty sort of thing, so I filled in every nook and cranny with fruit, seeds, crackers, etc. Have fun with it!
Break into your cheeses a bit. Start the first few slices of a hard cheese, crumble a bit of a softer cheese. You want your guests to want to dive in, and let's be honest, nobody wants to destroy a perfectly beautiful board.
Provide plenty of cheese knives so that each cheese ideally has its own knife or server. That way, you're not muddling cheese flavors, and more than one person can be diving in at once.
Provide napkins and plates as well.
Pumpkins, gourds, dried corn husks, fall leaves, dried flowers, acorns and pinecones can also help set the scene and decorate the space around your cheese board. Get festive with it!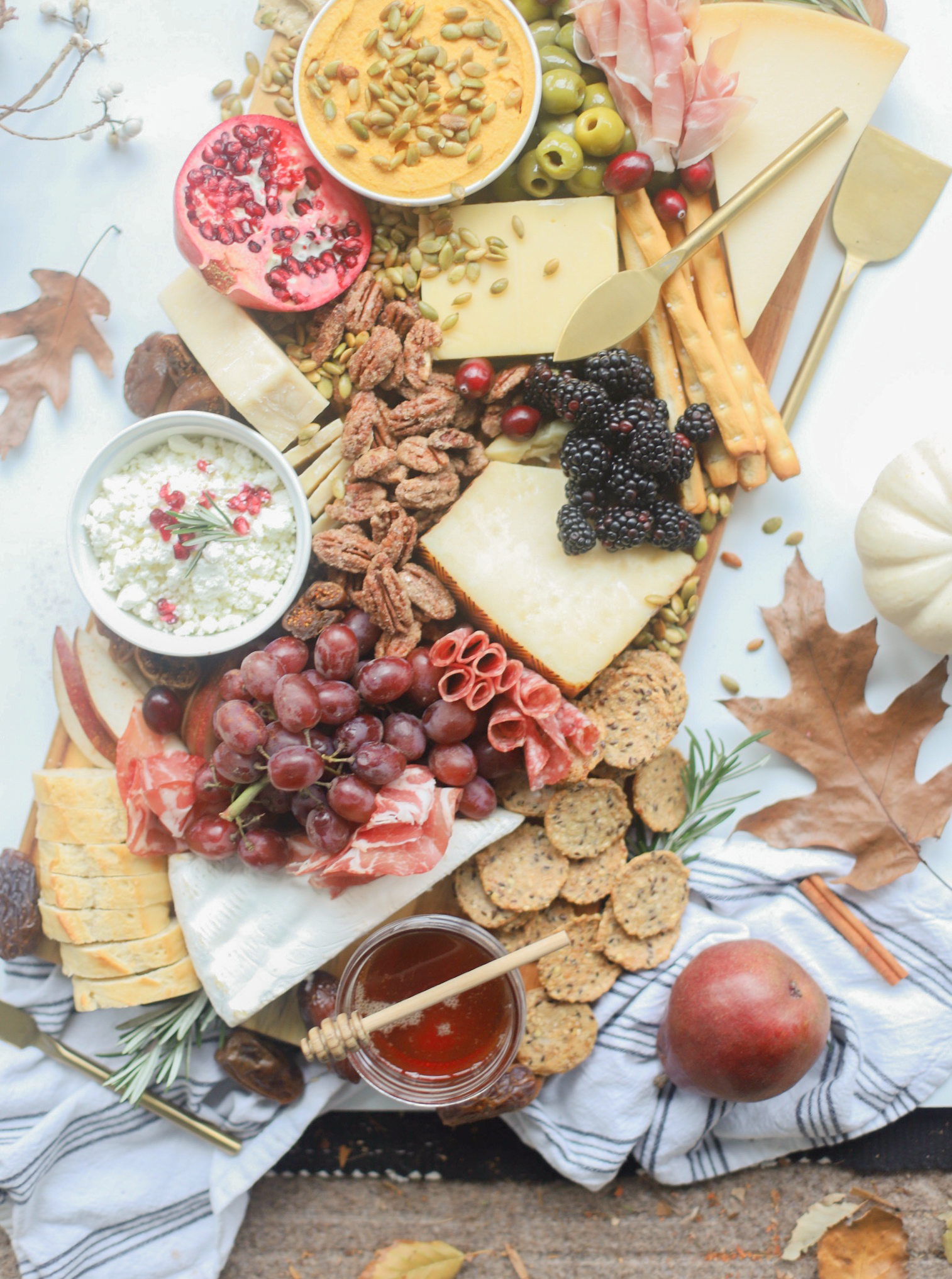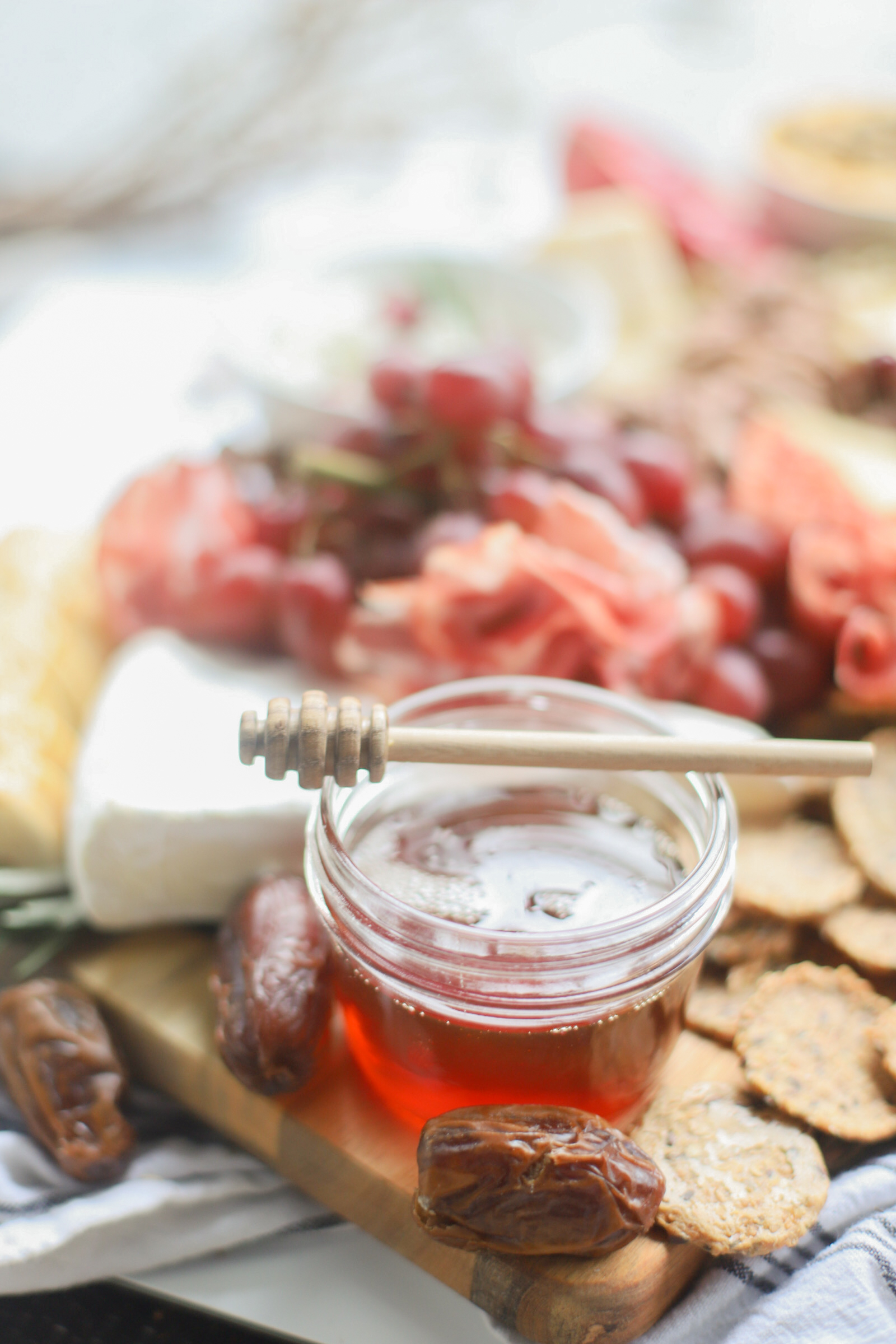 So there you have it: an Autumn charcuterie to rival all other festive fall boards!
SHOP THE THANKSGIVING CHEESE BOARD POST | CLICK LEFT & RIGHT ARROWS TO EXPLORE
Be sure to head to our recipe page to check out what else we're dreaming up in the kitchen. If you make your own Thanksgiving charcuterie, tag me on social media (@glitterinclexi) so I can live vicariously through all of your epic Autumn cheese board creations! Plus, I'd love to hear how it turns out (and if you and your holiday guests were just as obsessed as I am!)