Thank you to Elmer's®, Sharpie®, and X-ACTO® brands for sponsoring this post! All thoughts and opinions are my own. 
Remember when we were kids and we used those Elmer's foam tri-fold poster boards for science fair projects? Do you have kids? Are you even the slightest bit crafty? Well have I got a project for you!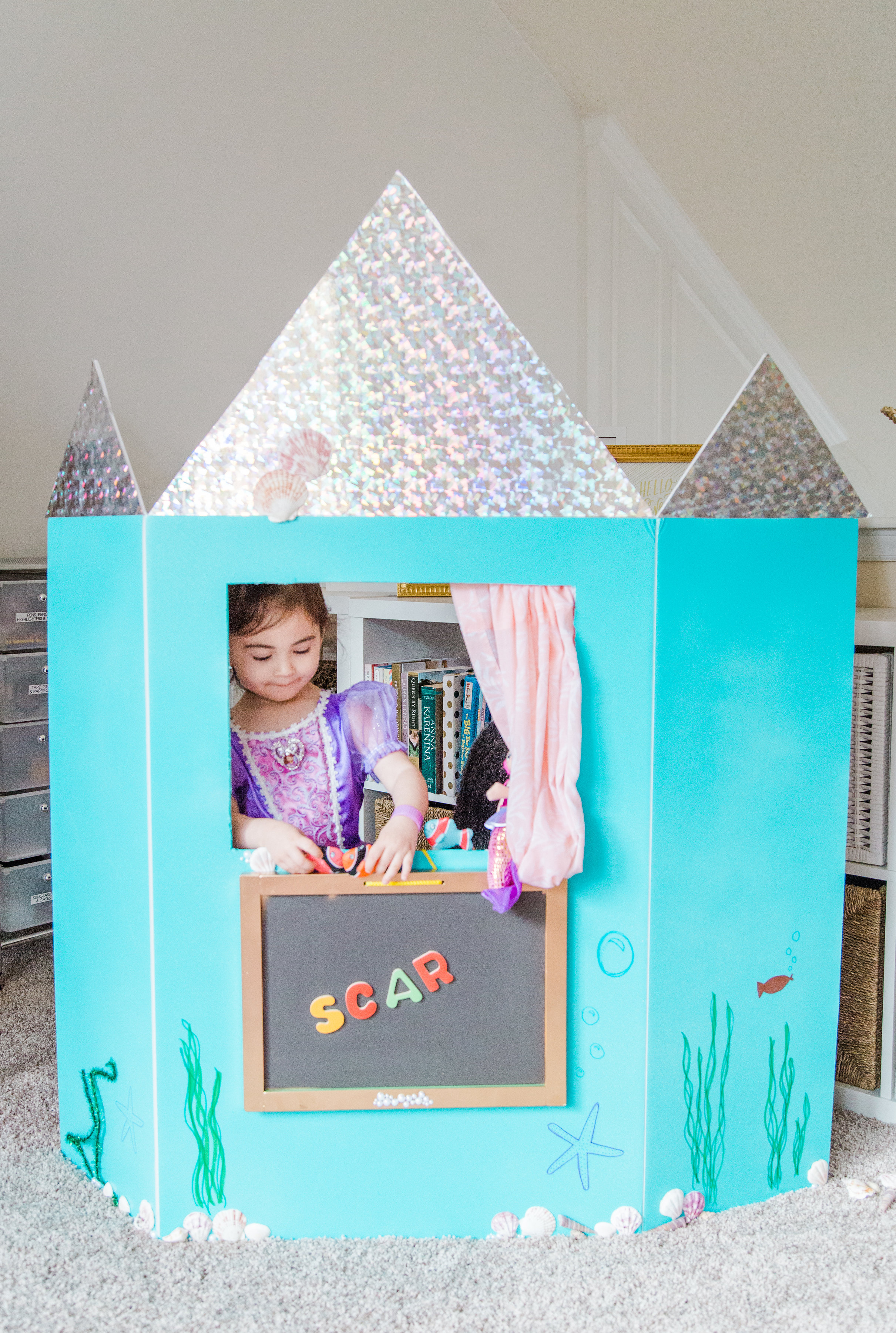 We made a DIY puppet theatre (and we're learning colors, numbers, and letters too … in an under-the-sea CASTLE!) If you're trying to teach your toddler and young kids something new – think letters, colors, numbers and counting, addition and subtraction, even spelling, then this DIY puppet theatre – made using a tri-fold foam poster board – might just be perfect for you.
A DIY puppet theatre for toddlers and little ones is an easy way to help kids to study in a fun and exciting way; and I'm not gonna lie, I had plenty of fun too. I'm a crafter by nature, so making this simple puppet theatre was half the fun, but once we'd created the theatre, that's when the fun began. Scarlett was SO excited.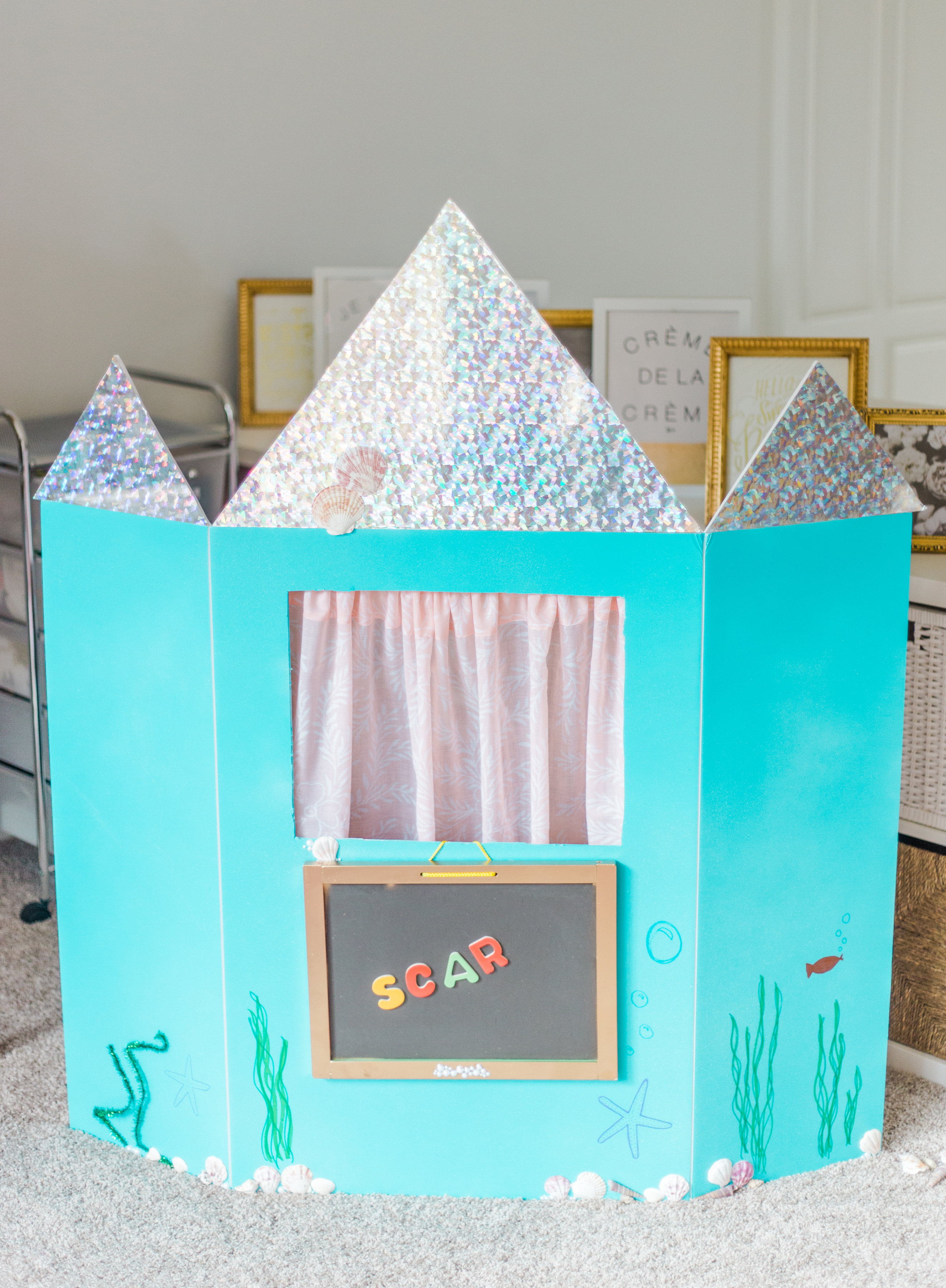 Of course I knew it would be a hit when I brought the white Elmer's tri-fold board home from Target and Scarlett was already playing with it and calling it her "castle." From there we knew a "castle" it would be!
We're also always trying to incorporate learning in our house. A few months ago she started going to preschool three mornings a week, and now she has more questions than ever before. She's exploding with curiosity and wonder, and it's amazing to watch.
So far, she's got her colors down. We talk about the colors of everything. Sometimes she totally blows me away when she corrects me and says things like, "No, mommy, that's not grey, it's silver because it's shiny." Or, "It's dark green and light blue, with stripes."
Listening to her sing the "alphabet" or "count to ten" is basically my favorite thing ever. It goes something like this: "A, B, C, D, C, D, C, H, I, Yay, K, elemen, Z, Geeeeeeeeeeeeeee" and "three, seven, nine …. TEN!"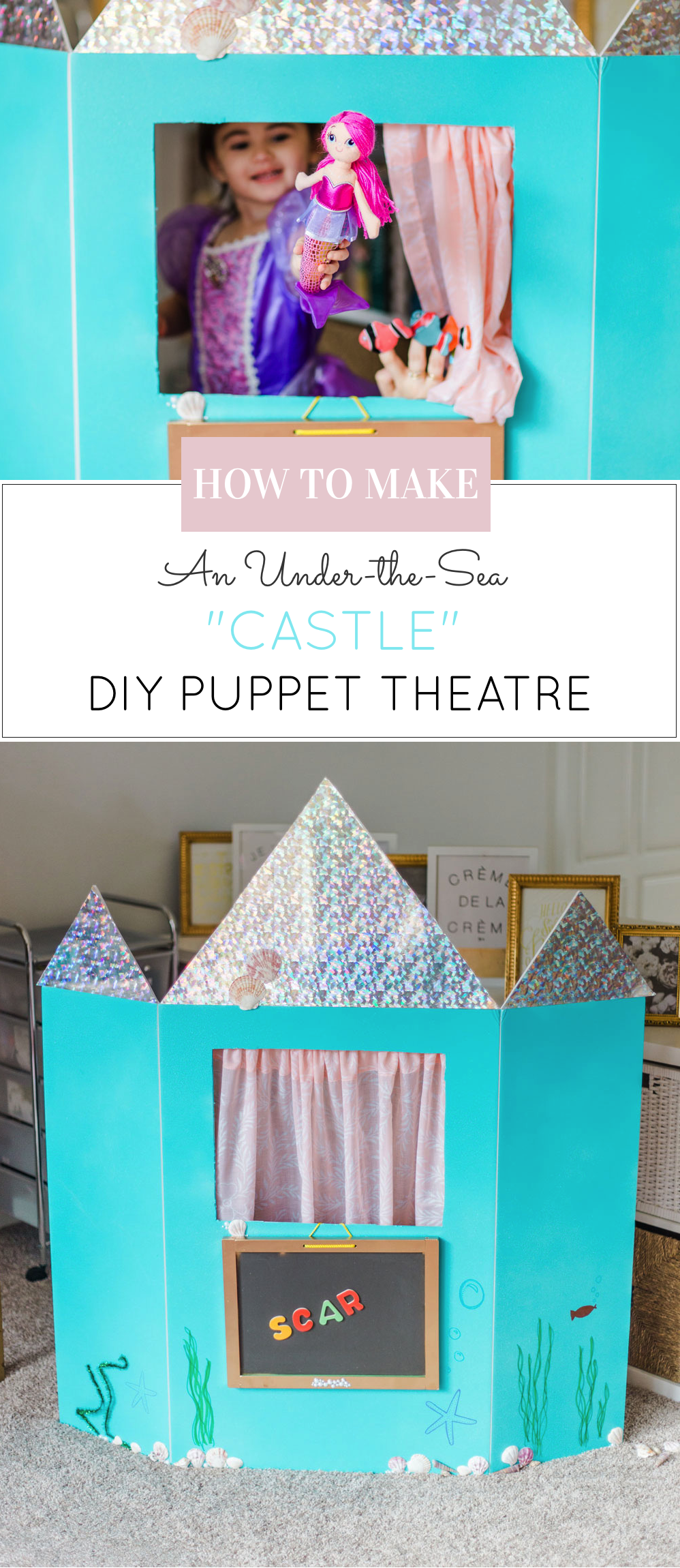 HOW TO MAKE A DIY PUPPET THEATRE 
(Learning Colors, Numbers, and Letters too … in an under-the-sea CASTLE!)
What You'll Need
Elmer's 36" x 48" Foam Tri-Fold Display Board
Elmer's Shiny Multi-Colored Presentation Board
X-ACTO Cutting Tool
Ruler
Pencil
Spray Paint (color: Seaside)
Glitter Spray Paint (color: Diamond Dust)
Sharpie Colored Permanent Markers
Elmer's Board Mate Dual Tip Glue Pen
Elmer's Board Mate® Foam Mounting Tape (optional)
Elmer's Washable Glue Sticks or Washable Liquid School Glue (so your little one can help gluing too!)
Hot glue gun (optional)
Elmer's Glitter Glue (optional)
Elmer's Reusable Stencils (optional)
chalkboard (optional)*
gold metallic spray paint (optional)
blue painter's tape (optional)
Sea Shells (optional)
Flat-Backed Pearls (optional)
Finger Puppet Fish (optional)
Mermaids (optional)
Green Tinsel (optional; for seaweed)
Curtain (optional)
Instructions
Using a ruler and a pencil, draw a rectangular towards the top of the middle section of your foam board. Then with your X-ACTO cutting tool, cut out the rectangle to make your playhouse "window".
Next, using your ruler and pencil, draw a large triangle and two equal-sized smaller triangles in your shiny presentation board – those triangles will be the tops of your castle.
Take your tri-fold board outside and spray paint the front any color you want. We went with an aquamarine to really get that "under-the-sea" feel. Allow it to dry completely.
To secure your castle tops (three triangles: one large, and two small), lay your tri-fold presentation board on the floor so that the inside/un-painted side is up, place the triangles on top of the three sections of the board (where they would go on top of the castle), and then use a plastic knife or tongue depressor (something flat), and tape it to the backs of both the triangles and tri-fold board. (Visual below.)
Turn your board over so that the front-side is facing up, and get to decorating. We glued shells, tinsel "seaweed," and doodled on the board to make it look like an underwater castle. You can use stencils, permanent markers, glitter glue, finger paints, the decorating options are pretty endless. Allow to dry.
To create a "curtain rod," flip your board back over (backside now facing up) and glue two clothespins – one onto either side of the back of the "window." Allow to dry. Then tie a rope or string to one clothespin clip. String your curtain onto the string, and then tie the other end of the string to the opposite clothespin. (Visual below.) We actually found a pretty pink curtain on clearance at Target. (It saved me having to buy, cut and sew fabric for a curtain!)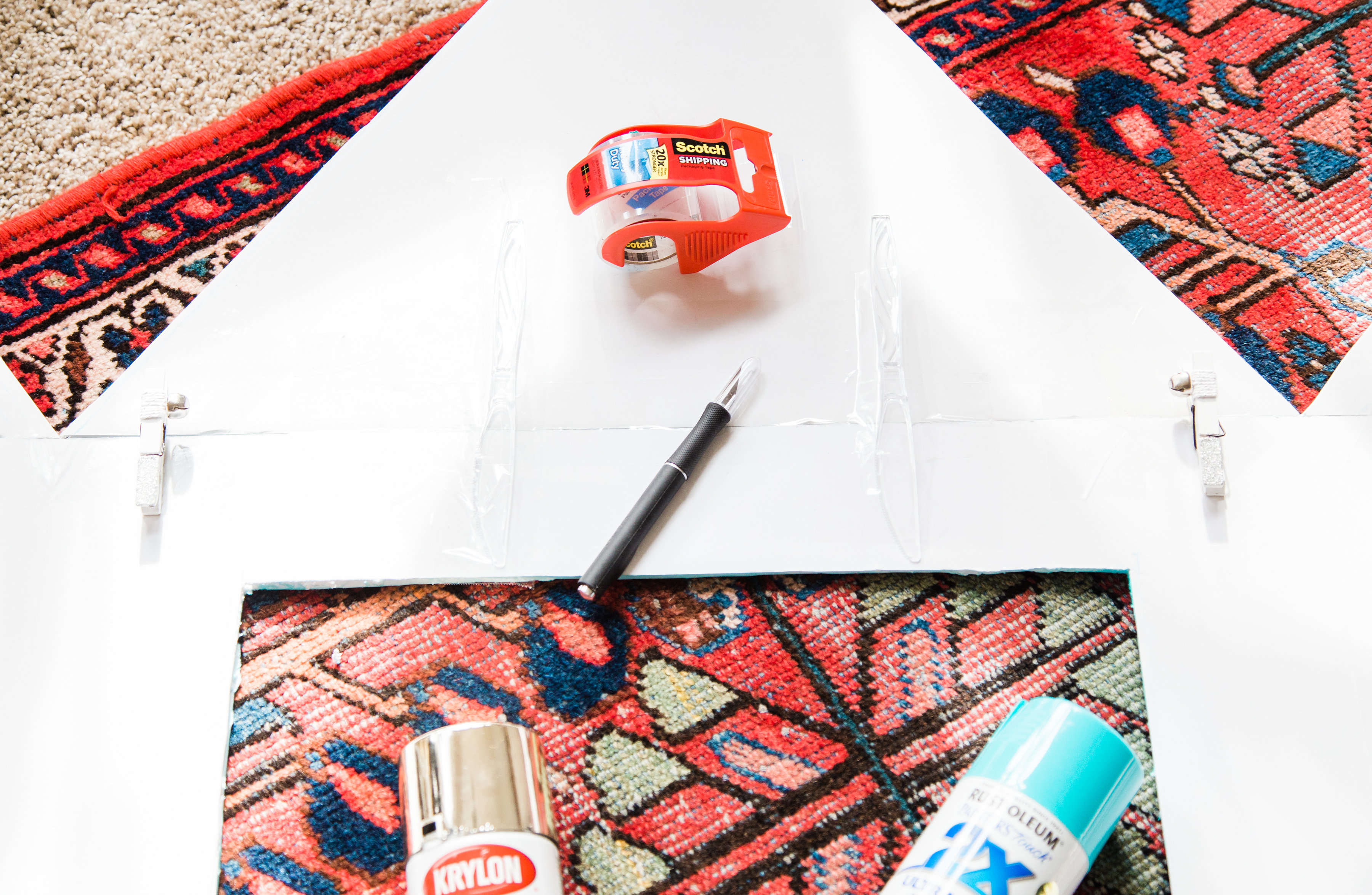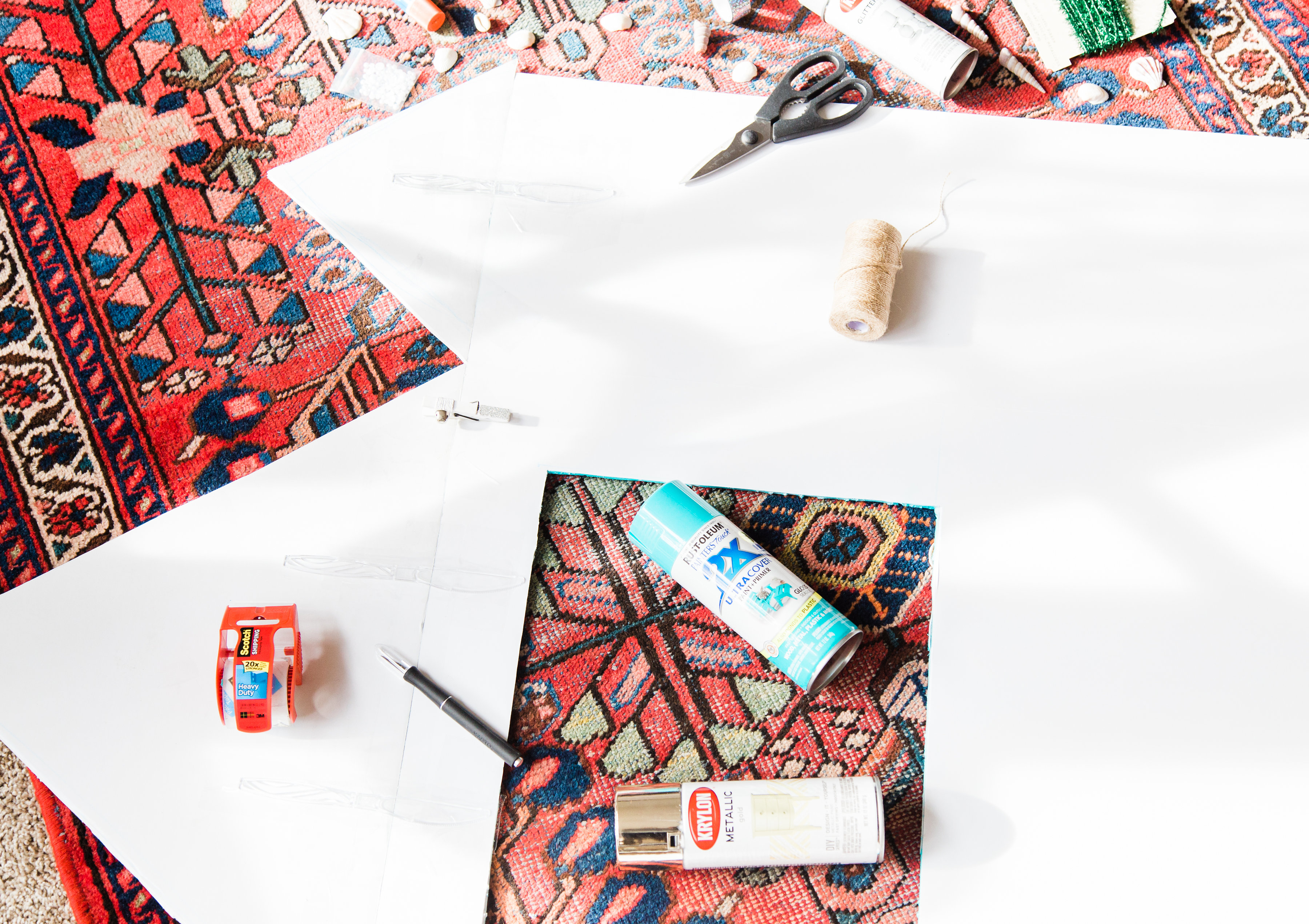 *Adding a lightweight chalkboard or drawing board is a great learning tool because it encourages kids to visually try out letters, numbers, spelling, and counting. We love this Melissa & Doug Magnetic Chalk Board because it's a great way to promote use of the alphabet and plenty of imagination for your little one. Whether they use the magnetic letters on the board or the chalk to practice writing, the creativity is pretty endless. Using blue painter's tape and newspaper to cover the chalkboard, I spray-painted the edges using gold metallic spray paint; because I can't help myself.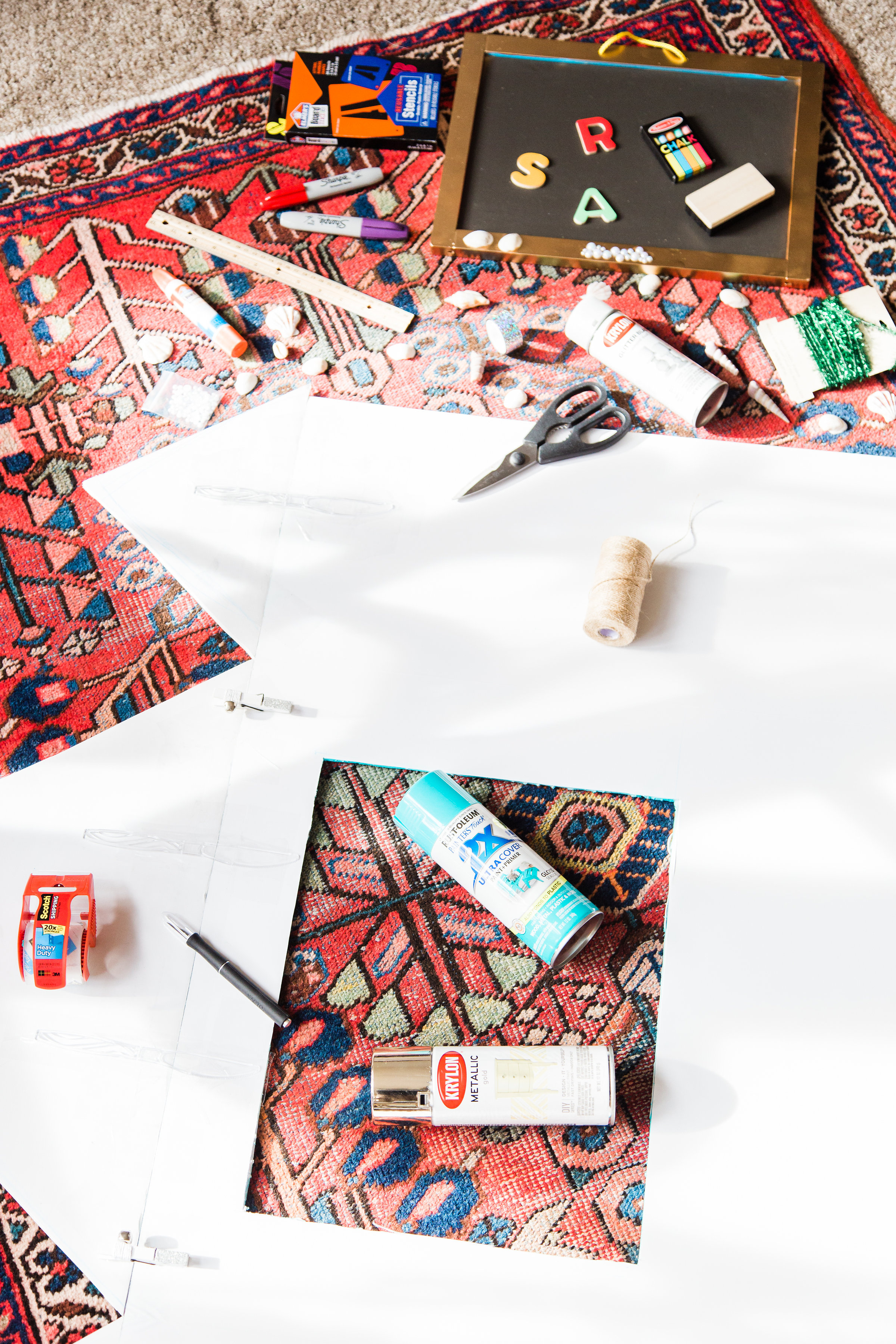 I glued clothespins onto either side of the back of the "window" to hang our own curtains on a string. Clothespins are great because you can easily add or remove the curtains.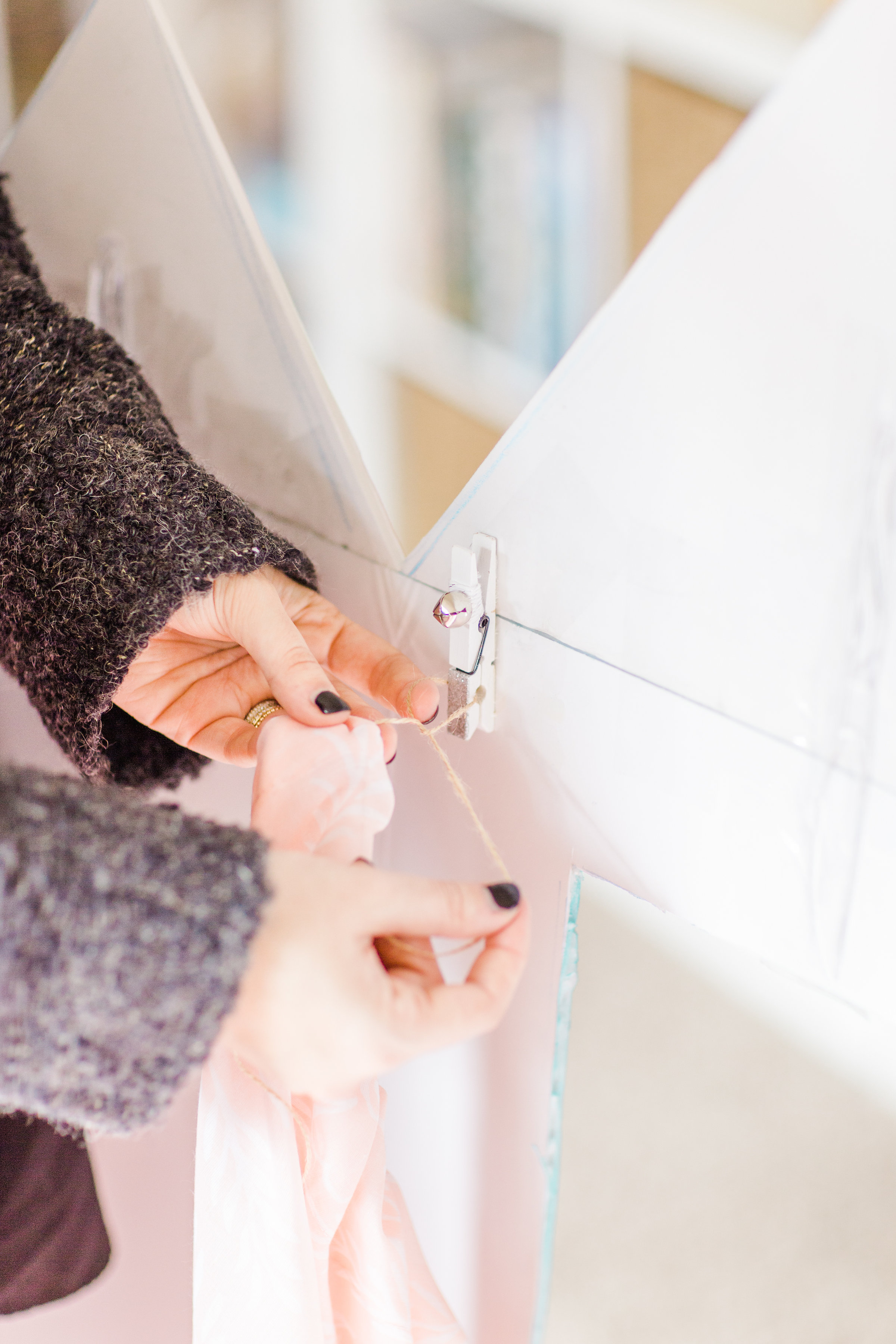 We had a lot of fun doodling …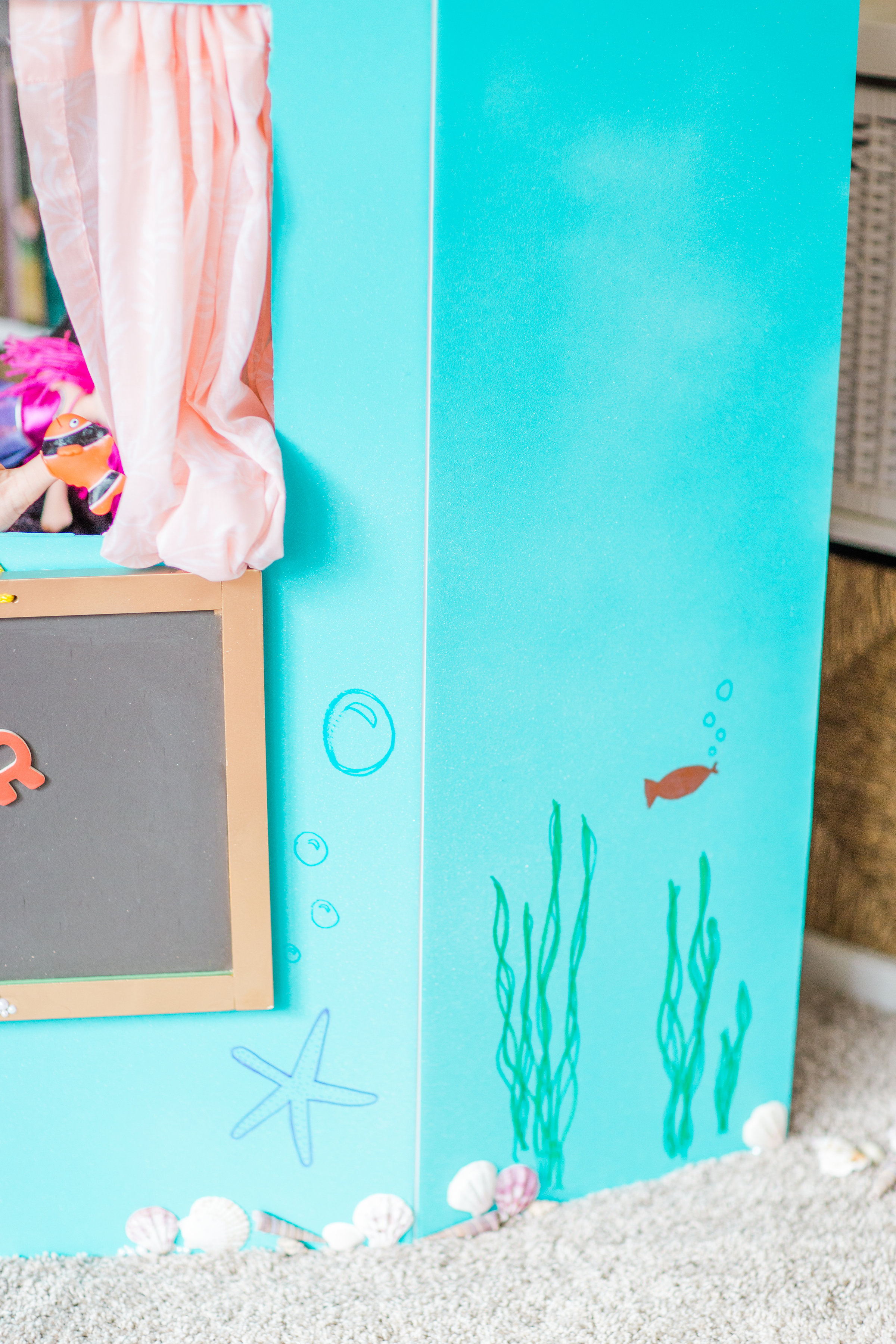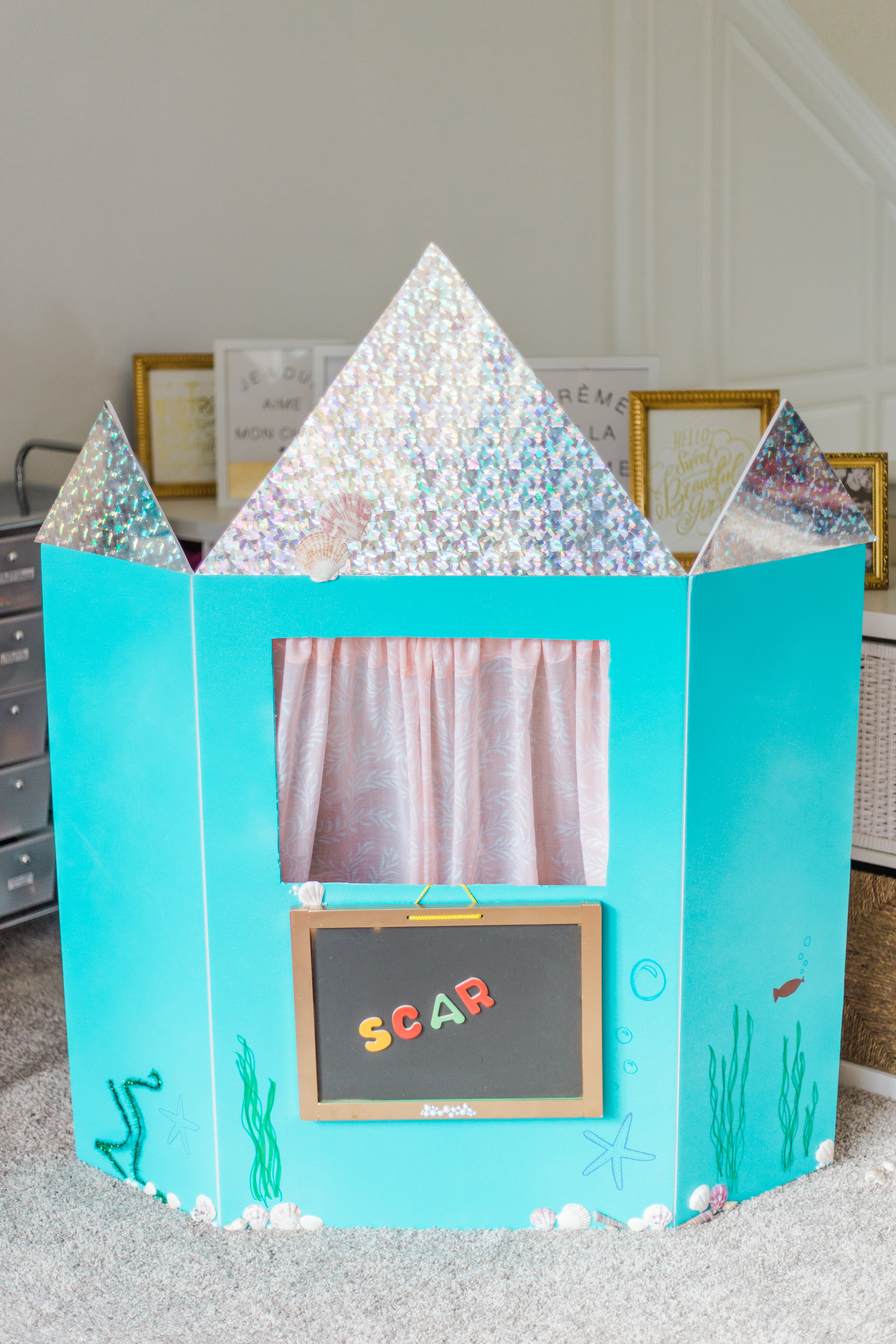 We went with an under-the-sea theme because Scarlett is a big fan of fish, sharks, and mermaids. And as I mentioned before, turning our playhouse/puppet theatre into a castle was a no-brainer. (We like castles … a lot.)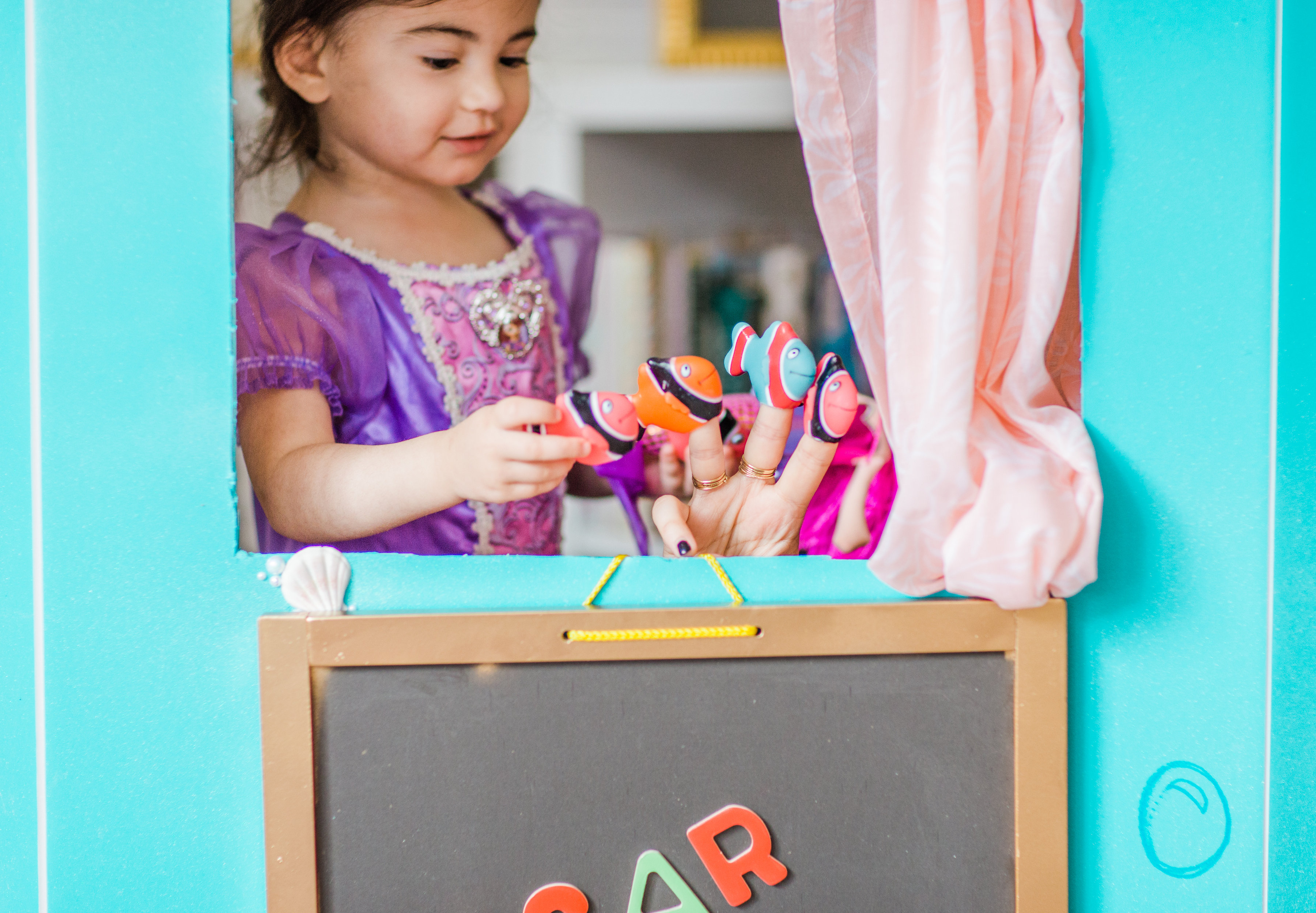 So far, Scarlett can count to 3!
Using something fun like colorful fish, in the playhouse "castle" setting, made counting so much more fun for our little girl.
Pink mermaid also got plenty of attention too!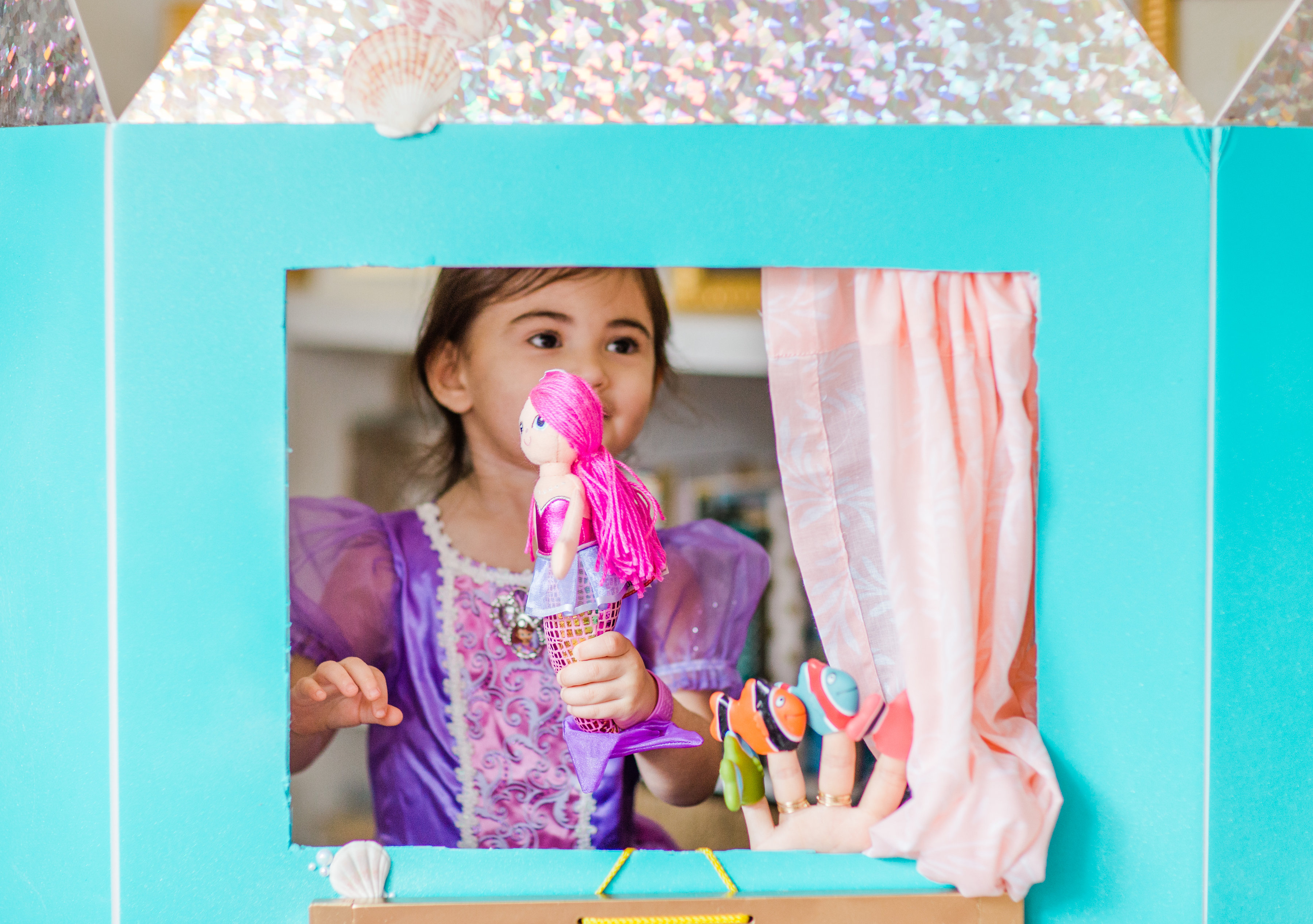 I'm also pretty sure I have a bright future playing finger puppet fish.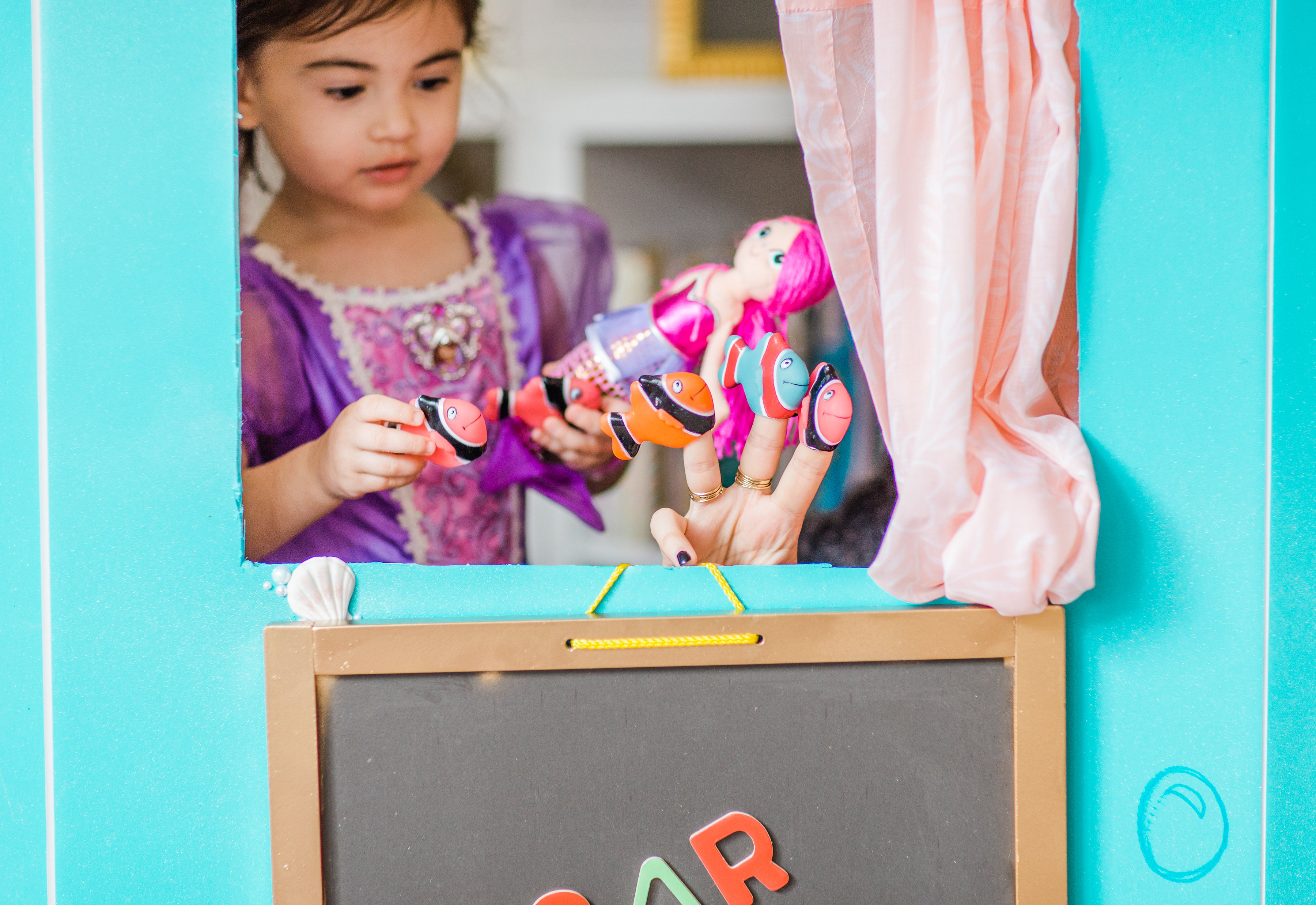 Take a bow!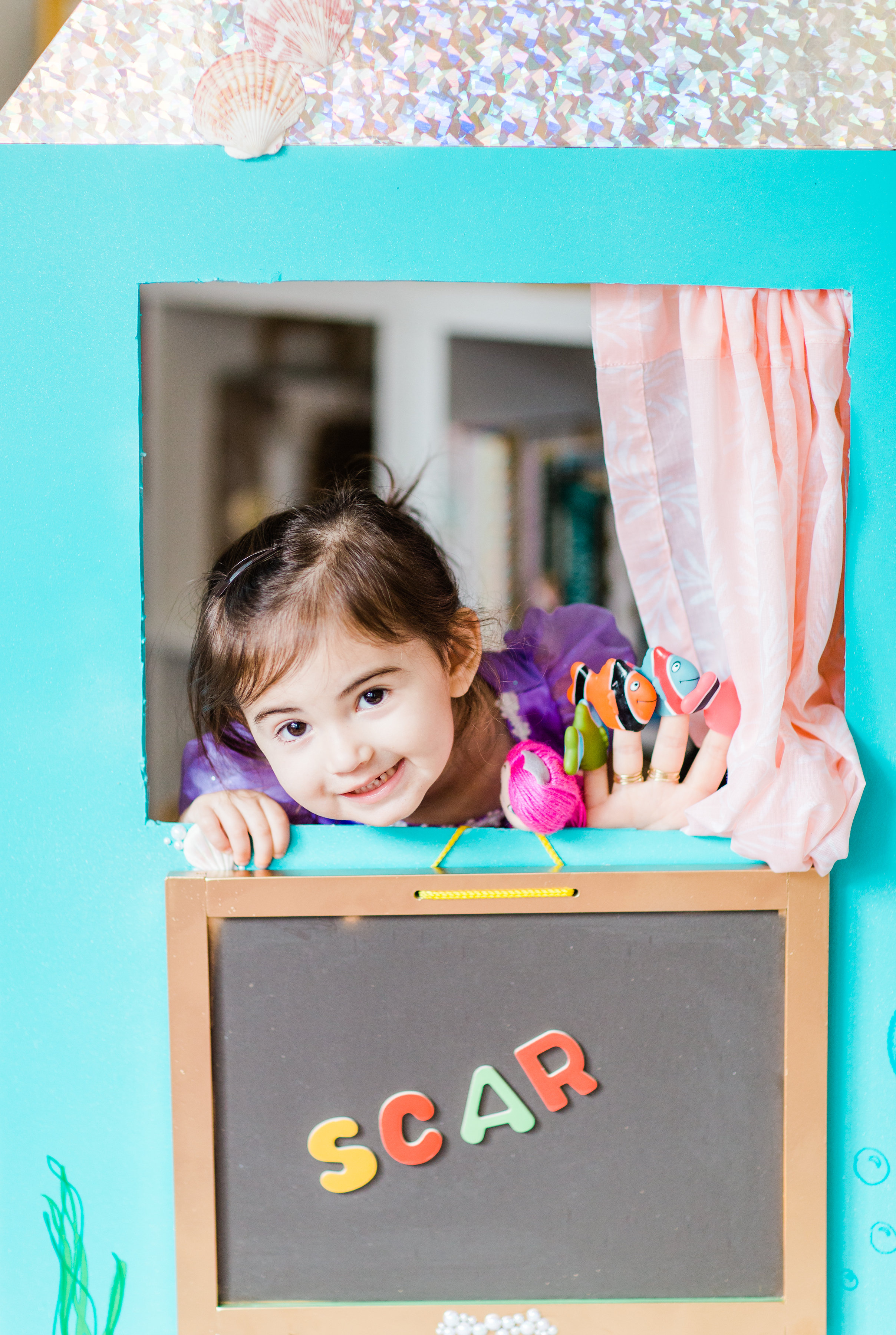 You can find everything you'll need to create your own DIY puppet theatre, including the Elmer's foam tri-fold poster board, Sharpie® markers, the X-ACTO® cutting tool, glue, paint, and more at your local Target. Plus, there's a Cartwheel offer starting Sunday, 1/29! Target is definitely my go-to for all of our crazy craft projects because not only do they have a huge selection for our DIY's, but I can also score a great deal on diapers, pick up leggings for Scarlett and food for the dog, and get my home décor, beauty must-haves, and grocery shopping done too. I call that a MOM WIN.
Photos by Annie Watts Photography
This post contains affiliate links, which means that if you click on one of the product links, I'll receive a small commission. Thank you so much for clicking through and helping to support this little blog business of mine! Read more about our site, privacy, and disclosure policies here.