I am so excited to have Jaime of Sunflowers and Stilettos here today to share her hilarious take on motherhood – Things I Swore I Wouldn't Do as a Mom That I Totally Do. If you're currently roughing through any stage of motherhood, you'll know that most of the things you swore you wouldn't do as a mom fly right out the window when you're actually living it. Being a mom is all about survival … and the best slobbery kisses in the world.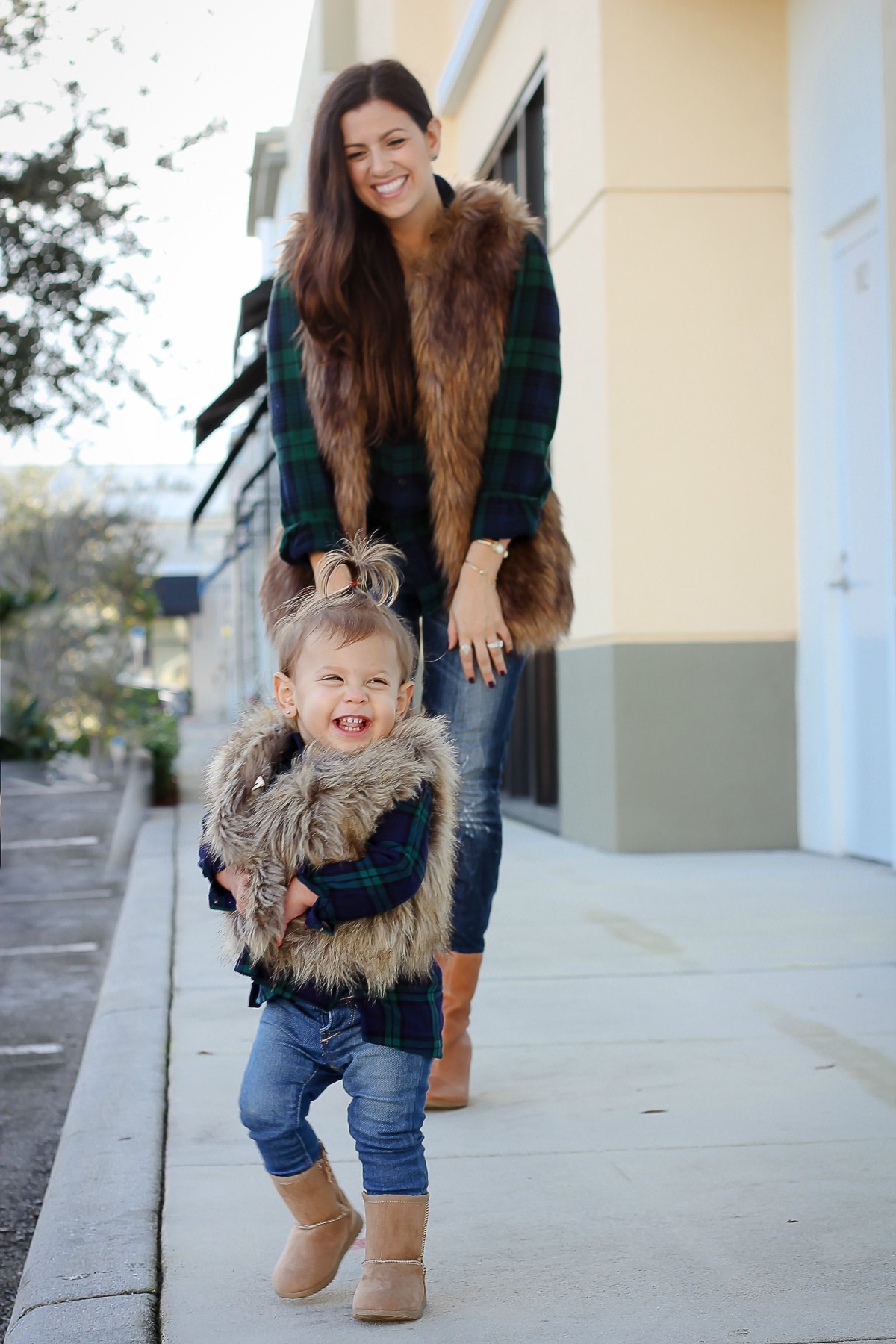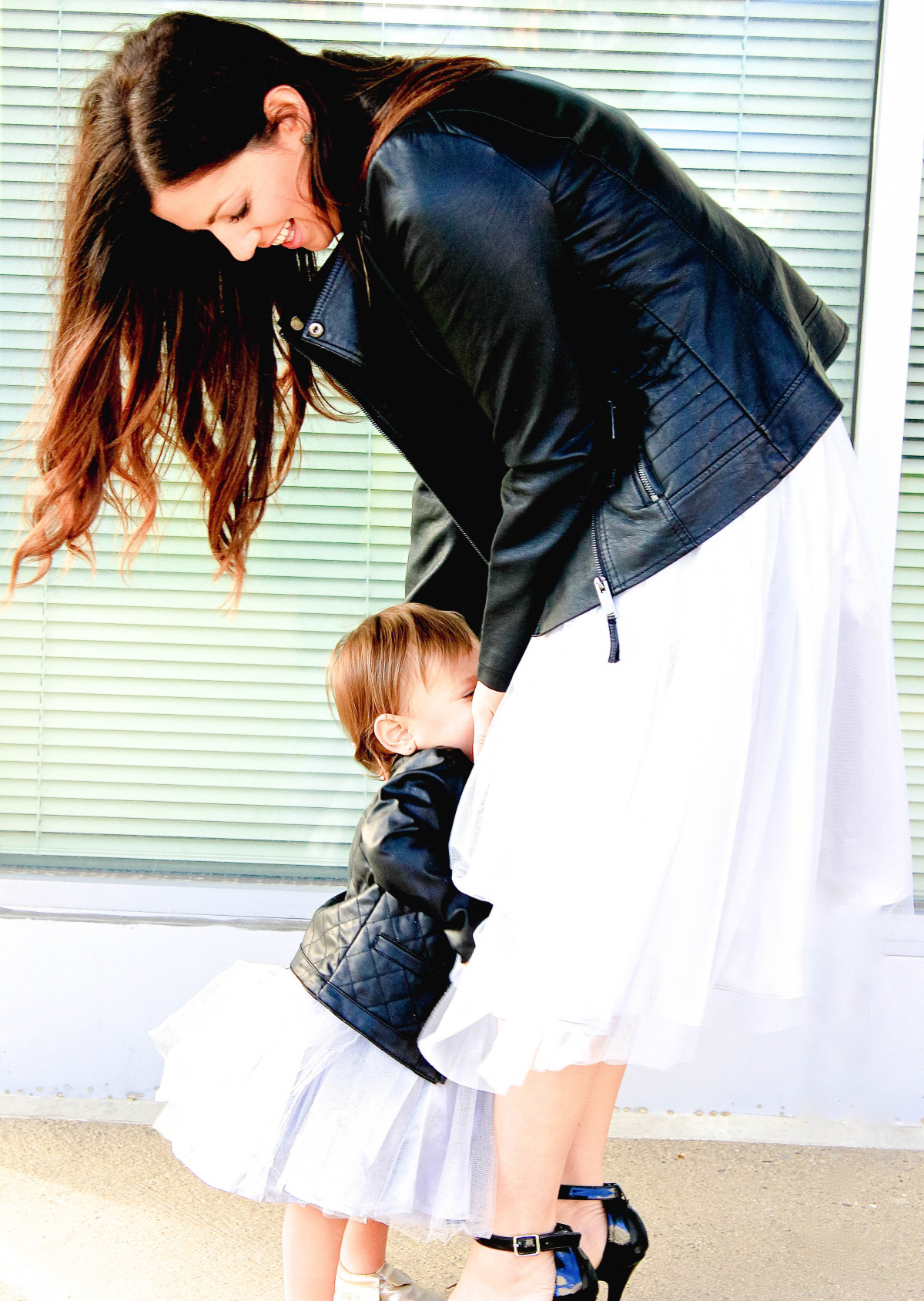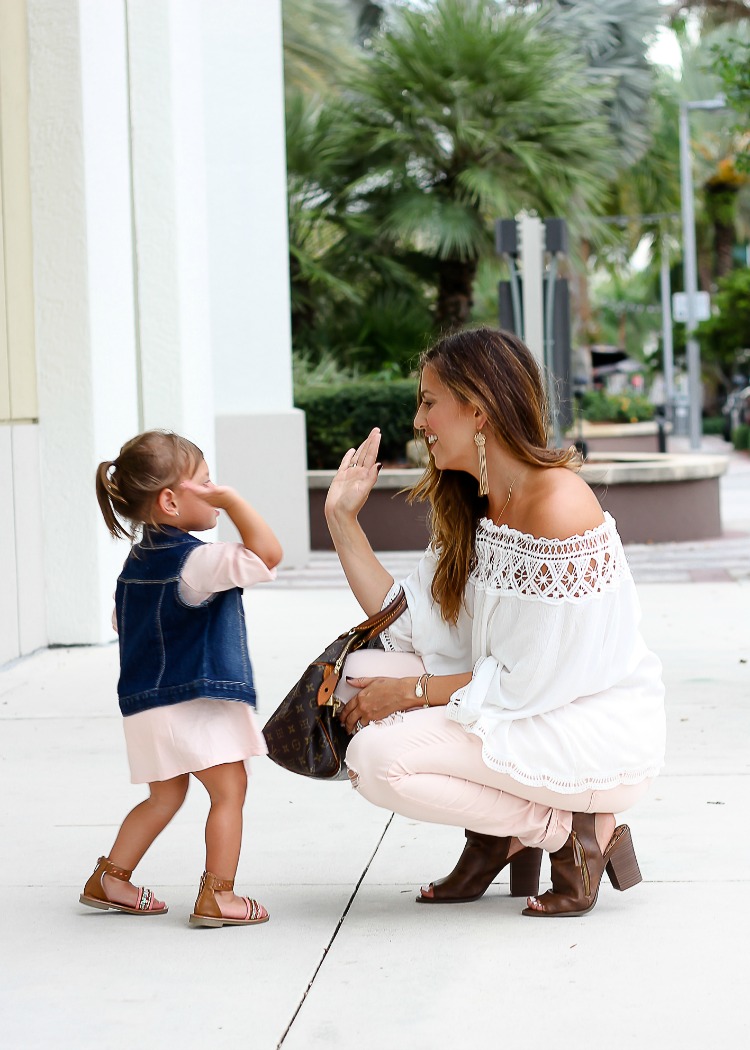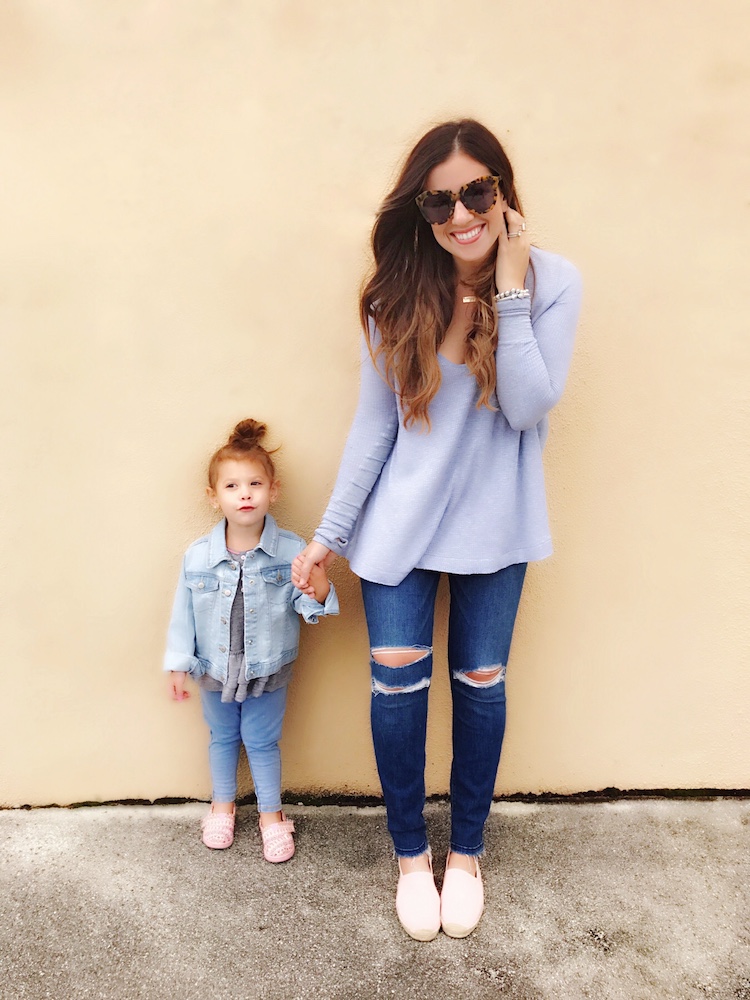 Hi guys! I'm super excited to be guest blogging for Lexi today! To quickly introduce myself, I'm Jaime, the woman behind Sunflowers and Stilettos and also known as @jaime_cittadino on social media. I'm a Long Island New Yorker, currently living in sunny, South Florida with my husband, Casey and daughter, Harley. We are expecting a baby boy early January! My blog and social media focuses heavily on fashion (easy, achievable looks), however I cover all things from lifestyle, motherhood, beauty, and travel.
Oh, and as you can see, I like to awkwardly coordinate my outfits with Harley, which is definitely something I swore I wouldn't do as a mom that I totally do! Now on to today's post…
Oh the things we say (and think) before becoming a parent. We are the best parents before actually becoming one, am I right?! Why is it that we truly believe that when it's our turn to raise a tiny human, everything is going to be perfect. Temper tantrums? Not my child! Blatantly ignoring me? Nope! Could never happen! Bribing my kid with anything she wants in the cookie aisle just so I can finish grocery shopping before the next person gives me the "get a hold of your child" look?! Ha! Only bad parents have to deal with that! Yeah…it's funny how quickly you realize that you are just like all the other parents out there, trying to SURVIVE!
So while I could have easily quadrupled this list, here are the 10 Things I Swore I Wouldn't Do As A Mom That I Totally Do!
1. Buy anything pink or floral if it's a girl.
I may be a bit alone on this one, but if I'm being honest, before learning the gender of our child, I was more excited with the idea of dressing up a baby boy than girl. I was never an ultra feminine dresser growing up and even now, so was a bit overwhelmed by all of the girliness. Casey (my husband) made me promise him that we'd bring nothing pink or floral into the house, and would stick to more gender neutral hues. MmmHmm…okay. We couldn't avoid it if we tried! Now nothing makes me happier than to see Casey pick out a pink dress for Harley and tell her how beautiful she looks in it! She is also adamant about wearing a pink dress to school EVERY. SINGLE. DAY.
2. Buy baby food from a store because everything I give my infant will be home made.
Um, yeah. So about this… I made my own baby food for a hot minute. Maybe even two minutes. Not only was it more time consuming, but it increased the dish load and I hate cleaning dishes! Perhaps if I wasn't working, it would have been a different story. In theory it sounds great and I really do wish I would have had the time for it. Of course we gave her things like avocado, sweet potato, and banana that maybe needed a bit of breast milk or formula to thin out in the beginning, but as far as different fruit and veggie combos, I relied on store bought food. Fortunately now, there are tons of healthy options that remove unnecessary processed ingredients.
3. Give my child formula! He or She will only be nursed and fed breast milk until they're old enough for cow's milk.
I understand why giving your child breast milk is strongly encouraged. There are tons of amazing benefits! However, to put pressure on yourself to solely give your kid breast milk is not the greatest idea. At least for me it wasn't. I loved nursing Harley, but didn't have enough of a supply to store up milk to have for when I was away from her or when she was more hungry. Even after she was sleeping through the night, I had to wake myself up one to two times to pump just so I could build up a supply. I was miserable and exhausted. Pumping is so different than nursing. You have to be fully awake, sitting upright, and then get out of bed to clean the parts and put the milk away. AND when you're husband makes comments about "the noise" from the breast pump interrupting his beauty sleep, you literally want to punch him in the face! I made the decision to introduce formula to Harley around 6 months, but totally regret not using it sooner. We used Baby's Only Organic Formula and she didn't skip a beat. I felt so much better knowing that she'd never go hungry or be without food. The fact that I was able to function a little bit better during the day also made me a much better mom!
4. Never let my kids eat junk food! Organic fruits, veggies, and lean meats only.
Casey and I care about nutrition. Since 2012, we've made such huge changes when it comes to the foods we buy at the grocery store, the meals we make at home, and what we order at restaurants. Are we perfect and eat clean 100% of the time? Heck no! You can still bet my favorite foods are pizza, french fries, and bagels. But we are very aware of what we put into our bodies. We read labels and limit processed foods as much as possible. When Harley started eating solids, we never gave her crackers, cereal, pretzels or any of that stuff. After a year old, we put her in pre-school full time. She gets healthy lunches from a kids food delivery service, but she also eats cheerios in the morning for snack, Friday is pizza day, and I'm sure she goes to town when parents bring in cake for their kid's birthday. She requests noodles for dinner every single night and then wants to wash it down with a piece of chocolate (thanks to my Mother-In-Law). As long as we continue giving her as much good, whole foods as possible, we have to let her be a kid and just know that she's going to eat other things too sometimes.
5. Share a ridiculous amount of pictures of my baby on social media. Like we get it…they're cute.
Harley has her own Instagram account. Enough said. LOL! She actually has been slacking big time on her posts come to think of it, but whatever. I'd rather see a cute child on social media than read about people's political rants! #SorryNotSorry
6. Brag about my child's developmental skills and how smart they are.
Before becoming a mom, I remember people making comments about their kids doing or saying something they thought was so fabulous. No offense to them, but I just didn't get the excitement. In my opinion, unless you're a nanny, a teacher, or parent, you don't understand what infants and toddlers are supposed to be doing. What's normal? What's advanced? And really, WHO CARES?? Well, after having a child, I can say that I do care! And it is so exciting! The first time Harley counted to ten on her own and sang the ABC's, I probably told every single person I know. It's possible I even sent them 5 videos of her saying it over and over again. If you follow us on Snapchat or Instastories, then you know what I'm talking about! Obviously, I really don't mean to "brag" or compare Harley to any other child. It just makes me so happy to watch her learn and grow.
7. Allow my child to sleep in bed with me.
Harley slept next to our bed for the first two months in a side sleeper. At 8 weeks, we started sleep training her in her crib and fortunately she slept through the night very early on. See, there I go bragging. Then things like teething, ear infections, colds, and other awful things happen that keep them up at night. I used to stay in Harley's nursery and rock with her until she would fall back asleep on my chest. Now, if she has trouble sleeping, I immediately bring her into our room and cuddle with her in bed. It's actually my favorite thing! Except, the girl sleeps perpendicular to us and usually kicks me in my side really hard! But, the snuggles before she practically kicks me off the bed are totally worth it!
8. Put an iPad in front of my kid's face so they can entertain themselves.
Casey and I were anti iPad for a longggg time. After almost getting kicked out of a few restaurants though (or wanting to hide underneath the table), we figured there can be a time and place for it. I don't love it for many reasons, but if it saves me from her freaking out on an airplane or allows me to finish a meal, then selfishly I am thankful for that digital tablet that entertains her for periods of time! There are so many different learning apps available and when all fails, she watches Elsa and Moana on YouTube. She's happy. I'm happy. Judge me. I don't care!
9. Allow my son or daughter to sit in front of the television more than once a day.
Similar to the iPad, I much prefer Harley playing outside, coloring, reading books, and putting puzzles together. However, when she's up at 7am on a Saturday, and Casey and I finished a bottle of Malbec the night before (referencing my pre-pregnancy days), you better believe I am thankful for the Mickey Mouse Clubhouse, Sophia the First, Shimmer and Shine, or whatever it is that she's into at the time. She's in school Monday through Friday, from 9am to 5pm learning and doing activities. We read to her every almost every night before bed and spend most of the weekends out and about, so I think she'll be okay watching tv.
10. Sing children's songs on a regular basis.
Not only do I sing them, but I dance too. And I kinda like it. 🙂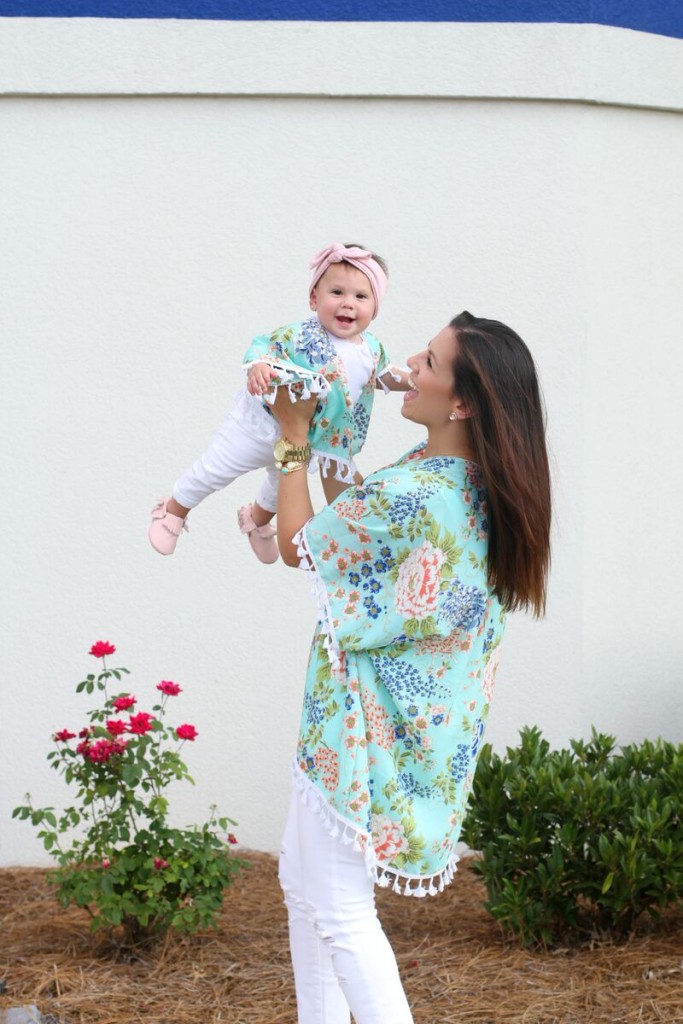 So that's that! It's safe to say that there's no such thing as a perfect parent. Or a perfect child. We do things we used to judge others for doing and sometimes change our minds about certain rules when it's convenient to do so. We all just need to come together, accept each other's parenting ways, and let our kids be kids!
I'd love to hear what you fellow mommas have to say about these things. Is there anything you swore you'd never do that you do now?