This post contains affiliate links, which means that if you click on one of the product links, I'll receive a small commission. Additionally, as an Amazon Associate I earn from qualifying purchases. Thank you so much for clicking through and helping to support this little blog business of mine! Read more about our site, privacy, and disclosure policies here.
If you've never tried Salted Dark Chocolate Watermelon Slices, you're in for such a treat! Sweet, cold and crisp watermelon dipped in rich dark chocolate, and topped with salty flakes, this summer dessert is as epic as it is simple to make. Use dairy-free chocolate for a totally vegan and gluten-free dessert!
As a sometimes/wannabe food blogger, there are times recipes are so simple, you wonder whether they even count as a recipe. But then, you post a snap of the result of said recipe to Instagram – specifically, salted dark chocolate watermelon slices – and get a flood of comments and messages asking for the recipe, and you realize, even the simplest of recipes, when AWESOME, deserve to be shared.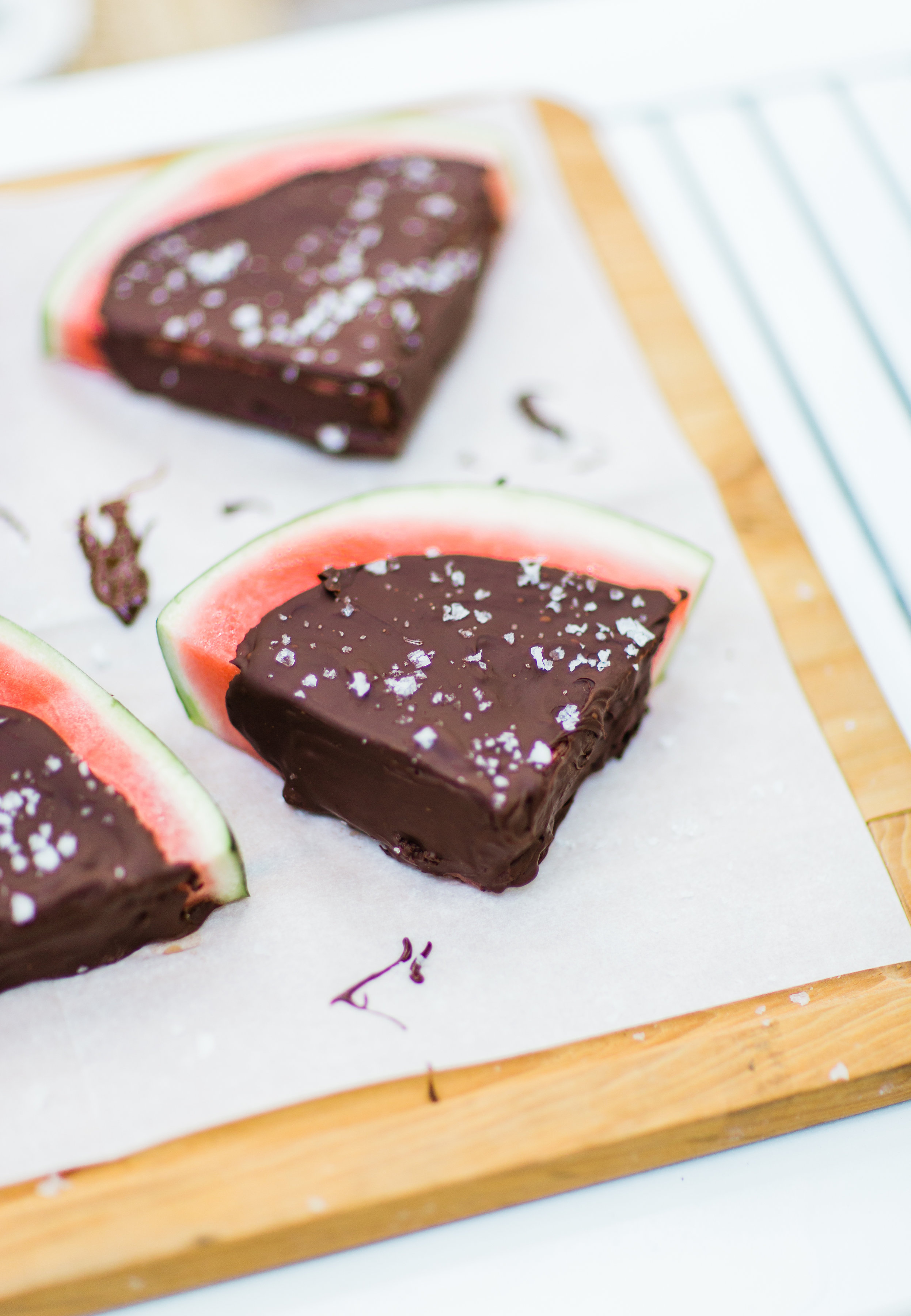 I was hesitant about dipping my beloved watermelon slices into chocolate, but between the sweet, crisp bit of the watermelon, the rich dark chocolate, and those salty flakes, it's pretty darn ridiculous. And messy. And all that is good about summer. These watermelon slices are also so pretty and perfect to serve at a party or backyard barbecue; a.k.a., ideal for summer celebrating.
Salted Dark Chocolate Watermelon Slices
INGREDIENTS
about half of one small-to-medium watermelon
1 bag of dark chocolate chips*
sea salt flakes
DIRECTIONS
Cut your watermelon slices. The trick is to slice right through the watermelon to make "plates," and then quarter those into large slices.
Melt chocolate in a microwave-safe container in the microwave. I typically heat my chocolate about 20 – 30 seconds at a time, stirring each time, until chocolate is melted and smooth.
Once the chocolate is fully melted, dip individual watermelon slices (roughly about the bottom 2/3 of the slice) into the chocolate, until the entire 2/3 is coated in chocolate. (You can gently use a spoon to spread around the melted chocolate to coat the slice of watermelon.)
Rest coated watermelon on parchment paper and sprinkle the watermelon slices with sea salt flakes. Allow to set/cool completely; the best way to do this is to refrigerate the watermelon slices to harden the chocolate for at least 15-30 minutes before serving.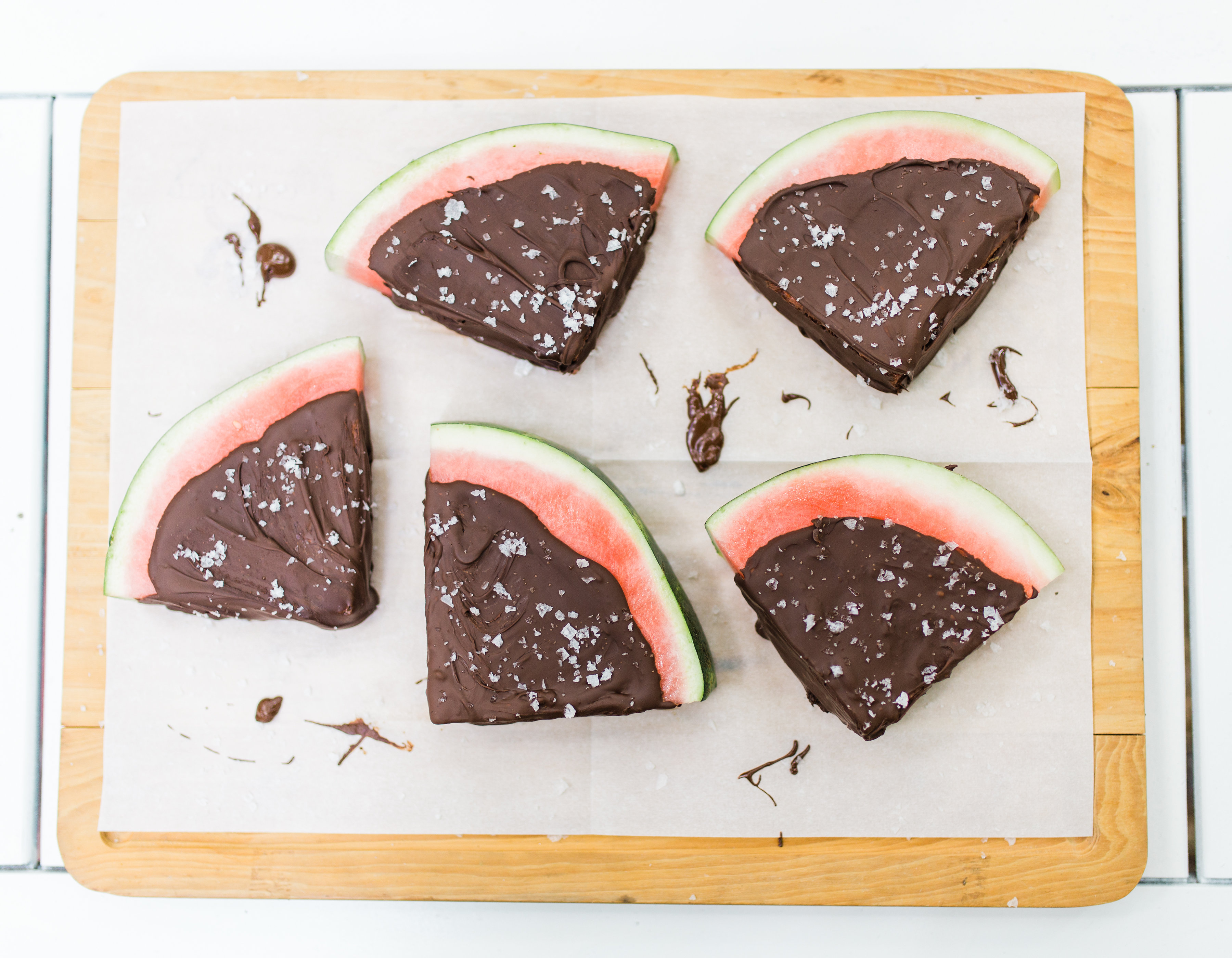 *I used Dairy-Free Chocolate Chips (by Enjoy Life) so that Scarlett could enjoy these too. (She's allergic to milk protein, so we're always experimenting with vegan and dairy-free recipes.) The Enjoy Life Chocolate Chips are easily our favorite; they're gluten-free, dairy-free, nut-free, and soy-free, and totally delicious. They also bake and melt incredibly well. Even Target carries them!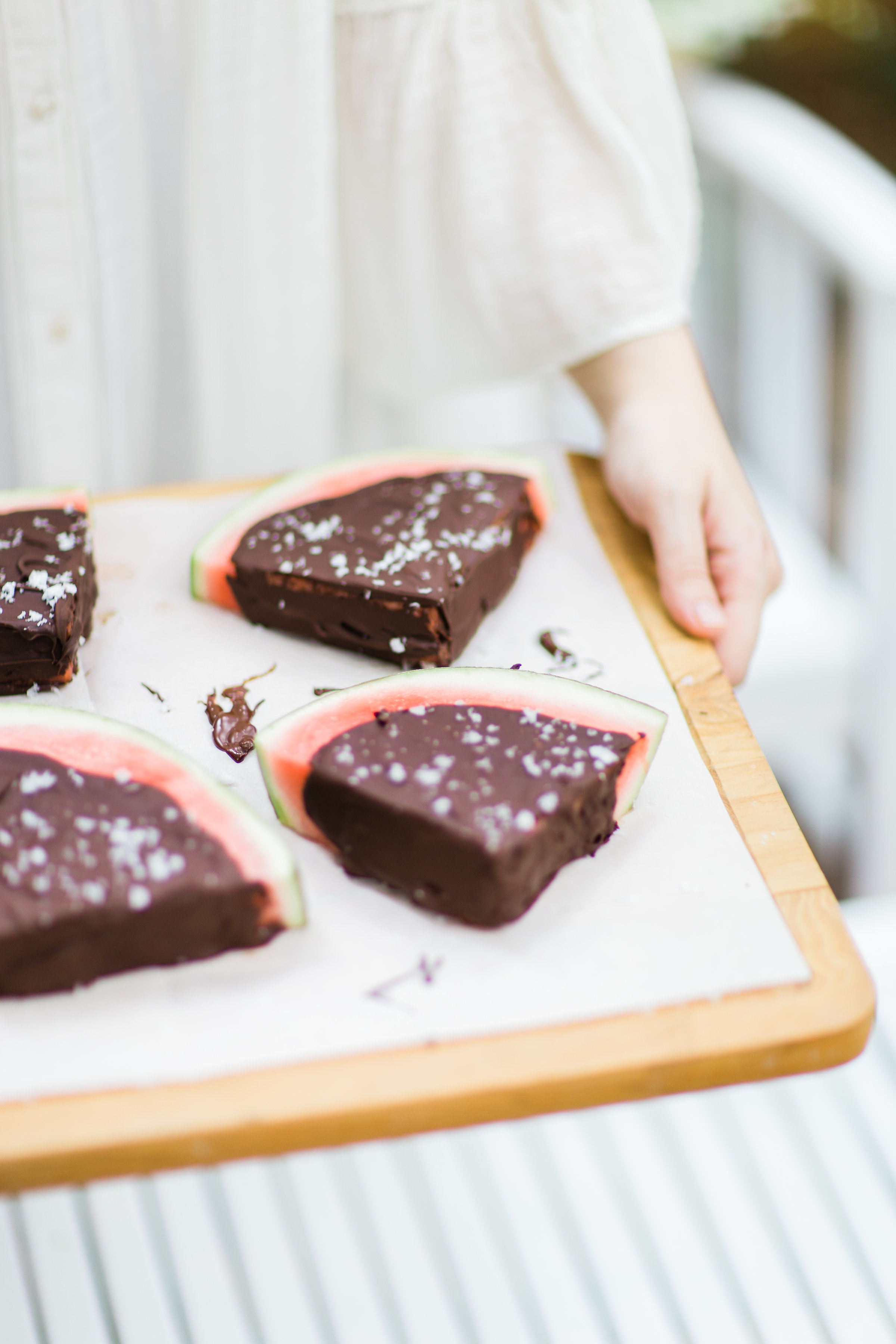 Seriously, so much fun.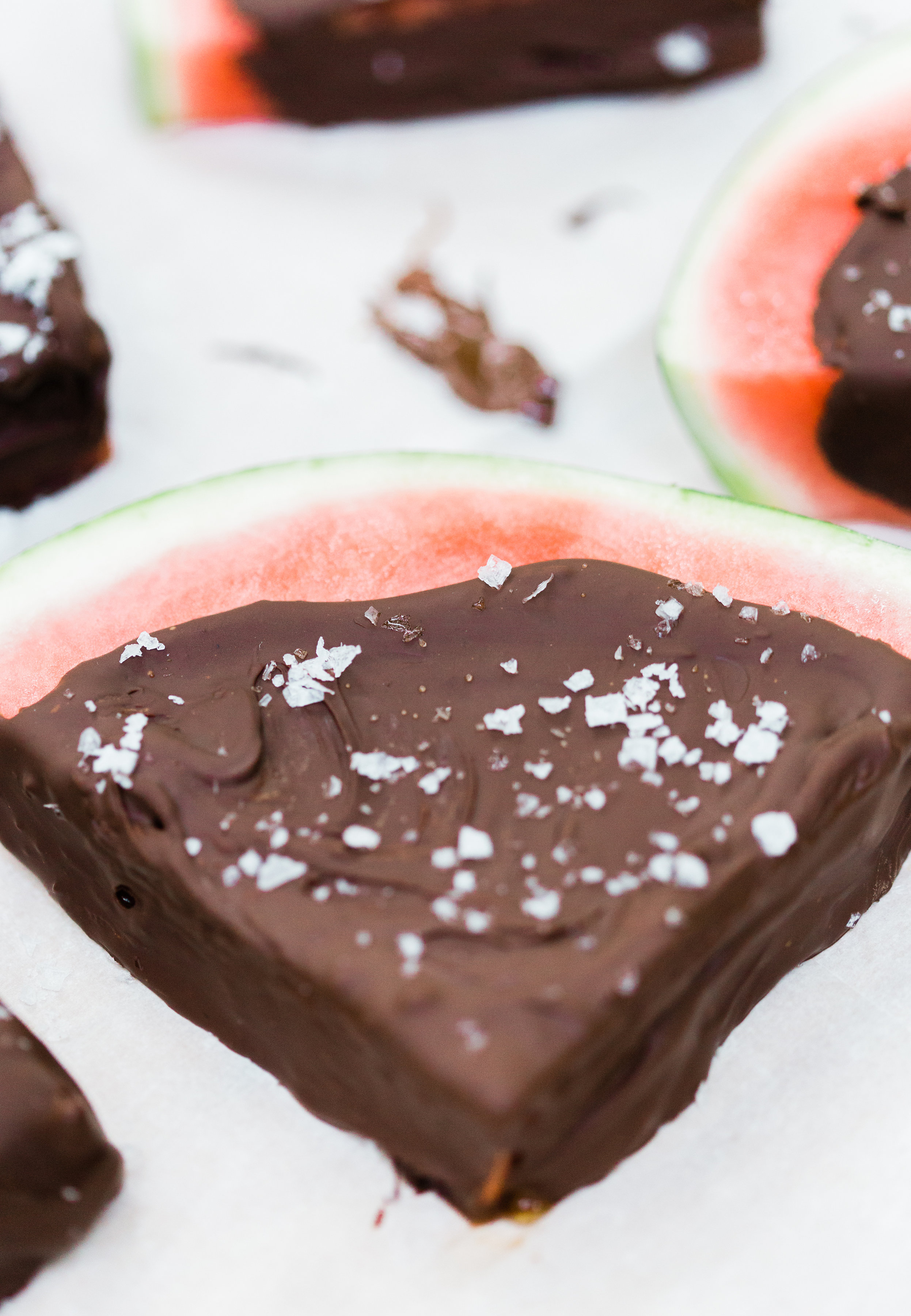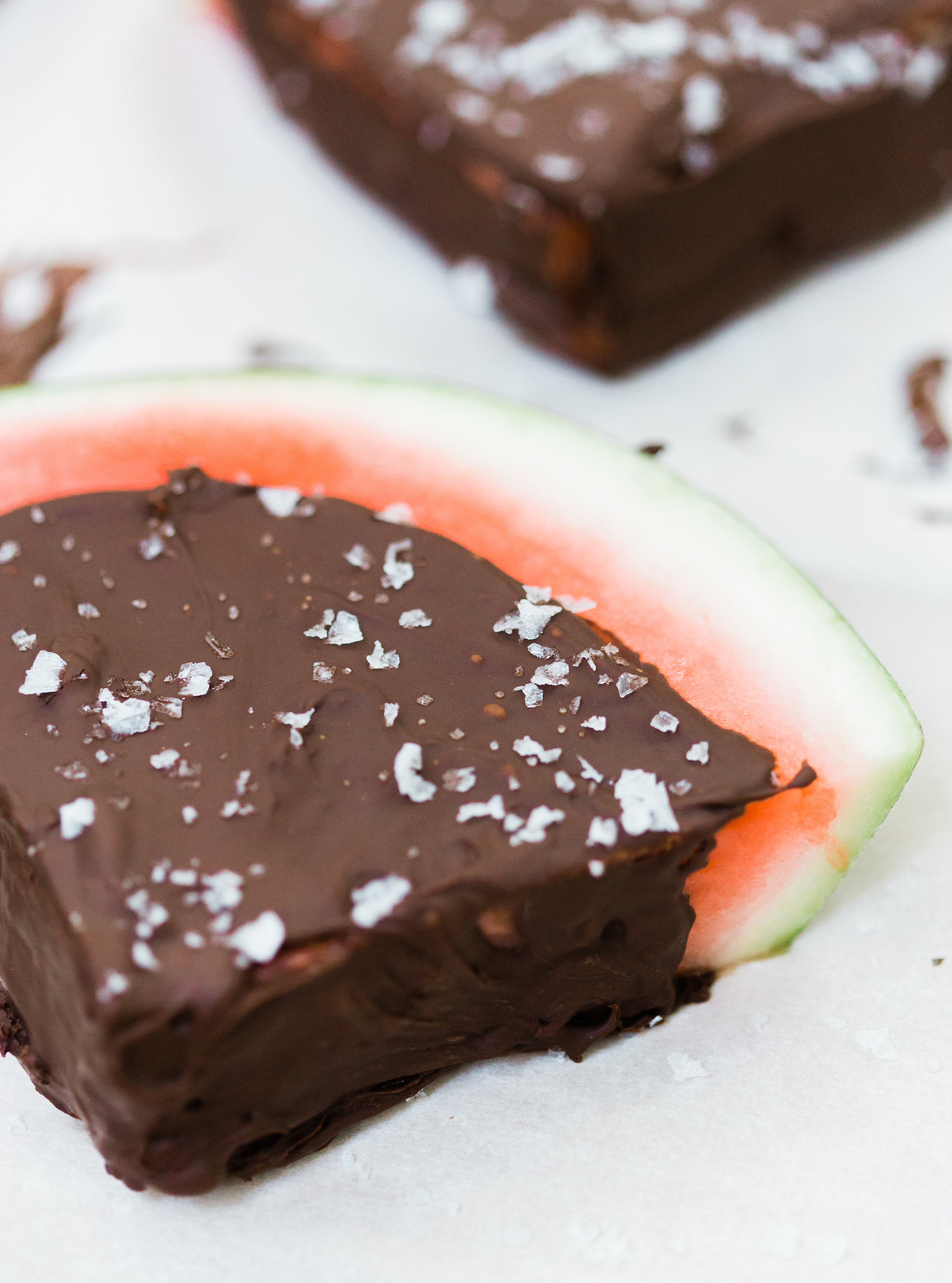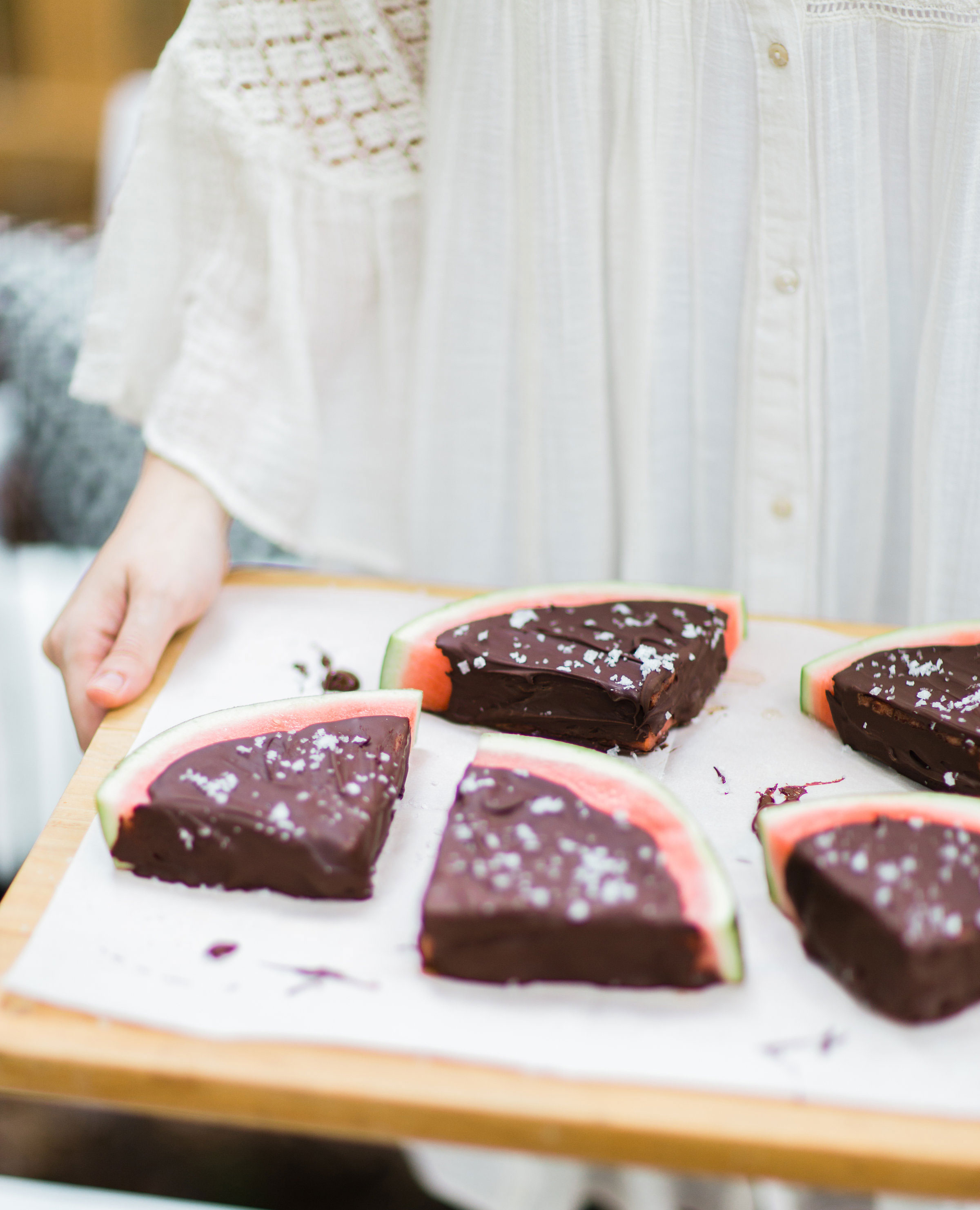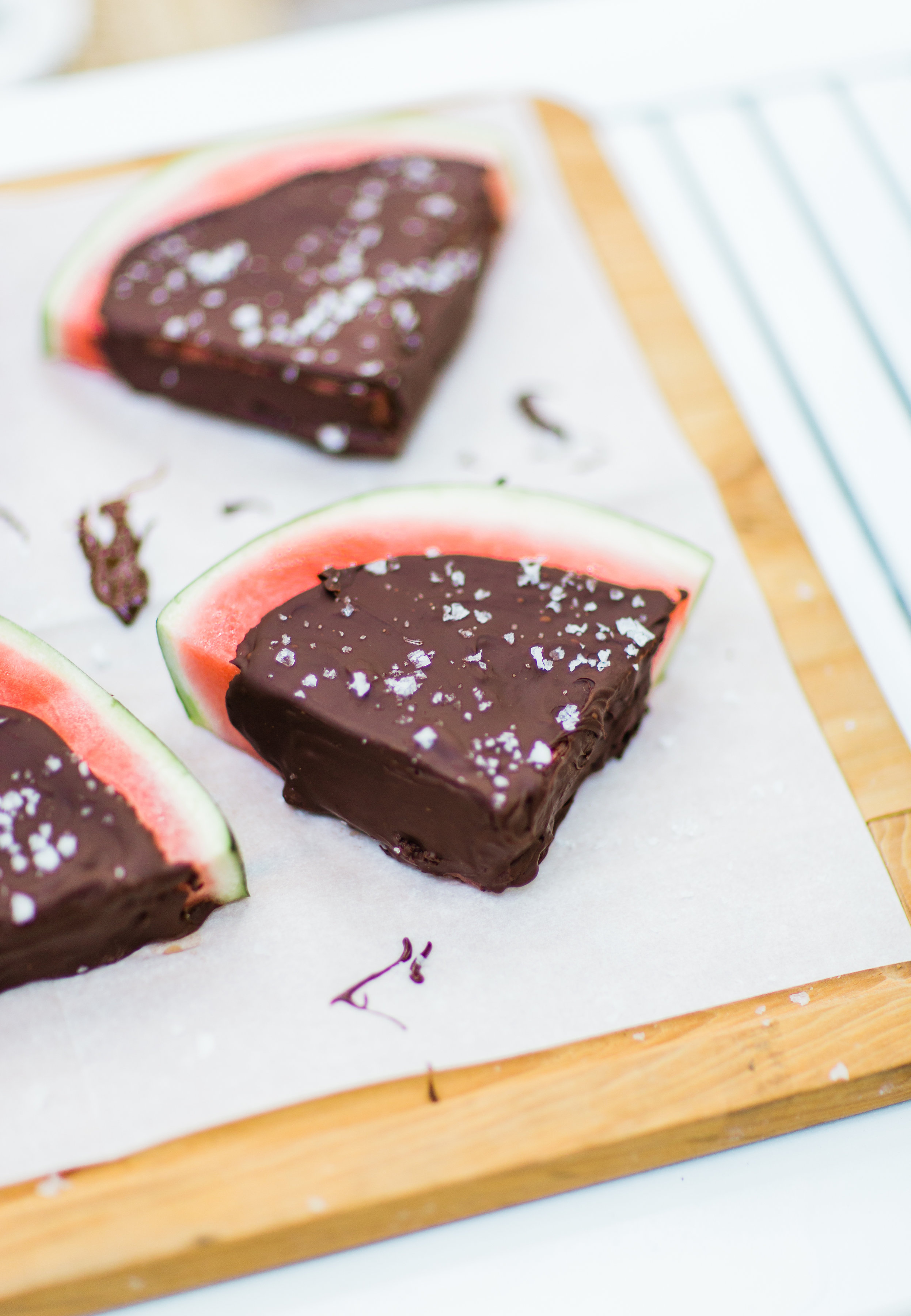 I mean, just look at those salt flakes? It's amazing how such a simple combination – dark chocolate and salt – result in such a decadent treat.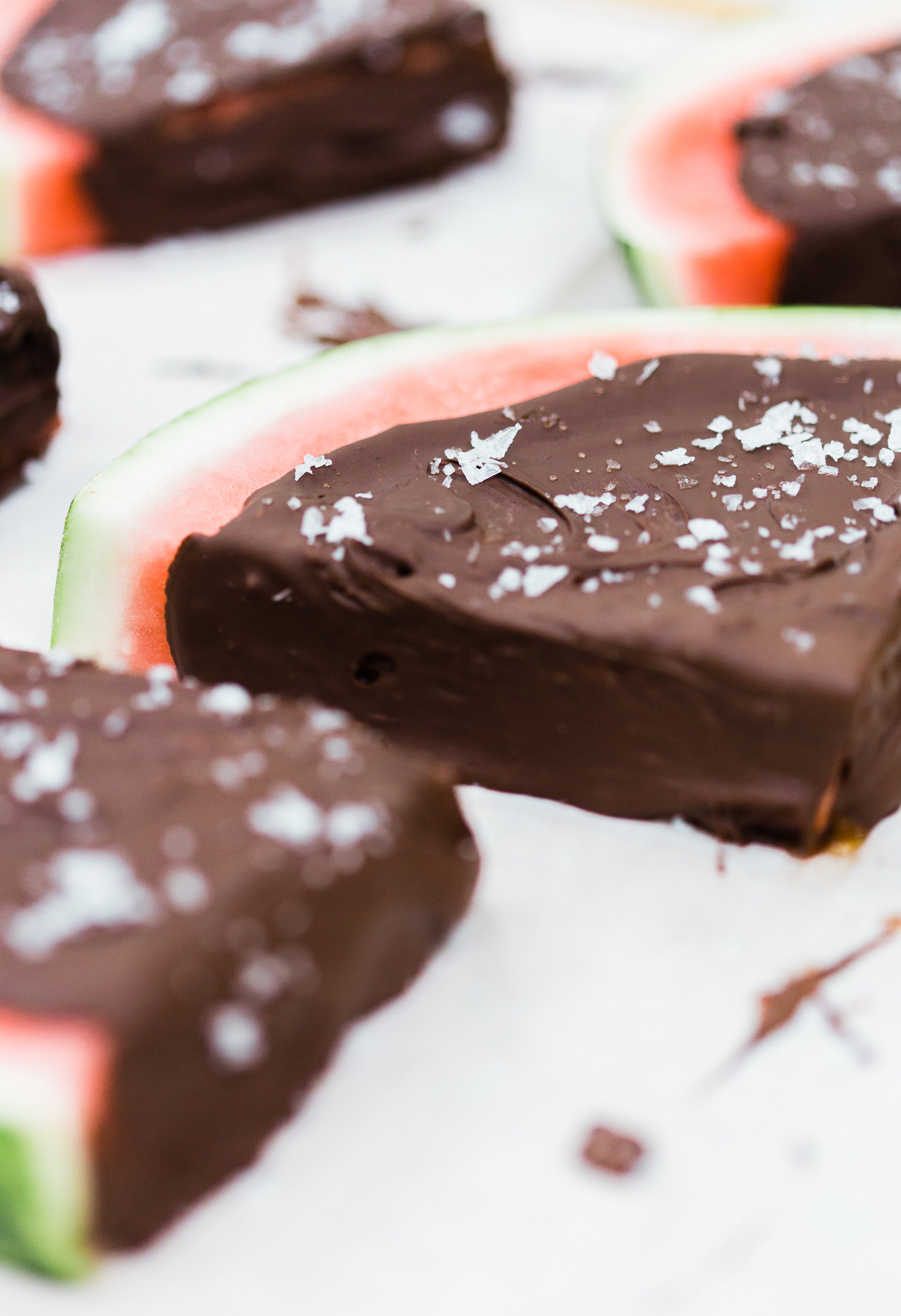 Have you ever tried salted dark chocolate watermelon slices? Would you try this at your next summer party?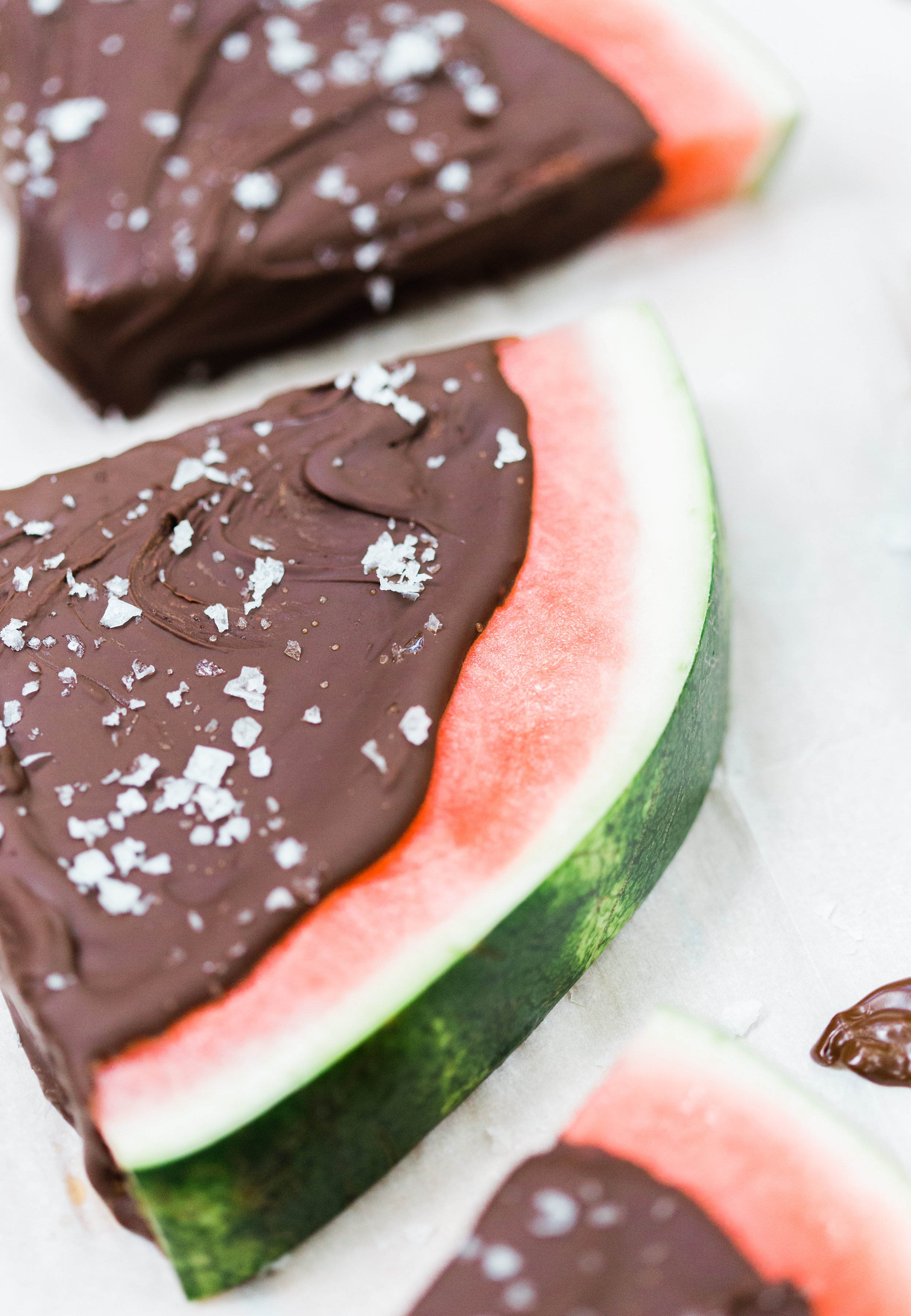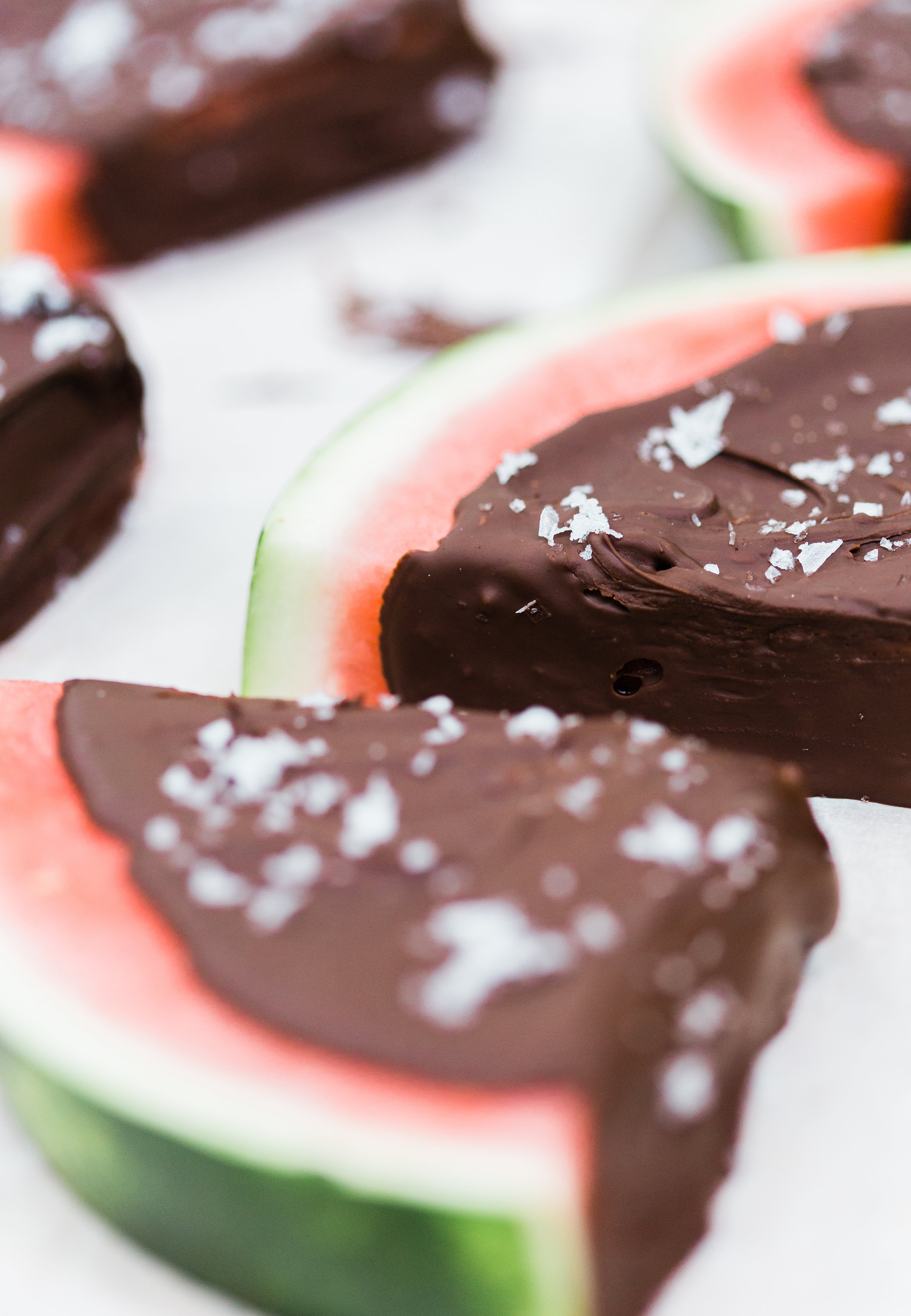 If you make your own salted dark chocolate watermelon slices, be sure to tag me on social media (@glitterinclexi). I love to see your creations!
Photo by Annie Watts Photography for Glitter, Inc.
Love this recipe? See more of our favorites here.