I am a snack-a-holic.  And since announcing my pregnancy, I feel like I can finally come clean about my newfound baking addiction.  (Okay, I kid, it's not new … I've always been a baking fanatic, but now it's justifiable, so there.)  But also, the first few months of pregnancy, I could barely eat.  My diet mostly consisted of bread, crackers, and apples.  But once I hit my fourth month, all I wanted to do was bake, so bake I did (plenty more amazing recipes headed your way!)  But I figured I should break up the cookie and cupcake fest (mmm, red velvet) with a "healthier" snack alternative.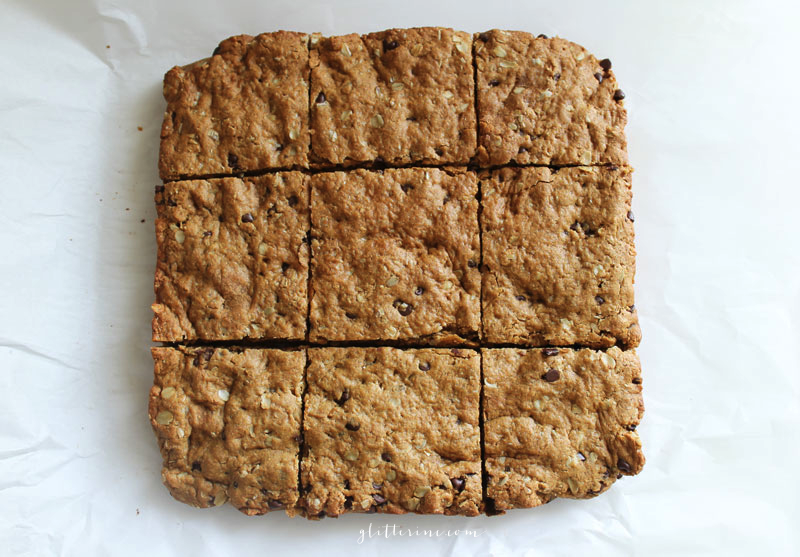 I've decided that these oatmeal peanut butter snack bars are healthy-ish.  They have all of the healthy-ish requisites: oatmeal, peanut butter, whole wheat flour, and no butter, oil, or eggs.  (The splurge is semi-sweet chocolate chips, but really, chocolate is full of antioxidants; so there you have it: healthy.)  The result is a light and fluffy bar, that's not too sweet, and really just right.  My only suggestion/diversion from the original recipe (which I found over on How Sweet It Is) is to add a bit more peanut butter – it will help to keep the cookie bar moist and a bit more dense, packs in a little extra protein, and makes the bar taste a bit more peanut-buttery (otherwise, the original recipe has just a light taste of peanut butter.)
OATMEAL PEANUT BUTTER SNACK BARS

Makes 9 squares.
INGREDIENTS
3/4 cups creamy peanut butter, like Skippy or JIF Natural (I used a full cup of peanut butter!)
1/2 cup brown sugar
1 tablespoon vanilla extract
1 cup whole wheat pastry flour
1 cup old fashioned oats
1/4 teaspoon salt
1 teaspoon baking soda
1/2 cup milk (I used almond milk)
1/3 cup mini semi-sweet chocolate chips (if you like your bars extra sweet, try milk chocolate chips)
DIRECTIONS
1. Preheat oven to 350°F.
2. In the bowl of an electric mixer, add peanut butter and sugar and mix on high speed until fluffy, about 2-3 minutes. Add in vanilla extract and mix until combined.
3. Add in flour, oats, salt and baking soda, mixing on medium speed. The dough will look crumbly and you want the peanut butter mix to be broken up into clumps. Add milk with the mixer on low speed, and mix until a dough forms. Fold in chocolate chips.
4. Make sure dough is completely combined, and roll it into a ball with your hands. Place it in the middle of an 8×8 baking dish, pressing it to fit. Bake for 18-20 minutes, or until set and golden on top. Let cool completely, then cut into 9 squares.
By the way, if you want to throw caution to the wind and you're looking for an ooey gooey decadent cookie bar, frosted sugar cookie bars are coming up next.
Recipe Adapted via How Sweet It Is