Erin Condren sent products for review. All opinions are my own. This post contains affiliate links, which means that if you click on one of the product links, I'll receive a small commission. Thank you so much for clicking through and helping to support this little blog business of mine! Read more about our site, privacy, and disclosure policies here.
Looking for the perfect paper planner? Ready to get organized? I'm sharing how I plan and stay organized with my Erin Condren LifePlanner. And be sure to read all the way to the end for a chance to WIN one of TWO huge gift cards to order the planner of your dreams, plus plenty of accessories to go along with it!
I have a long history with paper planners. I once LOVED using a paper planner, and then for a while it was a bit of a love-hate relationship – mostly because I found it hard to keep up with a paper planner, along with my digital calendar (which syncs pretty effortlessly to my phone.) But my, my, how the tides have turned. I think a big part of that was that I just plain old missed my paper planner. Also, I missed feeling organized, I missed touching pen to paper, and I missed focusing on and actually writing down bigger picture goals.
I found myself asking about everyone's favorite paper planners again and again on Glitter, Inc.'s Facebook page and in our private group, GLITTER MOMS, and I heard so many votes for Erin Condren. Then I was introduced to Erin Condren's LifePlanner, and my goodness, I was sold. I also learned how to manage both the digital planning and the paper planning, and it all feels pretty second-nature now.
How I Stay Organized With My Erin Condren LifePlanner + Accessories (and an Awesome Giveaway!)
Here's the thing: planning out my days, weeks, and years in a paper planner, it's given me my creativity back.
Don't get me wrong, I have a very creative job, but running a blog is all very structured. I have deadlines, brands and PR firms to stay in constant contact with, photographers and SEO experts, and social media to schedule, and a budget to stick to. It's a job. A job I love, but a job nonetheless. I love crafting, but as a busy mom of two, with a full-time site to run, I rarely get around to doing all of the craft and DIY projects I'd truly love to do.
But planning – it's something I can make time to do, because it's meant to keep me organized. And it does. But I also get to express myself in the pages of my paper planner. Doodle journaling, bullet journaling, paper planning, doodling, it's all unbelievably therapeutic. Carving out the time to write out my plans, my thoughts, my dreams, plus weekly goals and events, it feels good. Adding pretty stickers and doodles, well that's just the creative icing on the cake.
And since any time I share a peek at my Erin Condren LifePlanner, I get SO many questions on social media about what kind of planner I use, whether I like my paper agenda, what accessories I use, where my stickers are from, and how I made the switch back to paper, I realized, it was time to share the goods. So today, by popular demand, I'm sharing one very enormous post detailing how I stay organized with my Erin Condren LifePlanner, what accessories I use (and why), and TWO lucky readers are going to WIN Erin Condren gift cards, so that they can stock up on whatever their heart desires to begin (or continue!) on their paper planning journey.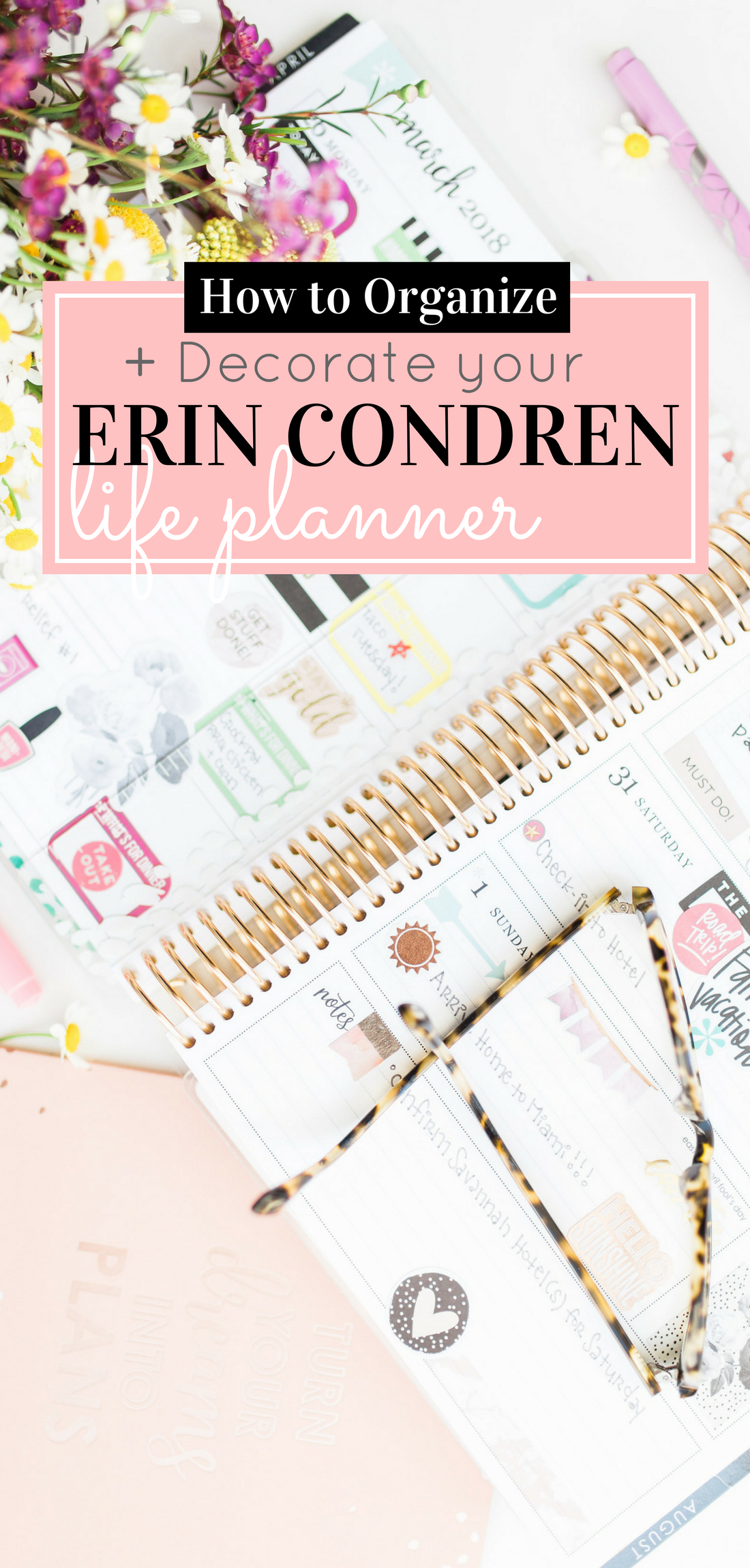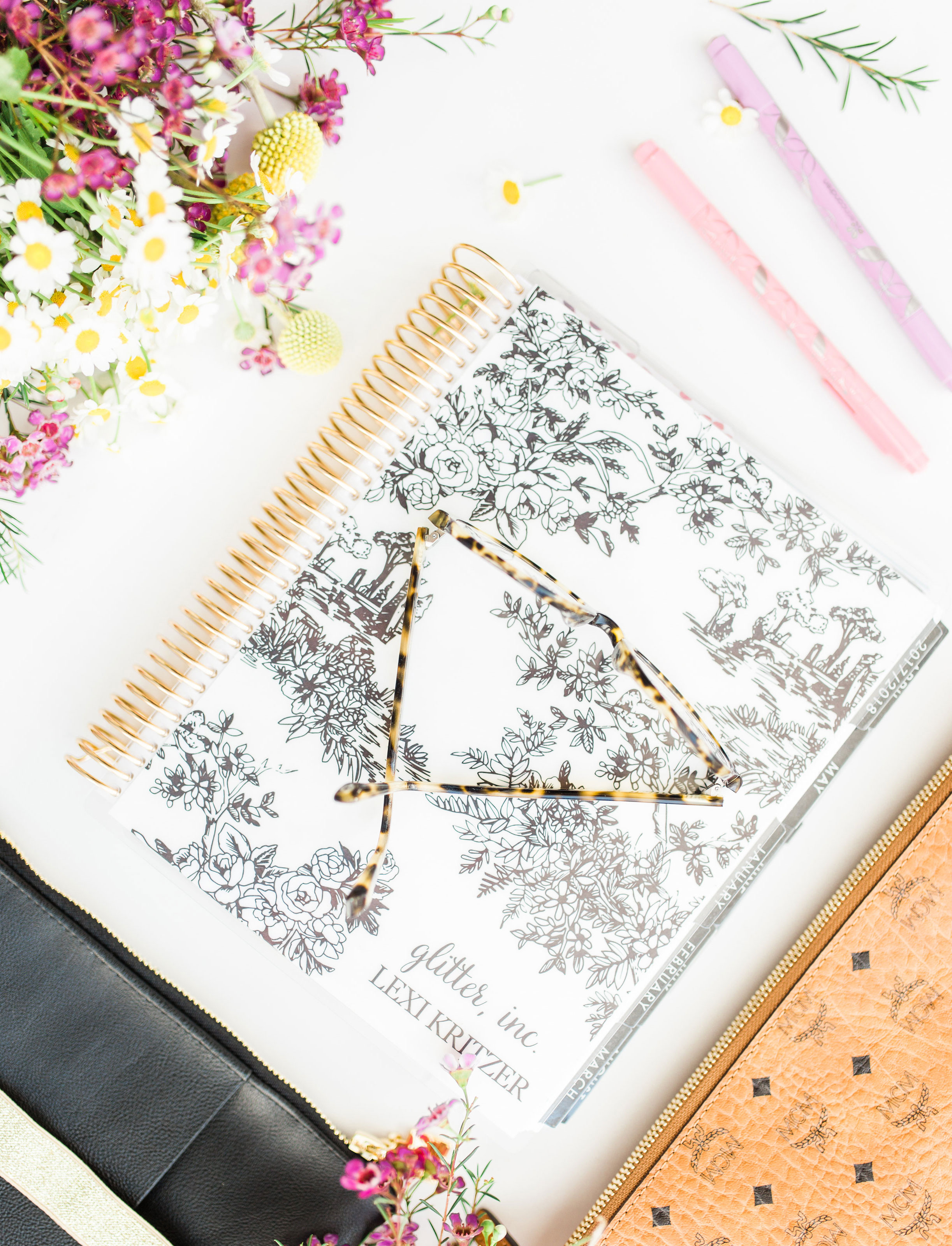 What planner are you currently using?
I have the 2018 Erin Condren 18-month LifePlanner. I LOVE the LifePlanner because it's totally customizable. Not only can you customize your cover with color choices and personalization, but you can also choose from three planning layouts – horizontal vertical, and hourly; a neutral or colorful color scheme; and one of four coil options – black, rose gold, gold, or platinum.
The covers are also fully interchangeable, so you can easily snap up a new cover whenever the mood strikes.
I chose the horizontal planning layout for my LifePlanner because it gives me the most room to write and the days are lined. I can't ever seem to write well without lines, so that's a must for me. Also, I really like having the room to make lists and write out detailed descriptions. The cover I chose is in the "Toil Y'all" pattern, and I personalized it with both my name and blog name. I also chose a neutral color scheme, and a gold coil.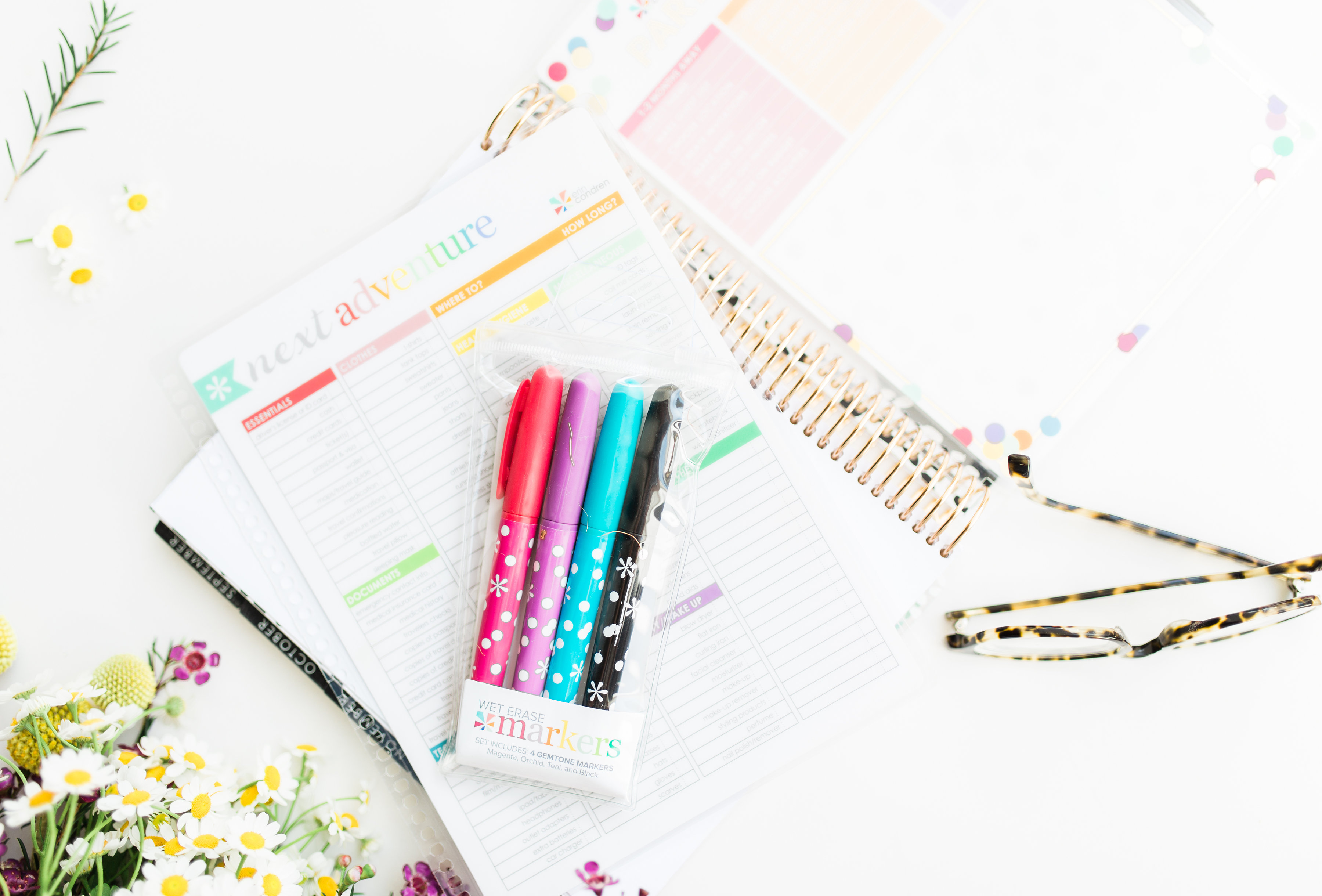 What are your favorite planner accessories?
Each LifePlanner comes with a few great freebies, like 4 pages of event stickers with metallic accents and flag stickers that are easier to write on, a 'Keep it Together' folder and perpetual calendar, plus a stylish clear zip pouch that's the perfect place to store craft supplies and includes free gift labels, compliment cards and a coupon ( … you know, for your next round of accessories!)
Once you get hooked on the stickers, it's hard to turn back. When it comes to stickers for my planner, I use a mix of both Erin Condren sticker books (and sticker packs) and various sticker pads and packs I find at craft stores. Erin Condren's stickers are really high quality, and I love the gold foil elements. She also has REALLY functional stickers like habit tracker stickers, customizable event stickers, functional flags, and dots ( … I use these for appointments so that they stand out.)
Both Hobby Lobby and Michael's carry Happy Planner sticker books; a.k.a. "Me & My Big Ideas".
The Happy Planner sticker books are ideal for planning; and it can become quite addictive finding the perfect stickers for all of your planning. Some of my favorite sticker books are those for Productivity, Mom, Fitness, and Everyday Memories. All of the books have stickers for day-to-day things like meetings, appointments, date nights and girls nights, mani-pedi time, family time, phone calls, there are to-do list stickers, productivity stickers, holidays, birthday, celebrations, stickers for bills and finances, meal planning stickers, stickers to keep motivated with your fitness, like miles, steps, eating habits, encouraging quotes, etc.
The Happy Planner "Mom" Sticker Book has these great "What's For Dinner" stickers that I put in the blank margins of most weekdays to plan out what we'll eat for dinner each night. I've only been "meal planning" for a few weeks but I am loving it. I feel so much calmer knowing what to cook for dinner each afternoon. It's actually bizarrely liberating to not stress over what the heck to make each afternoon. Who knew stickers could be so freeing? 😂
I also use Carpe Diem stickers; they're actually scrapbook stickers.
They have a really pretty matte texture and I totally dig the black and white flower pattern in this pack. And of course, the Target dollar spot (at the entrance of the store) always has really great planner accessories, including planner stickers. A lot of planners swear by Heidi Swapp stickers as well. I already have my eye on this floral pack.
I never thought I could love stickers quite so much. Well, since my middle school days that is. It feels like pretty note-writing all over again. I think that's sort of the beauty of paper planning. I love feeling like I'm both getting organized and doing something creative at the same time.
In addition to the stickers, some of my favorite accessories for my LifePlanner are Erin Condren specific accessories. The brand clearly knows their market, and they've created so many amazing products. I could spend ALL day on their site just hunting for things I "need."
Erin Condren sells a line of dual-tip markers that are really nice.
I use a mix of those and Le Pen. (I have and love this Le Pen Drawing Pen Set.) Both kinds of pens are totally smudge proof, don't bleed through pages, and write thin enough so that they work well in a paper planner.
Erin Condren's snap-in inserts – a.k.a., dashboards – are my favorite; the meal planner, the snap-in to-do list, the snap-in travel dashboard (this has been SO helpful for our trips), and the snap-in party planner dashboard (which my party-loving heart adores!) I also have my eye on the snap-in wellness dashboard, where you can track your meals, water intake, sleep, and exercise. There are also snap-in dashboards for your grocery list, bills, and more.
For the dashboards, you can write on all of them with Erin Condren's famous wet erase markers. These things are amazing. They don't smudge, are super vibrant, and I lurve them.
These coil click connectors are great for attaching to things like your accessories pouch, or note pads that you always want to keep on hand inside your planner; but you don't want to put too much in your planner, because then it will get so stuffed, it won't close well. Not a huge issue for me, since I mostly keep my planner on my desk.
I like the attachable pen holder so that I always have a pen handy.
One of the Erin Condren elastic bands is a great way top keep everything together.
And since I'm a total dork, I splurged on the Planny Pack. I really just chose it because I like to have a pretty clutch to keep all of my accessories. The sparkly band makes it great for keeping everything together in lieu of an elastic band.
Most planner addicts swear by washi tape. It's a pretty and inexpensive way to decorate your planner pages, and separate certain events. Scrapbook supplies are also a great resource. I find myself perusing the scrapbook aisle all of the time in craft stores nowadays, looking for a great clearance score.
Pretty paper clips can also be used to mark pages in your planner, though I mostly use the ruler or my snap-in to-do list as a place marker.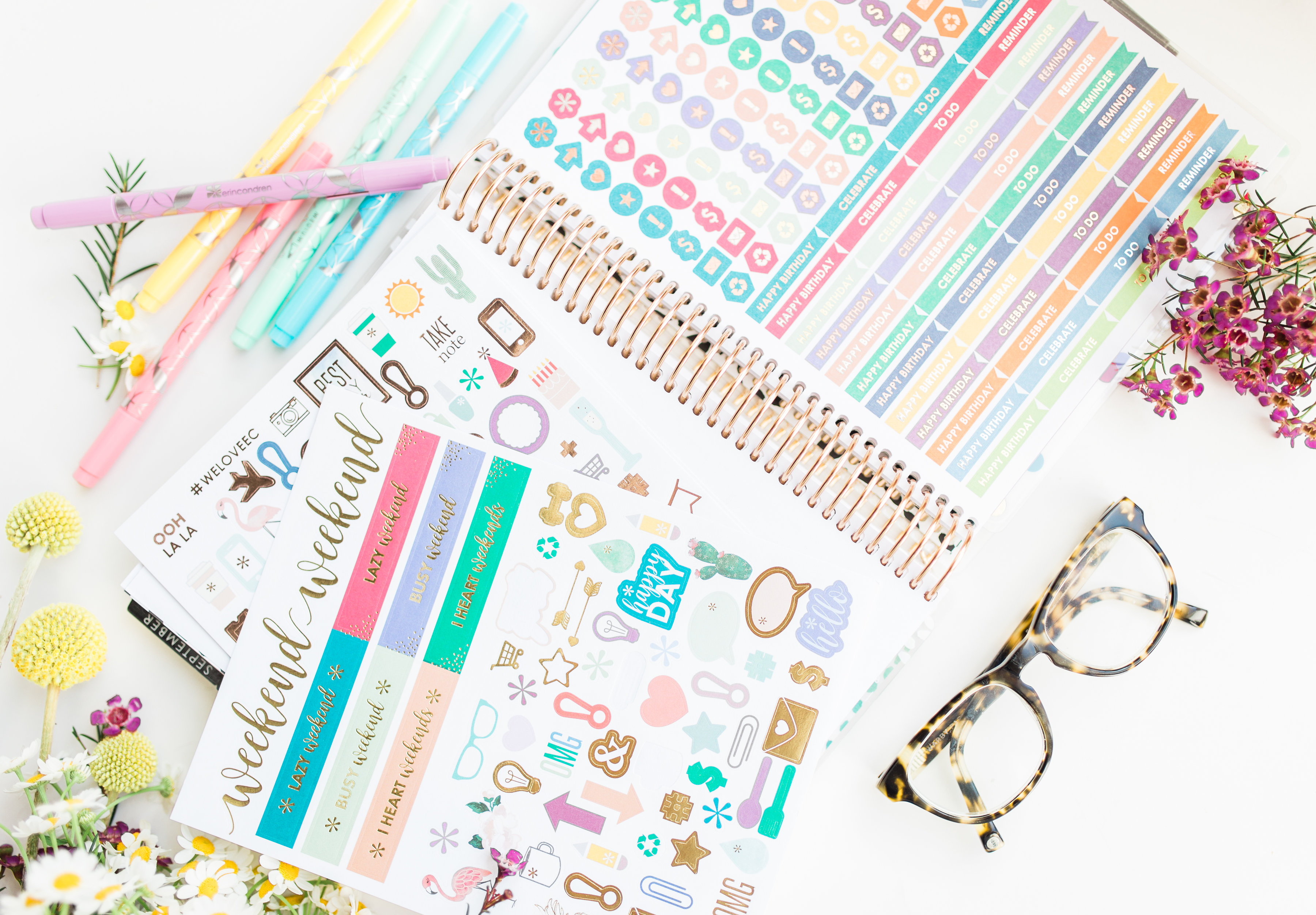 There are so many ways to personalize and add character to your LifePlanner. I love the neutral design that I chose, because I can really make it my own.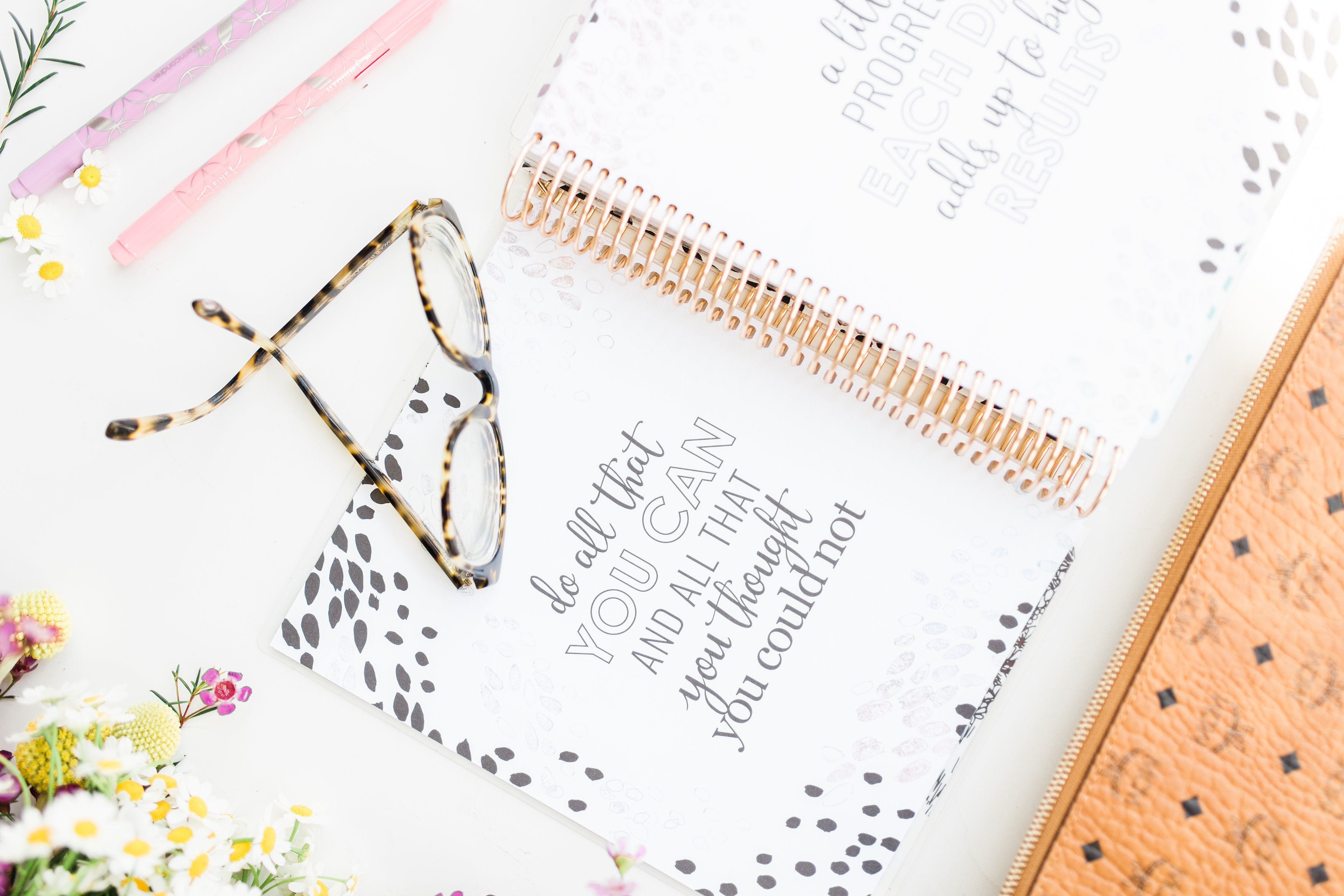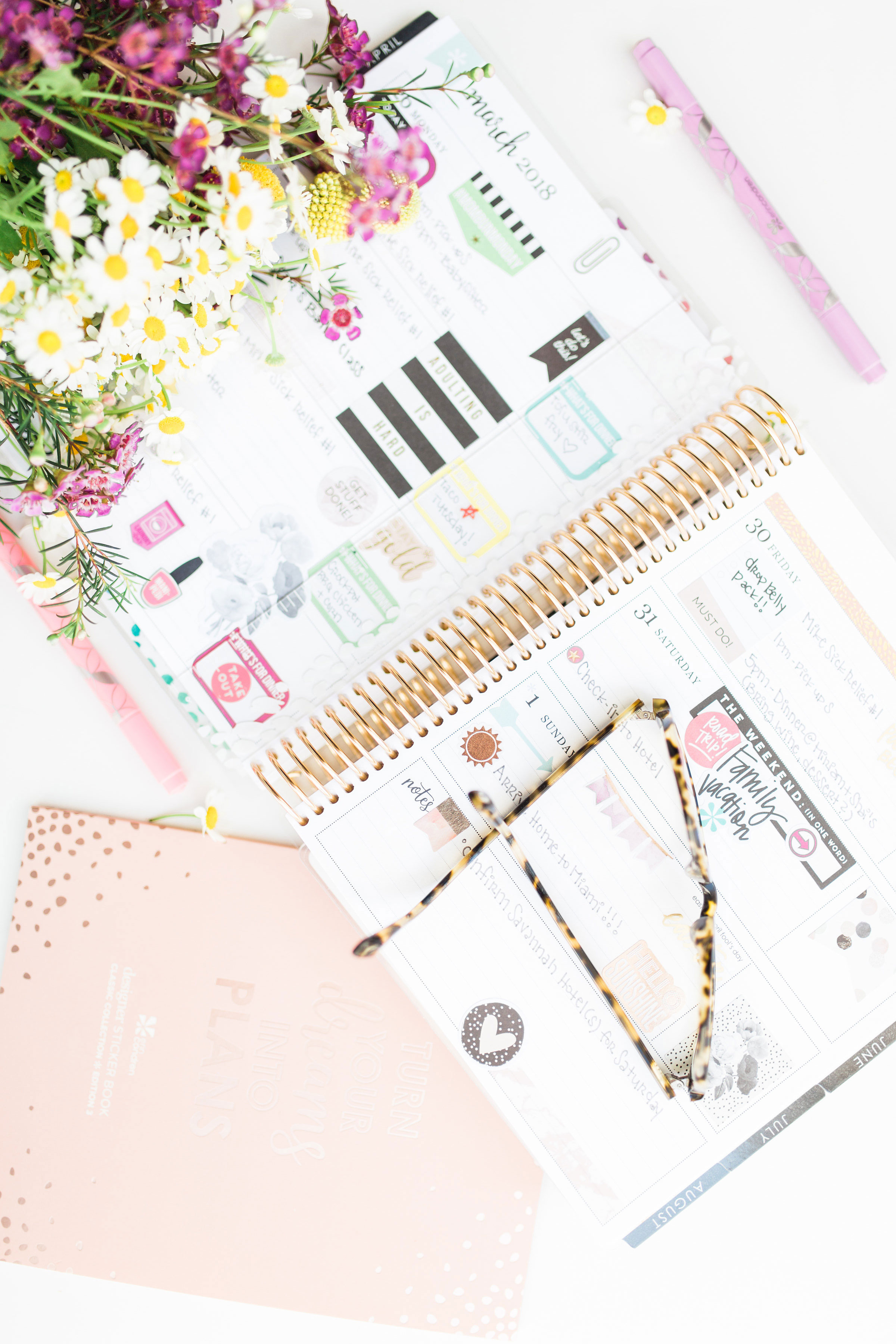 How do you use your LifePlanner to stay organized?
Someone in our GLITTER MOMS group recently shared that she plans every Sunday, and I thought that that was such brilliant advice. Now, I carve out an hour or so every Sunday evening to sit and map out my week. Putting pen to paper makes my goals more real in a sense, and it's been on of my favorite motivations for using my LifePlanner.
I start by filling in all of the appointments that I haven't already written down, and then I try to plan out what my week will look like. I set goals for myself; i.e., draft content for Easter party photo shoot, pitch three baby brands, schedule next shoot day with my photographer, plan a girls lunch with a fellow creative, take the girls outside, etc. I also fill in any deadlines, and in the extra space beside each day, I add in upcoming deadlines that may be a week or two out, but should still be on my radar. I've played with color-coding certain types of events and appointments as well, though for now, I really like using dots to denote certain things.
I've found I love sprinkling in the encouraging quotes stickers; especially on days and weeks that are particularly demanding or exhausting.
The Happy Planner "Good Vibes" and "Love Yourself" sticker packs are great for this, and the Erin Condren Sticker Packs are chock full of sweet (and beautiful) motivational quotes. Plus, they add a whole lot of extra pretty to your planner; what's not to love? I really like the family-related stickers, adding in stickers like "date night," "family night, "vacation," etc. to help visually motivate me through the weeks.
Also, I stopped pressuring myself to BRING my planner with me everywhere. I used to schlep around my agenda, and it started to feel like one more thing to carry. Now that I know my LifePlanner is dedicated to planning for my business, I'm happy to keep it at home on my desk, and update it as often as I want. For things like doctor's appointments, that I need to quickly input when on the go, my phone works just great.
How do you stay motivated to keep using your paper planner?
I'll be the first to admit I've had this problem in the past with paper planners; I'll get excited about a paper planner, and then life gets in the way, and it's hard to remember to write every thing down when I could just plug it into my phone or my apple calendar on my computer. But here's the thing, despite going entirely digital for a few years, I really MISSED my paper planner.
I missed the process of writing down ideas and plans, and I never felt organized enough with just digital planning. Now, I've learned to use my paper planner for work – in my case, blogging – and I use digital planning for all of the other appointments and life stuff. While the two do overlap some, I LOVE using a paper planner to map out blog work, content, photo shoots, meet-ups, phone calls, and long-term goals.
I will say that a huge part of having the motivation to really plan, means figuring out what it is you want to put into your planner. Whether you're a student, on a fitness journey, trying to keep track of healthy eating habits, working full-time, starting a creative side business, whatever it may be, focus on using that to motivate your planning. After that, you can sprinkle in the life events like appointments, birthdays, holidays, and travel.
I also LOVE being able to write down a to-do list. That's something I could never properly keep track of digitally, and plus, the satisfaction of actually physically crossing something off my to-do list is SO satisfying. I use a combination of to-do list stickers, clip-in sticky notes, and Erin Condren's erasable dashboards (that work perfectly with the wet erase markers.) The inside dividers are another great place to make lists.
Once you learn to enjoy planning, it becomes a habit you really look forward to!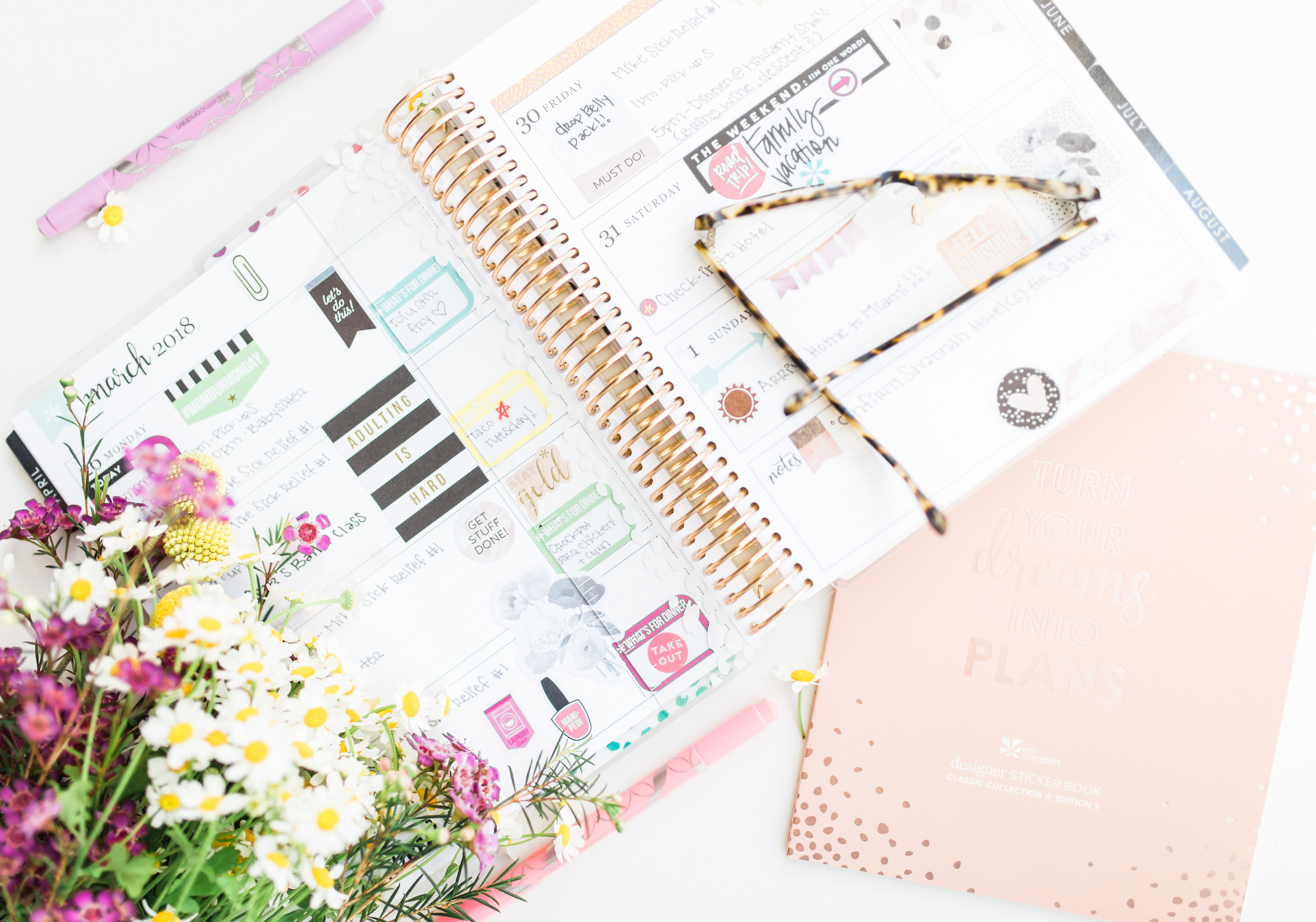 And since I'm SO in love with Erin Condren's planners, we're giving away TWO $80 gift certificates! You read that right: two winners will each receive an $80 gift card to order the planner of their choice plus accessories.
Enter using the Rafflecopter widget below:
Disclaimer: Glitter, Inc. is not responsible for prize fulfillment, and prize will be sent directly from Erin Condren. Shipping within the US only. Entry ends on March 28, 2018 at 12:00AM EST. Please note entries will be verified. No purchase necessary; void where prohibited. One winner will be chosen at random through Rafflecopter. The winner will be notified by email. The winner will have 48 hours to respond or a new winner will be chosen. By entering into this sweepstakes, the entrant acknowledges that they are eligible for this sweepstakes according to all laws set forth by their state of residency.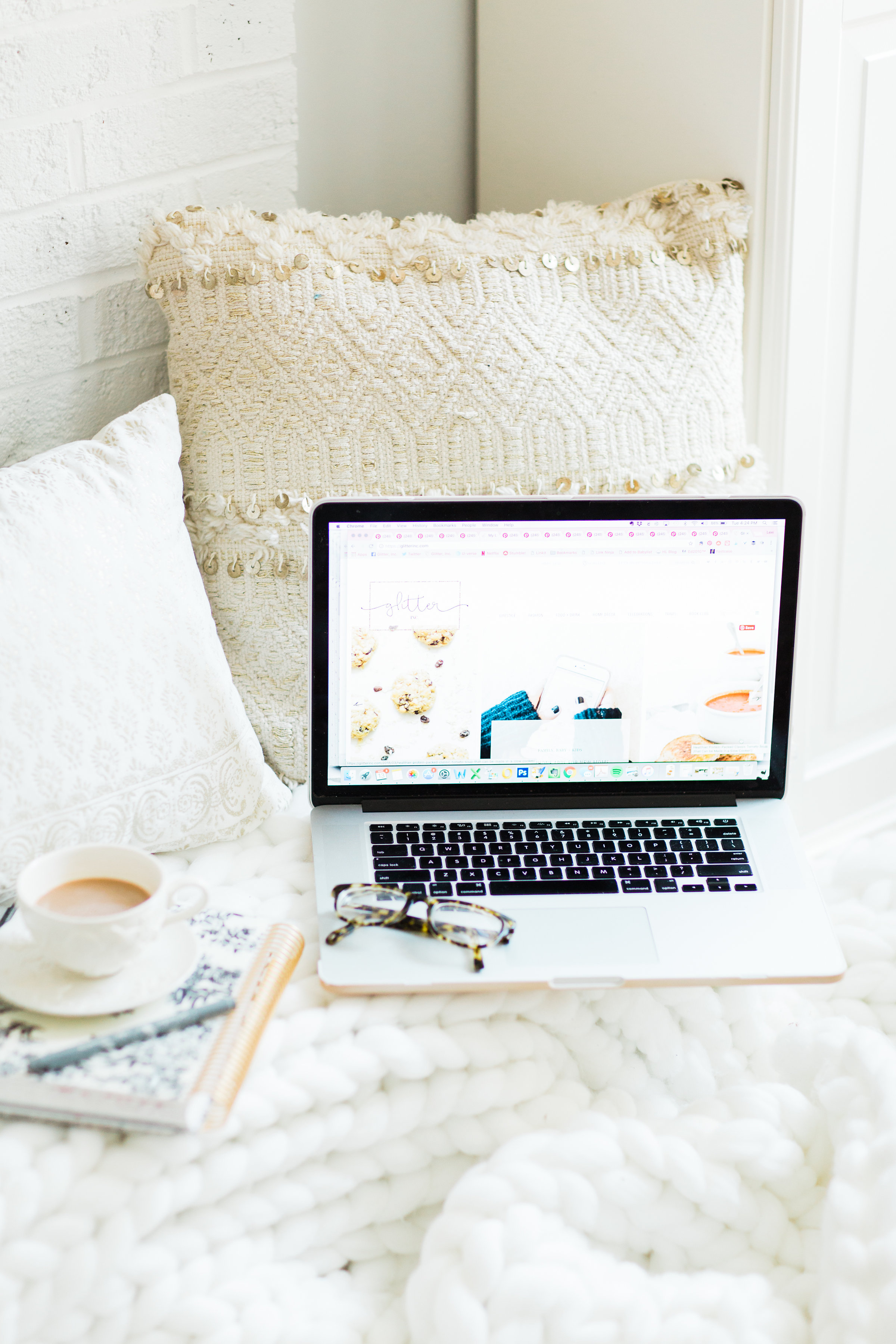 How do you stay organized? Do you use a paper planner or agenda? If you have any tips or tricks on how YOU stay organized, I'd love to hear them! I am all about getting (and staying) organized! And of course, I'm always happy to feed my creative paper planning habit!
Photos by Annie Watts Photography for Glitter, Inc.