This post contains affiliate links, which means that if you click on one of the product links, I'll receive a small commission. Additionally, as an Amazon Associate I earn from qualifying purchases. Thank you so much for clicking through and helping to support this little blog business of mine! Read more about our site, privacy, and disclosure policies here.
Nothing goes hand-in-hand quite like long, relaxing summer days and fresh, summer vegetables. In fact, one of my most cherished childhood memories is picking home grown veggies straight from my grandpa's garden in Michigan. There's nothing quite like eating a crisp green bean right from the plant it grew on!
From carrots to zucchini, this recipe utilizes the best produce that summer has to offer. (And by leaving these seasonal veggies in their raw state, these spring rolls are packed with nutrients.) Best of all, this recipe is designed to be customizable. Feel free to mix and match a variety of your favorite veggies – always filling them up with what's in season. They would also be amazing with the addition of some sautéed shrimp or tofu for added protein. Honestly though, anything dipped in this creamy, flavorful spicy peanut sauce tastes wonderful!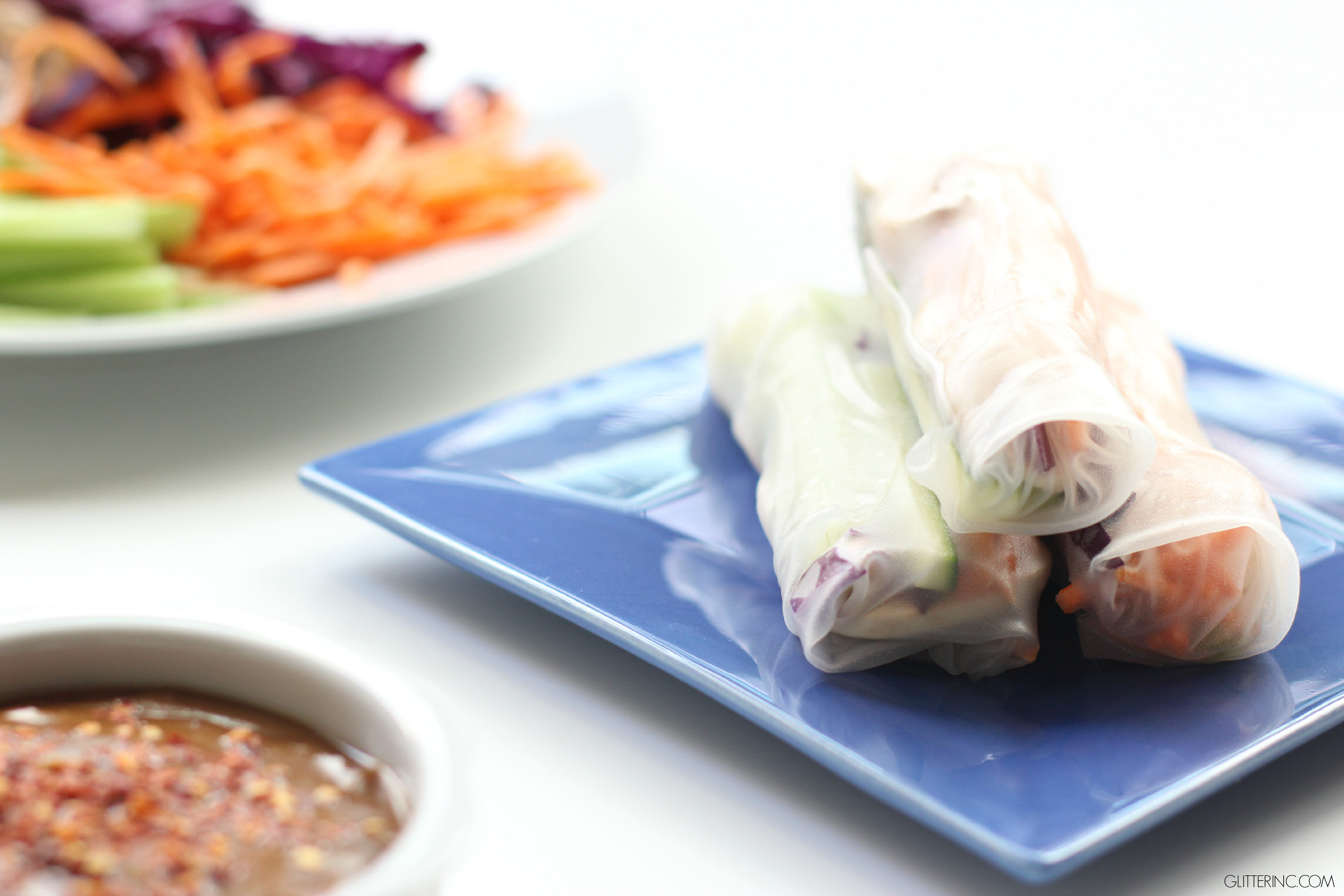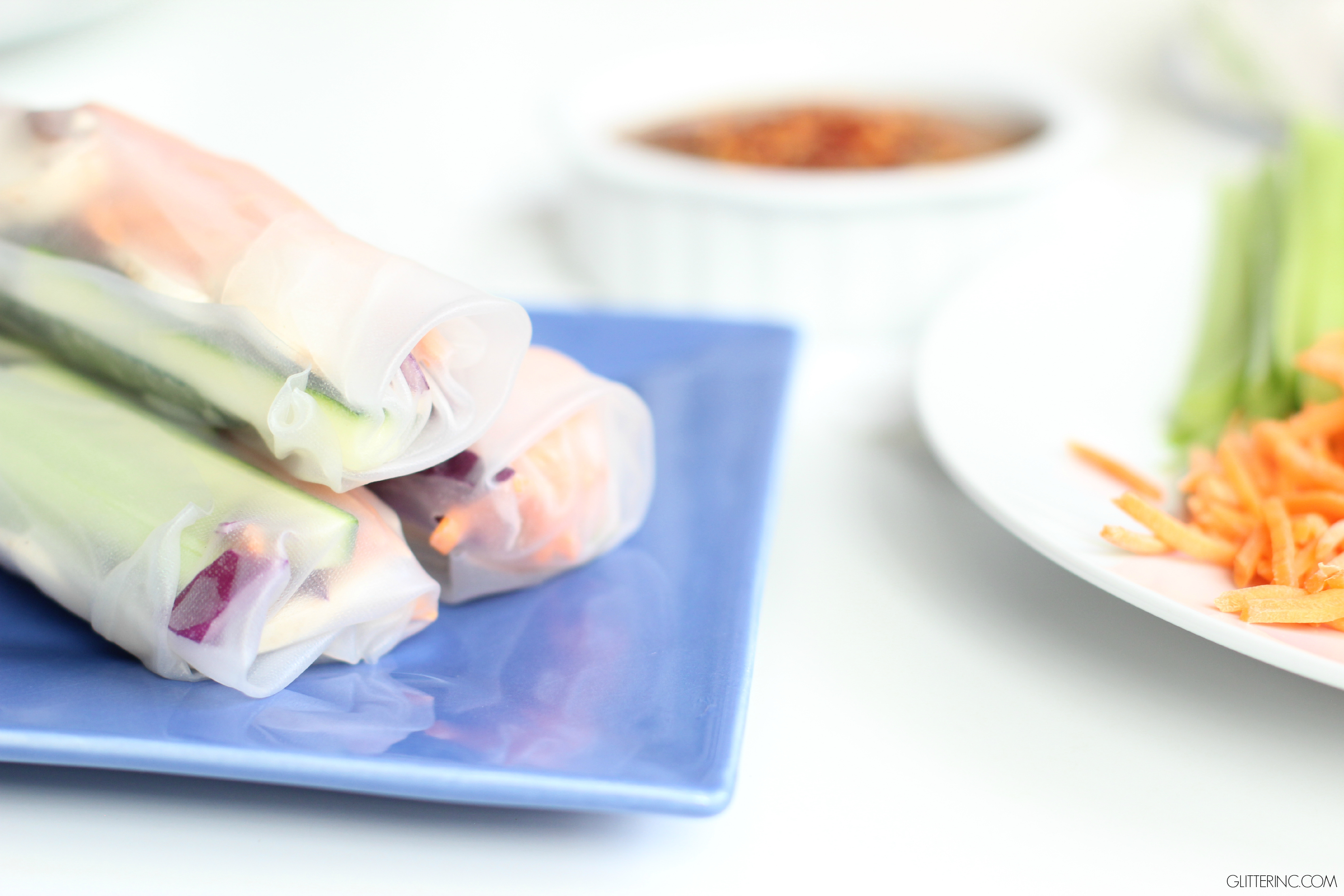 These Veggie Spring Rolls with Spicy Peanut Sauce are a healthy, refreshing taste of summer – and luckily, they're also easy to make. They are a summer lunch favorite for my friend Crystal, (who kindly offered to model her hands for this shoot!) She told me that she makes this recipe all the time. You know a recipe is good when you keep going back to it over and over. Together, we whipped up this helpful little video tutorial that will give you a simple step-by-step guide to rolling up these summer bites!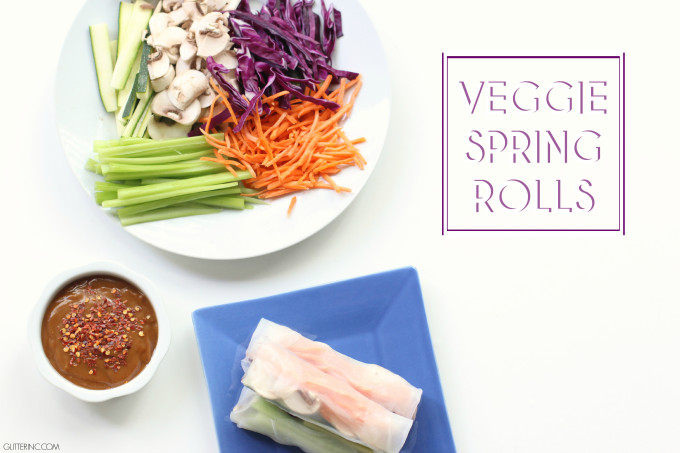 VEGETABLE SPRING ROLLS WITH SPICY PEANUT SAUCE
Yields 8.
INGREDIENTS
For the spring rolls …
8 sheets of rice paper
Your favorite fresh veggies, sliced thinly
(We used purple cabbage,
carrots, celery, zucchini,
and mushrooms – around
1 cup of each)
For the spicy peanut sauce …
4 tbsp. natural peanut butter
2 tbsp. rice wine vinegar
2 tbsp. sesame oil
1 tbsp. soy sauce
2 tsp. maple syrup
¼ tsp. red pepper flakes
DIRECTIONS
Start by making the spicy peanut dipping sauce. Whisk together the peanut butter, rice wine vinegar, sesame oil, soy sauce, and maple syrup. Top with red pepper flakes, adding more or less depending on how much spice you like!
Slice up all of the veggies and set them aside.
Place 1 sheet of rice paper into a shallow pan filled with warm water, to allow them to soften. After about 15 seconds, carefully remove the rice paper – dripping off any excess water.
Set the rice paper onto a plate and fill neatly with the sliced veggies. Fold each side over onto the veggies, like you would a burrito. Then roll the spring roll together, tucking it in tightly. (Be sure to check out the video tutorial for proper technique.)
Repeat until you've used up your veggies. Dip the spring rolls in spicy peanut sauce and enjoy!
If you've never "bathed" sheets of rice paper to create spring rolls, watch the quick video below. I promise you, throwing these spring rolls together is easier than you would have guessed, and taste so good.
You can also click through the images below for a step-by-step look.