Now that it's summer, and bikini season is no longer imminent, it's here (like yesterday), I figure it's time to get serious about eating well.  I've always been decent about dragging myself to the gym or a dance class at least a few times a week – it justifies my snacking – but I tend to fall off the wagon at every baked good (then I get back on, fall off, half get back on, totally fall off, and so on).  And snacks are most definitely my weakness.  So the plan this summer: find snacks that I can feel guilt-free about.
Which brings me to these roasted chickpeas.  They are so good.  And I am almost embarrassed to admit how easy these are to make.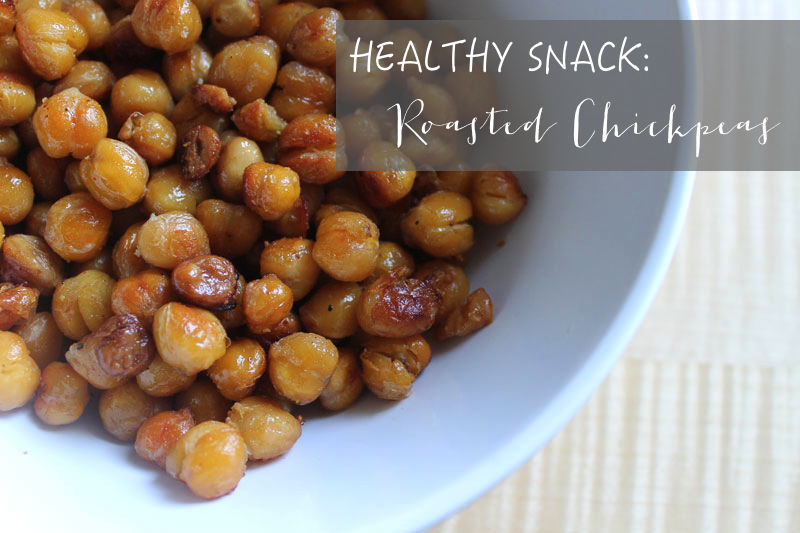 Roasted Chickpeas:
Ingredients
1 (12 ounce) can chickpeas (garbanzo beans), drained (I used two cans)
2 tablespoons olive oil (I used about 1 to 1.5 tablespoons per can of chickpeas)
salt (to taste)
garlic salt (optional; I skipped this)
cayenne pepper (optional; I used paprika instead — the hubby is not a fan of anything spicy)
Directions
Preheat oven to 450 degrees F (230 degrees C).
Drain chickpeas and then blot chickpeas with a paper towel to dry them. In a bowl, toss chickpeas with olive oil, and season to taste with salt, garlic salt, and cayenne pepper (or paprika).  Spread on a baking sheet, and bake for 30 minutes, until browned and crunchy.  Watch carefully the last few minutes to avoid burning.
*Note:  if you roast the chickpeas for 30+ minutes, they'll be very crunchy (some with chewy centers) – kind of like roasted edamame, but if you prefer chickpeas a bit softer, I'd roast them for about 20-25 minutes.
Recipe adapted from All Recipes