You should picture me bouncing up and down right now … I am SO excited to announce that I WON the Rimmel London Blogger Contest!  I've been near-bursting with the news and I am thrilled to finally make the big announcement on my little blog.  I don't know how to thank you all enough for supporting me, re-tweeting, re-posting, and voting!  You all are phenomenal.  Phenomenal, I tell you!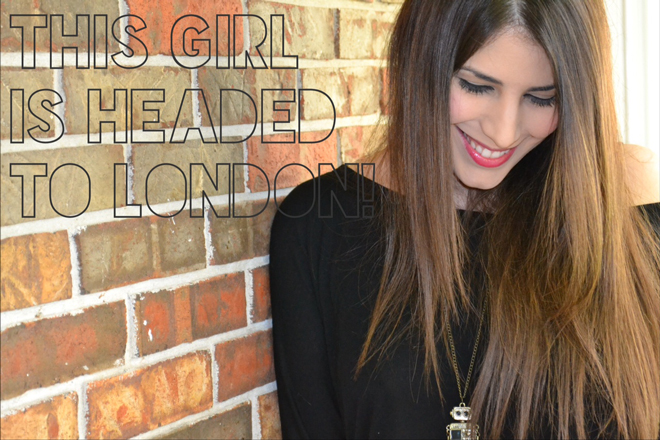 Here's where it gets awesome: I won an amazing deal with Rimmel (a dream company!), and Rimmel is sending me and hubby to London. Yes, London. Cue second round of squealing and bouncing. And I promise to take so many pictures you're guaranteed to get sick of me posting them. You're welcome.
But aside from all of that, here's why it's such a big deal for me … (Warning: getting way personal ahead.)
Last year I battled cancer.  It's not something I talk about much here on the blog, and I'm not sure why.  I think I was being fiercely protective … of what I'm not sure.  Two operations later, the thing that scarred me more than the fear, sadly, was the actual scar.  I know that sounds silly, but hear me out.  I was diagnosed with thyroid cancer.  After two surgeries I was branded with a neat slice across my neck.  I've always been incredibly fair-skinned, and a bit self-conscious.  I don't mean to undermine what I went through.  Trust me, sitting there in that office, after the first surgery that shook me in a big way, hearing the surgeon tell me, "Lexi, we found cancer," I thought I might lose it.  But I never really did.  I put on a brave face for a long time.  I told everyone I was going to be just fine, I laughed about it; "cancer schmancer" I proudly announced, mostly to make everyone around me feel less guilty and helpless.  Even though, truth was, I felt unbelievably helpless.  And here's the thing, I never felt like I battled anything.  I wanted to slay the cancer dragon.  But I was never given much choice.  It was surgery, surgery, treatment, blood work.  So much blood work.  And it sucked, and it was awful, and every scan and blood work and check-up to date terrifies me, but I am okay.  (I promise!)
Then there was the matter of this darned scar.  I suddenly loathed pictures.  I wore scarves like it was my job.  I could feel people staring at my neck in line at the supermarket, out to dinner, in department stores under that hideous lighting they all insist on using.  I decided I'd never be one of those bloggers who paraded her image across a blog.  It felt like a free pass.  I was already a bit shy, and re-directing my blog into the "Lifestyle" category kept me in the clear of typical fashion blog opportunities.  But my media company had other plans in mind for me.  (By the way, thanks, Glam.  I love you all!)  And suddenly, I was getting offers.  So I took pictures of my shoes, of my wrists, of my hair.  And then this Rimmel opportunity came along and I thought, "Lexi, how can you pass up this opportunity?  Besides, you'll never make it to the final ten, so who cares?"
I made it to the final ten.  And then the final five.  And suddenly I was being asked to take hundreds of photos of myself, makeup included.  I begged my younger sister, who happens to be an amazing photographer, to help me.  To try somehow, to hide this stupid scar and fix me and my self-esteem (that was currently residing on the floor.)  I'd send pictures and Rimmel would ask for close-ups.  I was terrified.  But my sister wasn't having it.  She urged me to smile, to look forward, to do the chicken dance.  I wore a tutu, a lot of sparkly Rimmel lip gloss, and I spun on the docks at a popular pier in Miami and I got over it.  And getting over it felt so good.
I know I'm getting obnoxiously sentimental here, but you know what: who cares?  Thank you, Rowan – you're the most ridiculously awesome sister a girl could ever ask her; I love you like a fat kid loves cake.  No … more.  Thank you hubby, for loving me SO much and for thinking that I'm insanely hot all of the time, even though you're so wrong (my glasses-pajamas-frizzy-hair look is anything but hot.)  Mom, Daddy, Sam, Lou, Grandma, both Uncle Iras, Aunt Sheree, and the rest of my crazy huge family: without bursting into tears as I type this, you all are the best.  You've always supported me, always.  Briana (1638 training prepared me for this), Isabel, Andy, Stacy, Danielle and all of my awesome blogging bff's (Alyson, Hallie, Elizabeth, Sarah, Joelle, Niki, and SO many more) thanks for convincing me to work it!
To all of my friends and family who voted, for all of the times I saw another friend (generally of the male persuasion), who knew nothing about a popular beauty brand like Rimmel, LIKE the Rimmel page just to vote for me, I am so eternally grateful.  Thank you for getting me and supporting this crazy blogging habit of mine.
And the moral of the story: Be strong.  Be brave.  Be fierce.  Do you.  Cry when you need to.  Feel sorry for yourself (it's normal and healthy), but then move on.  Get it out and then start again.  Smile.  Laugh.  Wear tutus (they're essential.)  Find people to love and who love you right back.  And love like crazy.
Thank you (and I love you!)