You may have noticed on the holiday dessert charcuterie snack board that there were the cutest Christmas brownies. I mean, come on … they're really, really, really stinkin' cute. And in the season of holiday parties, a really stinkin' cute Christmas tree shaped brownie is going to win you lots of brownie points. Get it?! Yeah, I'm slap happy from lack of sleep. (Hi, I'm Lexi and I have a nine-week-old. And a toddler. I'm, like, really tired.)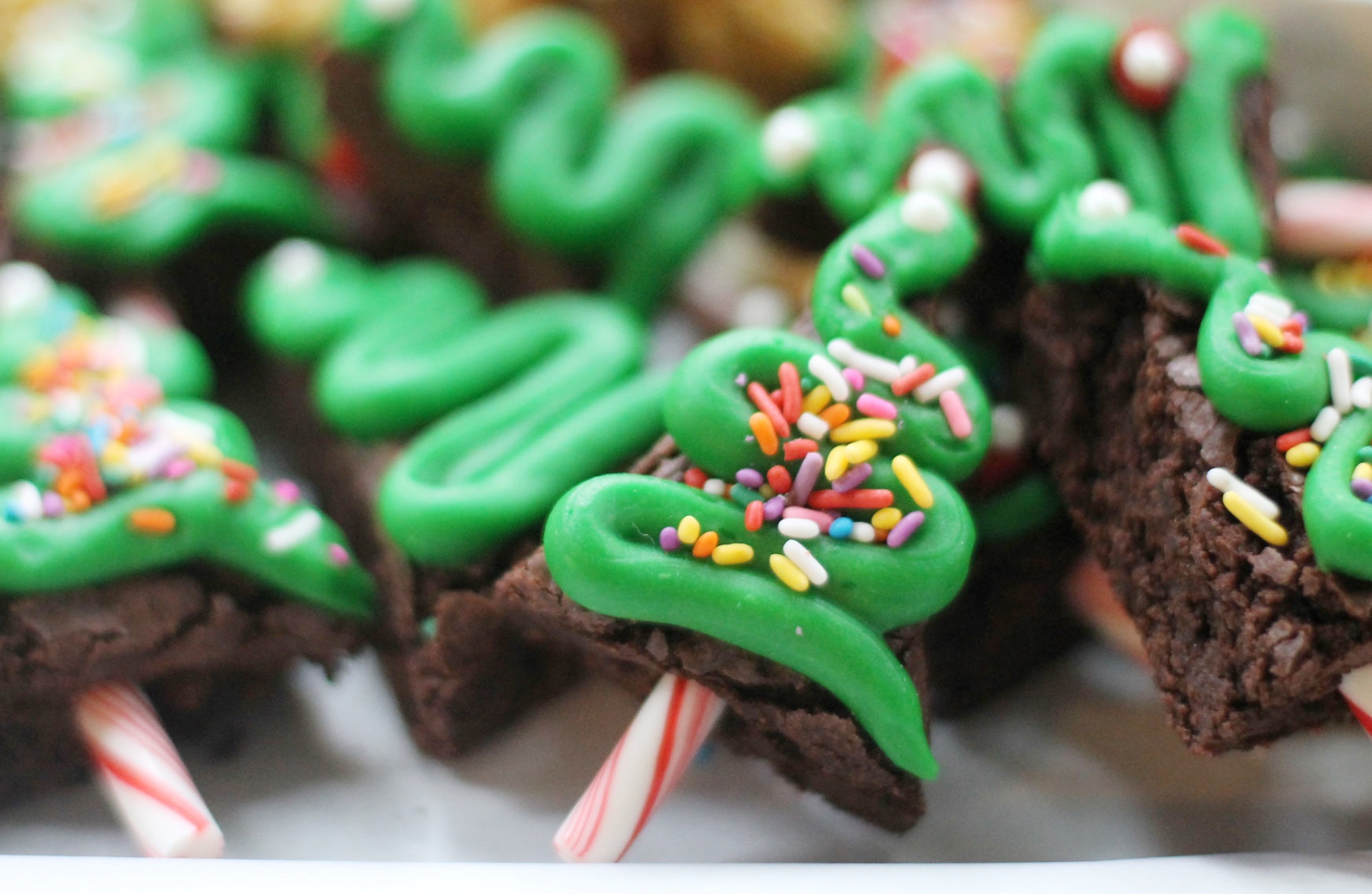 But also, since we're talking tired here, this Christmas brownies dessert is easy. Yep, these adorable brownies are surprisingly simple to make, and they're absolutely perfect for your holiday parties.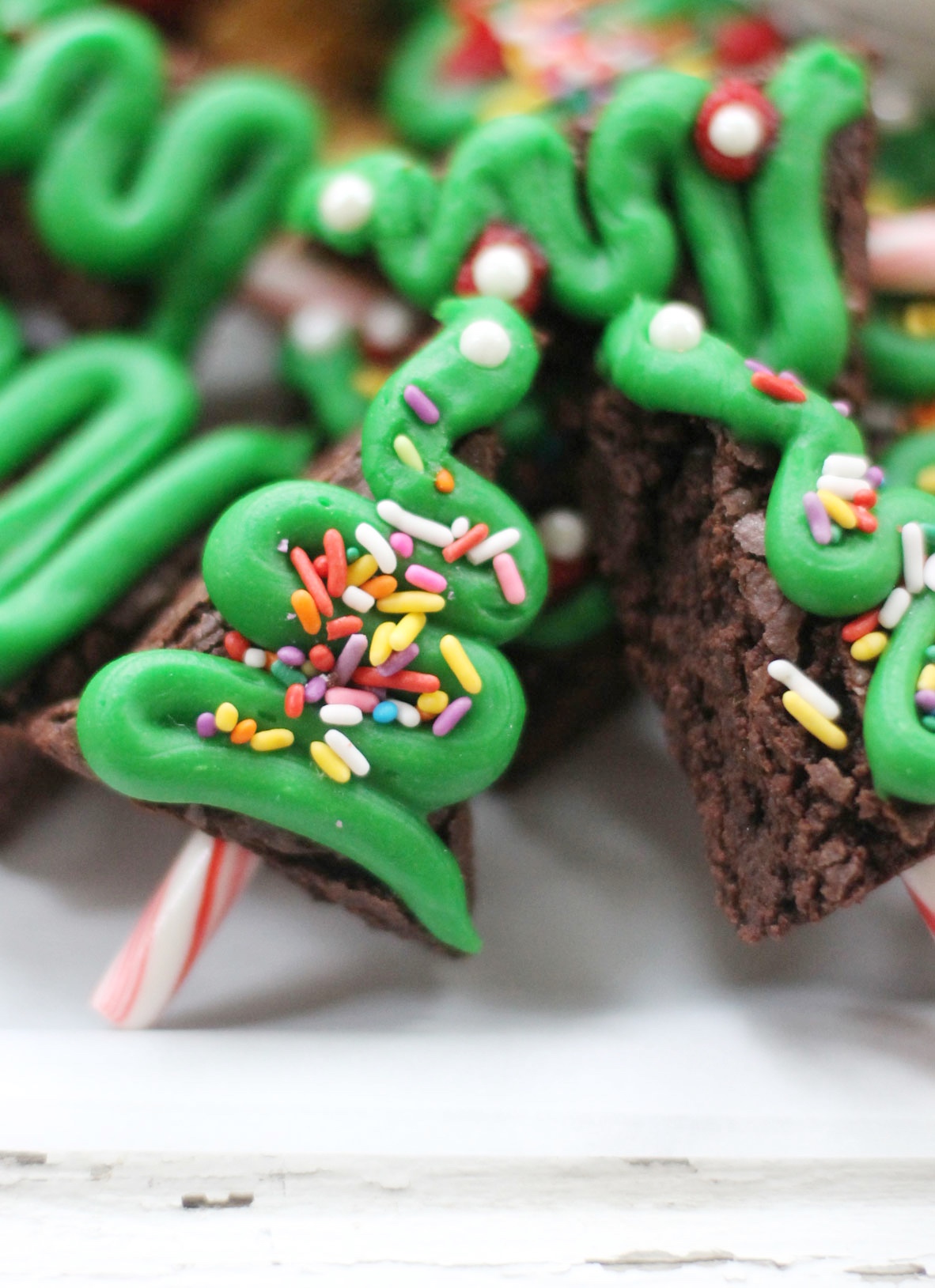 And when I say easy, I mean EASY. Just cut the Christmas brownies into triangles, add a candy cane trunk, squeeze on some icing, and sprinkle on your favorite sprinkles! They travel well (keep them in an air tight container once you've made them) and take them to your next Christmas party, give them as gifts, or bring them to your kiddos' school for a treat.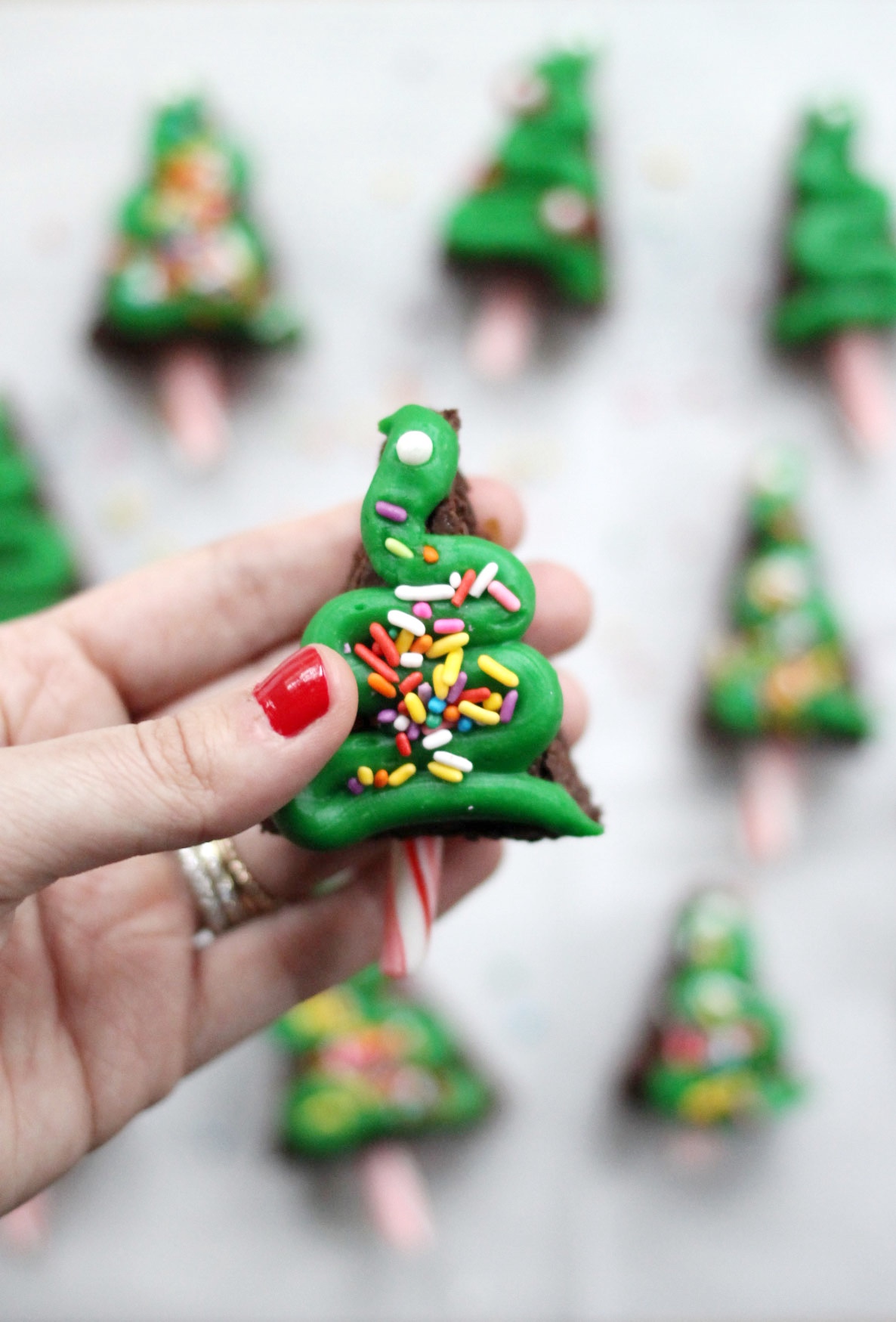 But I can't take the credit here. I found the adorable design on One Little Project, and then recreated my own. The Christmas brownies turned out so cute, and I got so many requests for details after sharing that jam-packed dessert board, that I figured I would share the easy how-to here.
The secret to such a widely loved holiday dessert is brownies. Brownies in any form are delicious, if you ask me. My Dad and I are HUGE brownie fans, and I'll pretty much never turn down a brownie. Really, who would? I honestly don't care whether it's homemade from scratch or some variation of a box brownie mix*; they're all delicious in my book.
*By the way, since we make a lot of vegan recipes around here, I thought I'd share an awesome vegan boxed brownie mix we recently stumbled across. This box whips up a pretty delicious vegan, gluten-free brownie. Oh, and frosting in a tub, and frosting in a tube; they're both dairy-free. Woohoo!! (Scarlett is allergic to milk protein, so we're always experimenting with vegan and dairy-free recipes.)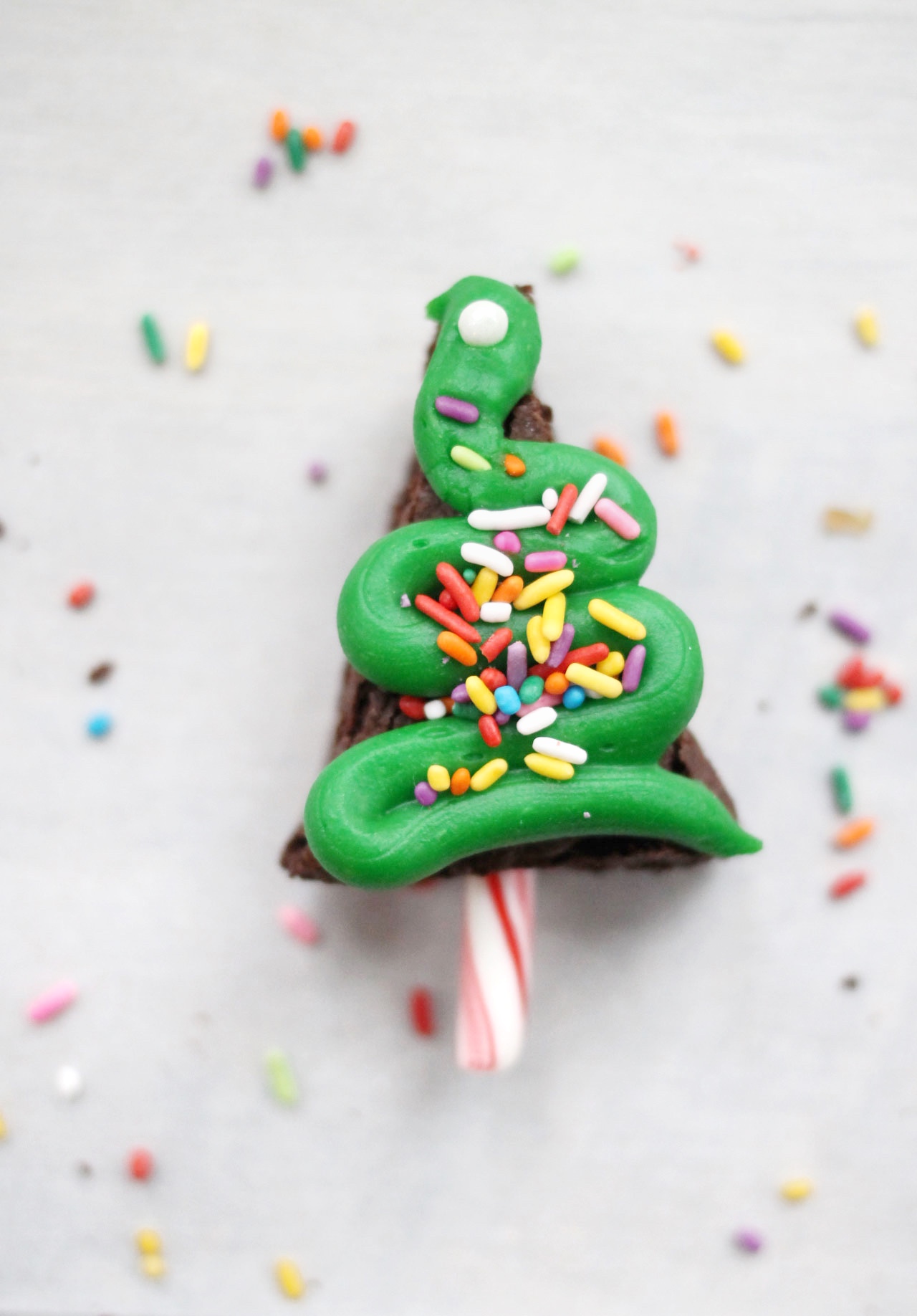 The holiday spin on these easy christmas brownies, combining peppermint, chocolate, frosting and sprinkles … ummm, heaven. But I digress.
You want to know how to make these adorably cute and easy Christmas tree brownies, of course.
You've got it!

Easy Christmas Brownies
Ingredients
baked brownies (you can use your favorite homemade recipe, but boxed brownies work great here too)
colored frosting or white vanilla frosting with food coloring
sprinkles
candy canes
Instructions
Line an 8"x8" baking pan with aluminum foil or parchment paper and spray with cooking spray.
Prepare the packaged brownie mix according to the package directions and bake as directed OR make your favorite homemade brownies.
Allow brownies to completely cool; at least 1 hour.
Remove the brownies from the pan, and cut into triangles. (Cut in three rows, then cut in alternating diagonals. Some will be smaller than others. It's no biggie.)
Unwrap the candy canes, and use a sharp knife to gently cut/break the candy canes into pieces that are about 1.5" long.
Press one end of the candy cane into the bottom of the brownie triangles.
Spoon out approximately ½ of the tub of icing into a bowl.
Use either a tube of colored frosting (we love these) or add green food coloring to white frosting until you're happy with the color, spoon the green icing into a ziploc bag, seal the bag and cut off a small corner of the bag with sharp scissors, and pipe using the bag.
Starting at the top of the brownie triangles, gently squeeze out the icing in a curvy zigzag as you go down the tree.
Top with sprinkles.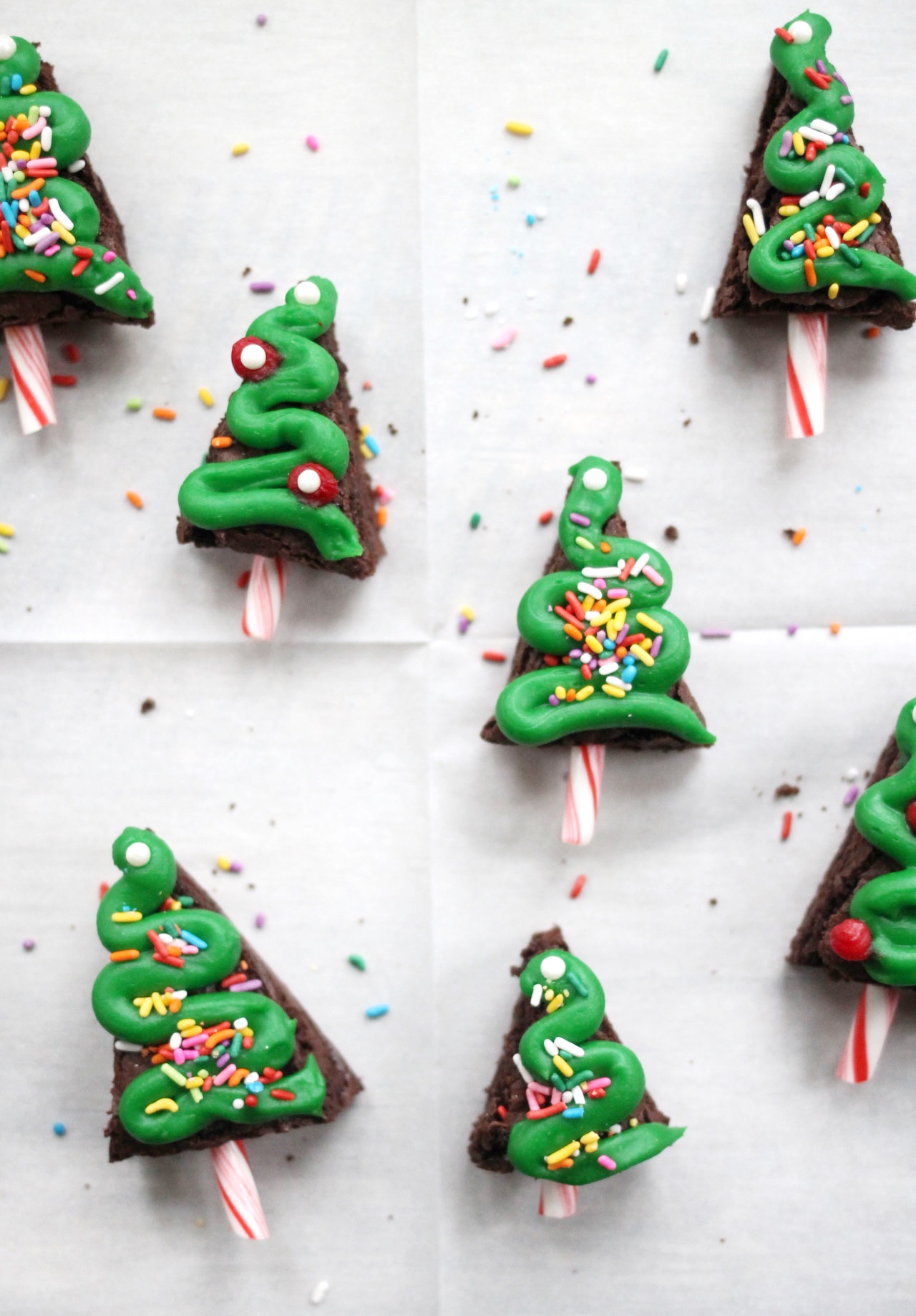 Looking for other party-worthy recipes for the holidays? Check out our marbled peppermint bark, classic graham cracker crack, sugared cranberries (to top cakes and cocktails), and sparkling pomegranate punch.
Be sure to let me know in the comments or on social media (@glitterinclexi) if you make these Christmas brownies! I'd love to see how they turn out (and if you're just as obsessed as I am!)
This post contains affiliate links, which means that if you click on one of the product links, I'll receive a small commission. Thank you so much for clicking through and helping to support this little blog business of mine! Read more about our site, privacy, and disclosure policies here.