This post contains affiliate links, which means that if you click on one of the product links, I'll receive a small commission. Additionally, as an Amazon Associate I earn from qualifying purchases. Thank you so much for clicking through and helping to support this little blog business of mine! Read more about our site, privacy, and disclosure policies here.
A lot has changed in the last two months: for starters (and most importantly), us city kids have moved to North Carolina for my husband's residency at Duke. Scarlett, our beautiful baby girl, turned one (belated birthday party coming soon, I promise.) I left my steady job as a lawyer for a currently "undecided" career in blogging, consulting, and being a mommy full-time. Still not sure what I want to be when I grow up; but thankfully, so far, taking care of Scar and running my blog has kept me plenty busy.
We also left all of our family and friends behind in Miami, which has been tough, to say the least. I'm (very) slowly learning to adjust to our new life in the South. We chose to live in Raleigh, North Carolina, and though it's a bit of a commute for Mike to and from the hospital – which truthfully, I worry about all of the time – Raleigh felt like a real city (unlike the neighboring triangle cities, Durham and Chapel Hill; both great towns, but much much smaller than what we were used to, growing up in Miami.)
On the bright side, I've noticed and even learned to embrace a few of the funnier aspects of southern living. And full disclosure: I know Miami is technically in the South, but I'm pretty sure most South Florida natives would agree: it's nothing like the South. I mean, for one thing: the South has trees, and hills. Miami is just … flat. I heard someone say recently that Raleigh is full of "trees, tees (t-shirts), and PhD's". It's laid back and heady, and I think my husband is in love.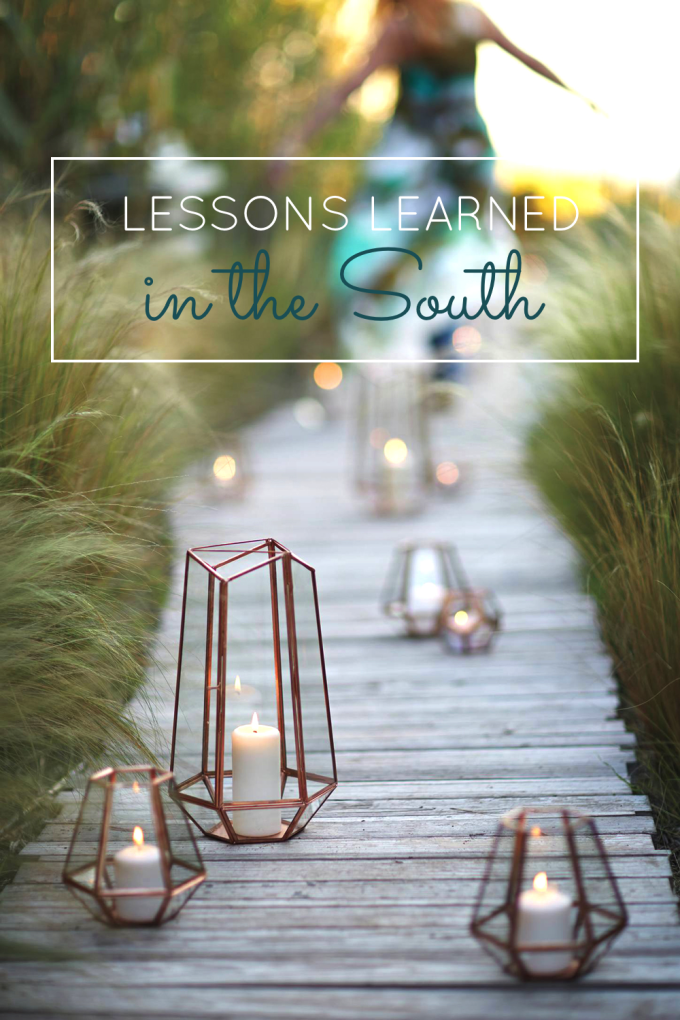 11 Lessons This City Girl Has Learned in the South
So without further ado, a few of the things I've learned so far:
Southern hospitality is real.
The first week we were here, our neighbors baked us a cake. Woah. Everyone in North Carolina smiles, says "hello," holds open doors. Even our DMV experience was nice (and seriously, who likes going to the DMV?); getting our North Carolina drivers licenses was a breeze and everyone was just so darned friendly. Having a baby – especially one as social as Scarlett – is a total people magnet. I can't get through the grocery store in under an hour because so many people want to stop the two of us to play with Scarlett and share their own baby stories. I'm not opposed – it makes heading out for groceries an event – and this mama could use all the entertainment. Plus, it's made me a nicer person. I'm a fan.
Driving is terrifying.
I thought I could handle intense driving … we are from Miami, after all. But here in North Carolina, there is no such thing as a left lane, or a right lane for that matter. The highways are sort of a free-for-all, with exits on either side, barely any room to merge, and the strangest/fastest on-ramps. Also, let's not forget the hills. I'm preparing for the worst, come winter. Gird your loins.
Wildlife hangs out by your mailbox.
In Miami, iguanas and frogs were pretty much the extent of our neighborhood wildlife. In North Carolina, a family of rabbits hang out in our front yard, a squirrel has taken up residence in our roof, deer frolic through backyards, and in the mornings when you first wake up, birds are actually chirping, storybook style. The downside: did you know you can buy a deer whistle for your car? Roadkill is no joke here.
BBQ Turf Wars are real.
Apparently, there are a myriad of different barbecue styles here, and everyone thinks theirs is the best. I'll report back with my findings.
Craft beer and farm-to-table restaurants are king.
It seems like every restaurant has their own garden and in-house brewing (or at least one very awesome selection of craft beer.) It's survival of the fittest, and only the best eateries make it. North Carolina is foodie heaven.
Hipsters abound.
I was expecting cowboy boots and hats – there are plenty beyond the city limits – but in town, hipsters have taken over. Watch out Asheville: Carrboro and Downtown Raleigh are coming for ya.
Weekends are for beach trips, barbecues, and swim meets.
No one has their own pool here (a huge bummer for us, coming from Miami where absolutely everyone had an in-ground pool in their backyard and we grew up playing in swimming pools). In fact, most realtors in the South will tell you having the only pool in the neighborhood can be seen as a pain in the butt (think, lots and lots of summer guests and major upkeep.) Swim club and local pools are a big deal here. Everyone who's anyone is a member of a swim league. (I'm just glad Scarlett is still too little for all that, because this mama is so not ready to slip into a bathing suit.) On the weekends everyone is hanging out at the local pools or their family beach house (#goals).
Lawn-drinking is a thing.
No pool? No problem. Neighbors get together and drink beer and wine on front porches and lawns. Sprinklers are kids' best friend.
Restaurants close by 9pm, same goes for takeout/delivery

.
The first few weeks we lived here, naturally with pots and pans still in boxes, all we wanted was some great delivery (thai, sushi, indian) … yeah, not gonna happen. You're lucky if the local chinese delivery and pizza place are still open at 8pm any night of the week. Trader Joe's has become our new best friend.
Most places aren't open on Sundays

.
It's actually kind of nice to food shop on Sundays – the place is empty – it's awesome. Better still, the mall on Sunday is my jam. Especially earlier in the day on Sundays, you can run down the halls singing The Sound of Music soundtrack, and other than a few tired shop clerks, no one would bat an eye. And hey, at least Scarlett appreciates my singing; wonder how long that will last.
Southern women have a style all their own, and it's undeniably preppy chic.
Speaking of the mall, my goodness do Southern women dress well. Everyone adores Tory Burch and Lily Pullitzer here, and gorgeous boutiques (as opposed to the huge retail department stores) do incredibly well here. Everything is monogrammed and women spend real money on handbags. I even caved and scooped up two pairs of Tory Burch sandals for summer; they are just about the comfiest sandals I now own.
I'm sure I'll add to this list as fall and winter roll in – this Miami girl is pretty panicked about snow and ice. How about you: thoughts on the South? Anything I missed?
image: Anthropologie Metalwork Hurricane Lanterns
This post contains affiliate links, which means that if you click on one of the product links, I'll receive a small commission. Thank you so much for clicking through and helping to support this little blog business of mine! Read more about our site, privacy, and disclosure policies here.