This post contains affiliate links, which means that if you click on one of the product links, I'll receive a small commission. Thank you so much for clicking through and helping to support this little blog business of mine! Read more about our site, privacy, and disclosure policies here.
Celebrating Purim? Make our family's favorite classic hamantaschen.
Every year around this time (the Jewish holiday of Purim, to be exact), my oh-so-talented mom makes the world's best hamantash. (Also spelled hamentasch, hamantashen or hamentaschen).
A hamentash is a filled cookie or pastry that is shaped into a triangle. Hamantaschen are made with a variety of different fillings, and most Jewish kids grew up with their favorites. In my house, it was lekvar (prune), apricot butter, and in recent years, Nutella (so good!) I've also seen chocolate, poppy seeds, nuts, dates, raspberry, apple, preserves and jams, caramel, the list goes on and on.
Just before Purim, when we were kids, my mom would whip up a batch of this incredible dough, and we would use cookie cutters to press out circles to fill with jams, filling, and chocolate chips. We were always so proud of our hamantashen, even if our triangles looked more like leaking UFOs.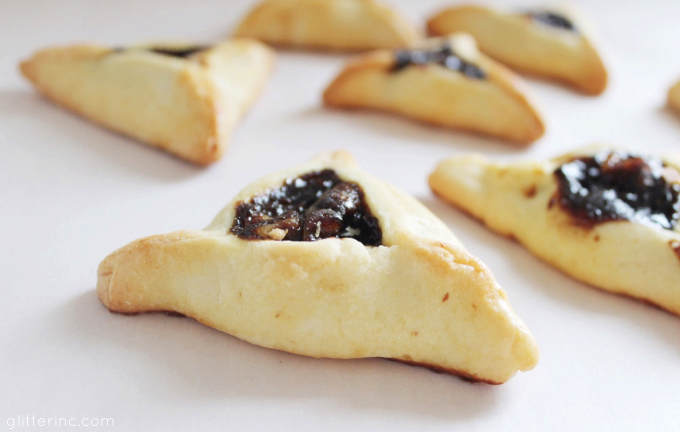 By the way, my mom's recipe produces the softest most decadent buttery cookie dough, and absolutely everything tastes good stuffed inside them.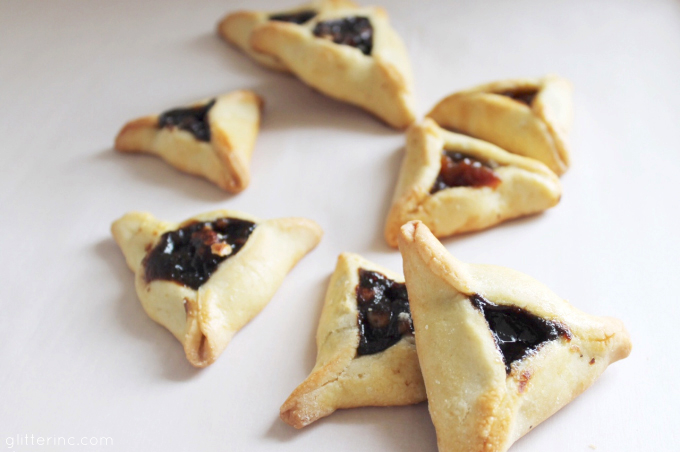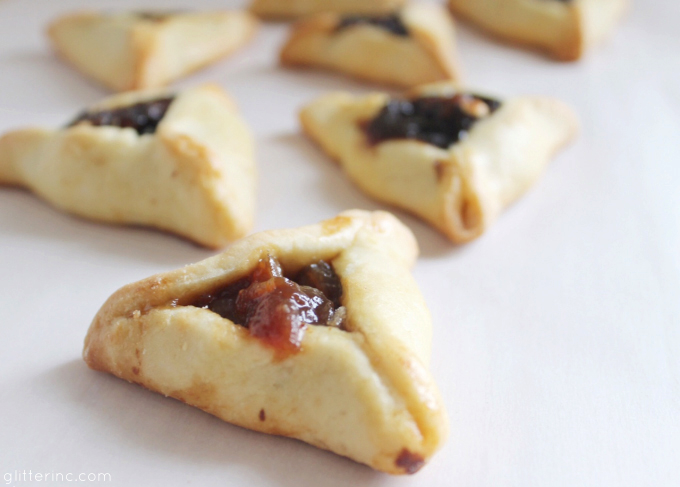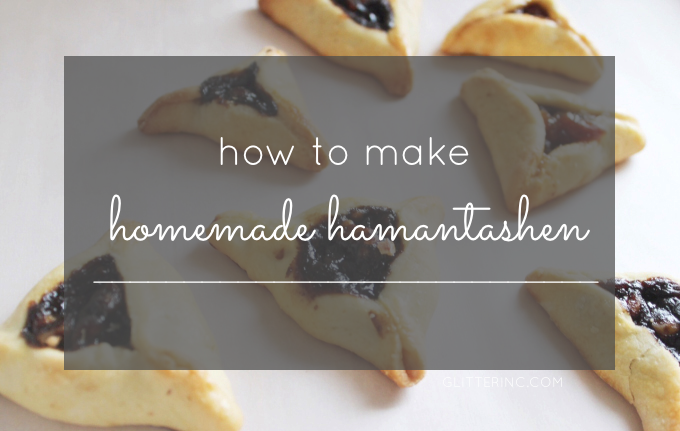 How to Make Our Family's Favorite Classic Hamantaschen
HOMEMADE HAMANTASHEN
Makes 4 to 6 Dozen Cookies
INGREDIENTS
½ cup vegetable shortening
½ cup (1 stick) unsalted butter or unsalted margerine
1¼ cups sugar
3 eggs
¼ cup orange juice or milk
1½ teaspoons vanilla extract
approximately 4 cups All-Purpose Flour
½ teaspoon salt
2½ teaspoons baking powder
½ teaspoon nutmeg
egg wash (3 – 4 yolks, whisked)
Fillings: apricot paste, jam, Nutella, cherry pie filling, prune filling*, etc.
Regular or coarse sugar (optional)
DIRECTIONS
In a mixing bowl, cream the shortening, butter, and sugar together. Add the eggs and blend until smooth. (If the mixture is hard to blend or seems curdled, add a bit of flour to bind it.)
Stir in the orange juice or milk and the vanilla. Fold in the flour, salt, baking powder, and nutmeg, and mix to make a firm but soft dough. Transfer the dough to a lightly floured work surface and pat the dough into a smooth mass. Cover and let it rest for 10 minutes.
Preheat the oven to 350° F. Line 2 large baking sheets with parchment paper.
Divide the dough into 2 or 3 flattened discs and work with one portion at a time. (This make it so much easier!)
Roll out the dough on a lightly floured board to a thickness of ⅛ inch. Use a 3-inch cookie cutter and cut as many rounds as you can. Brush the rounds with egg wash. Fill with a generous teaspoonful of the desired filling. Draw 3 sides together into the center. You should now have a 3-cornered or triangular pastry. Repeat this process with the remaining dough and filling. Brush the folded pastries with additional egg wash. If desired, sprinkle with regular or coarse sugar, and bake in the center of a preheated oven until golden brown (18 to 25 minutes). Cool on the baking sheets.
NOTE: If you prefer, this dough can be made ahead and refrigerated, wrapped in plastic, for up to 2 days, or frozen (preferably as a disc of dough, for a couple of months). If refrigerating, allow the dough to warm up before rolling out so that it is soft and pliable.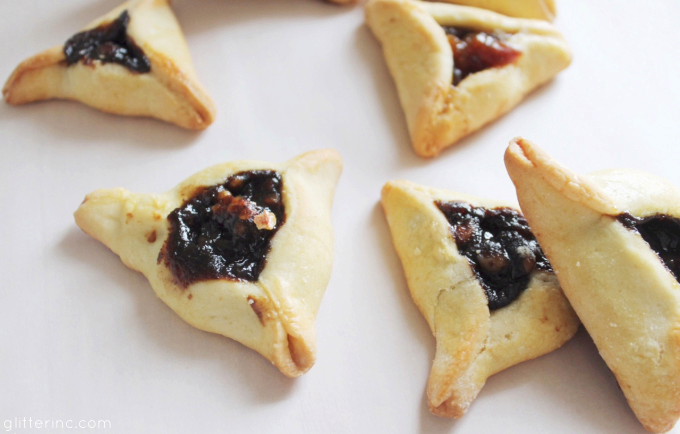 If you want to go traditional, the most classic hamantashen filling is prune (or lekvar):
PRUNE OR LEKVAR FILLING
Makes approximately 3 cups, enough for 4 dozen cookies
INGREDIENTS
2 cups prune filling
⅓ cup fresh lemon juice
⅓ cup sugar
½ teaspoon cinnamon
¼ teaspoon nutmeg
½ cup chopped walnuts
DIRECTIONS
Mix together the prune filling, sugar, cinnamon, and nutmeg, and slowly add in the lemon juice. Add your chopped walnuts and mix once more. Chill the mixture slightly before using.
Recipes Adapted via A Treasury of Jewish Holiday Baking | Adaptations by my Mom, Rhodi
Let me know how yours turn out! (And happy Purim to those who celebrate!)
Be sure to head to our recipe page to check out what else we're dreaming up in the kitchen. If you make your own homemade hamantaschen, tag me on social media (@glitterinclexi) so I can live vicariously through all of your delicious creations! Plus, I'd love to see what you fill your hamentash with. Seriously, send those pictures my way!!