Finally – the post I've been trying to get done for months (ahhh, that newborn life!): my hospital bag essentials! And let me tell you, I've got ALL of the hospital bag essentials in this post, little bits of advice to keep you sane along the way, plus what you can score for "free" at the hospital, what I wish I would have known, what you probably don't need, the VERY BEST panties to wear after you run out of those mesh panties, and tips from just about anyone who would answer my hospital bag questions … because you know I totally polled just about everyone in the world (a.k.a., my friends and blogger buddies), plus scoured the online baby boards and my favorite mom Facebook groups, to bring you one huge hospital bag must-have list.
I also included a FREE Printable Essential Hospital Bag Checklist at the bottom of this hospital bag essentials post! Feel free to print it and use it while you pack for the big day. 🙂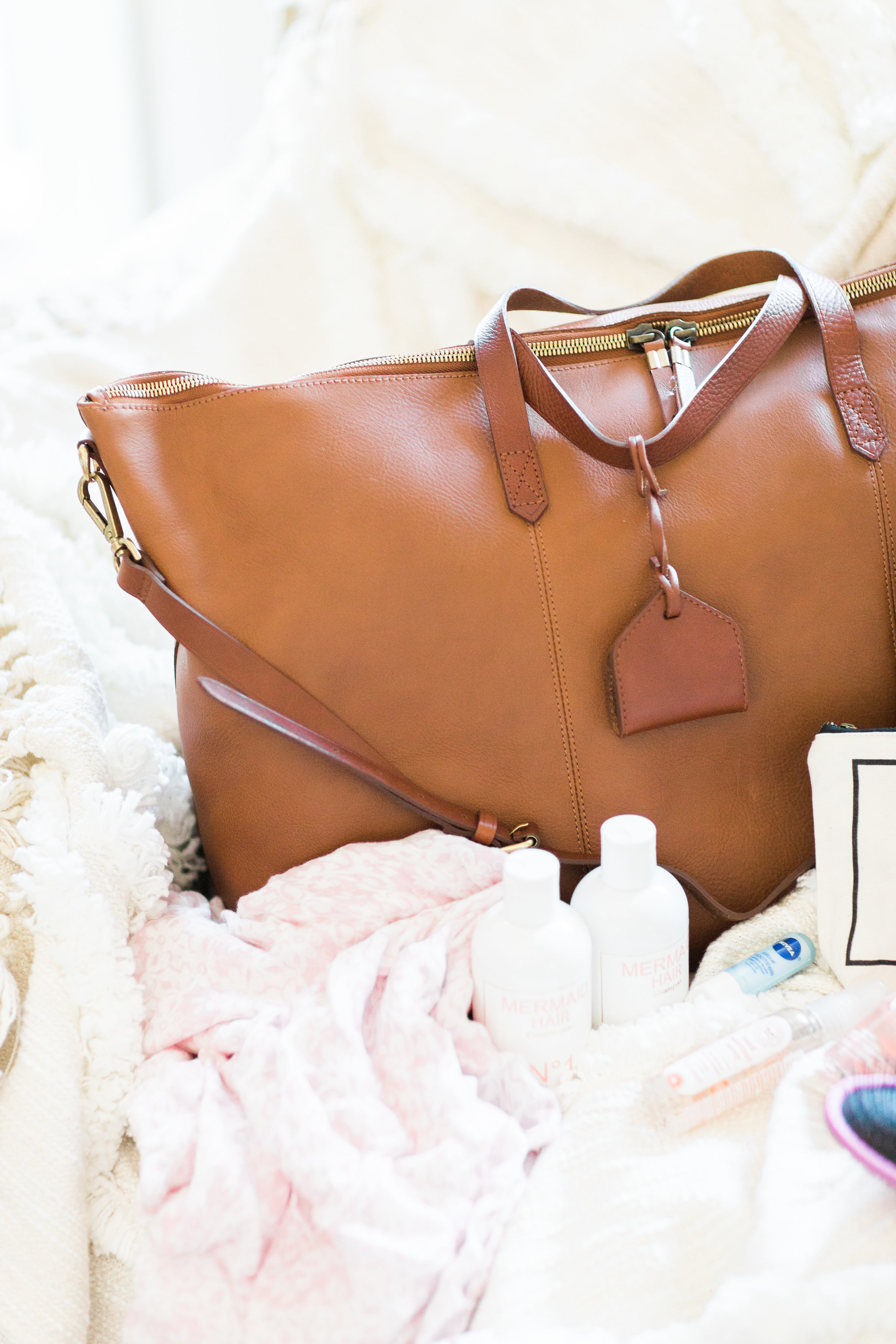 I love to research. Fun fact: my favorite part of law school, and possibly the only part I totally loved, was legal research. I could live in a library. For both baby number one, and now, baby number two, I researched … wellll, everything. But today, I thought I'd share just what it is I packed in my hospital bag as a second time mom. And you can bet, plenty of research and trial and error went into the making of my hospital bag's contents. I am a nerd.
MY HOSPITAL BAG ESSENTIALS
Depending on what type of birth you have – your hospital stay after baby will typically last somewhere between two and four days. And of course, because birth is unpredictable, it's always smart to pack for the unexpected. For example, Scarlett, our first, wound up coming early – at about 36 weeks, when I realized I had gone into labor; and we needed an emergency c-section to bring her safely into the world.  With number two, Emme, at 39 weeks on the dot, I had a VBAC and she came fast and furious after two days contracting like crazy at home. Aaaand, she arrived without any drugs. Something I'm proud of now, but pretty much begged anyone who would listen at the hospital to give me drugs. Emme had her own plan, and natural it was! My point is, you never know what you're gonna get, and if you're a planner, it's always better to over-pack a bit; and pack early.
Whether I was grabbing the hospital bag myself to check-in to the hospital, or someone else was going to grab it for me after the fact, I knew everything I needed for our hospital stay was in that bag. You'll be amazed at what a relief it is to be prepared, even if it's not normally your style.
You'll want to bring a packed hospital bag and diaper bag. I was so glad to have the diaper bag this time around (didn't do that with baby number one), because I was able to keep her things, especially her going home outfit, newborn photo outfits, pacifiers, etc. in her own bag. For hubby and I, we used this transport weekender bag – I love how big it is. (This weekend tote is another great, and more affordable option – plus, if you sign up for their email list, you can get a code for 15% off your first purchase.) And yes, you read that correctly: pack for both you and your partner. The first time around, hubby swore he wouldn't need anything, and he could always go back home to get whatever he needed. Wrong. Those days in the hospital are hectic – between labor and delivery, and then all of the visits from doctors, nurses, tests, family and friends visiting, photos, etc. – my husband barely had a chance to sneak away for a trip home to get the essentials. This time around, I packed our hospital bag for BOTH OF US, and it made a huge difference.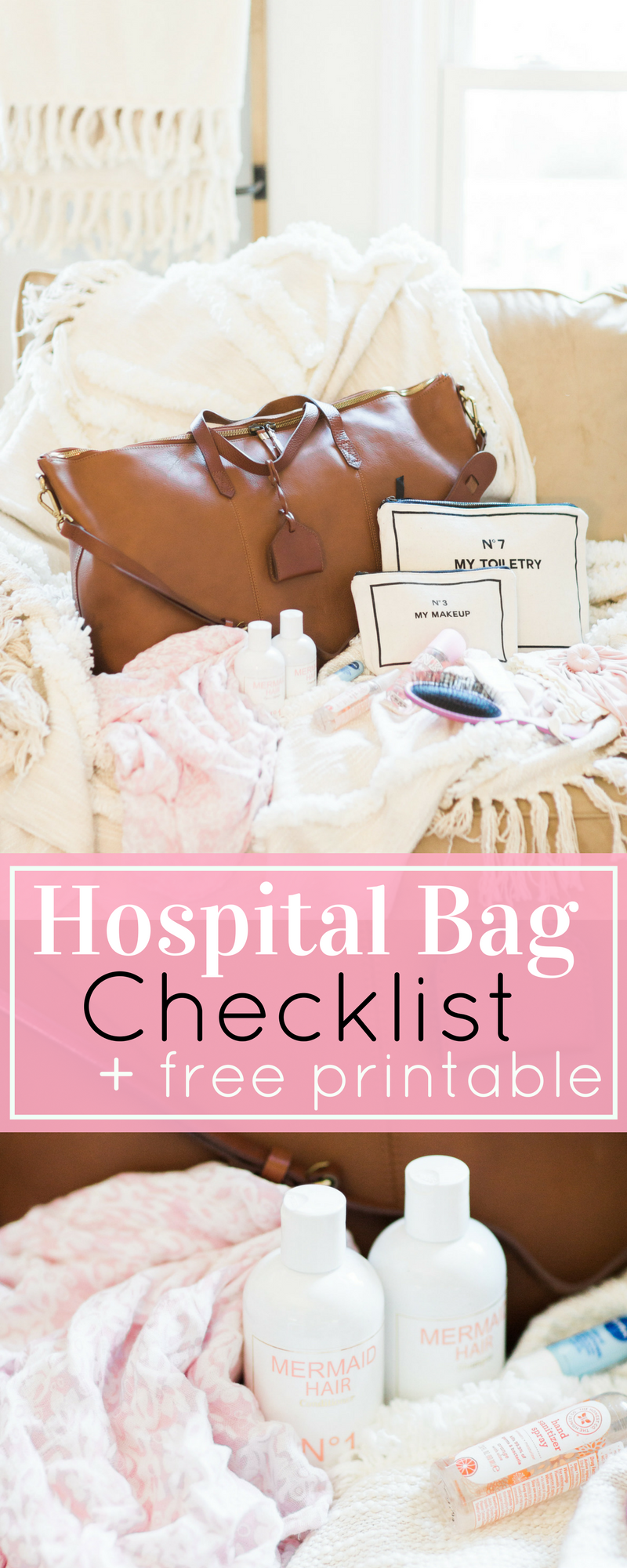 ID + INSURANCE CARD: It might seem obvious, but it's easy to forget in the frenzy.
CLOTHING (for both you and your partner): 
Pajamas/Loungewear – With every new baby, I splurge on a few new pairs of pajamas – the kind that are actually presentable for guests (because we all know some of our favorite old PJ's are less than flattering and definitely not ready for company!) And, let's be real, while everyone knows hospital attire equals comfy pajamas and robes, you will basically live in joggers, stretchy yoga pants, pajamas, nursing tanks and soft oversized t-shirts, and slippers for the foreseeable future at home too, so you might as well invest in some cute new loungewear. If you have a c-section, the looser and softer the waistband, the better. I really, really like these Gap sleeper pants for an extremely soft waistband. If you're planning on nursing, you'll want pajamas with a top that has easy access, like this set. Try to buy pants in dark colors because you will be bleeding … a lot.
I've also made it a bit of a tradition to get a new cardigan (I have and love this hooded cardigan, but also have my eye on the cardigan version without a hood, and this was the cardigan my mom got me for my first hospital stay with baby girl number one that I still love to this day!) or robe from Barefoot Dreams for each birth. If you don't own something from Barefoot Dreams, and you're expecting, treat 'yo self … seriously. They are the softest, most comfortable lounge items you will ever own; it's like wearing a blanket. Don't forget to bring underwear, socks, t-shirts, shower shoes, slippers or sandals, and a few pairs of pajamas (or loungewear) for your partner too.
Bras and Panties –
Very soft bras that you can also sleep in are a must. Target has some really wonderful nursing bras, and I especially love this nursing sleep bra (it's so comfortable!) and this non-nursing lace bralette (with an easy hook closure.)
Those mesh panties from the hospital: you'll be SO happy to have them. But if you really want your own, or want to be prepared once home, its good to invest in a few pairs of post-partum-friendly panties. Having now had both an emergency c-section and natural vaginal delivery, I can say with confidence, that I've found the perfect post-partum panties. I don't know what it is about panties, but I've always been kind of cheap when it comes to underwear. I'm embarrassed to say, I had a few not so cute, threadbare pairs that I finally threw out and replaced with nice panties. These panties, they're absolutely perfect post-partum and soft enough on both your waist and bottom, that they work wonders after both c-section and vaginal delivery. Meet your new faves: Victoria Secret Seamless High-Waist panties. I order 12 pairs, and I'm tempted to throw out all of the rest of my sad underwear to snatch up more of these.
Departure Outfit – This can just be one of your loungewear outfits, but save something clean and fresh to go home in.
Shoes and Socks – Don't forget socks – the cozier, the better (and bonus points for the kind with grippies on the bottom) – for sleeping (hospital rooms are COLD) and a pair of easy to slide on slippers, because truth is, you won't really be up for a whole lot of bending to put on shoes those first few days/weeks, and who wants to walk on hospital floor barefoot? (Yuck.) I got these slippers especially for the hospital stay, and I've been living them through this cold winter. You'll also be glad to have a pair of inexpensive shower shoes/sandals. (Old Navy's $2.50 flip flops are the best!)
Baby – You won't need much for baby:
An outfit or two for pictures and going home. (I loved picking out a sweet "going home" outfit for my girls, but be aware that sizing might be tough. Your best bet is to bring one newborn size and one 0-3 month. Our first baby was almost four weeks early and my Mom and Dad ended up having to run out to buy whatever preemie outfits they could find. (The selections in stores stunk.) Some parents like to put their new babies in new outfits all throughout their stay, but I was more than happy to have both of our baby girls in the hospital long-sleeved tees, diapers, and a thick swaddle. We only put the girls in sweet outfits for a few hospital photos and the "going home" trip. For baby's going home outfit, don't forget socks or booties (these are great, because they actually stay ON), plus extra layers if it's cold out.
A few pretty bibs and blankets. You know … for pictures. I did bring along a few of these super soft baby bow headbands and these newborn baby hats for pictures throughout our stay.
If you plan on using a pacifier, you might want to bring a couple. Especially if your hospital does rooming (i.e., baby stays with you, rather than in a nursery), you might be glad to have a pacifier for those tough crying moments in the night when you can't really figure out why they're crying. Ha, welcome to parenthood! (Not every baby will love a pacifier, and each will definitely have a preference. We tried both MAM Pacifiers and Avent Pacifiers though even at three months in, baby number two – Emme – is still not all that interested in her pacifier. For the record, Scarlett LOVED her Wubbanub pacifier.
Carseat – You won't need the baby's carseat until check-out, but most hospitals won't let you leave until they've seen that you have a safe carseat for baby to go home in. (We have and love this UppaBaby Mesa Infant Carseat; that fits perfectly in the girls' UppaBaby Vista double stroller.) Be sure the car seat base is installed in your care beforehand, so you are not trying to do that the day you go home.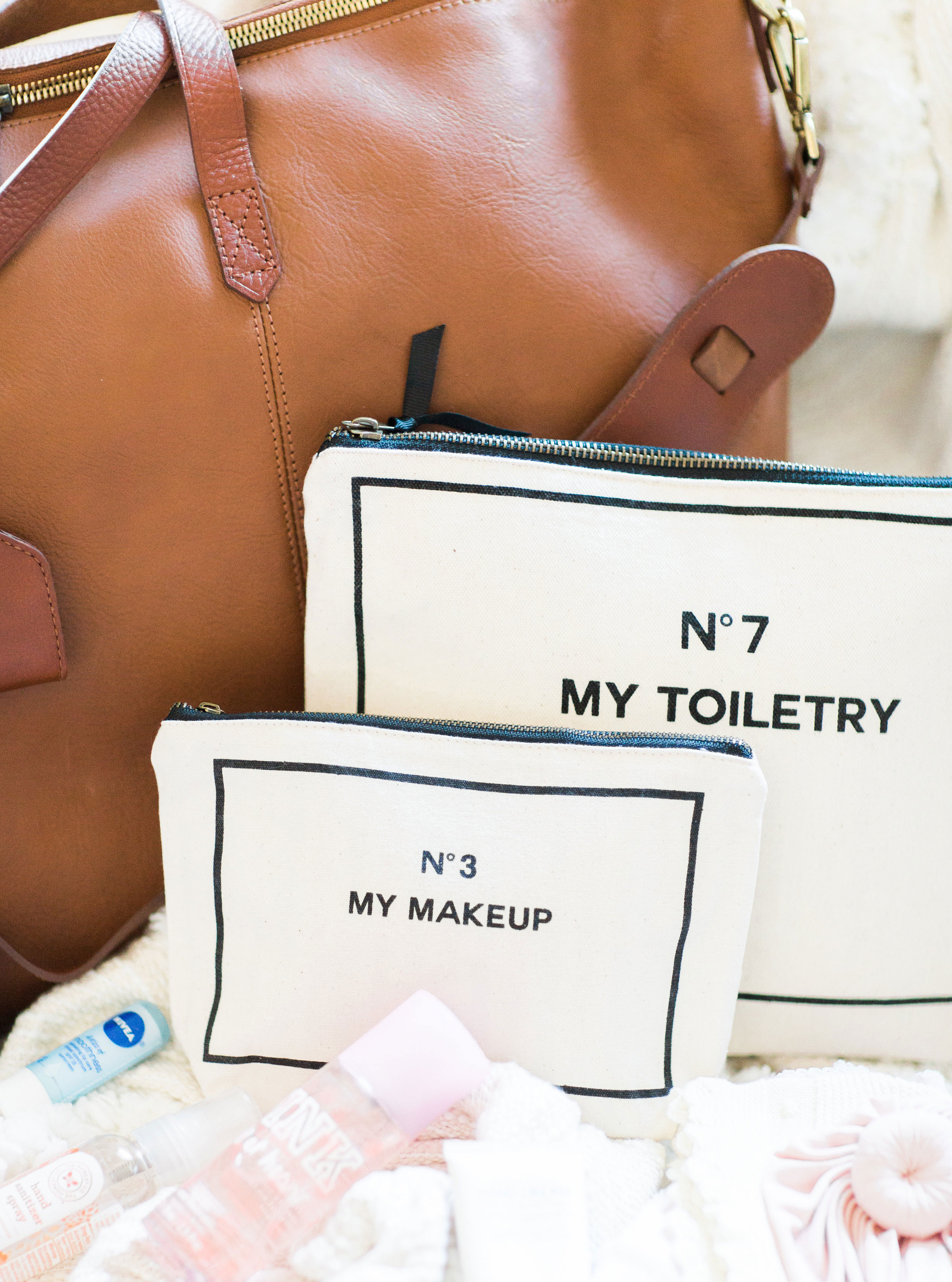 TOILETRIES in their own toiletry bag (for both you and your partner):
I packed all of my toiletries – things like a toothbrush, toothpaste, glasses/contacts, deodorant, shampoo and conditioner, dry shampoo, face wash – in their own bag so everything would be accessible and wouldn't leak anywhere. I used these Bag-all Toiletry and Makeup Bags this time around, and also LOVE Travelon Clear Packing Pouches because they're so easy to clean (there are always at least one or two in my diaper bag.)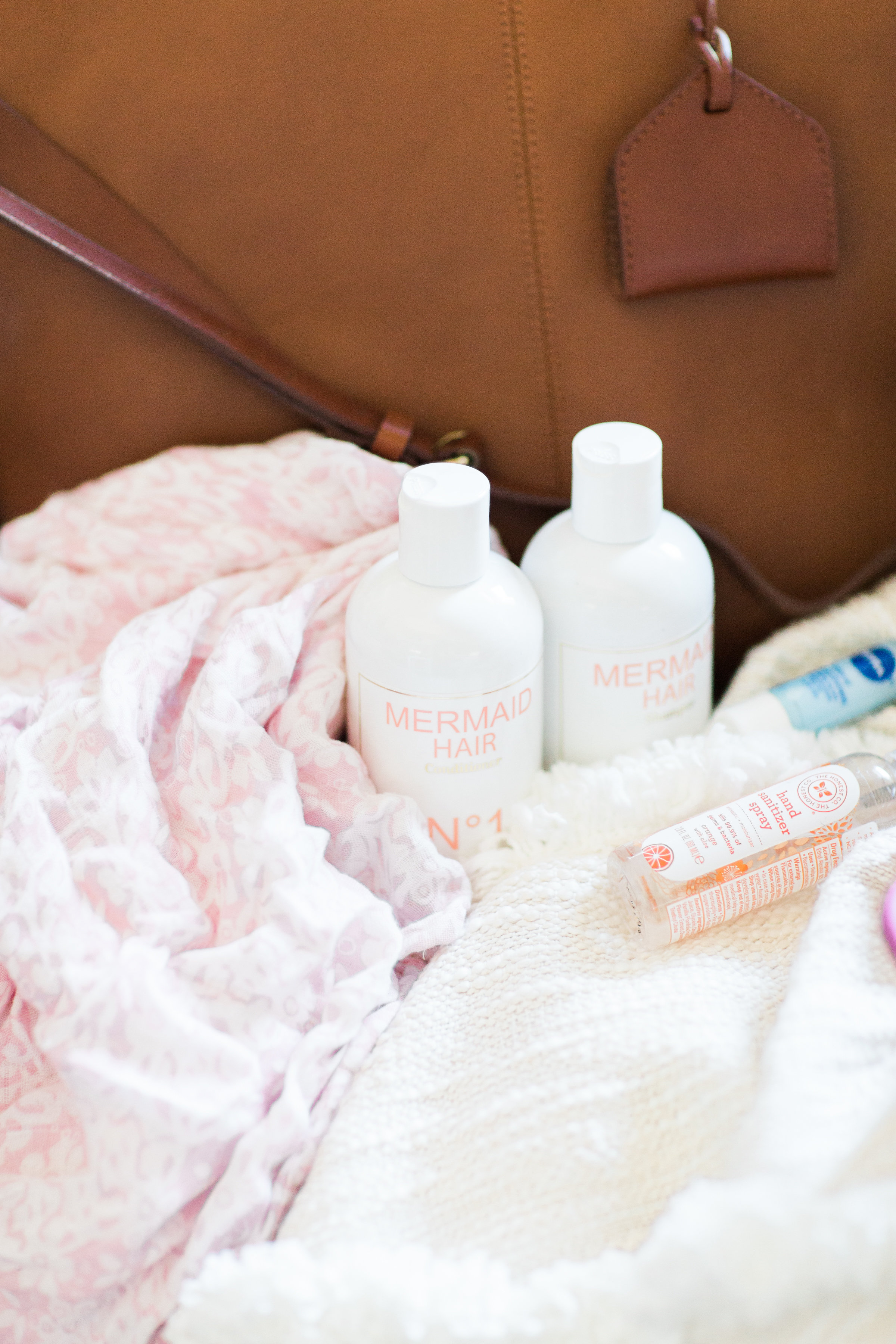 Your favorite shampoo and conditioner – Though your uncomfortable, and its a bit awkward, that first shower in the hospital is so gratifying. Having your favorite scented shampoo and conditioner – something that reminds you of home – will make you feel human again.
Face wipes – I went into labor with a mostly full face of makeup (not by choice, ha) – and after delivery and once we were settled in the hospital room – I was so happy to take off all of that sweat and makeup. Wipes make it easy to quickly wash your face in bed, especially when you can't muster the energy to trudge over to the bathroom just to wash your face. (Psst … your baby's wipes also totally work for this!)
You may also want to have a few easily accessible cosmetics like chapstick, face spray*, a hair brush, body spray, a small moisturizing lotion (hospital air is super dry), and hand-sanitizer – I just kept those in a small pouch by my bedside. My sister recommended this rosewater face spray and I'm officially hooked. It gives you a refreshing little boost and smells so good. A headband (these soft headband turbans are great and hide all hair sins) and a few soft hair ties also really came in handy. And, someone recommended that I try to stay on top of brushing my hair, because it will get tangled and matted sitting in a bed all day. Such good advice!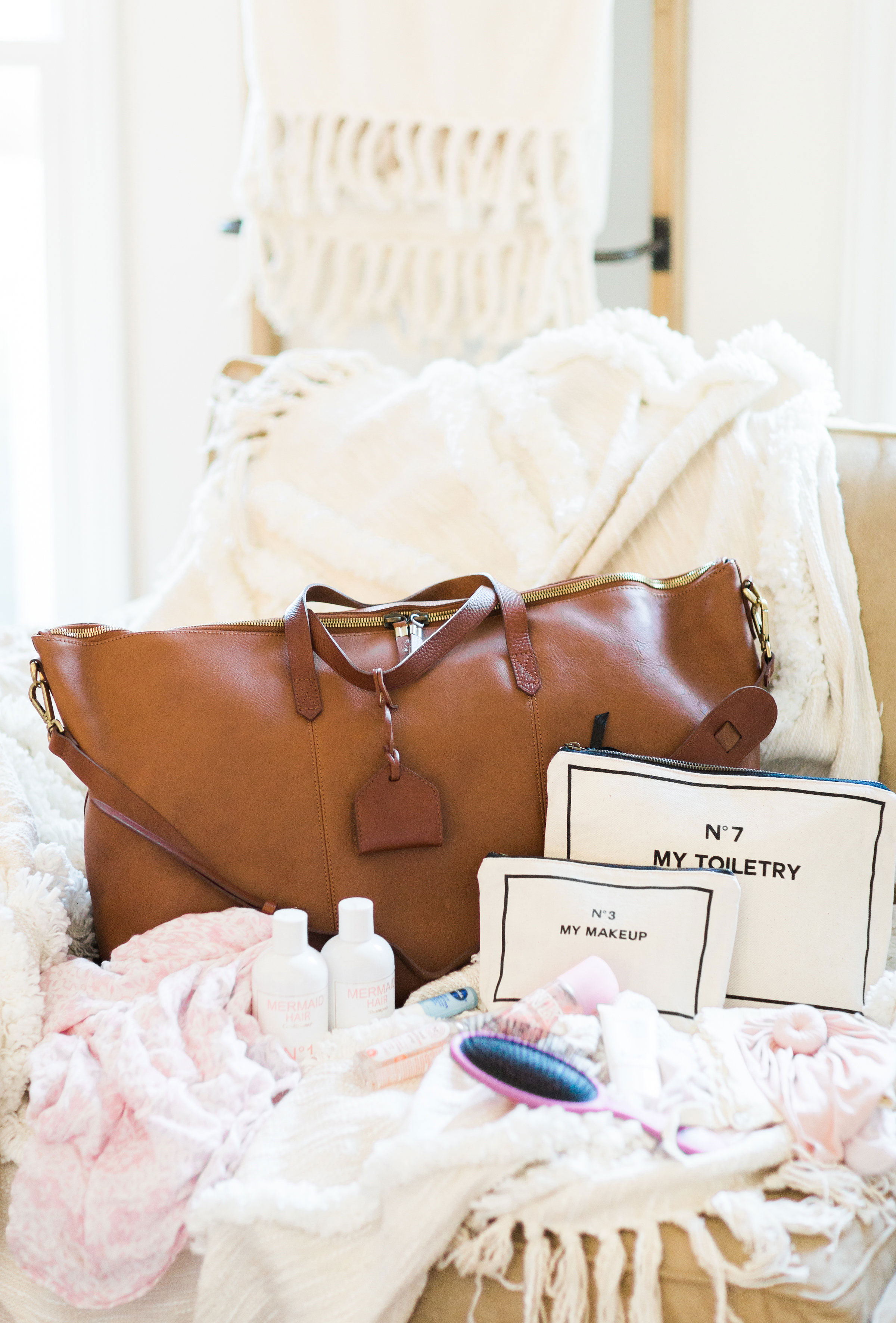 MISCELLANEOUS:
Snacks – Hospital food is just meh, so you might want to have a few snacks for you and your partner to nosh on when you get hungry. We didn't really need much because the hospital provided plenty of food and all of our family and friends brought SO much for us throughout our stay.
Entertainment – Bring a few new magazines, iPad and charger (pre-download shows/movies because hospital wifi can be spotty), phone and charger, E-reader (with a good new book already downloaded and ready to go), a pack of playing cards, etc.
Cell Phone and Charger, plus Extra-Long Charging Cords – I put the charger on the list, because who doesn't forget their cell phone charger? My advice? Order a cheap charger on Amazon, throw it in your hospital bag, and forget about it. The plugs will inevitably be behind your bed or across the room, so extra-long charging cords are a must.
Camera and camera charger – Make sure the batteries are charged, memory cards have plenty of space, and that you have all the accessories you need. (We recently got the Sony A6000 and it is a GREAT little mirrorless camera. This 50mm lens will give you that dreamy blurred background so that you can get your beautiful new baby right in focus.)
Headphones – In case you or your partner wants to sleep while the other is awake.
If you have other kids, pack a small gift for both them, and something they can give to the baby. A few weeks before we had Emme, we took Scarlett to Target "to pick something our for her sister." Once Emme was here, and on her first visit to the hospital, we handed her the gift to give to her baby sister and she was thrilled. We also gave Scarlett a gift from Emme – a LeapFrog My Own Leaptop – that she was able to use when she got bored on her visits to the hospital (and still to this day, calls "My present from my baby sister!")
Some people like to bring their own blankets and pillows (for both you and your partner), though be sure to put your pillow(s) in a colorful/recognizable case so that it doesn't get confused with the hospital pillows.
If you think you'll have the energy, you could bring a hair dryer, but I was mighty happy with a bun on top of my head throughout my stay.
A sound machine for your room, in case you're a light sleeper. (Hospitals are loud and something is always dinging or beeping.)
Boppy/Pregnancy Pillow – Although a hospital pillow, folded up under your arm will do, bringing a boppy-type pillow can certainly come in handy for that support when feeding your tiny newborn.
Nipple Cream – If you plan on breastfeeding, you may want to bring your own nipple cream; though they don't typically start to become chapped and dry until a few days in. Same goes for nursing pads, disposable or washable.
Baby Book – If you have a baby book, bring it! Tell your significant other to hand it to the nurses before labor/surgery so that when they take the baby's footprints they can add an extra set into your baby book. The nurses will be more than happy to do that for you!
Your cord blood banking kit, if you're banking your baby's cord blood. We did for both girls.
A Towel – Although I'm a pretty big believer in using what the hospital provides to avoid tons of overpacking, I wish I had brought a bath towel. The ones at the hospital were miniature and scratchy, and after that first much-needed shower, it would have been nice to have a REAL towel. Be sure to bring a colorful or easily memorable bath towel, so that you don't miss it when packing your things to go home at the end of your stay.
Laundry Bag – To keep dirty hospital clothes separate from things you haven't yet worn and any baby stuff.
PRO TIPS:
Take home the "freebies" you've already paid for like diapers, wipes and blankets. (Stash them every chance you get and ask for more). The receiving blankets make great changing pad toppers or burp cloths.
Speaking of freebies, collect as many of those mesh panties as you can get your hands on. Once you run out, Depend Silhouettes are said to be a lifesaver and I'm kicking myself for not using those this time around. The hospital pad/mesh panty combo can get bulky and awkward, and you'll get tired of creating the fashioned "diaper" a few weeks in.
Also, ask for plenty of the medicated cooling pads (Tucks), cooling spray (dermoplast), even the bucket/basin to hold it all; whatever they'll give you, take!
Once my hospital stash of cooling spray ran out, I bought this New Mama Bottom Spray and I really liked it.
Again, don't be shy – ask for whatever you need. It wasn't until my third morning in that I realized they had "ice" pack pads,  donut pillows, even a girdle/belly wrap that you could have and take home. The belly wrap they provide is basically a hospital grade version of the Belly Bandit, so if you don't want to spend the money on a fancier belly wrap, and don't mind the sterile white wrap the hospitals give you, snag yourself a free one. I also used that hospital donut pillow for WEEKS at home, and was so glad I asked.
If you are planning on nursing for the first time, bring your pump to the hospital (or have someone bring it for you before you check out) and the lactation consultants will show you the best way to use it and will answer any questions you might have.
You're essentially living out of a bag for several days … I've heard great things about these packing cubes. This might be the perfect solution for staying organized and living out of a hospital bag for a few days.
Before the big day, make a list of people to call/text – a.k.a., a list of people for your partner to call/text. Make it a short list, and have your partner handle it once baby is here. Word will spread fast enough – especially if you or your partner share the big news on social media; just be sure you check off the important people on your list before posting publicly.
You may also want to enlist your partner or a family member to grab some baked goods (muffins, donuts, etc.) to bring to the nurses and doctors during your stay. They do SO much for you while you're there, and it's a sweet and simple way to thank them.
While at the hospital, have someone come clean your home. It will be SO NICE to come home to a clean home, freshly washed sheets, no dishes in the sink, etc.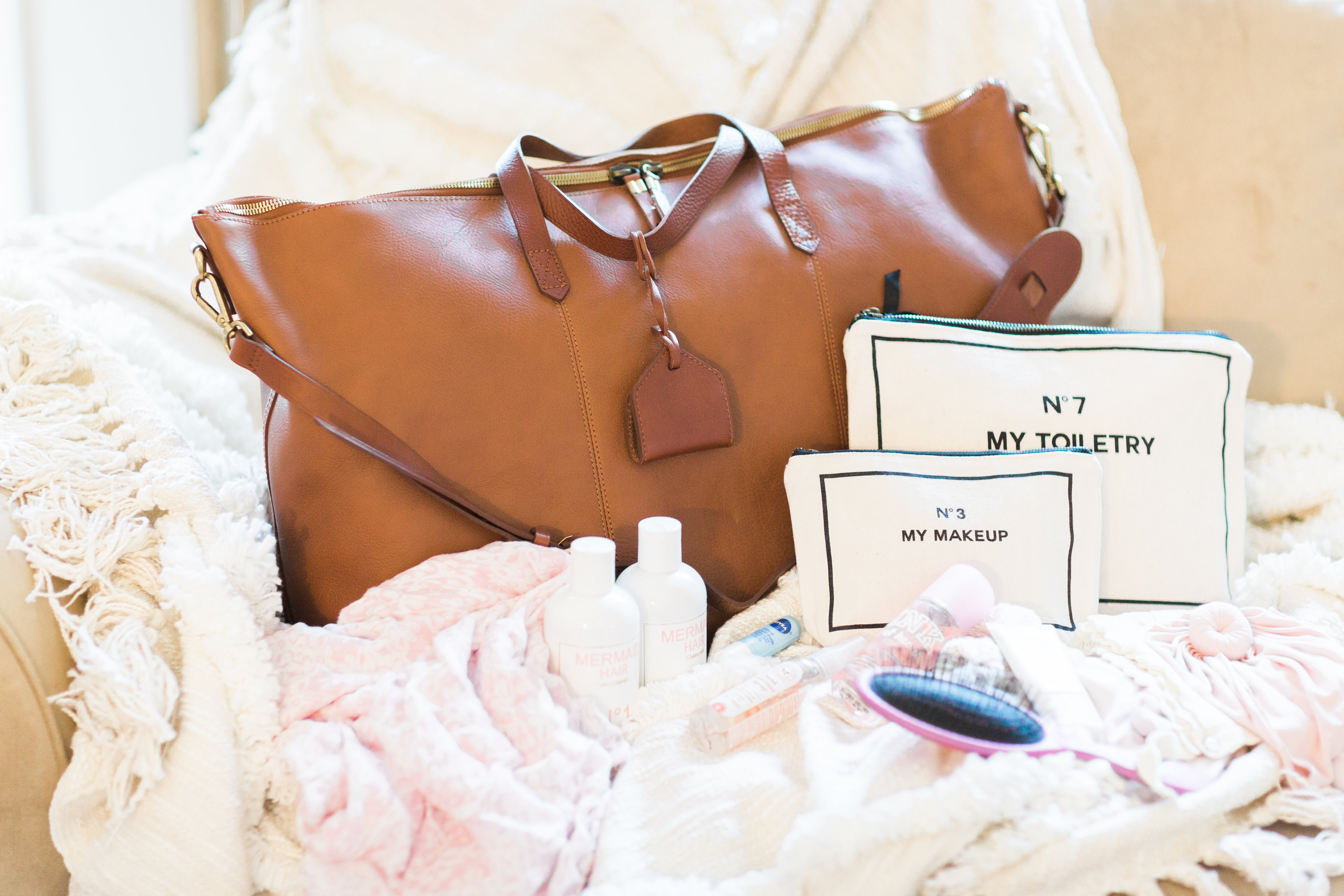 Whew! I think that's all of it. If there's anything else you loved having at the hospital for the birth of your baby/babies, send them my way!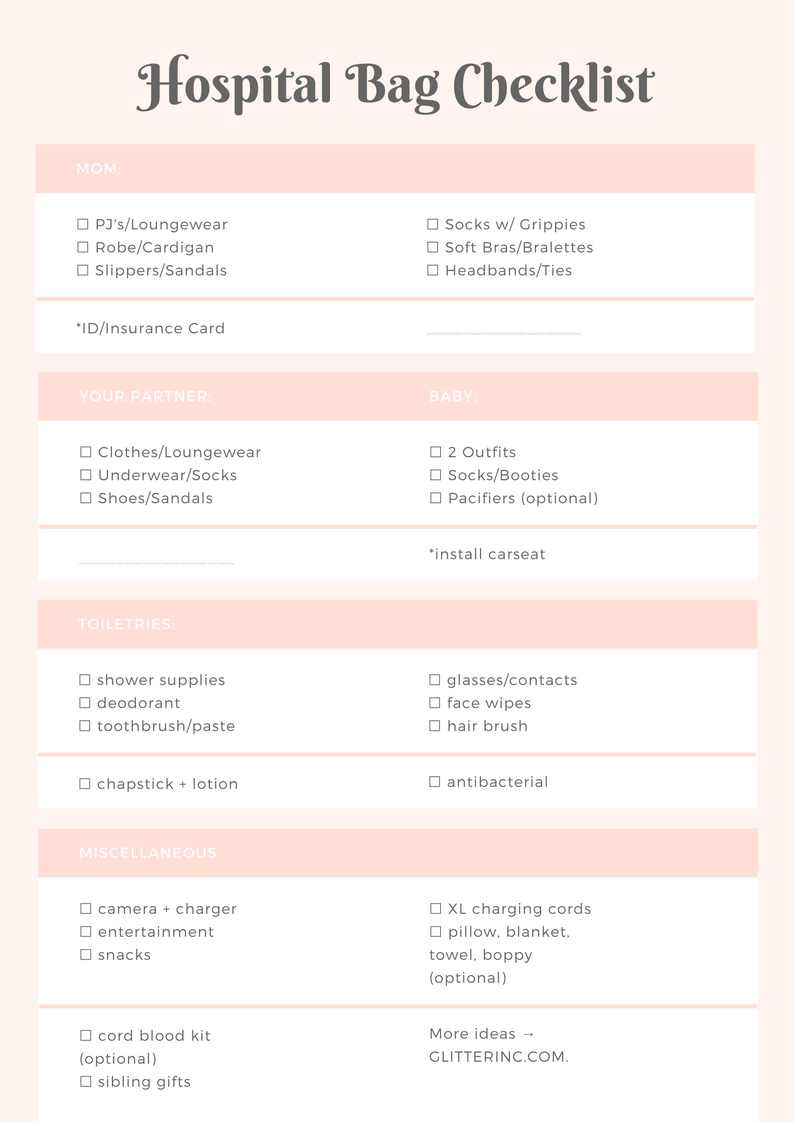 Click here to download the → FREE Printable Essential Hospital Bag Checklist.
HOSPITAL BAG ESSENTIALS FOR MOM | CLICK LEFT & RIGHT ARROWS TO EXPLORE

HOSPITAL BAG ESSENTIALS FOR BABY | CLICK LEFT & RIGHT ARROWS TO EXPLORE

Are there other baby related questions you have burning questions about? Let me know, and I'll put together a post! And, if you loved this hospital bag checklist, you can see more of our life with two little ones here.
Photo by Annie Watts Photography for Glitter, Inc.
This hospital bag essentials post contains affiliate links, which means that if you click on one of the product links, I'll receive a small commission. Thank you so much for clicking through and helping to support this little blog business of mine! Read more about our site, privacy, and disclosure policies here.