This post contains affiliate links, which means that if you click on one of the product links, I'll receive a small commission. Thank you so much for clicking through and helping to support this little blog business of mine! Read more about our site, privacy, and disclosure policies here.
On the search for a healthier on-the-go breakfast or snack? With a few tweaks, we've created the perfect healthy muffin! Fluffy roasted sweet potato muffins made with almond flour (i.e., gluten-free), greek yogurt (or coconut yogurt to keep it dairy-free!), plus a handful of chocolate chips, and you'll be amazed at what a healthy muffin can taste like. 
When I first stumbled upon these sweet potato chocolate chip muffins, I LOVED the idea of combining sweet potato and chocolate. For the record: the combination of roasted sweet potato and rich chocolate is heavenly. Who knew!?
Like most recipes in our house, I found myself tweaking things to meet everyone's needs. Scarlett, our three year-old, has a milk protein allergy, so dairy is out. The original recipe for these sweet potato chocolate chip muffins calls for greek yogurt, but I found that coconut milk yogurt was an easy substitute. I also used our favorite Enjoy Life chocolate chips to stay dairy-free. We're kind of obsessed. We've also been cutting carbs as of late, so I kicked the whole wheat pastry flour to the curb, and used almond flour instead. Admittedly, using a pastry flour is going to give you a lighter, fluffier muffin, but I was pleasantly surprised with how GOOD this muffin tasted with just almond flour. The roasted sweet potatoes keep the muffins incredibly moist, and all of that natural sugar makes it taste like you're eating something really delicious, while still being seriously healthy. And yes, using almond flour instead of pastry flour WILL taste healthier, so feel free to skip the almond flour if you're not trying to keep the carbs down. We've tried them both ways, and both are tasty and awesome.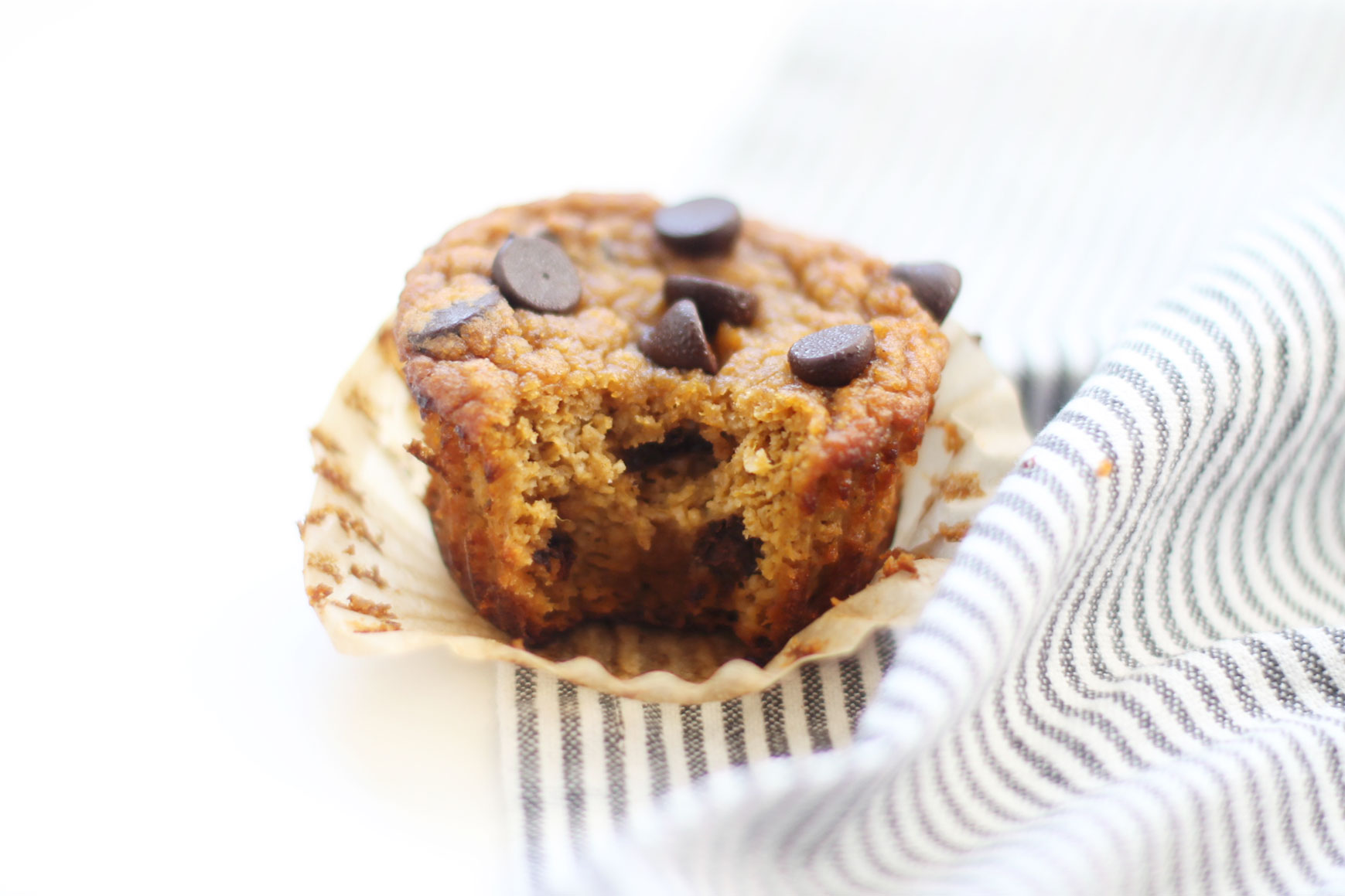 Basically, with a few tweaks, these flavor-packed healthy sweet potato chocolate chip muffins are gluten-free, dairy-free, nut-free and soy-free, vegan and paleo. And before you get scared off by all of those "diet" words, I am in no way a "healthy" eater. Baking is my love language. But these healthy little muffins pack a lot of flavor, and taste great. And I mean, if you can eat muffins for breakfast and dessert, and still count them as relatively healthy, why wouldn't you want to give them a go?! Which is exactly why I'm sharing them!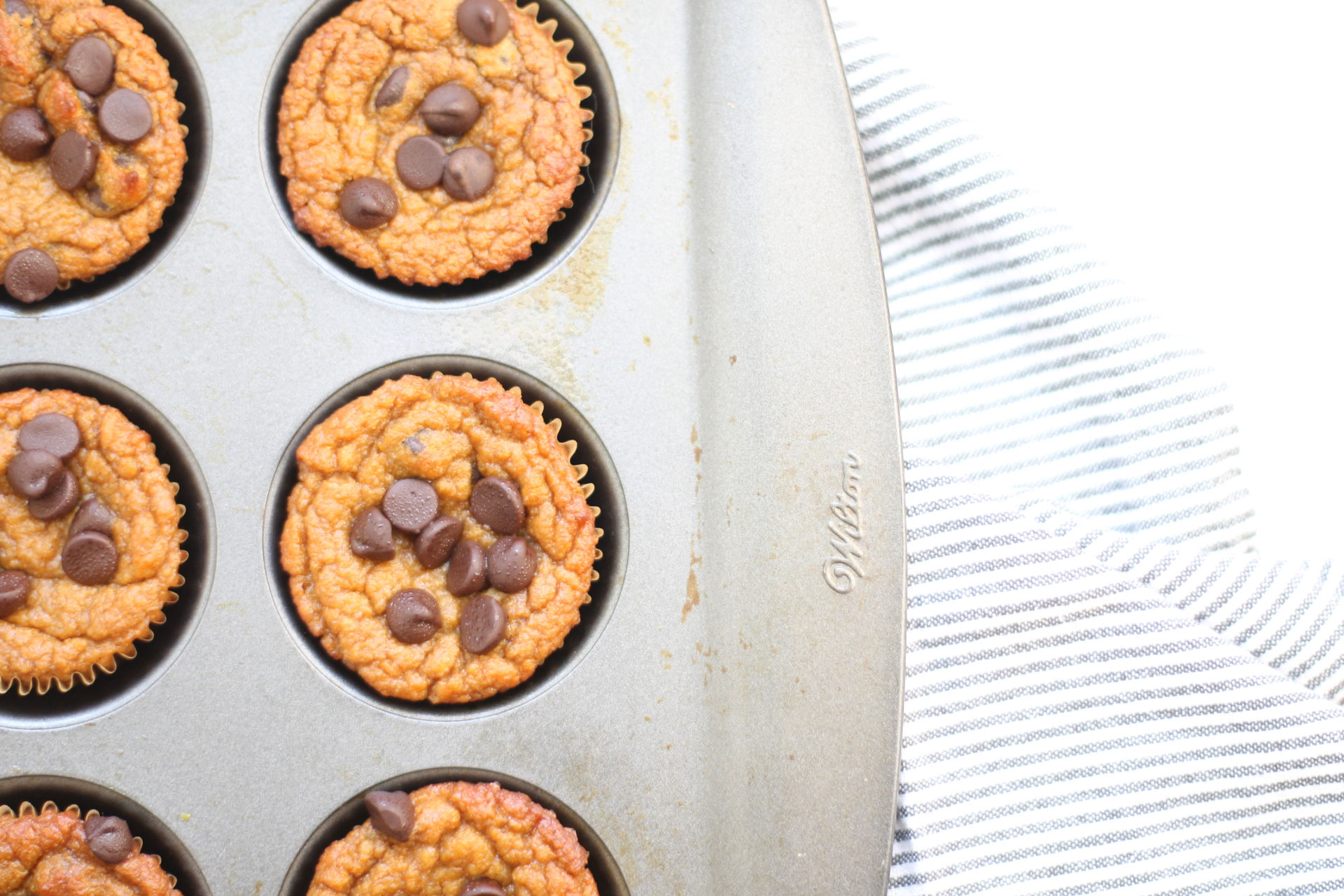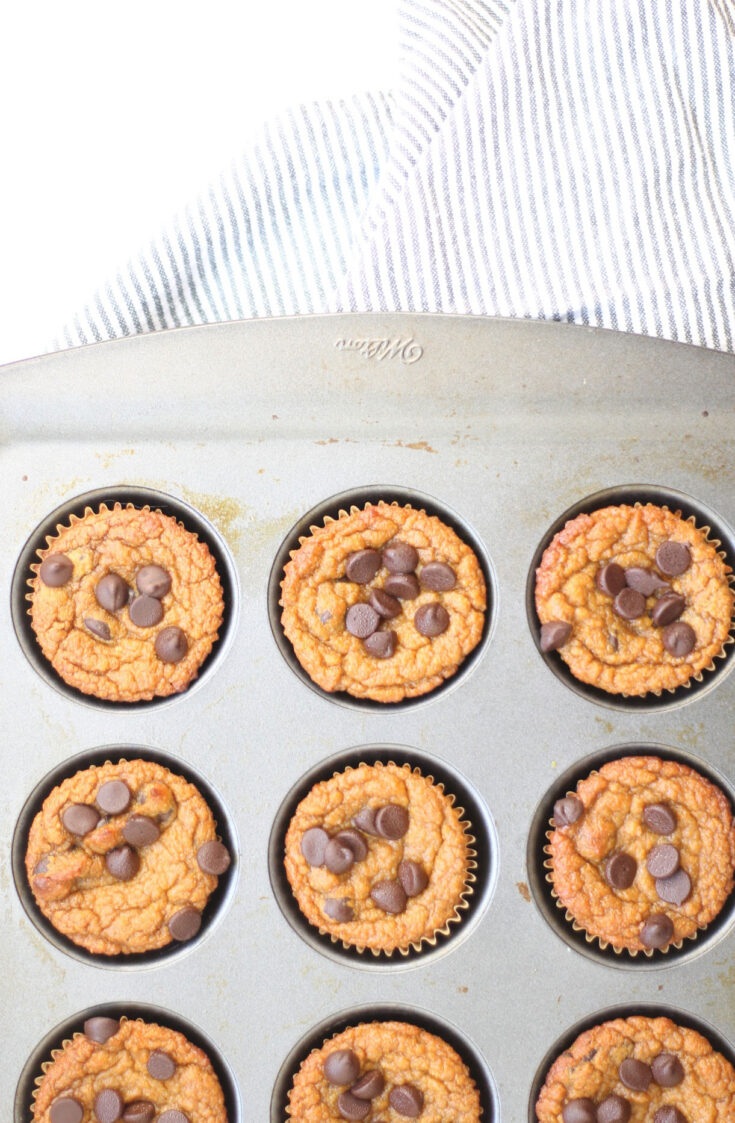 Yield:

12-14 muffins
Gluten-Free Sweet Potato Chocolate Chip Muffins
Ingredients
WET INGREDIENTS
1 ½ cups mashed sweet potato (from 2-3 large sweet potatoes)
2 eggs
¼ cup pure maple syrup
2 tablespoons avocado oil, olive oil or melted coconut oil (butter will also work!)
1 teaspoon vanilla extract
½ cup nonfat plain Greek yogurt or nonfat coconut milk yogurt (for dairy-free muffins)
1/2 cup unsweetened vanilla almond milk (or lite coconut milk)
DRY INGREDIENTS
1 ½ cups almond flour (if you don't care about making these gluten-free, whole wheat pastry flour produces a really fluffy muffin)
1 teaspoon cinnamon
1 teaspoon baking soda
¼ teaspoon salt
½ cup dark chocolate chips + about 2 tablespoons dark chocolate chips to sprinkle on top
Instructions
To roast the sweet potatoes: Preheat oven to 375 degrees F. Run your sweet potatoes quickly under water (skin on), and then wrap them in foil. Place each foil-wrapped sweet potato on a baking sheet. Roast in the oven for 45 minutes to 1 hour or until tender, depending on the size of your potatoes. Allow to cool for 10-20 minutes, then remove skin (it should peel off easily), and mash out exactly 1 ½ cups of the sweet potato. Do not use more than that.
Reduce heat in oven to 350 degrees F. Line a 12 cup muffin tin with liners and spray the inside of them with nonstick cooking spray. The cooking spray is a must.
In a medium bowl, whisk together flour, cinnamon, baking soda and salt.
In a separate large bowl mix together mashed sweet potato, eggs, maple syrup, oil, vanilla, yogurt, and almond milk until well combined, smooth and creamy. Add wet ingredients to dry ingredients and mix until just combined. Gently fold in ½ cup chocolate chips.
Divide batter evenly into muffin liners, top each with a few chocolate chips, and bake for 25 minutes or until toothpick comes out clean (or with just a few crumbs attached.) Cool muffins for 5 minutes, then remove and transfer to a wire rack to finish cooling. Muffins are best served warm and even better the next day.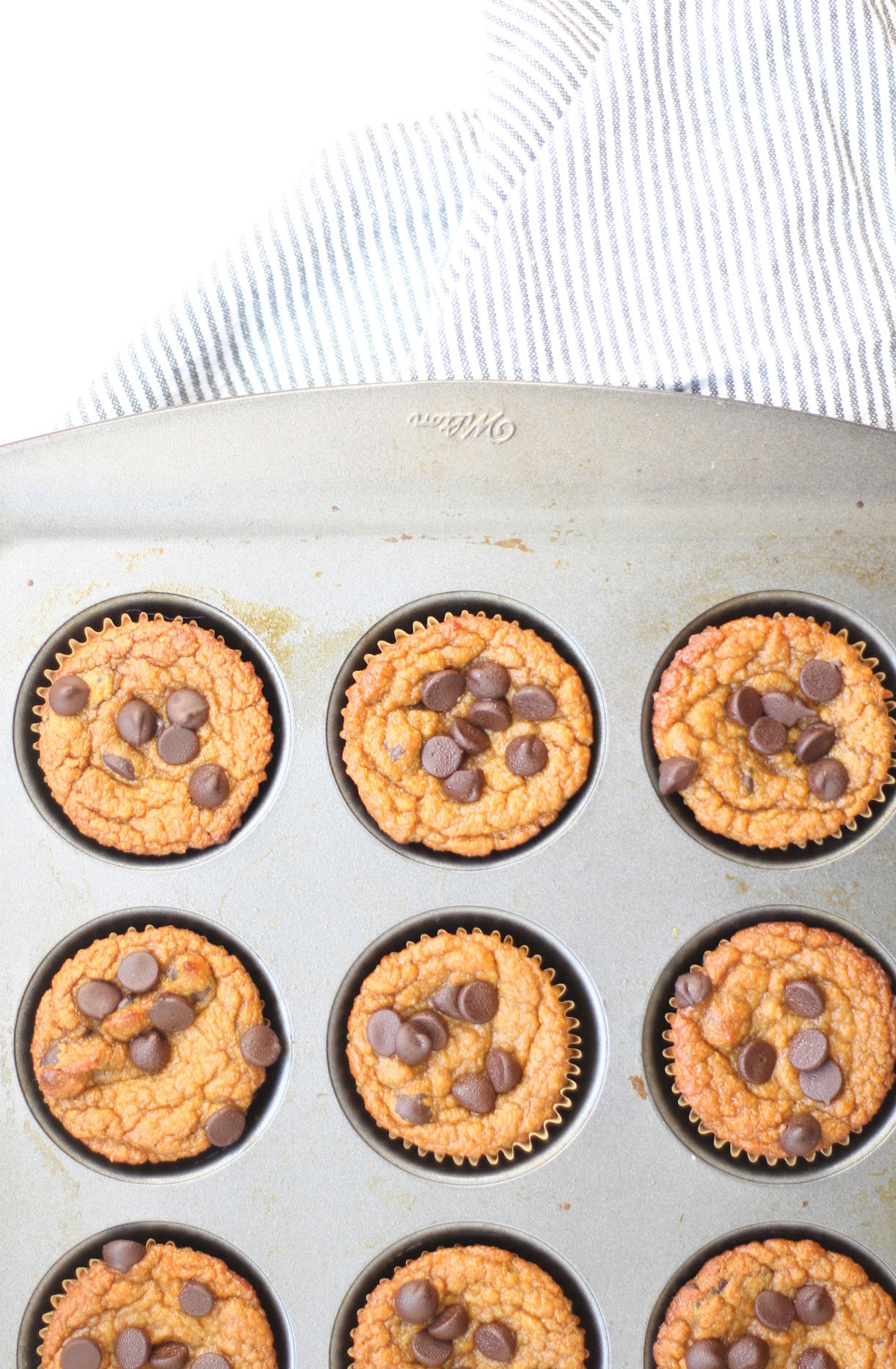 The key to these muffins is roasting the sweet potatoes first. I like to make sweet potatoes for dinner the night before and pop a few extra in the oven so that I have the roasted sweet potatoes on hand waiting in my refrigerator when I'm ready to make a batch of these sweet potato chocolate chip muffins. (Just roast your sweet potatoes in foil, throw 2-3, still wrapped to retain all of that moisture, into a large ziploc bag, and toss the bag in your refrigerator until you're ready to use them the next day.)
Roasting the sweet potatoes is what really brings out their natural sugar and gives your healthy muffin that caramelized, sweet flavor. SO yummy.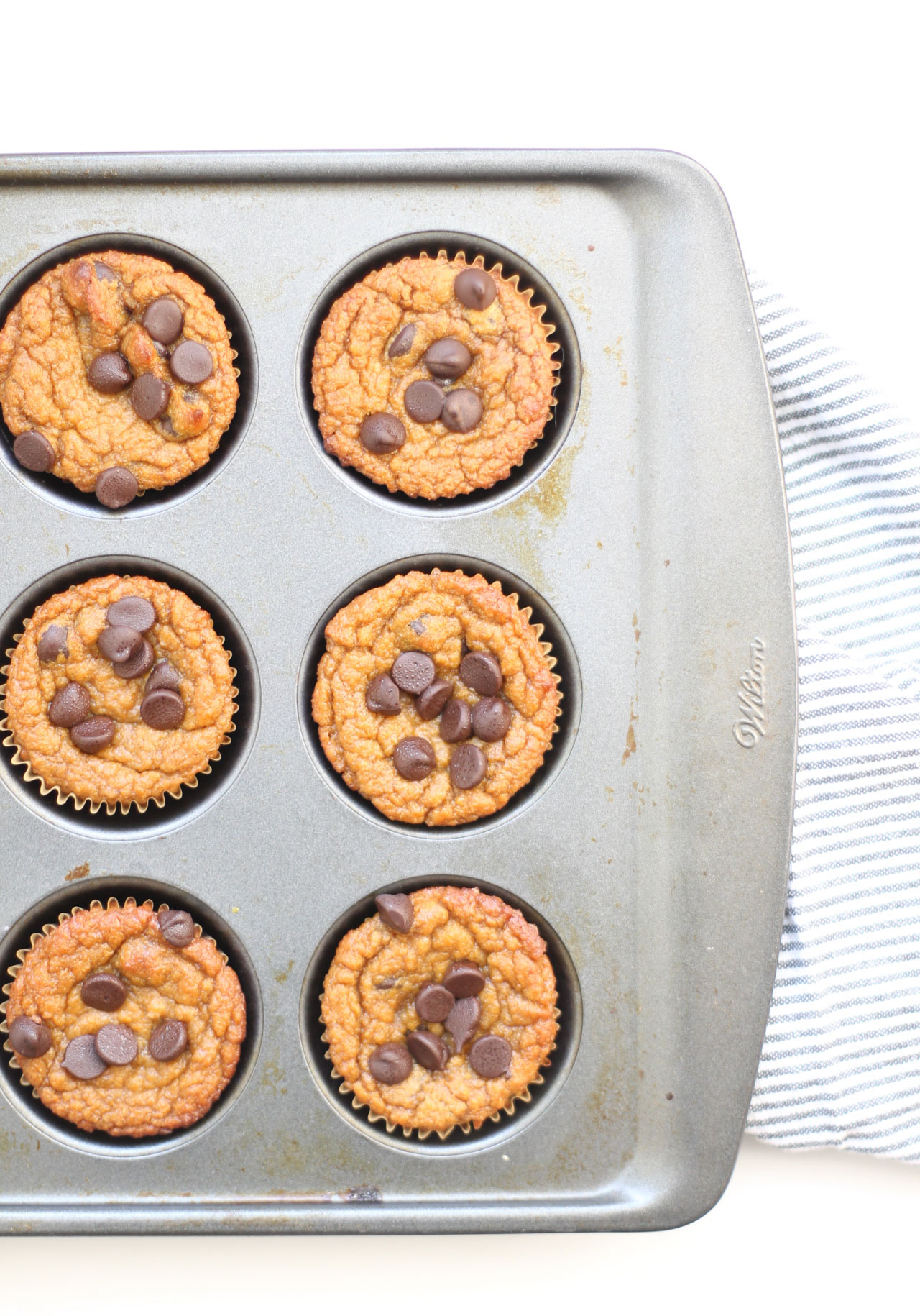 I LOVE eating these muffins cold, straight out of the refrigerator in the mornings for a quick on-the-go breakfast. (Thus the condensation on the chocolate chips in the photos.) Of course, like most muffins, they taste incredible warm out of the oven, but they are surprisingly great cold as well.
I'm ALL about convenience, especially when trying to eat healthier.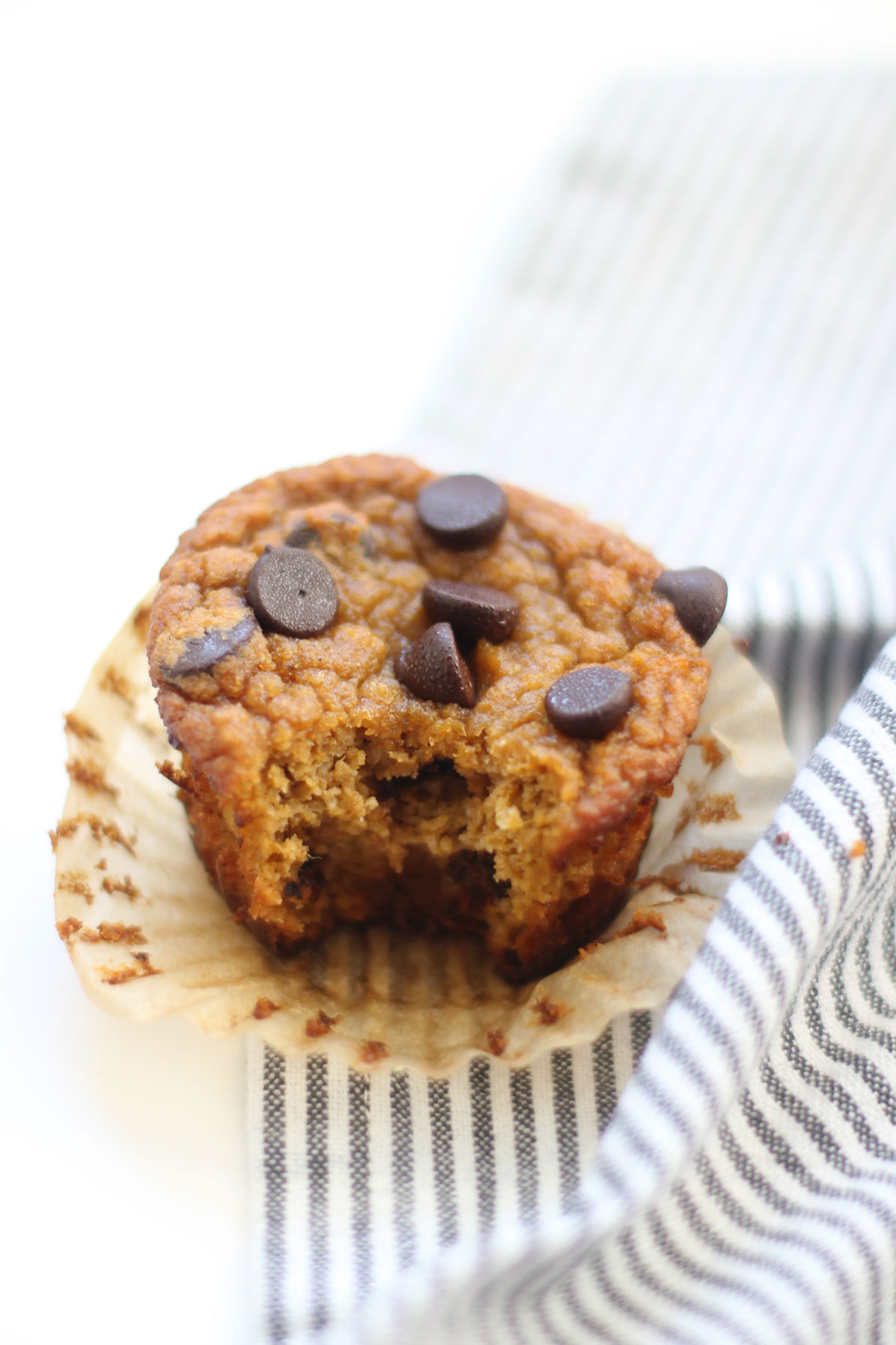 Let me know what you think! If you make your own healthy sweet potato chocolate chip muffins, be sure to comment below or tag me on social media (@GLITTERINCLEXI) so I can hear about how much you liked your new go-to snack/dessert/breakfast!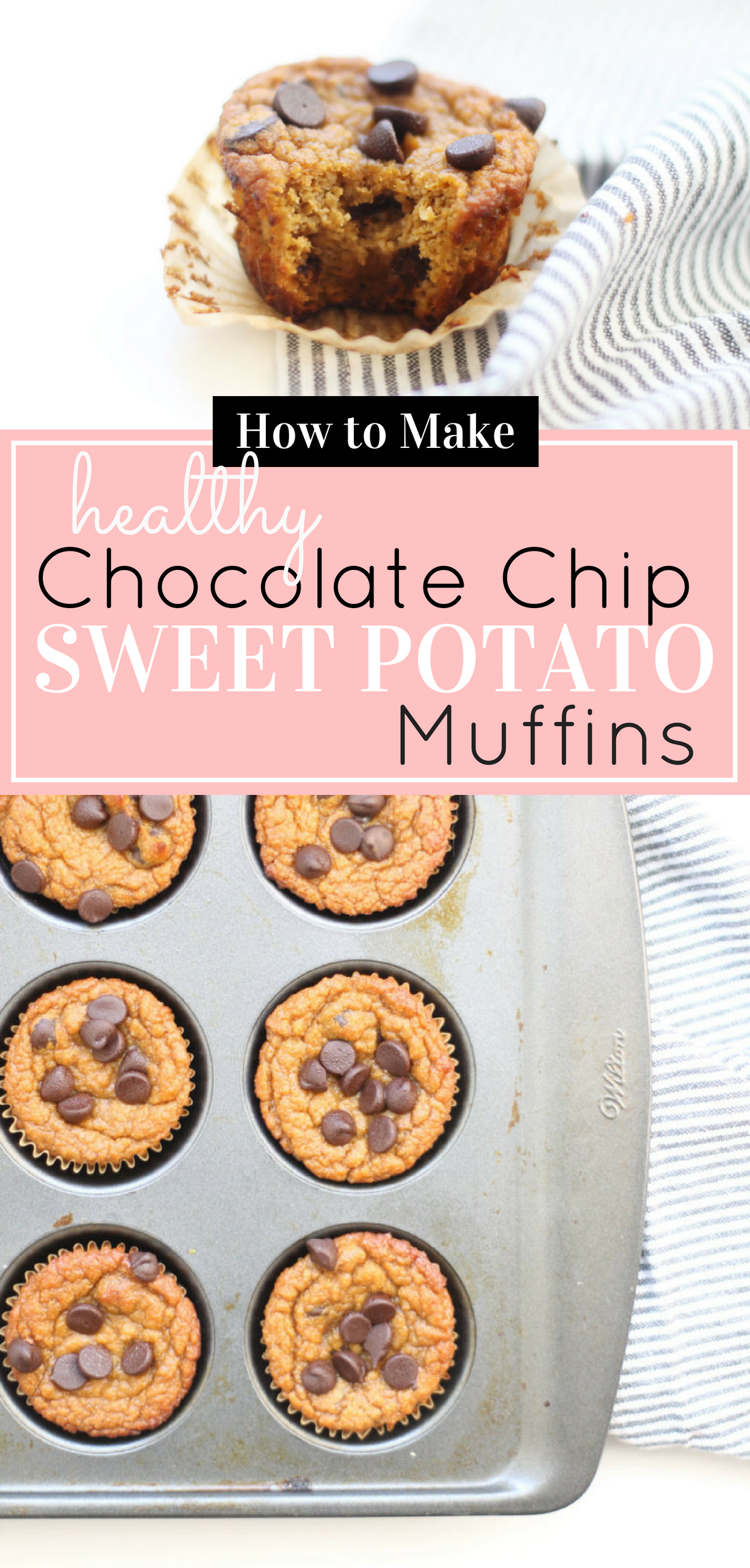 SHOP THE HEALTHY SWEET POTATO CHOCOLATE CHIP MUFFINS RECIPE POST | CLICK LEFT & RIGHT ARROWS TO EXPLORE

LOVE THESE GLUTEN-FREE SWEET POTATO CHOCOLATE CHIP MUFFINS? HEAD TO OUR RECIPE PAGE TO CHECK OUT WHAT ELSE WE'RE WHIPPING UP IN THE KITCHEN!