This post contains affiliate links, which means that if you click on one of the product links, I'll receive a small commission. Thank you so much for clicking through and helping to support this little blog business of mine! Read more about our site, privacy, and disclosure policies here.
These spooky Halloween ghost brownies are delicious and adorable and so easy to make. Throw together these ghost brownies for your next Halloween party and watch as kids and grownups alike clamor for another haunted brownie!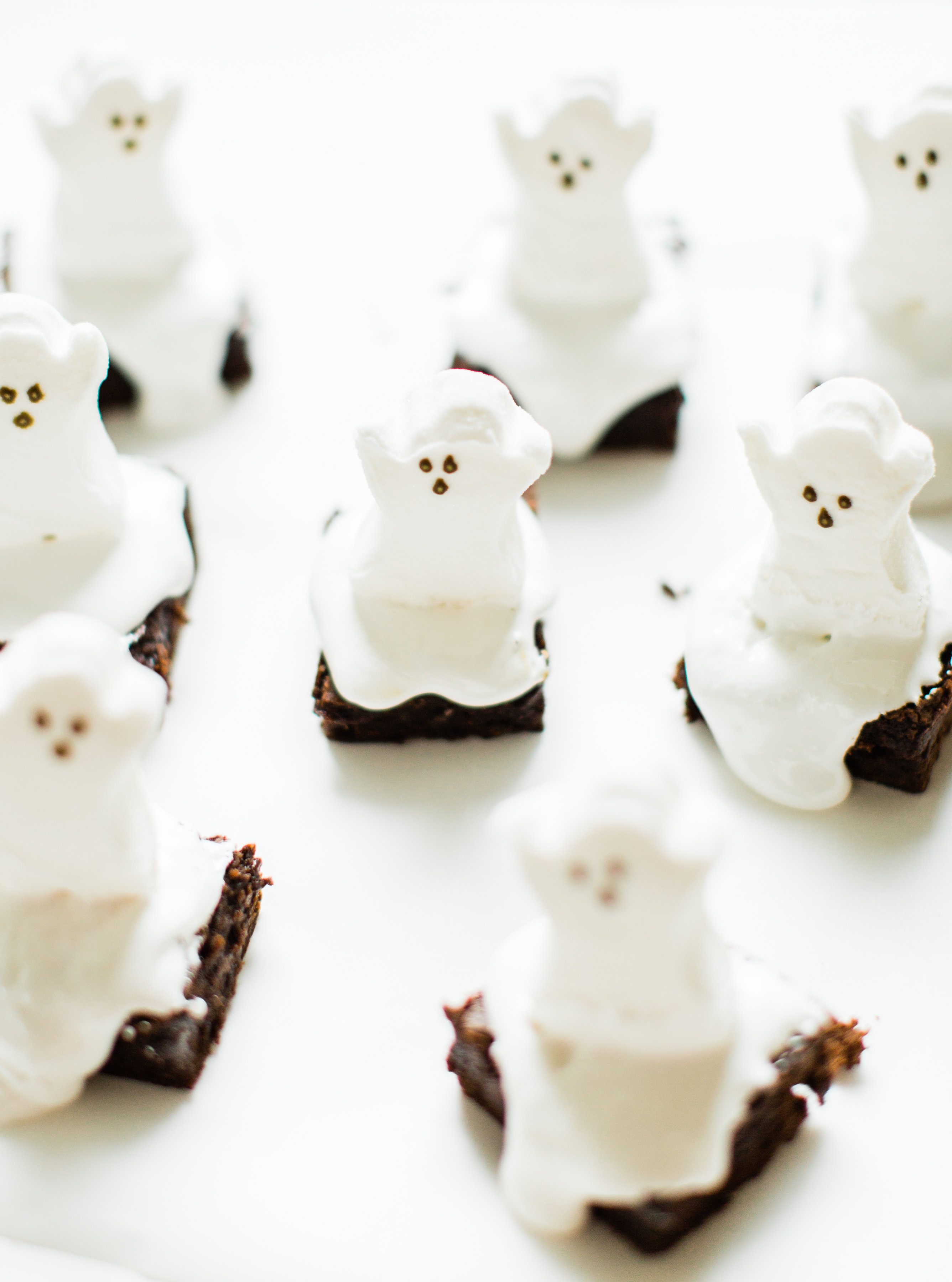 Happy October! I'm kicking off the first of one of my all-time favorite months with an all new (and super simple) Halloween dessert recipe. Say hello to the world's cutest easy spooky ghost brownies, perfect for your next Halloween party!
Not only are these spooky ghost brownies simple to create, you can get your whole family in on the fun. Scarlett loves decorating these brownies (and giving all of her ghosts names!) 😂
For our spooky ghost brownies we used a favorite homemade brownie recipe (that also happens to be dairy free!), but one of the best parts of these easy ghost brownies is that you can keep things even easier by using a boxed brownie mix if you're so inclined. Then, top your chewy brownie squares with a thick dollop of marshmallow fluff and a ghost PEEP, and voilà: you've got yourself the cutest … errrr … I mean, spookiest ghost brownies on the block. (Just be sure to read on for the trick to keeping your ghosts standing nice and upright! A bit of trial and error went into the making of the perfect spooky ghost brownie.)
These spooky ghost brownies are ideal for bringing to or making for a Halloween party because they are just so easy to make and really have that WOW factor. We actually brought this batch over to a friend's house and everyone couldn't wait to dig into the adorably spooky haunted brownies from the moment we arrived. Not to mention: they taste AMAZING. What's not to love about chewy, fudgy brownies topped with sticky sweet marshmallows? I call that a crowd-pleaser!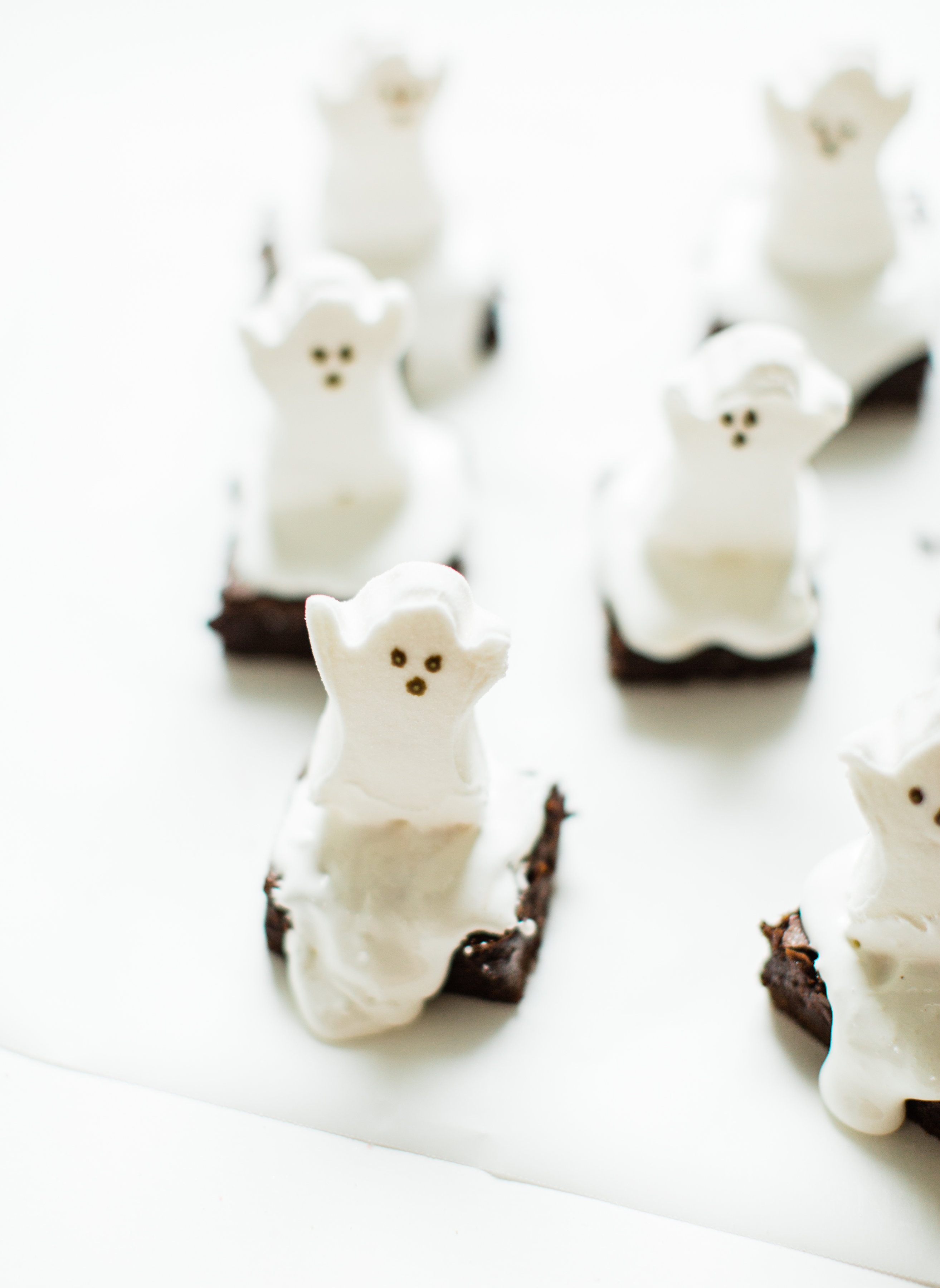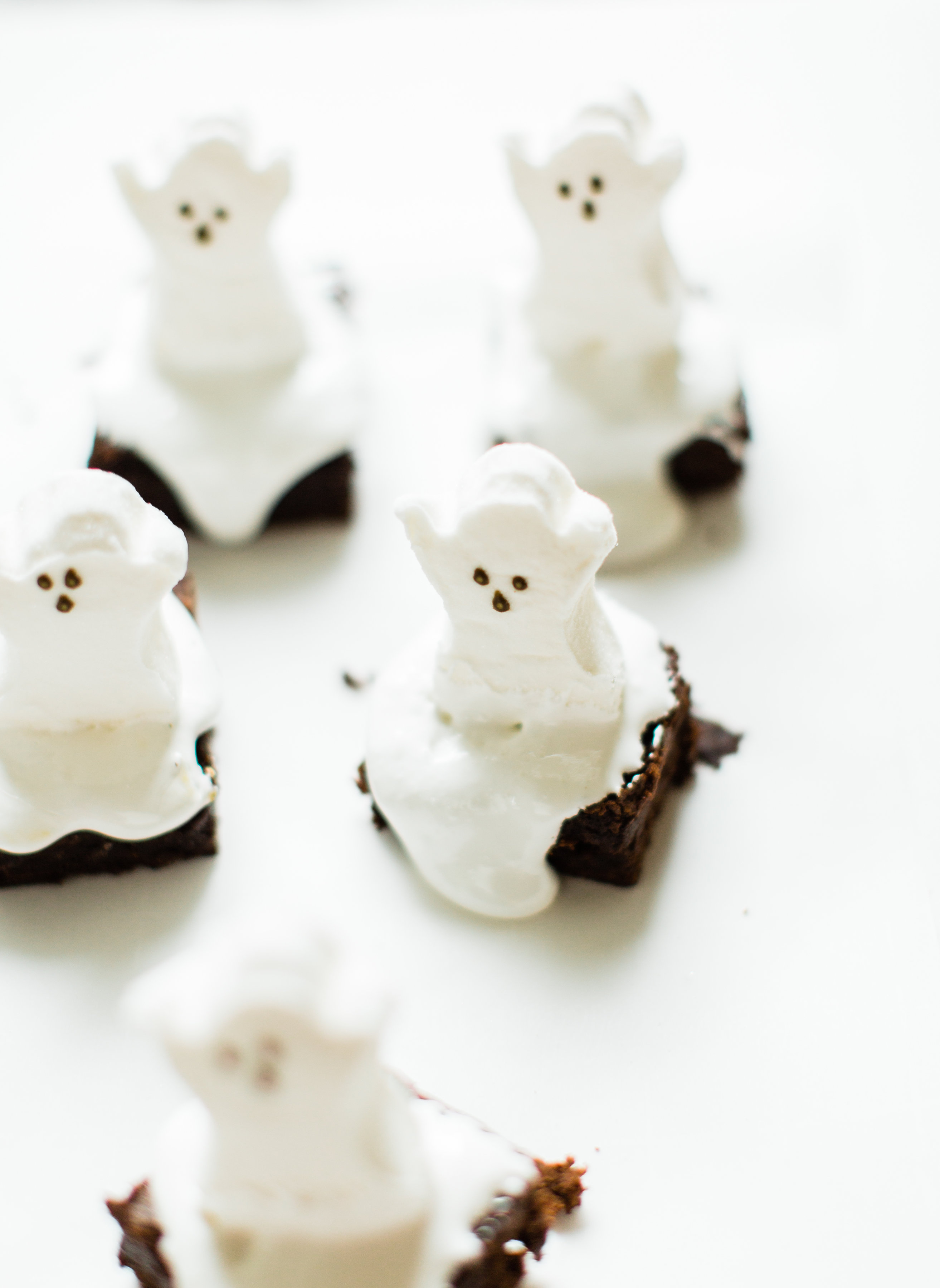 How to Make Easy Spooky Ghost Brownies for Halloween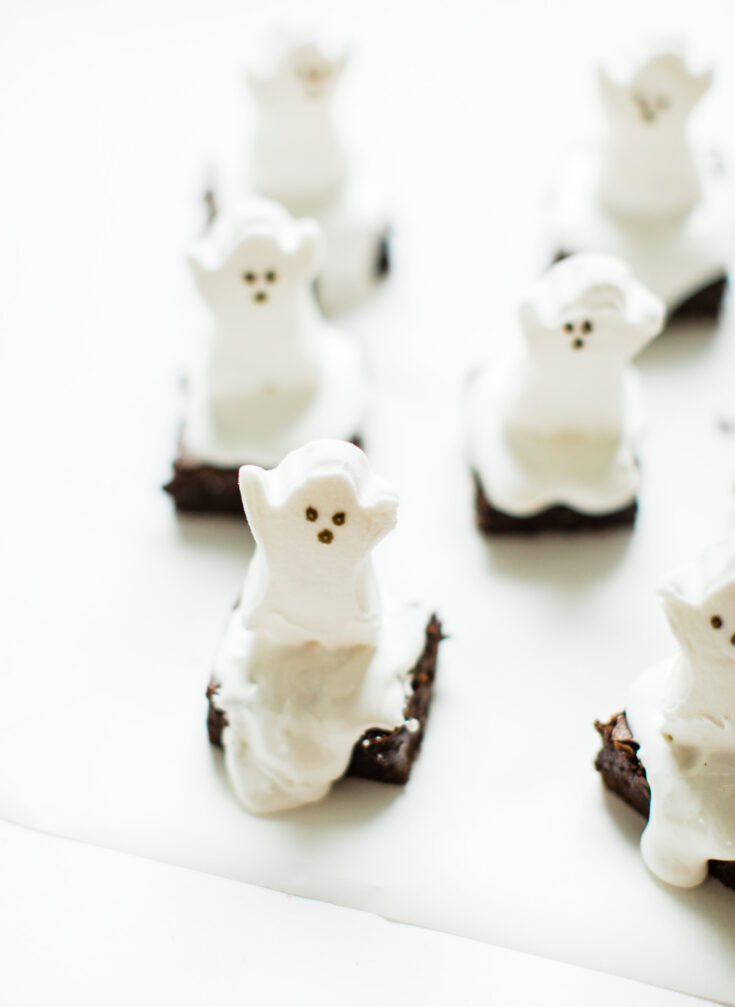 Yield:
Easy Spooky Ghost Brownies
Ingredients
one batch of brownies, cut into squares, allow to cool completely (either boxed mix or homemade*)
9 marshmallow Ghost PEEPS
toothpicks
Instructions
Once you've baked your brownies, allow to cool completely and then cut into even squares. We used 9 brownies.
Using a butter knife or small spatula, gently spread one large dollop of marshmallow fluff on the top of each brownie. Don't do too much spreading as the fluff will settle and drip all on it's own.
Next, gently insert a toothpick under the bottom of each ghost PEEP and then use the other end of the toothpick to prop each ghost on top of each brownie square.
Serve immediately or refrigerate before serving to stop the fluff from "melting" completely. Enjoy!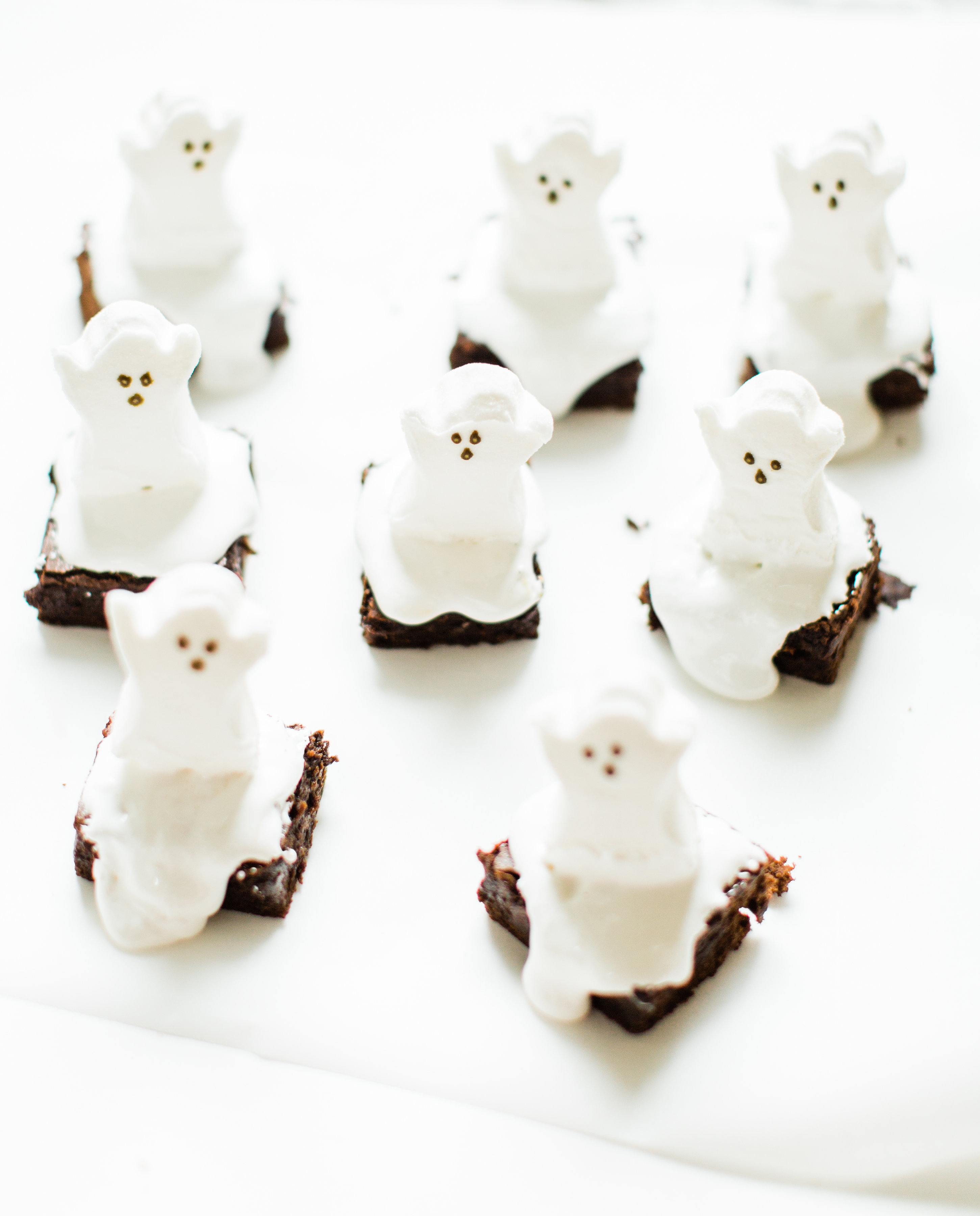 Now let's get to that brownie recipe!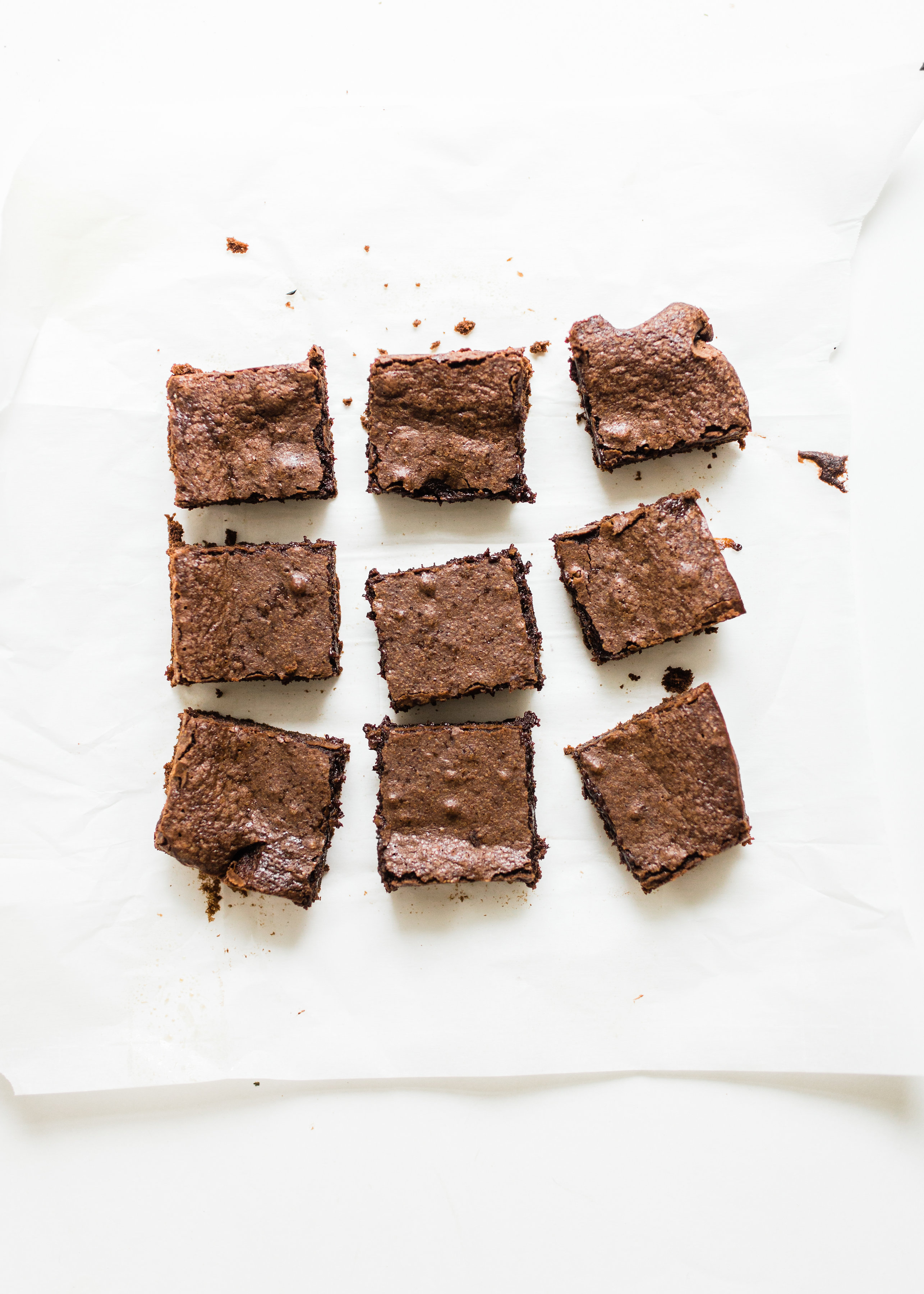 Quick and Easy Chewy, Fudgy Brownies
This is our go-to homemade brownie recipe. These quick and easy brownies taste just as good as a box mix brownie (if not better!), but are made from scratch and simple to throw together. These brownies are so fudgy, chewy, super moist and delicious, with just the perfect amount of sweetness; and did I mention they're dairy-free? The best.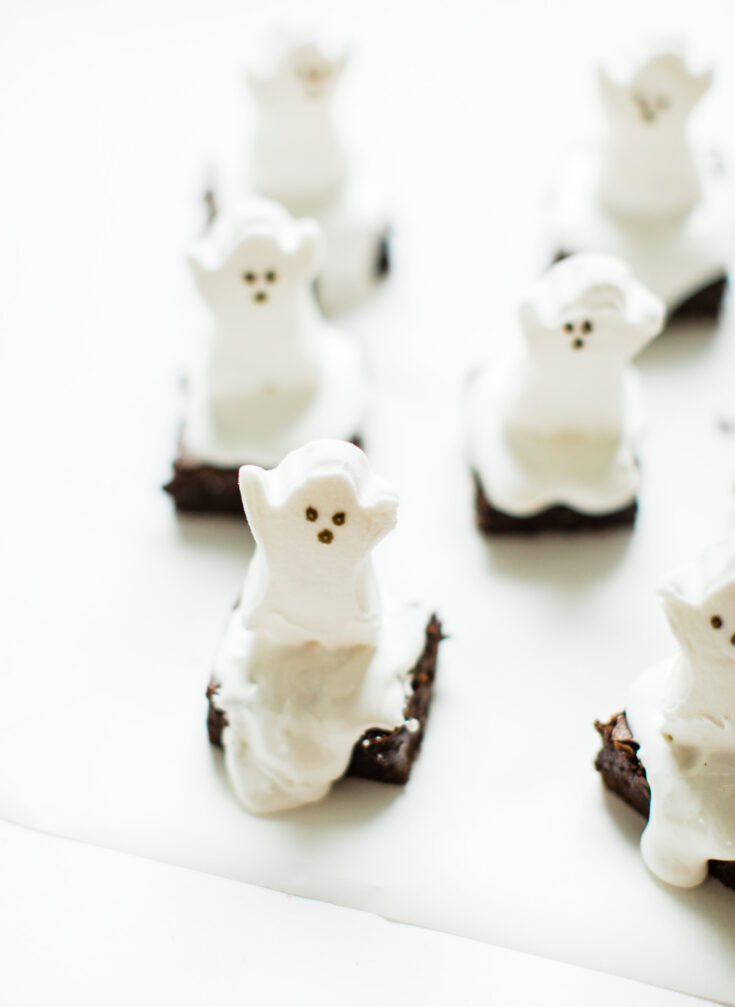 Yield:

9-12 brownies
Delicious Fudgy Brownies
Ingredients
3/4 cup vegetable oil
1 1/2 cups sugar
1 1/2 tsp vanilla extract
3 eggs
3/4 cup flour
1/3 cup + 2 1/2 tbsp cocoa powder
1/4 tsp + 1/8 tsp baking powder
1/4 tsp salt
Instructions
Preheat your oven to 350 degrees. Grease a 9×9 square baking pan, or line it with parchment paper.
Mix together the oil, sugar and vanilla extract in a stand mixer.
Add eggs one at a time, and mix until well combined.
In a separate bowl, combine flour, cocoa, baking powder and salt.
Slowly add your dry mixture to the egg mixture in your stand mixer until well combined.
Pour the batter into the pan and spread evenly.
Bake for 25-30 minutes, or until a toothpick comes out with a few crumbs (rather than a wet batter.)
Allow to cool before cutting and serving.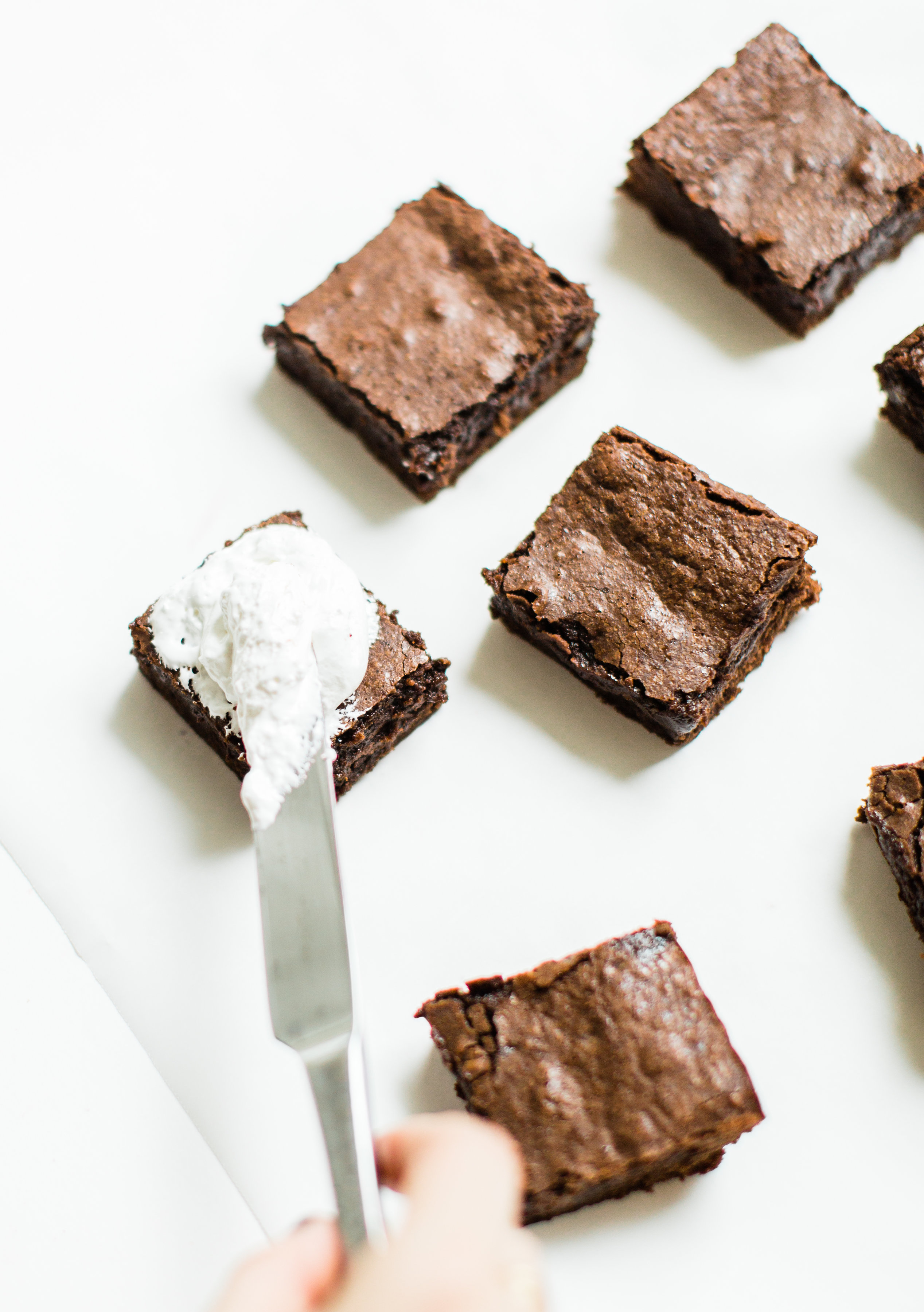 Be sure to let your brownies cool completely before decorating or else you'll have a runny, crumbly mess.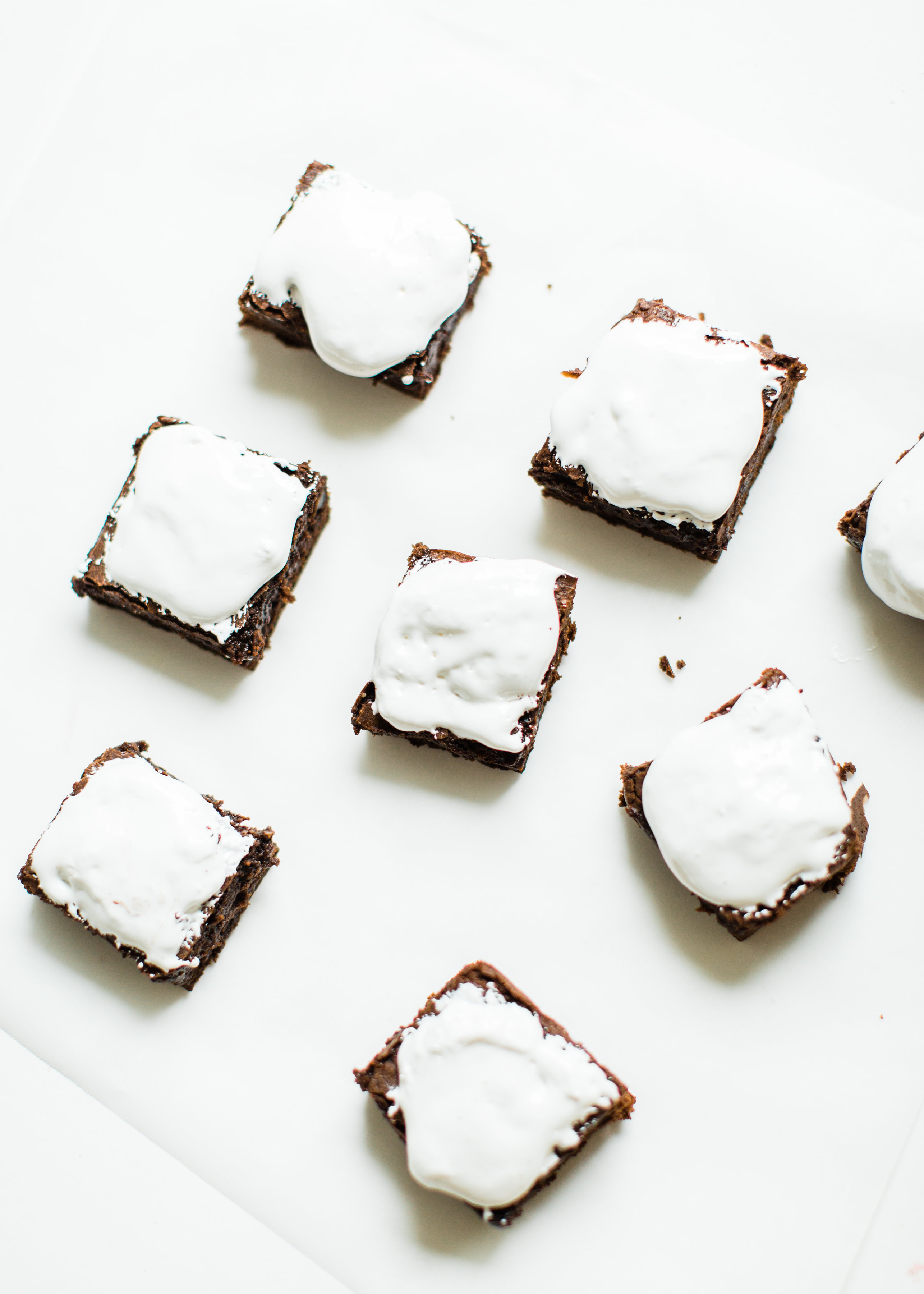 When you spread your marshmallow fluff, start with one big dollop and don't worry about spreading it too much; it will settle into that cool-looking drippy fluff frosting all on it's own.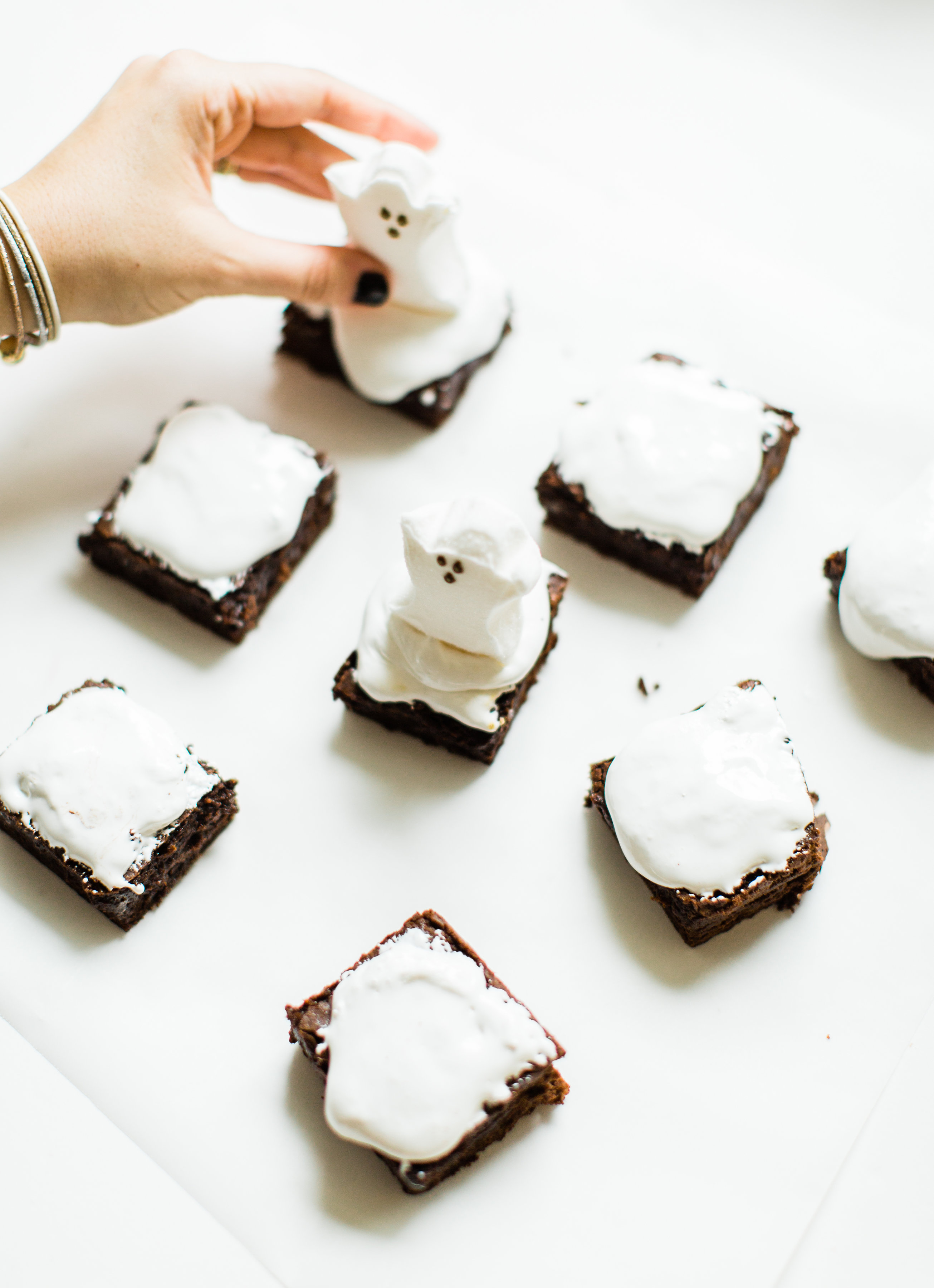 Be sure to use a toothpick to help prop up your ghost PEEP; otherwise, your ghost will slowly start to tip.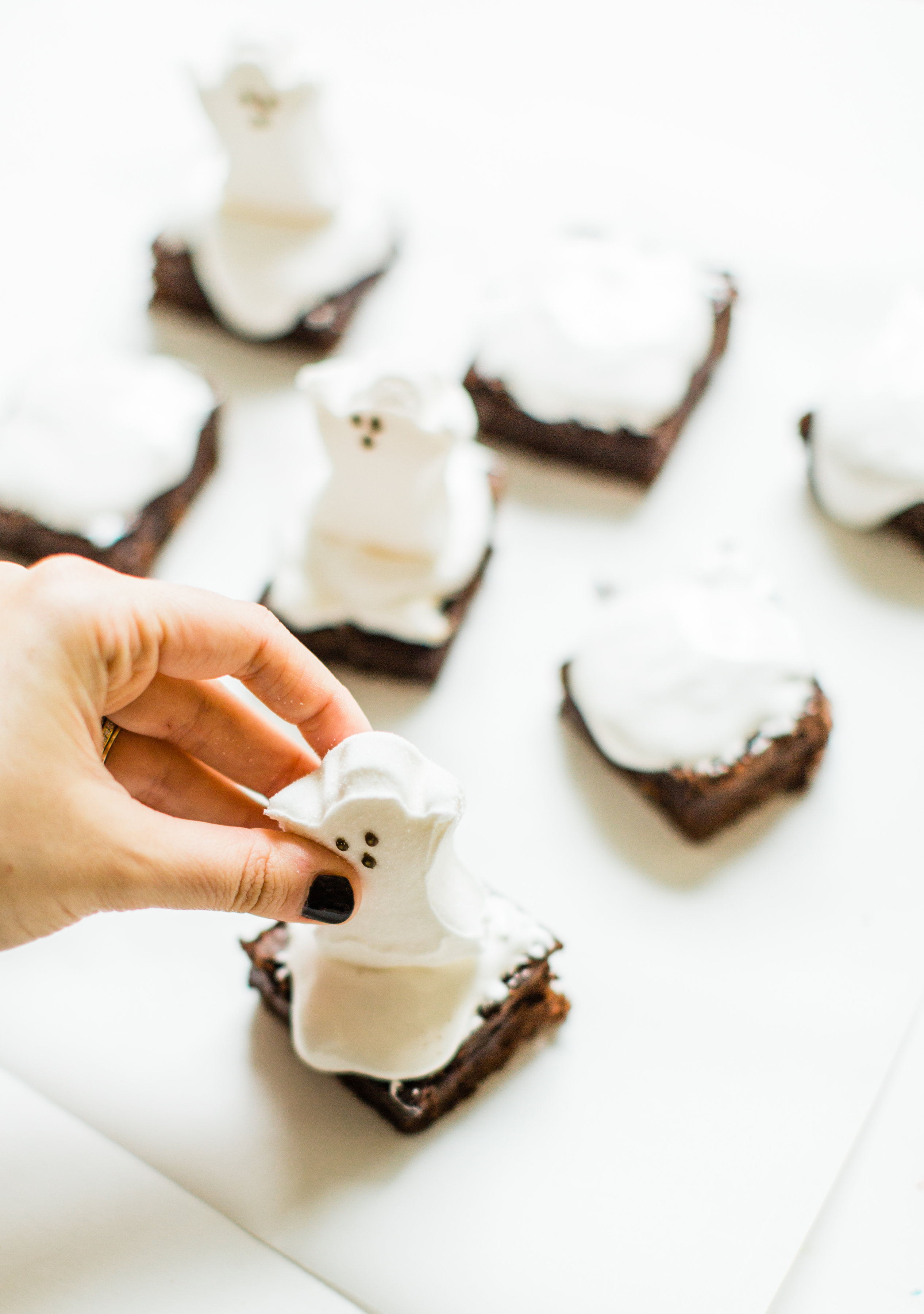 And of course, either refrigerate, or serve immediately, because your fluff will slowly continue to "melt". Not that that sticky, gooey sweet mess isn't totally delicious either way!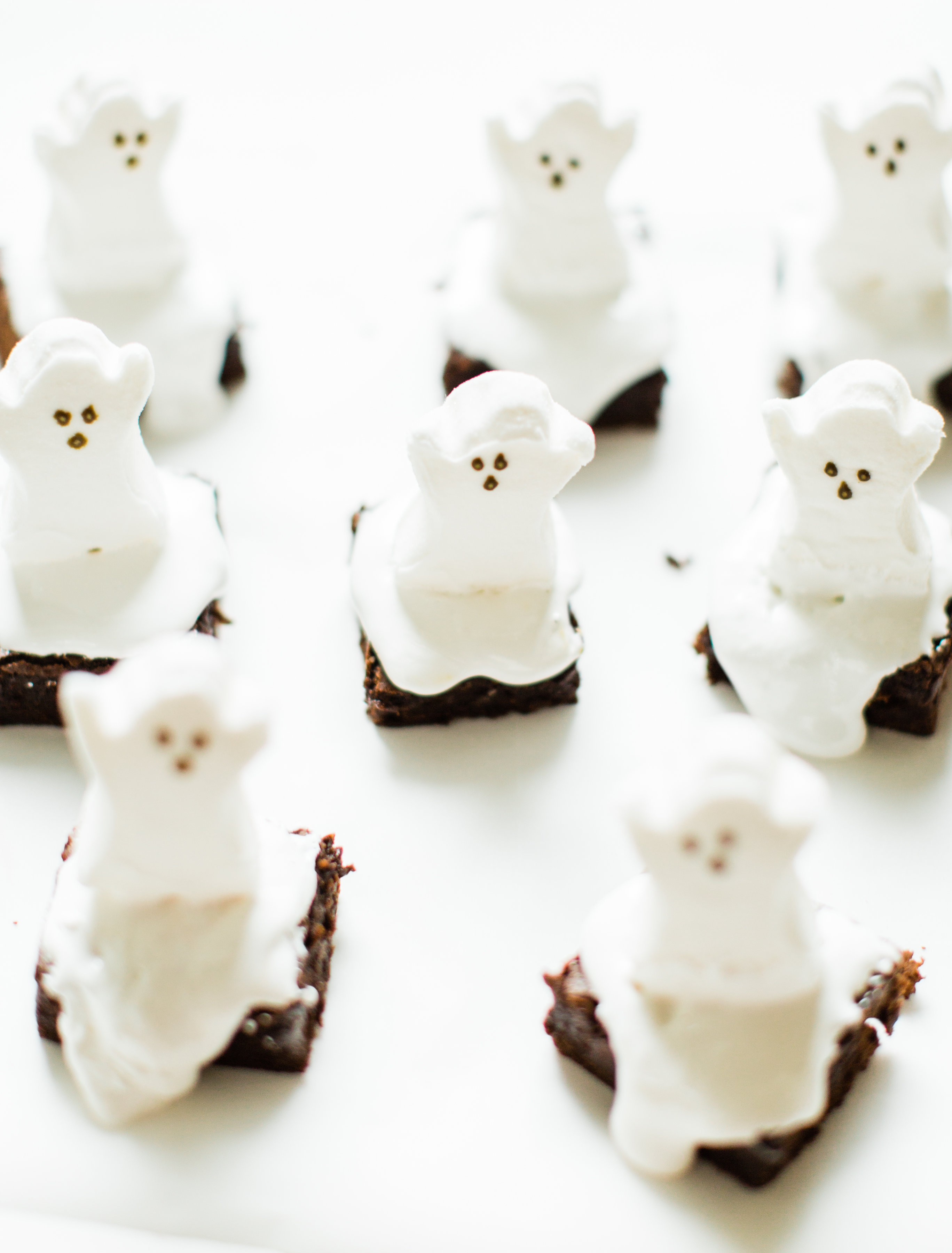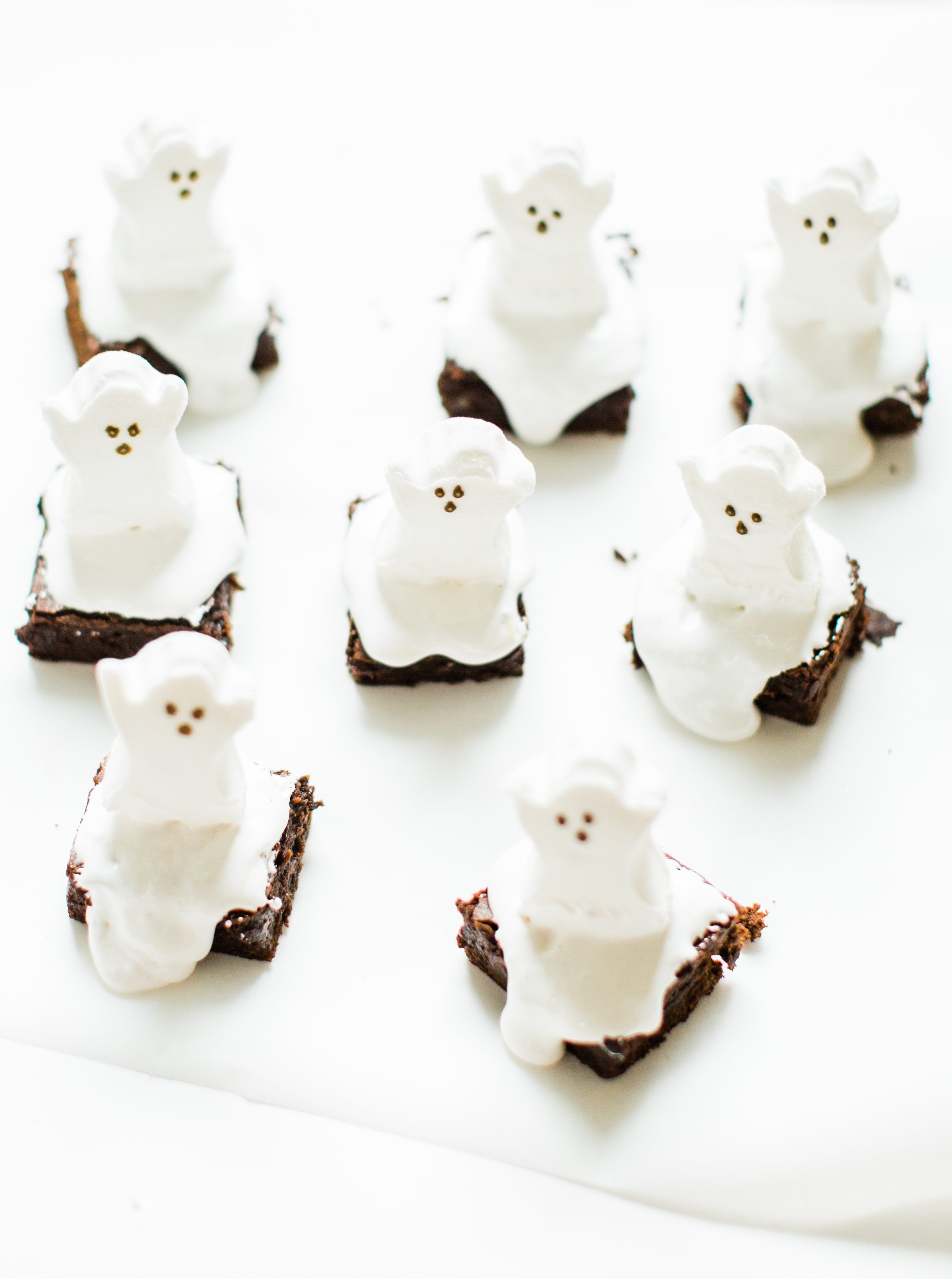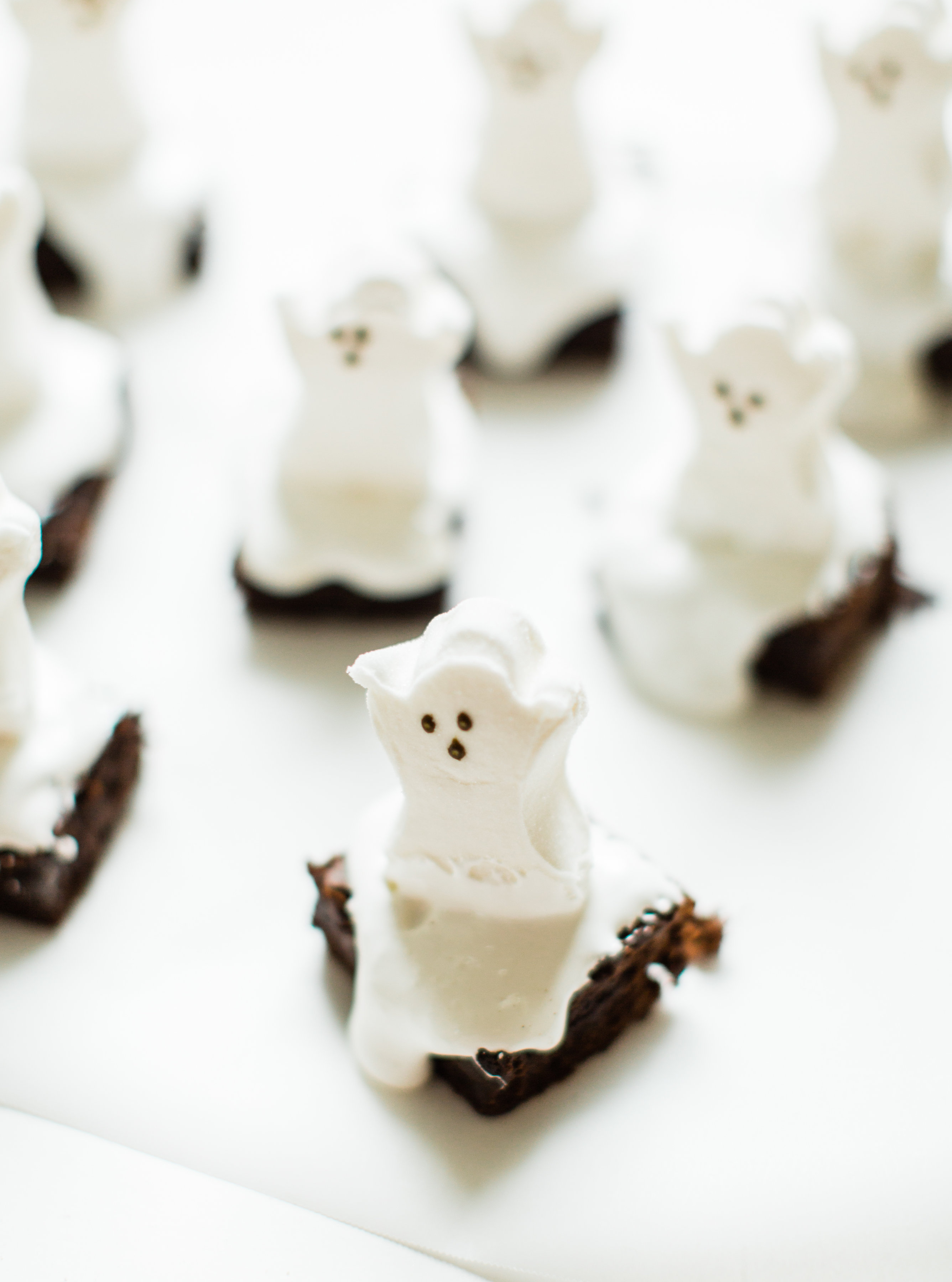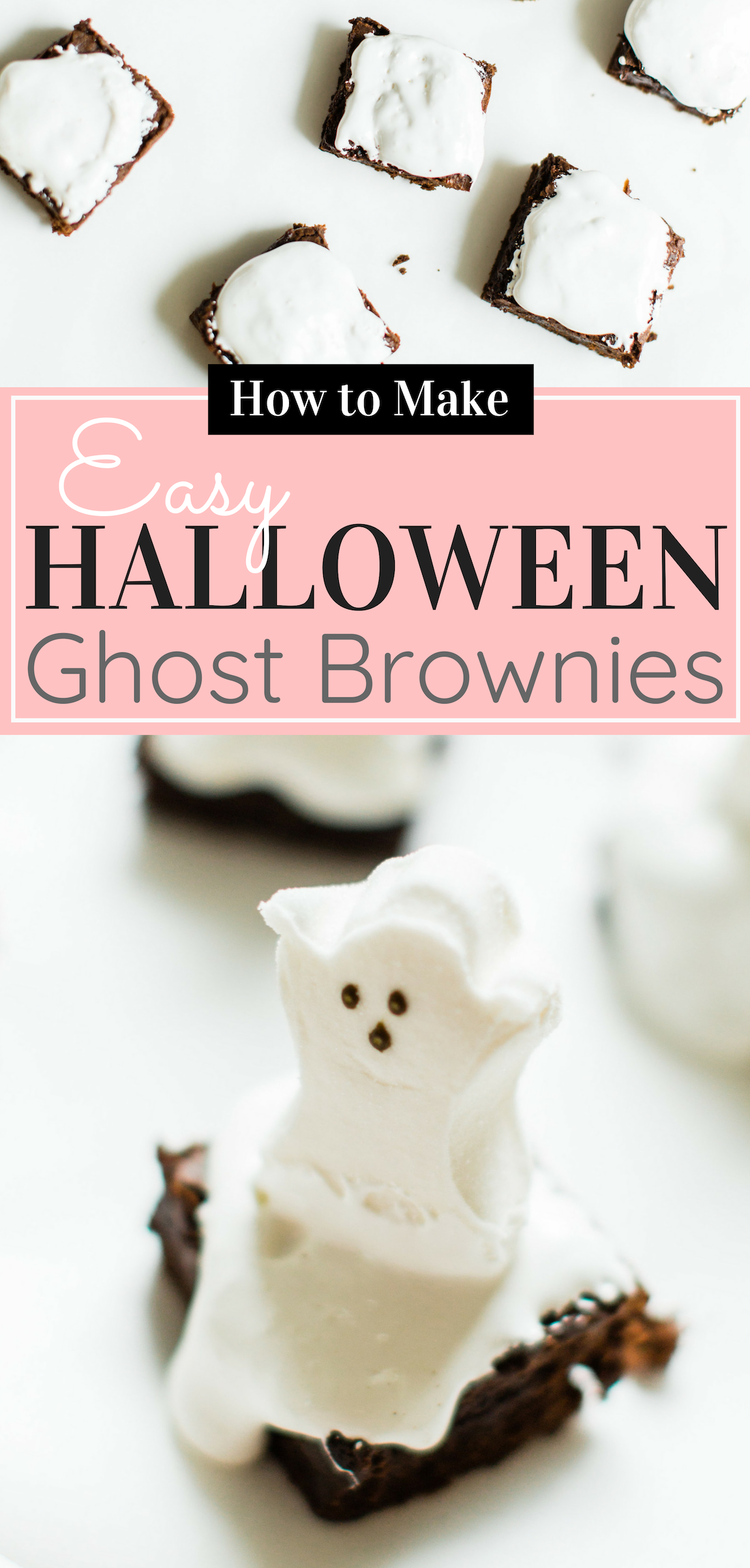 Love these easy spooky ghost brownies? Head to our recipe page to check out what else we're dreaming up in the kitchen! And if you're looking for more spooky fun Halloween desserts, we can't stop making these homemade twix bars, oreo macarons, s'mores cookie bars, and this pumpkin cake with fluffy chocolate frosting.   
SHOP THE SPOOKY GHOST BROWNIES RECIPE POST | CLICK LEFT & RIGHT ARROWS TO EXPLORE

Photos by Annie Timmons Photography for Glitter, Inc.