This shop has been compensated by Collective Bias, Inc. and its advertiser. All opinions are mine alone. Thank you so much for supporting the sponsors that make Glitter, Inc. possible! #PurelySimple #CollectiveBias
Cake Mix Cinnamon Roll Waffles with Cinnamon-Sugar Vanilla Frosting Drizzle. Say that three times fast. Dessert-meets-breakfast in these incredible (and simple) cake mix waffles with a vanilla frosting drizzle and cinnamon-sugar topping. As if a delicious cake waffle drizzled in frosting wasn't enough, the mixes used to make the waffles and frosting also have no artificial colors, flavors, or preservatives. You can find Pillsbury Purely Simple Cake Mix and Pillsbury Purely Simple Frosting Mix at your local Target; perfect for the many trips I take to Target for my little family. And lucky them: these waffles are their brunch this weekend. I'm also thinking about make stacks of these for a "waffle cake" for Scarlett's upcoming birthday party. How cute would that be?
I followed the directions on the box (for making a cake) but I also added in 1 teaspoon of vanilla and a cinnamon-sugar swirl. And then, because I just can't help myself, I made a vanilla frosting glaze and topped my waffles with another generous sprinkling of cinnamon-sugar. These cake mix waffles are delicious on their own, but the vanilla frosting drizzle with a little cinnamon-sugar for texture takes these over the top and really makes them taste like cakey cinnamon rolls.
CINNAMON ROLL WAFFLES
Yields about 5 large waffles.
INGREDIENTS
For the Waffle …
Pillsbury Purely Simple Vanilla Cake Mix
1 stick butter
1 cup milk
3 eggs
1 tsp vanilla
For the Frosting …
Pillsbury Purely Simple Vanilla Frosting Mix
1 stick butter
1/4 cup water
For the Cinnamon/Sugar Swirl: 1⁄4 cup sugar and 1⁄4 cup cinnamon (to top the waffle dough before cooking and to sprinkle over the vanilla drizzle on top of the cooked waffles)
DIRECTIONS
Preheat your waffle iron. I set mine to low-medium heat.
Make your cake mix according to the package instructions, adding in the vanilla with the eggs and milk. Allow the waffle mix to rest for a few minutes. Set aside.
Make your frosting according to the package instructions.
Before cooking each waffle, spray baker's spray on either side of the waffle iron to prevent your cake waffle from sticking.
Gently pour your batter onto the waffle iron. While the batter is still wet on the griddle surface, sprinkle a small amount of your cinnamon sugar mixture. You can spoon a tiny bit more dough on top to try to swirl your cinnamon-sugar within the waffle, just be careful not to over-fill your waffle iron.
Allow to cook through in the waffle iron. Cooking these cake mix waffles will also need a few more minutes than typical waffles to cook because the cake batter is more dense. Just keep watching your waffles and remove carefully with a spatula once the top appears golden brown.
Drizzle your frosting on each individual waffle and sprinkle a little extra cinnamon-sugar on top.
NOTE: Be sure not to over-fill your waffle iron. Because this is cake dough, it puffs up quite a bit with contact to heat.
FROSTING DRIZZLE TRICK: Using a spatula, scrape some of your frosting into one corner of a zip top bag. Hold the corner of the bag and use the other hand to twit the top until your frosting is all in one corner. Snip the end of the bag at that corner and gently squeeze to pipe your frosting drizzle on your waffles. Instead of piping cool frosting, you could also microwave a small amount of your frosting in a microwave-safe bowl for about 15+ seconds and using a spoon, drizzle the warm frosting onto your waffles.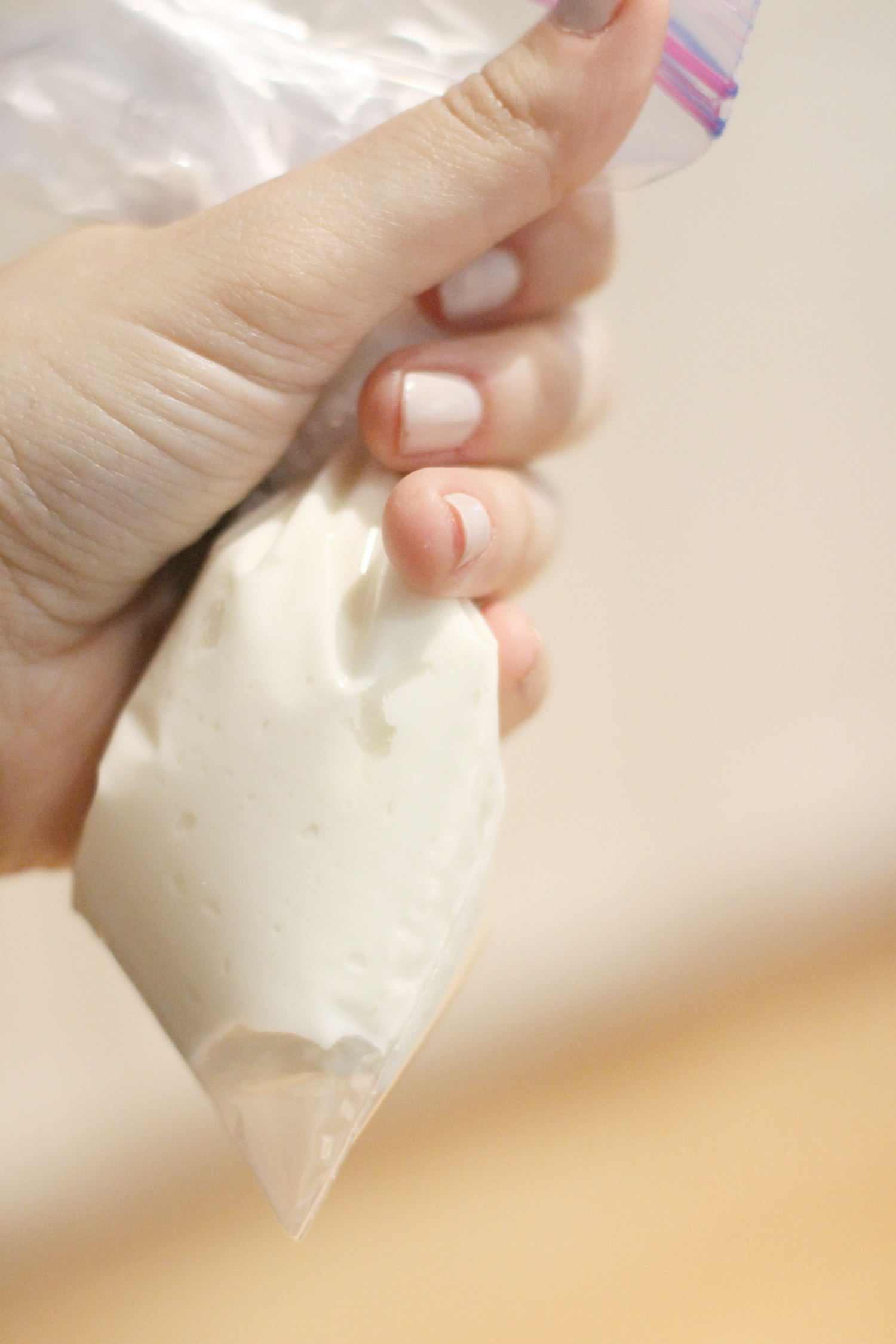 How fun is that sandwich bag trick? Thanks, mom!
Back to the waffles … warm out of the waffle iron, these beauties are incredible. The frosting drizzle melts on the waffle and the cinnamon-sugar adds the perfect amount of subtle crunch to each bite.
While the offer lasts, you can save 25% on any Pillsbury Purely Simple product at Target. Pillsbury Purely Simple Cake Mix and Purely Simple Frosting Mix are new, and available at Target now.